If you're a rockhound living in the state or just visiting, you might be wondering where to find geodes in Massachusetts that you can add to your collection. Truth is, finding them here can be a bit of a challenge. But don't worry, because we've done the research and scoured our state to find the best spots to dig for geodes here.
In this article, we'll take you on a journey through our state, from the quarries of East Deerfield and the waters of Deerfield River to the quarry at Cheapside, in search of these beautiful and unique finds. We'll share with you our tips and tricks for finding geodes, as well as some of the science behind these geological wonders.
Grab your rock hammer, ready your sense of adventure, and let's get started!
What Are Massachusetts Geodes?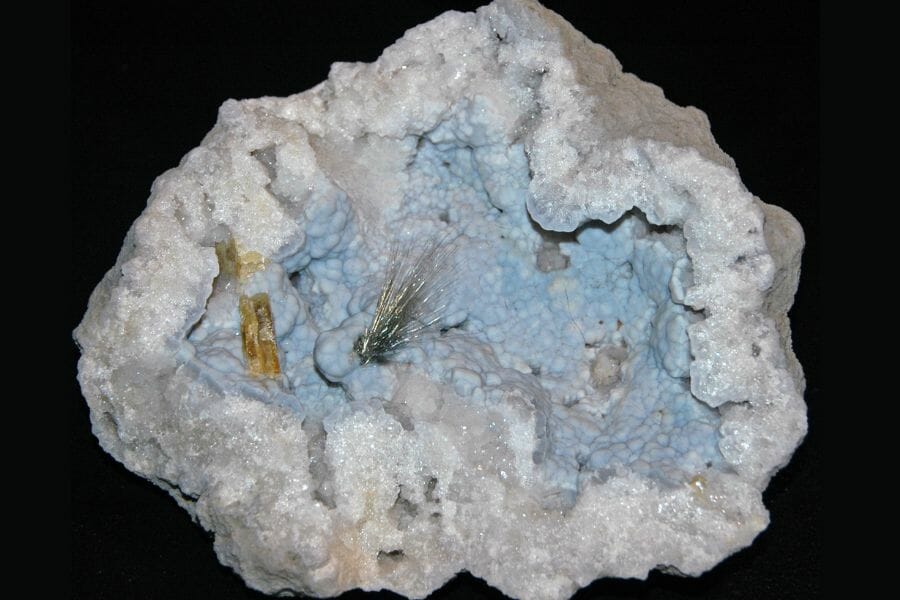 Geodes are rocks that are formed by volcanic activity and sedimentary processes. They are spherical or oblong in shape and have a hollow interior filled with mineral crystals. The exterior of a geode can range from rough and bumpy to smooth and polished, depending on the conditions under which it was formed. The unique geology of Massachusetts makes the formation of geodes possible!
Geodes are prized by collectors and rock enthusiasts for their unique beauty. Overall, they are fascinating and beautiful examples of the natural world's creativity and diversity. If you're asking, "How do you know if a rock is a geode?", don't worry because we've got you covered!
The Types Of Geodes Found In Massachusetts
Geodes come in a variety of colors, crystals, and patterns found within formations, and the price of a geode depends on it. In Massachusetts, here are some of the ones you'll find:
Amethyst geodes
Chalcedony geodes
Prehnite geodes
How We Found The Best Geode Locations in Massachusetts
When it comes to choosing the best options for finding Massachusetts geodes there are plenty of things we consider. Many of the best locations are closely guarded secrets which can make it really difficult for more casual geode hunters to find success. The key factors in our recommendations are:
The deep experience and understanding of our team about the area
Recommendations from local groups and clubs
How easy it is to get the a particular location
Safety and potential hazards when collecting
Weighing private and public locations
The ability for both experienced and novice geode enthusiasts to find great samples
With these factors in mind we've been able to put together a fantastic list that just about anyone can use!

The Best Places To Find Geodes in Massachusetts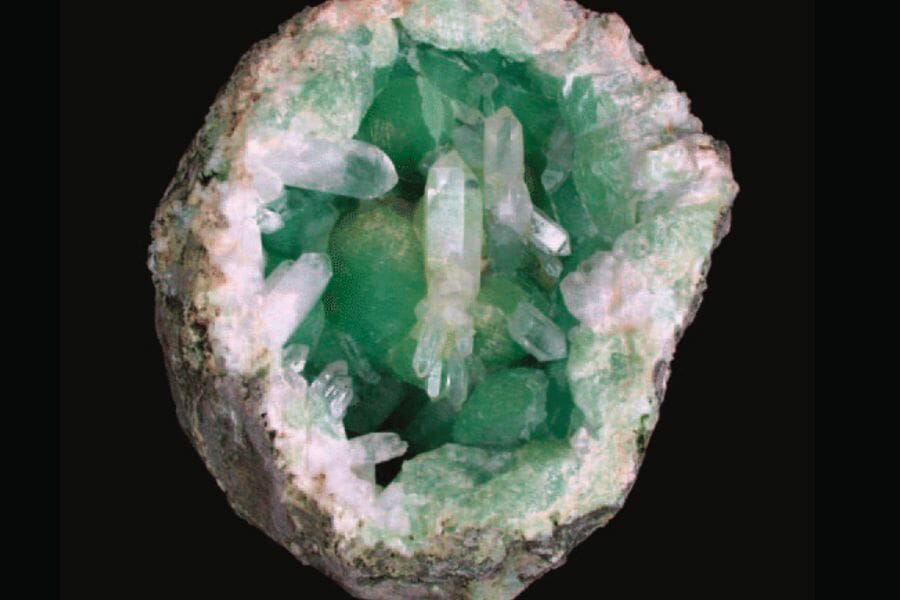 You can find plenty great places to mine gems in Massachusetts, but not all of them have geodes. That's why we're thrilled to share with you the different locations where you can find them here. While these places may not be well-known, they won't disappoint when you get the chance to visit them to find geodes in Massachusetts!
Always Confirm Access and Collection Rules!
Before heading out to any of the locations on our list you need to confirm access requirements and collection rules for both public and private locations.
These requirements are subject to change without notice and may differ from what we state below.
Always get updated information directly from the source ahead of time to ensure responsible rockhounding.
Deerfield River
Deerfield River flows through the Berkshires, winding its way through forests and mountains before joining up with the Connecticut River. The terrain around it is pretty varied: rocky outcroppings, steep hills, and lots of trees.
The geology of the area is also really interesting. The river has carved its way through the mountains, exposing layers of rock that are millions of years old. Finding cool geodes and fossils will not be surprising here!
If you want to visit here, there are plenty of access points along Route 2 and other nearby roads. Just be on your A game for an adventure and you're good to go!
Where we found geodes in the Deerfield River
Aside from rich fresh water resources, Deerfield River is also home to some of the best samples of chalcedony geodes in our state. There's no specific spot in the waters that has it, which means it can be anywhere in the river. Who knows, you might be near one when you visit here!
Cheapside Quarry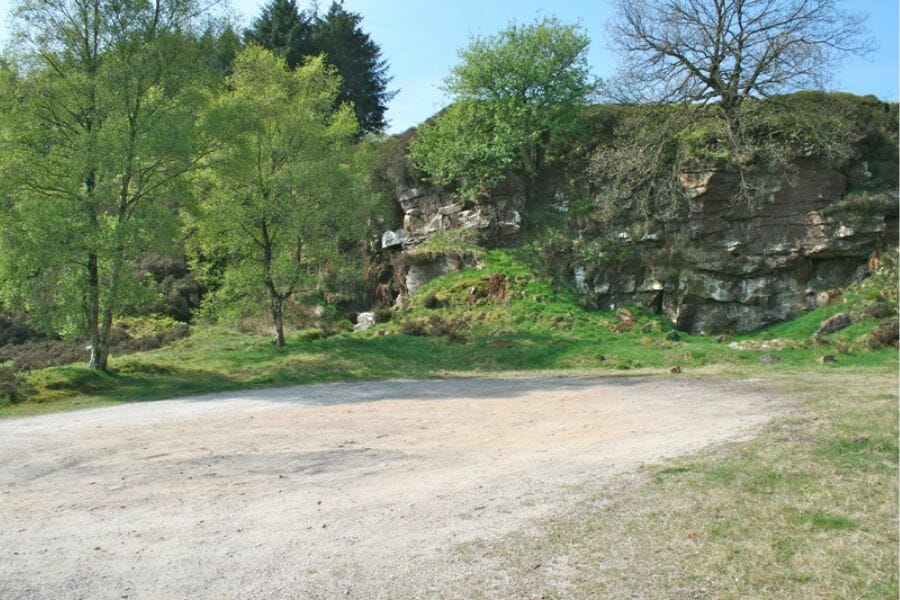 Cheapside Quarry is a rockhound's dream come true! The terrain around the quarry is mostly flat, with some gentle hills here and there. Just watch your step, because the ground can be a bit uneven in places.
The quarry also has fascinating rocks and minerals, including amazing geodes. The rocks here were formed millions of years ago, during the Devonian period.
Cheapside Quarry is located in the town of North Attleboro and is pretty easy to get to. Just head down Route 152 and you're there in no time. Overall, it's a great place to explore!
Where we found geodes at the Cheapside Quarry
If you're planning to go geode hunting here, try exploring the Greenfield area of Cheapside Quarry. Rockhounds often found interesting geodes there, including the highly sought-after amethyst geodes.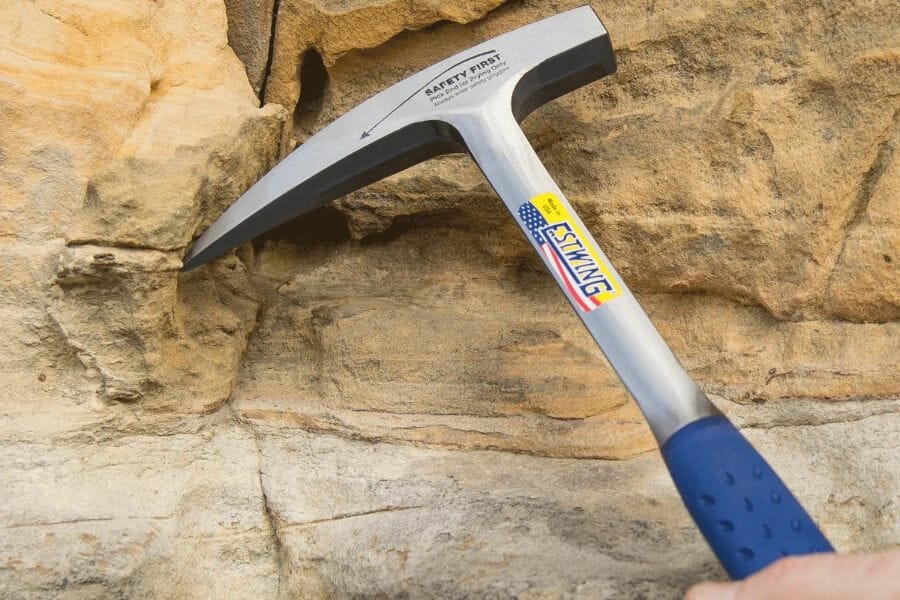 The tools every geode hunter will need
When you're out looking for geodes having the right tools for the job is very important. You don't need a lot for most trips but there are a handful that are critical and will make your life a lot easier.
We get asked a lot about the equipment we use. Over the years we've found a handful of tools that we recommend to both new and experienced geode hunters which we outline in great detail in our complete rockhounding tools and kit guide. These are quality options that also happen to be relatively inexpensive.
Below are the basic tools that make your life so much easier and save you a ton of time. Check out the full guide to see everything we recommend bringing. One quick note, as an Amazon Associate I earn from qualifying purchases but we try very hard to only recommend gear we would use ourselves and often recommend brands you can't find on Amazon.
At a minimum you should have:
1 - Sturdy rock hammer: The Estwing Rock Pick is our standard
2 - Rugged chisels: Try Kendo' 3-piece Chisel Set
3 - Compact shovel: The Koleiya 28-inch shovel works well
4 - Rock screen pan: The Wazakura Soil Sieve Set fits the bill
5 - Eye protection: DeWalt Safety Glasses are cheap and comfortable
6 - Head protection: Malta's Safety Helmet has been our go-to
7 - Jewelers lens with at least 20x magnification: Jarlink's Jewelers Loop is perfect
The geode-finding books that we use most
There are also a few books that have been extremely helpful in the search for gems. These books have great recommendations and tips:
National Audubon Society Field Guide to Rocks and Minerals: North America 
Northeast Treasure Hunter's Gem & Mineral Guide 
Earth Treasures: The Northeastern Quadrant 
We provide links to find these tools on Amazon but some can also be found at your local hardware stores. For more recommendations check out the link to our full tool guide above.
Common Geode-Hunting Questions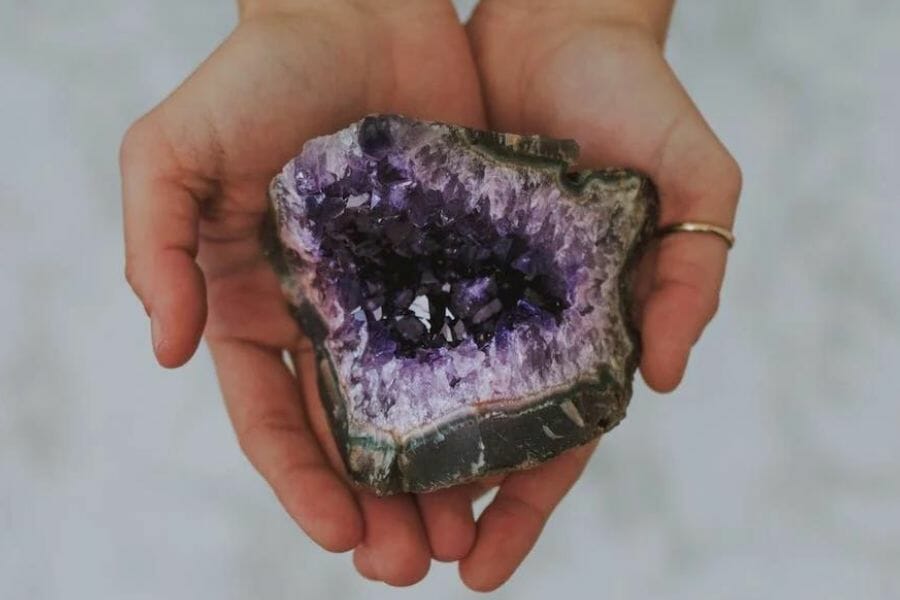 We found some frequently asked questions when people search for geodes in Massachusetts. And we're ready to answer them for you:
Where can you find amethyst geodes in Massachusetts?
Although Massachusetts is not well-known for having vast geode reserves, surprisingly, our state has amethyst geodes! If you want to have your eyes and hands on one, you can explore the Cheapside Quarry at Franklin County.
Is it illegal to collect geodes in Massachusetts?
Collecting geodes here is not illegal for as long as you abide by our local collecting laws. If you're collecting on government land, make sure to check local regulations that should be followed. Also, always seek permission before you explore any private land here.
The Best Places To Buy Geodes In Massachusetts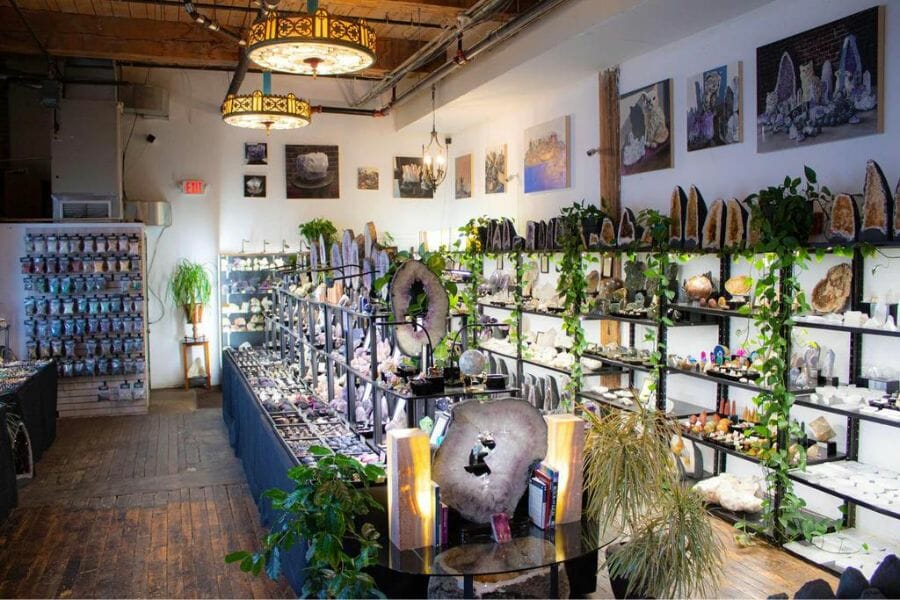 If you prefer an effortless (but not necessarily cheaper) way of finding geodes in Massachusetts, then you might want to through the list of some of the amazing local shops here where you can buy geodes:
Cape Cod Crystals – 55 Jonathan Bourne Drive, Unit 1, Pocasset, MA. 02559
Amazon – There's a pretty good selections of geodes on Amazon. What's more is they even have complete kits you can use to crack them open.
ZuZu's Healing Arts, Inc. – 58 Pulaski Street, Building C, 3rd Floor Peabody, MA 01960
The Rock, Fossil, and Dinosaur Shop – 213 Greenfield Rd, South Deerfield, MA 01373-9790
Village Silversmith – 1 Kondelin Rd. Gloucester, MA 01930
The Serendipity Place – 9 Vernon Street Framingham, MA 01701
A Crystal Mine – 276 Turnpike St -Rt 9 Westborough, MA 01581
White Mountain Crystals – 1 Man-Mar Dr, Unit #9, Plainville MA 02762
Crystal Concentrics – 489 Massachusetts Ave, Arlington, MA 02476
Easthampton Crystal and Mineral – 92 Cottage St, Easthampton, MA 01027
Cast A Stone – 700 Brockton Ave, Abington, MA 02351, United States
Funky Stuff – 97C Webster St, Worcester, MA 01603
Heart of Stone – 2 Elm Park Groveland, MA 01834
Additional places to find geodes in nearby states
Check out our guides for nearby states if you've already tried all of our suggestions above or if you're planning a trip outside of the state:
If you have any recommendations for our list please leave a comment below!