Vermont is a hidden gem for any geode hunter looking for top-quality rocks. The state has numerous locations with many options for geode hunting enthusiasts. However, it can be a daunting task to locate the best spots without the right guidance. That's where experienced rockhounds can help you out! You can increase your chances of finding remarkable geodes by showing you where to go and what to look for.
It's no wonder that geode hunting has become a popular hobby among nature lovers and rock collectors alike. With the right tools and knowledge, you, too, can experience the thrill of discovering these incredible beauties hidden beneath the surface of Vermont's rocks and mountains.
What Are Geodes Anyway?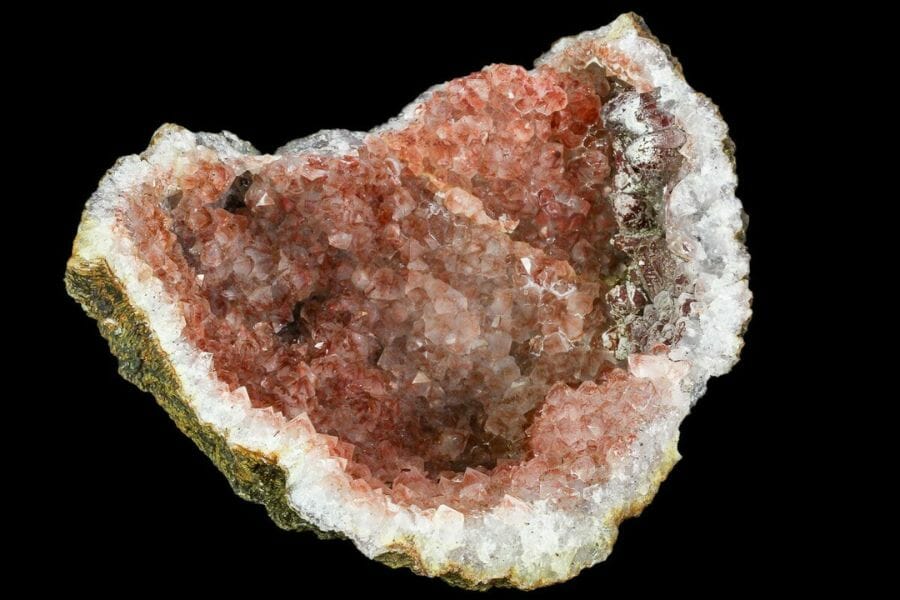 Unique rock formations called geodes feature a hollow interior filled with crystals. They occur in a variety of forms, dimensions, and hues and can be found all over the world. Geodes are created by volcanic activity or when mineral-rich fluids seep into cracks in the rock. The minerals gradually crystallize, producing impressive crystals, including pure quartz, amethyst, calcite, or agate.
We've developed an article on how to tell if a rock is a geode to help you with your search.
Geodes frequently have a circular or oval shape and can have a diameter of a few inches to several feet. Due to their beauty and rarity, geodes are highly sought by rock collectors and enthusiasts. When the geode is opened, the crystal that inhabits it determines how much a geode is worth and beauty. They can be discovered in many places, such as volcanic ash deposits, mines, and caverns. Geodes are an intriguing and aesthetically attractive addition to any collection, regardless of your experience with rock collecting.
How We Found The Best Geode Locations in Vermont
When it comes to choosing the best options for finding Vermont geodes there are plenty of things we consider. Many of the best locations are closely guarded secrets which can make it really difficult for more casual geode hunters to find success. The key factors in our recommendations are:
The deep experience and understanding of our team about the area
Recommendations from local groups and clubs
How easy it is to get the a particular location
Safety and potential hazards when collecting
Weighing private and public locations
The ability for both experienced and novice geode enthusiasts to find great samples
With these factors in mind we've been able to put together a fantastic list that just about anyone can use!

The Best Places To Find Geodes in Vermont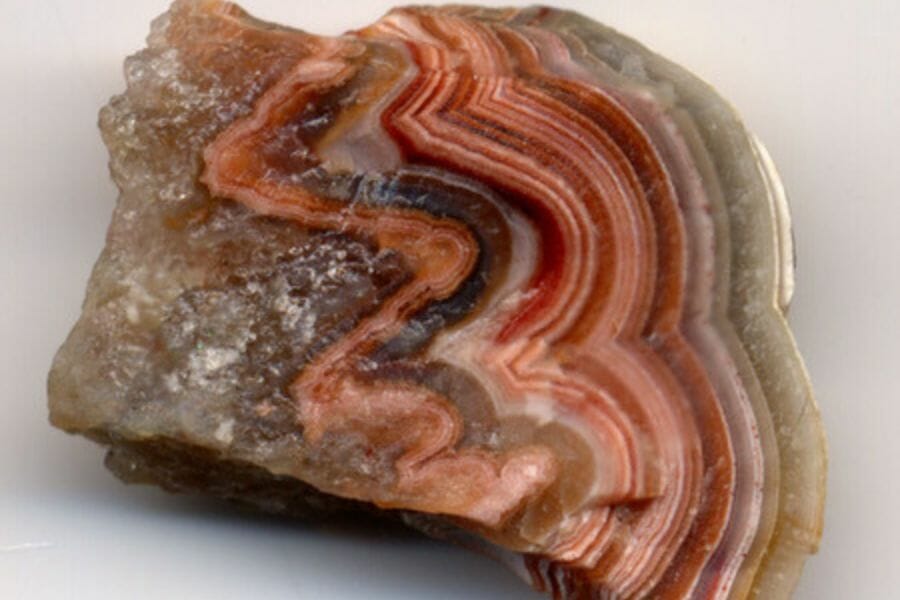 Even though you may know of the excellent places to mine gems in Vermont, locating geodes in their natural habitat can be very challenging. It's safe to say you've had a lot of trouble finding geodes in Vermont. This is because the state has fewer geodes than other states. Due to how rare they are, there are no known locations where you would have a good chance of locating one.
On the other hand, we can guide you on where in the state to look for geode-like rock formations.
Always Confirm Access and Collection Rules!
Before heading out to any of the locations on our list you need to confirm access requirements and collection rules for both public and private locations.
These requirements are subject to change without notice and may differ from what we state below.
Always get updated information directly from the source ahead of time to ensure responsible rockhounding.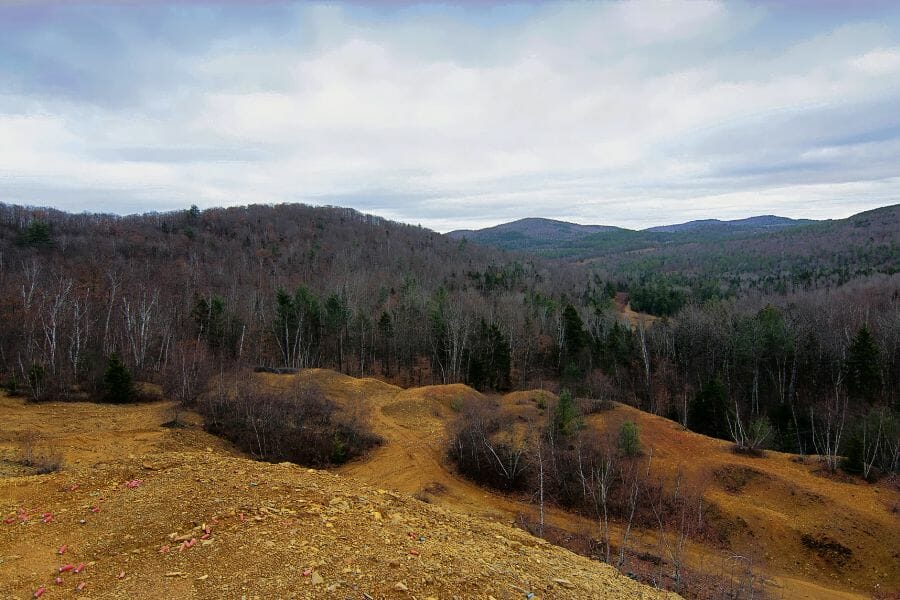 Ely Mine, located in northern Vermont, is a historic mining site known for its unique geology and rugged terrain. The mine is in a hilly, forested area rich in natural beauty and offers a range of outdoor activities for visitors to enjoy.
The geology of Ely Mine is particularly interesting, as it's home to several unique rock formations and mineral deposits. The area is known for its rich talc deposits, and other industrial minerals mined extensively during the 19th and 20th centuries.
Where we found geode-like formations
There are quartz crystals you can find in Ely Mine in the Copperfield area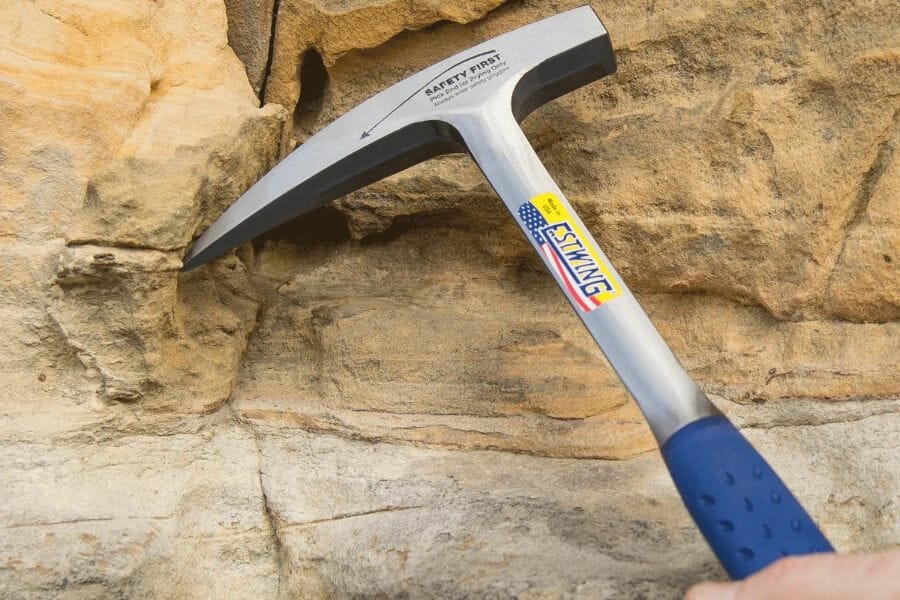 The tools every geode hunter will need
When you're out looking for geodes having the right tools for the job is very important. You don't need a lot for most trips but there are a handful that are critical and will make your life a lot easier.
We get asked a lot about the equipment we use. Over the years we've found a handful of tools that we recommend to both new and experienced geode hunters which we outline in great detail in our complete rockhounding tools and kit guide. These are quality options that also happen to be relatively inexpensive.
Below are the basic tools that make your life so much easier and save you a ton of time. Check out the full guide to see everything we recommend bringing. One quick note, as an Amazon Associate I earn from qualifying purchases but we try very hard to only recommend gear we would use ourselves and often recommend brands you can't find on Amazon.
At a minimum you should have:
1 - Sturdy rock hammer: The Estwing Rock Pick is our standard
2 - Rugged chisels: Try Kendo' 3-piece Chisel Set
3 - Compact shovel: The Koleiya 28-inch shovel works well
4 - Rock screen pan: The Wazakura Soil Sieve Set fits the bill
5 - Eye protection: DeWalt Safety Glasses are cheap and comfortable
6 - Head protection: Malta's Safety Helmet has been our go-to
7 - Jewelers lens with at least 20x magnification: Jarlink's Jewelers Loop is perfect
The geode-finding books that we use most
There are also a few books that have been extremely helpful in the search for gems. These books have great recommendations and tips:
National Audubon Society Field Guide to Rocks and Minerals: North America 
Northeast Treasure Hunter's Gem & Mineral Guide 
Earth Treasures: The Northeastern Quadrant 
We provide links to find these tools on Amazon but some can also be found at your local hardware stores. For more recommendations check out the link to our full tool guide above.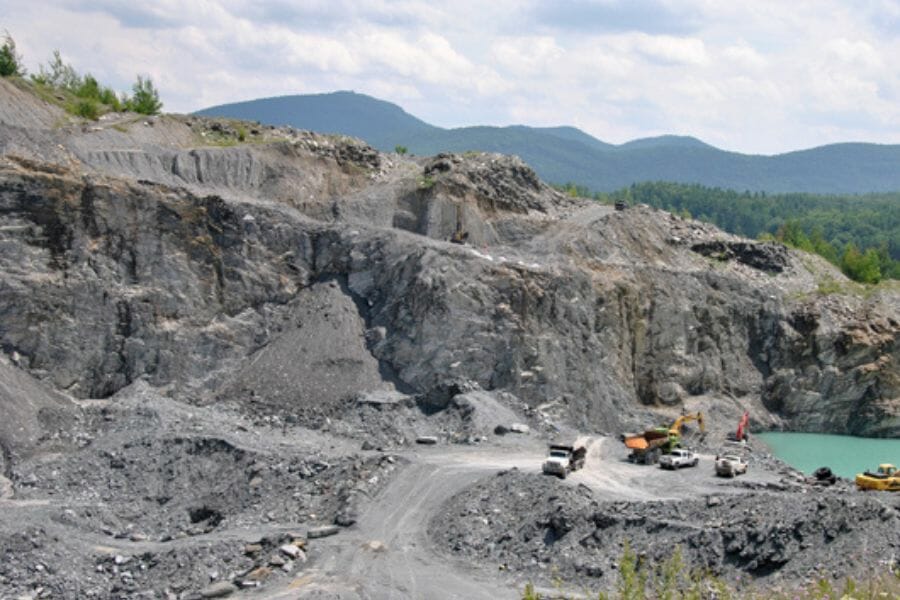 Rutland County, located in southern Vermont, is a scenic area known for its rolling hills, lush forests, and charming small towns. The county sits on the edge of the Green Mountains, which means it has a rich variety of geological formations and outdoor activities. Aside from containing geode-like formations, this spot is well-known by those who want to find amazing Vermont crystals.
The terrain in Rutland County is characterized by its gently rolling hills, which offer a picturesque backdrop for exploring the great outdoors. The county is also home to several notable bodies of water, including Lake Bomoseen and Otter Creek, which offer a range of recreational activities.
Where we found geode-like formations
Excellent smoky and clear quartz varieties are found in local schists in the Danby area, along the road to outcrops on the east side.
These outcrops along the Route 155 road cut about 6 to 8 miles south of East Wallingford contain large calcite crystals.
Along the west side of the Delaware and Hudson Railroad right-of-way, numerous quarries south of Fair Haven have quartz and calcite.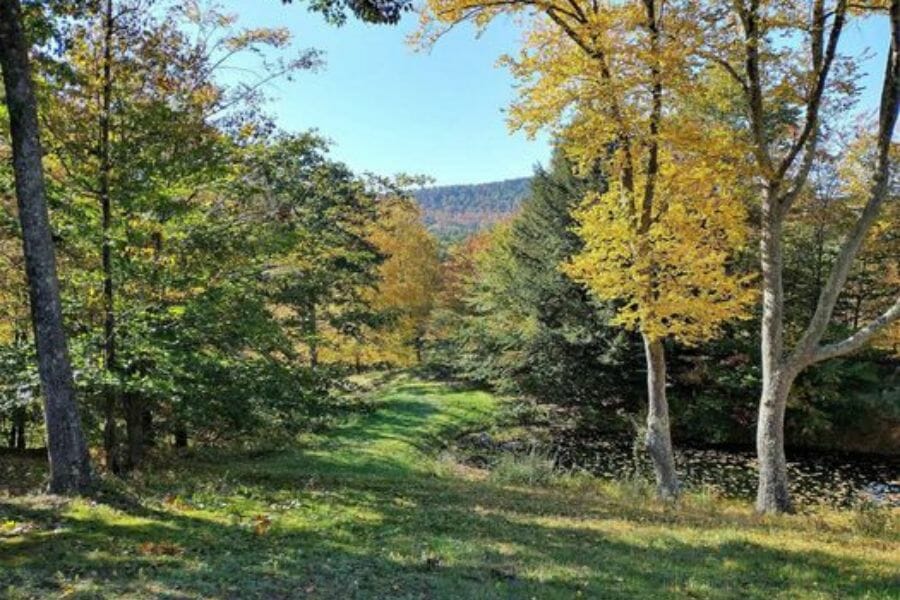 Windham County, located in southeastern Vermont, is a charming area known for its scenic beauty, rich history, and unique geology. The county sits on the edge of the Green Mountains and the Connecticut River, which means it has a diverse range of geologic formations and terrain.
The terrain in Windham County is varied, with everything from lush river valleys to rugged, rocky outcroppings. The county is also home to several notable bodies of water, including the West River and the Harriman Reservoir, which offer a range of recreational activities.
Where we found geode-like formations
The park at the Reads-boro New England Power Plant has calcite crystals.
Gather agate and quartz crystals along Adam's Creek and in the outcrops north of the roadcut in the Williamsville area.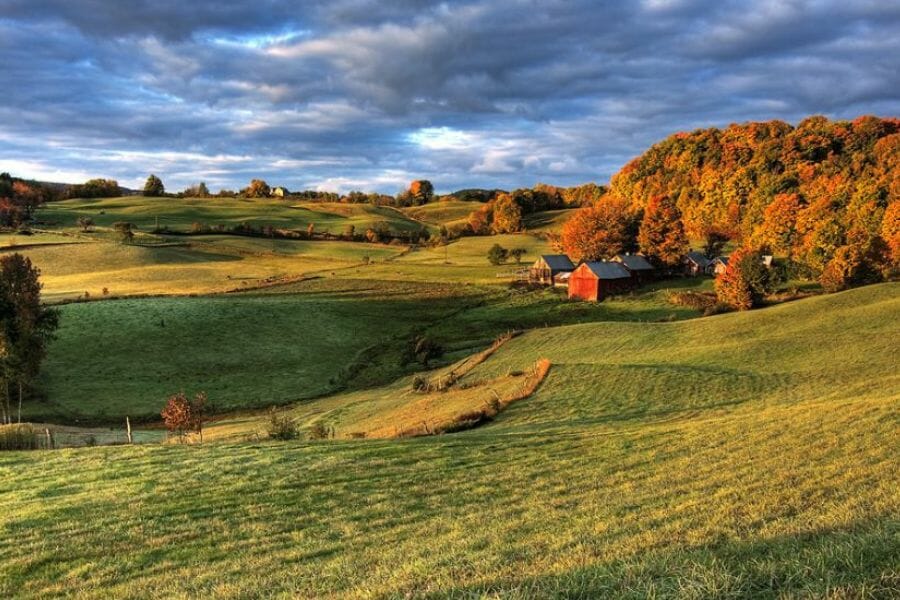 Windsor County, located in central Vermont, is a scenic area known for its charming small towns, beautiful landscapes, and unique geology. The county sits on the edge of the Green Mountains, which means it has a diverse range of geologic formations and terrain.
Rolling hills, luxuriant forests, and winding rivers comprise Windsor County's landscape, providing a lovely outdoor setting. The White River and Quechee Gorge, two prominent waterways in the county, provide various recreational opportunities.
Where we found geode-like formations
Several outcrops in the Gassetts road cut toward Williams River south contain quartz crystals.
You can also collect calcite crystals at a minor outcrop northwest of the river bridge.
Outcrops in the long Ludlow road-cut have black tourmaline and calcite crystals.
Smoky quartz and calcite crystals can be gathered in the quarry just east of the Springfield Dam in the Perkinsville area.
Take a trip to the west in New York, a close-by-state, to find additional geodes that occur naturally. St. Lawrence county is one of the best areas to look for geodes.
St. Lawrence County, located in northern New York, is a picturesque area known for its rugged terrain, stunning natural beauty, and unique geology. The county sits on the edge of the Adirondack Mountains, meaning it has diverse geological formations and terrain.
The undulating hills, deep valleys, and flowing rivers that makeup St. Lawrence County's landscape make it ideal for outdoor activities. The county is also home to several notable bodies of water, including St. Lawrence and Raquette Rivers.
Where we found geodes in St. Lawrence County
You can find geodes successfully in Fowler in St. Lawrence County. The local stream beds and exposed sedimentary rocks are the ideal places in New York where naturally occurring geodes are located. Barite and hematite crystals are typically seen in these geodes.
Common Vermont Geode-Hunting Questions
The following common questions concerning geode hunting are the ones we wanted to address in case you also have the same queries:
Where can you find amethyst geodes in Vermont?
Vermont, unfortunately, lacks natural amethyst geodes and crystals, but there are a few rock shops nearby where you might be able to find them and other jewels. We've created a list of these shops below.
Is it illegal to collect geodes in Vermont?
Collecting and buying geodes are completely legal in Vermont if you follow the relevant rules and regulations. Make sure you follow any special laws governing public and private locations by checking them before you plan your hunt.
The Best Places To Buy Geodes In Vermont
Visiting local shops that sell geodes in Vermont is the most reliable approach to bringing one home. Many shops feature other natural wonders, including gems and rocks.
The Crystal Cottage – 176 Battery St, Burlington, VT 05401, United States
Amazon – Various geodes can be bought on Amazon. In addition, whole kits are offered for those who desire to crack it themselves.
Fred Rocks Rock Shop – 1993 Pine Banks Rd, Putney, VT 05346, United States
Paula's Rock Shop – 126 Washington Ave, Bennington, VT 05201, United States
Additional places to find geodes in nearby states
Check out our guides for nearby states if you've already tried all of our suggestions above or if you're planning a trip outside of the state:
If you have any recommendations for our list, please leave a comment below!