Geodes are just as fascinating as they are incredibly rare to find in New Hampshire. Without the right help, it can be a very daunting task to do so— in fact, your efforts may even be fruitless.
We've scoured our state to the find the best places to locate geode-like formations, such as the Moat Mountain, Redstone Granite Quarry, and Ruggles Mines, and even locations from nearby states that have some pretty awesome geode reserves, like the Cheapside Quarry. With proper guidance, your journey to find geodes in New Hampshire can be a thrilling and rewarding experience that you'll remember for a lifetime!
What Are Geodes Anyway?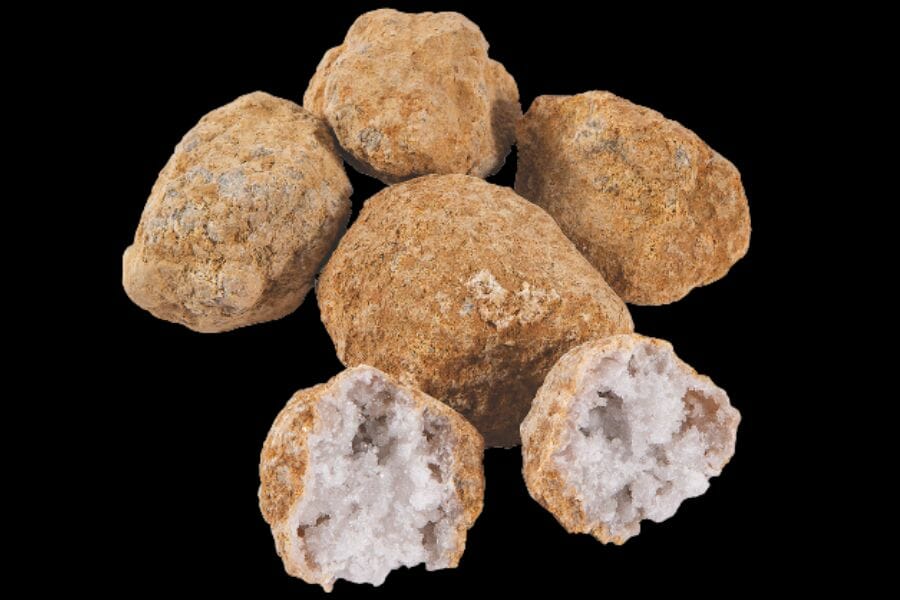 Geodes are spherical or oblong rocks that form when minerals crystallize inside a hollow cavity within a host rock. These cavities can form from volcanic activity, sedimentary processes, or other geological forces. Once the mineral-rich fluids permeate the cavity and begin to cool and harden, they can form stunning and intricate crystal formations that range in color, shape, and size. How much a geode is worth may actually depend on its crystals.
Geodes are found all over the world, and their beauty and scientific value make them a popular subject for collectors and enthusiasts. Some geodes can be massive, weighing hundreds of pounds, while others can fit in the palm of your hand. The thrill of finding one and cracking it open to reveal its hidden beauty is a unique experience that you will surely find fascinating and rewarding.
Here's a brief guide on how to identify geodes that you can use during your actual geode hunting here.
How We Found The Best Geode Locations in New Hampshire
When it comes to choosing the best options for finding New Hampshire geodes there are plenty of things we consider. Many of the best locations are closely guarded secrets which can make it really difficult for more casual geode hunters to find success. The key factors in our recommendations are:
The deep experience and understanding of our team about the area
Recommendations from local groups and clubs
How easy it is to get the a particular location
Safety and potential hazards when collecting
Weighing private and public locations
The ability for both experienced and novice geode enthusiasts to find great samples
With these factors in mind we've been able to put together a fantastic list that just about anyone can use!

The Best Places To Find Geodes in New Hampshire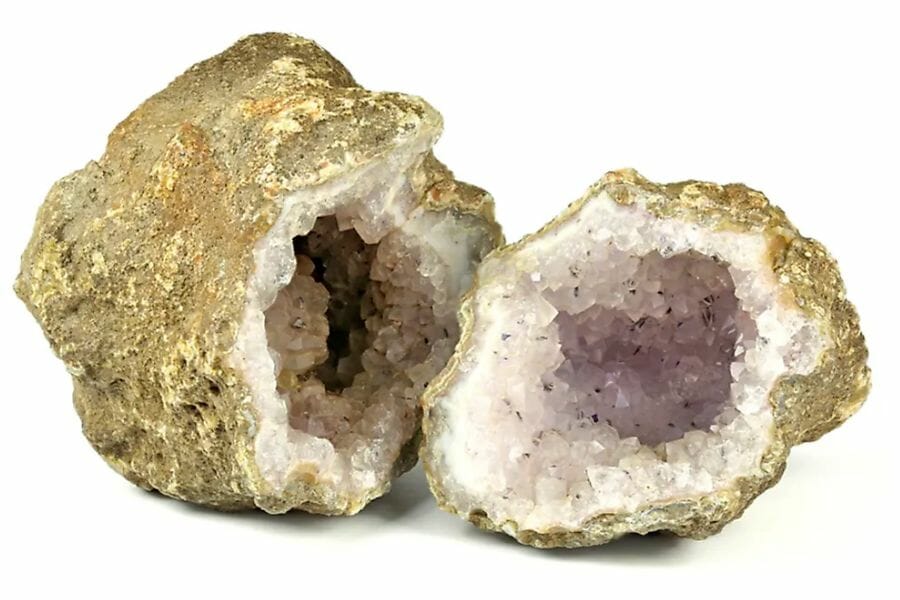 New Hampshire has amazing sites to mine gems, but it has pretty limited locations to search for geodes. In fact, finding naturally occurring geodes here may seem impossible because there is no known spot, as of writing, where you can find them.
But we compiled some of the recommended places in our state where you can find rocks and gems that are just as stunning as geodes. We also included here some locations from nearby states where geodes are naturally found.
Always Confirm Access and Collection Rules!
Before heading out to any of the locations on our list you need to confirm access requirements and collection rules for both public and private locations.
These requirements are subject to change without notice and may differ from what we state below.
Always get updated information directly from the source ahead of time to ensure responsible rockhounding.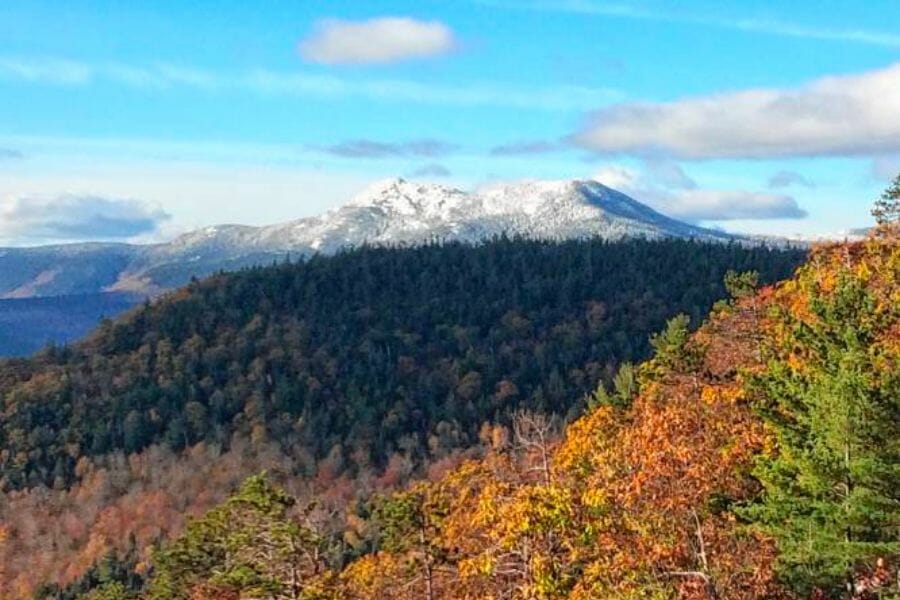 Moat Mountain is a range in the White Mountains with some of the most scenic views in our state. Just look at its photo! Its terrain is rocky and steep in places, which you will enjoy if you're into hiking or trekking. There are some pretty challenging sections, but they're worth it for the views.
There are cool rock formations and glacial erratics surrounding the area. You can also find some neat plant life along the trails, which are well-marked and maintained.
This place is just off Route 16 in North Conway, so it's a quick drive from most parts of our state. There are also plenty of parking areas along the road. But before you make your trip, make sure to checkout first the most updated collecting guidelines in New Hampshire.
Where we found geode-like formations
You can find beautiful samples of Smoky Quartz and other equally stunning gems if you take the road west to Echo Lake, then take the road west to Camp Albite. You can then park and walk ¾ mile west to dig in Moat Mountain.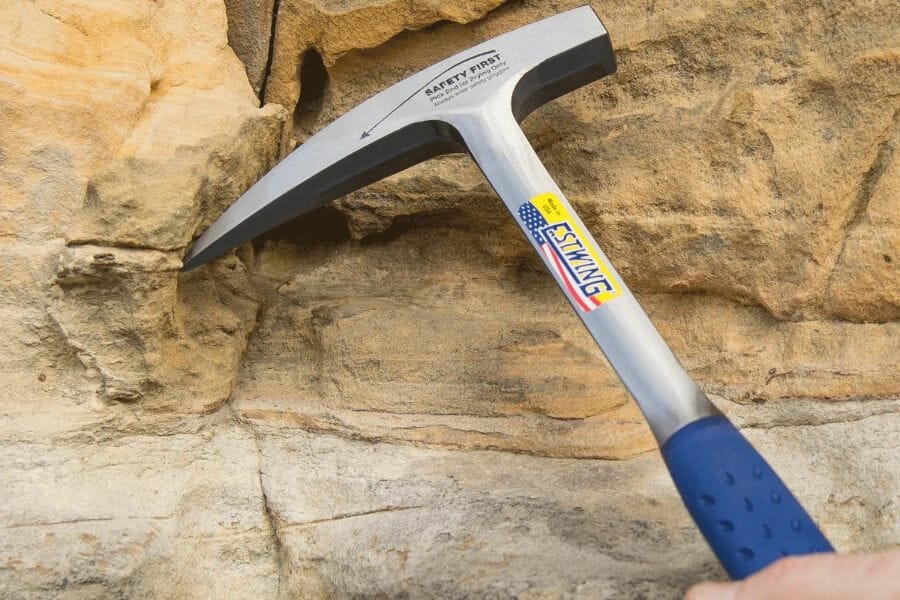 The tools every geode hunter will need
When you're out looking for geodes having the right tools for the job is very important. You don't need a lot for most trips but there are a handful that are critical and will make your life a lot easier.
We get asked a lot about the equipment we use. Over the years we've found a handful of tools that we recommend to both new and experienced geode hunters which we outline in great detail in our complete rockhounding tools and kit guide. These are quality options that also happen to be relatively inexpensive.
Below are the basic tools that make your life so much easier and save you a ton of time. Check out the full guide to see everything we recommend bringing. One quick note, as an Amazon Associate I earn from qualifying purchases but we try very hard to only recommend gear we would use ourselves and often recommend brands you can't find on Amazon.
At a minimum you should have:
1 - Sturdy rock hammer: The Estwing Rock Pick is our standard
2 - Rugged chisels: Try Kendo' 3-piece Chisel Set
3 - Compact shovel: The Koleiya 28-inch shovel works well
4 - Rock screen pan: The Wazakura Soil Sieve Set fits the bill
5 - Eye protection: DeWalt Safety Glasses are cheap and comfortable
6 - Head protection: Malta's Safety Helmet has been our go-to
7 - Jewelers lens with at least 20x magnification: Jarlink's Jewelers Loop is perfect
The geode-finding books that we use most
There are also a few books that have been extremely helpful in the search for gems. These books have great recommendations and tips:
National Audubon Society Field Guide to Rocks and Minerals: North America 
Northeast Treasure Hunter's Gem & Mineral Guide 
Earth Treasures: The Northeastern Quadrant 
We provide links to find these tools on Amazon but some can also be found at your local hardware stores. For more recommendations check out the link to our full tool guide above.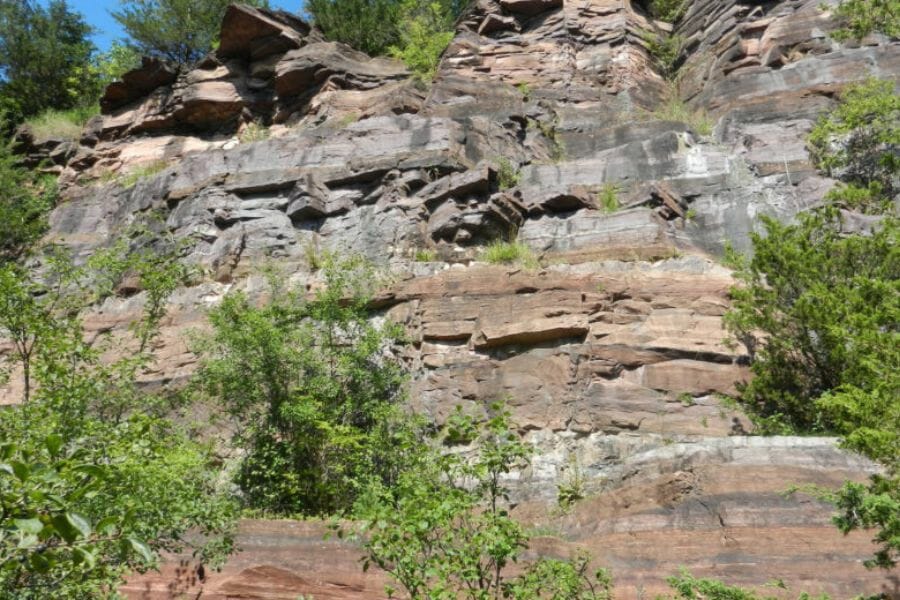 Located in the White Mountains region, Redstone Granite Quarry is surrounded by picturesque forests and mountain ranges.
Its terrain is a little rough, but its geology is super interesting. The rock formations here are mostly granitic, and they were formed over millions of years through a process called intrusive igneous activity, which basically means that molten rock pushed its way up through the earth's crust and then solidified underground. Because of this, the quarry is not only rich in geode-like formations, but is also an amazing site to find New Hampshire crystals.
Getting here is a breeze. You can easily drive up to the entrance and park your car. From there, it's just a short hike to the quarry itself.
Where we found geode-like formations
If you're in Redstone Granite Quarry, chances are you are near a beautiful Amethyst sample. There is no particular part of the quarry that you should explore to do that, so make sure you have the energy to search all its nooks and crannies when you get here.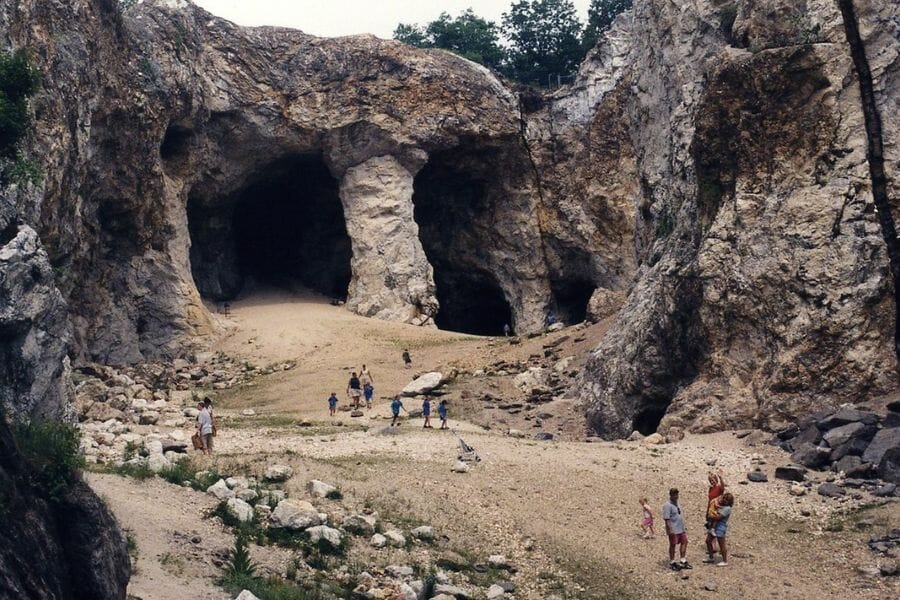 Ruggles Mine's geography is pretty sweet— it's located in the central part of our state, in the foothills of the White Mountains. It has some some steep climbs and uneven ground, which only adds to its character.
This mine is massive, with tons of different tunnels and caverns to explore. The rock is mostly mica schist, which is a type of metamorphic rock. That means it's formed from other rocks getting all mixed up and smooshed together.
This location is right off the highway, with plenty of parking so you won't have any problem getting here.
Where we found geode-like formations
You can find some of the most amazing samples of Amethyst, Calcite, Quartz (Rose, Smoky, and White), Pyrite and plenty other rocks and gems if you search through the Ruggles Mine in Grafton County.
Cheapside Quarry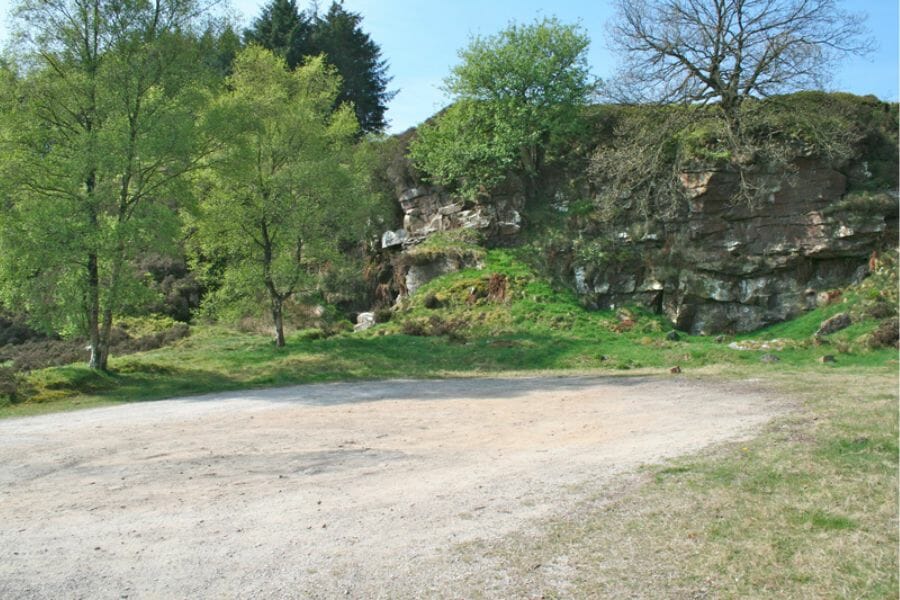 A nearby state to New Hampshire, Massachusetts has great sites to find geodes so we made sure to include our recommended locations there, too. One of them is Cheapside Quarry, located in the western part of the state, kinda near the Berkshires.
As can be expected in a quarry, this place has lots of rocks and boulders scattered around. The quarry itself is pretty massive, with lots of different walls to climb. Its rock type is mostly gneiss, a type of metamorphic rock.
Getting here is a bit challenging. You have to hike in a ways from the nearest road, and the trail can get pretty steep in some parts, but it's worth it once you see those sweet, sweet climbing routes.
Where we found geodes in Cheapside Quarry
To find geodes here, consider exploring the Greenfield region of Cheapside Quarry. Rockhounds have frequently discovered fascinating geodes here, such as the extremely desirable amethyst geodes.
Common New Hampshire Geode-Hunting Questions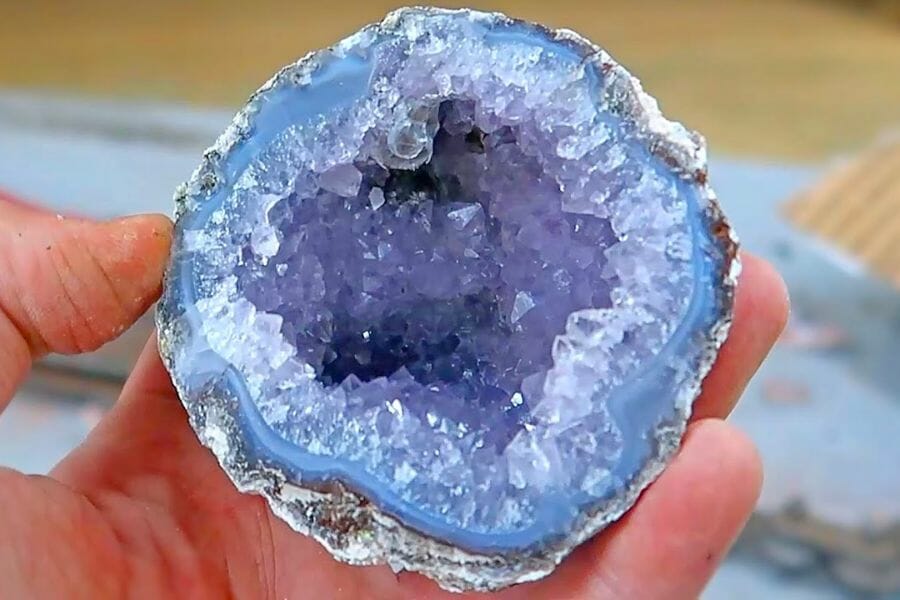 We'll answer some of the frequently asked questions by people wanting to find geodes in New Hampshire in case you're wondering about them, too.
Where can you find amethyst geodes in New Hampshire?
While you won't be able to find amethyst geodes naturally here, our state has plenty great spots to find some beautiful amethyst crystals:
White Mountain Granite Quarry, Hurricane Mountain, Redstone Red Quarry in Carroll County
Stoddard Mine in Chesire County
Regional mountain ridges surrounding Berlin, Dummer, Lancaster, Milan, Northumberland and Stratford in Coos County
All area pegmatite exposures of Milan and Stark in Coos County
Greens Ledge, Victors Head, Hutchin Mountain, between North Peak and Square Mountain, Percy Peak, and along road of Sugarloaf in Coos County
Ruggles Mine, Mt. Nancy in Grafton County
Near the summit of Pillsbury Ridge at the Columbia Gem Mine, Diamond Ledge on Long Mountain, George Hill, and the Globe Mine in Sullivan County
Is it illegal to collect geodes in New Hampshire?
It's legal to collect geodes in New Hampshire if you following the local collecting laws of our state. Also, make sure you're aware of and compliant with any additional rules and regulations that are specific to the kind of land that you will explore here.
The Best Places To Buy Geodes In New Hampshire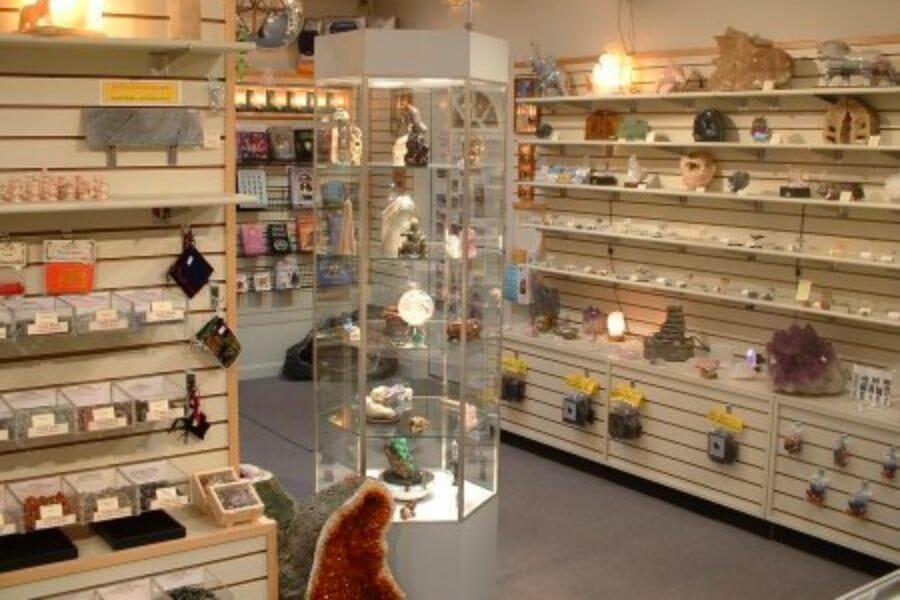 The surest way to get your hands on geodes here is to visit the local rock and gem shops in New Hampshire that sell them. What's better is that these stores also offer other natural wonders that are just as stunning (if not even more!) than geodes.
The Quartz Source Rocks and Minerals – 503 Nashua St, Milford, NH 03055
Amazon – You'll be surprised at how great the geode selections are on Amazon. They even have a complete set of kits to help you crack them open.
Gemstar Gemstone Company – 427 Shaker Blvd, Enfield, NH 03748
A Broader Concept – 143 Londonderry Turnpike, Hooksett, NH 03106
Santerre's Stones 'n Stuff – 275 Calef Hwy, Epping, NH 03042
Sunapee Rock Shop – 37 Edgemont Rd, Sunapee, NH 03782
Additional places to find geodes in nearby states
Check out our guides for nearby states if you've already tried all of our suggestions above or if you're planning a trip outside of the state:
If you have any recommendations for our list please leave a comment below!