Rhode Island may be a small state, but when it comes to geode hunting, it sure packs a punch! There are plenty of great options for any rock enthusiast to get their hands on some gorgeous geodes. Whether you're a seasoned pro or a beginner, our state has got you covered. With so many options, it's no wonder that Rhode Island is a top destination for geode hunters.
But let's be real, finding geodes in Rhode Island can be a real pain in the neck if you don't know what you're doing. It can be tough to distinguish between regular rocks and geodes, and even when you do find one, it might not be the type of geode you were hoping for. That's why guidance and knowledge are essential when you're out hunting.
The reward of finding a beautiful geode is worth all the effort and frustration. Trust me, there's nothing like cracking open a geode and discovering the sparkling crystals inside. It's a sight that'll leave you speechless and feeling like a true rockstar.
What Are Geodes Anyway?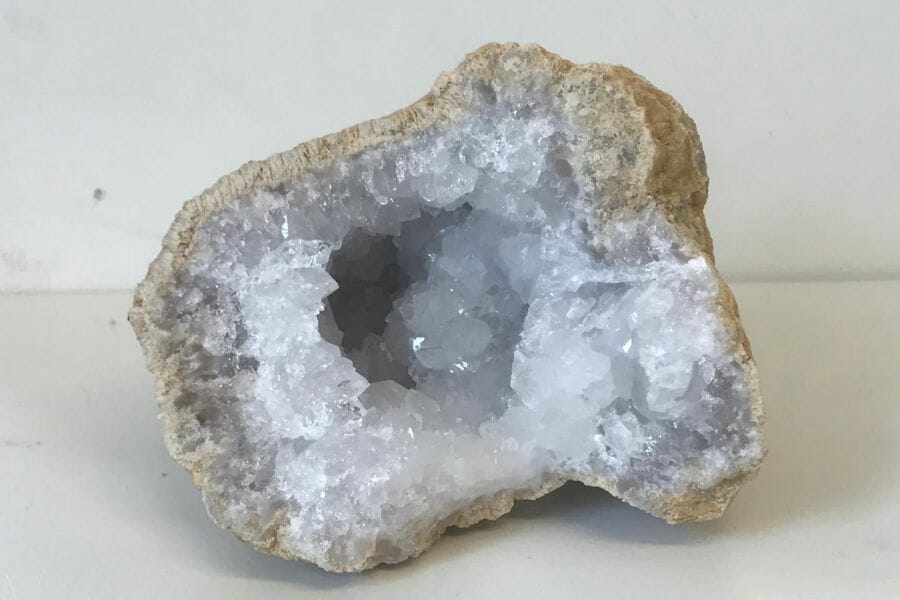 Geodes are hollow, spherical, or oblong rocks that contain an interior lined with sparkling crystals. These geological wonders are formed when mineral-rich water seeps into cavities within rocks and begins to evaporate. Over time, the minerals within the water accumulate and form crystals within the cavity, creating a stunning geode.
Geodes can range from just a few centimeters to several meters in diameter and are found worldwide. The outer shell of a geode is often rough and unremarkable, making it difficult to distinguish from a regular rock. However, the real beauty lies within the interior of the geode, where you can find an array of colorful crystals, including quartz, calcite, and amethyst. The kind of crystal inside a geode significantly impacts the value of a geode and its beauty.
We've included a guide about what geodes look like so you can recognize the type of rock you're looking for when searching.
Collectors highly seek after geodes, and finding a geode can be an exciting and rewarding experience. Whether you're a seasoned geologist or just a curious rockhound, discovering a geode will leave you in awe of the natural wonders of our planet.
How We Found The Best Geode Locations in Rhode Island
When it comes to choosing the best options for finding Rhode Island geodes there are plenty of things we consider. Many of the best locations are closely guarded secrets which can make it really difficult for more casual geode hunters to find success. The key factors in our recommendations are:
The deep experience and understanding of our team about the area
Recommendations from local groups and clubs
How easy it is to get the a particular location
Safety and potential hazards when collecting
Weighing private and public locations
The ability for both experienced and novice geode enthusiasts to find great samples
With these factors in mind we've been able to put together a fantastic list that just about anyone can use!

The Best Places To Find Geodes in Rhode Island
Finding naturally occurring geodes in Rhode Island is probably something you've struggled with a lot. This is a result of Rhode Island's geode rarity compared to other states. As they are so rare, there are no known locations where you would have a good chance of finding one.
On the contrary, we have some excellent tips on where to seek rock and gem formations that most closely resemble geodes in Rhode Island.
Diamond Hill in Rhode Island is a top spot for rockhounds and geology enthusiasts. It's located in Cumberland, near the Massachusetts border, and is known for its unique geology and beautiful terrain. The hill is part of the larger Massachusetts-Rhode Island State Line Kimberlite District, home to volcanic rocks containing diamonds and other precious minerals.
Diamond Hill is a small, forested hill that rises to just over 500 feet. The terrain is hilly and rocky, with lots of boulders and outcroppings of volcanic rock. The best spots for finding gems are along the trails and near the volcanic rock outcroppings. You can find beautiful crystals and other minerals with some luck and persistence.
Where we found geode-like formations
You can find quartz crystals in the area quarries of Diamond Hill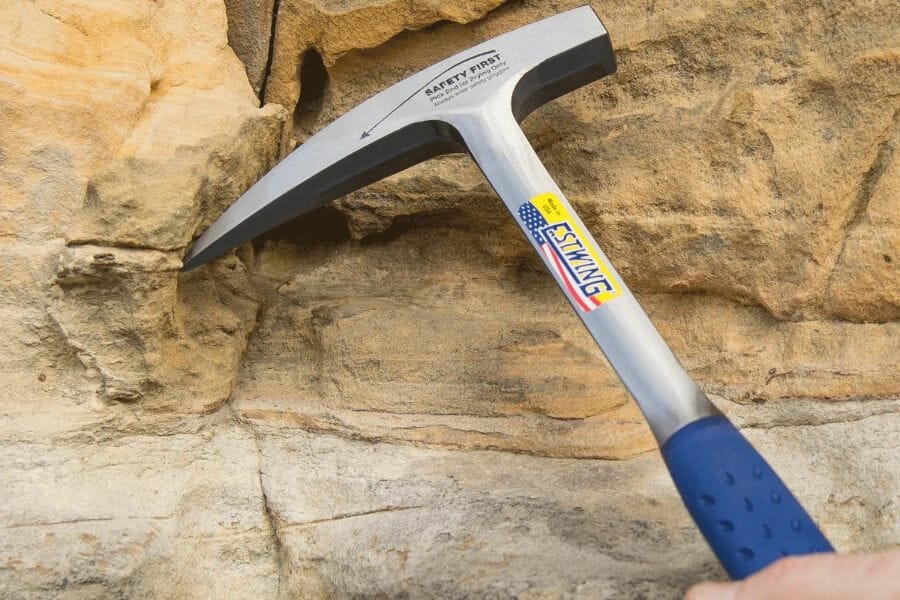 The tools every geode hunter will need
When you're out looking for geodes having the right tools for the job is very important. You don't need a lot for most trips but there are a handful that are critical and will make your life a lot easier.
We get asked a lot about the equipment we use. Over the years we've found a handful of tools that we recommend to both new and experienced geode hunters which we outline in great detail in our complete rockhounding tools and kit guide. These are quality options that also happen to be relatively inexpensive.
Below are the basic tools that make your life so much easier and save you a ton of time. Check out the full guide to see everything we recommend bringing. One quick note, as an Amazon Associate I earn from qualifying purchases but we try very hard to only recommend gear we would use ourselves and often recommend brands you can't find on Amazon.
At a minimum you should have:
1 - Sturdy rock hammer: The Estwing Rock Pick is our standard
2 - Rugged chisels: Try Kendo' 3-piece Chisel Set
3 - Compact shovel: The Koleiya 28-inch shovel works well
4 - Rock screen pan: The Wazakura Soil Sieve Set fits the bill
5 - Eye protection: DeWalt Safety Glasses are cheap and comfortable
6 - Head protection: Malta's Safety Helmet has been our go-to
7 - Jewelers lens with at least 20x magnification: Jarlink's Jewelers Loop is perfect
The geode-finding books that we use most
There are also a few books that have been extremely helpful in the search for gems. These books have great recommendations and tips:
National Audubon Society Field Guide to Rocks and Minerals: North America 
Northeast Treasure Hunter's Gem & Mineral Guide 
Earth Treasures: The Northeastern Quadrant 
We provide links to find these tools on Amazon but some can also be found at your local hardware stores. For more recommendations check out the link to our full tool guide above.
Newport County is a stunning area in the southeastern part of Rhode Island. It's known for its rich history, beautiful beaches, and coastal charm, making it a popular destination for tourists and locals alike. The county is situated on Aquidneck Island, surrounded by the Atlantic Ocean, Narragansett Bay, and Rhode Island Sound.
The terrain here is varied and includes everything from rocky cliffs to sandy beaches. Newport County is located on the coastal plain of Rhode Island and is home to a mix of sedimentary rocks and unconsolidated sediments. In addition, the county is home to several historic landmarks, including the famous mansions of Newport, that offer a glimpse into the region's cultural and architectural heritage.
Where we found geode-like formations
Quartz crystals may be found in the Tiverton area, in the quarries on Fish Road.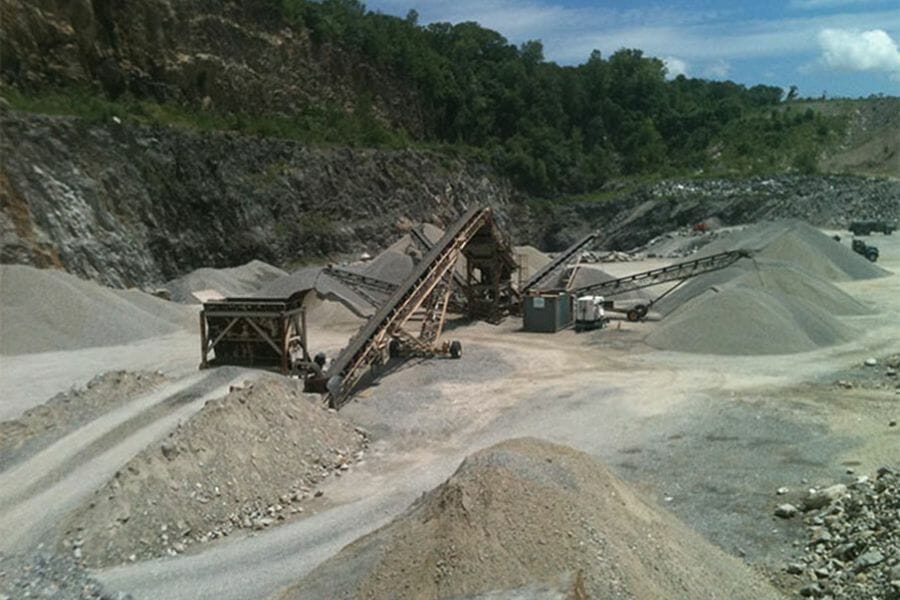 Providence County is a vibrant area in the north-central part of Rhode Island. It's known for its diverse landscape, rich history, and bustling urban centers, making it a fascinating place to explore. The county is home to the city of Providence, the state capital, and several smaller towns and villages. The terrain here is varied and includes everything from rolling hills to dense forests.
From a geological perspective, Providence County is located on the eastern edge of the Appalachian Mountains and is home to a mix of metamorphic and igneous rocks. The area is rich in minerals and has a long history of mining and quarrying.
Where we found geode-like formations
Sagenite quartz crystals are found in the Calumet Hill area quarries and the Diamond Hill granite quarry.
The county's best locations to mine for amethyst crystals are the beach gravels of Mt. Hope Bay, the mine dumps of Iron Hill, and the beach gravels of Pawtuxet.
Quartz crystals are abundant at the area quarries of Cumberland Hill, Diamond Hill, Conklin Lime Company Quarry, and Wanskirch Granite Quarry.
Washington County is a picturesque area in the southern part of Rhode Island. It's known for its stunning beaches, rolling hills, and charming small towns, making it a popular destination for tourists and locals. The county is bordered by Connecticut to the west and is home to several miles of sandy beaches along the Atlantic Ocean.
Washington County is located on the coastal plain of Rhode Island and is home to a mix of sedimentary rocks and unconsolidated sediments. The terrain here is varied and includes everything from rocky cliffs to sandy dunes.
Where we found geode-like formations
Quartz rocks are abundant here in the county, specifically in the Narragansett area. You can find them at Fort Varnum, Watson Pier, the Narragansett Pier area, and the Westerly Granite Quarry.
Quarries near East Deerfield
Real geodes have only been found as close as East Deerfield in Massachusetts. We are aware that it's a significant distance from Rhode Island. Although it's a long drive, this will be the state's nearest location to geodes.
East Deerfield is a small but charming area in western Massachusetts. It's known for its rich history, beautiful scenery, and unique geological formations, making it a fascinating place to explore. The area is situated in the foothills of the Berkshires and is home to several hills and valleys.
East Deerfield is located on the eastern edge of the Connecticut River Valley and is home to a mix of sedimentary and igneous rocks. The area is rich in fossils and has a long history of quarrying and mining. In addition, the area is home to several unique geological formations, including Pocumtuck Ridge and Mount Sugarloaf.
Where we found geodes at the quarries near East Deerfield
Because the process of creating them is the same, geodes can be found in any area where agates are found. You should search the area upstream and close to basalt exposures to locate geodes.
Common Rhode Island Geode-Hunting Questions
We also wanted to make sure to answer the following questions about geode hunting:
Where can you find amethyst geodes in Rhode Island?
Even if you can't find amethyst geodes naturally in the state, there are a lot of great places to find some stunning amethyst crystals:
The area beach gravels at Mt. Hope Bay in Providence County
At the mine dumps of Iron Hill in Providence County
The area beach gravels of the Pawtuxet area in Providence County
Is it illegal to collect geodes in Rhode Island?
Geode collection is permitted in Rhode Island as long as you follow the rules and laws of the area. Make sure you take the time to read the regulations or first communicate with the owner. Each property typically has specific public and private laws.
The Best Places To Buy Geodes In Rhode Island
You can only find geodes in Rhode Island from numerous top-notch rock shops. This state is fantastic for having a collection of beautiful rocks and minerals, so we are fortunate to have so many options:
Apple Valley Minerals – 7 Homestead Ave, Smithfield, RI 02917, United States
Amazon – We discovered that geodes could be bought on Amazon as well. For those who would rather do it themselves, there are complete kits containing geodes you may crack open.
Natural Elements – 435 Thames St, Newport, RI 02840, United States
Natures the Rock Shop – 416 Metacom Ave, Bristol, RI 02809, United States
The Lion's Gateway – 699 Aquidneck Ave, Middletown, RI 02842, United States
Third Rock Emporium – 75 Main St, East Greenwich, RI 02818, United States
Additional places to find geodes in nearby states
Check out our guides for nearby states if you've already tried all of our suggestions above or if you're planning a trip outside of the state:
If you have any recommendations for our list, please leave a comment below!