Have you ever wondered why New Hampshire is called the Granite State? It's well-deserved nickname alludes to its iconic granite formations. Backed by a rich granite mining history, our state boasts of an equally rich geological heritage that makes it a must-visit destination for rockhounds.
From the rugged White Mountains to the serene seacoast, New Hampshire's varied landscapes hide a treasure trove of natural wonders. With its mix of ancient mountains, glacial deposits, and volcanic activity, you're bound to stumble upon a wide range of interesting rocks and minerals during your adventures.
The combination of our state's breathtaking landscapes and the promise of finding unique rocks and minerals will leave any rockhound spellbound. So prepare to be dazzled as we share with you the impressive rockhounding sites in New Hampshire.
How We Found The Best Places For Rockhounding in New Hampshire
We spent a lot of time putting together the list of which of the many options for New Hampshire rockhounding we were going to recommend. We wanted to have a nice variety of locations for experienced and novice rockhounds in a variety of settings. Here are the main factors we used when determining the recommendations we set out :
The extensive local experience and understanding of our team
Input from multiple local rockhounds and rockhound groups
The accessibility of the various locations
Safety and potential hazards when collecting
Private and public locations
A desire to include locations for both experienced rockhounds and those who are just starting out
Using these weights we think we've put together the best list out there for those who love finding new rocks, gems, and minerals for our collections!

What You Can Find Rockhounding In New Hampshire
In New Hampshire, every step is a treasure hunt! As you traverse our diverse terrain, you'll stumble upon a remarkable assortment of rocks and minerals, each with its own unique story etched into the Earth's crust. Below are some of the fascinating finds that you can discover here:
Rare rocks and minerals found in New Hampshire
More common desirable rocks, minerals, and gems found here
In-depth guides to finding specific types of rocks in New Hampshire
We've prepared different guides focused on finding specific types of rocks and minerals in New Hampshire. If you're looking for them, better check out the following:
You can also refer to our comprehensive guide to rockhounds near you, with more than 3,000 proven sites all over the country.
But if you want to focus your eyes on New Hampshire and all its rockhounding opportunities, just continue reading here.
The Best Places To Find Rocks and Minerals in New Hampshire
As a rockhounding paradise that abounds with incredible sites to explore, it can be hard to choose the best ones to visit in Arizona. So we did the hard work for you and selected the most amazing rockhounding sites here based on our experience, research, and recommendations by other rockhounds.
Always Confirm Access and Collection Rules!
Before heading out to any of the locations on our list you need to confirm access requirements and collection rules for both public and private locations.
These requirements are subject to change without notice and may differ from what we state below.
Always get updated information directly from the source ahead of time to ensure responsible rockhounding.
Victor Head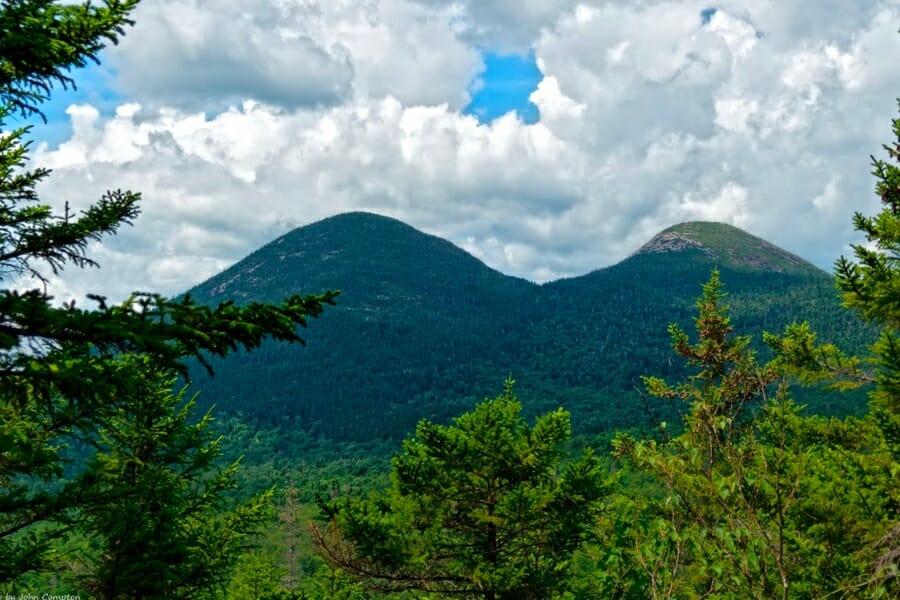 With its accessibility and scenic beauty, there is no doubt that Victor Head belongs to any rockhound's must-visit sites here. Situated in the heart of New Hampshire's captivating landscape, it offers breathtaking vistas that add to the overall experience of exploration.
Victor Head is a prominent geological formation that showcases an array of fascinating rocks and minerals, making it a must-visit destination for those seeking the thrill of discovery. Its rich geological history provides a fertile ground that ensures you with rewarding and memorable discoveries.
What you can find there
When you explore Victor Head after a fun hike, you can find samples of Albite, Amethyst, Beryl, Chlorite, Feldspar, Fluorite, Limonite, Microcline, Molybdenite, Muscovite, Pyrite, Smoky Quartz, Sericite, and Topaz.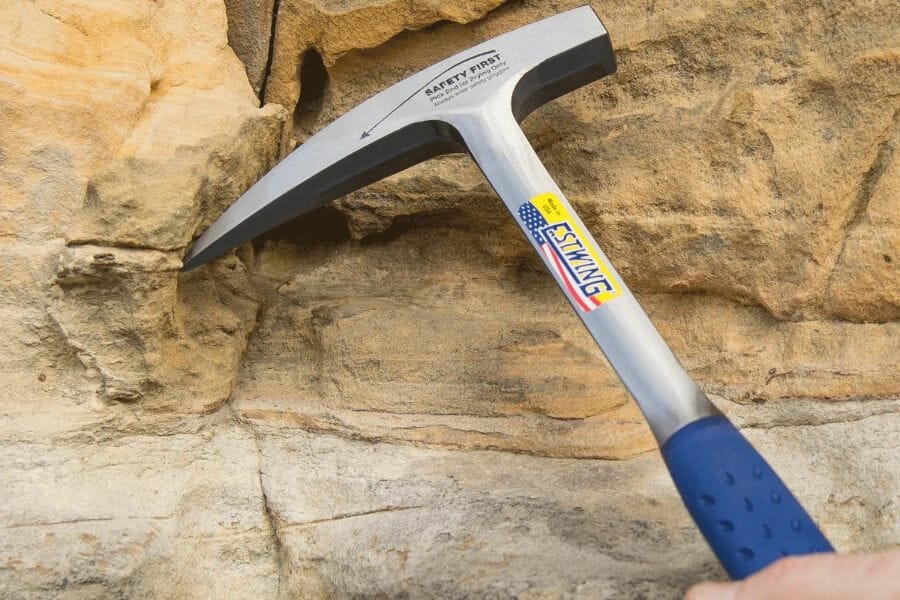 The tools every rockhound will need
When you're out looking for rocks and minerals having the right tools for the job is really going to make or break your success. You don't need a lot for most trips but there are a handful that are critical and will make your life a lot easier.
We get asked a lot about the equipment we use. Over the years we've found a handful of tools that we recommend to both new and experienced rockhounds which we outline in great detail in our complete rockhounding tools and kit guide. These are quality options that also happen to be relatively inexpensive.
Below are the basic tools that make your life so much easier and save you a ton of time. Check out the full guide to see everything we recommend bringing. One quick note, as an Amazon Associate I earn from qualifying purchases but we try very hard to only recommend gear we would use ourselves and often recommend brands you can't find on Amazon.
At a minimum you should have:
1 - Sturdy rock hammer: The Estwing Rock Pick is our standard
2 - Rugged chisels: Try Kendo' 3-piece Chisel Set
3 - Compact shovel: The Koleiya 28-inch shovel works well
4 - Rock screen pan: The Wazakura Soil Sieve Set fits the bill
5 - Eye protection: DeWalt Safety Glasses are cheap and comfortable
6 - Head protection: Malta's Safety Helmet has been our go-to
7 - Jewelers lens with at least 20x magnification: Jarlink's Jewelers Loop is perfect
The rockhounding books that we use most
There are also a few books that have been extremely helpful in the search for gems. These books have great recommendations and tips:
National Audubon Society Field Guide to Rocks and Minerals: North America 
Northeast Treasure Hunter's Gem & Mineral Guide 
Earth Treasures: The Northeastern Quadrant 
We provide links to find these tools on Amazon but some can also be found at your local hardware stores. For more recommendations check out the link to our full tool guide above.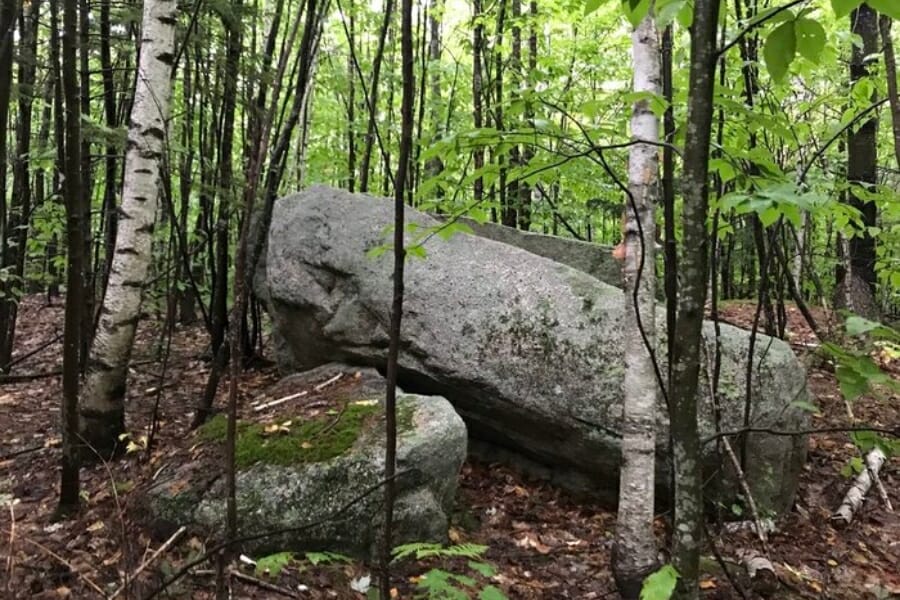 Located in the scenic White Mountains, the Moat Mountain Mineral Site is a rockhound's paradise, inviting enthusiasts to explore its captivating geological wonders.
This renowned site is a hotspot for mineral collectors due to its rich diversity of specimens. It offers a variety of collecting opportunities, from surface finds to digging in the quarry, ensuring that rockhounds of all levels can indulge in the thrill of discovery.
Aside from its abundance of rare minerals, what sets the Moat Mountain Mineral Site apart is its accessibility and scenic surroundings despite its richness. As you explore here, you'll be treated to breathtaking views of the surrounding mountains and valleys, adding an extra touch of magic to your experience.
What you can find there
You can find amazing specimens of Amazonite, Granite, Smoky Quartz, and Topaz during your rockhounding adventure here.
Quarries in Redstone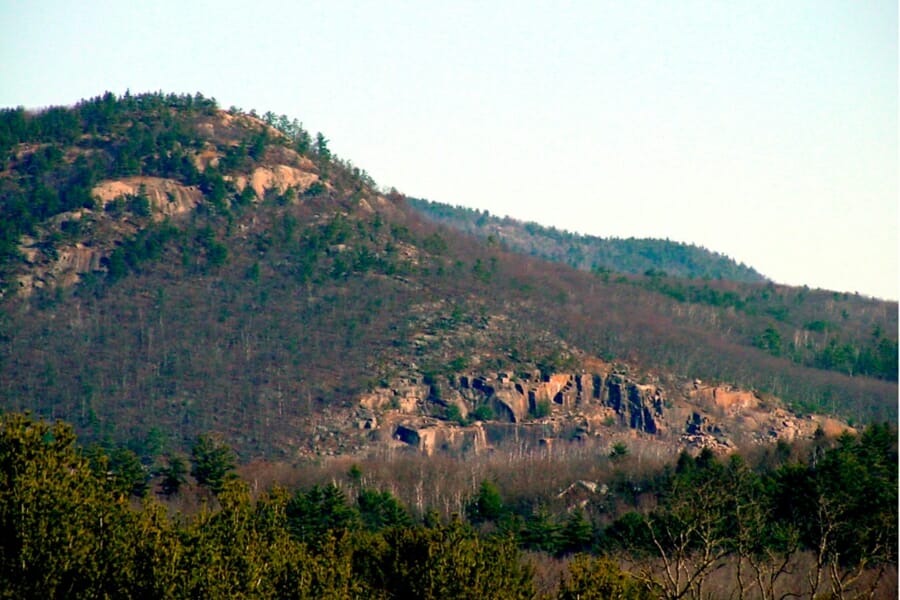 Redstone is renowned for its historic quarries that have been a significant source of granite for construction purposes. However, beyond its utilitarian value, these quarries also hold a hidden gems for rockhounds.
Exploring the quarries in Redstone allows you to witness the geological wonders shaped by human hands, with towering granite cliffs and exposed rock formations, creating a stunning backdrop for your rockhounding adventures.
You can expect to find a wide variety of rocks and minerals when you go here. Its exposed walls and abandoned pits provide you with ample opportunities for surface finds, but if you're more adventurous, you can explore deeper into the quarries in search of hidden treasures.
What you can find there
Exploring here will give you the chance to find different rocks and minerals, such as Amethyst, Apatite, Clear and Smoky Quartz, Microcline, and, Topaz.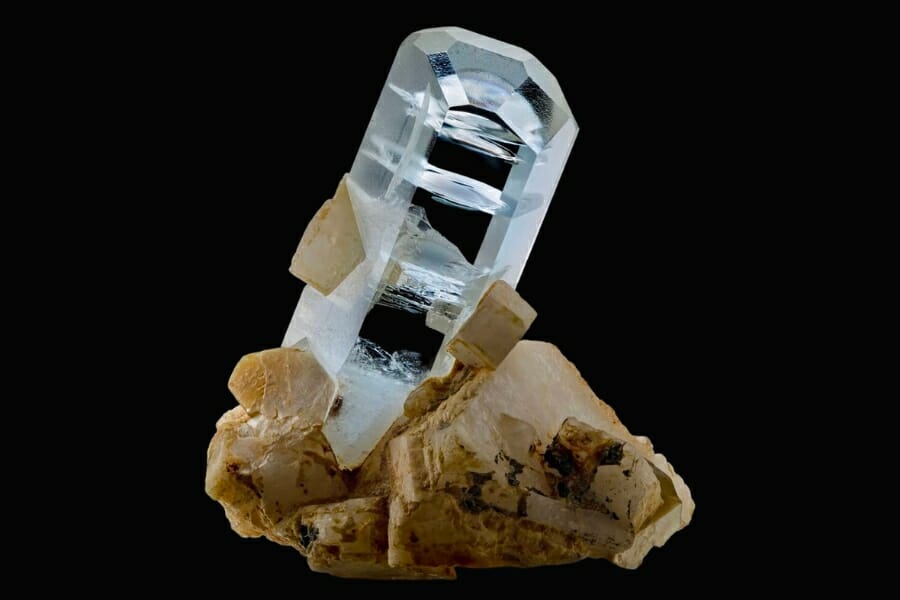 Charles Davis Mica Mine is a historic mine that offers a glimpse into our state's rich mining heritage. As you venture here, you'll be greeted by vibrant colors and dazzling formations, showcasing the remarkable diversity of rocks and minerals that can be found here.
The great thing about visiting the Charles Davis Mica Mine is that it's a great educational experience. The mine is open to the public, allowing you to not only observe and collect specimens, but to also learn about the mining techniques and processes employed in the past.
The combination of hands-on exploration and historical insight makes the Charles Davis Mica Mine an ideal destination for rockhounds of all levels: from beginners seeking a memorable experience to seasoned collectors in search of unique specimens.
What you can find there
This place abounds in different rocks and minerals, such as Apatite, Aquamarines, Aventurine, Beryl, Brazilianite, Lazulite, Quartz, and Triphylite.
Ruggles Mine
Named after its founder, Grafton Ruggles, Ruggles Mine is celebrated for its diverse array of minerals. As you can see in the photo, the mine has an interesting and unique cavernous tunnels and open pit areas, where you'll be immersed in a world of natural beauty with colorful minerals glistening under the light.
Like our previous recommended site, Ruggles Mine is not only accessible, but also encourages a hands-on approach when it comes to rockhounding. Here, you'll have the opportunity to personally collect specimens from designated areas, with the guidance of their knowledgeable staff.
Aside from the educational experience it offers, the mine's picturesque surroundings, with its tranquil lakes and scenic trails, will make your overall rockhounding experience even more special.
What you can find there
This site will stun you with the different fascinating rocks and minerals you can find here, including Autunite, Beryl, Feldspar, Gummite, Rose and Smoky Quartz, and Uraninite.
Our Other Favorite Spots Around New Hampshire
Aside from what we consider as top of our list when it comes to the amazing Arizona rockhounding sites, there are many other options of places that you can explore for your next finds. We've arranged them by region below so you can easily refer to this list when creating your itinerary of your visit here.
Rockhounding sites in Northern New Hampshire
Northern New Hampshire is blessed with a rich geological history, with its rugged mountains, deep valleys, and winding rivers. From the majestic peaks of the White Mountains to the serene shores of the Connecticut River, this area is a playground for rockhounds seeking adventure and hidden gems.
| | |
| --- | --- |
| Location | Minerals & Rocks |
| West of the trail on the south slope of Jasper Mountain | Jasper |
| Between North Peak and Square Mountain | Amethyst |
| At elevation 1700′ on Greens Ledge | Amethyst, Topaz |
| Between elevations 1600′ and 1800′ above and below Greens Ledge | Albite, Amethyst, Beryl, Chlorite, Fluorite, Limonite, Microcline, Molybdenite, Muscovite, Pyrite, Smoky Quartz, Sericite, Topaz |
| West face of Hutchins Mountain | Amethyst |
| Elevation 2000′ and above at Diamond Ledge | Amethyst, Beryl, Feldspar, Smoky Quartz, Topaz |
| South slope from 200′ below crest to the summit at Percy Peak | Amethyst |
Rockhounding sites in Southern New Hampshire
Southern New Hampshire showcases a diverse range of rocks and minerals shaped by ancient forces and glacial activity. From rolling hills to serene lakeshores, this region provides ample opportunities for rockhounding adventures amidst its scenic beauty.
| | |
| --- | --- |
| Location | Minerals & Rocks |
| Island Mica Mine | Beryl (Blue, Gold, and Yellow) |
| Three prospects on the south side of Horse Hill | Aquamarine |
| Keene Granite Quarry | Beryl, Rose Quartz, Smoky Quartz |
| Kittridge Granite Quarry | Rutilated Quartz |
| Connoli Granite Quarry | Rutilated Quartz |
| Blake Mine | Beryl, Garnet, Rose Quartz |
| Welch Mine | Beryl, Garnet, Rose Quartz |
Rockhounding sites in Eastern New Hampshire
Defined by its stunning coastline along the Atlantic Ocean, as well as its rolling hills and rivers, Eastern New Hampshire is a captivating region for rockhounds. Its unique combination of geological features creates a diverse and intriguing environment to explore and discover hidden natural treasures.
| | |
| --- | --- |
| Location | Minerals & Rocks |
| Passaconway Quarry and on ledge at the south of road | Smoky Quartz |
| Lovejoy Pit | Amazonite, Smoky Quartz, Topaz |
| White Mountain Granite Quarry | Amethyst |
| Randall Lead Mine | Smoky Quartz |
| North face of South Baldface Mountain | Biotite, Feldspar, Microcline, Muscovite, Orthoclase, Smoky Quartz, Phenakite, Topaz |
| 0.25 mile west on foot trail at Hurricane Mountain | Amethyst, Smoky Quartz |
| Foss Mica Mine | Apatite, Beryl |
| Parker Mountain Mine | Apatite, Beryl |
Rockhounding sites in Western New Hampshire
With its diverse geological formations and intriguing array of rocks and minerals, Western New Hampshire presents an exciting opportunity for rockhounds. Its rolling hills, picturesque valleys, and pristine lakes has created a beautiful landscape that will be an enticing background to your next adventure.
| | |
| --- | --- |
| Location | Minerals & Rocks |
| Shaker Hill Granite Quarry | Quartz |
| Ammonoosuc River | Jasper |
| East side of Melvin Hill at mine dump | Beryl (Blue) |
| Broad area running into Merrimack County and Sullivan County | Beryl, Feldspar, Clear and Smoky Quartz |
| Mine dump of Hobart Hill | Beryl, Lepidolite |
| Mine dump of Beryl Mountain | Beryl, Rose Quartz |
| Claremont | Staurolite |
| Columbia Gem Mine | Amethyst, Aquamarine, Beryl, Smoky Quartz |
| Reynolds Mine | Aquamarine |
Rockhounding sites in Central New Hampshire
Central New Hampshire holds tremendous appeal for rockhounds with its picturesque landscapes, including sprawling forests, rolling hills, and serene lakes. Its interesting geological history has given rise to a variety of fascinating rocks and minerals that will make any rockhound thrilled to be here.
| | |
| --- | --- |
| Location | Minerals & Rocks |
| North slope of Severance Hill | Beryl |
| Wild Meadows Mine | Beryl |
| New England Granite Works Quarry | Rutilated Quartz |
| Crowley Granite Quarry | Smoky Quartz |
| Alton area mines | Arsenopyrite, Pyrite |
Public Rockhounding Options For Kids
If you want to expose your children to the exciting and challenging hobby of rockhounding, it doesn't mean you have to subject them to a challenging start, too. In fact, there are plenty family-friendly rockhounding spots in New Hampshire that can serve as a great starting point for children.
Below are some of these family-friendly sites:
New Hampshire Rockhounding Clubs
Joining a rockhounding club in New Hampshire is beneficial for rockhounds of any level due to our state's rich geological heritage and abundance of rockhounding sites. These clubs provide a welcoming community of like-minded individuals who share a passion for rocks, minerals, and the thrill of discovery.
Rockhounding clubs offer beginners with invaluable guidance and mentorship, with seasoned members who are often eager to share their knowledge and expertise. Meanwhile, experienced rockhounds also benefit from the different activities hosted by rockhounding clubs such as educational presentations, workshops, and the likes.
In the context of New Hampshire, joining a rockhounding club provides access to a vibrant community of rockhounds who have intimate knowledge of our state's unique geological formations and can recommend the best locations for collecting specific rocks and minerals.
Rockhounding clubs in New Hampshire worth checking out
New Hampshire Rockhounding Laws And Regulations
It is legal to engage in rockhounding activities in New Hampshire, but it's crucial to adhere to all local and state laws and regulations governing collection. With the abundant opportunities for rockhounding here, it's important to respect the environment and follow guidelines to ensure its sustainability.
The New Hampshire Department of Environmental Services (NHDES) is responsible for regulating rockhounding activities and protecting our state's natural heritage. They provide valuable information and resources on permitted collection areas, restrictions, and guidelines for responsible and sustainable rockhounding practices.
In general, before venturing out to collect rocks and minerals here, make sure you're familiar with the specific regulations and restrictions in your area of interest. These regulations may vary depending on the location, as certain areas might be protected, privately owned, or subject to specific permits or permissions.
The Best Rock And Mineral Shops In New Hampshire
Just like in any adventure, sometimes, the easier route can be the best route to take. This is especially true if you're looking for a rock or mineral with specific characteristics in their natural environment. More often than not, it would be impossible for you to find them.
Luckily, New Hampshire has plenty of great rock and mineral shops that offer wide selections for you to choose from. Below are some of the best one around here:
Additional Rockhounding Places In Nearby States
If you want to extend your rockhounding adventure to nearby states, check out the following guides that we prepared for you:
If you have any recommendations that we haven't covered yet, please leave them in the comments below!