In Maine, rockhounding is a very enriching journey. This stunning state provides many opportunities to unearth nature's hidden gems, whether you're an experienced rockhound or a novice. It's a geologically diversified area with abundant mineral resources, making it a paradise for rockhounds.
You can explore locations like Mount Apatite Park, where you can sift through the surrounding natural beauty for vivid garnets and other minerals. You can also go to Bethel, where abandoned quarries may provide fascinating finds. There are countless of options for locales, so a fresh experience is always around the corner!
Maine has a unique, rock-hounding success rate. Mineral exploration has a long history in the state, and dedicated rockhounds have found some fantastic specimens here. You can join the ranks of successful rockhounds who have experienced the excitement of discovering treasures in Maine's untamed landscape with little research, perseverance, and an acute eye.
How We FoundThe Best Places For Rockhounding in Maine
We spent a lot of time putting together the list of which of the many options for Maine rockhounding we were going to recommend. We wanted to have a nice variety of locations for experienced and novice rockhounds in a variety of settings. Here are the main factors we used when determining the recommendations we set out :
The extensive local experience and understanding of our team
Input from multiple local rockhounds and rockhound groups
The accessibility of the various locations
Safety and potential hazards when collecting
Private and public locations
A desire to include locations for both experienced rockhounds and those who are just starting out
Using these weights we think we've put together the best list out there for those who love finding new rocks, gems, and minerals for our collections!

What You Can Find Rockhounding In Maine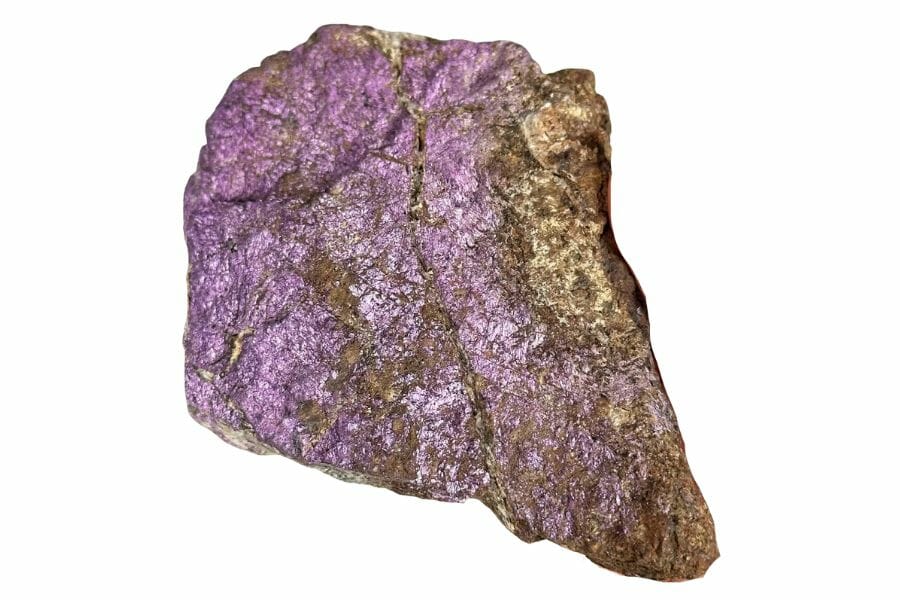 We cannot list every possible specimen due to the great diversity of the rocks and minerals found in Maine. The following are the bulk of the more popular and rare specimens that rockhounds search for in the state:
Rare rocks and minerals found in Maine
Lepidolite
Purpurite
Rhodochrosite
Rose Quartz
Smoky Quartz
More common desirable rocks, minerals, and gems found here
In-depth guides to finding specific types of rocks in Maine
You can locate the specimen you're looking for through our various guides.
There are more than 3,000 rockhounds near you on our list. Read this article to learn more about the rocks and minerals found in Maine.
The Best Places To Find Rocks and Minerals in Maine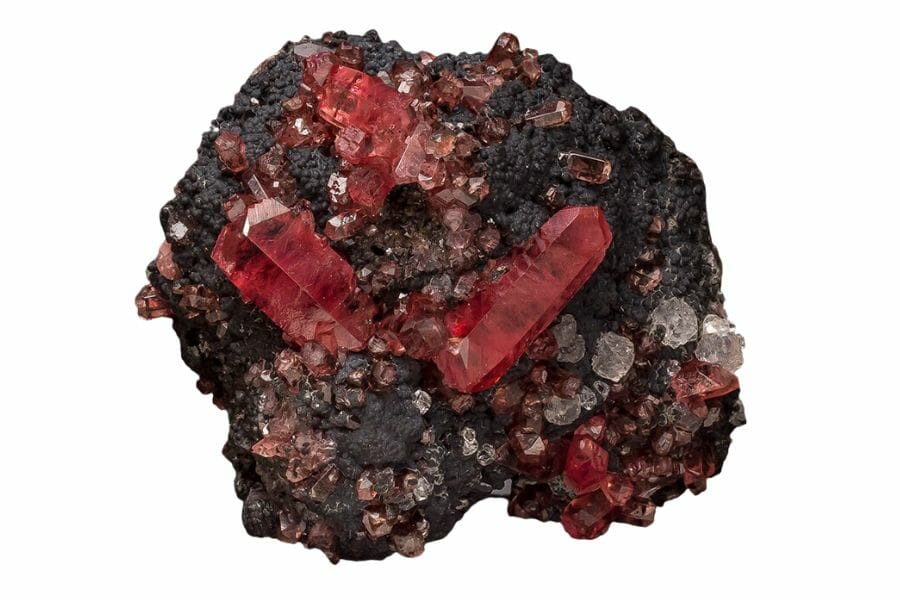 We've included a few of our favorite rockhounding locations in Maine to get things going. Despite having several options, we focused on our top choices. These sites' stunning rocks and minerals can make you want to travel there.
Always Confirm Access and Collection Rules!
Before heading out to any of the locations on our list you need to confirm access requirements and collection rules for both public and private locations.
These requirements are subject to change without notice and may differ from what we state below.
Always get updated information directly from the source ahead of time to ensure responsible rockhounding.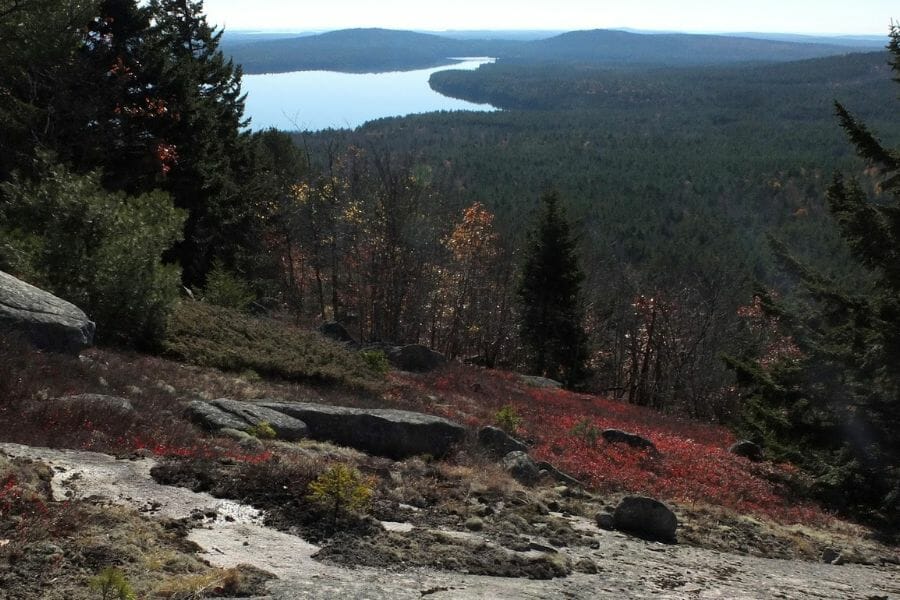 Catherine Mountain has a storied past, dating back to the early 19th century when it was a thriving mining area. It was primarily known for its copper mining operations, with several mines operating nearby. Although the mining industry has diminished over the years, the remnants of this historic activity add a layer of intrigue to the rockhounding experience.
The abundance of minerals and gemstones found here makes Catherine Mountain an enticing spot for rockhounding. The rugged terrain and exposed rock formations allow you to explore and unearth specimens. So, if you're eager to delve into the world of rockhounding and want to find some stunning minerals, Catherine Mountain is the place to be!
What you can find there
You can find many different rocks and minerals at Catherine Mountain, including fluorite, pyrite, and quartz specimens.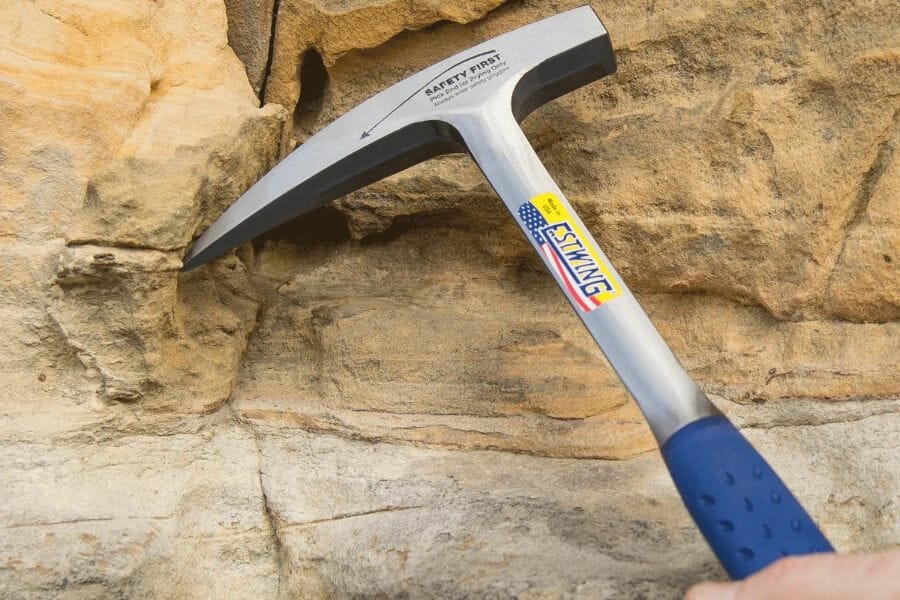 The tools every rockhound will need
When you're out looking for rocks and minerals having the right tools for the job is really going to make or break your success. You don't need a lot for most trips but there are a handful that are critical and will make your life a lot easier.
We get asked a lot about the equipment we use. Over the years we've found a handful of tools that we recommend to both new and experienced rockhounds which we outline in great detail in our complete rockhounding tools and kit guide. These are quality options that also happen to be relatively inexpensive.
Below are the basic tools that make your life so much easier and save you a ton of time. Check out the full guide to see everything we recommend bringing. One quick note, as an Amazon Associate I earn from qualifying purchases but we try very hard to only recommend gear we would use ourselves and often recommend brands you can't find on Amazon.
At a minimum you should have:
1 - Sturdy rock hammer: The Estwing Rock Pick is our standard
2 - Rugged chisels: Try Kendo' 3-piece Chisel Set
3 - Compact shovel: The Koleiya 28-inch shovel works well
4 - Rock screen pan: The Wazakura Soil Sieve Set fits the bill
5 - Eye protection: DeWalt Safety Glasses are cheap and comfortable
6 - Head protection: Malta's Safety Helmet has been our go-to
7 - Jewelers lens with at least 20x magnification: Jarlink's Jewelers Loop is perfect
The rockhounding books that we use most
There are also a few books that have been extremely helpful in the search for gems. These books have great recommendations and tips:
National Audubon Society Field Guide to Rocks and Minerals: North America 
Northeast Treasure Hunter's Gem & Mineral Guide 
Earth Treasures: The Northeastern Quadrant 
We provide links to find these tools on Amazon but some can also be found at your local hardware stores. For more recommendations check out the link to our full tool guide above.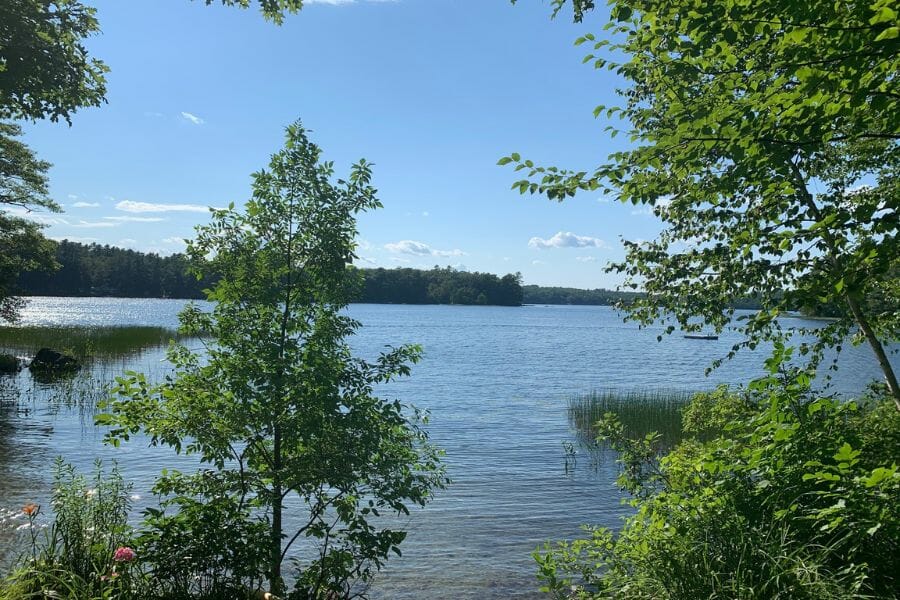 Crawford Pond offers serene views and a hidden treasure trove for rockhounding enthusiasts. Originally inhabited by Native American tribes, the area witnessed a blend of cultures over time. Today, it stands as a testament to the region's rich heritage.
Crawford Pond's picturesque surroundings and geological variation make it a desirable rock-hounding location. The calm environment provides a lovely setting for your activities, and the clear waterways add to it. You'll find a variety of hidden treasures as you explore the local rocky outcrops or travel along the shoreline.
What you can find there
Various rocks and minerals, including calcite, hematite, labradorite, pyrite, and sphalerite, can be found in and around Crawford's Pond.
French Mountain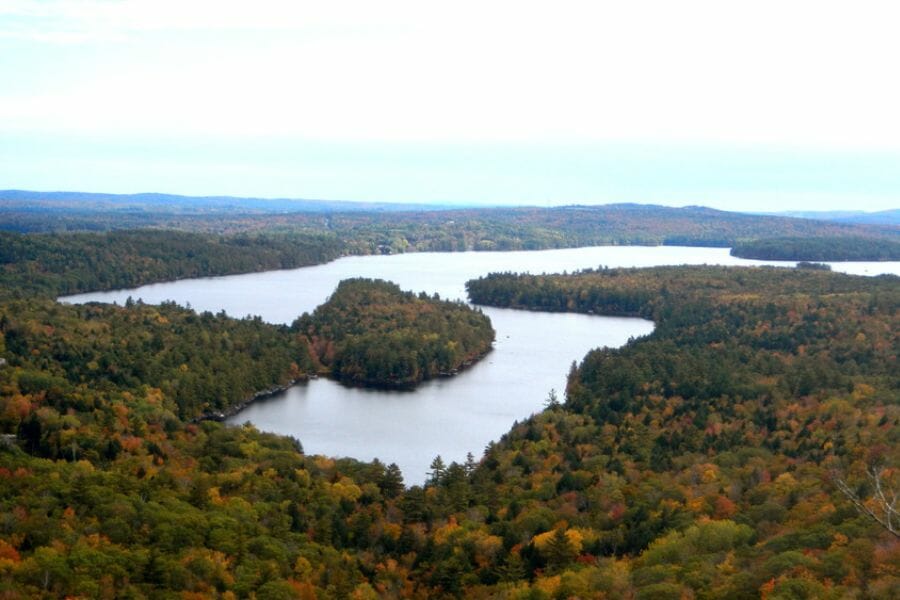 With its fascinating history and abundance of geological minerals, French Mountain attracts rockhounds. By exploriong the mountain, you might find evidence of its historical importance and conjure up images of the hive of activity that was once there.
French Mountain is the ideal location if you want to fully immerse yourself in the world of rockhounding. Its scenic beauty and geological diversity combined provide a magical atmosphere for exploration. You'll be hooked as you make your way along the paths and dig into the rocky ground and find rare specimens.
What you can find there
Stunning specimens of aquamarine and rose quartz can be located here at the French Mountain.
If you're finding it hard to tell very similar-looking rocks and minerals apart, you can refer to the few guides we've put together:
Goose Falls Road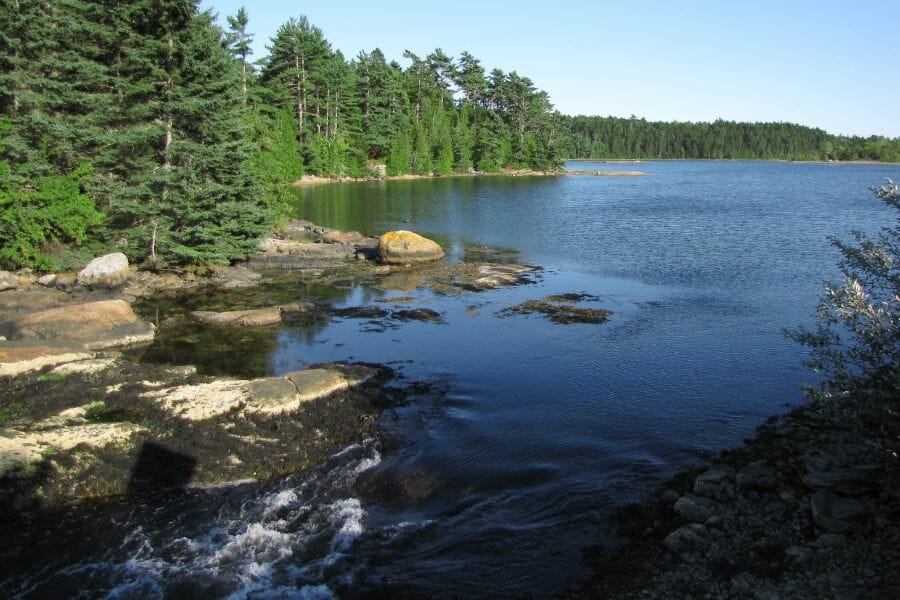 Goose Falls Road is a well-kept secret that provides both breathtaking views of the outdoors and thrilling rock-hounding opportunities. Rockhounds are invited to set off on an exhilirating journey along this picturesque road, which travels through an area full with geological beauties.
The past of Maine is still present on Goose Falls Road. Once, it was home to active quarries and mining enterprises that dug up different minerals from the ground. Even if the mining activity has decreased over time, the road is still lined with reminders of its rich past. While you explore the area, you'll find exposed rock formations and abandoned quarries that may contain undiscovered gems.
What you can find there
Many rocks and minerals, such as azurite, calcite, chrysocolla, galena, garnet, malachite, and pyrite can be discovered at the Goose Falls Road.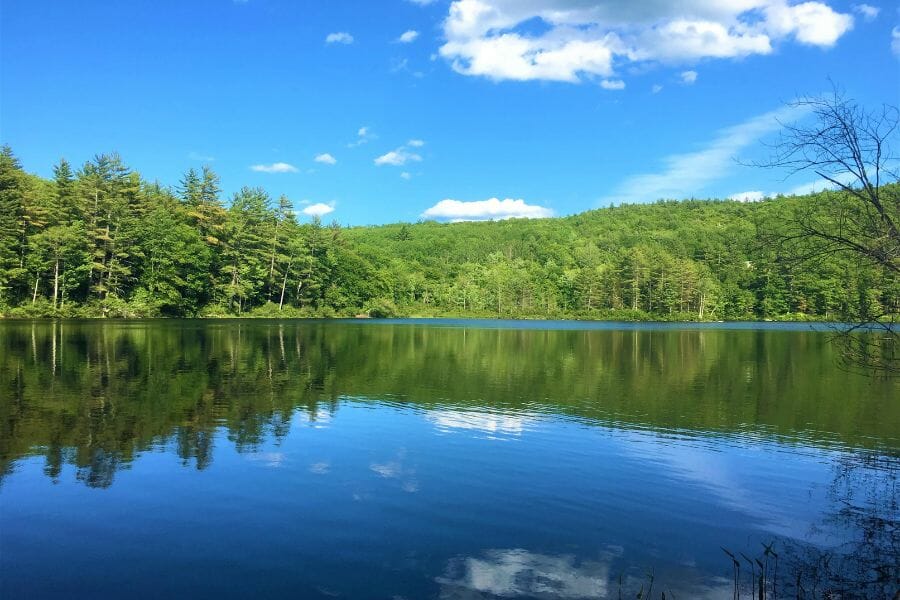 Kezar Lake in Maine is not just a haven for water enthusiasts but also a hidden paradise for rockhounding enthusiasts. Steeped in natural beauty and surrounded by the charm of Maine, this serene lake offers a unique rockhounding experience that combines adventure with tranquility.
Kezar Lake is the ideal location if you want to combine your love of rockhounding with a tranquil lakeside hideaway. Imagine yourself taking pleasure in the serene waters while simultaneously savoring the excitement of rockhounding. A fascinating experience produced by the picturesque surroundings and the possibility of finding something special.
What you can find there
Some of the spectacular examples you can discover here include beryl, garnet, fluorite, purpurite, pyrite, quartz, and topaz.
Our Other Favorite Spots Around Maine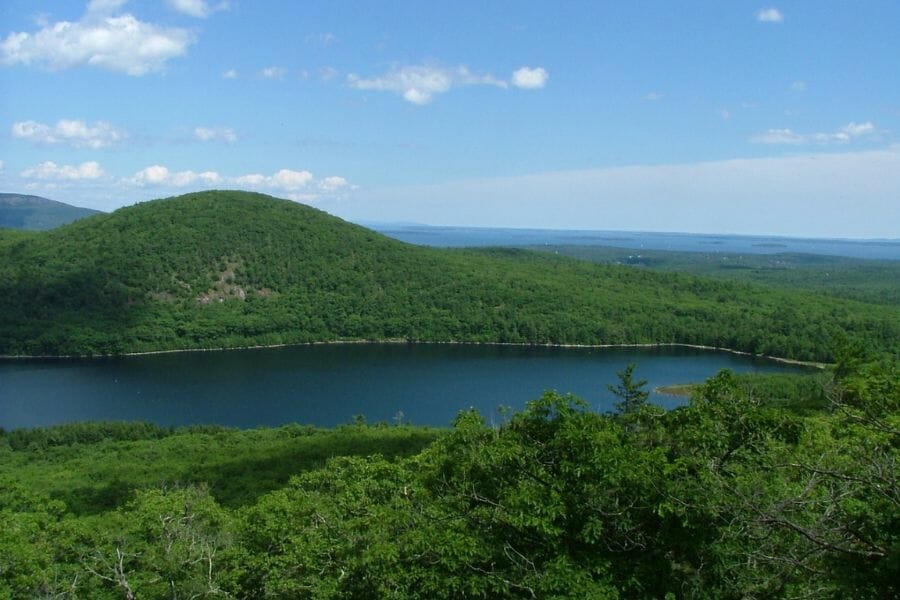 Maine is home to a wide variety of stunning and rare rocks and minerals. Explore the other options below to see more specimens.
Rockhounding sites in Northern Maine
Rockhounds will find Northern Maine to be a delight, with its combination of untamed terrain and natural wonders. This pristine region is renowned for its rich minneral deposits and diverse rock formations, making it a prime destination for rockhounding enthusiasts.
With its vast wilderness, remote locations, and a wide range of geological formations, northern Maine promises unforgettable adventures for rockhounds seeking to explore and unearth nature's hidden treasures.
| | |
| --- | --- |
| Location | Minerals & Rocks |
| Hovey Mountain | Hematite, Rhodochrosite, Rhodonite |
Rockhounding sites in Southern Maine
Rockhounds can enjoy an amazing playground full of unique geological riches in Southern Maine. This area offers rockhounds a rare chance to find remarkable specimens from seaside vistas, old mountains, and former mining areas.
| | |
| --- | --- |
| Location | Minerals & Rocks |
| Kennedy Mine | Aquamarine, Beryl, Topaz |
| Phillips Mine | Amethyst, Tourmaline |
| Mount Apatite | Beryl, Tourmaline |
| LaChance Quarry | Aquamarine, Beryl, Garnet, Quartz, Tourmaline |
| Winslow Tin Mine | Beryl, Galena, Fluorite, Quartz, Tourmaline |
| Little River | Galena, Pyrite, Quartz |
Rockhounding sites in Central Maine
Central Maine is characterized by its rolling hills, picturesque lakes, and extensive granite formations, making it a prime destination for rockhounding enthusiasts. From the stunning crystalline quartz specimens found in the area to the occasional discovery of vibrant amethyst, Central Maine offers a treasure trove of fascinating rocks and minerals.
The region is also known for its occurrences of garnets, tourmaline, and feldspar, providing ample excitement for those seeking unique specimens.
| | |
| --- | --- |
| Location | Minerals & Rocks |
| Rattlesnake Mountain | Beryl |
| Baldpate Mountain | Aquamarine |
| Spruce Mountain | Beryl |
| Mount Plumbago | Rose Quartz, Tourmaline |
| Ragged Jack Mountain | Amethyst |
| Pleasant Mountain | Smoky Quartz |
| Hedgehog Hill | Beryl, Garnet |
| Stark Mountain | Garnet, Smoky Quartz |
| Paris Hill | Amazonite, Beryl, Pyrite, Quartz, Tourmaline |
| Black Mountain | Beryl, Garnet, Lepidolite, Pyrite, Quartz, Rhodochrosite |
| Whitecap Mountain | Garnet, Quartz, Tourmaline |
| Sugar Hill | Aquamarine, Beryl |
| Deer Hill | Amethyst, Garnet, Pyrite, Quartz |
Confusion between rocks and minerals is a common stumbling block, but our guides are designed to eliminate uncertainty. With our friendly guides, you'll become a master at distinguishing them.
Where To Find Garnet In Maine
Although Garnet can be hard to find, our state is lucky to have access to it. Because of its scarcity and brilliance, Garnet has long been treasured and highly valued by rock collectors and rockhounds.
Mount Apatite Park is our favorite place to look for Garnet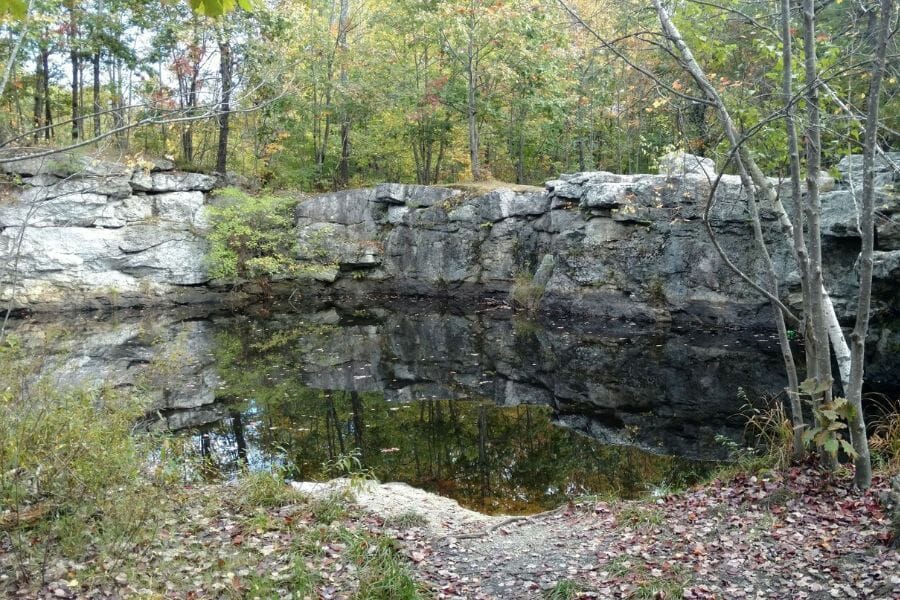 This park is famous for its rich variety of minerals, including garnets. You can search for garnets in the pegmatite deposits within the park. The park provides well-maintained trails and designated areas for collecting minerals, making it an ideal destination for all skill levels.
Whether you're a beginner or an experienced rockhound, the thrill of finding beautiful rocks and minerals amidst the scenic surroundings is simply unbeatable.
Other good options to find Garnet
Moosehead Lake
Mount Mica
Public Rockhounding Options For Kids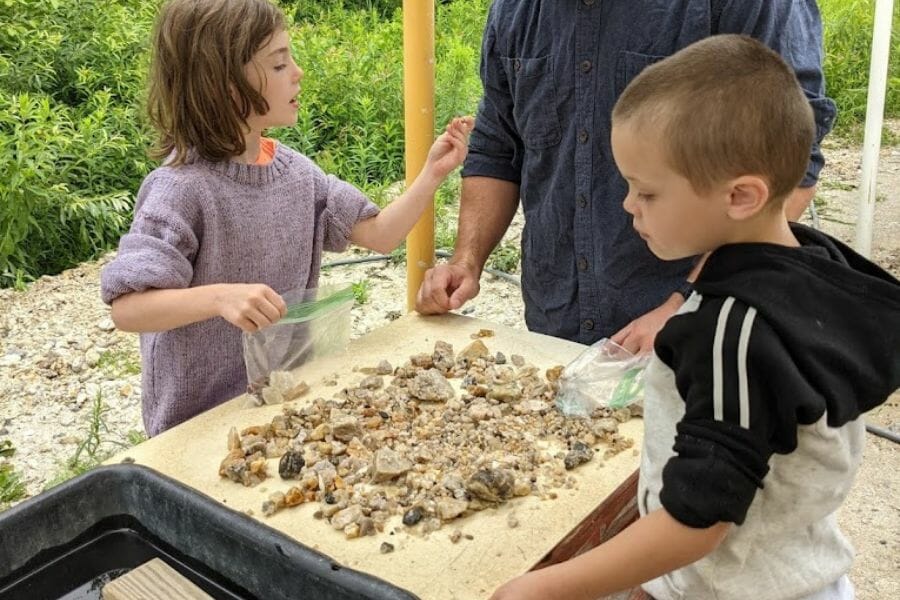 While it can be entertaining and informative for kids, finding the best rockhounding spots that are kid-friendly is not easy. Luckily, there are locations in our state that are best for introducing kids to the hobby. Because of the easy terrain and lots of opportunities to find specimens, these places listed below are perfect for the whole family.
Maine Rockhounding Clubs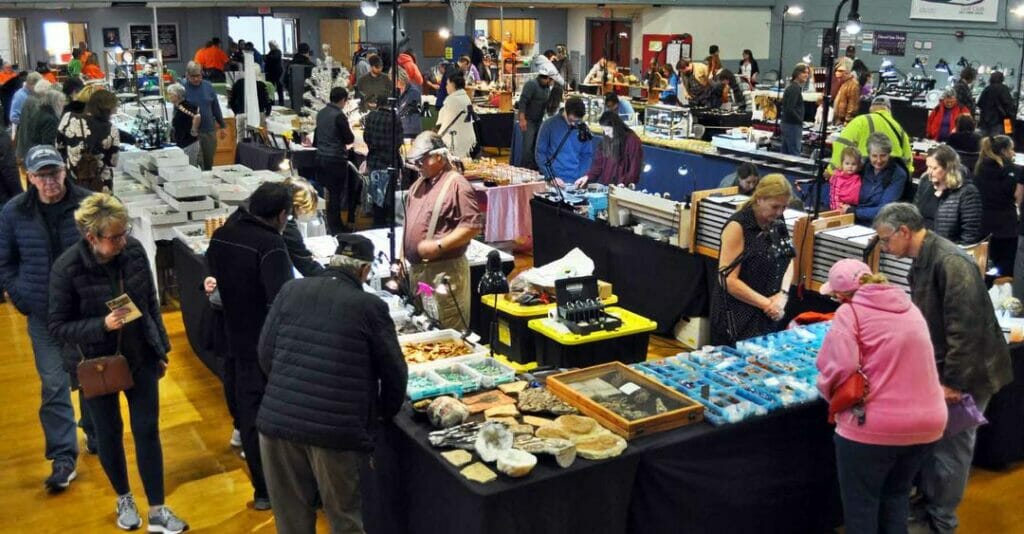 Rockhounding clubs are an invaluable resource for rock enthusiasts, providing a supportive community and a wealth of knowledge. By joining rockhounding clubs, members gain access to a network of like-minded individuals who share a passion for collecting and studying rocks and minerals.
These clubs often organize field trips to prime collecting locations, allowing members to explore new sites and learn from experienced rockhounds. Additionally, rockhounding clubs offer educational opportunities such as guest speakers, workshops, and presentations, fostering a deeper understanding of geology and mineralogy.
The camaraderie, shared experiences, and expert guidance make rockhounding clubs an excellent avenue for expanding one's rockhounding skills and connecting with fellow enthusiasts.
Rockhounding clubs in Maine worth checking out
Maine Rockhounding Laws And Regulations

Rockhounding and collecting rocks and minerals in Maine is legal and an exciting activity for enthusiasts. However, it's important to adhere to local and state laws and regulations, such as rules by Maine Department of Agriculture, Conservation, and Forestry (DACF), to ensure responsible and sustainable collecting practices. Maine has specific guidelines and restrictions in place to protect natural resources and preserve the integrity of collecting sites.
Rockhounds should familiarize themselves with the specific rules and regulations of the area they plan to explore. Some locations may require permits or permissions from landowners, while others may have restrictions on the types or quantities of minerals that can be collected.
It's crucial to respect private property, follow designated trails, and avoid disturbing sensitive habitats or archaeological sites. By following these guidelines, rockhounding enthusiasts can enjoy their hobby while also contributing to the preservation of Maine's natural beauty for future generations to enjoy.
Our Favorite Rock And Mineral Shops In Maine
Not everyone likes going exploring the great outdoors for hours to find mineral specimens. Others prefer the convenience of going to a well-known rock shop and purchasing rare minerals. These are Maine's top mineral and rock shops where you may find a wide range of different rocks.
Additional Places To Rockhound In Nearby States
If you've already tried all of our recommendations above or are planning a trip out of the state you should check out our guides for neighboring states:
If you have any recommendations we haven't covered please leave them in the comments below!