Amethyst is one of the most sought-after gemstones in the world. Known for its stunning beauty and powerful healing properties, it has become a popular choice for jewelry and decorative purposes. Its color, which ranges from pale lilac to deep violet, is often used to represent luxury, royalty, and spirituality.
Due to its rarity and beauty, this gemstone is highly prized by collectors and jewelry enthusiasts worldwide. However, finding one can be particularly challenging without the right guidance.
Fortunately, there are many awesome sites available for those wanting to find Amethyst in Oregon. We've scoured our state to create this comprehensive yet simple guide that will point you to the right places where you can find the perfect specimen that meets your needs. Let's get started!
What is Oregon Amethyst?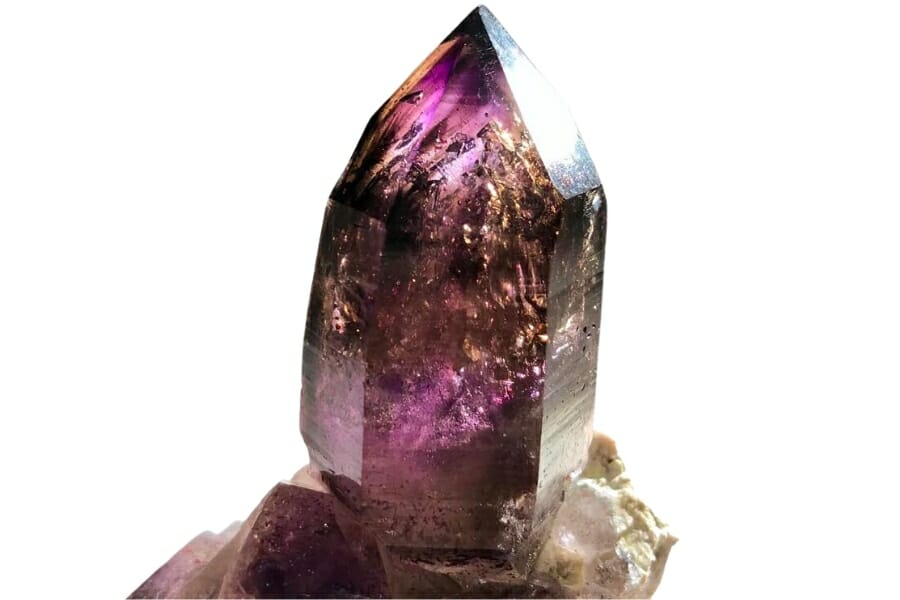 The birthstone for February, Amethyst gets its purple color from the presence of iron and manganese within the quartz crystal. It can be found all over the world, but some of the most significant deposits are located in Brazil, Uruguay, and Zambia. There are also lesser-known sources in the United States, such as in Oregon.
Oregon Amethysts are unique in their coloration, with a distinct reddish-purple hue that sets them apart from other specimens. They're also known for their microscopic inclusions, described as "landscape" or "garden" that resemble miniature scenes. These give each gemstone a distinct personality.
How We Know About Great Locations For Amethyst in Oregon
The best locations to find amethyst in Oregon can be closely guarded secrets. Fortunately, we've been around long enough to know where many of the best spots are to find it. We might not know every one out there but we know some pretty good ones. The key factors in our recommendations are:
The deep experience and understanding of our team about the area
Recommendations from local groups and clubs
How easy it is to get the a particular location
Safety and potential hazards when collecting
Weighing private and public locations
The ability for both experienced and novice amethyst enthusiasts to find great samples
With these factors in mind we've been able to put together a fantastic list that just about anyone can use!

The Best Spots To Find Amethyst in Oregon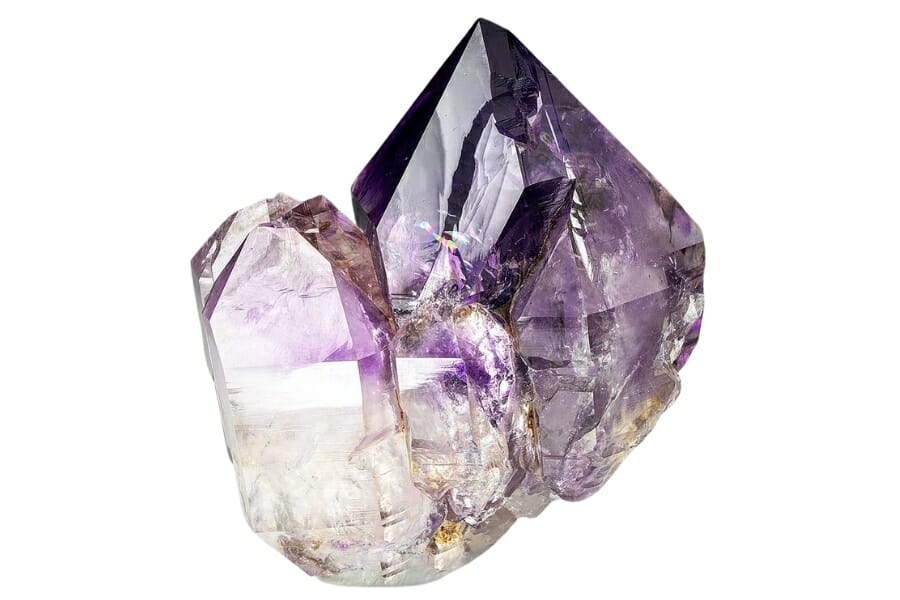 There is an abundance of great places to mine gems in Oregon, but not all of these locations have Amethysts, too. We've specifically searched through our state to find the awesome site where you can find these amazing purple gems. And below are our favorite ones:
Always Confirm Access and Collection Rules!
Before heading out to any of the locations on our list you need to confirm access requirements and collection rules for both public and private locations.
These requirements are subject to change without notice and may differ from what we state below.
Always get updated information directly from the source ahead of time to ensure responsible rockhounding.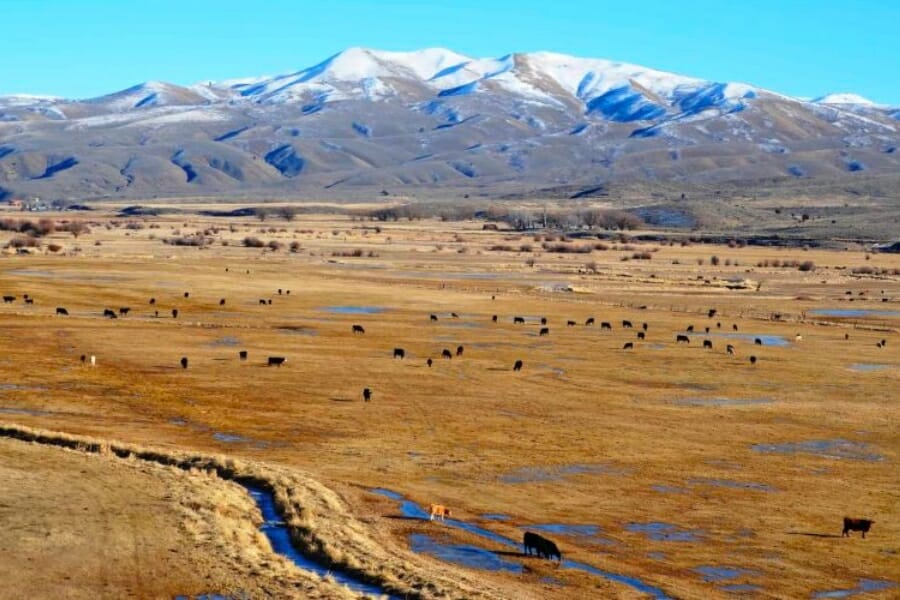 Located in central Oregon, near the town of Prineville, Antelope Bed has a breathtaking terrain that's been attracting visitors left and right. It has a pretty unique landscape, with rugged hills and canyons that were formed by volcanic activity millions of years ago.
Antelope Bed's geology is pretty interesting too— the Amethysts that you can find here were formed in cavities within the volcanic rock, and they have a unique reddish-purple color that sets them apart from other specimens.
Finding Amethysts here won't be easy, though, but the challenge of doing so is just part of the fun. If you're lucky, you might even find some with those cool landscape inclusions that Antelope Bed Amethysts are known for. Just make sure that you are following our state's collecting guidelines before you take home your finds.
Where we found amethyst at Antelope Bed
When you reach Wasco County, where this place is located, go 0.3 mile east on SR-218 to the bridge. After crossing bridge, watch for Antelope Bed sign and turn south there. You can start your exploration for Oregon Amethysts there.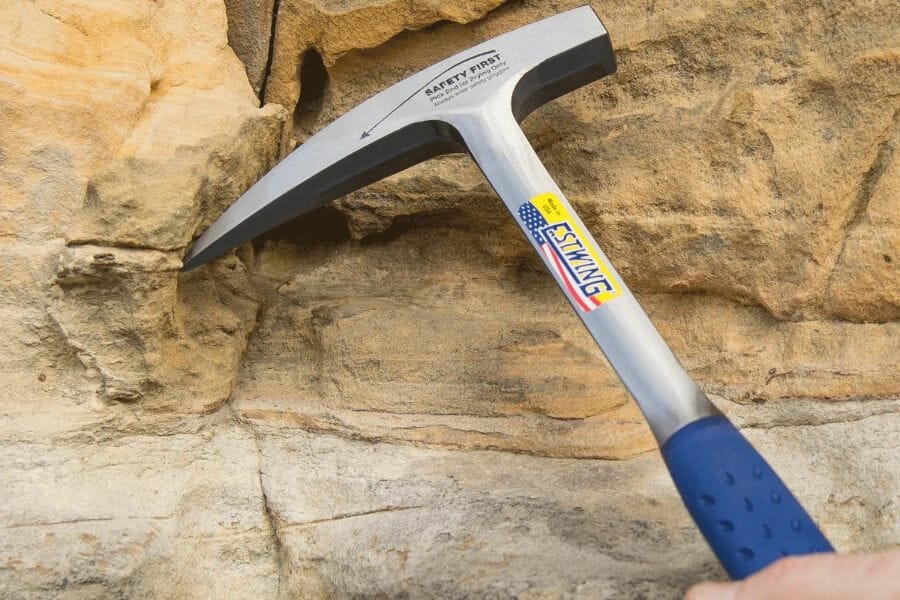 The tools every amethyst hunter will need
When you're out looking for amethyst having the right tools for the job is really going to make or break your success. You don't need a lot for most trips but there are a handful that are critical and will make your life a lot easier.
We get asked a lot about the equipment we use. Over the years we've found a handful of tools that we recommend to both new and experienced amethyst hunters which we outline in great detail in our complete rockhounding tools and kit guide. These are quality options that also happen to be relatively inexpensive.
Below are the basic tools that make your life so much easier and save you a ton of time. Check out the full guide to see everything we recommend bringing. One quick note, as an Amazon Associate I earn from qualifying purchases but we try very hard to only recommend gear we would use ourselves and often recommend brands you can't find on Amazon.
At a minimum you should have:
1 - Sturdy rock hammer: The Estwing Rock Pick is our standard
2 - Rugged chisels: Try Kendo' 3-piece Chisel Set
3 - Compact shovel: The Koleiya 28-inch shovel works well
4 - Rock screen pan: The Wazakura Soil Sieve Set fits the bill
5 - Eye protection: DeWalt Safety Glasses are cheap and comfortable
6 - Head protection: Malta's Safety Helmet has been our go-to
7 - Jewelers lens with at least 20x magnification: Jarlink's Jewelers Loop is perfect
The amethyst-finding books that we use most
There are also a few books that have been extremely helpful in the search for gems. These books have great recommendations and tips:
National Audubon Society Field Guide to Rocks and Minerals: North America 
Northwest Treasure Hunter's Gem & Mineral Guide 
Earth Treasures: The Northwestern Quadrant 
We provide links to find these tools on Amazon but some can also be found at your local hardware stores. For more recommendations check out the link to our full tool guide above.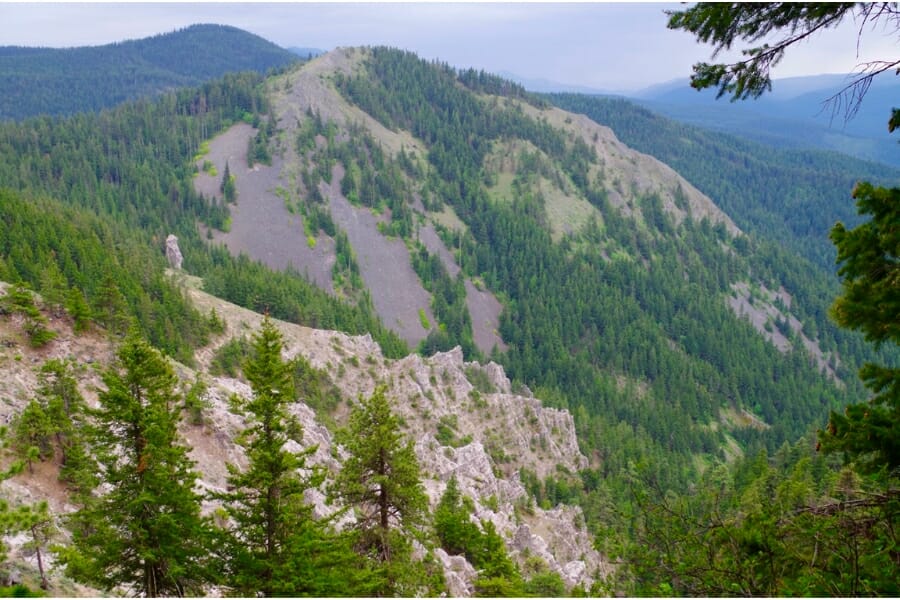 Shellrock Mountain is located in the Ochoco National Forest, about an hour's drive from Prineville. The terrain of the mountain is pretty rough and its geology is unique. It's rich in volcanic rocks, which explains the numerous pockets of remarkable Amethysts found here.
To find this gemstone here, you'll need to do some hiking and exploring to get to the good spots. The terrain can be steep and rocky, so make sure you wear sturdy shoes and pack plenty of water and snacks.
Where we found amethyst at Shellrock Mountain
When you visit here, you can explore the different nooks and crannies of Shellrock Mountain to discover their Amethyst reserves. Should you find one and you're curious to know all about Amethyst price in the current market, check out our guide, too.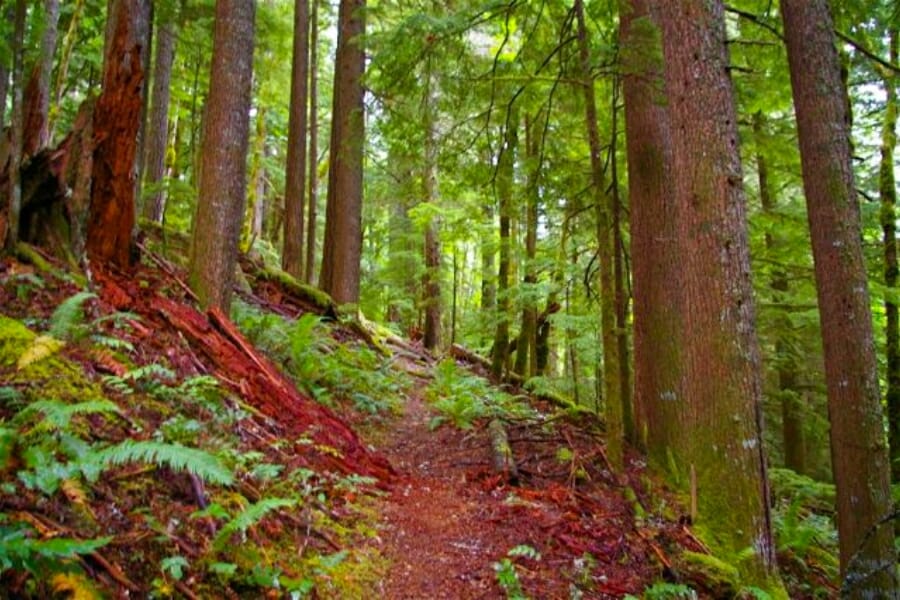 You'll be amazed by the unique terrain of the Cripple Creek Vein located in the eastern part of our state, near the town of Adrian. This place is known for its rugged hills and canyons, which were formed by volcanic activity millions of years ago.
The Amethysts found in Cripple Creek Vein are formed in cavities within the volcanic rock, and they have a beautiful reddish-purple color.
However, like the other two locations we've shared above, finding Amethysts here can be a bit challenging as the terrain can be pretty steep and rocky. But once you come across impressive specimens, it will all be worth it.
Where we found amethyst at Cripple Creek Vein
To find Amethyst here, you can visit and explore the western vein of Cripple Creek. Many rockhounds have found beautiful specimens of the gem here so chances are high that you'll find one here, too.
Common Amethyst-Hunting Questions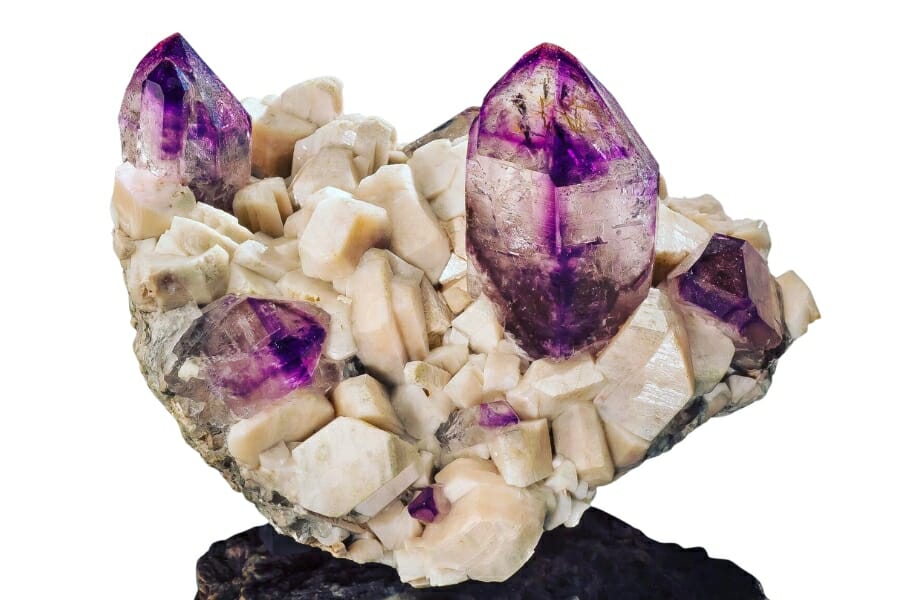 When it comes to Amethyst mining in Oregon, below are some of the most common questions that collectors and enthusiasts have. You might be wondering about the same things, too, so we'll answer them for you.
Where can you find Amethyst Geodes in Oregon?
While Amethysts occur in Oregon, Amethyst geodes are another thing. Unfortunately, you won't find them here even if you keep digging and mining. You still have a chance of taking home an Amethyst geode from Oregon though if you visit our local rock and gem shops here. We'll be sharing some great ones below that you can check out.
Is it illegal to collect amethyst in Oregon?
It is legal to collect amethyst in Oregon if you are compliant with our state's collecting guidelines. Also, some areas may have specific rules and regulations meant to protect the environment and biodiversity of the area, so make sure that you are aware and obedient of them, too.
The Best Places To Buy Amethyst In Oregon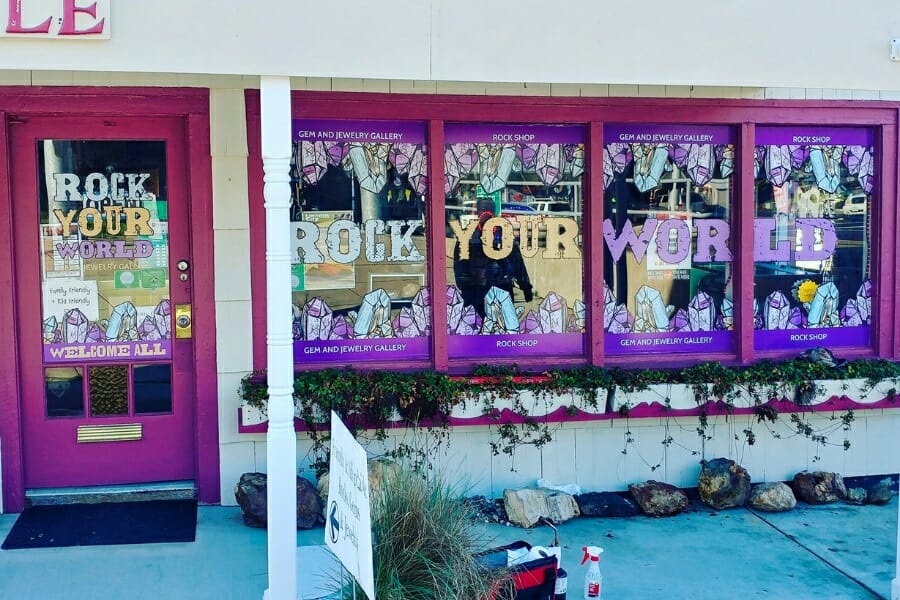 If you prefer an easier and more relaxing way of taking home an Oregon Amethyst for your collection, then we recommend visiting our local rock and gem shops. We've listed down our favorite ones below so you could choose which ones to check out.
Rock Your World – 3203 SE Hwy 101, Lincoln City, OR 97367
5 Elements Gem and Mineral – 2100 W Broadway, Eugene, OR 97402
Enchanted Crystal – 4207 SE Woodstock Blvd, Portland, OR 97301
Best Crystals – 6635 N Baltimore Ave # 216, Portland, OR 97203
Flower of Life Crystals – 40 N Main St, Ashland, OR 97520
Visions Rock Shop – 6334 US-101 # 4, Lincoln City, OR 97367
Samora Minerals – 79 SE Taylor St #401, Portland, OR 97214
Nature's Bling – 133 SW Century Dr Suite 202, Bend, OR 97702
Additional Places To Find Amethyst In Nearby States
Check out the guides we made for the nearby states where you can find amethysts as well:
If you have any recommendations for our list please leave a comment below!