In South Carolina, searching for geodes can be challenging, especially if you don't have the right guide to follow. Despite this, we know the thrill of the hunt is unparalleled! In fact, you can spend hours exploring our state's diverse landscapes in search of these treasures.
In this article, we'll highlight the best spots to find, not only geodes, but other beautiful gems and rocks as well. From the Bowens River, Myrtle Beach, and Diamond Hill Mine, to the geode-bearing spots of Shooting Creek in nearby state North Carolina and Emerson in Georgia, this guide will set you out on an amazing adventure and experience to find geodes in South Carolina!
What Are Geodes Anyway?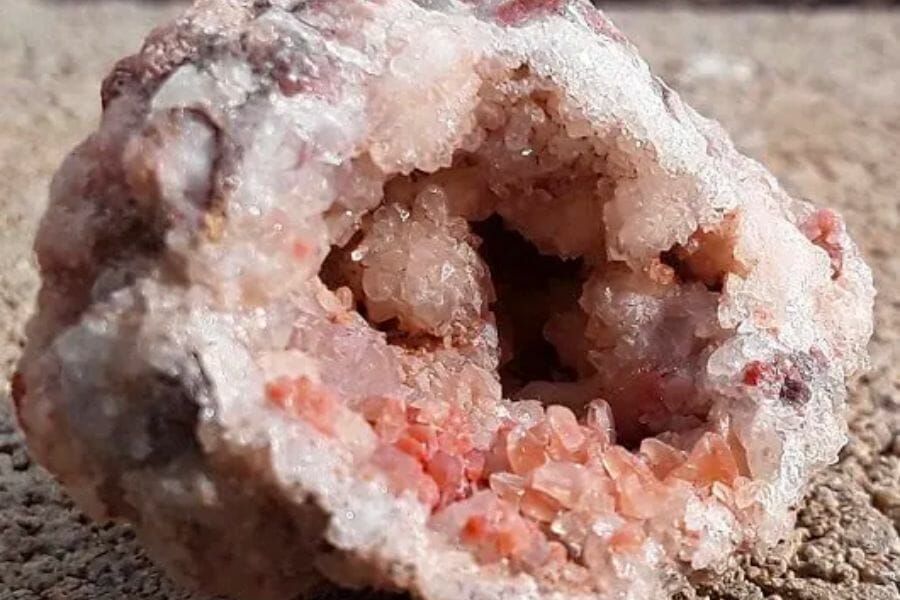 Geodes are hollow, spherical rocks that contain an array of stunning crystals. They're formed when mineral-rich water seeps into air pockets in volcanic or sedimentary rock and gradually deposits minerals inside over time— that's why they're typically found in areas with a history of volcanic activity or sedimentary deposition. Its outer shell can be composed of a variety of materials, while the crystals inside can range in color and shape, all of which have impact on the price of a geode.
Geodes are highly prized by collectors and rock enthusiasts due to their unique appearance and rarity. When cut open, they reveal their stunning crystal formations, making them popular in jewelry and decorative art. And while they're found all over the world, locating them can be a challenge due to their sporadic distribution. But with the right tools and knowledge, anyone can go on a geode-hunting adventure and discover these incredible natural wonders!
Here's a simple and easy guide on geode identification that you can use during your geode hunting!
How We Found The Best Geode Locations in South Carolina
When it comes to choosing the best options for finding South Carolina geodes there are plenty of things we consider. Many of the best locations are closely guarded secrets which can make it really difficult for more casual geode hunters to find success. The key factors in our recommendations are:
The deep experience and understanding of our team about the area
Recommendations from local groups and clubs
How easy it is to get the a particular location
Safety and potential hazards when collecting
Weighing private and public locations
The ability for both experienced and novice geode enthusiasts to find great samples
With these factors in mind we've been able to put together a fantastic list that just about anyone can use!

The Best Places To Find Geodes in South Carolina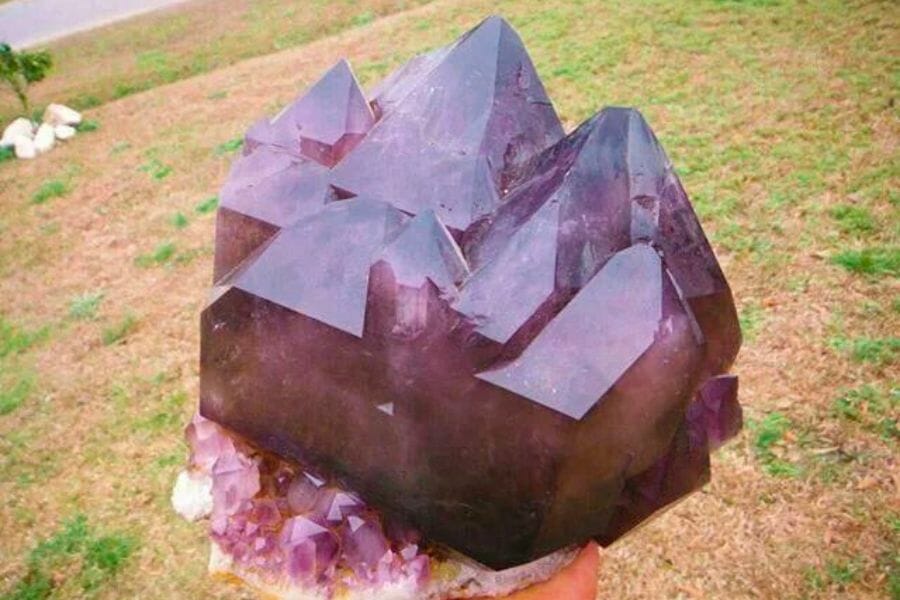 It's common knowledge among rockhounds that South Carolina has some pretty amazing gem mines. So it might come as a surprise that geodes are very rare to find here— to the point that there's no known spot where you can dig for them in their natural environment.
But if you're keen on getting your hands on rocks and gems that are as stunning as geodes, we've got you covered with some of the best recommendations of places to explore! We even included here locations in nearby states where you can find geodes. Are you ready?
Always Confirm Access and Collection Rules!
Before heading out to any of the locations on our list you need to confirm access requirements and collection rules for both public and private locations.
These requirements are subject to change without notice and may differ from what we state below.
Always get updated information directly from the source ahead of time to ensure responsible rockhounding.
Bowens River runs through a swampy area with thick trees and undergrowth all around. It can be a bit tough to navigate, with lots of roots and rocks to trip you up, but it's worth it when you get to the good spots.
As far as geology goes, this area is known for its Amethyst and Quartz crystals. It's pretty cool to think that these rocks have been sitting here for millions of years, just waiting for someone to come along and find them.
One thing, though: getting here can be a bit tricky! You have to take some back road, park on the side of the road, and then hike your way. But it's all worth it once you arrive. Before you visit, don't forget to check the updated collecting guidelines of South Carolina.
Where we found geode-like formations
Bowens River is actually packed with LOTS of amazing gems that will fascinate you the same way geodes do. You can find Quartz, Amethyst, Emerald, and Sapphire when you explore the gravels and slate exposure of the river and its tributaries.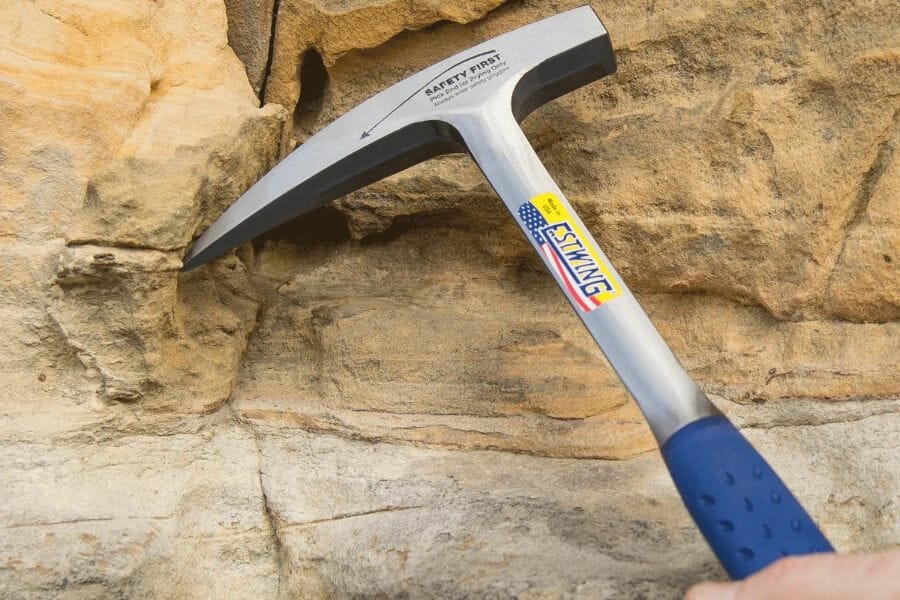 The tools every geode hunter will need
When you're out looking for geodes having the right tools for the job is very important. You don't need a lot for most trips but there are a handful that are critical and will make your life a lot easier.
We get asked a lot about the equipment we use. Over the years we've found a handful of tools that we recommend to both new and experienced geode hunters which we outline in great detail in our complete rockhounding tools and kit guide. These are quality options that also happen to be relatively inexpensive.
Below are the basic tools that make your life so much easier and save you a ton of time. Check out the full guide to see everything we recommend bringing. One quick note, as an Amazon Associate I earn from qualifying purchases but we try very hard to only recommend gear we would use ourselves and often recommend brands you can't find on Amazon.
At a minimum you should have:
1 - Sturdy rock hammer: The Estwing Rock Pick is our standard
2 - Rugged chisels: Try Kendo' 3-piece Chisel Set
3 - Compact shovel: The Koleiya 28-inch shovel works well
4 - Rock screen pan: The Wazakura Soil Sieve Set fits the bill
5 - Eye protection: DeWalt Safety Glasses are cheap and comfortable
6 - Head protection: Malta's Safety Helmet has been our go-to
7 - Jewelers lens with at least 20x magnification: Jarlink's Jewelers Loop is perfect
The geode-finding books that we use most
There are also a few books that have been extremely helpful in the search for gems. These books have great recommendations and tips:
National Audubon Society Field Guide to Rocks and Minerals: North America 
Southeast Treasure Hunter's Gem & Mineral Guide 
Earth Treasures: The Southeastern Quadrant 
We provide links to find these tools on Amazon but some can also be found at your local hardware stores. For more recommendations check out the link to our full tool guide above.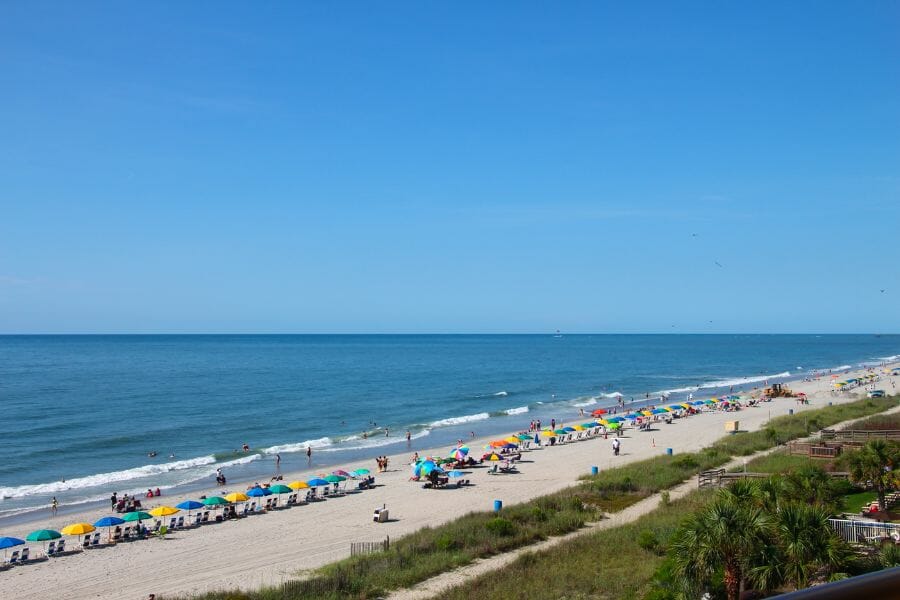 Chances are you've already heard, read, and seen photos of the beautiful and popular Myrtle Beach. This place is a real paradise with miles and miles of sandy beaches, crashing waves, and endless sunshine!
You might think this place is mostly just sand and seashells. But if you're into collecting shells, this is where you want to be. You can find all sorts of cool specimens, from tiny coquinas to huge conch shells. And if you're really lucky, you might even come across a shark tooth or two. You can also find amazing South Carolina crystals here if you search well enough.
To visit here, hop in your car and head east until you hit the ocean. There are plenty of hotels and restaurants in the area, so you can make a whole vacation out of it.
Where we found geode-like formations
While soaking under the warmth of the sun, you can find some amazing samples of Agate, Chalcedony, Megalodon teeth on the gravels and sands of Myrtle Beach.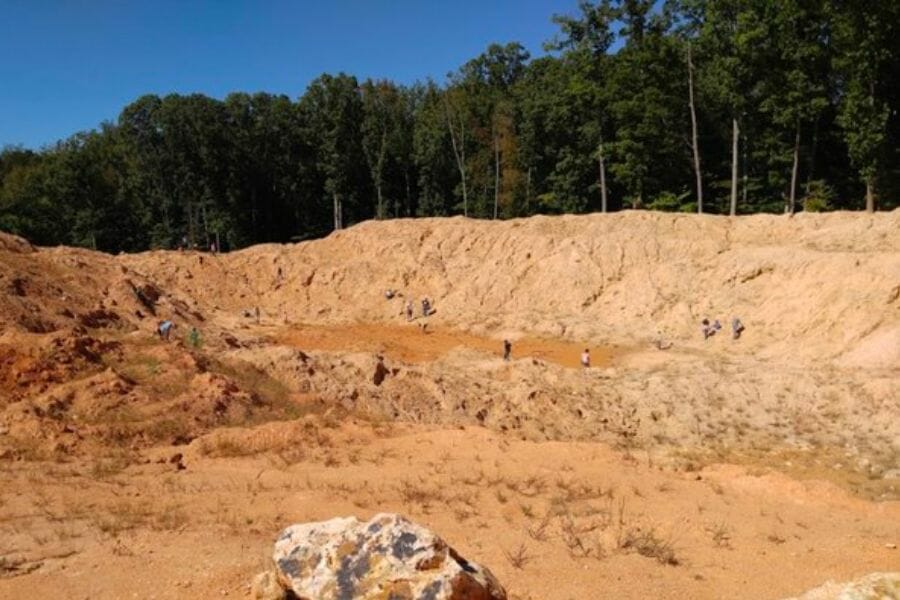 Diamond Hill Mine is a real treasure trove— like literally! It's located in the rolling hills of western South Carolina, surrounded by lush forests and farmland. The mine is pretty rugged, with lots of steep hills and rocky outcroppings.
You'll be blown away by the sheer variety of gemstones that are waiting to be discovered at the Diamond Hill Mine. The rocks here have also been around for millions of years, which adds to the beauty of the entire place.
Getting here can be a bit of a challenge, though. It's off the beaten path and the roads can be pretty narrow and winding. But when you get here, you'll understand why people love going here to dig for much sought-after gems and rocks.
Where we found geode-like formations
Being a mine, this location is pretty much loaded with astounding gems and rocks in all its different nooks and crannies. Make sure you take the time to explore here, and you might just be lucky to get your hands on some Amethyst, Quartz Crystals (Smoky Quartz), Beryl, Garnet, and Epidote.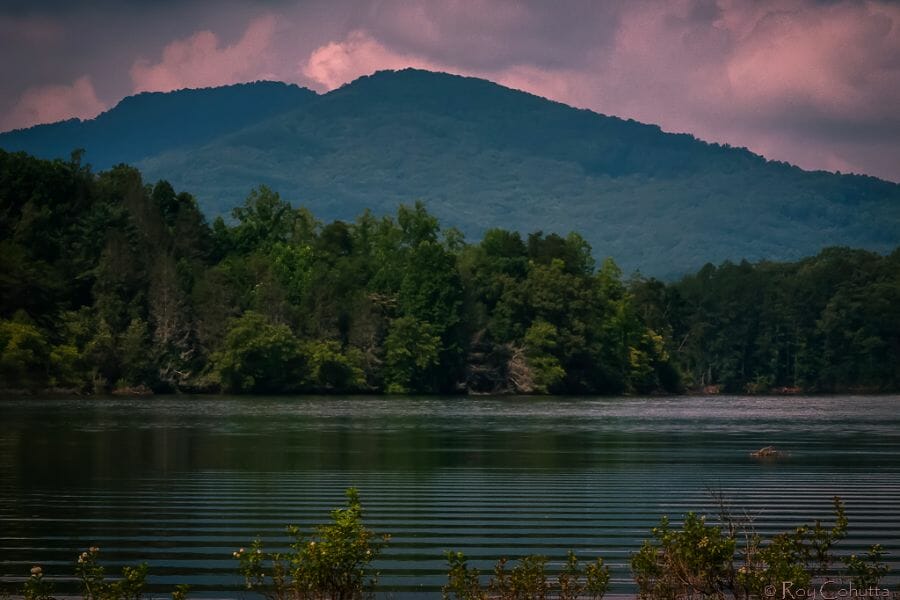 If you really want to find geodes and you're willing to travel a little bit outside South Carolina, then Shooting Creek in North Carolina is your place to be! Luckily, North Carolina has great places where you can find geodes, and Shooting Creek is among them. It's nestled in the mountains and is surrounded by dense forests and rocky terrain.
This place is kind of rugged, with lots of steep hills and winding streams. But what will really capture your attention is its stunning views and crystal-clear water. Looking around, there are some interesting rocks that greeneries that surround the creek.
If you intend on going here, make sure you're up for quite a challenge. The roads around here can be pretty narrow and winding, but once you get here, you'll be in for some treats from nature.
Where we found geodes at Shooting Creek
North Carolina boasts of having stunning Hyalite Opal geodes, which can only be found at the Shooting Creek. Amazing, right? If you want to find them, try exploring the creek's area exposures, outcrops and gravels.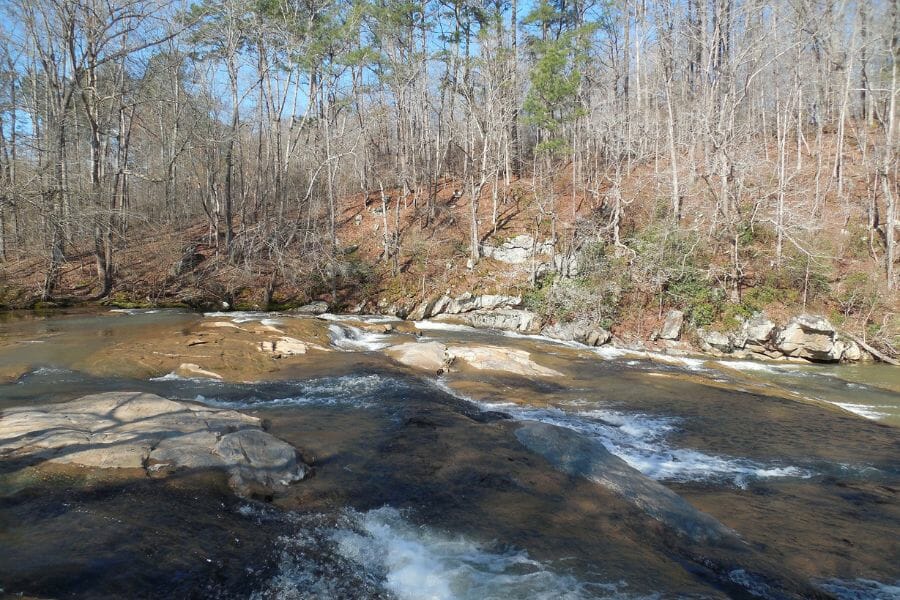 South Carolina's other adjacent state, Georgia has amazing spots to find geodes, so we included here one of them. Emerson is located in the foothills of the Appalachian Mountains, surrounded by lush forests and rolling hills.
This area is pretty hilly but not too steep. And it has some unique geology that's a mix of sedimentary and igneous rocks. You can find everything here— from Quartz and Amethyst to Agate, Jasper, and of course geodes!
This location is right off of I-75, so you can't miss it. The road leading up to the mine is a little rough, but it's nothing your car can't handle. All in all, Emerson is definitely worth a visit.
Where we found geodes in Emerson
If you're in Emerson, chances are you're near a geode. Lucky for you, this place has some of the best geodes in the Georgia. To find them, explore the pits near US 41 bridge.
Common South Carolina Geode-Hunting Questions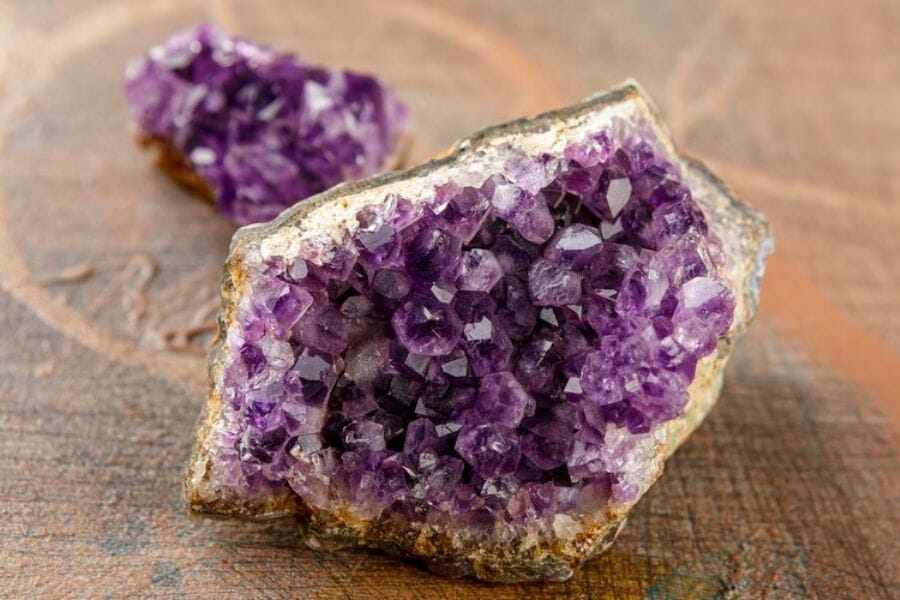 When planning to find geodes in South Carolina, people often ask the same common questions, so we made sure to answer them here:
Where can you find amethyst geodes in South Carolina?
Unfortunately, you won't find naturally occurring Amethyst geodes here, but South Carolina has plenty of places where you can find some awesome Amethyst gems:
Diamond Hill Mine in Abbeville County
South of town on the McCalla farm in Lowndesville, Abbeville County
On area float and in gravel pits of Herse Creek Valley in Aiken County
Numerous exposures along Iva to Lake Secession in Anderson County
Road cuts dike near lake of Anderson County
On the W.T. Gibbons farm in Cherokee County
On the numerous exposures, outcrops, fields of Greenwood County
At Wrenn's place in Greenwood County
On area fields and cut banks of Shoals Juction in Greenwood County
As float near Lake Greenwood in Greenwood County
Dig in field to right of road in Laurens County
At Lake Murray in Richland County
Is it illegal to collect geodes in South Carolina?
Just abide by the local rules and regulation in collecting and you'll have no legal problems doing so here. Of course, make sure you double check any applicable local laws for government land and private lands, like obtaining necessary permits from offices and land owners.
The Best Places To Buy Geodes In South Carolina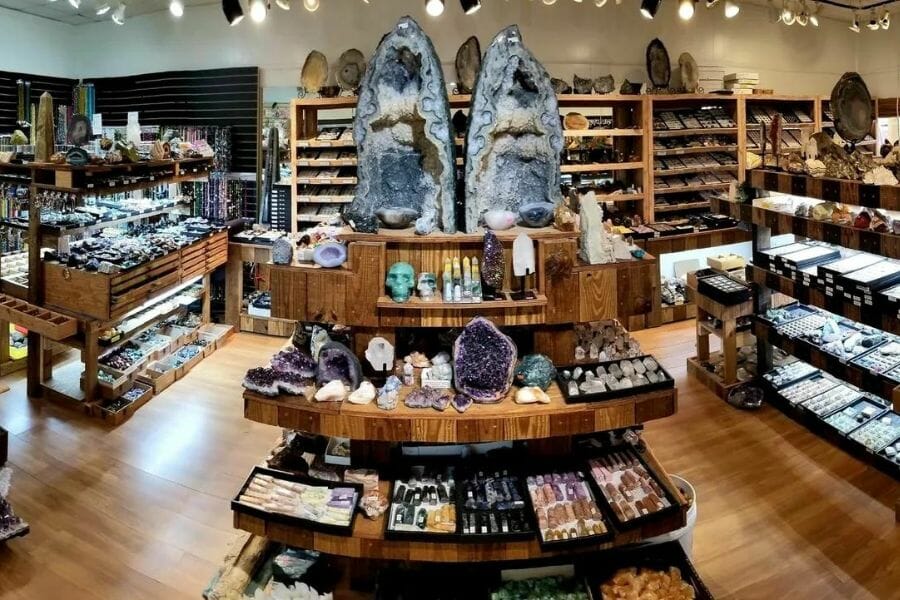 If you're not eyeing to go out of South Carolina to get your hands on geodes, you may as well consider visiting the best local shops where you can find them here. Below is a list of stores that you can visit. They offer not only geodes, but also other equally fascinating rocks and gems.
A & A Rock and Gem Shop – 1614, 1624 W Main St, Lexington, SC 29072
Amazon – Would you believe there's a great variety of geodes on Amazon? We're surprised, too! You can even find complete kits to help you crack geodes open.
Beckham's Barn – 1751 Kennerly Rd, Irmo, SC 29063
Spirit Crystals – 505 N Hickory St, Summerville, SC 29483
Chimney Rock Gemstone Mine – 397 Main St Chimney Rock, NC 28720
Swift Water – 3104 Rosewood Dr, Columbia, SC 29205
Additional places to find geodes in nearby states
Check out our guides for nearby states if you've already tried all of our suggestions above or if you're planning a trip outside of the state:
If you have any recommendations for our list please leave a comment below!