With its enchanting purple hue, Amethyst has captivated humans for centuries. Despite its popularity, though, finding a specimen of this gemstone can be a daunting task for those who are unfamiliar with the rare spots where they can be found.
As such, it's crucial to have a comprehensive yet straightforward guide to help you locate the perfect Amethyst for your needs. That's why we've created this guide that provides valuable insights into the world of this gemstone. Specifically, this will point you to the right places in Wisconsin where you can find them. Let's get moving!
What is Wisconsin Amethyst?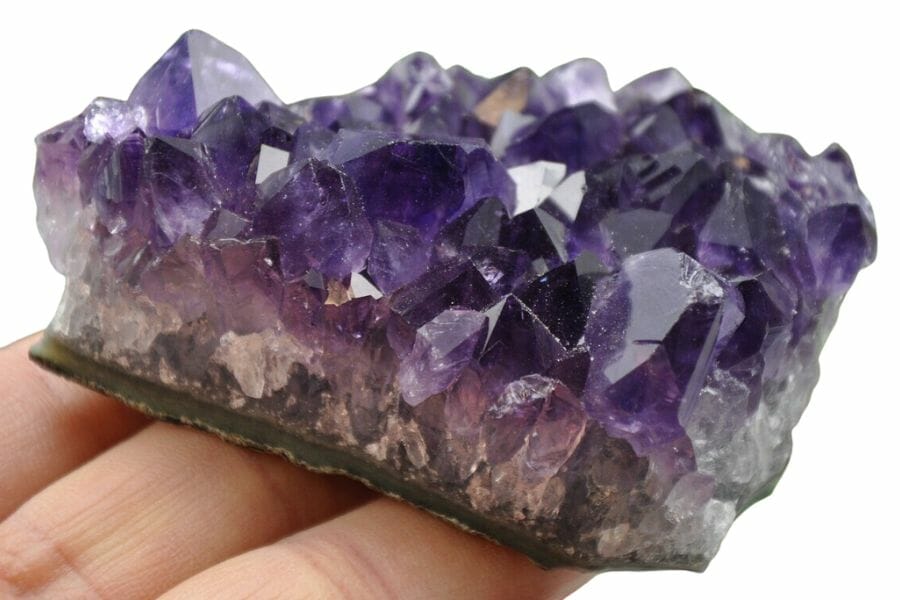 Amethyst is a popular gemstone that belongs to the quartz family. The intensity of its color varies from pale lilac to deep purple, with some stones exhibiting a red or blue flash when viewed from certain angles. It's a hard and durable gemstone, ranking 7 on the Mohs scale of mineral hardness.
The name "Amethyst" is derived from the Greek word "amethystos," which means "not intoxicated," as it was believed to have sobering effects in ancient times. Highly sought-after for its beauty, this gemstone is a favorite among jewelry enthusiasts, collectors, and crystal healers alike.
Amethyst can be found in various locations around the world, including Brazil, Uruguay, Zambia, Madagascar, Russia, and the United States. In the US, it's found in several states, including Wisconsin.
How We Know About Great Locations For Amethyst in Wisconsin
The best locations to find amethyst in Wisconsin can be closely guarded secrets. Fortunately, we've been around long enough to know where many of the best spots are to find it. We might not know every one out there but we know some pretty good ones. The key factors in our recommendations are:
The deep experience and understanding of our team about the area
Recommendations from local groups and clubs
How easy it is to get the a particular location
Safety and potential hazards when collecting
Weighing private and public locations
The ability for both experienced and novice amethyst enthusiasts to find great samples
With these factors in mind we've been able to put together a fantastic list that just about anyone can use!

The Best Spot To Find Amethyst in Wisconsin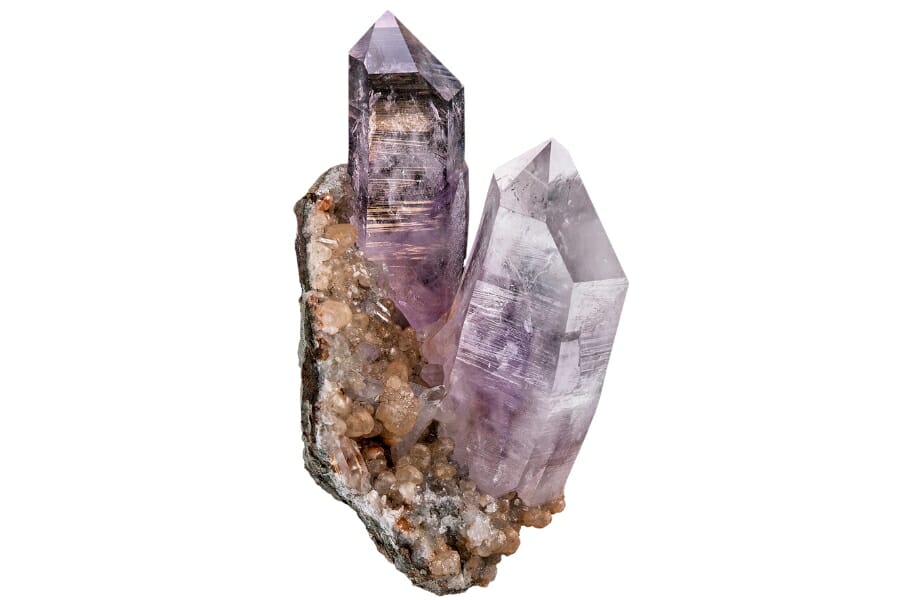 Wisconsin has plenty of great sites to mine gems, but not all of them have Amethysts, too. That's why we went around our state to discover the rare spots where this equally-rare natural wonder can be found. Make sure to check this out!
Unfortunately, amethysts are very rare in Wisconsin and there are not many good places to find them. To give you additional options, we included some other places that are relatively easy to travel to that are great for finding Amethysts.
Always Confirm Access and Collection Rules!
Before heading out to any of the locations on our list you need to confirm access requirements and collection rules for both public and private locations.
These requirements are subject to change without notice and may differ from what we state below.
Always get updated information directly from the source ahead of time to ensure responsible rockhounding.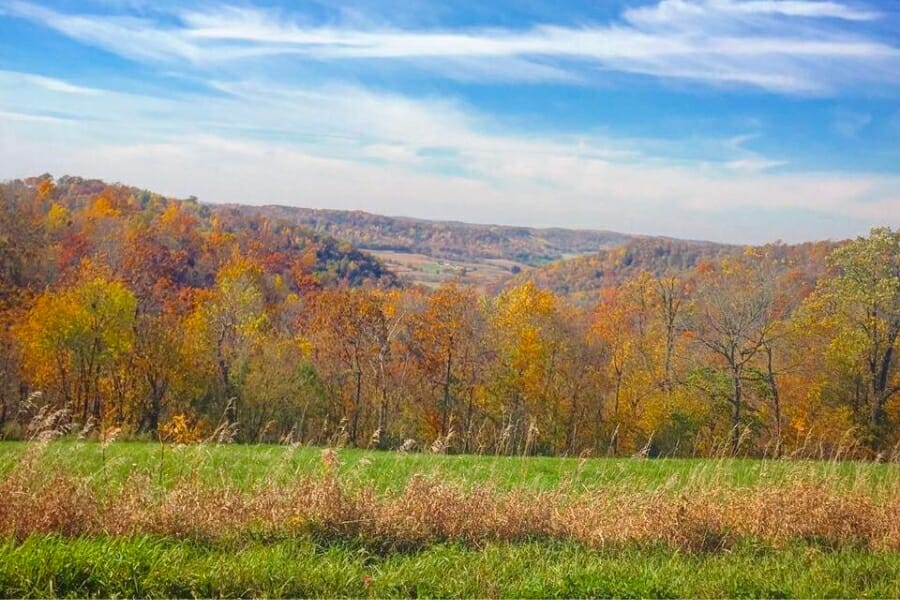 Whitehall is a small town that sits in a valley surrounded by hills and forests. It's not a big city, but it's easy to get to if you're coming from the nearby cities of La Crosse or Eau Claire. This hilly town is located in the Driftless Area, so it's not flat like many other parts of our state.
And because it's part of the Cambrian sandstone formation, this area has layers of rock that were formed millions of years ago. Having been exposed over time, these layers create the unique landscape that we see today.
The Amethysts that can be found here were formed in these rocks. Just familiarize yourself with our Wisconsin's local collecting guidelines and you're good to start your Amethyst mining here.
Where we found amethyst in Whitehall
You can find Amethyst in the road cuts and stream cuts just north of Whitehall area in Trempealeau County.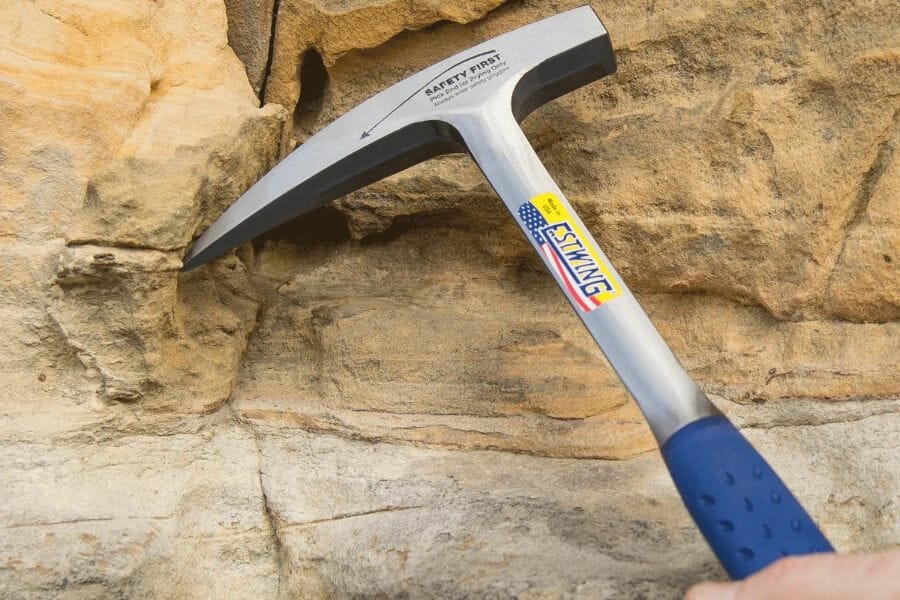 The tools every amethyst hunter will need
When you're out looking for amethyst having the right tools for the job is really going to make or break your success. You don't need a lot for most trips but there are a handful that are critical and will make your life a lot easier.
We get asked a lot about the equipment we use. Over the years we've found a handful of tools that we recommend to both new and experienced amethyst hunters which we outline in great detail in our complete rockhounding tools and kit guide. These are quality options that also happen to be relatively inexpensive.
Below are the basic tools that make your life so much easier and save you a ton of time. Check out the full guide to see everything we recommend bringing. One quick note, as an Amazon Associate I earn from qualifying purchases but we try very hard to only recommend gear we would use ourselves and often recommend brands you can't find on Amazon.
At a minimum you should have:
1 - Sturdy rock hammer: The Estwing Rock Pick is our standard
2 - Rugged chisels: Try Kendo' 3-piece Chisel Set
3 - Compact shovel: The Koleiya 28-inch shovel works well
4 - Rock screen pan: The Wazakura Soil Sieve Set fits the bill
5 - Eye protection: DeWalt Safety Glasses are cheap and comfortable
6 - Head protection: Malta's Safety Helmet has been our go-to
7 - Jewelers lens with at least 20x magnification: Jarlink's Jewelers Loop is perfect
The amethyst-finding books that we use most
There are also a few books that have been extremely helpful in the search for gems. These books have great recommendations and tips:
National Audubon Society Field Guide to Rocks and Minerals: North America 
Northeast Treasure Hunter's Gem & Mineral Guide 
Earth Treasures: The Northeastern Quadrant 
We provide links to find these tools on Amazon but some can also be found at your local hardware stores. For more recommendations check out the link to our full tool guide above.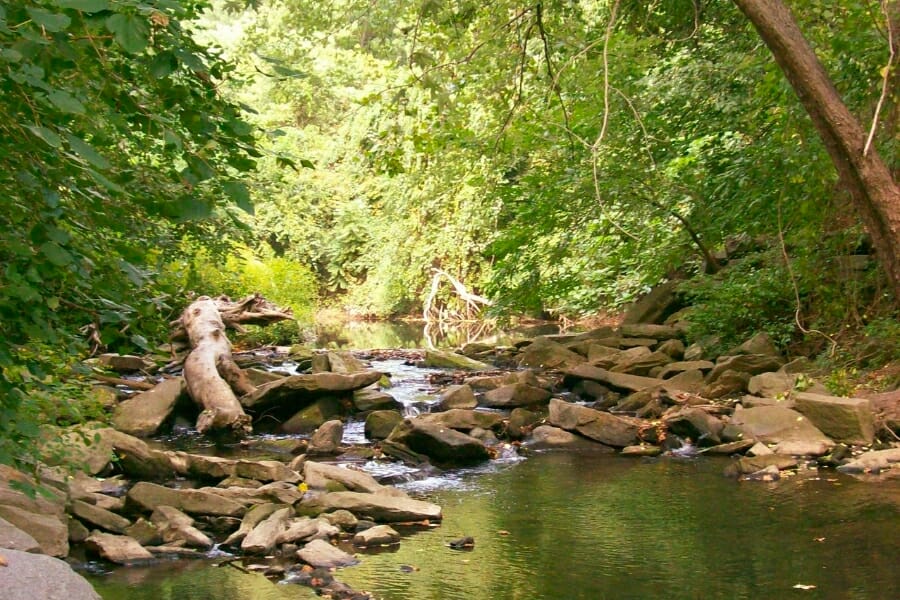 One of the nearest locations in Wisconsin where you can find Amethyst is the beautiful Crum Creek in Pennsylvania.
With its rolling hills, lush forests, and meandering streams, it's no wonder Crum Creek is filled with geological wonders. Its terrain can be rugged at times, but it's not too difficult to navigate if you're an experienced hiker. The area is rich in volcanic activity, which has led to the formation of Amethyst in the rocks.
To get here, you can take the highway and go on a pretty easy drive from Wisconsin. Once you're here, you can explore the area through its hiking trails and scenic overlooks. And if you're after its Amethysts, you'll need to venture out into its hills and forests, which will be easier on your hiking boots!
Where we found amethyst in Crum Creek
You can find Amethyst in different parts of Crum Creek, specifically the following:
Crum Creek Road at the Randolph farm
Morgan Hunter farm
Along Crum Creek in Worrell
There are some solid options here making it one of the better amethyst mining spots.
In case you're wondering about Amethyst value, here's a complete guide that you can refer to.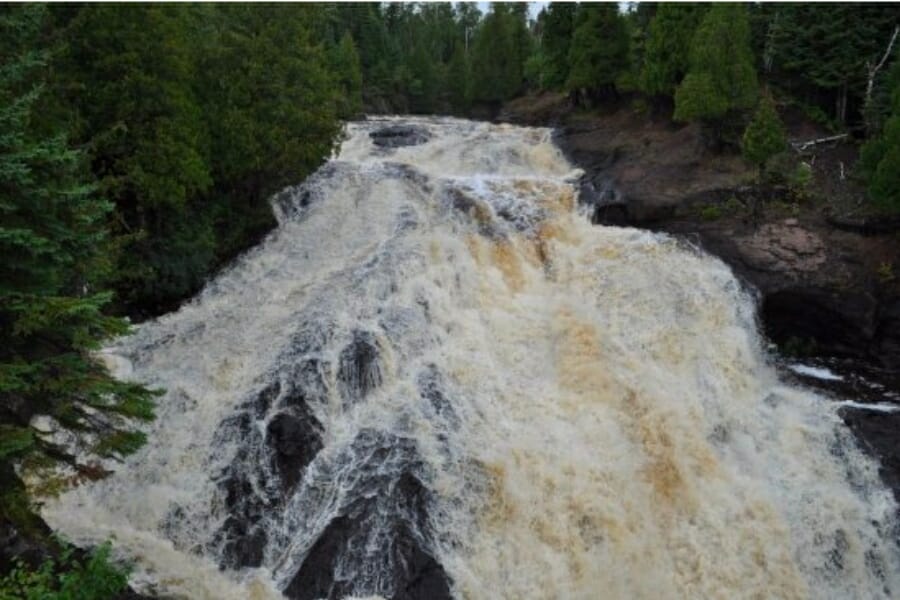 Aside from being a stunning location, Cross River in Schroeder, Minnesota is also known for containing Amethyst. In fact, it's one of the nearest locations to Wisconsin where you can find this gemstone.
Its rolling hills, meandering streams, and dense forests make Cross River the beauty that it is. Its terrain can be rugged at times, but it's not too difficult to navigate if you're an experienced hiker. The rich volcanic activity of the area has led to the formation of Amethyst in its rocks.
If you're planning to go here, you should know that Cross River is a great destination for a weekend trip. The town of Schroeder is nearby and has some great restaurants and shops, so you can have some reprieve here after a tiring, but fulfilling Amethyst mining.
Where we found amethyst in Cross River
We recommend exploring the different parts of Cross River, especially its streams, to find Amethyst here.
Buckland Mine in Missouri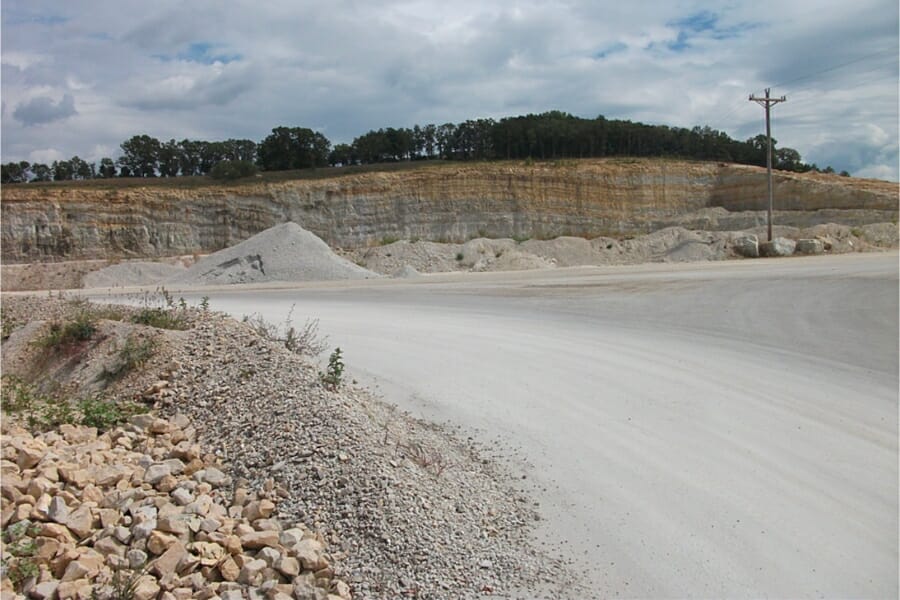 Buckland Mine is a hidden gem in Missouri that's definitely worth the trip if you're looking to find Amethyst near Wisconsin. This area is easily accessible by car, and the drive through the Ozark Mountains is a sight to see.
As you can see in the photo, Buckland Mine has rugged hills, dense forests, and meandering creeks. Its terrain can be challenging, but not too difficult to reach.
Getting to this place is easy, and what's better is that there are some great hotels and restaurants nearby. Aside from Amethyst mining, you can also explore the area for its great hiking trails and scenic views.
Where we found amethyst in Buckland Mine
To find Amethysts, make sure to explore the in and around this filled sink iron mine at Rolla.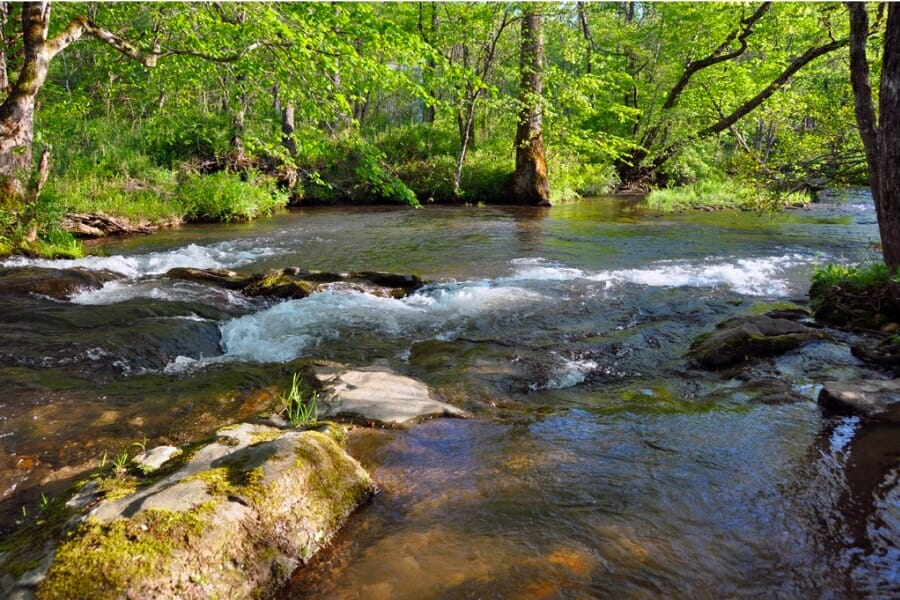 Tessentee Creek in North Carolina is a beautiful location that offers a chance to explore nature's beauty and hunt for amethyst, if you're after a location that's near Wisconsin.
Tessentee Creek's geography is characterized by rolling hills, lush forests, and crystal-clear streams. Because of its volcanic activity, the Amethyst that can be found here is known for its deep purple color and exceptional clarity.
If you're interested in finding Amethyst here, you'll need to venture out into the hills and forests. It's not always easy, but with a little bit of patience and persistence, you might just find some of the most beautiful specimens out there.
Where we found amethyst in Tessentee Creek
There are plenty of specific spots along Tessentee Creek where you can find Amethyst, such as the following:
Willima Long Prospect
American Gem and Pearl Company workings
Rhodes Mine
Long Mine
Connally Mine
Common Amethyst-Hunting Questions
Here are some of the most commonly-asked questions by those who are planning to find Amethyst in Wisconsin. We'll answer them in case you have the same questions in mind:
Where can you find Amethyst Geodes in Wisconsin?
Unfortunately, Amethyst geodes do not naturally grow in Wisconsin, but this doesn't mean you can't take home one when you visit here. We have a handful of local rock and gem shops that have Amethyst geodes in their selections, and we've listed below some of the best ones that you can pay a visit to.
Is it illegal to collect amethyst in Wisconsin?
Collecting Amethyst is legal in Wisconsin for as long as you're compliant with our local collecting guidelines. Also, make sure you secure any necessary permission or permit, depending on the area you will explore, before engaging in any collecting activity.
The Best Places To Buy Amethyst In Wisconsin
While the thrill and excitement of finding Amethyst in its natural environment is truly unparalleled, it's just not for everyone. This is especially true if you're looking for a certain characteristic for the perfect Amethyst to take home for your collection.
If you're like this, we highly recommend visiting our local rock and gem shops that have a wide selection of Amethyst and other gemstones. Here are some of the great ones you can visit:
The Gem Shop, Inc. – W64N723 Washington Ave, Cedarburg, WI 53012
Steven's Rocks and Gifts – 134 E Main St, Marshall, WI 53559
Blue Bead & Rock Shop – 1043 Main St, Stevens Point, WI 54481
Mystic Moraine Minerals – 500 W Milwaukee St, Janesville, WI 53548
Door County Rock & Gem – Main St, Fish Creek, WI 54212
Burnie's Rock Shop – 901 E Johnson St, Madison, WI 53703
Gary's Rock Shop – 317 S Main St, Viroqua, WI 54665
Mystical Earth Gallery – 220 Main St, Menasha, WI 54952
Additional Places To Find Amethyst In Nearby States
Check out the guides we made for the nearby states where you can find amethysts as well:
If you have any recommendations for our list please leave a comment below!