Agates are truly amazing treasures! Holding one is like holding a little piece of art that took millions of years to form. What makes it even more special is that each specimen is unique, like a snowflake, with its own design and story.
If you want to find agate in Kentucky, be warned that it can be a bit tricky without some help. While agate is our state's official state rock, this gem is quite rare here compared with other places. But don't let that discourage you!
We've gathered lots of great tips and visited the favorite spots to find Kentucky agates. With our guidance and some patience, you can uncover these hidden gems even in the most-hidden places of our state. Let's get started!
What is Kentucky Agate?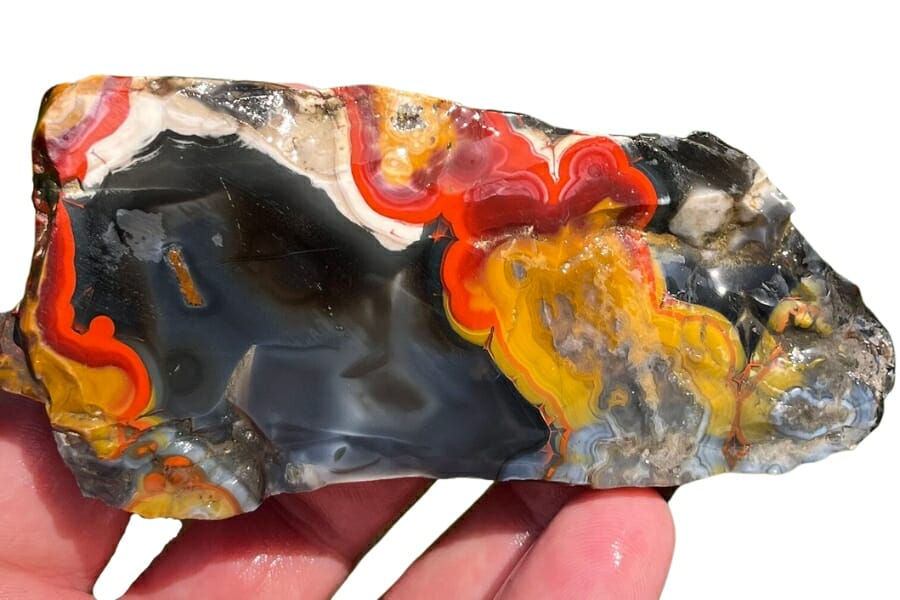 Agate is an incredibly cool rock that's a type of quartz. Its stunning bands and patterns of colors dancing inside make it interesting. These bands form over a long time when tiny minerals trickle into gaps in older rocks, layer by layer.
Agates are usually found near volcanic areas or places with ancient lava flows. They love hiding in the cracks and cavities of these rocks. But here's a fun fact: You don't have to travel to some distant volcano to find them. They're closer than you think!
Kentucky agate, our state's special kind of this gem, is a showstopper with its amazing combo of red, black, and white colors. It kind of looks like fiery clouds trapped inside a rock. With this kind of beauty, it's no wonder why agate's price and value can soar high in some cases.
But before we share with you where to mine for agate in Kentucky, it would help to know what the different kinds of these wonders are:
Moss Agates
First off, moss agate isn't actually made of moss— it just looks that way!
It's transparent to semi-transparent quartz that has mossy-looking inclusions. These inclusions can be green, red, or black, and they spread out inside the stone in branching patterns. When you look at it, it's almost like you're peeking into a tiny forest trapped inside a rock.
Unfortunately, moss agate doesn't naturally occur in Kentucky. If you're super eager to find one, you might have to look in places like India, Montana, or the Western US.
Fire Agates
Fire agate looks like sunset inside a stone. It has an iridescent play-of-color that's almost like seeing rainbows dancing. It gets this magical appearance from the layers of iron oxide and silica inside.
When light hits this gem, it creates shimmering colors of red, gold, green, and sometimes even blue-violet. Imagine having a tiny, colorful light show inside a rock. That's fire agate for you!
Fire agate beds are more commonly found in the southwestern parts of the country, particularly in Arizona, California, and New Mexico. The conditions in these areas ages ago were just right for creating these shimmering beauties.
Blue Lace Agates
Blue lace agate is like a peaceful blue sky with wispy white clouds trapped inside. It's known for its gorgeous, soft blue colors streaked with lacy bands of white. Just looking at it can make you feel calm and relaxed.
While our state boasts a lot of geological treasures, blue lace agate isn't typically one of them. This mesmerizing gem is more commonly found in places like Namibia and South Africa.
Kentucky Agate
Kentucky agate stands out because of its amazing mix of colors. It has fiery reds and deep blacks swirled together with splashes of white. It's like looking at a vibrant painting right inside a rock!
And its name isn't just for show. Kentucky agate is our state gemstone, and it's mostly found in the east-central part of our state.
If you want more information on where to find agates and other equally-breathtaking crystals, check out our guide on the crystal mine sites in Kentucky.
How We Know About Great Locations For Agate in Kentucky
With agates being so beautiful you can image that the best spots are not always advertised widely. In fact, it isn't unusual for good places to find agates to be secrets known by just a few locals. Fortunately, you do know someone who has been around the block!
The key factors in our recommendations are:
The deep experience and understanding of our team about the area
Recommendations from local groups and clubs
How easy it is to get the a particular location
Safety and potential hazards when collecting
Weighing private and public locations
The ability for both experienced and novice agate enthusiasts to find great samples
With these factors in mind we've been able to put together a fantastic list that just about anyone can use!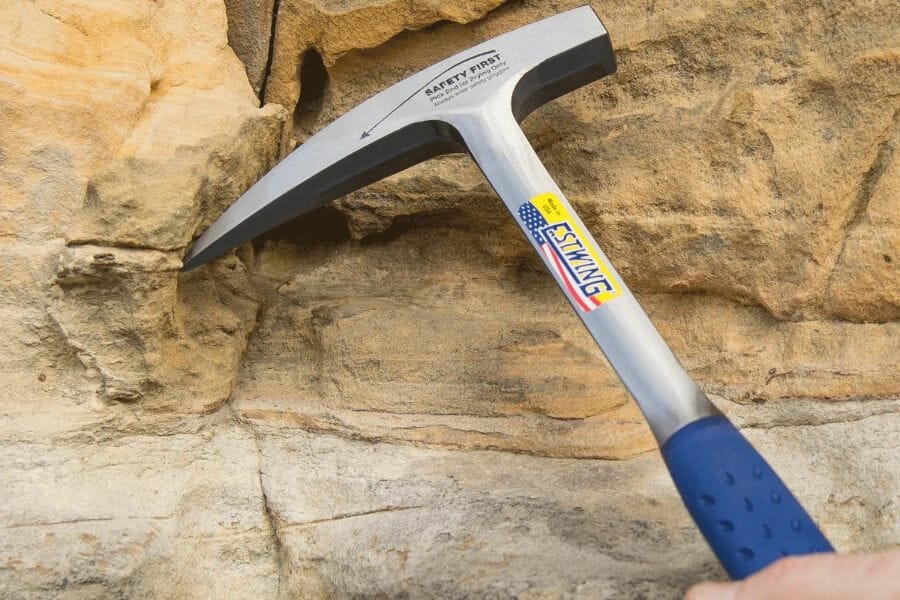 The tools every agate hunter will need
When you're out looking for agates having the right tools for the job is really going to make or break your success. You don't need a lot for most trips but there are a handful that are critical and will make your life a lot easier.
We get asked a lot about the equipment we use. Over the years we've found a handful of tools that we recommend to both new and experienced agate hunters which we outline in great detail in our complete rockhounding tools and kit guide. These are quality options that also happen to be relatively inexpensive.
Below are the basic tools that make your life so much easier and save you a ton of time. Check out the full guide to see everything we recommend bringing. One quick note, as an Amazon Associate I earn from qualifying purchases but we try very hard to only recommend gear we would use ourselves and often recommend brands you can't find on Amazon.
At a minimum you should have:
1 - Sturdy rock hammer: The Estwing Rock Pick is our standard
2 - Rugged chisels: Try Kendo' 3-piece Chisel Set
3 - Compact shovel: The Koleiya 28-inch shovel works well
4 - Rock screen pan: The Wazakura Soil Sieve Set fits the bill
5 - Eye protection: DeWalt Safety Glasses are cheap and comfortable
6 - Head protection: Malta's Safety Helmet has been our go-to
7 - Jewelers lens with at least 20x magnification: Jarlink's Jewelers Loop is perfect
The agate-finding books that we use most
There are also a few books that have been extremely helpful in the search for gems. These books have great recommendations and tips:
National Audubon Society Field Guide to Rocks and Minerals: North America 
Southeast Treasure Hunter's Gem & Mineral Guide 
Earth Treasures: The Southeastern Quadrant 
We provide links to find these tools on Amazon but some can also be found at your local hardware stores. For more recommendations check out the link to our full tool guide above.
The Best Spots To Find Agates in Kentucky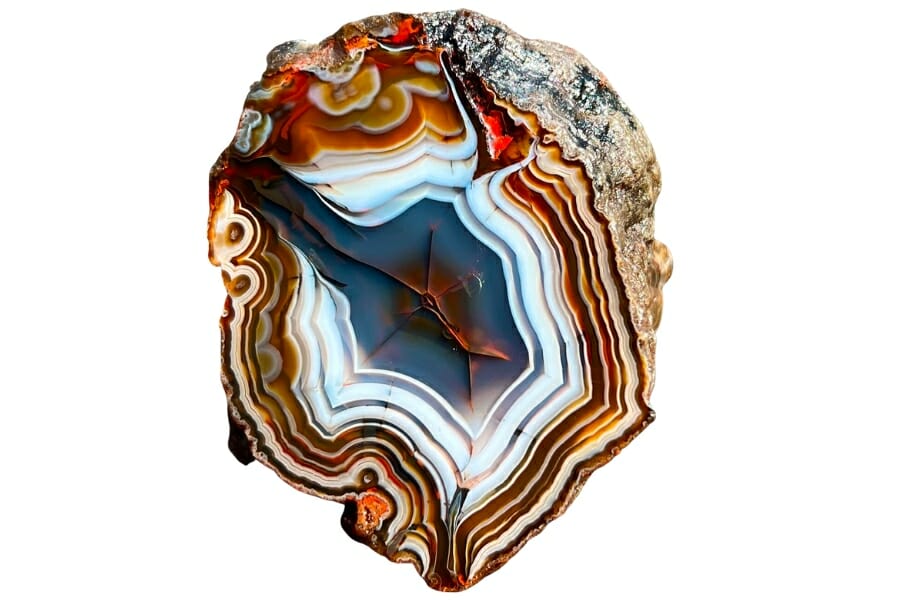 With our astounding geological landscape, it's no wonder that there are many great gem mine sites in Kentucky. And if you're specifically looking for agates, below are our favorite spots where you can find them:
Always Confirm Access and Collection Rules!
Before heading out to any of the locations on our list you need to confirm access requirements and collection rules for both public and private locations.
These requirements are subject to change without notice and may differ from what we state below.
Always get updated information directly from the source ahead of time to ensure responsible rockhounding.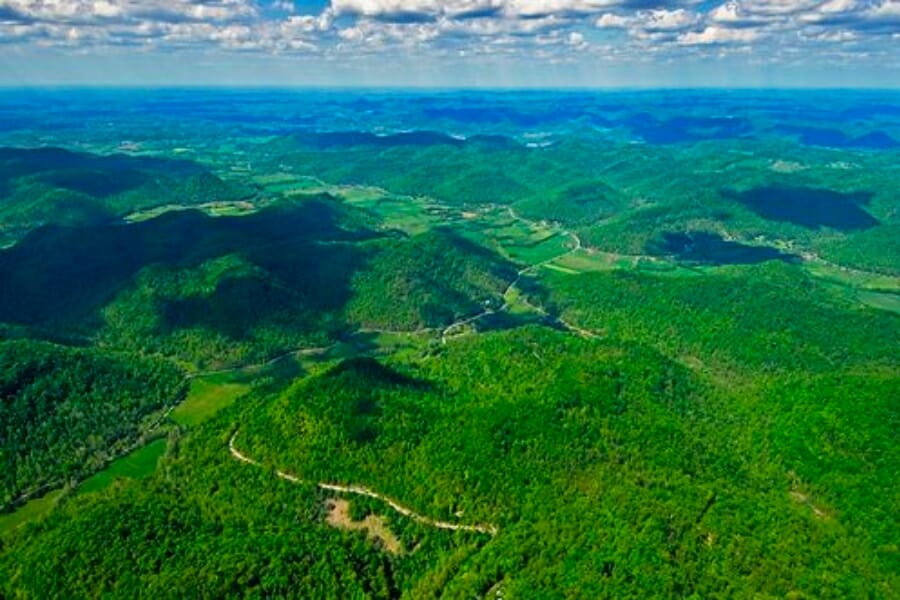 The Knobs is an interesting region that's almost like a series of big, rounded hills or mini-mountains. They form a crescent shape that stretches from the Ohio River in the north all the way down to Tennessee.
These hills are like natural staircases. They rise up from the flat Bluegrass region in the center of our state and lead you to the Appalachian Plateau in the east. This makes The Knobs a sort of transition zone between the flatlands and the mountains.
Made mostly of resistant rocks like sandstone and siltstone, The Knobs are one of the best places to find Kentucky agates.
What's even better is that the region is well connected with roads, and it's not too far from major cities like Louisville, so getting here is pretty easy. But before you head out, make sure to get familiar with the local collecting guidelines of Kentucky.
Where we found agates in The Knobs
If you're exploring The Knobs, keep your eyes peeled around the waterways and rocky outcrops where you have better chances of finding Kentucky agates.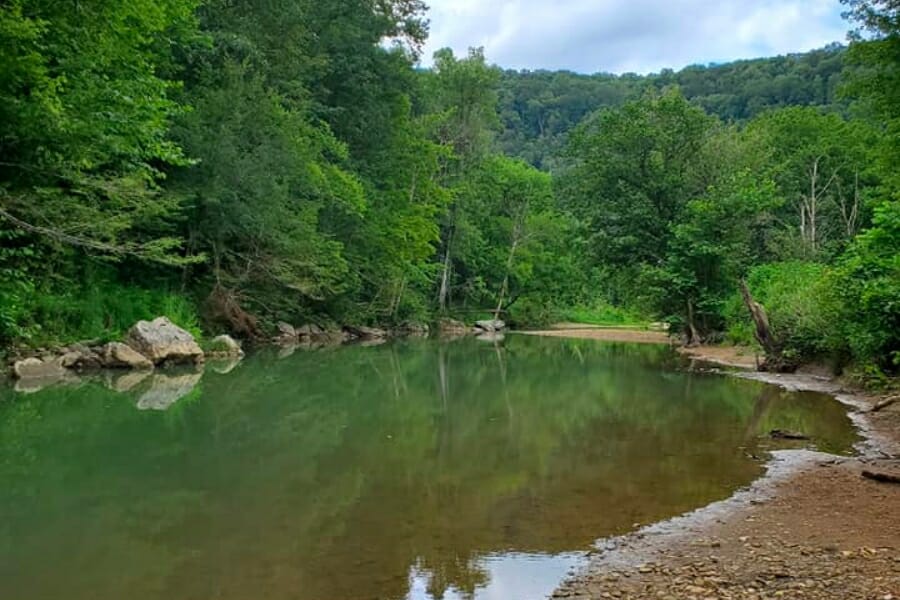 Station Camp Creek is a sparkling waterway that weaves its way through Estill County and is surrounded by lush landscapes, rolling hills, and dense forests.
The creek itself has been shaped over time by the flow of water, creating lots of nooks and crannies perfect for rockhounds! Meanwhile, the terrain around it is a mix of dense green woods and rocky outcrops.
Going here is a breeze. Roads are well-maintained and signs are clear, making it easy for both locals and visitors. Just remember to be respectful of private properties and always ensure you have the necessary permits to explore.
Where we found agates in Station Camp Creek
If you're exploring the area of Station Camp Creek for agates, make sure to check the rocky spots and gravelly patches near the water.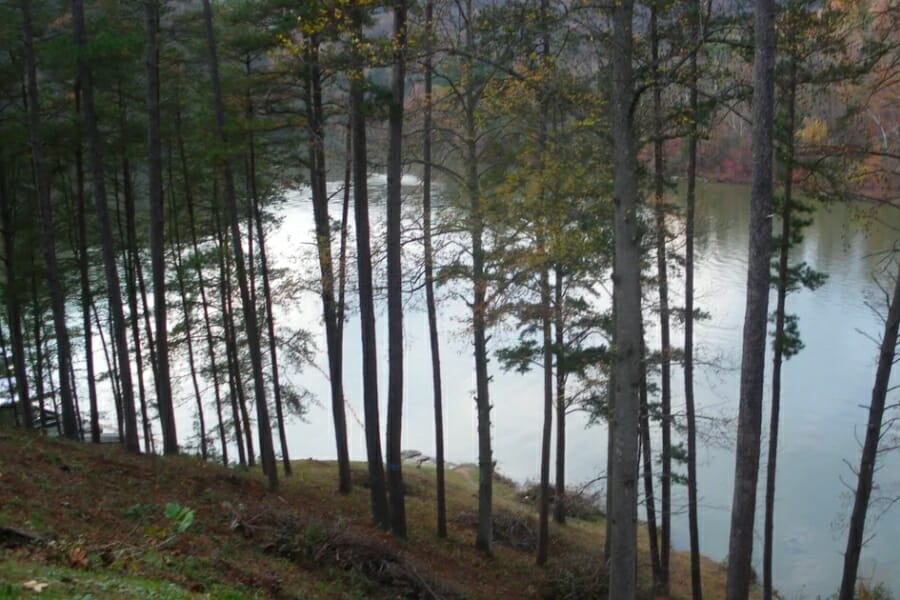 Pryorsburg is a quaint little gem nestled in Graves County. With a charm that's hard to miss, it's surrounded by rolling landscapes. Green fields stretch out like nature's carpet, occasionally interrupted by patches of dense woods.
The terrain around this spot isn't just flat farmlands; it also has its fair share of gentle hills and valleys. Geologically speaking, this part of our state has seen a lot of action over time, from the effects of ancient seas to the shaping hands of rivers and glaciers.
Because of this, Pryorsburg and its surrounding areas are known to have deposits of agate. And if you want to go agate hunting here, you're in for a breezy trip! It's well-connected by roads, and it's not too far off the main highways.
Where we found agates in Pryorsburg
Explore the area of Pryorsburg just north on US-45 to uncover precious agate samples.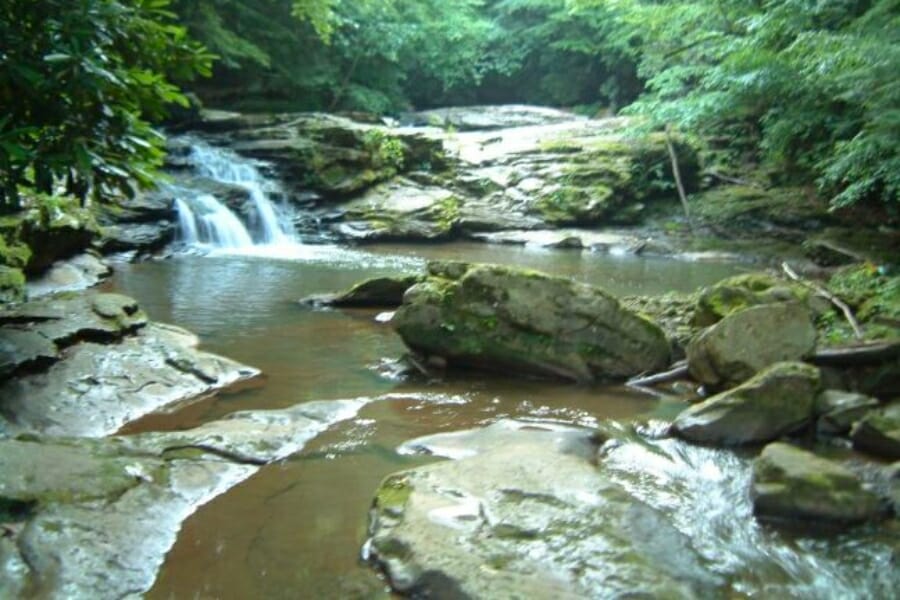 Grassy Creek is a beautiful representation of our state's diverse geography. The creek flows through several counties, providing an ever-changing scenery from the gently sloping plains to the more rugged terrains.
With its surrounding landscapes, this place is truly picturesque! Its waters cut through a mix of lush meadows, dense woodlands, and rocky outcroppings. Grassy Creek also hides some real gems, one of which is agate.
Accessing this spot is relatively simple. It's connected by local roads, and its proximity to larger towns and highways makes it a convenient destination.
Where we found agates in Grassy Creek
The best spot in Grassy Creek to look for agates are often near rocky outcrops and along the creek bed.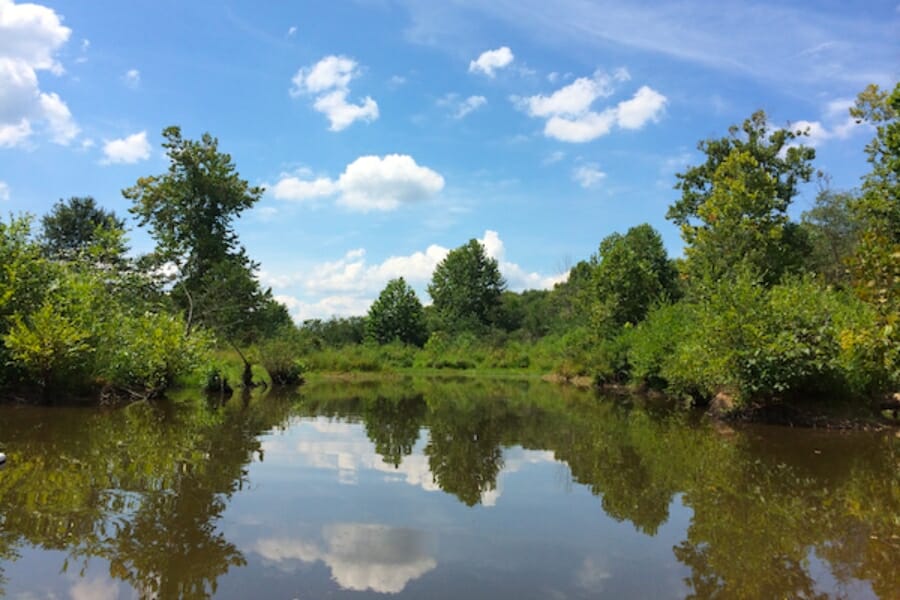 Situated in Lyon County, Eddyville stands on the banks of the Cumberland River, offering picturesque water views that blend seamlessly with its verdant landscapes.
This place has a mix of flatlands and gentle hills, which are often cloaked in stretches of forests or adorned with tranquil lakes and ponds.
Over the ages, the combination of the Cumberland River's flowing waters and the area's native rock types has created an intriguing underground tapestry. Among the rock layers, sedimentary formations, primarily limestone, dominate the scene. These ancient rocks are known to harbor agates.
The best thing is that reaching Eddyville is hassle-free. It's well-connected with major roads, and its location near the Interstate makes it easily accessible for travelers.
Where we found agates in Eddyville
You can find agate by exploring and searching through the gravel pits, road cuts, and excavations of Eddyville.
Other Great Places To Find Agates in Kentucky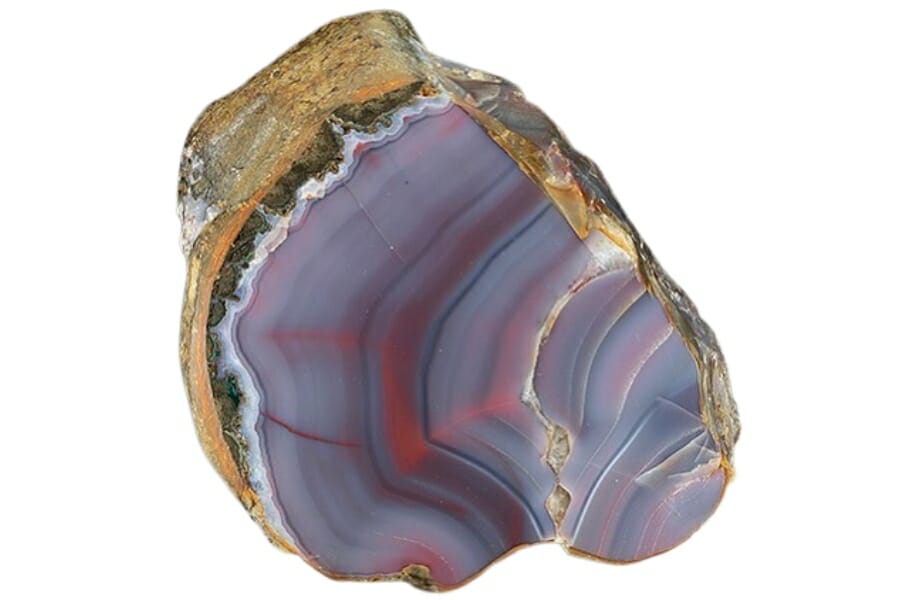 If you're looking for more spots that you can explore to find agates in Kentucky, you can also opt to visit the places we've listed below.
Our recommendations by county
| | |
| --- | --- |
| County | Location |
| Estill | Renfro and Borden formations |
| Graves | Area gravel and clay pits of Farmington, Hickory, Sedalia, Viola |
| Graves | Area clay pits of Mayfield |
| Madison | Big Hill |
| Metcalfe | Edmonton area |
Additional areas you can find agates
Sometimes, agates can be challenging to find even if you're in a place where other rockhounds have found them. If you can relate to this, make sure to pay attention to these additional areas where these natural treasures usually hide:
Streams and Creeks
As water flows in streams and creeks, it wears away the land, carrying with it soil, sand, and rocks. This helps uncover the hardy stones lying beneath, such as agates.
Over time, these agates tumble and roll downstream, getting polished along the way. They often settle in places where the water slows down, like gravel bars or inner curves. That's why streams and creeks are great locations for agate hunting!
Rivers and River Banks
Rivers and their banks are like nature's conveyor belts, showcasing a variety of hidden geological wonders. As rivers flow, they grind and erode the land, bringing with them a mix of rocks and minerals.
Agates, being tough and resistant to wear, often get unearthed by this constant water action. As the river journeys onward, these agates are tumbled, rounded, and sometimes even polished by the water and other rocks, making them easier to spot.
Sediment Deposits
Sediment deposits are like nature's treasure troves for rock lovers! When rivers, streams, or even wind carry tiny bits of rocks, dirt, and minerals, they often drop them in special spots, creating these deposits.
Because agates are hard and durable, they can resist wear and tear much better than softer rocks. So, while softer materials break down over time, the tough agates remain here.
Common Agate-Hunting Questions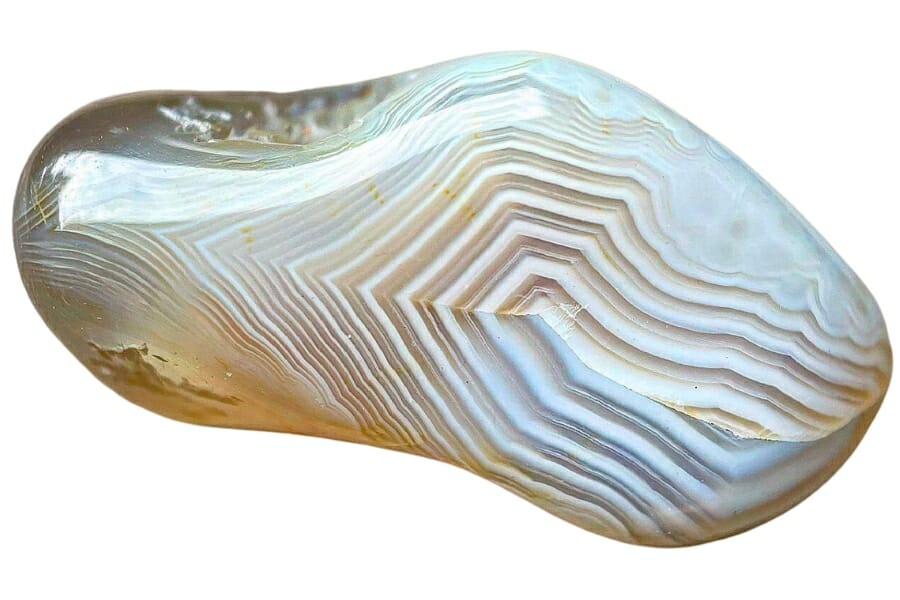 Before starting your search for agates, allow us to answer some of the most common questions when it comes to agate hunting in Kentucky:
Is it illegal to collect agate in Kentucky?
Generally speaking, it's legal to collect agates in Kentucky for as long as you do it in designated collecting sites in compliance with our state's local guidelines.
Also, make sure you're aware of any area-specific rules and regulations, as well as environmental and safety protocols in the area you will explore. Secure any necessary permits, too, before starting your search.
The Best Places To Buy Agates In Kentucky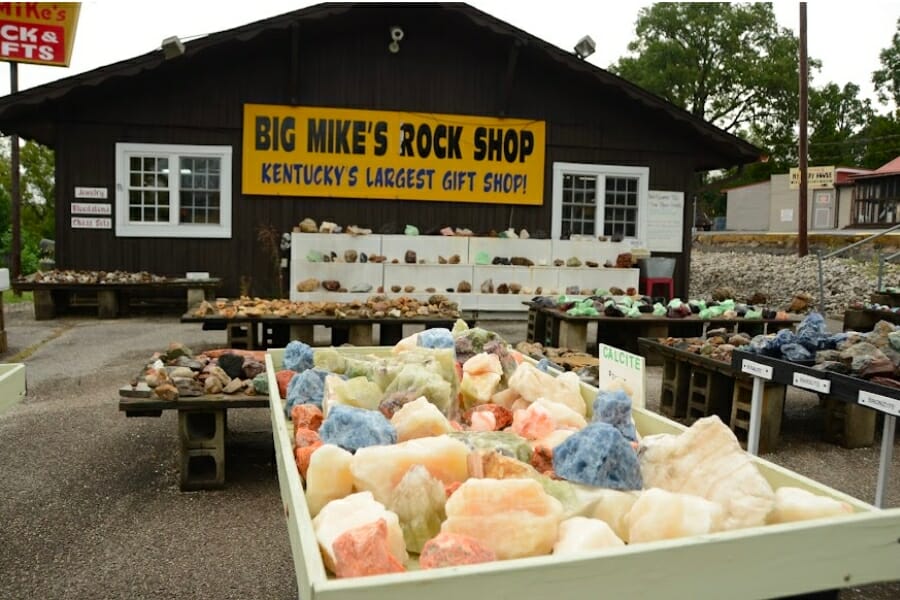 Agate hunting is as exciting and thrilling as it is tiring and exhausting, so if you want a more relaxed way of getting your hands on these natural treasures, you can visit our local agate shops in Kentucky, such as the following:
If you have any recommendations for our list please leave a comment below!