Kentucky is packed with stunning crystals that are just waiting to be found. Places like Ellis Mine, the Ohio River, and the Pygmy Fluorspar Mine are just the tip of the iceberg if you want to find crystals.
But here's the catch: finding Kentucky crystals can be tough if you don't know where to look.
We'll make sure you're looking in the right places and give you the best chance to find these hidden gems. It can be challenging, especially for beginners, but we can provide a ton of tips to help you succeed.
We'll explore the types of crystals you're likely to find and what you can expect from the places we recommend. Plus, we'll offer some practical advice on the tools you'll need and how to use them effectively.
How We Picked The Best Places To Find Crystals in Kentucky
We spent a lot of time determining which of the many options for digging and mining for crystals that we have available would be recommended. We wanted to have a good mix of locations for experienced and novice crystals hunters in a variety of settings. Here are the main factors we used when determining the recommendations we set out :
The extensive local experience and understanding of our team
Input from multiple local crystal hunters and crystal collecting groups
The accessibility of the crystal mining locations
Safety and potential hazards when collecting
Private and public locations
A desire to include locations for both experienced crystal hunters and those who are just starting out
Using these weights we think we've put together the best list out there for those who love finding new crystals for our collections!

The Types of Crystals We Found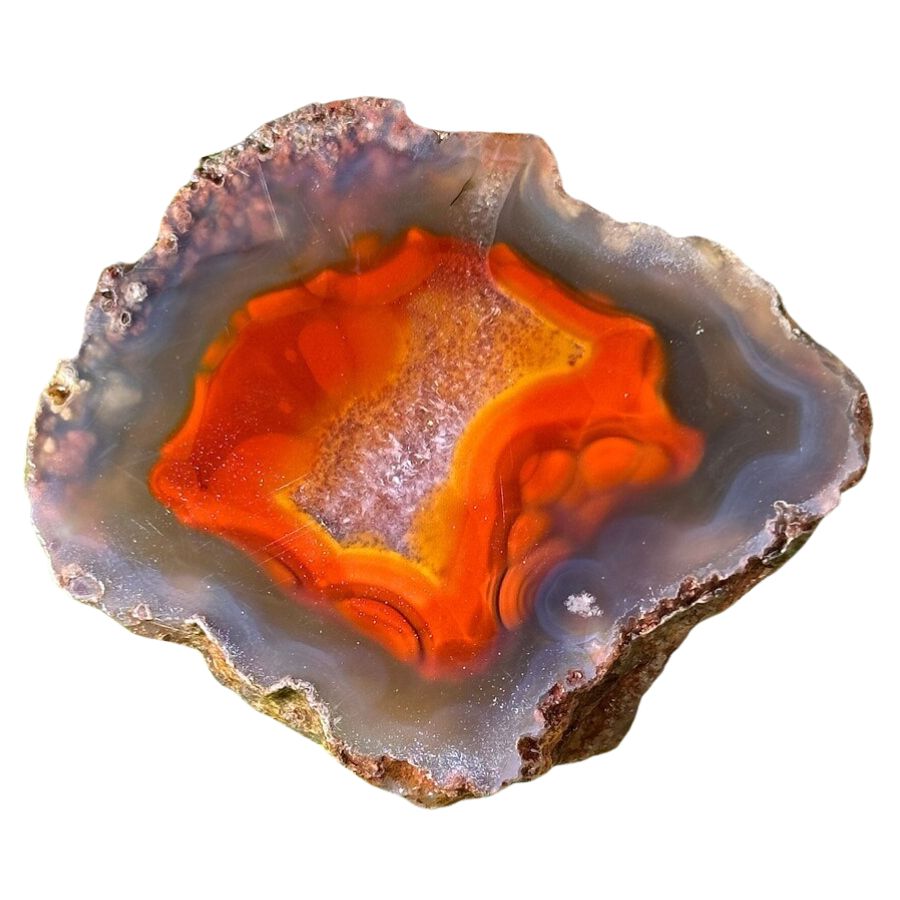 If you want to hunt for crystals in Kentucky, here are the crystals you can expect to find:
Rare crystals found in Kentucky
Apatite
Garnet
Jasper
Serpentine
More common crystals found here
Agate
Calcite
Chalcedony
Fluorite
Galena
Hematite
Pyrite
Quartz
The Best Locations For Crystal Mining We've Found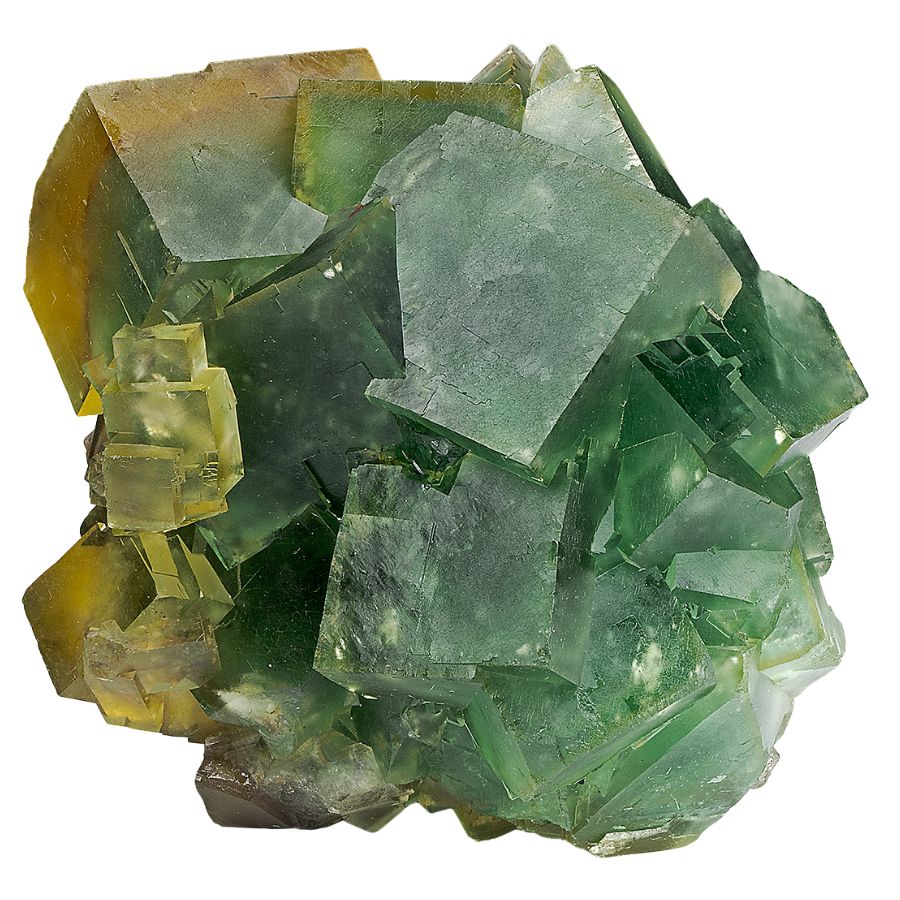 Here are our best picks for locations to hunt for crystals in Kentucky. We've had a lot of success exploring them and discovering unique crystals!
Always Confirm Access and Collection Rules!
Before heading out to any of the locations on our list you need to confirm access requirements and collection rules for both public and private locations.
These requirements are subject to change without notice and may differ from what we state below.
Always get updated information directly from the source ahead of time to ensure responsible rockhounding.
Ellis Mine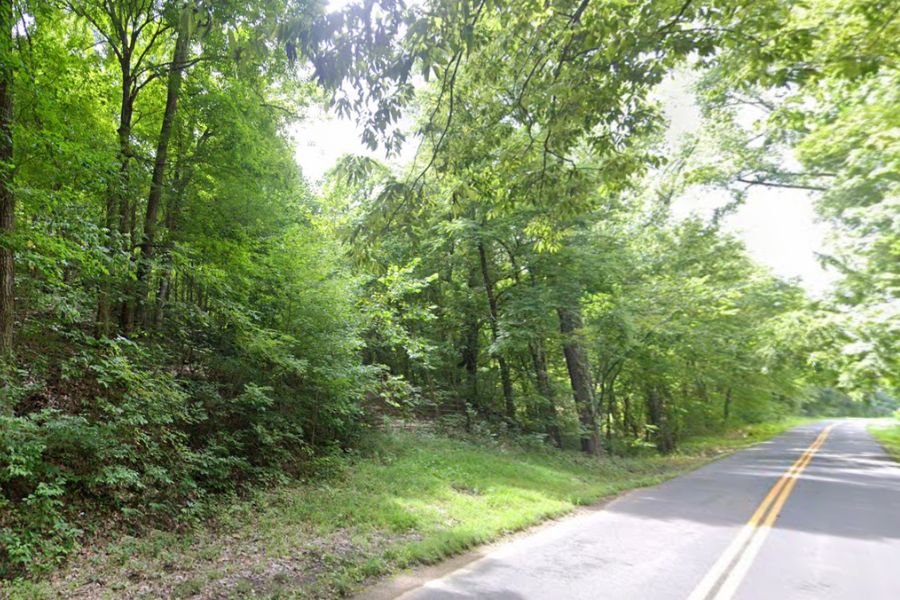 Located in the Western Kentucky Fluorspar District, Ellis Mine is a good place to explore if you want to find gems in Kentucky.
This old mine was a bustling spot for mining fluorspar, a valuable mineral in the steel and aluminum industries.
The terrain here is quite varied, with areas of dense vegetation and rocky outcrops. It's a bit rugged, so when you visit, make sure you're prepared for some hiking and climbing.
Where we found crystals at Ellis Mine
We have collected various crystals in the Ellis Mine area, including calcite, fluorite, and quartz.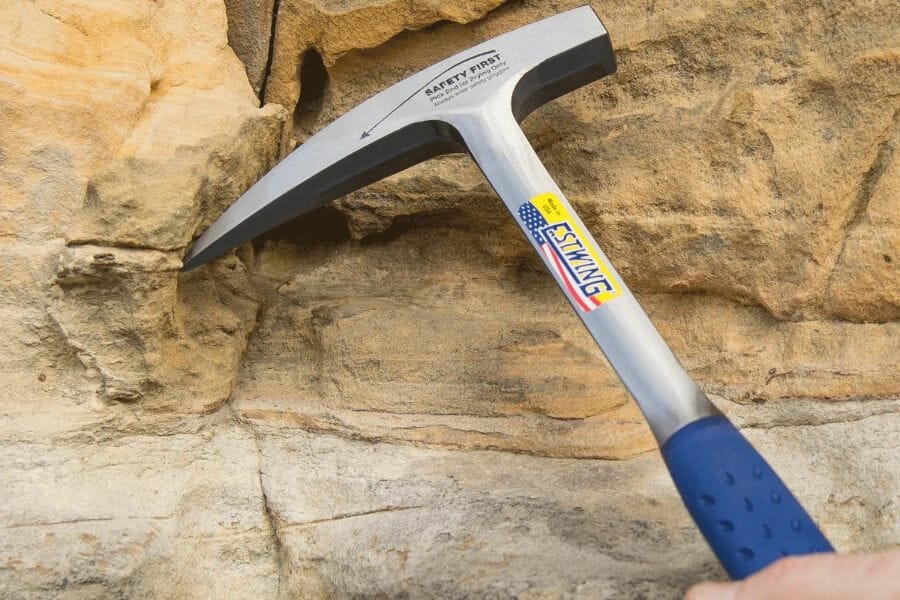 The tools every crystal hunter will need
When you're out looking for crystals having the right tools for the job is very important. You don't need a lot for most trips but there are a handful that are critical and will make your life a lot easier.
We get asked a lot about the equipment we use. Over the years we've found a handful of tools that we recommend to both new and experienced crystal miners which we outline in great detail in our complete rockhounding equipment guide. These are quality options that also happen to be relatively inexpensive.
Below are the basic tools that make your life so much easier and save you a ton of time. Check out the full guide to see everything we recommend bringing. One quick note, as an Amazon Associate I earn from qualifying purchases but we try very hard to only recommend gear we would use ourselves and often recommend brands you can't find on Amazon.
At a minimum you should have:
1 - Sturdy rock hammer: The Estwing Rock Pick is our standard
2 - Rugged chisels: Try Kendo' 3-piece Chisel Set
3 - Compact shovel: The Koleiya 28-inch shovel works well
4 - Rock screen pan: The Wazakura Soil Sieve Set fits the bill
5 - Eye protection: DeWalt Safety Glasses are cheap and comfortable
6 - Head protection: Malta's Safety Helmet has been our go-to
7 - Jewelers lens with at least 20x magnification: Jarlink's Jewelers Loop is perfect
The crystal-finding books that we use most
There are also a few books that have been extremely helpful in the search for gems. These books have great recommendations and tips:
National Audubon Society Field Guide to Rocks and Minerals: North America 
Southeast Treasure Hunter's Gem & Mineral Guide 
Earth Treasures: The Southeastern Quadrant 
We provide links to find these tools on Amazon but some can also be found at your local hardware stores. For more recommendations check out the link to our full tool guide above.
Gratz Mine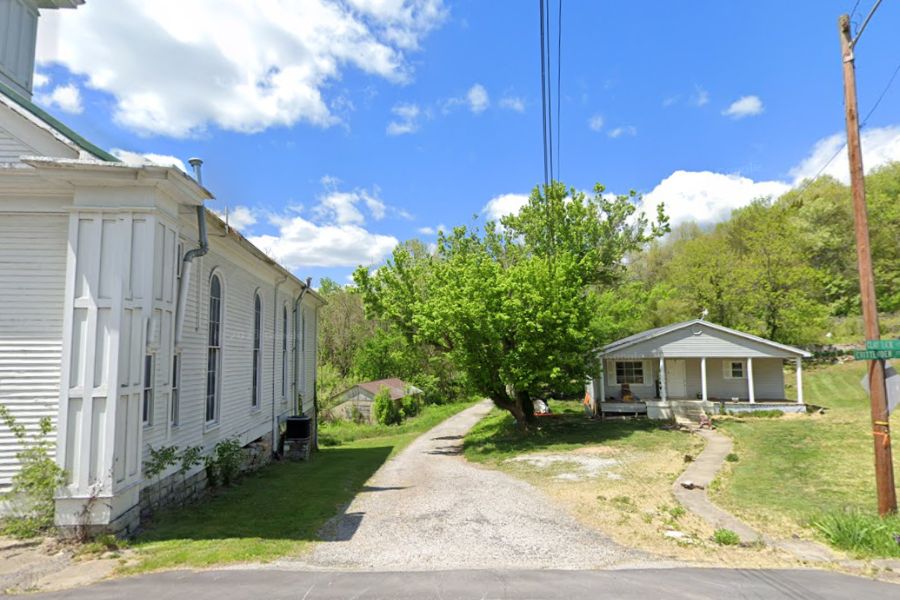 Gratz Mine, located in Owen County, Kentucky, is a historic site. This mine was once a bustling hub where miners diligently extracted lead, zinc, and silver.
Although mining operations have ceased, the area is now a popular destination if you want to look for crystals.
For crystal enthusiasts, Gratz Mine is an ideal spot to explore. Its mineral-rich deposits contain a variety of stunning specimens, such as galena and beautiful calcite crystals.
Where we found crystals at Gratz Mine
Calcite, fluorite, and galena crystals can be discovered at Gratz Mine. You can find out how much are crystals worth through this detailed guide.
Morton Branch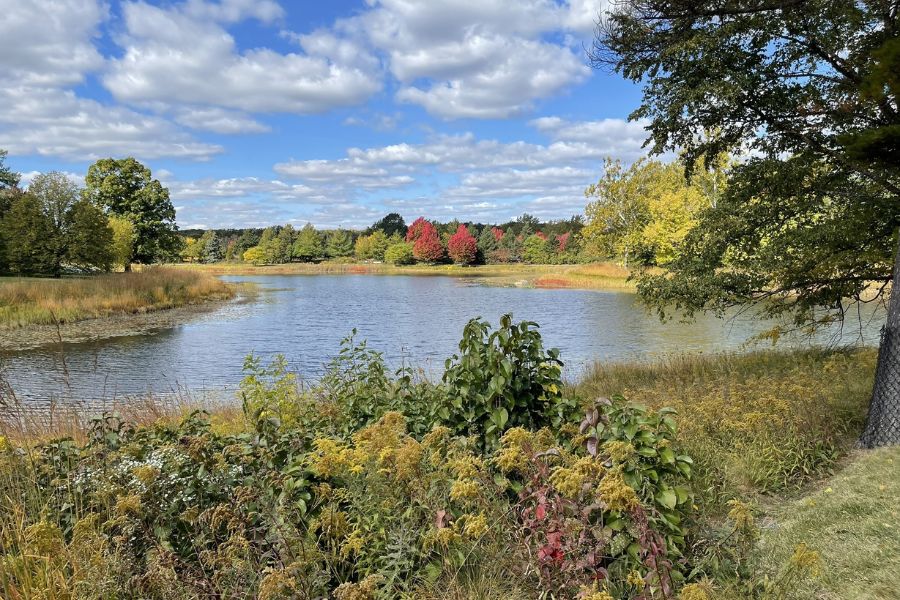 Morton Branch is known for its abundance of quartz crystals, which exhibit a dazzling array of colors and formations. Exploring this location, you'll have the opportunity to find stunning specimens that will be a true testament to nature's beauty and wonder.
Visiting Morton Branch offers a chance to immerse yourself in Kentucky's natural landscape while searching for geological treasures.
To make the most of your adventure, come prepared with the right tools and equipment, and be ready to explore this fascinating location.
Where we found crystals at Morton Branch
Fluorite crystals are primarily found at Morton Branch.
Ohio River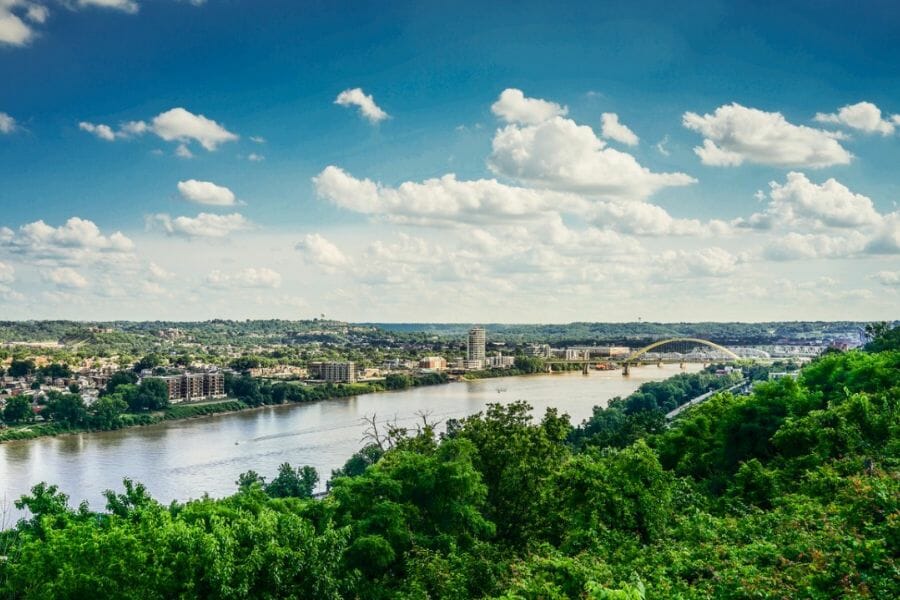 The Ohio River, a significant waterway in Kentucky, spans approximately 981 miles and has long been a vital transportation route and source of livelihood for the region.
Beyond its historical importance, the Ohio River offers a unique opportunity for those interested in crystals. The riverbanks and surrounding areas are rich in mineral deposits, making them a treasure trove for rockhounds eager to uncover hidden gems.
The constant erosion and movement of the water have exposed various rocks and minerals, making them easier to spot.
To make the most of your adventure, come prepared with the necessary tools, equipment, and a willingness to search the riverbanks and surrounding areas.
Where we found crystals at the Ohio River
The area along the Ohio River is abundant in calcite, fluorite, galena, and pyrite crystals.
Pygmy Fluorspar Mine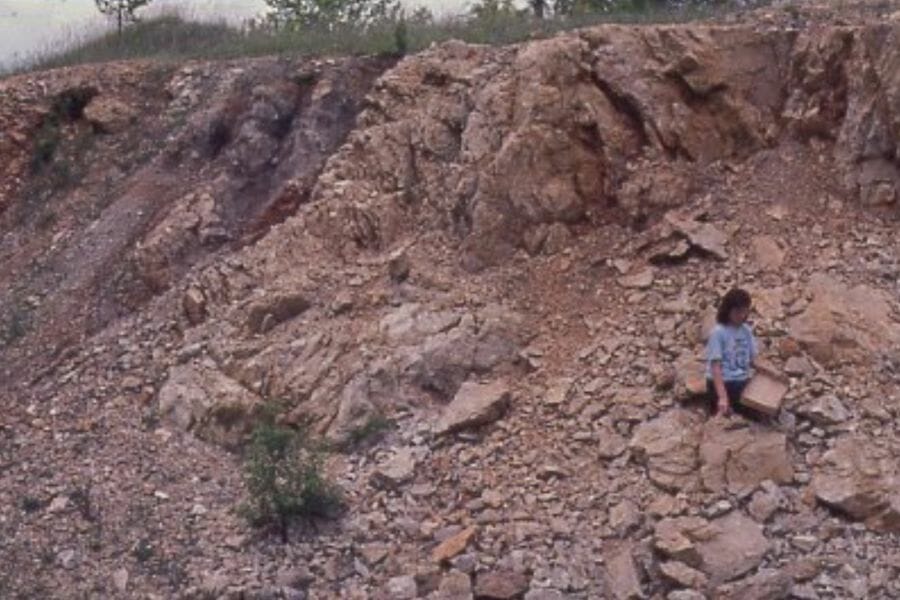 In the early 20th century, Pygmy Fluorspar Mine contributed to the region's economic development, with miners extracting the valuable mineral for several decades.
Though mining operations eventually ceased, it's still a good spot to explore if you want to collect some samples of fascinating rocks.
The area is known for its abundant deposits of fluorite, which can be found in striking colors and formations. Other minerals such as calcite, barite, and quartz can be discovered, making this location a haven for crystal hunters.
Where we found crystals at Pygmy Fluorspar Mine
At the Pygmy Fluorspar Mine, we had the most success finding several crystal types, including fluorite, galena, and pyrite crystals.
Our Other Favorite Places For Crystal Hunting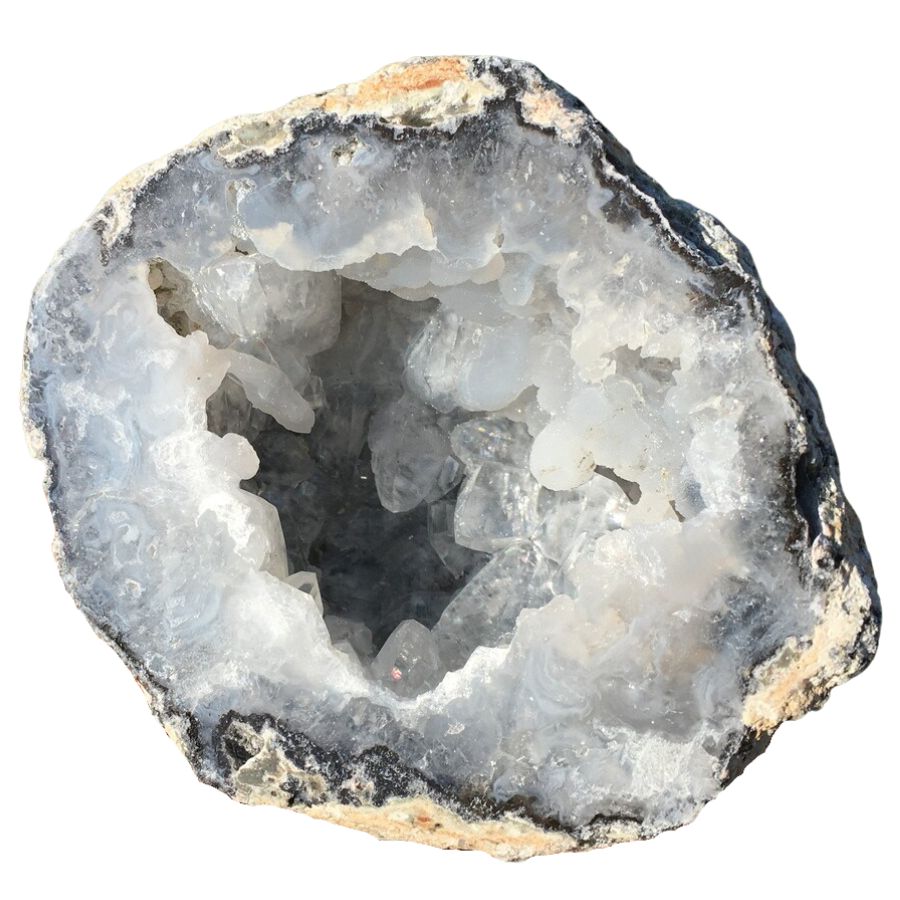 There are many more amazing places to look for crystals and dig for geodes in Kentucky. We've included a list of additional options worth thinking about:
Where you can find crystals for free
We'll go over a few places where you can search for crystals without paying. Even though many great attractions have entrance fees, other areas are still free to visit.
| | |
| --- | --- |
| County | Location |
| Caldwell | In fault exposures at Crider for fluorite |
| Caldwell | In area quarries of Princeton for calcite and fluorite |
| Crittenden | Crittenden Springs fault for calcite, fluorite, galena, and pyrite |
| Elliott | Igneous outcrops in the Little Sandy River area for apatite and quartz |
| Elliott | In the peridotite outcrops along the banks of Ison Creek of Isonville for garnet and serpentine |
| Garrard | Boone Creek in barite prospects for clcite and fluorite |
| Graves | Regional gravel and clay pits at Farmington, Hickory, Sedalia, and Viola for agate, chalcedony, jasper, and quartz |
| Graves | Area clay pits of Mayfield for agate, chalcedony, jasper, and quartz. |
| Livingston | Two abandoned quarries in Birdsville for calcite, fluorite, and quartz. |
| Lyon | Excavations, area gravel puts, and road cuts in Eddyville for agate, chalcedony, and quartz. |
Other great places to dig for crystals
You can hunt for crystals at other locations if you want to spend money. The price will vary seasonally, and occasionally, it can be free. You have to get in touch with them before going to these locations.
| | |
| --- | --- |
| County | Location |
| Bath | Area iron mines at Owingsville for hematite |
| Bourbon | Area mines at Millersburg for galena |
| Caldwell | Many mines throughout the west part of the county for calcite and fluorite |
| Caldwell – Crittenden | Many well-known old mines such as Ashbridge, Glendale, Tabor, and other regional mines back of the Ohio River for galena and fluorite |
| Livingston | Area fluorspar mines at Carrsville for calcite, fluorite, galena, and quartz |
| Livingston | Area fluorspar mines at Joy for calcite, fluorite, galena, and quartz |
| Livingston | Dyer Hill fluorspar mine for calcite, fluorite, galena, and quartz |
| Mercer | Area mines at Harrodsburg for calcite, fluorite, and galena |
My tips for finding crystals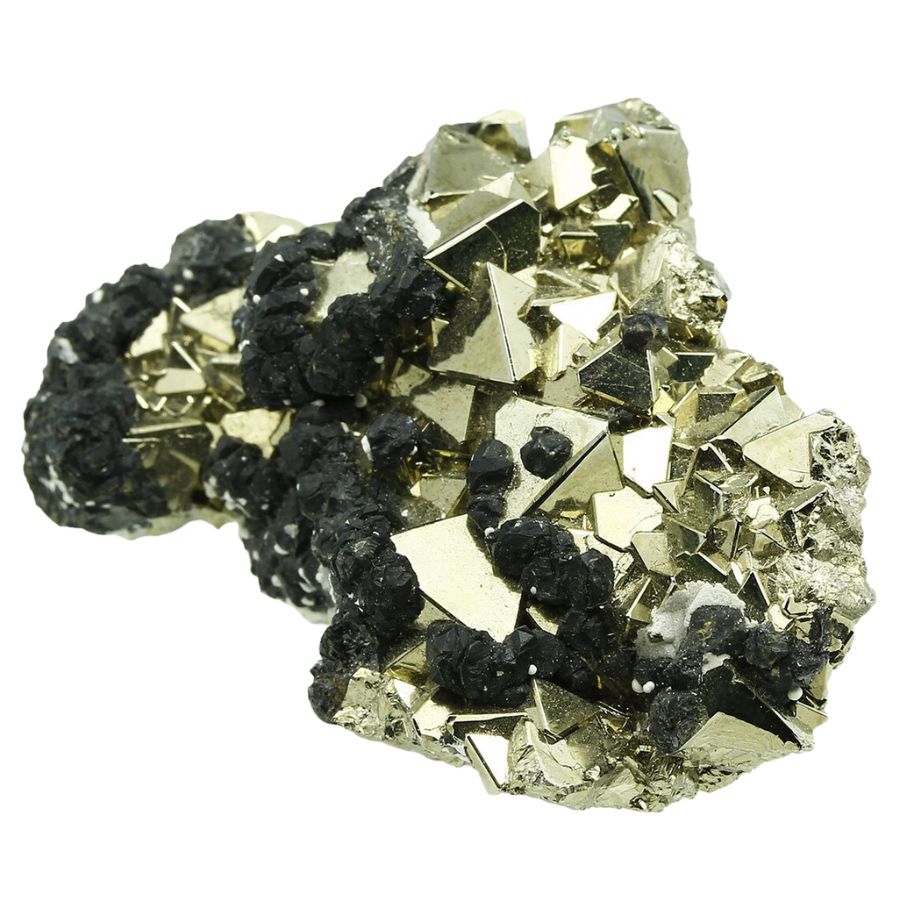 Here is some additional information to help you make the most of the time you spend on hunting for crystals. The following list includes some of the top locations to look for crystals:
Mines and mine dumps
Searching for crystals in mines and mine dumps is an excellent way to find these natural treasures. Mines and mine dumps are particularly fruitful for crystal hunters because they often contain valuable minerals left behind after the mining operations.
This means these areas have a high concentration of geological materials, increasing the chances of finding desirable specimens.
One of the best places to search for crystals in mine dumps is in the tailings, which are piles of discarded material from the mining process. These tailings often hold hidden gems that diligent explorers can uncover.
Additionally, crystals can sometimes be found in the mine walls and ceilings, providing further opportunities for discovery.
Quarries
Quarries are especially rewarding for crystal hunters due to their high concentration of geological materials. As the quarrying process exposes new layers of rock and minerals, the likelihood of finding crystals increases.
In quarries, crystals can often be found in the exposed walls, which may have formed in veins or pockets over time. Searching through loose rock and debris in the quarry can also reveal nice specimens that have been dislodged during excavation.
Roadcuts
Roadcuts, which are sections of exposed rock created during road construction, provide a unique opportunity to access layers of rock and minerals that would otherwise be difficult to reach.
This increases the chances of finding crystals and allows enthusiasts to explore diverse rock formations that may contain hidden gems.
In roadcuts, crystals can be found in the exposed rock faces where they may have formed in veins, pockets, or cavities over time.
Searching through the debris and loose rocks at the base of the roadcut can also yield crystals that have been dislodged during construction.
The Mining Laws And Regulations You Should Know
Hunting for crystals on public lands is often allowed, but specific rules and regulations are put into place by the Kentucky Department of Parks. Some public lands may require permits for certain activities or restrict collecting.
Prioritize safety while searching for crystals. This includes wearing appropriate attire, using proper tools and equipment, and adhering to any posted safety guidelines or regulations.
Respect the environment and follow the "Leave No Trace" principles. Minimize your impact by not disturbing vegetation, wildlife, or geological formations and properly disposing of waste.
Remember that regulations may vary depending on the location, and it is vital to research the specific rules governing the area you plan to visit.
Consulting local authorities and land managers or visiting official websites can provide the most accurate and up-to-date information regarding recreational crystal hunting regulations in Kentucky.
The Best Crystal Shops In The Area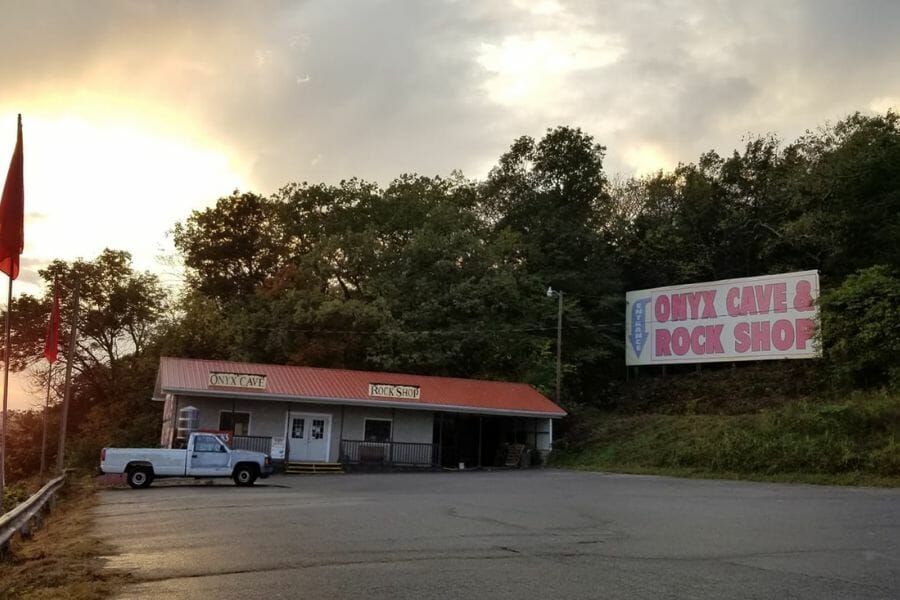 If you're not really fond of exploring and getting your hands dirty, but you still want to have interesting crystal specimens, these shops are worth visiting.
These are the best crystal stores we could find if you're looking for unique and stunning specimens.
Additional places to find crystals in nearby states
If you've already tried all of our recommendations above or are planning a trip out of the state, you should check out our guides for neighboring states:
If you have any recommendations we haven't covered please leave them in the comments below!