Imagine stumbling across a piece of ancient history lying right under your feet! That's the thrill you can experience when searching for petrified wood in Montana.
In the Treasure State, you can find these beautiful stone trees in many places, like the eastern Montana badlands or the famous Yellowstone National Park. They tell a story of ancient forests, long-lost rivers, and the powerful forces of Earth.
Exploring Montana's landscapes to discover petrified wood is like stepping into a time machine. It's an adventure waiting for anyone who loves nature, history, and, of course, rocks and minerals!
What Is Montana Petrified Wood
Petrified wood is like a magical bridge between trees and rocks. It starts with a tree that has fallen long ago. Over time, the tree gets buried under mud, dirt, or volcanic ash. Slowly, groundwater filled with minerals flows around the tree.
These minerals, like silica, seep into the wood and take the place of the tree's cells. The original tree shape is kept, but it becomes solid like a rock!
You can often find petrified wood in places where there were ancient rivers, lakes, or volcanoes. These locations provided the right conditions to bury the wood and bring the minerals that turn it into stone.
In the United States, petrified wood is found in national parks, rivers and streams, and even some forests. Knowing how to find petrified wood can lead you to some pretty great discoveries!
The types of petrified wood found in STATE
Before you set out to explore the wilderness of Montana to hunt for petrified wood, check out this refresher on how to identify petrified wood. This way, you can be sure that you'll find what you're looking for.
Opalized wood
Opalized wood is a truly amazing form of petrified wood. It's a dazzling mix of the ancient world of trees with the sparkling beauty of opals.
When a tree gets buried under the earth, the same process that turns wood into petrified wood can sometimes go a step further. Instead of just ordinary minerals filling in the wood, the colorful mineral known as opal can take its place.
This makes the wood look like a piece of art. You can see shiny, bright colors where the tree's rings and bark used to be.
Opalized wood forms in places where there's a lot of silica, the main ingredient in opal, in the ground. The conditions have to be just right, with the right amount of water, pressure, and heat.
Silicified wood
Silicified wood is a fantastic type of petrified wood that takes us back millions of years. This incredible transformation happens when a tree gets buried under soil or volcanic ash.
Over a long time, groundwater rich in the mineral silica slowly moves around the buried wood. The silica starts to replace the wood's original material, turning it into a rock with the same shape as the original tree!
The cool thing about silicified wood is that it can keep some of the original wood's details. You might see the tree's rings or bark pattern in the stone.
You can find silicified wood in many places where there were ancient forests and lots of volcanic activity.
Agatized wood
Agatized wood combines the beauty of wood with the stunning looks of agate. It's a type of petrified wood but with a special twist.
When a tree gets buried and starts the petrifying process, sometimes the groundwater around it is full of tiny silica particles. These particles can come together to form agate, a colorful and patterned mineral.
As the wood slowly turns to stone, the agate fills in the spaces, taking the shape of the original tree. The result is a beautiful piece of wood that's become rock, often with bright colors and amazing patterns that look like waves or rings.
Jasperized wood
Jasperized wood is essentially petrified wood that's undergone a special transformation. When a tree dies and gets buried under sediment, sometimes minerals seep into the wood.
In the case of jasperized wood, the mineral jasper, which is a form of chalcedony, takes over. The wood slowly turns into a stone-like material that has the colorful and patterned appearance of jasper.
This transformation gives the wood a beautiful, often banded look, with rich reds, yellows, browns, and even greens. The cool part is, you can sometimes still see the original structure of the wood, like tree rings, but with the vibrant colors of jasper.
How We Found Petrified Wood in Montana
Petrified wood can be pretty tough to find in our state if you aren't strategic about your search. We've compiled a list of great locations where you can find it from a number of proven sources. These are the main inputs we used when determining the recommendations we set out :
The extensive local experience of our team
Input from a variety of local rockhounds and rockhound groups
The difficulty in accessing a location
Safety and potential hazards when collecting
Private and public locations
A desire to include locations for both the experienced and newbie hunters who are just starting out
Using these inputs we think we've put together the best list out there for those who love finding petrified wood for our collections!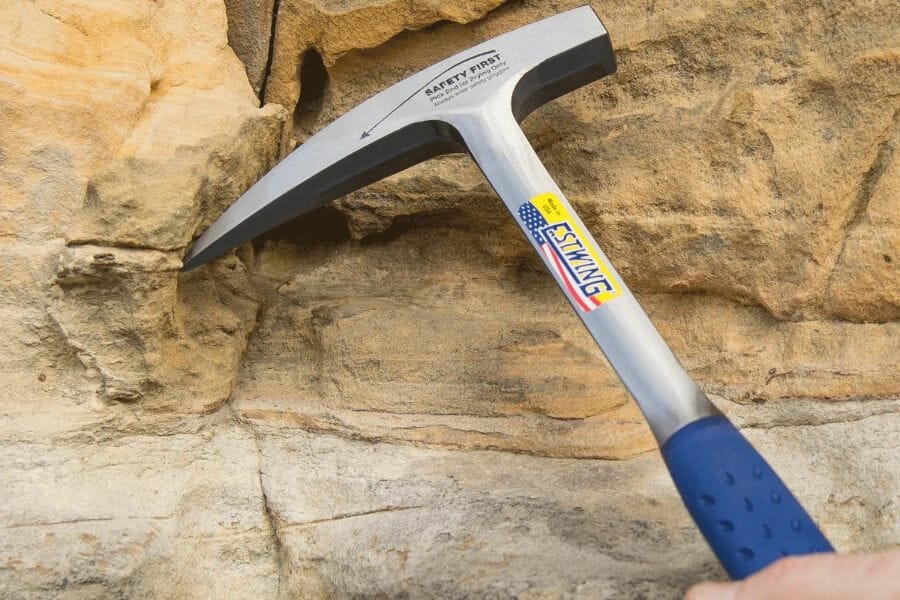 The tools every petrified wood hunter will need
When you're out looking for petrified wood having the right tools for the job is really going to make or break your success. You don't need a lot for most trips but there are a handful that are critical and will make your life a lot easier.
We get asked a lot about the equipment we use. Over the years we've found a handful of tools that we recommend to both new and experienced petrified wood hunters which we outline in great detail in our complete rockhounding tools and kit guide. These are quality options that also happen to be relatively inexpensive.
Below are the basic tools that make your life so much easier and save you a ton of time. Check out the full guide to see everything we recommend bringing. One quick note, as an Amazon Associate I earn from qualifying purchases but we try very hard to only recommend gear we would use ourselves and often recommend brands you can't find on Amazon.
At a minimum you should have:
1 - Sturdy rock hammer: The Estwing Rock Pick is our standard
2 - Rugged chisels: Try Kendo' 3-piece Chisel Set
3 - Compact shovel: The Koleiya 28-inch shovel works well
4 - Rock screen pan: The Wazakura Soil Sieve Set fits the bill
5 - Eye protection: DeWalt Safety Glasses are cheap and comfortable
6 - Head protection: Malta's Safety Helmet has been our go-to
7 - Jewelers lens with at least 20x magnification: Jarlink's Jewelers Loop is perfect
The petrified wood-finding books that we use most
There are also a few books that have been extremely helpful in the search for gems. These books have great recommendations and tips:
National Audubon Society Field Guide to Rocks and Minerals: North America 
Northwest Treasure Hunter's Gem & Mineral Guide 
Earth Treasures: The Northwestern Quadrant 
We provide links to find these tools on Amazon but some can also be found at your local hardware stores. For more recommendations check out the link to our full tool guide above.
The Best Places To Find Petrified Wood In Montana
Whether you're an expert or a beginner, Montana offers plenty of opportunities to discover petrified wood. Let's take a look at rockhounding spots in Montana, where you can find come across petrified wood as well as other geological treasures.
Always Confirm Access and Collection Rules!
Before heading out to any of the locations on our list you need to confirm access requirements and collection rules for both public and private locations.
These requirements are subject to change without notice and may differ from what we state below.
Always get updated information directly from the source ahead of time to ensure responsible rockhounding.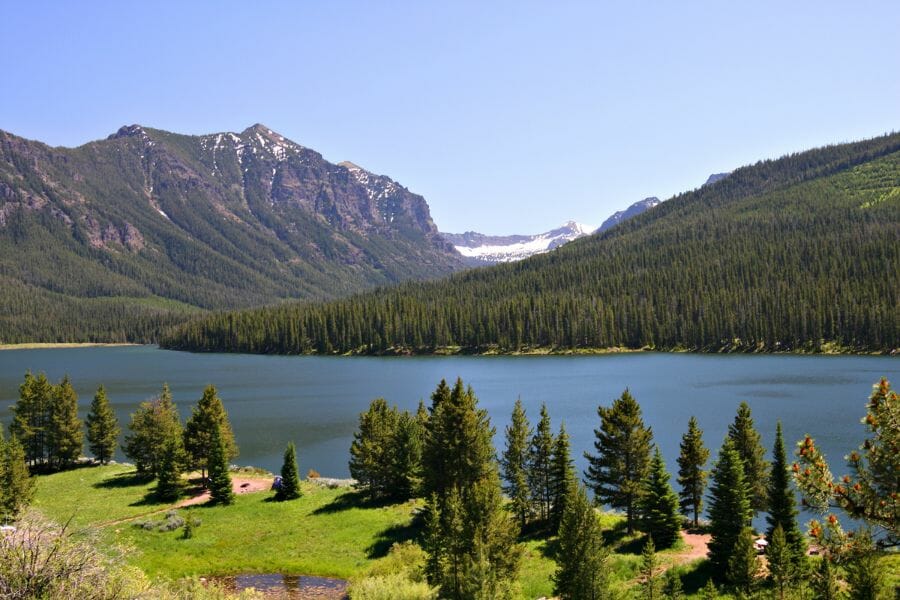 The Gallatin Petrified Forest in Montana is a remarkable place! It's located in the Gallatin Range, part of the Rocky Mountains, where towering peaks meet dense forests.
This area is famous for its petrified wood, showing off the ancient history of trees turned into stone.
Millions of years ago, this region was home to dense forests. Volcanic eruptions buried these trees under ash, and over time, minerals like silica replaced the wood, creating petrified logs.
You can still see tree rings and bark details, now frozen in stone.
The terrain here is rugged and wild, with steep slopes and dense forests. Hiking can be a bit challenging but oh, so rewarding! The area is well-marked with trails, so you don't have to be an expert explorer to enjoy it.
Getting to the Gallatin Petrified Forest requires some travel, but it's worth the journey. It's accessible by car from nearby towns, and there are plenty of signs to guide you.
Wear some sturdy shoes and pack a lunch! Remember to tread lightly, respect the environment, and check out the Department of Environmental Quality's collecting guidelines.
Where we found petrified wood in the Gallatin Petrified Forest
While the main trails give you a scenic tour, they won't take you directly to the petrified wood. To find petrified wood, you'll need to go off the beaten path.
Start by scouting cliffs with exposed rock faces. As the softer rock around them erodes, the petrified wood begins to show itself.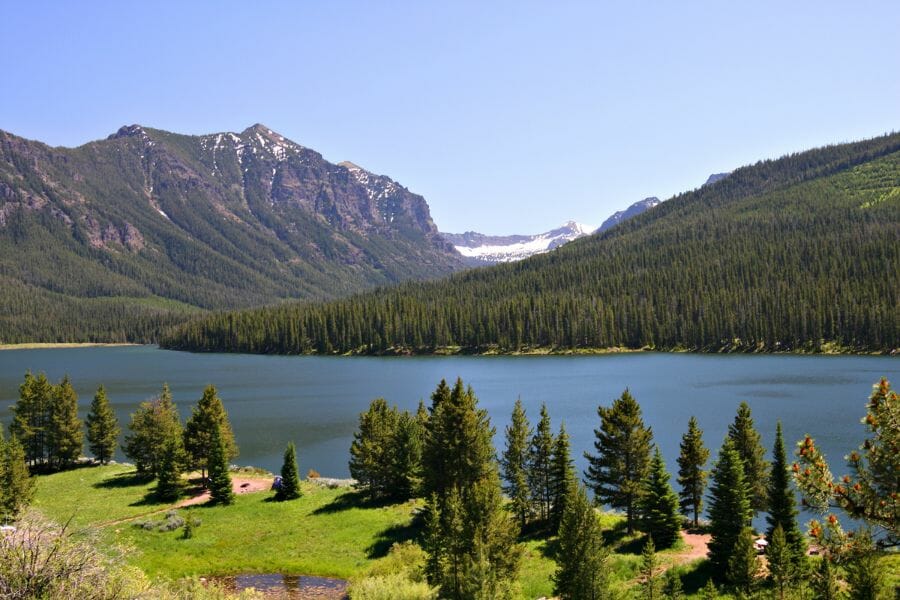 Stretching as the longest undammed river in the U.S., the Yellowstone River starts high up in the Rocky Mountains of Wyoming and winds its way through the scenic landscapes of Montana.
Flowing north and then east, it paints a stunning picture of Montana's wilderness before joining the Missouri River.
The terrain along the Yellowstone is diverse. From mountainous regions with tall pines, it transitions to open plains where the sky seems to go on forever.
This river has carved through the land for ages, shaping the terrain and leaving behind fascinating geological stories.
Along its banks, you can find evidence of ancient volcanic eruptions and rocks that tell tales of times when seas covered the land.
Getting to the Yellowstone River is a breeze, especially if you're in Montana. Roads often run parallel to the river, making it easy to find a spot to pull over, set up a picnic, or even cast a fishing line.
Plus, there are numerous towns and parks along its route that offer great starting points for your adventures.
Where we found petrified wood along the Yellowstone River
There are pieces of petrified wood scattered all along the Yellowstone River. Over time, much of the petrified wood has been carried away by the river, making it accessible for rockhounds.
If you're eager to discover these gems, keep your eyes on the gravels of the riverbanks and in the riverbeds. A careful search in these areas could lead you to some fantastic pieces of natural history.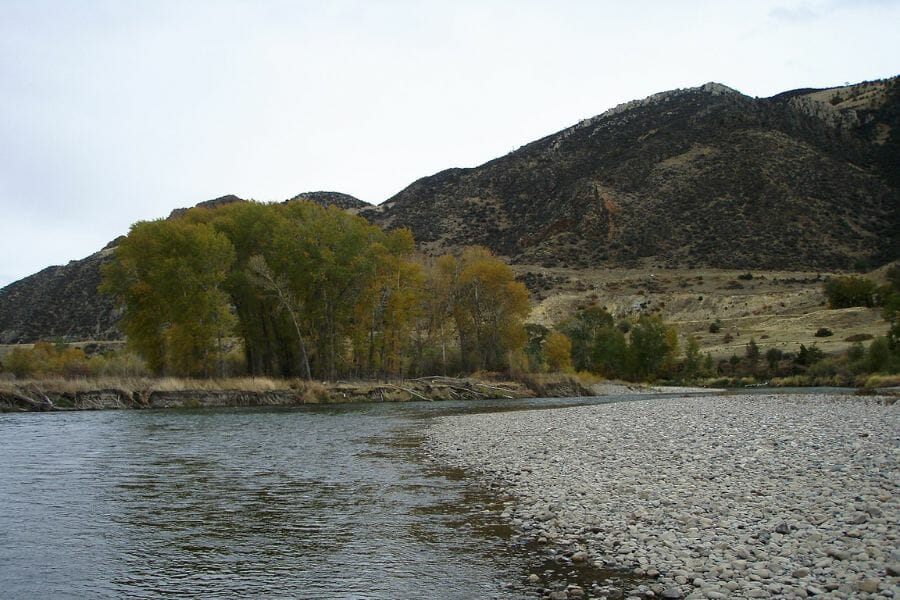 Flowing through the southwestern part of the state, the Jefferson River is one of the main tributaries that form the mighty Missouri River.
Born from the meeting waters of the Big Hole, Beaverhead, and Ruby rivers, the Jefferson River travels through valleys and canyons.
Picture wide valleys flanked by rolling hills and distant mountain peaks. These landscapes have evolved over millions of years.
If you look closely, the rocks along the riverbanks share secrets of ancient oceans, volcanic activity, and epic ice ages.
Geology buffs love the diversity of rocks and minerals you can find here. From sedimentary layers to colorful agates, there's always a new story waiting to be uncovered.
If you're thinking of visiting, you're in luck! The Jefferson River is easily accessible from many parts of Montana. There are plenty of well-maintained roads and trails leading to its shores. Just hop in your car and follow the signs.
Where we found petrified wood along the Jefferson River
One top location is near Silver Star in Madison County. Here, the gravels along the Jefferson River are often home to hidden petrified wood.
Another great place to check out is the Twin Bridges area. The foothills near the Jefferson River have revealed many petrified finds in the past.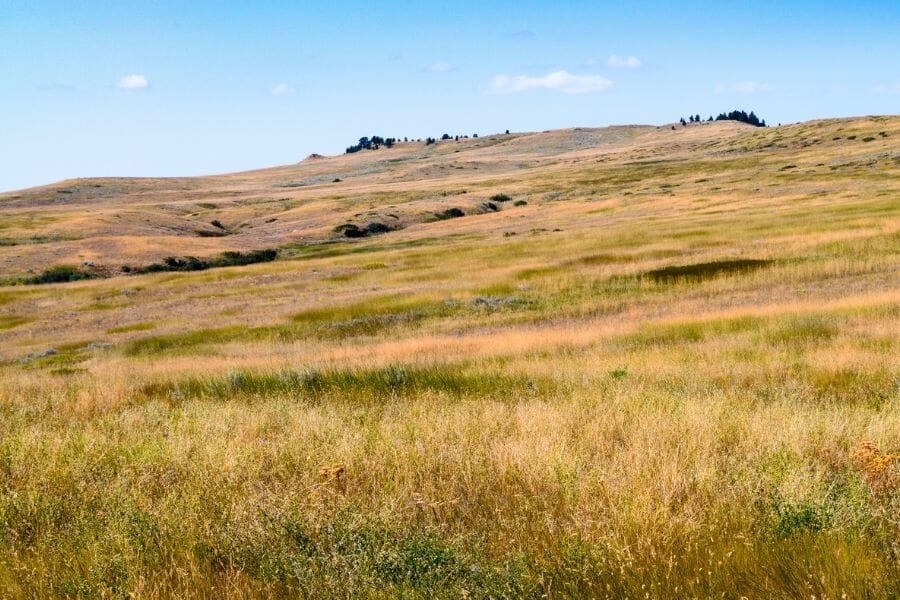 Big Horn County is a remarkable place that showcases some of Montana's diverse geology.
Geographically, Big Horn County is vast and varied, with expansive plains that give way to rugged mountains. The rolling hills are often spotted with sagebrush, and the mountains loom with forested slopes.
It's this mix of terrain that hosts an array of unique rocks, minerals, and fossils. The geology of the area is rich, with sedimentary, igneous, and metamorphic rock layers stacked over millennia.
Getting to Big Horn County is relatively easy. Major roads crisscross the region, making access simple whether you're driving from within Montana or coming from out of state. Once you're there, a world of exploration awaits.
For rock enthusiasts, the county provides ample opportunities for rockhounding, hiking, and enjoying the beautiful scenery.
Where we found petrified wood in Big Horn County
Firstly, in the Dunmore area, you can collect pieces along the Burlington-Northern RR tracks heading south towards Crow Agency. The east shore of the Little Bighorn River is also promising.
Venture to the Fort Smith area, and you'll want to scout upstream along both sides of the Bighorn River.
You can also search on both sides of the Whitman Coulee, especially upstream.
Lastly, go to the St. Xavier area. Explore both sides of the Rotten Grass Creek, especially upstream. This area is known to have lovely specimens.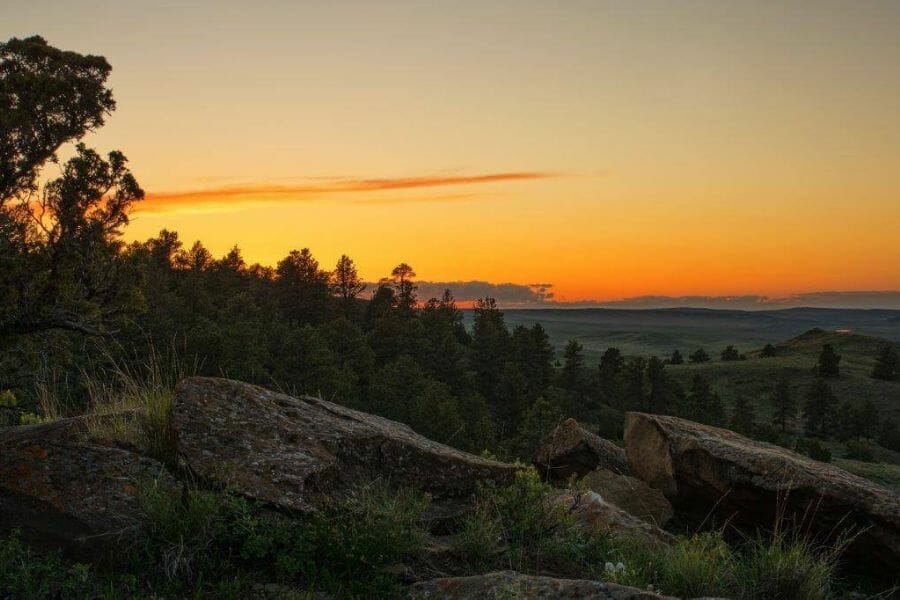 Rosebud County is located in the southeastern part of the state. It's filled with diverse landscapes, ranging from rugged hills and wide-open plains to river valleys.
The rolling terrain offers a mix of grasslands and agricultural areas, with the majestic Yellowstone River winding through.
Geologically, Rosebud County is rich! You can find evidence of ancient seas, like fossilized shells and sea creatures. There are also layers of sandstone, shale, and coal, each telling its own story from millions of years ago.
The county's geography is unique too. It's home to natural formations, like rock arches, and offers wonderful spots for fishing, hiking, and exploring nature.
Getting to Rosebud County is a smooth ride. Major highways and roads crisscross the region, so whether you're coming from a nearby city or a distant town, you'll find the journey easy and scenic.
Where we found petrified wood in Rosebud County
Make sure to look along the west shore of Tongue River in Birney. Pay special attention to the mouths of tributaries, both upstream and down.
Big Porcupine Creek is another fantastic location. Don't forget about Rosebud Creek; it's a known hideout for petrified wood!
Lastly, the grand Yellowstone River also goes through this county. Make sure to check out its banks and riverbeds as well.
Other Great Places To Find Montana Petrified Wood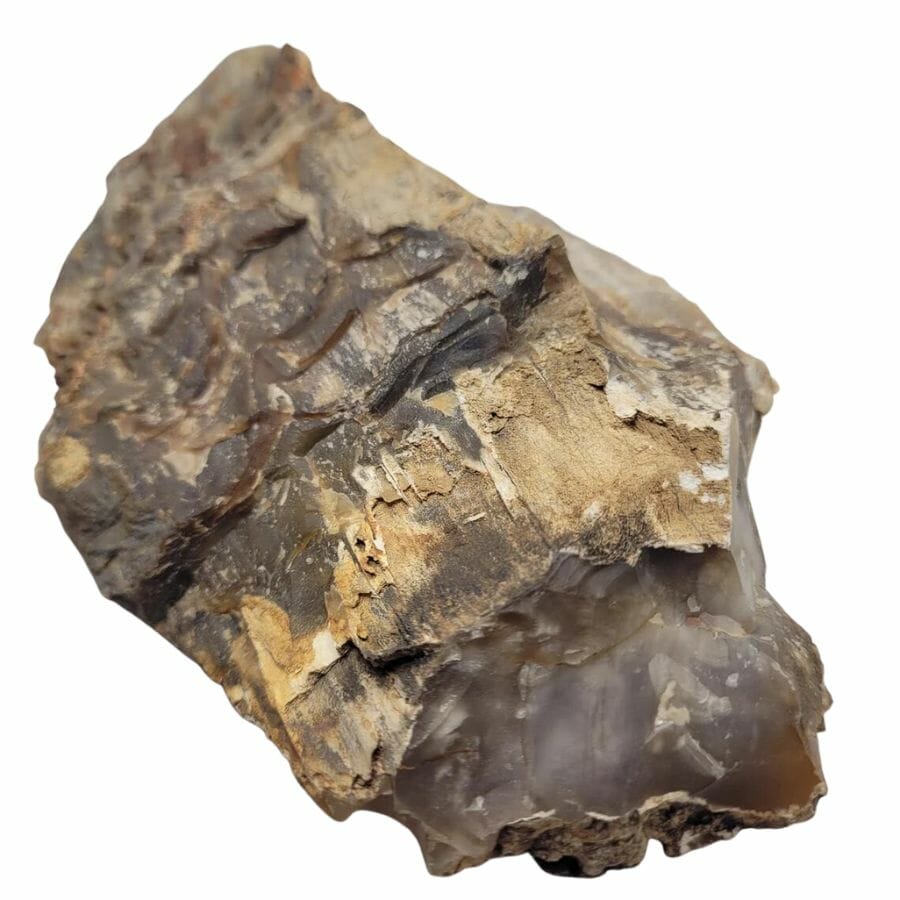 Our recommendations above aren't the only places where you can find petrified wood in Montana. This state has a lot more to offer, and there are so many more spots that you can explore.
| | |
| --- | --- |
| County | Location |
| Beaverhead County | Dillon area, in Frying Pan Basin |
| Cascade County | Vaughn area, along the Sun River and US-89 |
| Chouteau County | Highwood area, along Highwood Creek |
| Chouteau County | Iliad area, along Chip Creek |
| Custer County | Yellowstone River |
| Dawson County | Bloomfield area, along Thirteenmile Creek |
| Dawson County | Glendive area, along both sides of the Yellowstone River |
| Deer Lodge County | Anaconda area, around the French Gulch sign |
| Deer Lodge County | Willow Creek |
| Fallon County | Baker area |
| Gallatin County | Mt. Blackmore summit |
| Gallatin County | Logan area, in Elk Creek bluffs |
| Garfield County | Edwards area, along Big Dry Creek |
| Garfield County | Jordan area |
| Garfield County | Sand Springs area, along Lodgepole Creek |
| Lewis and Clark County | Augusta area, along Elk Creek to the mouth of Smith Creek |
| Lewis and Clark County | Lincoln area streams |
| Park County | Carbella area creek beds and hillsides |
| Park County | Miner area |
| Park County | Springdale area, along Yellowstone River |
| Phillips County | Whitewater area, along Whitewater Creek |
| Prairie County | Terry area land surfaces and washes |
| Stillwater County | Columbus area, around Yellowstone River and on nearby islands |
| Wibaux County | Beaver Creek |
| Wibaux County | St. Philips |
General Areas You Should Try
You can cover a lot of ground with our recommended spots, but who knows? You might end up discovering a spot or two on your own.
If you're wondering where else you can find petrified wood, it's all about narrowing down the possible spots. The areas listed below are great places to start!
Petrified forests
Petrified forests are like treasure troves for folks like us who love collecting petrified wood. These forests are where ancient trees once stood tall, and over time, they've been transformed into stone.
Where better to find petrified wood than in a place that's been nature's workshop for this transformation? When you're walking in a petrified forest, you're literally stepping on a snapshot of Earth's history.
You'll see logs, branches, and sometimes even leaves, all turned to stone. It's fascinating!
And for collectors, the variety you can find is just awesome. Different minerals give different colors and patterns, so each piece you find has its own unique story.
While it's important to know the rules (some places don't allow collecting), there's no denying that petrified forests are top spots for finding these ancient treasures.
Creeks and streams
Creeks and streams are some of the most exciting places for collectors to search for petrified wood. Over time, water flowing down these creeks and streams wears away the soil and rocks.
In doing so, it uncovers hidden treasures like petrified wood.
The water's movement helps in two big ways. First, it exposes what's buried, bringing the petrified wood closer to the surface.
Second, the water can smooth the edges, giving the petrified wood a polished look that's easy to spot among the other rocks.
What's great about creeks and streams is that they're usually accessible. A pair of sturdy boots and a keen eye are often all you need to start your adventure. So, if you're on the hunt for petrified wood, don't overlook the creeks and streams.
Rivers and riverbanks
Rivers and riverbanks are like gold mines for collectors searching for petrified wood. Over millions of years, rivers carve and shape the land, and in the process, they uncover layers of Earth's history.
As they wear down the soil and rock, the rivers may expose petrified wood that was buried long ago.
What's even more exciting is that rivers keep moving, so there's always something new to discover. As the water flows, it can transport pieces of petrified wood downstream.
These pieces may come to rest on the banks, just waiting for an eager collector to find them.
Walking along a riverbank, with the water gently flowing and the sun shining, you can find petrified wood pieces in different shapes, sizes, and colors. Each piece tells a story of ancient forests and geological changes.
Common Questions About Finding Petrified Wood In Montana
To make sure that you have the information you need about Montana petrified wood, we've answered some common questions.
How old is petrified wood in Montana?
Petrified wood in Montana can be a real window into ancient times! This fascinating transformation of wood into stone can take millions of years, and in Montana, the age of petrified wood can vary widely.
Some of the petrified wood found in places like the Gallatin Petrified Forest and Yellowstone National Park dates back to the Eocene Epoch. That means it's around 34 to 56 million years old!
Finding petrified wood in Montana is like holding a piece of ancient history in your hands. It's a link to a time long past, and it tells the story of the ever-changing Earth we live on. It's one of the many reasons why Montana is a geologist's dream!
Can you find petrified palm wood in Montana?
While Montana is a hotspot for various kinds of petrified wood, petrified palm wood isn't typically on the list.
Petrified palm wood is more commonly associated with places like Texas and Louisiana, where palms once thrived in the ancient coastal regions.
Montana, on the other hand, has evidence of different types of ancient forests. The petrified wood you'll find there often comes from trees that lived in cooler, different climates than where palms would have grown.
When you search Montana's landscapes, you'll uncover pieces of ancient conifers, hardwoods, and other trees, but not palms.
The Best Places To Buy Petrified Wood In Montana
If you're not really up for exploring the great outdoors to get your hands on a piece of petrified wood, you can buy one instead. Here are some of the best shops to buy Montana petrified wood: