Finding agate in Kansas can prove to be a challenging endeavor for those without proper guidance. The vast landscapes and diverse geological formations of the Sunflower State, while abundant in natural beauty and hidden gems, don't always readily reveal their treasures to the untrained eye.
It's not enough to know where to look; you also need to know the subtle signs of these semi-precious stones nearby. But the reward is undoubtedly amazing for those lucky enough to find an agate.
Even though Kansas might be complicated for people who have never looked for agates before, we've found a lot of great options and resources to help in the search.
Anyone who likes agates can find these geological wonders in the middle of America with the right tools, knowledge, and maybe some local knowledge.
What is Kansas Agate?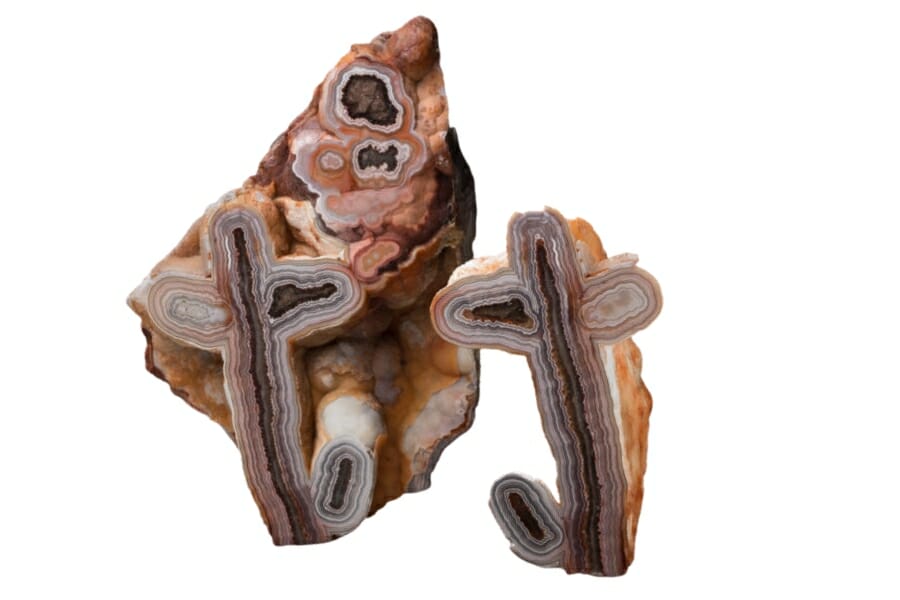 Agate is distinguished by its fine grain and often displays various colors in layers or bands, from transparent to opaque.
It shows how fantastic nature is with its intricate patterns, swirls of color, and mesmerizing transparency. Their formation has taken millions of years, and each stone is a unique and beautiful work of art.
Even though agates can be found worldwide, they are most often found in places with a lot of volcanic activity or where volcanic fluids have changed the rocks.
Check out our article to know the current price and value of agates.
Moss agates
Moss agate is a beautiful type of agate, but it does not contain moss. Instead, its name comes from its appearance: the mineral inclusions in the stone often look like delicate tree patterns or mossy scenes frozen in time.
Usually, manganese or iron is used to make these inclusions. They make dendritic patterns that look like plants growing inside the stone. Moss agates differ from other agates because they have branch-like inclusions that look like they are growing out of the clear or milky chalcedony background.
While Kansas has chert and other siliceous stones that may occasionally be mistaken for agates, genuine moss agates are rare in the region but still can be found.
Fire agates
Fire agate is a beautiful type of chalcedony that gets its name from how its colors change and look like the colors of flames. Unlike traditional agates, which have smooth bands, or moss agates, which have branching patterns, fire agates are made up of iron oxide or limonite layers.
Light refracts between these layers, creating a dazzling show of iridescent colors. The iridescent flashes give the stone its unique look. They can show various colors, from red and green to blue, purple, and gold.
Fire agates are not native to or commonly found in Kansas.
Blue lace agates
Blue lace agate gets its name from the delicate blue and white patterns that look like lace and give the stone a soft, relaxing look. This chalcedony stands out for its beautiful and soothing appearance, often reminiscent of softly cascading waters or delicate wisps of cloud against a clear sky.
It has bands and sometimes see-through layers of light blue, white, and even a hint of darker blue. Because of their unique color palette and intricate, lace-like patterns are often used for jewelry and decorative pieces.
Blue lace agate is not a naturally occurring stone in the state.
Lake Superior agates
Lake Superior agates stand out from other kinds because of their rich, bright colors and complicated banding patterns. About a billion years ago, volcanoes erupted in Lake Superior, in the Upper Midwest of the United States and Canada.
While Lake Superior agates primarily hail from the Upper Midwest, especially Minnesota, Wisconsin, and Michigan, their popularity among collectors means they can be found in collections and markets worldwide.
However, naturally occurring Lake Superior agates in Kansas would be pretty rare. Any specimens found in Kansas would likely have been transported there by human means, such as trading or personal collection, rather than natural processes.
How We Know About Great Locations For Agate in Kansas
With agates being so beautiful you can image that the best spots are not always advertised widely. In fact, it isn't unusual for good places to find agates to be secrets known by just a few locals. Fortunately, you do know someone who has been around the block!
The key factors in our recommendations are:
The deep experience and understanding of our team about the area
Recommendations from local groups and clubs
How easy it is to get the a particular location
Safety and potential hazards when collecting
Weighing private and public locations
The ability for both experienced and novice agate enthusiasts to find great samples
With these factors in mind we've been able to put together a fantastic list that just about anyone can use!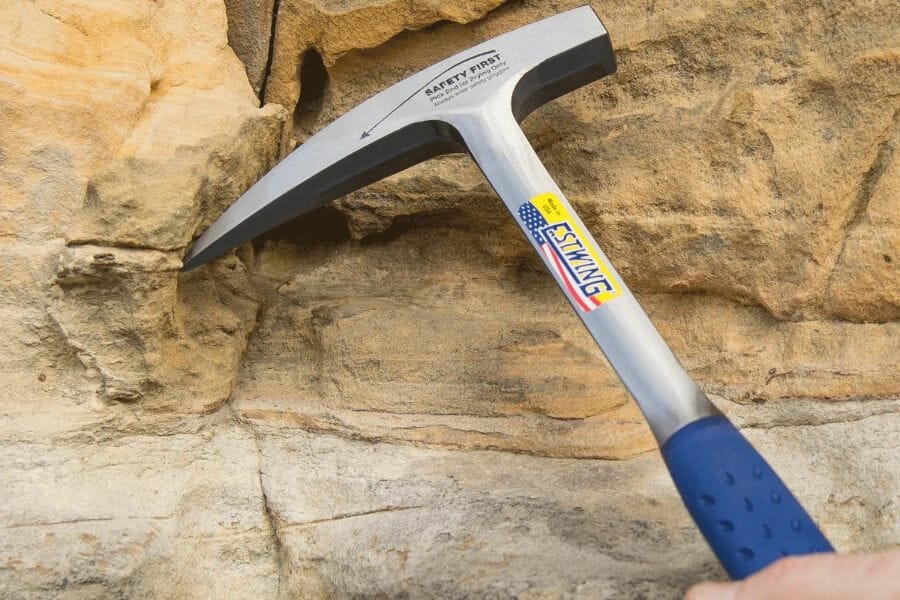 The tools every agate hunter will need
When you're out looking for agates having the right tools for the job is really going to make or break your success. You don't need a lot for most trips but there are a handful that are critical and will make your life a lot easier.
We get asked a lot about the equipment we use. Over the years we've found a handful of tools that we recommend to both new and experienced agate hunters which we outline in great detail in our complete rockhounding tools and kit guide. These are quality options that also happen to be relatively inexpensive.
Below are the basic tools that make your life so much easier and save you a ton of time. Check out the full guide to see everything we recommend bringing. One quick note, as an Amazon Associate I earn from qualifying purchases but we try very hard to only recommend gear we would use ourselves and often recommend brands you can't find on Amazon.
At a minimum you should have:
1 - Sturdy rock hammer: The Estwing Rock Pick is our standard
2 - Rugged chisels: Try Kendo' 3-piece Chisel Set
3 - Compact shovel: The Koleiya 28-inch shovel works well
4 - Rock screen pan: The Wazakura Soil Sieve Set fits the bill
5 - Eye protection: DeWalt Safety Glasses are cheap and comfortable
6 - Head protection: Malta's Safety Helmet has been our go-to
7 - Jewelers lens with at least 20x magnification: Jarlink's Jewelers Loop is perfect
The agate-finding books that we use most
There are also a few books that have been extremely helpful in the search for gems. These books have great recommendations and tips:
National Audubon Society Field Guide to Rocks and Minerals: North America 
Southwest Treasure Hunter's Gem & Mineral Guide 
Earth Treasures: The Southwestern Quadrant 
We provide links to find these tools on Amazon but some can also be found at your local hardware stores. For more recommendations check out the link to our full tool guide above.
The Best Spots To Find Agates in Kansas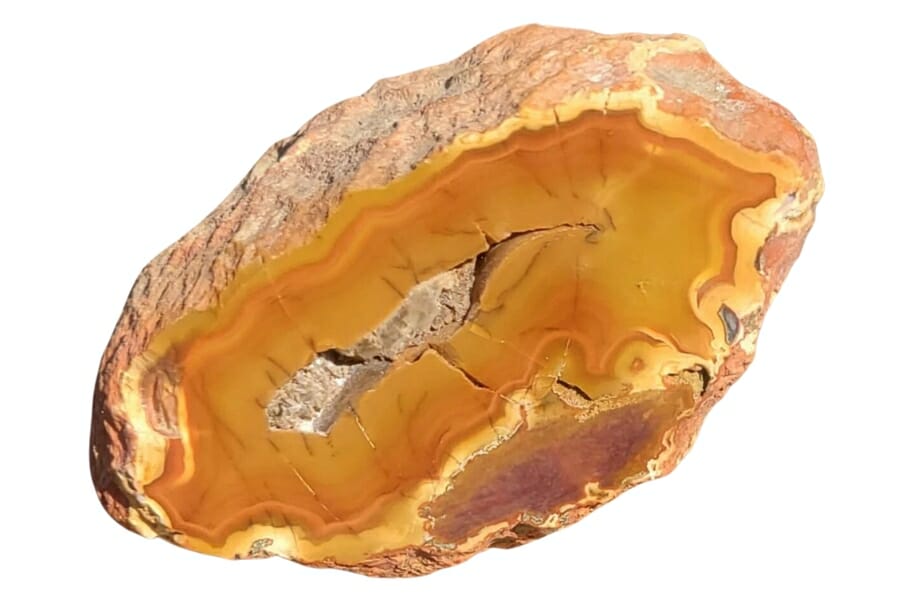 Here are our suggestions for places in the state where you can find agates. We also have a lot of interesting places to search for gems in Kansas, but not all of them are suitable for finding agates.
Always Confirm Access and Collection Rules!
Before heading out to any of the locations on our list you need to confirm access requirements and collection rules for both public and private locations.
These requirements are subject to change without notice and may differ from what we state below.
Always get updated information directly from the source ahead of time to ensure responsible rockhounding.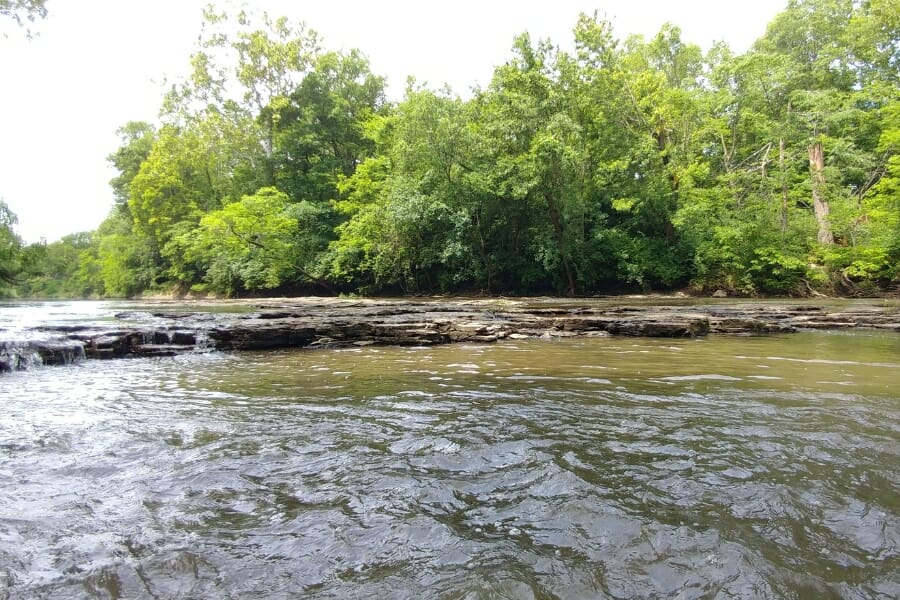 The Big Blue River is a branch of the Kansas River that runs through the northeastern part of Kansas for about 359 miles. The river starts in Nebraska and flows through Kansas, changing the landscape and adding nutrients to the soil.
Over time, the river has eroded and exposed many different rocks and minerals, making it a possible treasure trove for people looking for rocks and gems.
Collectors like the area because they might find agates there and because the area around the river is peaceful and beautiful. The river is an excellent place for people interested in agates because of its long history, varied geology, and ability to reveal hidden gems.
Before bringing your agate finds back home from Kansas, ensure you know the most up-to-date rules about collecting there.
Where we found agates in the Big Blue River
You can find agates along the river's shores and in the riverbeds. The constant movement of the Big Blue River's water over thousands of years has naturally smoothed and shown off these beautiful stones.
The Chikaskia River starts in Kansas and flows south into Oklahoma along a path about 159 miles long. As a unique waterway in Kansas, it has shaped the state's landscape and played a big part in its geology and ecology.
Chalcedony occurs naturally in the area and often takes the form of agates. It can be found in pebbles, gravel, and other sedimentary deposits. The peaceful setting of the river, which is full of wildlife and interesting geological features, makes it more fun to look for these gems.
Where we found agates in the Chikaskia River
Often, the best places to begin are the exposed gravel bars in rivers. These areas contain a mixture of rocks and minerals transported by the river's currents. These bars can yield new agate specimens after significant rainfall or when water levels are lower.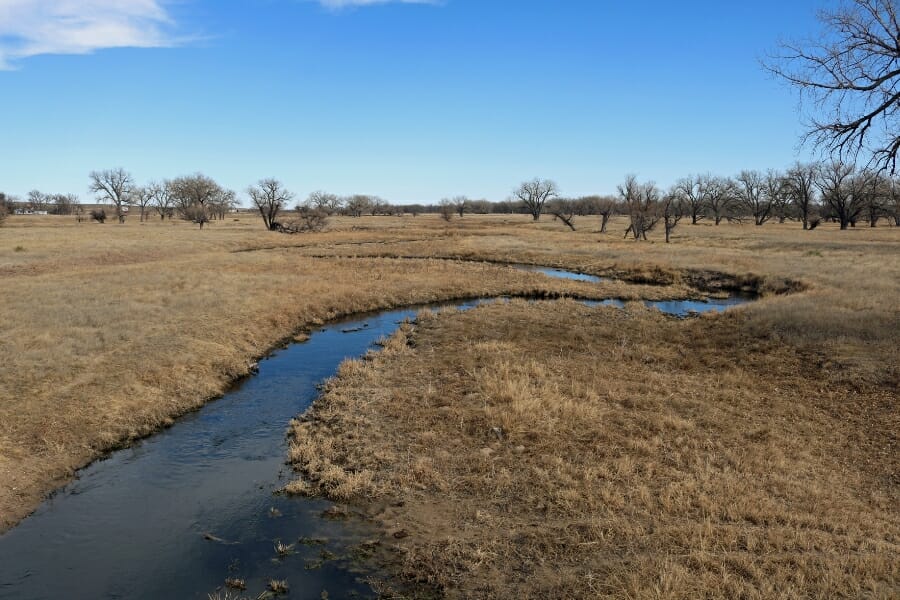 The Republican River is a significant waterway that starts in Nebraska and flows through northern Kansas. This river has had a big impact on the geology and ecology of the state. It has shaped the state's landscape in many ways.
Over a long period, the river has acted as a natural sieve, eroding its banks and moving a wide range of rocks and minerals downstream. Agates are one of the geological treasures it shows. They often look like they have stripes on them.
The Republican River flows in a way that constantly changes the landscape, especially after it rains. The river attracts new and experienced collectors because of its long course and the chance of finding agates and other minerals.
Where we found agates in the Republican River
You can find these semi-precious stones in the river's gravel bars, bends, and along its shores.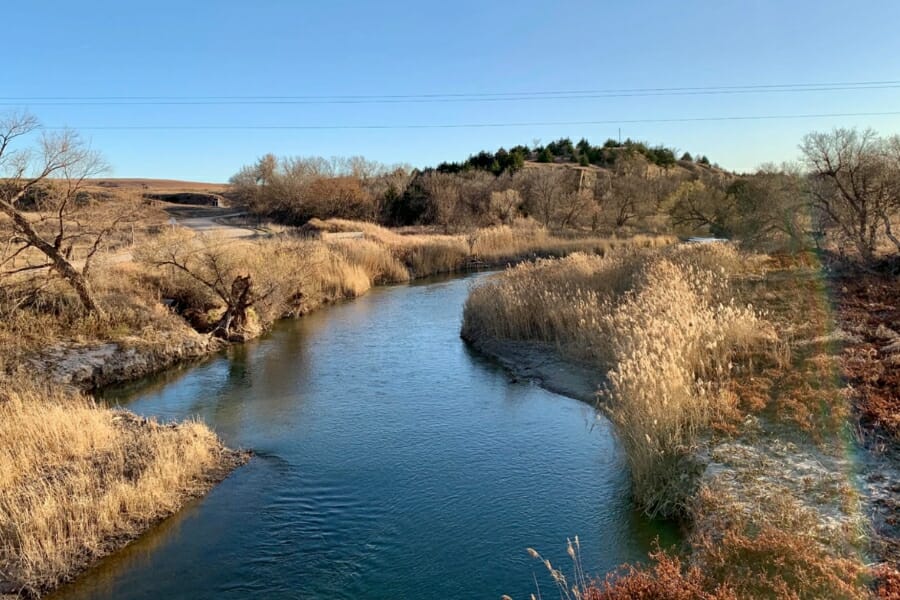 The Saline River runs through the middle of Kansas and is a key part of the state's geological and hydrological story. With its long stretches of sparkling water, this river has been challenging at work for thousands of years, shaping the land and revealing mineral treasures that were once hidden.
When it rains, or the water level goes down, new sediment layers are exposed, making it easier to find agates. For people who like rocks, the Saline River is a great place to look for agates. Not only is it exciting to see new stones, but it also has a beautiful view of Kansas.
Both beginners and experts can go on a unique rock-hunting adventure along the river's path, full of geological wonders and promises of agate treasures.
Where we found agates at the Saline River
Some of these gems are agates brought to the surface by the river's constant erosion. These banded beauties can often be found in the shallows and bends of the Saline River, where there is a lot of gravel.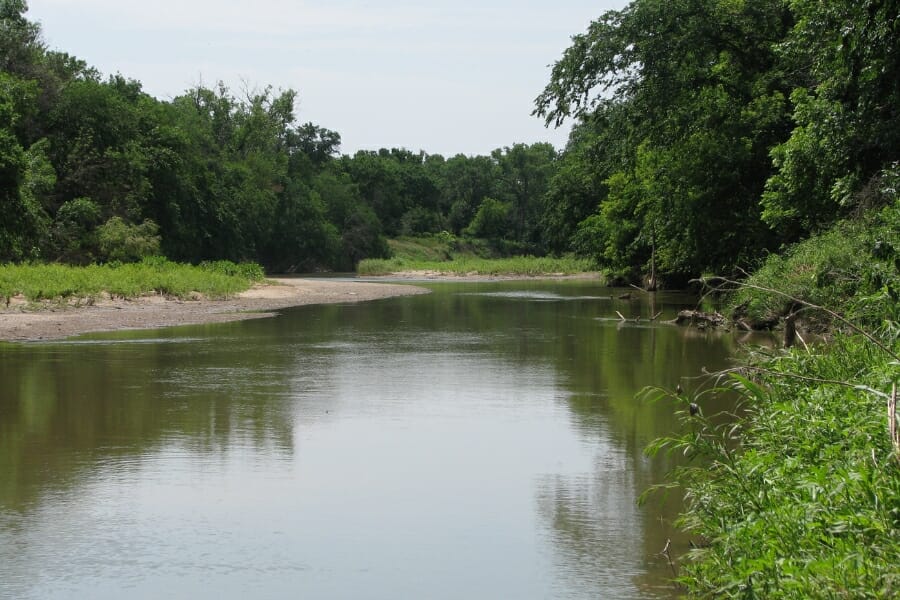 The Smoky Hill River flows through Kansas beautifully, showing off the state's varied geology and green landscapes. Over time, the flow of this critical river has uncovered and shown off many geological treasures that were hidden beneath it.
As the seasons change and the water level rises and falls, the Smoky Hill River constantly changes the shape of its banks, exposing new layers of sediment. These changes make it easier for people with good eyes to find agates.
Aside from the minerals that might be found, the beautiful setting of the river adds to the excitement of rockhounding by combining the thrill of discovery with the peace of nature.
Where we found agates in the Smoky Hill River
With its bends, shallow spots, and gravelly banks, the river's natural path is a great place to find these interesting stones with bands. The outer curves of river bends tend to experience more significant erosion. Faster-moving water can expose new rocks and minerals, making these locations potentially fruitful for agates.
Other Great Places To Find Agates in Kansas
After telling you where the best places are to look for agates in Kansas, we'll tell you where else you can go hunting. We put them in order by county to help you.
Our recommendations by county
| | |
| --- | --- |
| County | Location |
| Barber | Aetna area draws and washes |
| Barber | Medicine Lodge |
| Clark | Bluff Creek |
| Clark/td> | Mount Casino |
| Cloud | Old River Bed |
| Jefferson | Glacial moraines and gravel drifts |
| Logan | Smoky Hill River |
| Shawnee | In glacial moraines near Topeka city |
| Sheridan | Saline River |
| Wilson | Verdigris River |
Additional areas you can find agates
We want you to be successful in your search since Kansas is a big state. Here are some more specific places where you can spot agate specimens.
Rivers and riverbanks
Rivers and their banks move many minerals, including agates, from one place to another. As water flows through landscapes, it wears away the land and brings up hidden gems from the ground. These gems are then carried downstream.
Over thousands of years, these waterways have acted as nature's tumblers, smoothing and polishing rocks. This makes the bands on agates look more attractive. Especially when the water level is low, riverbanks show piles of sediment and gravel.
Streams and creeks
Streams and creeks are great places to look for agates because they move slowly and are connected to the land. Smaller rivers and streams often cut through different rock formations, exposing minerals like the sought-after agates.
As streams and creeks meander, they keep revealing new layers of the earth. This gives collectors a chance to look at new things. Erosion and water flow in these channels help to separate and concentrate the heavier minerals, making it easier for a sharp-eyed hunter to find agates.
Washes and ravines
Washes and ravines, natural paths shaped by water and time, are good places to look for agates. These geological formations are caused by regular water flows, often caused by rain or melting snow.
These water flows act as natural sieves, catching and concentrating mineral treasures. Gems like agates, which have distinct bands and are see-through, can be found in these channels. As water flows through and drains from an area, it wears away the land and often reveals mineral-rich layers that were previously hidden.
Common Agate-Hunting Questions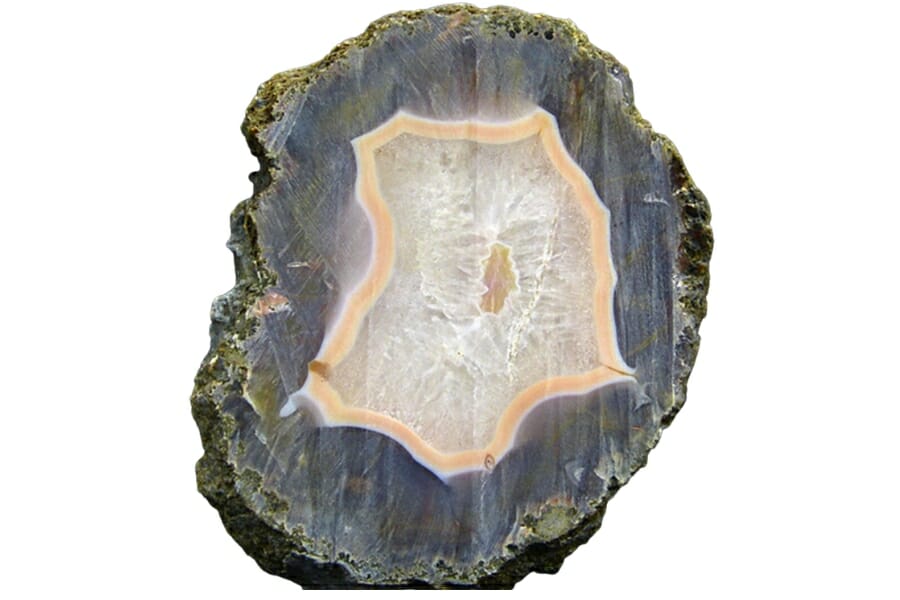 When people go to Kansas to look for agates, they often ask the questions below, and knowing the answers is important.
Is it illegal to collect agate in Kansas?
Kansas is a great place to look for agates if you know what you're doing. In public places, it's best to follow the rules. Get permission to go on private land before you start collecting specimens.
The Best Places To Buy Agates In Kansas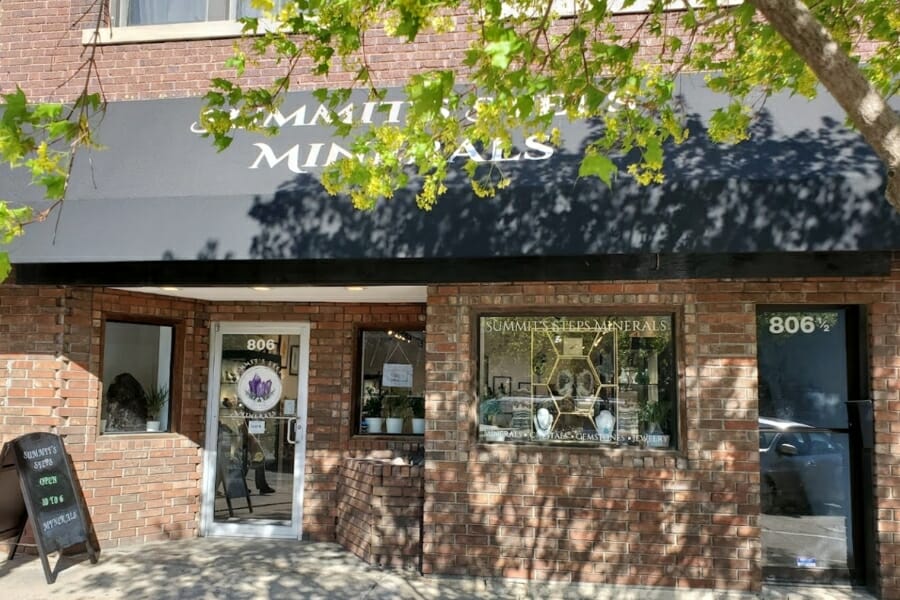 Not all people who hunt for agates like to spend all day outside looking for rocks. Sometimes, you only need a pretty agate to display or add to your collection. Here are some places in Kansas where you can buy agate crystals.
If you have any recommendations for our list please leave a comment below!