Every geology enthusiast will adore rockhounding in Rhode Island. Exploring the state's natural wonders and finding undiscovered gems offers many thrilling options. Rhode Island offers various opportunities for rockhounds of all experience and interest levels. Various intriguing items include minerals, fossils, and unusual rock formations.
The great range of options is one of the best things about rock-hounding in Rhode Island. You can set out on a quest to look for precious minerals, or you can look for intriguing fossils that provide a window into the distant past. The state's varied geological composition offers countless opportunities.
The success that rockhounds have had in Rhode Island is simply incredible. With so many hotspots and productive locations, the state has established itself as a treasure trove for fans. You're sure to stumble upon outstanding specimens anywhere, from the beaches along the coast to the inland quarries and riverbeds.
You may start your rockhounding expedition with some preparation and simple tools, and you'll be rewarded with unusual finds that will astound you!
How We FoundThe Best Places For Rockhounding in Rhode Island
We spent a lot of time putting together the list of which of the many options for Rhode Island rockhounding we were going to recommend. We wanted to have a nice variety of locations for experienced and novice rockhounds in a variety of settings. Here are the main factors we used when determining the recommendations we set out :
The extensive local experience and understanding of our team
Input from multiple local rockhounds and rockhound groups
The accessibility of the various locations
Safety and potential hazards when collecting
Private and public locations
A desire to include locations for both experienced rockhounds and those who are just starting out
Using these weights we think we've put together the best list out there for those who love finding new rocks, gems, and minerals for our collections!

What You Can Find Rockhounding In Rhode Island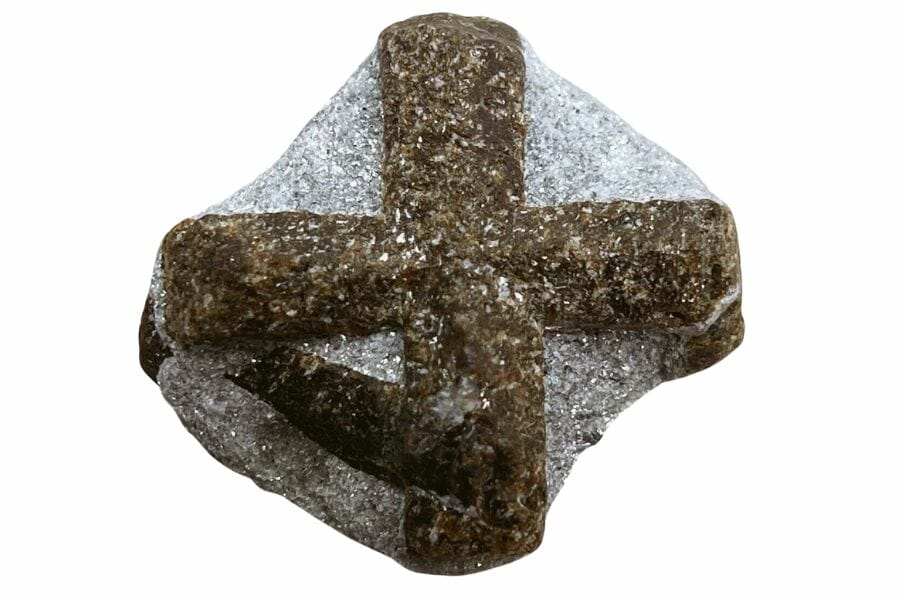 Because the rocks and minerals found in Rhode Island are so diverse, we cannot list every potential specimen. The majority of the more common and uncommon specimens that rockhounds look for in the state include the following:
Rare rocks and minerals found in Rhode Island
More common desirable rocks, minerals, and gems found here
In-depth guides to finding specific types of rocks in Rhode Island
We have several guidelines to help you find the specimen you want.
Our list has more than 3,000 breathtaking rockhounding locations near you. Read this article to learn more about the rocks and minerals found in Rhode Island.
The Best Places To Find Rocks and Minerals in Rhode Island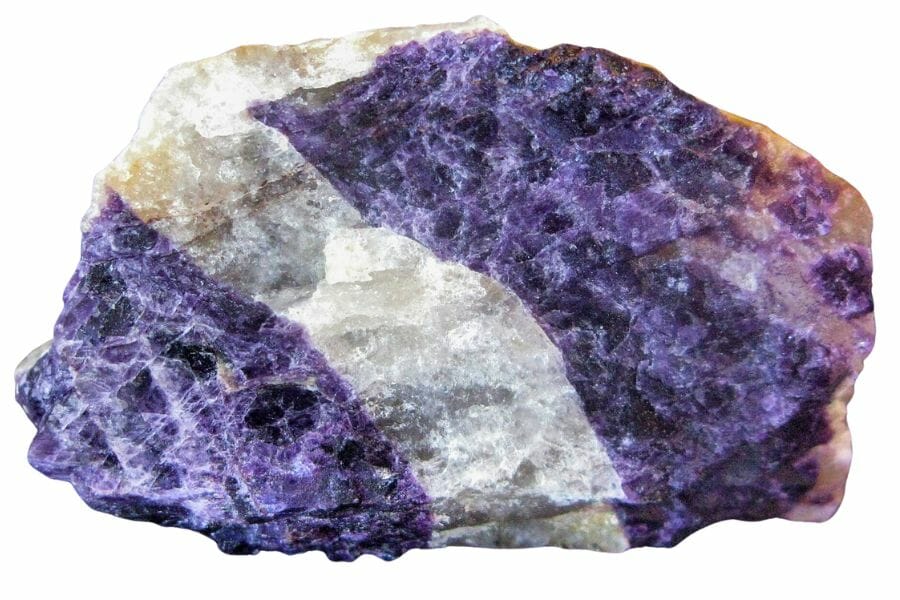 To get things started, we've listed a handful of our favorite rock-hounding spots in Rhode Island. Despite having many options, we concentrated on our best picks. You might visit these locations because of the magnificent rocks and minerals.
Always Confirm Access and Collection Rules!
Before heading out to any of the locations on our list you need to confirm access requirements and collection rules for both public and private locations.
These requirements are subject to change without notice and may differ from what we state below.
Always get updated information directly from the source ahead of time to ensure responsible rockhounding.
Bonnet Shore Beach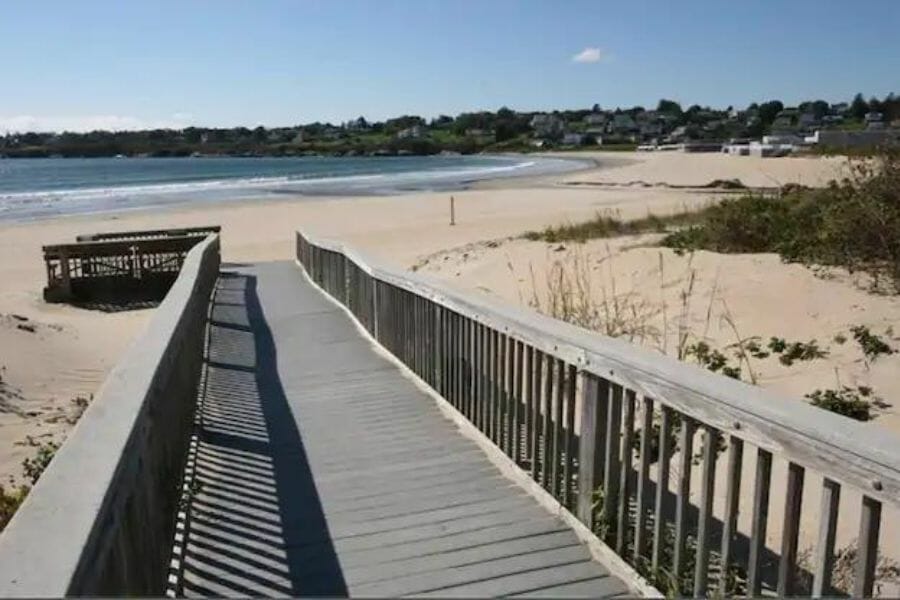 Rockhounds looking for a distinctive experience should head to Bonnet Shore Beach. This beautiful coastline has a long, illustrious history. Bonnet Shore Beach has seen various tales come to pass along its sands. It provides a lovely mixture of rocky outcrops and sandy stretches, making it the perfect location for rockhounding adventures.
What sets Bonnet Shore Beach apart is its diverse geology. The rocky areas provide an excellent opportunity for rockhounding enthusiasts to discover an array of fascinating specimens. Whether you're an experienced rockhound or a novice, the beach's varied geological features ensure that there's always something exciting to discover!
What you can find there
In Bonnet Shore Beach, you can find various rocks and minerals, such as beryl and quartz specimens.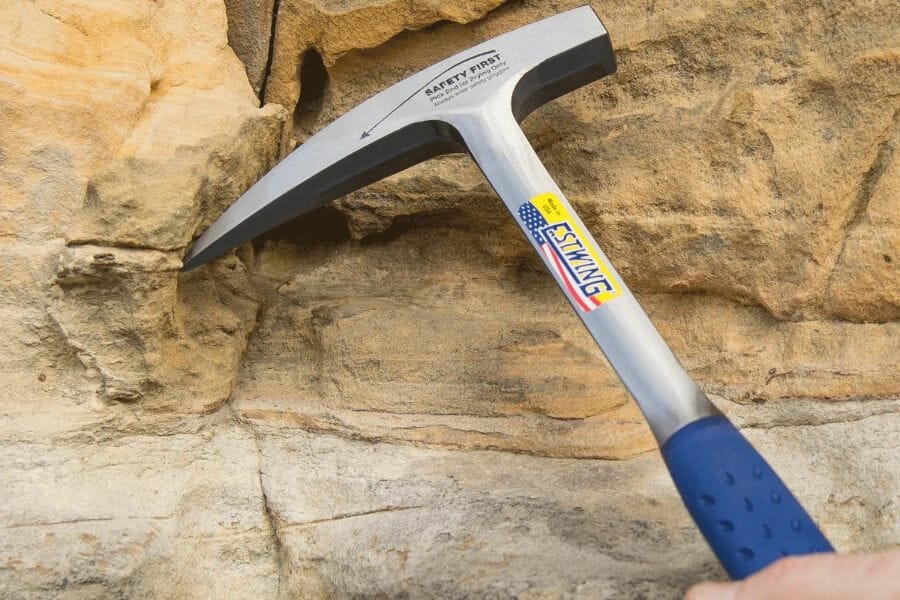 The tools every rockhound will need
When you're out looking for rocks and minerals having the right tools for the job is really going to make or break your success. You don't need a lot for most trips but there are a handful that are critical and will make your life a lot easier.
We get asked a lot about the equipment we use. Over the years we've found a handful of tools that we recommend to both new and experienced rockhounds which we outline in great detail in our complete rockhounding tools and kit guide. These are quality options that also happen to be relatively inexpensive.
Below are the basic tools that make your life so much easier and save you a ton of time. Check out the full guide to see everything we recommend bringing. One quick note, as an Amazon Associate I earn from qualifying purchases but we try very hard to only recommend gear we would use ourselves and often recommend brands you can't find on Amazon.
At a minimum you should have:
1 - Sturdy rock hammer: The Estwing Rock Pick is our standard
2 - Rugged chisels: Try Kendo' 3-piece Chisel Set
3 - Compact shovel: The Koleiya 28-inch shovel works well
4 - Rock screen pan: The Wazakura Soil Sieve Set fits the bill
5 - Eye protection: DeWalt Safety Glasses are cheap and comfortable
6 - Head protection: Malta's Safety Helmet has been our go-to
7 - Jewelers lens with at least 20x magnification: Jarlink's Jewelers Loop is perfect
The rockhounding books that we use most
There are also a few books that have been extremely helpful in the search for gems. These books have great recommendations and tips:
National Audubon Society Field Guide to Rocks and Minerals: North America 
Northeast Treasure Hunter's Gem & Mineral Guide 
Earth Treasures: The Northeastern Quadrant 
We provide links to find these tools on Amazon but some can also be found at your local hardware stores. For more recommendations check out the link to our full tool guide above.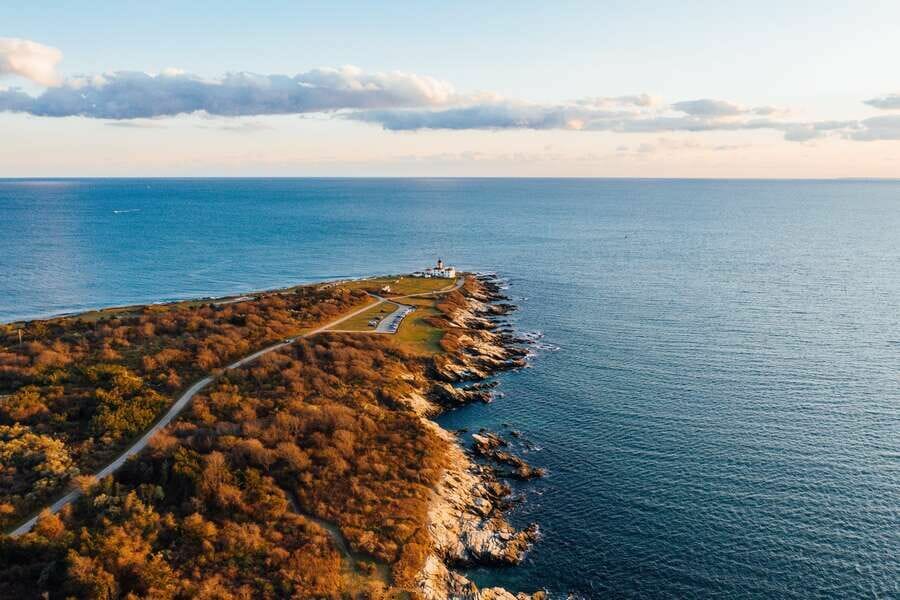 Because of its varied geology, Conanicut Island is a great place to go rockhounding. You can explore the rocky shorelines to find stunning mineral specimens or gather vibrant rocks that have been polished by the waves.
Conanicut Island delivers a unique rockhounding adventure that will leave you with rediscovered treasures and priceless memories thanks to its picturesque scenery and fascinating geological formations.
What you can find there
Conanicut Island is rich in mineral specimens, but staurolites are the most abundant here.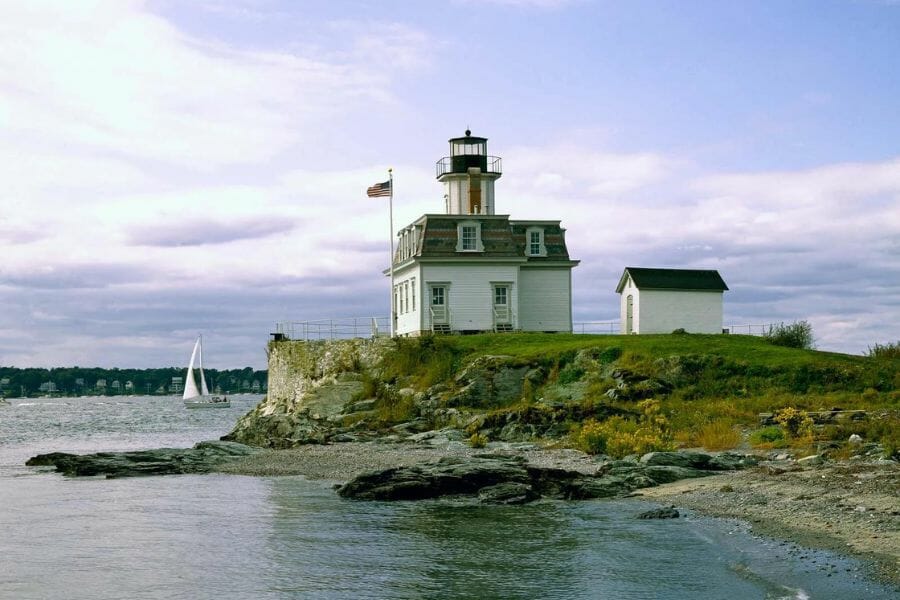 Narragansett Bay is an excellent place to explore if you're keen on rockhounding. Its varied coastline encompasses sandy beaches, rocky shores, and tidal pools, each offering different opportunities for discovery. You can wander along the shoreline, searching for vibrant sea glass or collecting unique beach pebbles.
Alternatively, you can explore the rocky outcrops and uncover hidden gemstones or intriguing fossils. The constantly changing tides bring new treasures to the surface, ensuring that each rockhounding excursion is filled with excitement and the possibility of finding something extraordinary.
With its rich history and diverse geology, Narragansett Bay provides a rockhounding experience that combines natural beauty with the thrill of uncovering nature's hidden gems.
What you can find there
You can find an endless amount of carnelian specimens at Narragansett Bay.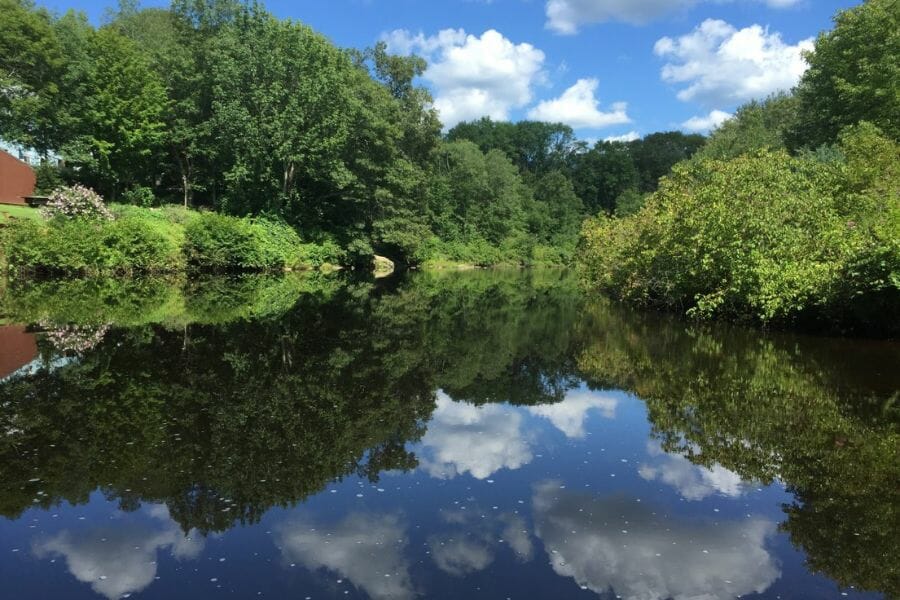 Moosup River is a hidden gem for rockhounding enthusiasts seeking a tranquil and rewarding experience. This serene river has a history that weaves through time. Its rocky riverbeds and surrounding areas are teeming with potential treasures. You can explore the banks of the river, sifting through the gravel and sediment in search of colorful rocks and minerals.
The river's currents have a way of unveiling hidden specimens, making each visit a delightful surprise. From vibrant quartz crystals to fascinating fossils, the Moosup River provides an opportunity to connect with nature while indulging in the thrill of rockhounding.
What you can find there
Moosup River has several rocks and minerals, including apatite, epidote, garnet, labradorite, and serpentine.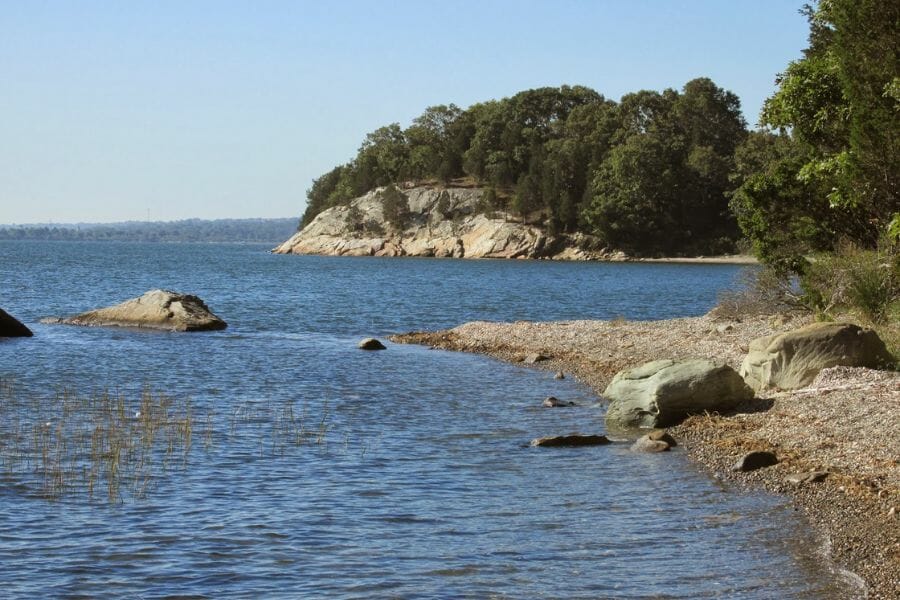 Mount Hope Bay is a picturesque bay with a rich history spanning centuries. It was initially home to Native American tribes, including the Wampanoag people, who revered the bay for its abundant resources. Mount Hope Bay has witnessed significant historical events, including the legendary meeting between Pilgrim settlers and the Wampanoag leader, Massasoit.
Mount Hope Bay's rocky shores and tidal pools provide ample opportunities to discover hidden gems. The bay has it all, whether you're searching for colorful beach pebbles, fascinating fossils, or even semi-precious stones. You can explore the shoreline during low tide, when many specimens are exposed, or comb through the sand for unique seashells and sea glass. The constantly changing tides ensure that each visit to Mount Hope Bay brings new treasures and surprises.
What you can find there
Agate, amethyst, carnelian, and jasper are some of the magnificent specimens you can find here at Mount Hope Bay.
Our Other Favorite Spots Around Rhode Island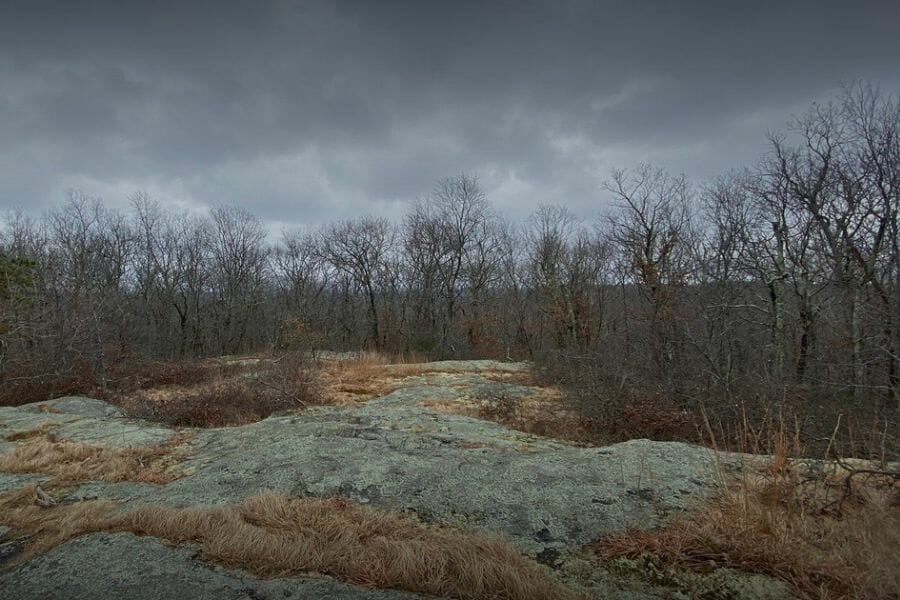 Several beautiful and uncommon rocks and minerals can be found in Rhode Island. To find other unique specimens, check out the other options we listed below.
Rockhounding sites in Northern Rhode Island
Northern Rhode Island is a haven for rockhounds, offering many geological exploration and discovery opportunities. This region boasts a diverse landscape, combining rolling hills, picturesque lakes, and winding rivers, all contributing to its rich geological makeup.
From ancient rock formations to glacial deposits, northern Rhode Island provides an abundance of interesting rocks and minerals waiting to be unearthed. Some of the fascinating specimens in this area include garnets, amethyst, quartz crystals, and even rare minerals like thomsonite.
| | |
| --- | --- |
| Location | Minerals & Rocks |
| Calumet Hill | Agate, Chalcedony, Jasper, Quartz |
| Diamond Hill State Park | Agate, Quartz |
| Sneech Pond | Serpentine |
| Iron Hill Mine | Amethyst |
| Cumberland Hill | Fluorite |
| McLaughlin Ledge | Quartz |
| Wanskuck Hill | Beryl |
Rockhounding sites in Central Rhode Island
Central Rhode Island is a captivating destination for rockhounds, offering a diverse range of geological wonders and abundant opportunities for exploration. This region is characterized by its rolling landscapes, tranquil rivers, and historic sites, all of which contribute to its unique geological makeup.
Central Rhode Island is home to an array of interesting rocks and minerals, including beautiful varieties of quartz, such as rose quartz and smoky quartz.
| | |
| --- | --- |
| Location | Minerals & Rocks |
| Weaver Hill | Amazonite |
If you're finding it difficult to distinguish between rocks and minerals, our easy-to-use guides are here to unravel the mystery:
Public Rockhounding Options For Kids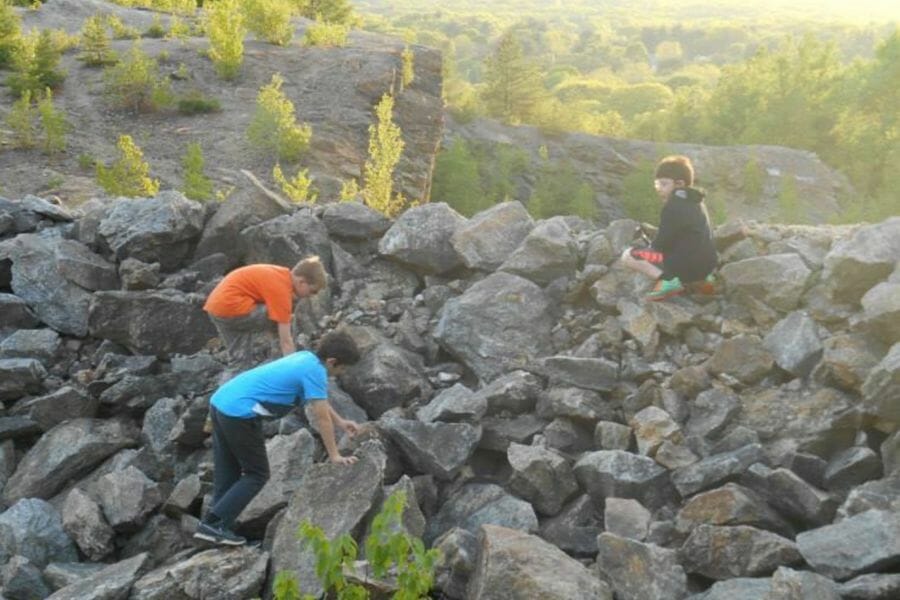 Finding the best rockhounding kid-friendly locations is difficult, even though it can be educational and exciting for children. Fortunately, our state has places ideal for introducing kids to the hobby. These locations are ideal for families due to the flat landscape and numerous opportunities to discover specimens.
Rhode Island Rockhounding Clubs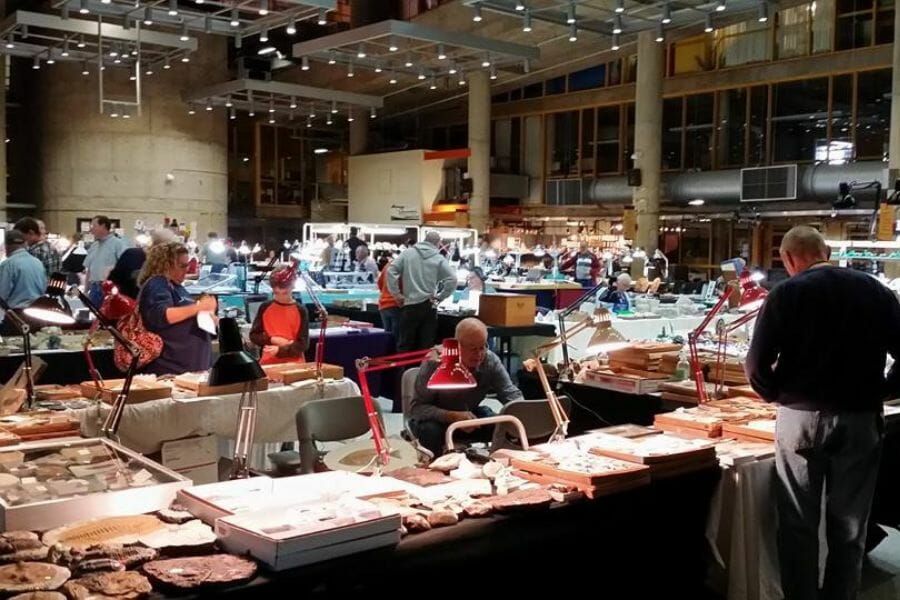 Rockhounding clubs are a fantastic way for enthusiasts to connect with like-minded individuals and enhance their rockhounding experiences. These clubs offer a supportive and engaging community where members can share their knowledge, experiences, and discoveries.
By joining a rockhounding club, individuals can access valuable resources, such as field trips to exclusive locations, expert guidance on identification and collection techniques, and opportunities to participate in group outings and events.
Additionally, being part of a rockhounding club fosters a sense of camaraderie and friendship, creating a space where rockhounds can bond over their shared passion and deepen their appreciation for the world's geological wonders.
Rockhounding clubs in Rhode Island worth checking out
Rhode Island Rockhounding Laws And Regulations
Rockhounding and collecting are legal activities in Rhode Island, allowing enthusiasts to explore and discover various geological treasures. However, it's crucial to emphasize the importance of adhering to all local and state laws when engaging in these activities.
Rockhounding enthusiasts can ensure the sustainability and preservation of natural resources by following local and state laws, like those governed by the Division of Natural Resources. Some areas may restrict the types or quantities of rocks, minerals, or fossils that can be collected, while others may require permits or have designated collecting seasons.
While rockhounding is generally permitted on public lands, it's essential to research and understand the specific regulations and restrictions for each location. Respecting these guidelines helps to maintain the delicate balance of ecosystems and preserves the integrity of geological sites for future generations to enjoy.
Our Favorite Rock And Mineral Shops In Rhode Island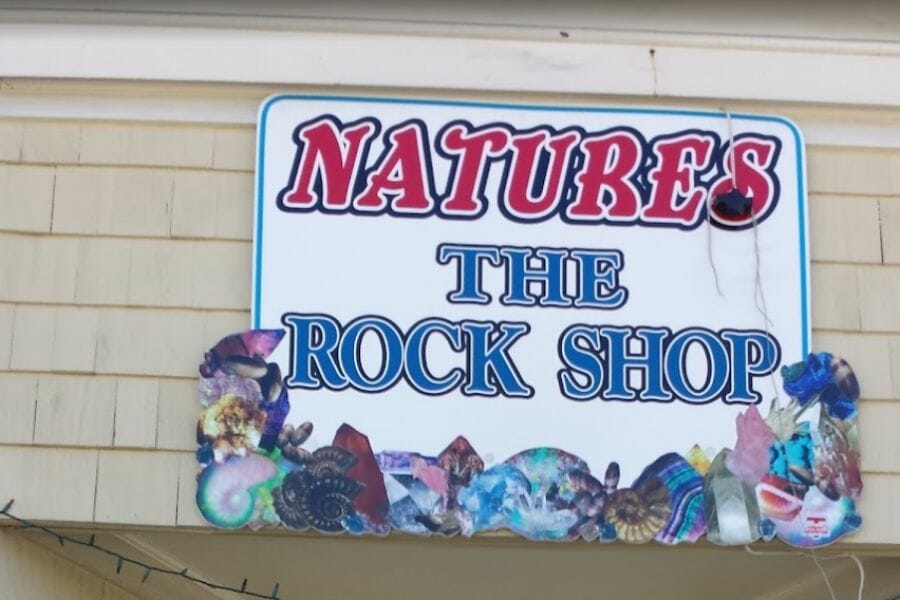 Not everyone enjoys spending hours wandering around in nature, looking for mineral specimens. Some people find it more convenient to buy uncommon minerals from well-known rock shops. You may find various rocks at these premier mineral and rock shops in Rhode Island.
Additional Places To Rockhound In Nearby States
If you've already tried all of our recommendations above or are planning a trip out of the state you should check out our guides for neighboring states:
If you have any recommendations we haven't covered please leave them in the comments below!