The way Obsidians catch and reflect light is nothing short of breathtaking! With its fascinating appearance, it has found its place in various cultures and artistic practices throughout history. From exquisite jewelry to stunning sculptures, this gem's beauty knows no bounds.
Despite this, finding Obsidian can be a daunting task, especially in Wyoming where its deposits are fairly limited and rare. But with the right guidance formed through a combination of our knowledge and experience, locating one is possible. Join us as we unlock the wonders of the elusive and incredibly rare Wyoming Obsidian.
What is Wyoming Obsidian?
Obsidian is a naturally occurring volcanic glass that forms when molten lava cools rapidly with minimal crystal growth. Its rapid cooling process prevents the formation of crystals, resulting in a smooth, glassy texture.
Obsidian typically exhibits a dark coloration, ranging from black to brown, but it can also occur in green, red, and even iridescent blue. Due to the lack of crystal structure, it fractures with razor-sharp edges. It has been used by numerous cultures throughout history for arrowheads, knives, and other sharp objects.
Today, this gem is still used in various applications, including jewelry, sculptures, and decorative items. Truly, Obsidian's worth and value go beyond its unique beauty and glass-like appearance.
Finding Snowflake Obsidian in Wyoming
Snowflake Obsidian is a specific variety that contains white or grayish snowflake-like patterns on its black or dark brown surface. These unique patterns are caused by the inclusion of small, white Cristobalite crystals. Its contrasting colors and delicate patterns are reminiscent of a snow-covered landscape.
In Wyoming, Snowflake Obsidians naturally occur. However, like other varieties of this gem, finding one isn't a walk in the park and you will need ample knowledge and guidance.
Get to know more places where you can find Obsidian here.
How We Know About Great Locations For Obsidian in Wyoming
Finding great places for obsidian hunting is no easy task. Many of the best places are closely guarded secrets that you won't know about unless you have a friend that has been there. Fortunately, you do know someone!
The key factors in our recommendations are:
The deep experience and understanding of our team about the area
Recommendations from local groups and clubs
How easy it is to get the a particular location
Safety and potential hazards when collecting
Weighing private and public locations
The ability for both experienced and novice agate enthusiasts to find great samples
With these factors in mind we've been able to put together a fantastic list that just about anyone can use!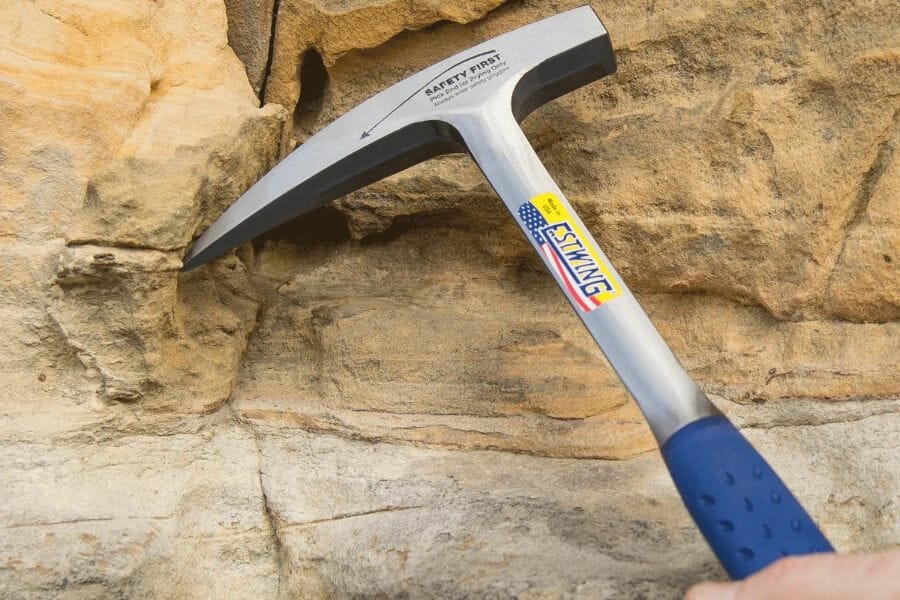 The tools every obsidian hunter will need
When you're out looking for obsidian having the right tools for the job is really going to make or break your success. You don't need a lot for most trips but there are a handful that are critical and will make your life a lot easier.
We get asked a lot about the equipment we use. Over the years we've found a handful of tools that we recommend to both new and experienced obsidian hunters which we outline in great detail in our complete rockhounding tools and kit guide. These are quality options that also happen to be relatively inexpensive.
Below are the basic tools that make your life so much easier and save you a ton of time. Check out the full guide to see everything we recommend bringing. One quick note, as an Amazon Associate I earn from qualifying purchases but we try very hard to only recommend gear we would use ourselves and often recommend brands you can't find on Amazon.
At a minimum you should have:
1 - Sturdy rock hammer: The Estwing Rock Pick is our standard
2 - Rugged chisels: Try Kendo' 3-piece Chisel Set
3 - Compact shovel: The Koleiya 28-inch shovel works well
4 - Rock screen pan: The Wazakura Soil Sieve Set fits the bill
5 - Eye protection: DeWalt Safety Glasses are cheap and comfortable
6 - Head protection: Malta's Safety Helmet has been our go-to
7 - Jewelers lens with at least 20x magnification: Jarlink's Jewelers Loop is perfect
The obsidian-finding books that we use most
There are also a few books that have been extremely helpful in the search for gems. These books have great recommendations and tips:
National Audubon Society Field Guide to Rocks and Minerals: North America 
Northwest Treasure Hunter's Gem & Mineral Guide 
Earth Treasures: The Northwestern Quadrant 
We provide links to find these tools on Amazon but some can also be found at your local hardware stores. For more recommendations check out the link to our full tool guide above.
The Best Spot To Find Obsidian in Wyoming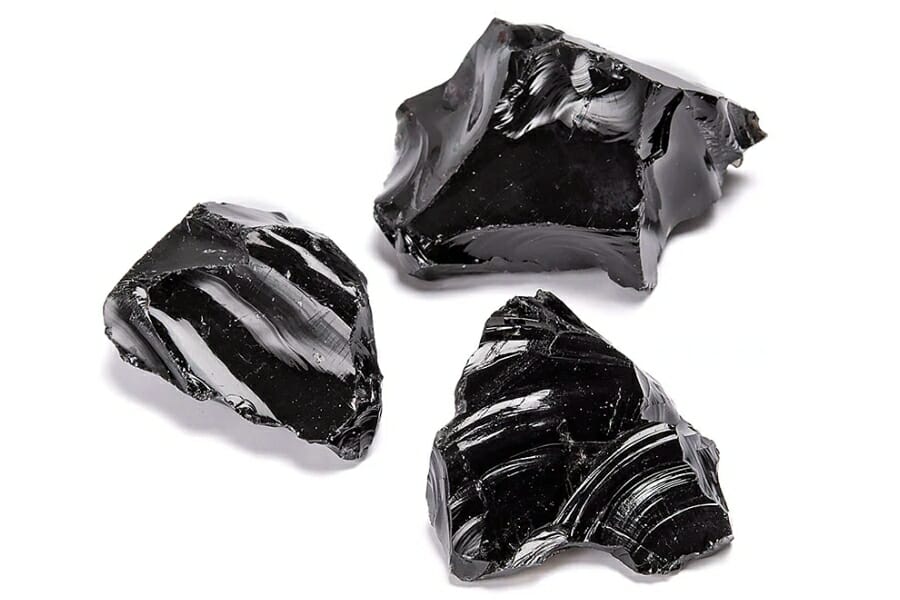 Incredibly blessed with natural wonders, there are many gem mine sites in Wyoming. However, not all of these sites have Obsidian. In fact, there is only one place throughout our state where this gemstone naturally occur.
Always Confirm Access and Collection Rules!
Before heading out to any of the locations on our list you need to confirm access requirements and collection rules for both public and private locations.
These requirements are subject to change without notice and may differ from what we state below.
Always get updated information directly from the source ahead of time to ensure responsible rockhounding.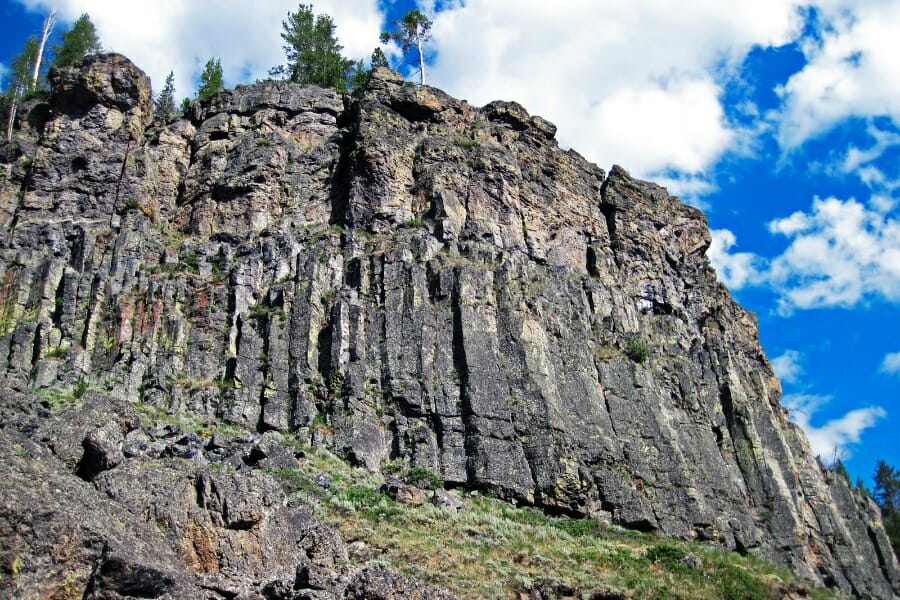 Nestled in the heart of Yellowstone National Park, the Obsidian Cliff stands as a testament of our region's volcanic history. This towering formation reaches heights of up to 180 feet.
The cliff's striking appearance is owed to the vast deposits of Obsidian that adorn its surface. When its glassy structure is hit by sunlight, it casts an ethereal aura upon the entire landscape.
Obsidian Cliff is relatively accessible as it lies within Yellowstone National Park. There are well-maintained roads and pathways that ensure easy access for visitors. It's important, however, to exercise caution when exploring the area and to explore it in accordance with Wyoming's most updated collecting guidelines.
Where we found obsidian in the Obsidian Cliff
You can find Obsidian pretty much everywhere within the Obsidian Cliff. In fact, it's considered as the primary source of this gemstone in large concentration in the midwest.
Common Obsidian-Hunting Questions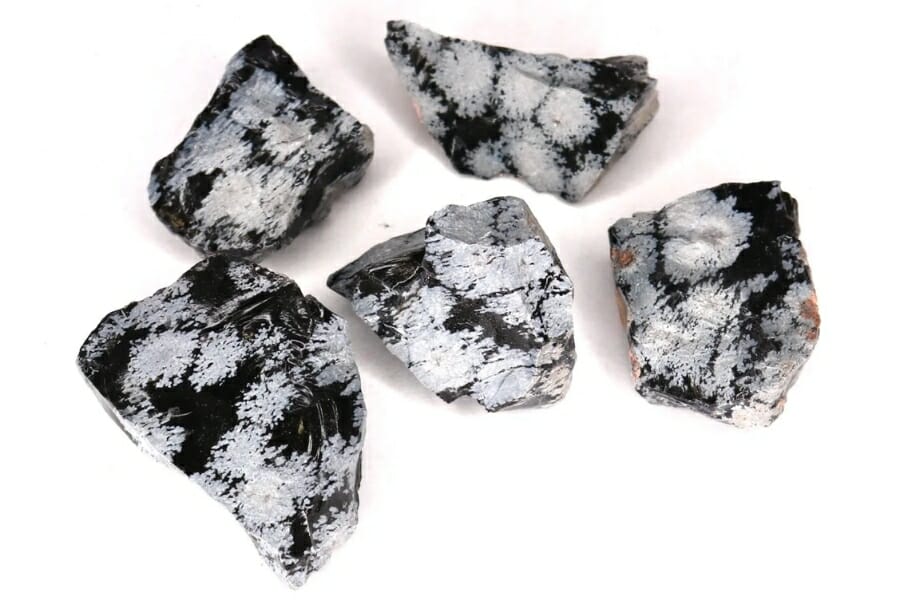 Before you embark on your Obsidian-hunting journey, allow us to answer some of the most commonly-asked questions regarding it in case you're interested to find out.
Is it illegal to collect obsidian in Wyoming?
It's legal to collect Obsidian in Wyoming. However, per our collecting guidelines, collecting rocks or minerals in any state park required prior permission from the superintendent. Also, make sure that you are complying with other general rules, such as respecting the environment and any wildlife you may encounter here.
Black Rock Obsidian vs. Snowflake Obsidian
Both Black Rock Obsidian and Snowflake Obsidian share the fundamental characteristics of this gemstone, but their visual distinctions set them apart
Black Rock Obsidian is characterized by its solid black or dark brown coloration. It lacks any prominent patterns or inclusions, showcasing a sleek and glossy surface. Its monochromatic beauty exudes a sense of depth and mystery.
Meanwhile, Snowflake Obsidian exhibits a striking contrast with its black or dark brown base color adorned by unique snowflake-like patterns. The combination of the black background and the white or grayish patterns results in a visually-captivating and highly-distinctive appearance.
The Best Places To Buy Obsidian In Wyoming
If you want to take home an Obsidian without having your hands get soiled, a great way to do so is by purchasing it from our local rock and mineral shops here. Below are some of the ones that we recommend visiting:
Additional Places To Find Obsidian In Nearby States
Check out the guides we made for the nearby states where you can find obsidians as well:
If you have any recommendations for our list please leave a comment below!