Obsidian is known for its striking beauty and unique properties. However, it's elusive nature and scattered distribution make it challenging to locate.
Without the necessary knowledge of geological formations and volcanic activity, you might wander aimlessly in search of this exquisite gemstone!
But finding Obsidian is a rewarding journey. This gem's captivating colors, lustrous sheen, and translucent quality make it an extraordinary and sought-after material for jewelry and ornamental purposes.
In this article, we'll help and guide you on how to find Obsidian in Montana, discussing the prime spot for your hunting trip here and sharing some of our most recommended local stores. Let's get movin'!
What is Montana obsidian?
Obsidian is a natural volcanic glass formed from rapidly cooled lava. Its unique formation process gives it a smooth, glassy texture. While it's typically black in color, it can also appear in shades of brown, gray, and even translucent varieties.
Obsidian is known for its sharp edges and excellent conchoidal fracture, making it a popular material for tools and weapons in ancient cultures. Due to its striking appearance, it's also highly valued in jewelry and as ornamental objects. Know more about Obsidian's prices here.
This sought-after natural treasure can be found in various locations worldwide, including Montana. With the right guidance and knowledge, you can uncover the captivating allure of Montana's Obsidian.
Finding Snowflake Obsidian in Montana
Snowflake Obsidian is a distinct variety that features white or grayish-white inclusions resembling snowflakes scattered throughout its dark base. These unique markings are caused by the presence of cristobalite, a form of silica.
This variety of Obsidian is highly sought-after for its captivating and unique appearance. Fortunately, it can be found in Montana. To know where else you can find Snowflake Obsidian and other varieties of this amazing gem in the country, check out our complete Obsidian-hunting guide.
How We Know About Great Locations For Obsidian in Montana
Finding great places for obsidian hunting is no easy task. Many of the best places are closely guarded secrets that you won't know about unless you have a friend that has been there. Fortunately, you do know someone!
The key factors in our recommendations are:
The deep experience and understanding of our team about the area
Recommendations from local groups and clubs
How easy it is to get the a particular location
Safety and potential hazards when collecting
Weighing private and public locations
The ability for both experienced and novice agate enthusiasts to find great samples
With these factors in mind we've been able to put together a fantastic list that just about anyone can use!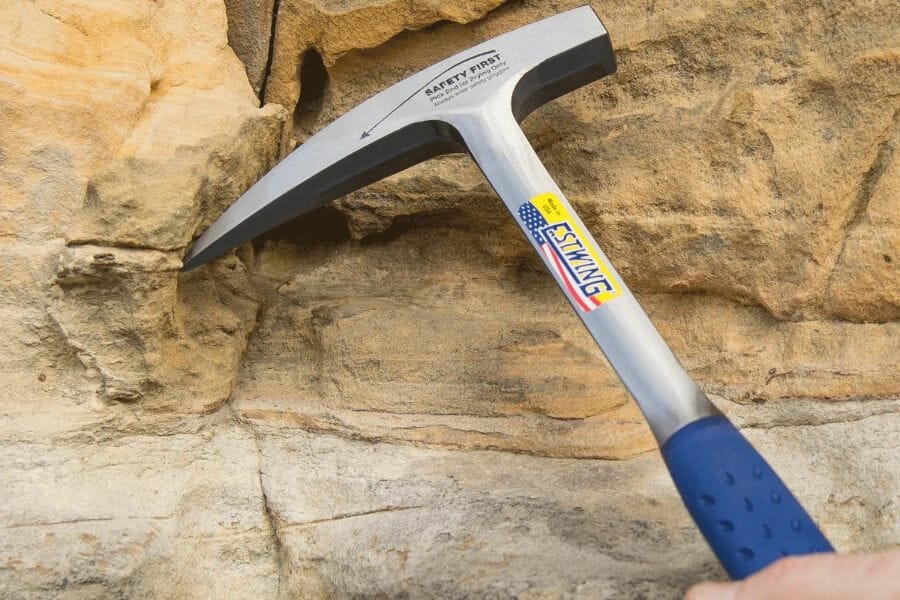 The tools every obsidian hunter will need
When you're out looking for obsidian having the right tools for the job is really going to make or break your success. You don't need a lot for most trips but there are a handful that are critical and will make your life a lot easier.
We get asked a lot about the equipment we use. Over the years we've found a handful of tools that we recommend to both new and experienced obsidian hunters which we outline in great detail in our complete rockhounding tools and kit guide. These are quality options that also happen to be relatively inexpensive.
Below are the basic tools that make your life so much easier and save you a ton of time. Check out the full guide to see everything we recommend bringing. One quick note, as an Amazon Associate I earn from qualifying purchases but we try very hard to only recommend gear we would use ourselves and often recommend brands you can't find on Amazon.
At a minimum you should have:
1 - Sturdy rock hammer: The Estwing Rock Pick is our standard
2 - Rugged chisels: Try Kendo' 3-piece Chisel Set
3 - Compact shovel: The Koleiya 28-inch shovel works well
4 - Rock screen pan: The Wazakura Soil Sieve Set fits the bill
5 - Eye protection: DeWalt Safety Glasses are cheap and comfortable
6 - Head protection: Malta's Safety Helmet has been our go-to
7 - Jewelers lens with at least 20x magnification: Jarlink's Jewelers Loop is perfect
The obsidian-finding books that we use most
There are also a few books that have been extremely helpful in the search for gems. These books have great recommendations and tips:
National Audubon Society Field Guide to Rocks and Minerals: North America 
Northwest Treasure Hunter's Gem & Mineral Guide 
Earth Treasures: The Northwestern Quadrant 
We provide links to find these tools on Amazon but some can also be found at your local hardware stores. For more recommendations check out the link to our full tool guide above.
The Best Spots To Find Obsidian in Montana
While Montana has plenty of spots for gem mining, not all of them have naturally-occuring Obsidian. In fact, finding this gemstone in our state can be pretty tricky and challenging as they're quite rare in our area. Below is the lone spot here where you can find Obsidian:
Always Confirm Access and Collection Rules!
Before heading out to any of the locations on our list you need to confirm access requirements and collection rules for both public and private locations.
These requirements are subject to change without notice and may differ from what we state below.
Always get updated information directly from the source ahead of time to ensure responsible rockhounding.
Yellowstone Obsidian Outcrop Occurrence (Yellowstone Prospect)
Yellowstone Obsidian Outcrop Occurrence is a real gem for rock enthusiasts. It's situated in the Yellowstone National Park, known for its geothermal wonders and stunning landscapes. Its terrain is a playful mix of valleys, mountains, and canyons.
The geology of this place is pretty fascinating, and the Obsidian outcrops here are the real stars. In fact, this place has different varieties of this gem, including black, brown, and even the rare Snowflake Obsidian.
The journey here, though, can be a bit challenging, so you should be up for some rough patches and bumpy roads. Before heading out, make sure you're well aware of Montana's collecting guidelines, too.
Where we found obsidian in the recommendation
In general, we recommend exploring the different nooks and crannies of the Yellowstone Obsidian Outcrop Occurrence. The cliffs and exposed surfaces are a good bet, but don't discount the slopes and riverbeds either. Obsidian can also be found in pockets and deposits across the terrain.
Common Obsidian-Hunting Questions
If you're looking for Obsidian in Montana, chances are, you have the same questions as those who've visited our state for the same purpose. In this section, we'll answer some of these commonly-asked questions:
Is it illegal to collect Obsidian in Montana?
Collecting Obsidian in Montana is legal for as long as you're abiding by our local state laws regarding collection. Generally speaking, you'd need to be aware of any area-specific rules and regulations where you're eyeing to collect this gem.
Black rock obsidian vs. Snowflake obsidian
Black Rock Obsidian, as its name suggests, is predominantly black in color. It has a smooth and glassy texture, reflecting light and creating a striking glossy appearance. Its uniform blackness gives it a sleek and sophisticated look, making it a popular choice for jewelry and decorative items.
On the other hand, Snowflake Obsidian is characterized by its contrasting white or grayish-white inclusions that resemble snowflakes scattered throughout the dark base. These patterns give it a distinctive appearance, that's why it's often used in jewelry designs that showcase its captivating patterns.
The Best Places To Buy Obsidian In Montana
If you have limited time and energy to engage in a full-blown Obsidian-hunting adventure in our state, there's a more relaxing way to find this elusive gem: visiting our local rock and mineral shops!
Below are some of our highly-recommended stores for you to choose from:
Additional Places To Find Obsidian In Nearby States
Check out the guide we made for a nearby state where you can find obsidians as well:
If you have any recommendations for our list please leave a comment below!