With a stunning hue that ranges from pale lilac to deep violet, Amethyst has been highly-valued throughout history for its beauty. Apart from its aesthetic appeal, it's also well-loved for its purported healing and spiritual properties. Its popularity remains today as it continues to be used in everything— from eye-catching jewelry to one-of-a-kind sculptures and home decor.
But with its beauty comes the difficulty of finding it. While Amethyst can be found in many parts of the world, discovering this gem in its natural environment can be challenging.
Without the right guidance, it can be difficult to know where to look or how to identify high-quality specimens. Amethyst mining can also be physically demanding and can require navigating rugged terrain or working in difficult conditions.
That's why we've created this guide to help you discover this beautiful gem and enjoy the experience of exploring the natural world at the same time. Are you ready?
What is California Amethyst?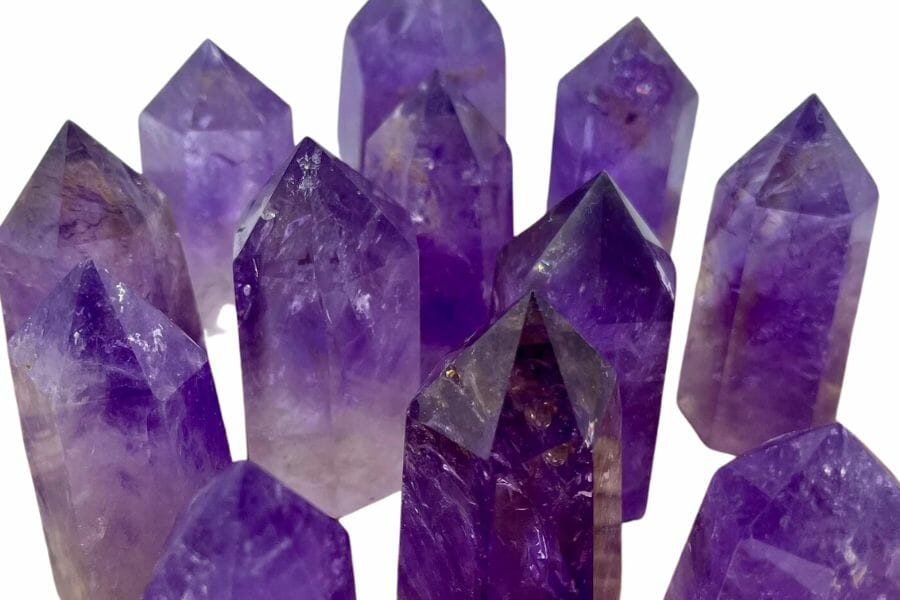 Amethyst is a beautiful and unique gemstone that belongs to the quartz family. It's characterized by its stunning purple hue caused by the presence of iron and other trace elements in its crystal structure.
As we've mentioned above, Amethyst can be found in many parts of the world, including Brazil, Uruguay, and Zambia. In the United States, in naturally occurs in several locations, including California. When you want to find amethyst near you living in California is a big perk!
Typically found in geodes or as individual crystals, the Amethyst in California is typically a deep violet color, which means they are highly prized by collectors and jewelry makers. Let's find out where exactly these natural wonders can be discovered here in our state.
How We Know About Great Locations For Amethyst in California
The best locations to find amethyst in California can be closely guarded secrets. Fortunately, we've been around long enough to know where many of the best spots are to find it. We might not know every one out there but we know some pretty good ones. The key factors in our recommendations are:
The deep experience and understanding of our team about the area
Recommendations from local groups and clubs
How easy it is to get the a particular location
Safety and potential hazards when collecting
Weighing private and public locations
The ability for both experienced and novice amethyst enthusiasts to find great samples
With these factors in mind we've been able to put together a fantastic list that just about anyone can use!

The Best Spots To Find Amethyst in California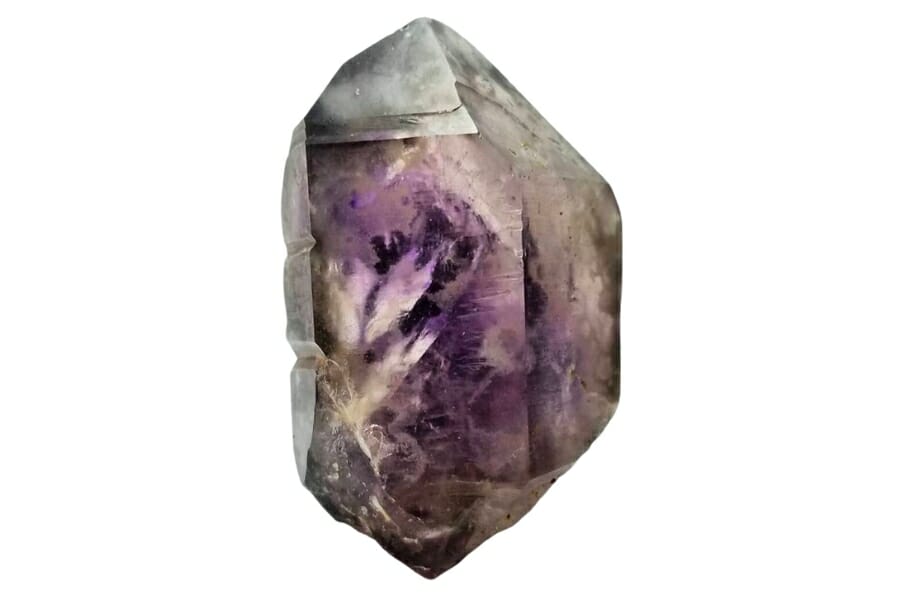 With a state as big as ours, it's no surprise that there are plenty great places to mine gems here in California. But not all of these have Amethysts in them, too. So to help you have a successful time mining California Amethyst, we'll point you to some of the most remarkable places here.
Always Confirm Access and Collection Rules!
Before heading out to any of the locations on our list you need to confirm access requirements and collection rules for both public and private locations.
These requirements are subject to change without notice and may differ from what we state below.
Always get updated information directly from the source ahead of time to ensure responsible rockhounding.
Located in Northern California is a hidden gem that offers visitors breathtaking views of the Pacific Ocean and rugged coastline. Shelter Cove's terrain is varied, with rocky cliffs, sandy beaches, and dense forests all within a short distance of each other.
With a mix of volcanic and sedimentary rock formations, there are pretty impressive sights here in Shelter Cove. One of the most interesting things about this place is that it's one of the few places in our state where you can find Amethyst.
To reach this place, you'll need to drive and do a bit of trekking. But once you arrive, you'll be rewarded right away with the stunning scenery and opportunities to find Amethyst. Just be sure to bring your hiking boots, a good sense of adventure, and a great grasp of our local collecting guidelines.
Where we found amethyst in Shelter Cove
You can find Amethyst by exploring Locality No. 3 in Point Delgada, Shelter Cove. This area is within the cove's Coastal Range.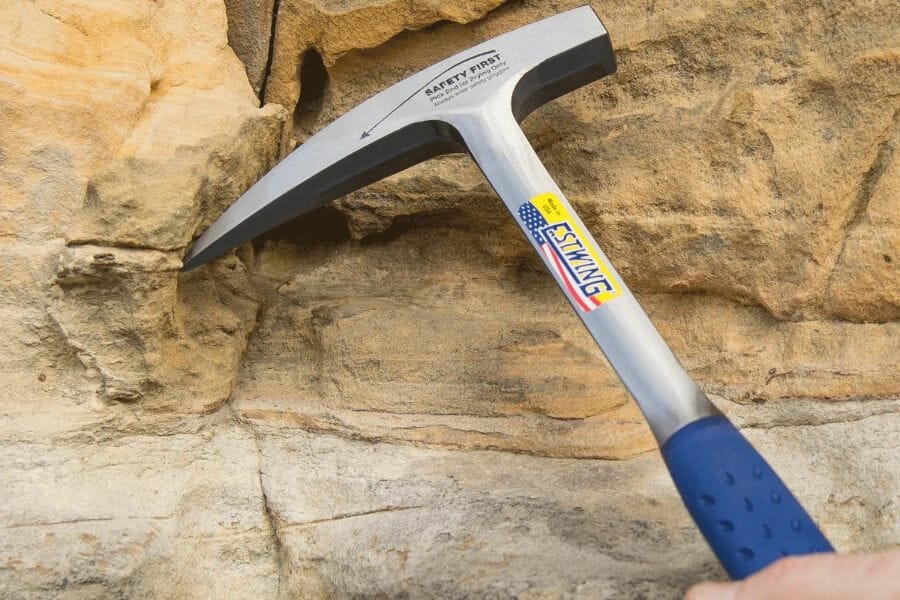 The tools every amethyst hunter will need
When you're out looking for amethyst having the right tools for the job is really going to make or break your success. You don't need a lot for most trips but there are a handful that are critical and will make your life a lot easier.
We get asked a lot about the equipment we use. Over the years we've found a handful of tools that we recommend to both new and experienced amethyst hunters which we outline in great detail in our complete rockhounding tools and kit guide. These are quality options that also happen to be relatively inexpensive.
Below are the basic tools that make your life so much easier and save you a ton of time. Check out the full guide to see everything we recommend bringing. One quick note, as an Amazon Associate I earn from qualifying purchases but we try very hard to only recommend gear we would use ourselves and often recommend brands you can't find on Amazon.
At a minimum you should have:
1 - Sturdy rock hammer: The Estwing Rock Pick is our standard
2 - Rugged chisels: Try Kendo' 3-piece Chisel Set
3 - Compact shovel: The Koleiya 28-inch shovel works well
4 - Rock screen pan: The Wazakura Soil Sieve Set fits the bill
5 - Eye protection: DeWalt Safety Glasses are cheap and comfortable
6 - Head protection: Malta's Safety Helmet has been our go-to
7 - Jewelers lens with at least 20x magnification: Jarlink's Jewelers Loop is perfect
The amethyst-finding books that we use most
There are also a few books that have been extremely helpful in the search for gems. These books have great recommendations and tips:
National Audubon Society Field Guide to Rocks and Minerals: North America 
Southwest Treasure Hunter's Gem & Mineral Guide 
Earth Treasures: The Southwestern Quadrant 
We provide links to find these tools on Amazon but some can also be found at your local hardware stores. For more recommendations check out the link to our full tool guide above.
San Bernardino County is a diverse and expansive region located in Southern California. It's home to a variety of landscapes, including mountains, deserts, and forests.
With its varied terrain, this county has plenty of opportunities for outdoor exploration. You can hike through the San Bernardino Mountains or go off-roading in the Mojave Desert. It also has a fascinating geology, with a mix of rock formations and minerals that date back millions of years. And one of them is Amethyst!
Deposits of Amethyst in San Bernardino County have a deep purple color that's hard to find elsewhere. Whether you're a seasoned rockhound or just looking for a unique souvenir, you won't want to miss the chance to finding them here.
Where we found amethyst at San Bernardino County
There are different specific spots that you can explore here in San Bernardino County to discover Amethyst, such as:
Amethyst Queen claim in Beck Spring
Beck Mine
Purple Heart Mine
You might be asking yourself, "Is Amethyst expensive?" Well, we've done an article on that, too, so make sure you check it out.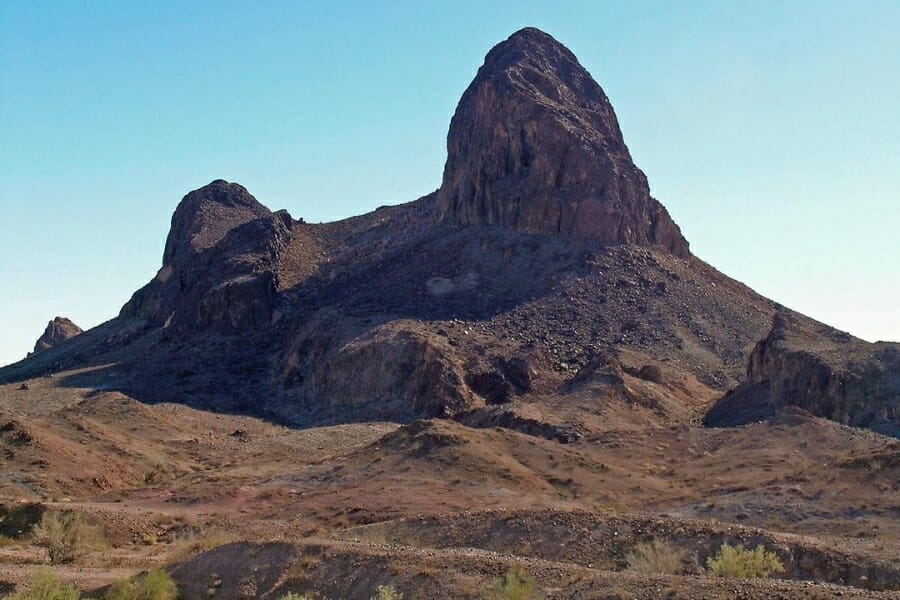 Hauser Geode Beds is a popular spot among rockhounds and gem collectors in our state. Located in the Mojave Desert, this area is known for its unique geological formations and its variety of gems and minerals.
This remarkable place has a rocky and barren terrain, with plenty of sand and scrub brush. It has a mix of volcanic and sedimentary rock formations that create the perfect conditions for geodes, including Amethyst-bearing ones, to form.
So if you're looking for this unique and beautiful gemstone, make sure to add the Hauser Geode Beds to your list of must-visit destinations. To go here, you'll need to drive on some rough dirt roads and be prepared for the desert heat— all part of a fun and great Amethyst mining adventure!
Where we found amethyst in Hauser Geode Beds
You can find Amethyst in the different nooks and crannies of Hauser Geode Beds in Thumb Peak, Palo Verde Mountains, so we highly recommend really going around the area for exploration.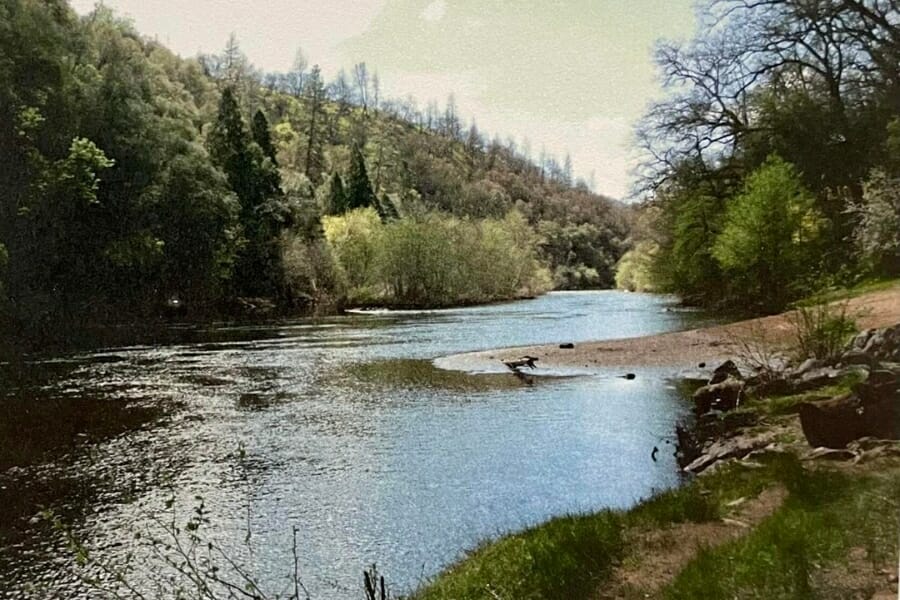 Volcano Village is a small community located in the foothills of the Sierra Nevada mountain range. The area is known for its rugged beauty and unique geology, with volcanic formations and mineral deposits that make it a popular destination for rockhounds and gem enthusiasts.
Volcano Village is hilly and forested, with plenty of opportunities for outdoor recreation like hiking and camping. It also has a mix of volcanic and sedimentary rock formations where a variety of minerals and gems have formed, including the beautiful Amethyst.
Getting to this remarkable location is relatively easy, as it's just a short drive from the historic Gold Rush town of Jackson.
Where we found amethyst at the Village of Volcano
Explore along the stream gravels of the Volcano Village in Amador County to find some stunning Amethyst specimens.
Crystal Ridge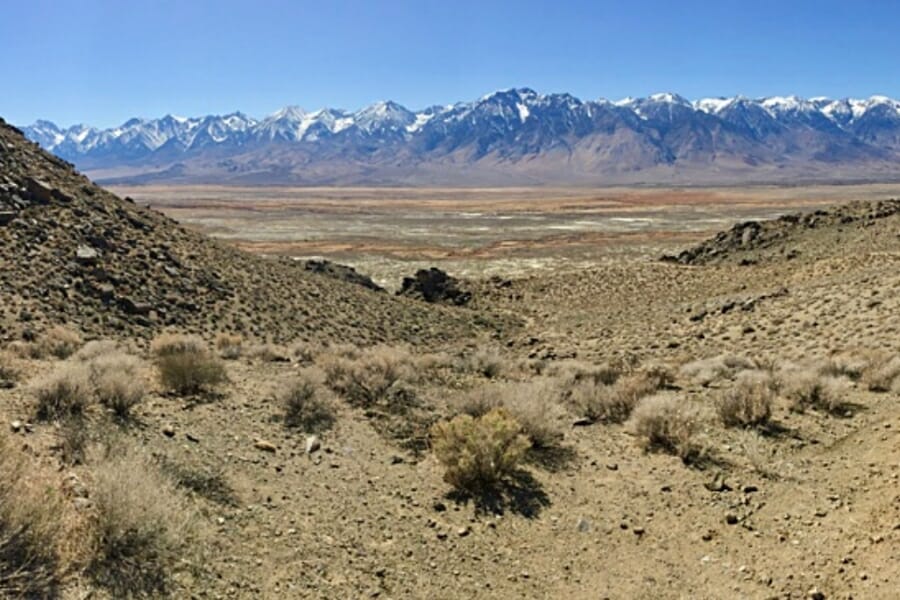 Crystal Ridge in Johnson Spring is a remote and rugged area located in the eastern foothills of the Sierra Nevada Mountains. It has a steep and rocky terrain, with plenty of scrub brush and sagebrush dotting the landscape.
Like our other recommended places above, Crystal Ridge has a mix of volcanic and sedimentary rock formations that sets the right conditions for Amethyst to occur.
Exploring Crystal Ridge can be a challenging but rewarding experience. The area is remote and largely undeveloped, with plenty of opportunities for hiking, camping, and rockhounding.
Where we found amethyst in Crystal Ridge
To find Amethyst in Crystal Ridge, make sure to really go around the area and explore its different spots.
Other Great Places To Mine For Amethyst in California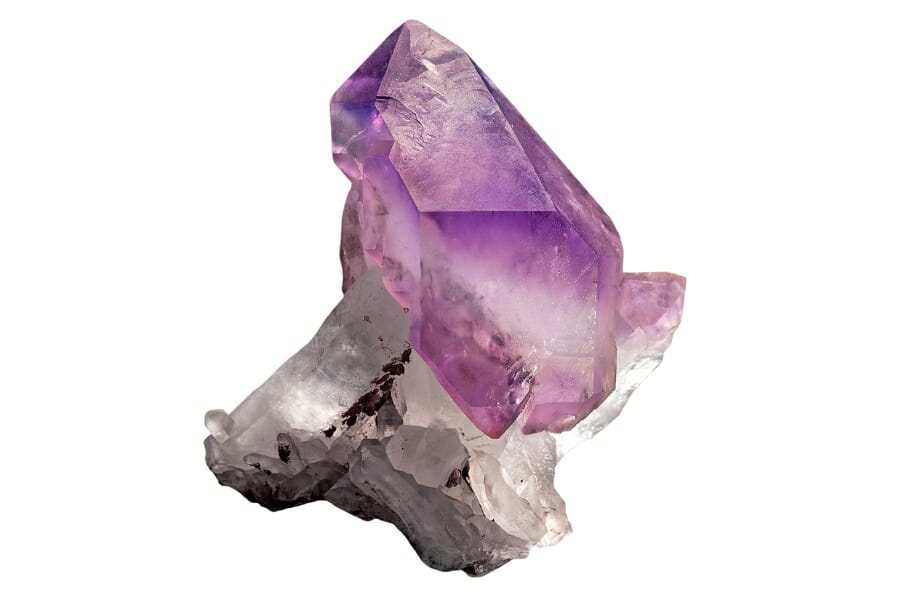 Since California is such a rich state when it comes to natural resources, there are many other different places here that you can explore to discover some stunning Amethyst gems. Below is a list of these places by county so you won't have a hard time creating your itinerary based on it.
Our recommendations by county
| | |
| --- | --- |
| County | Location |
| Amador | Fiddletown Mining District (Oleta Mining District) |
| El Dorado | BBC Mine |
| Imperial | Black Hills |
| Lassen | Deposits of Crystal Hill in Red Rock |
| Los Angeles | Sir Kegian Gem Beds, west on Escondido Canyon Road |
| Modoc | Klondike group in High Grade Mining District, Warner Mountains |
| Modoc | Northern Star Mine in Warner Mountains |
| Mono | Bodie Mining District in Bodie Hills |
| San Benito | San Carlos Mine in Idria |
| Santa Cruz | Pacific Cement and Aggregate Company Quarry |
| Tuolumne | Kennedy Meadow |
Additional areas you can find amethyst
A handful of our recommended places above cover generally wide areas, so to help you focus your search, here are the areas where Amethysts typically abound. You may start you explorations here:
Streams and Creeks
Streams and creeks can be excellent places to find Amethyst because these waterways have the ability to transport rocks and minerals from their original source and deposit them elsewhere.
Amethyst often forms in veins or pockets within different kinds of rocks. Over time, erosion and weathering can break down these rocks and deposit the amethyst crystals in nearby streams and creeks.
Mines and Mine Dumps
Mines and mine dumps often contain large deposits of minerals and rocks that have been excavated from deep within the earth.
Amethyst crystals are frequently found in association with other minerals, such as quartz, calcite, and fluorite, which are also commonly mined. When these minerals are extracted, they can leave behind piles of rocks and tailings that contain Amethyst crystals.
Quarries
Quarries are typically located in areas that contain large deposits of rocks and minerals that have been excavated from deep within the earth. Amethyst is often found with other minerals that are commonly found in quarries. These minerals are often blasted or excavated from the quarry walls, creating large piles of rocks and debris that can contain amethyst crystals.
Pay-to-Dig Mines
Pay-to-dig mines offer a unique opportunity to explore and collect specimens from mines that have been specifically designed for public access. They are typically located in areas that are rich in minerals, and they offer collectors the chance to dig for Amethyst crystals in a safe and controlled environment.
Common Amethyst-Hunting Questions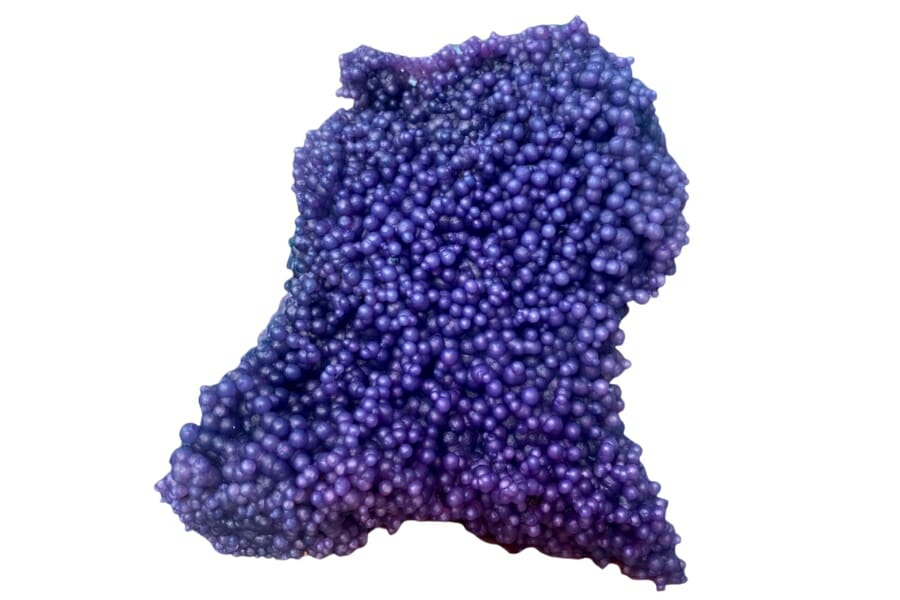 We've already shared where to mine Amethyst here, and now, we're answering some of the most common amethyst-hunting questions in California in case you have the same inquiries in mind:
Where can you find Amethyst Geodes in California?
Luckily, Amethyst Geodes abound in our state! You can find them in the Sierra Nevada Mountains, Hauser Geode Beds, on the mountains near Santa Cruz, and at the Crystal Hill Mine in Santa Margarita.
Is it illegal to collect amethyst in California?
Collecting Amethyst in California is perfectly legal for as long as you do so in compliance with our local collecting guidelines. Also make sure that you are well-aware of any existing rules and regulations that protect the environment and biodiversity of the specific area that you will explore.
The Best Places To Buy Amethyst In California
If you're looking for an Amethyst specimen to add to your collections, chances are, you have specific characteristics in mind. In that case, your best shot of finding this specimen is by visiting our local rock and gem shops here.
Below is a list of some of our favorite ones. Check out their awesome selections!
California Gemstones – 5500 Grossmont Center Dr Unit B2-56, La Mesa, CA 91942
L.A. Gem Shops – 560 S Los Angeles St Unit 208, Los Angeles, CA 90013
Gems of the West – 41223B Big Bear Blvd, Big Bear Lake, CA 92315
Cosmic Candace – 110 W Pontiac Way UNIT 104, Clovis, CA 93612
The Geode Shop – 8039 Beach Blvd, Buena Park, CA 90620
Crystalarium – 534 N La Cienega Blvd Suite B, West Hollywood, CA 90048
Additional Places To Find Amethyst In Nearby States
Check out the guides we made for the nearby states where you can find amethysts as well:
If you have any recommendations for our list please leave a comment below!