Amethyst hunting can be challenging in Arizona without the proper knowledge. This is because Arizona's geology is unique, and not all areas will likely contain amethysts. Additionally, the state's vast terrain can make it difficult for amateur hunters to know where to look.
However, with some research and knowledge, finding these precious gems can be an exciting and rewarding experience.
Despite the challenges of finding amethysts in Arizona, the effort is well worth it. Amethysts are renowned for their beauty and are highly valued by collectors, jewelry designers, and spiritual practitioners. Their deep purple color promotes calmness, clarity of mind, and spiritual growth.
In addition to their metaphysical properties, they have practical uses, such as being used as a natural remedy for headaches and sleep disorders. Fortunately, many resources are available to those who wish to try their hand at amethyst hunting in Arizona. With the proper guidance and persistence, anyone can discover these stunning gemstones and enjoy their benefits.
What is Arizona Amethyst?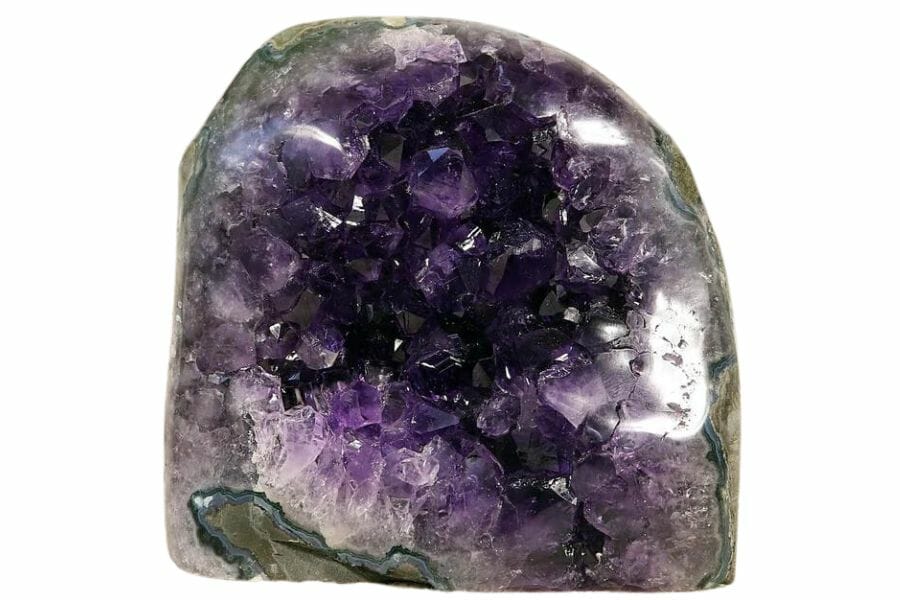 Amethyst is a form of quartz that is extremely rare and valued for its exquisite violet color. Although this rock can be found all over the world, in some places, it can be difficult to locate.
It's frequently discovered in volcanic rocks and geodes. Finding amethyst in its natural state can be like finding a diamond in the rough, but it's like winning the lottery when you do. It can be found in igneous rocks like basalt, and it can also be discovered in geode deposits close to hot springs.
Amethysts, from giant geodes to tiny crystals, occur in various sizes and shapes and are prized by collectors and spiritualists. Check out our full guide to finding amethysts if you're looking for more places to search outside of the state.
How We Know About Great Locations For Amethyst in Arizona
The best locations to find amethyst in Arizona can be closely guarded secrets. Fortunately, we've been around long enough to know where many of the best spots are to find it. We might not know every one out there but we know some pretty good ones. The key factors in our recommendations are:
The deep experience and understanding of our team about the area
Recommendations from local groups and clubs
How easy it is to get the a particular location
Safety and potential hazards when collecting
Weighing private and public locations
The ability for both experienced and novice amethyst enthusiasts to find great samples
With these factors in mind we've been able to put together a fantastic list that just about anyone can use!

The Best Spots To Find Amethyst in Arizona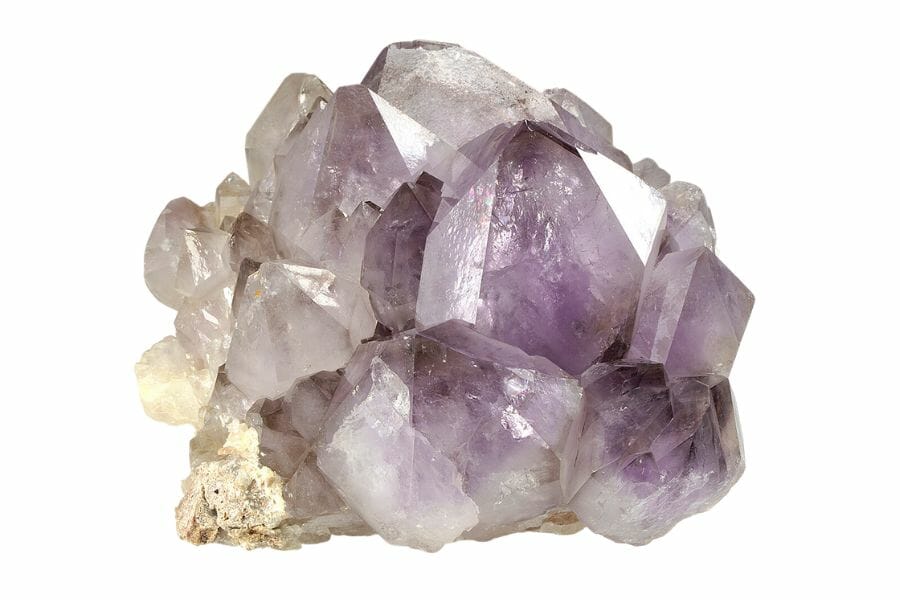 These are our best recommendations for finding amethysts in Arizona. There are many unique places to mine for gems in Arizona, but just a few are particularly good for discovering amethyst. While searching, we found fascinating options in these locations despite some of them not being well-known.
Always Confirm Access and Collection Rules!
Before heading out to any of the locations on our list you need to confirm access requirements and collection rules for both public and private locations.
These requirements are subject to change without notice and may differ from what we state below.
Always get updated information directly from the source ahead of time to ensure responsible rockhounding.
Bell Butte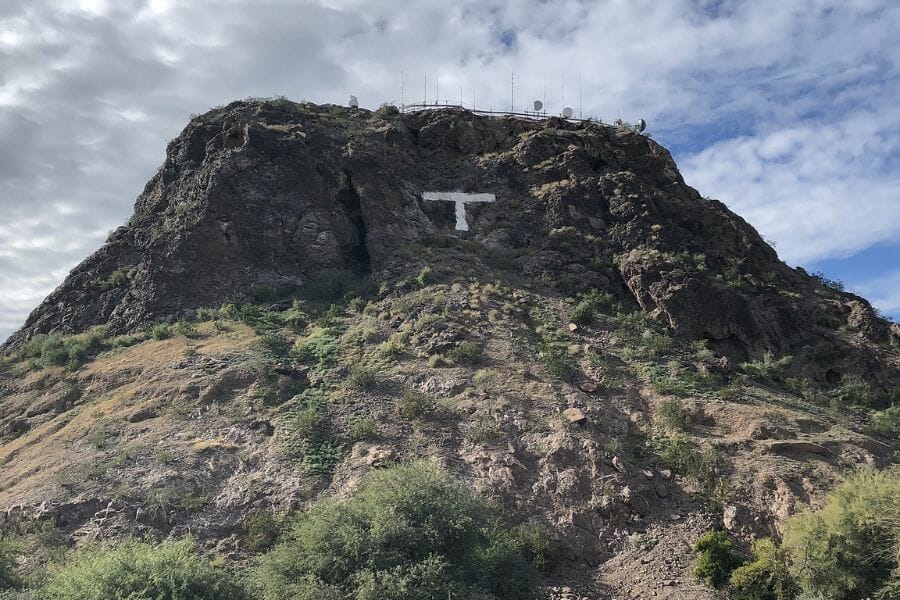 Bell Butte is a stunning natural landmark in Arizona that's a popular destination for outdoor enthusiasts. This unique geological formation stands out from the surrounding desert landscape and is a great place to escape it all. With an elevation of over 1,200 feet, the butte offers incredible views of the surrounding mountains and desert terrain that are not to be missed.
The climb up Bell Butte may be challenging, but it's worthwhile. The trail is rocky and steep in places, so it's important to wear sturdy shoes and bring plenty of water. Along the way, hikers can enjoy the breathtaking scenery and unique rock formations that make Bell Butte a one-of-a-kind destination.
Bell Butte's geology is a key factor in its amethyst-bearing potential. The butte is composed of basalt, a volcanic rock known to contain amethyst deposits. Additionally, the presence of hot springs in the area suggests that amethysts may be found in the surrounding hillsides and valleys.
Before bringing anything home, be familiar with the most recent Arizona collecting regulations.
Where we found amethyst in the Bell Butte
Amethysts can be found in all areas of the Bell Butte, including its surrounding hillsides and valleys.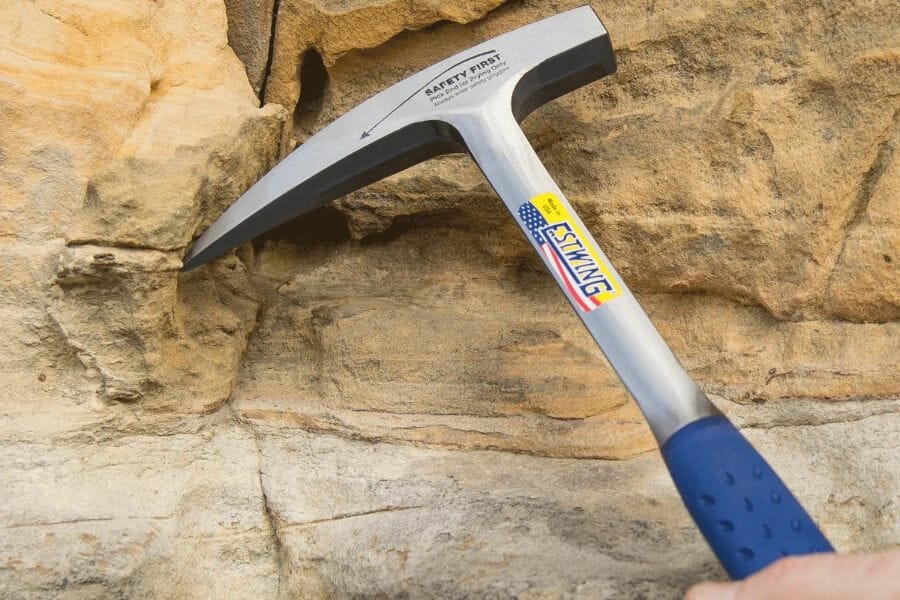 The tools every amethyst hunter will need
When you're out looking for amethyst having the right tools for the job is really going to make or break your success. You don't need a lot for most trips but there are a handful that are critical and will make your life a lot easier.
We get asked a lot about the equipment we use. Over the years we've found a handful of tools that we recommend to both new and experienced amethyst hunters which we outline in great detail in our complete rockhounding tools and kit guide. These are quality options that also happen to be relatively inexpensive.
Below are the basic tools that make your life so much easier and save you a ton of time. Check out the full guide to see everything we recommend bringing. One quick note, as an Amazon Associate I earn from qualifying purchases but we try very hard to only recommend gear we would use ourselves and often recommend brands you can't find on Amazon.
At a minimum you should have:
1 - Sturdy rock hammer: The Estwing Rock Pick is our standard
2 - Rugged chisels: Try Kendo' 3-piece Chisel Set
3 - Compact shovel: The Koleiya 28-inch shovel works well
4 - Rock screen pan: The Wazakura Soil Sieve Set fits the bill
5 - Eye protection: DeWalt Safety Glasses are cheap and comfortable
6 - Head protection: Malta's Safety Helmet has been our go-to
7 - Jewelers lens with at least 20x magnification: Jarlink's Jewelers Loop is perfect
The amethyst-finding books that we use most
There are also a few books that have been extremely helpful in the search for gems. These books have great recommendations and tips:
National Audubon Society Field Guide to Rocks and Minerals: North America 
Southwest Treasure Hunter's Gem & Mineral Guide 
Earth Treasures: The Southwestern Quadrant 
We provide links to find these tools on Amazon but some can also be found at your local hardware stores. For more recommendations check out the link to our full tool guide above.
El Tigre Mine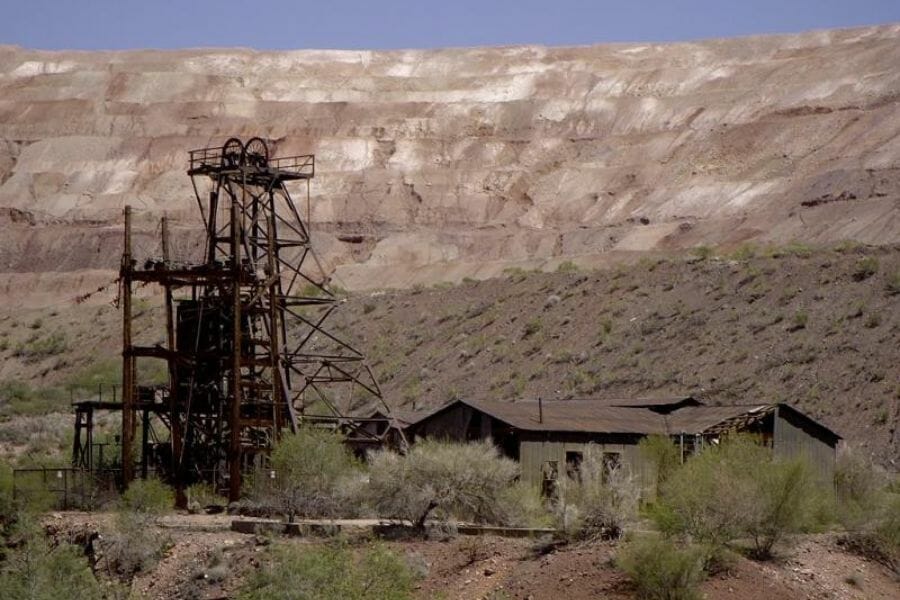 El Tigre Mine is a historic mining site renowned for producing amethysts, a prized variety of quartz. The mine is situated in a remote location and was first established in the early 1900s. Since then, it has been a popular destination for rock hounds and collectors looking for high-quality amethysts.
The surrounding mountains contain volcanic rocks and are known to be rich in minerals, including quartz. The amethysts found at El Tigre Mine are typically a deep, rich purple color and are highly valued by collectors and jewelry designers.
You can take a guided site tour to learn more about its history and geology. The remote location and rugged terrain make it ideal for adventurous rock hunters, but it's essential to exercise caution and follow any safety precautions.
Where we found amethyst in the El Tigre Mine
Amethysts can be found in and around the El Tigre Mine. We've made a detailed article for you to know how much amethysts are worth.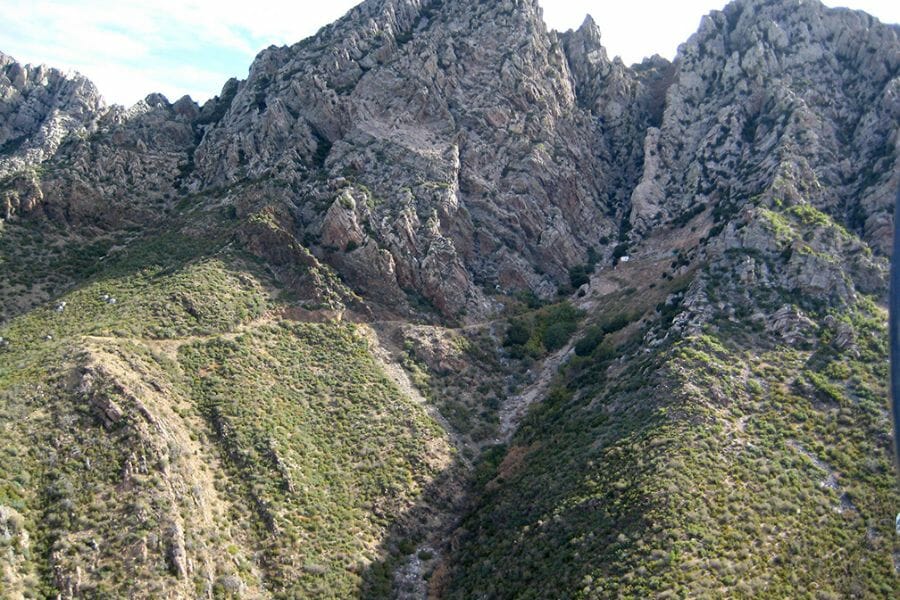 Four Peaks Amethyst Mine is a well-known amethyst mining site in Arizona. It's a popular destination for rock hounds and gemstone collectors looking for high-quality amethysts. The mine is in the Four Peaks mountain range, known for its unique geology and high mineral content. The mine has operated for over 100 years and has produced some of the world's finest amethysts.
Four Peaks Amethyst Mine is a prime location to look for high-quality amethysts and experience the beauty of Arizona's natural landscape. The mine's unique geology and long history of amethyst production make it a must-see destination for anyone interested in gemstones and the natural world.
Where we found amethyst in the Four Peaks Amethyst Mine
Amethyst can be found in several locations within the Four Peaks Amethyst Mine. The main amethyst vein is located in the northern part of the mine, near the Silver Butte claim. Other areas within the mine known to produce amethysts include the Southern Amethyst, Western Amethyst, and Amethyst Queen claims.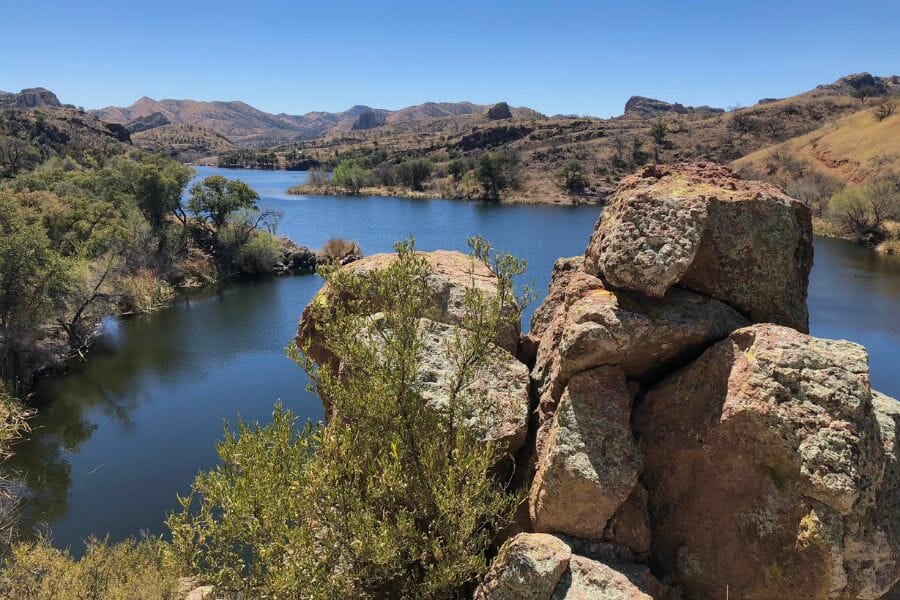 Pena Blanca Lake is a scenic body of water known for its stunning natural beauty and recreational opportunities. Situated in the Santa Cruz Valley, the lake is surrounded by rugged mountains and a pristine desert landscape that provide a perfect backdrop for outdoor activities.
One of the lesser-known attractions of Pena Blanca Lake is the opportunity to find amethysts. The region is rich in mineral deposits, including quartz, which is the primary component of amethyst. The lake was created by damming a nearby creek, and the resulting reservoir has exposed layers of rock that contain amethyst deposits.
Where we found amethyst in Pena Blanca Lake
The best place to search for amethysts near the lake is the hillsides and valleys surrounding the reservoir.
Silver Reef Mountains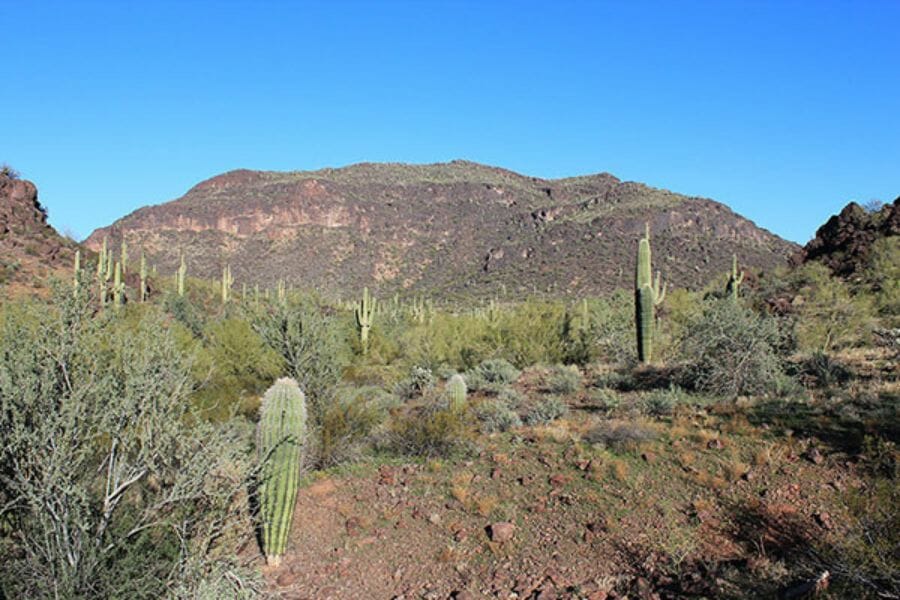 The Silver Reef Mountains are a rugged range in southern Arizona known for its unique geology and abundant mineral deposits. The range covers a vast land area and is known for its dramatic and stunning scenery. It's a popular destination for outdoor enthusiasts, hikers, and rock hounds alike.
The geology of the Silver Reef Mountains is a key factor in its unique landscape. The area comprises volcanic rock formations shaped and sculpted over millions of years by natural forces such as wind and water. The result is a landscape that's rich in minerals and natural beauty.
Where we found amethyst in the Silver Reef Mountains
You can explore the Silver Reef Mountains, hillsides, and valleys for amethysts. The best locations for amethyst hunting are typically in areas with exposed rock formations and outcroppings.
Other Great Places To Mine For Amethyst in Arizona
Our recommendations by county
We've already included our top recommendations for amethyst locations in Arizona, but there are still many places we can suggest. Below, we've sorted them by county to make thing simpler.
| | |
| --- | --- |
| County | Location |
| Cochise | Cole Mine |
| Graham | Ten Strike Mine |
| Maricopa | Amethyst Prospect |
| Navajo | Southeast of Holbrook |
| Pinal | Ajax Mine |
| Pinal | Silver Reef Mine |
| Pinal | White Horse pass area |
| Pinal | Tat Momoli Mountains area |
| Santa Cruz | Big Steve Mine |
| Yavapai | Date Creek |
| Yavapai | Fat Jack Mine |
| Yavapai | Lane Mountain |
| Yavapai | Bradshaw Mountains |
| Yavapai | Constellations area mines |
Additional areas you can find amethyst
Due to Arizona's vast region, we want to assist you in your quest. You should check the significant and more particular areas listed below where amethysts are frequently found.
Mines and mine dumps
Mines and mine dumps are excellent places to find amethysts for collectors for several reasons. Mines are often located in areas with unique geology and mineral deposits, which can create ideal conditions for forming amethysts. The mining process can also expose previously hidden or inaccessible areas that contain amethyst deposits.
Mine dumps are created when waste rock and other materials are removed during mining. These dumps can contain valuable minerals and gemstones, including amethysts. Over time, rain and other natural processes can erode the dump and expose new specimens of amethyst.
Quarries
Roadcuts are excellent places for collectors to find amethysts for several reasons. Roadcuts are created when roads are built through rock formations, exposing previously hidden rock layers. This exposure can reveal amethyst deposits that were previously inaccessible.
Roadcuts are often located in areas with unique geology and mineral deposits, creating ideal conditions for forming amethysts. As a result, many roadcuts contain a wide variety of specimens, ranging from tiny, polished crystals to larger, rough specimens.
Streams and creeks
For several reasons, streams and creeks are excellent places for collectors to find amethysts. Water flow can erode rock formations and expose previously hidden layers of minerals, including amethysts. As a result, many streams and creeks contain various specimens naturally polished by the water.
Streams and creeks are easily accessible and can be found throughout many parts of the world. This accessibility makes them a popular destination for rock hounds and collectors looking for high-quality amethysts.
Common Amethyst-Hunting Questions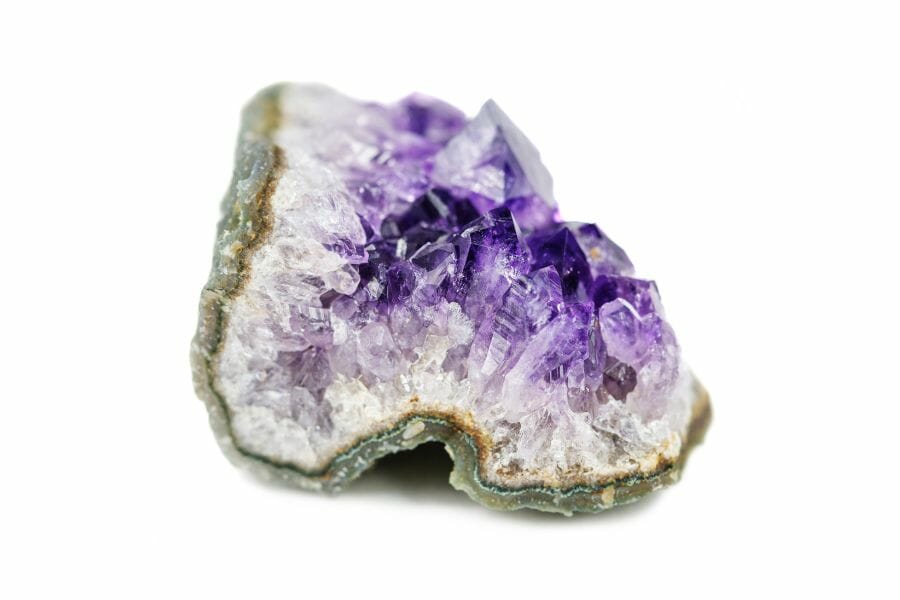 It's necessary to answer several often-asked questions concerning Arizona amethysts, including the ones listed below:
Where can you find amethyst geodes in Arizona?
Amethyst geodes aren't found naturally in Arizona, but there are a few rock shops where you might get them, as well as other specimens.
Is it illegal to collect amethyst in Arizona?
Arizona allows amethyst collecting as long as you follow local laws. If you're on public property, abide by all applicable laws. If you're on private land, make sure you have the permission.
The Best Places To Buy Amethyst In Arizona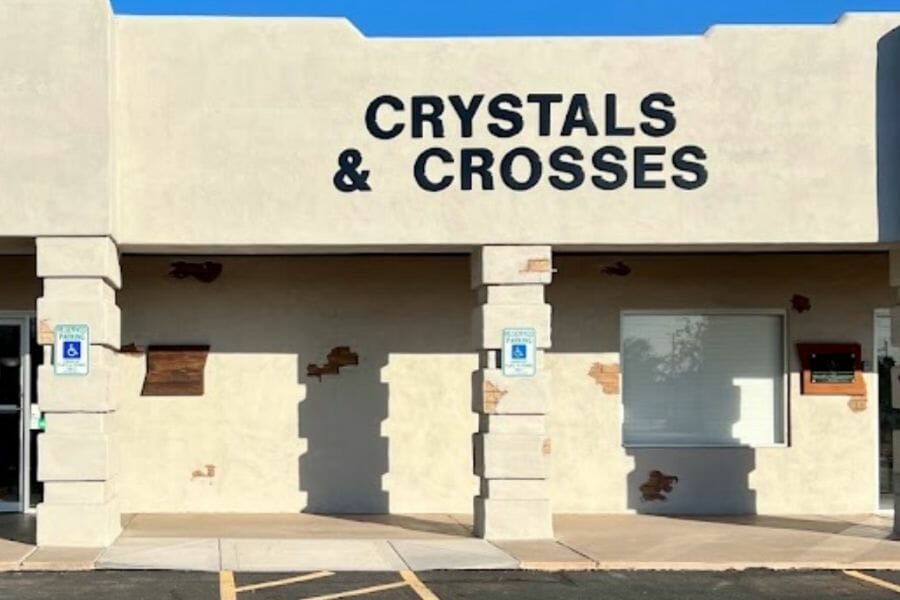 Not everyone enjoys wandering through the woods for hours, looking for amethysts. Sometimes, you only need something attractive and easy to obtain for your workplace or collection. The list of rock shops where you may get amethyst crystals is below.
Additional places to find amethyst in nearby states
Check out the guides we made for the places we think you should also visit once you've explored each of the places we listed above to find amethyst in neighboring states:
If you have any recommendations for our list, please leave a comment below!