Colorado has a rich and diverse geology, with mountains, valleys, and plains all holding hidden natural gems. From shiny gold to sparkling quartz, you'll find a bit of everything here. But one of the most enchanting treasures you can find is Colorado opal. It's like holding a piece of the rainbow in your hand!
With so many places to explore, it can be overwhelming to know where to start looking. Don't worry, though! We're here to guide you to the prime locations where you can find opal in Colorado and experience the beauty of nature at the same time.
These best places, where the scenery is as stunning as the rocks you'll discover, include the South Fork Republican River, Opal Hill, Piñon Mesa, Colorado River, and the Uinta Mountains. They aren't just good for finding opals— they're perfect for making memories too.
Whether you're climbing up a rocky trail or exploring a quiet riverbank, the excitement of discovering a Colorado opal is matched only by the beauty of the land around you.
What Is Colorado Opal Anyway?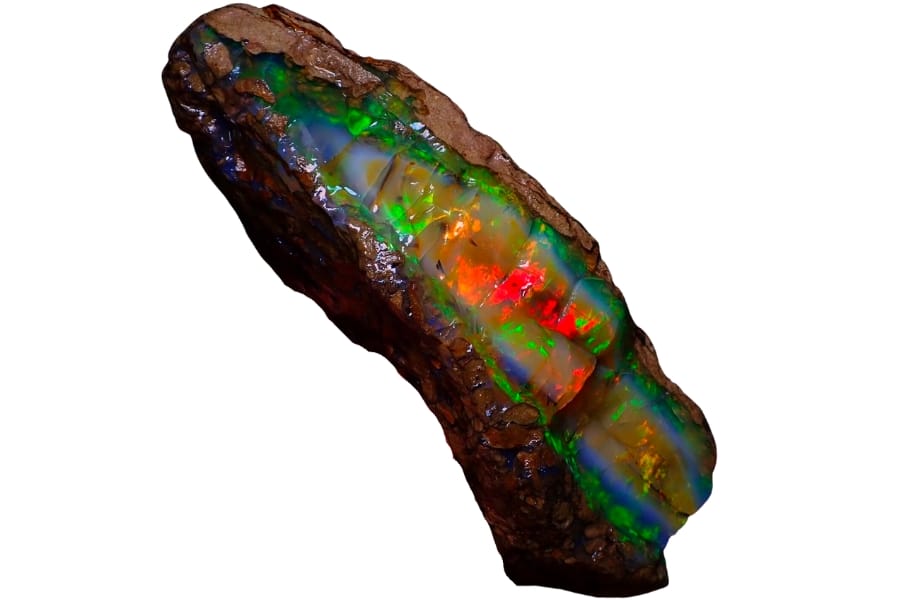 Imagine a rock that can show all the colors of the rainbow in a dazzling display— that's opal for you. It's made from tiny bits of silica, the same stuff that makes up sand, but arranged in a way that creates amazing colors.
When light hits the tiny silica particles inside this gem, the light bounces around and creates a play of colors. This is one of the key features that makes it easier to identify opal. When you look at it from various angles, it can look different.
Opals are not only beautiful to look at, but they're also useful. People love to use it in jewelry, like necklaces, rings, and earrings, because they add a unique touch of color and beauty.
But what largely influences the value of opal? Apart from its stunning beauty, the rarity of its certain types adds to its value. Some opals have rare patterns or particularly vibrant colors, which make them more sought after. Also, the more vibrant and visible the colors are from all angles, the more valuable the gem is.
If you're wondering where to find opal, Australia is famous for it. It even produces most of the world's supply. Other countries like Mexico, Brazil, and the U.S. also have opal mines.
How We Found The Best Opal Locations in Colorado
When it comes to choosing the best options for finding Colorado opal there are plenty of things we consider. Many of the best locations are closely guarded secrets which can make it really difficult for more casual rock hunters to find success. The key factors in our recommendations are:
The deep experience and understanding of our team about the area
Recommendations from local groups and clubs
How easy it is to get the a particular location
Safety and potential hazards when collecting
Weighing private and public locations
The ability for both experienced and novice rock enthusiasts to find great samples
With these factors in mind we've been able to put together a fantastic list that just about anyone can use!

The Best Places To Find Opal in Colorado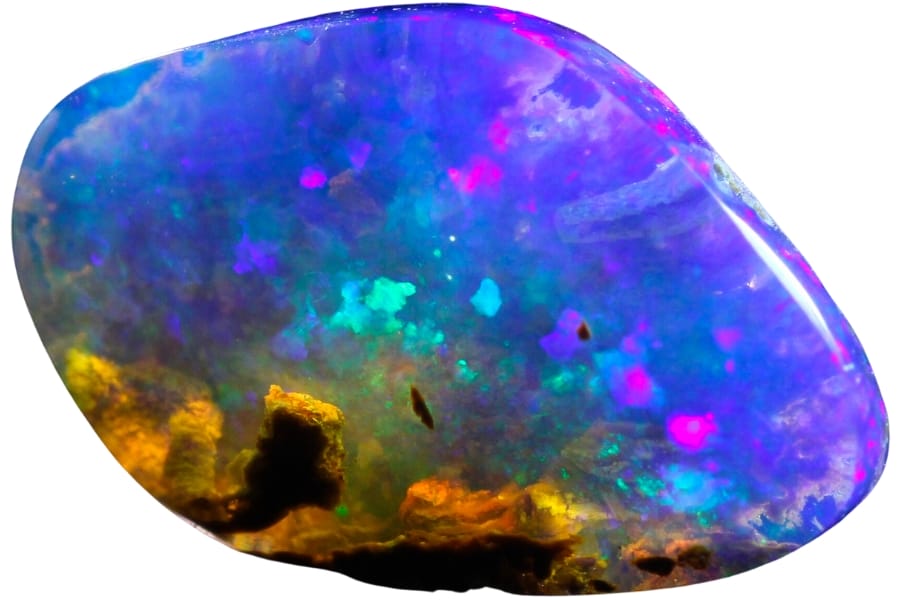 Sure, there are plenty of great gem mine sites in Colorado, but be aware that not all of them have opals. Despite this rock's rich deposits in our state, there are only specific prime locations where you can successfully find them.
Below are our top recommended ones:
Always Confirm Access and Collection Rules!
Before heading out to any of the locations on our list you need to confirm access requirements and collection rules for both public and private locations.
These requirements are subject to change without notice and may differ from what we state below.
Always get updated information directly from the source ahead of time to ensure responsible rockhounding.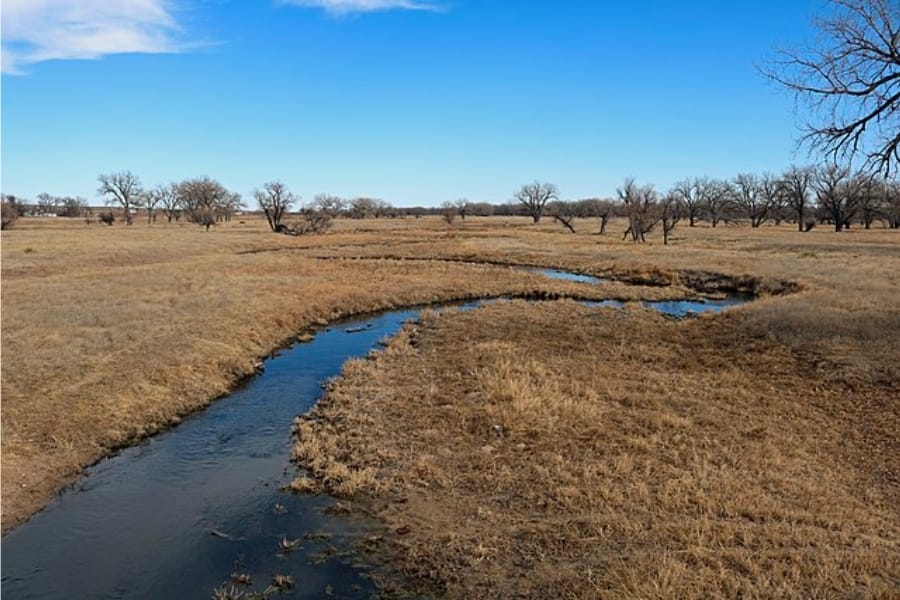 South Fork Republican River flows through the eastern part of Colorado, carving its way through diverse landscapes. Its journey begins in the high, rolling plains, offering wide, open views of the sky and land. As you follow the river, you'll notice the terrain changes, with small hills and valleys appearing.
The river has helped expose different layers of rock and soil over time. You'll find sandstones and shales, and if you're lucky, you might spot some opal.
If you're keen to explore this area, getting here is part of the adventure. The South Fork Republican River is accessible from several small towns in Eastern Colorado.
One of the best ways to get there is by driving from Denver. It's about a 3 to 4-hour drive, depending on which part of the river you're aiming for. You can take I-70 East and then head south on smaller highways, following signs toward the river.
But before you head out here, make sure to revisit and review first the latest collecting guidelines of Colorado.
Where we found opal in the South Fork Republican River
To find opals at the South Fork Republican River, you can explore the broad area along the river to the Yuma County border. Downstream, you can also search for opal along both sides of the river all the way to the Kansas border.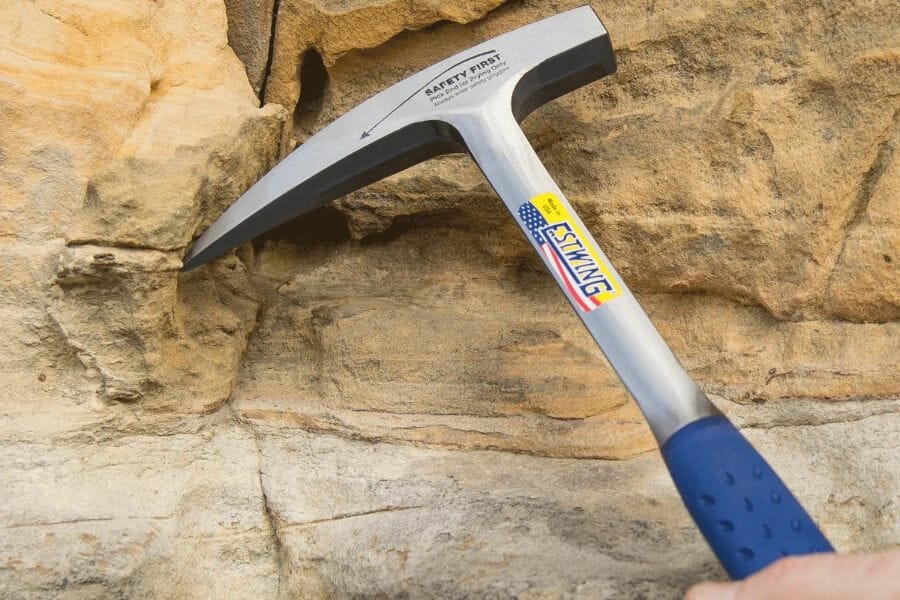 The tools every geode hunter will need
When you're out looking for geodes having the right tools for the job is very important. You don't need a lot for most trips but there are a handful that are critical and will make your life a lot easier.
We get asked a lot about the equipment we use. Over the years we've found a handful of tools that we recommend to both new and experienced geode hunters which we outline in great detail in our complete rockhounding tools and kit guide. These are quality options that also happen to be relatively inexpensive.
Below are the basic tools that make your life so much easier and save you a ton of time. Check out the full guide to see everything we recommend bringing. One quick note, as an Amazon Associate I earn from qualifying purchases but we try very hard to only recommend gear we would use ourselves and often recommend brands you can't find on Amazon.
At a minimum you should have:
1 - Sturdy rock hammer: The Estwing Rock Pick is our standard
2 - Rugged chisels: Try Kendo' 3-piece Chisel Set
3 - Compact shovel: The Koleiya 28-inch shovel works well
4 - Rock screen pan: The Wazakura Soil Sieve Set fits the bill
5 - Eye protection: DeWalt Safety Glasses are cheap and comfortable
6 - Head protection: Malta's Safety Helmet has been our go-to
7 - Jewelers lens with at least 20x magnification: Jarlink's Jewelers Loop is perfect
The geode-finding books that we use most
There are also a few books that have been extremely helpful in the search for gems. These books have great recommendations and tips:
National Audubon Society Field Guide to Rocks and Minerals: North America 
Southwest Treasure Hunter's Gem & Mineral Guide 
Earth Treasures: The Southwestern Quadrant 
We provide links to find these tools on Amazon but some can also be found at your local hardware stores. For more recommendations check out the link to our full tool guide above.
Opal Hill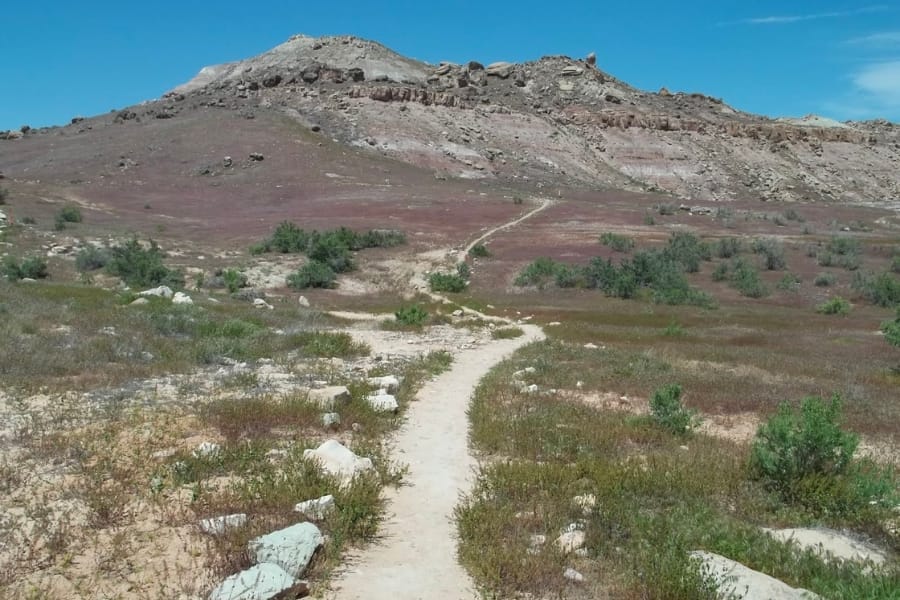 Opal Hill is famous for its beautiful opals, hidden like jewels in the rough terrain. Mesa is in western Colorado, and Opal Hill itself is part of a larger, rugged landscape. It's known for its hills and valleys, with a mix of rocky outcrops and patches of greenery.
The area is made up of volcanic rocks, which is where you can find opals. These can vary: some are clear and shiny, while others have a play of colors that change in the light.
Getting to Opal Hill is an adventure in itself. It's located near the town of Mesa, which is about a 4-hour drive from Denver. You can take I-70 West towards Grand Junction and then follow smaller roads to Mesa. From Mesa, Opal Hill is just a short drive away, but the terrain can be rough, so you can use a four-wheel-drive vehicle.
Where we found opal in the Opal Hill
If you want to find Colorado opal, you can search through and explore both sides of Opal Hill, where other rockhounds have reported finding them.
Piñon Mesa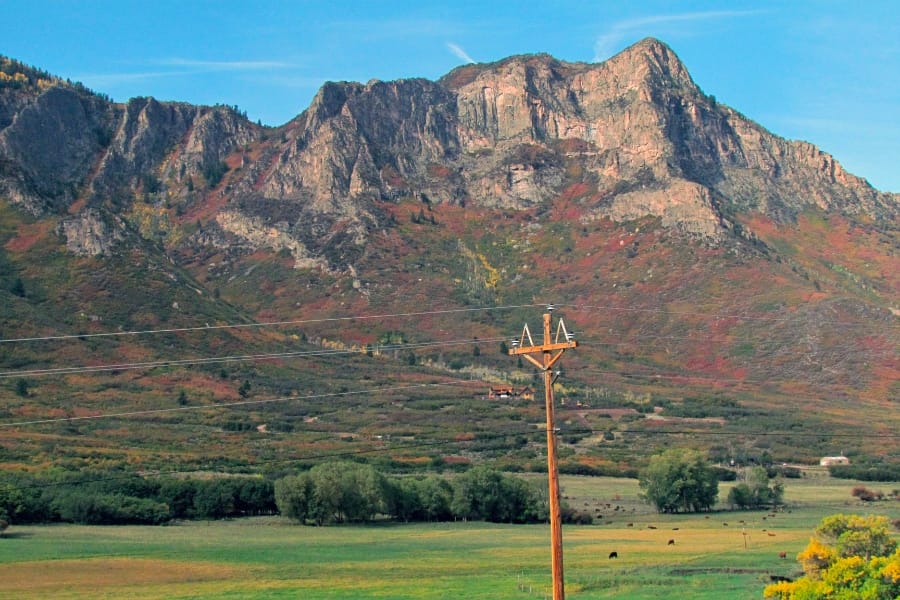 Located in the western part of our state, Piñon Mesa is a large, flat-topped mountain surrounded by rugged terrain. The mesa, covered with piñon pine and juniper trees, stands out in the landscape, offering breathtaking views.
This place is rich in volcanic rock, which is a good sign for finding opals. Walking around Piñon Mesa, you might find these hidden gems. The opals here can range in color and quality.
To get to Piñon Mesa, you'll start with a scenic drive through western Colorado. If you're coming from Denver, it's about a 5-hour drive.
You'll head west on I-70, then take smaller roads towards the Mesa County area. The last part of the journey to Piñon Mesa involves some off-road driving, so a vehicle with good ground clearance is recommended.
Where we found opal in the Piñon Mesa
You can find opals in areas with volcanic rock in Piñon Mesa. Searching along eroded surfaces and rocky outcrops where volcanic material is exposed increases your chances of finding them.
Due to the mesa's rugged and varied terrain, a careful examination of areas where rock layers intersect can also be fruitful.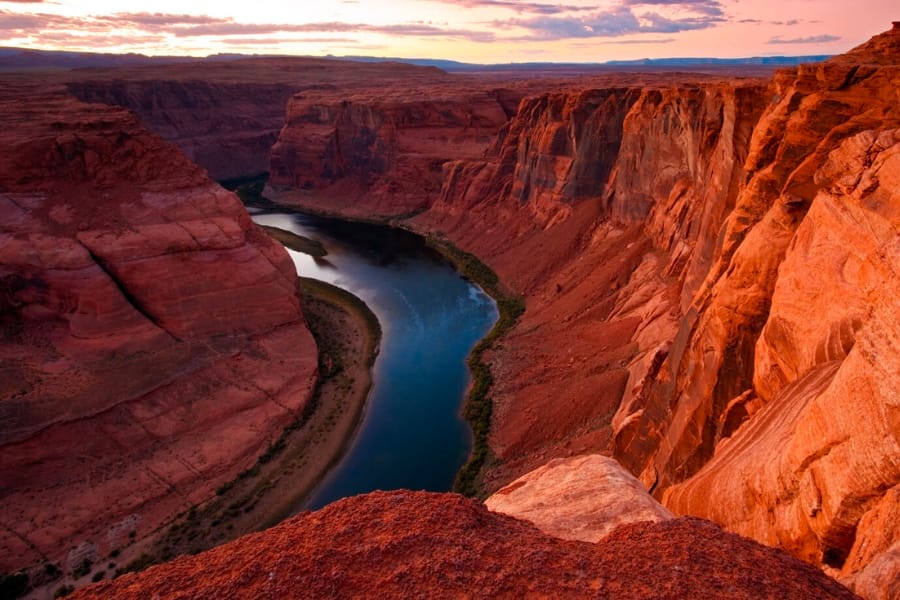 Colorado River starts high in the Rocky Mountains and winds its way through our state, creating a pathway of diverse landscapes. Along its course, it flows through canyons and valleys, offering a variety of terrains to explore.
The geology around the Colorado River is fascinating. The river has carved through layers of rock over millions of years, exposing different geological formations. In areas with volcanic activity in the past, like near Glenwood Springs, you can find opals.
To get to the Colorado River, you can start from Denver and take a road trip westward. The drive to the river can take anywhere from 2 to 4 hours, depending on which part of the river you want to explore. I-70 is the main route as with our other recommended locations above.
Places like Glenwood Springs or the Grand Junction area are good starting points for your opal-hunting adventure.
Where we found opal in the Colorado River
You can find opals if you explore west along the Colorado River and in its tributary canyons to the Utah border.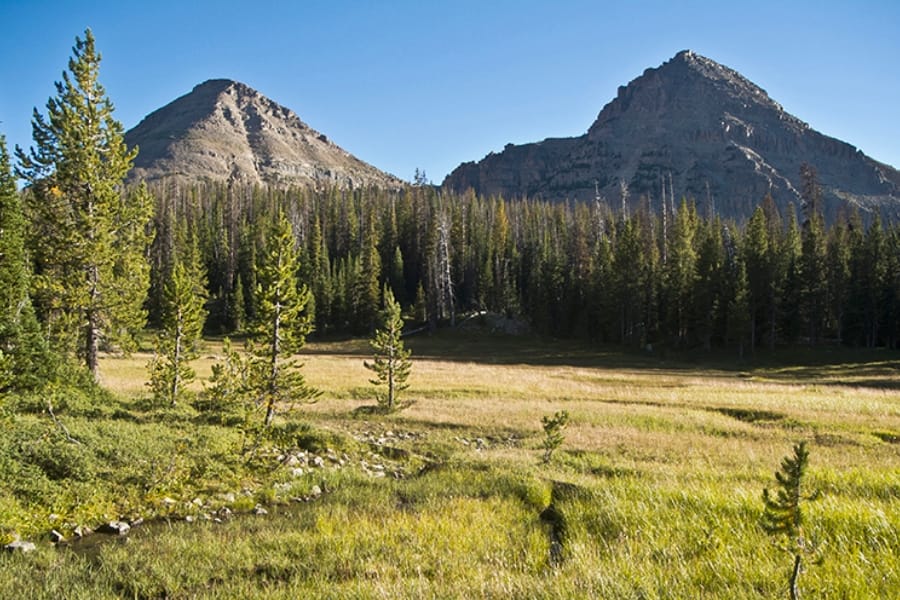 The Uinta Mountains stretch into Colorado from Utah, making them unique as they run east to west, unlike most mountain ranges in North America. They're known for their stunning peaks, some reaching over 13,000 feet, and their beautiful, forested slopes.
They're made up of very old rock formations, some dating back to Precambrian times. This ancient landscape is a mix of quartzite, shale, and sandstone. But the exciting part for us opal hunters is the presence of volcanic material in certain areas. It's in these volcanic areas that you might find opals.
If you're planning on visiting, you'd typically start from Denver. It's about a 5 to 6-hour drive, heading northwest towards the Colorado-Utah border. You can take I-70 West and then smaller highways north towards the mountains.
Where we found opal in the Uinta Mountains
To find opals, we highly recommend exploring the south and east slopes of the Uinta Mountains, hillside gravels along US-40, and north of US-40 between the Utah line and Cross Mountain.
Other Great Places To Find Colorado Opal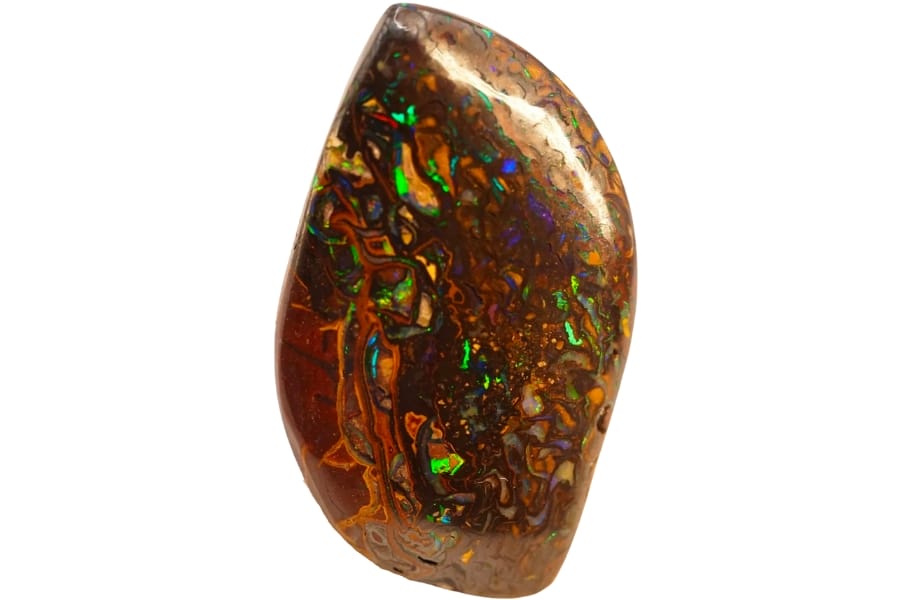 Luckily, you won't easily run out of prime locations to find opals in Colorado. Below are some more sites that you can visit to find this fascinating natural treasure in our state:
Our recommendations by county
| | |
| --- | --- |
| County | Location |
| Boulder | Black Hawk No. 1 Vein |
| Boulder | Clyde Mine |
| Chaffee | Browns Canyon Mining District |
| Chaffee | Snowflake Deposit |
| Chaffee | Buffalo Peaks |
| Chaffee | Hortense Hot Spring |
| Chaffee | Ruby Mountain |
| Clear Creek | Gilson Gulch |
| Conejos | King Turquoise Mine |
| Custer | Rosita Hills |
| Douglas | Castle Rock |
| Eagle | Roadside quarry on Highway 131 |
| Elbert | Platte River gravels |
| Elbert | Short distance southeast of Elbert |
| El Paso | Rosa No. 1 trench |
| Fremont | Barbara Claims |
| Grand | Hot Sulfur Springs |
| Gunnison | Gunnison River Gorge |
| Hinsdale | Goodwin's Creek |
| Jefferson | Denver pegmatites in road cuts |
| Jefferson | North Table Mountain |
| Kit Carson | Broad area in Burlington |
| Kit Carson | Landsman Creek |
| Lake | Belgian Mine |
| Larimer | Cache La Poudre |
| Larimer | Specimen Mountain |
| Mesa | Colorado River Valley and side canyons west from Grand Junction to the Utah line |
| Mesa | Serpent's Trail area around Glade Park |
| Mesa | Downstream in Indian Creek Canyon |
| Mineral | Upstream on Ute Creek |
| Mineral | Creede Formation |
| Mineral | Rio Grande River |
| Moffat | Browns Park Formation |
| Moffat | Horse Draw |
| Park | South Park salt works |
| Rio Blanco | Piceance Basin |
| Rio Grande | Twin Mountains in Old Woman Creek area at west edge of the San Luis Valley |
| Rio Grande | West of parking area on South Slopes of Twin Mountains |
| Saguache | La Garita Creek |
| San Juan | South Mineral Creek |
| Summit | Red Jacket |
| Teller | Black Cloud Mine |
| Teller | Orpha May |
| Weld | Sterling Mine |
Common Opal-Hunting Questions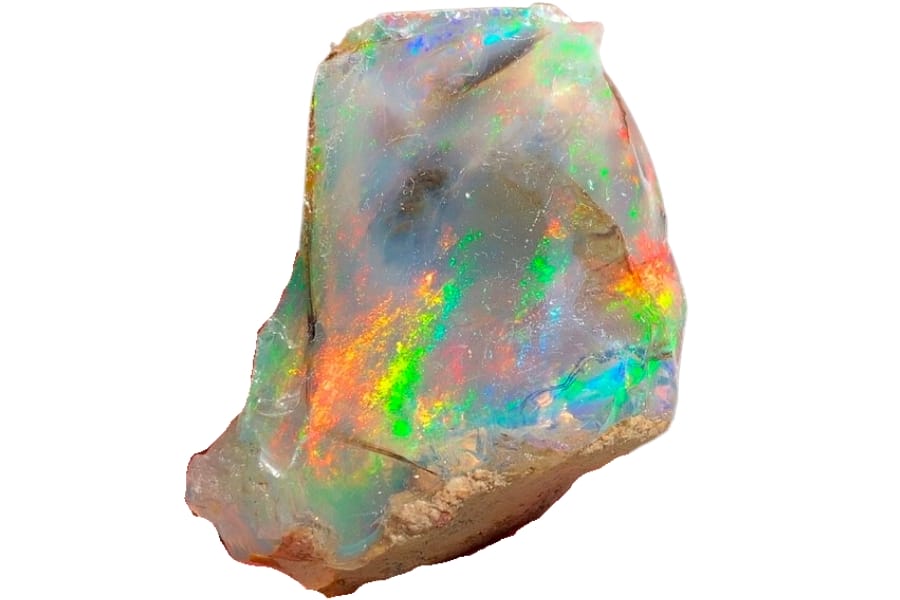 Now that you know where to look, allow us to help you answer the most common question when it comes to finding opals in Colorado:
Is it illegal to collect opal in Colorado?
The legality of collecting opals in Colorado, like other minerals, largely depends on the location and land ownership.
On public lands, such as national forests and Bureau of Land Management areas, casual rock collecting for personal use is often allowed, but there may be specific rules and limits. For instance, there could be restrictions on the amount you can collect or the tools you can use.
On state-owned lands, the regulations can be different, and it's important to check with state authorities or park management. However, collecting on private property without permission is illegal.
It's always a good idea to do your homework before you go: check the current regulations for the specific area where you plan to collect. For more information, check with the Colorado Parks and Wildlife.
The Best Places To Buy Opal In Colorado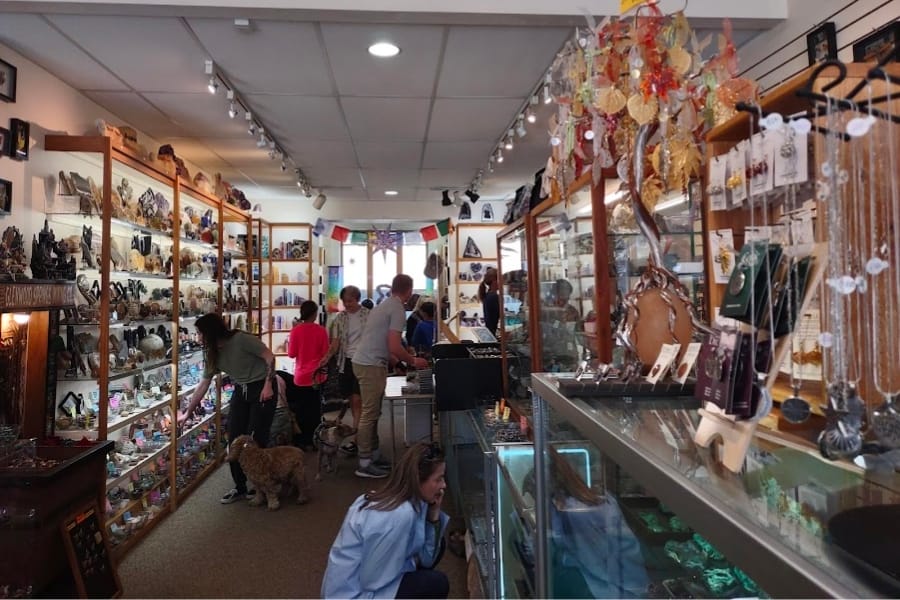 On top of the many prime locations where you can find naturally occurring opals in Colorado, you can also pay a visit to our trusted local rock and mineral shops if you want to take home opals. Below are some of our favorites: