Imagine taking a journey back in time to a place where once-majestic trees stood tall and strong. With its diverse landscapes and rich geological history, discovering petrified wood in California is easier than you think with the right guidance.
From the colorful Red Rock Canyon State Park to hidden corners of the Warner Mountains, you can find these ancient relics hidden like secret gems.
The Golden State isn't just famous for the gold rush; it's a rockhound's paradise where history is not just learned but held in hand, a tactile testament to the beauty of our ever-changing world.
What Is California Petrified Wood
Petrified wood is like nature's time capsule. Imagine a tree from millions of years ago turning into stone! When trees fall and get buried under sediment, minerals in groundwater start replacing the tree's organic material.
Over a very long time, the wood transforms into rock, keeping the original shape and even some details of the tree.
The best part is that you can find petrified wood in many places around the world. Think deserts, riverbanks, or near ancient volcanic areas. These spots often had the perfect conditions to preserve and petrify wood.
So, next time you're on a nature walk or exploring a new place, keep your eyes open. You might just stumble upon a piece of ancient history turned to stone!
The types of petrified wood found in California
From the mesmerizing colors to the unique patterns, the types of petrified wood in California's terrains are nothing short of amazing. Check out our tips on how to identify petrified wood so you'll have a better idea of what you're looking for.
Opalized wood
Instead of turning into regular petrified wood, which is replaced by minerals like quartz, opalized wood undergoes a unique transformation. Silica-rich waters flow through the wood, and as the water evaporates, it leaves behind opal.
The end result is a dazzling mix of wood's structure and opal's shimmer. It's a two-in-one treasure: the age of ancient wood and the beauty of opal combined.
For folks who love the stories rocks can tell, finding a piece of opalized wood is like hitting the jackpot.
Silicified wood
Silicified wood is a marvel that nature's been working on for ages. As groundwater seeps through, rich in dissolved silica, the organic parts of the wood begin to get replaced by this silica.
Over a really long time, the entire wooden structure gets swapped out, leaving a stony replica in its place.
But it's not just any stone – it's a detailed and precise copy of the original wood, capturing all its textures and patterns. The beauty of silicified wood is that it holds onto the story of the tree, giving us a glimpse into the past.
Petrified palmwood
Picture this: ancient palm trees, once waving under prehistoric skies, get buried by sediment. Over time, mineral-rich waters start soaking the wood. These minerals, especially silica, begin to replace the wood's organic material.
Fast forward a few million years, and we have petrified palmwood. Unlike regular trees, palm trees have a unique rod-like structure, which gives the petrified version a distinctive dotted appearance.
How We Found Petrified Wood in California
Petrified wood can be pretty tough to find in our state if you aren't strategic about your search. We've compiled a list of great locations where you can find it from a number of proven sources. These are the main inputs we used when determining the recommendations we set out :
The extensive local experience of our team
Input from a variety of local rockhounds and rockhound groups
The difficulty in accessing a location
Safety and potential hazards when collecting
Private and public locations
A desire to include locations for both the experienced and newbie hunters who are just starting out
Using these inputs we think we've put together the best list out there for those who love finding petrified wood for our collections!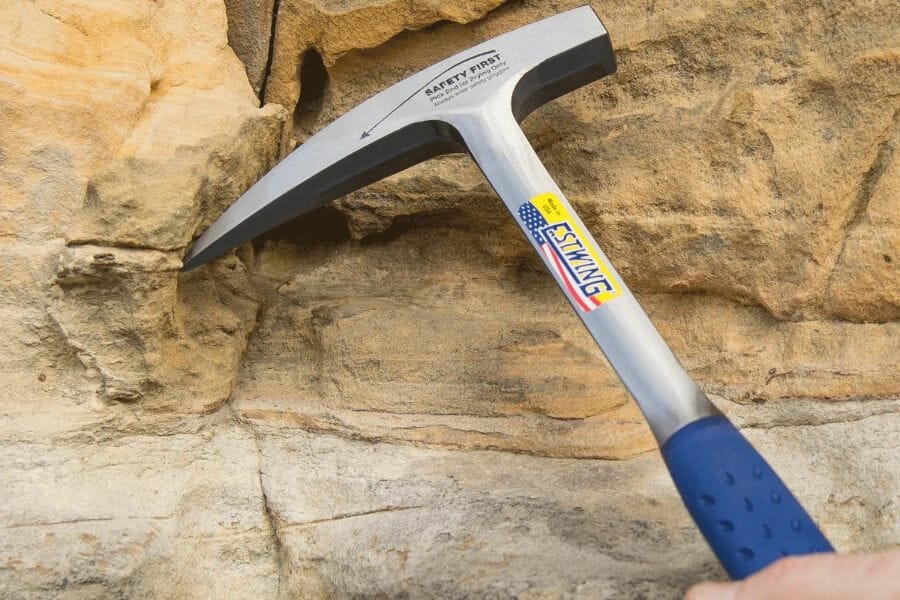 The tools every petrified wood hunter will need
When you're out looking for petrified wood having the right tools for the job is really going to make or break your success. You don't need a lot for most trips but there are a handful that are critical and will make your life a lot easier.
We get asked a lot about the equipment we use. Over the years we've found a handful of tools that we recommend to both new and experienced petrified wood hunters which we outline in great detail in our complete rockhounding tools and kit guide. These are quality options that also happen to be relatively inexpensive.
Below are the basic tools that make your life so much easier and save you a ton of time. Check out the full guide to see everything we recommend bringing. One quick note, as an Amazon Associate I earn from qualifying purchases but we try very hard to only recommend gear we would use ourselves and often recommend brands you can't find on Amazon.
At a minimum you should have:
1 - Sturdy rock hammer: The Estwing Rock Pick is our standard
2 - Rugged chisels: Try Kendo' 3-piece Chisel Set
3 - Compact shovel: The Koleiya 28-inch shovel works well
4 - Rock screen pan: The Wazakura Soil Sieve Set fits the bill
5 - Eye protection: DeWalt Safety Glasses are cheap and comfortable
6 - Head protection: Malta's Safety Helmet has been our go-to
7 - Jewelers lens with at least 20x magnification: Jarlink's Jewelers Loop is perfect
The petrified wood-finding books that we use most
There are also a few books that have been extremely helpful in the search for gems. These books have great recommendations and tips:
National Audubon Society Field Guide to Rocks and Minerals: North America 
Southwest Treasure Hunter's Gem & Mineral Guide 
Earth Treasures: The Southwestern Quadrant 
We provide links to find these tools on Amazon but some can also be found at your local hardware stores. For more recommendations check out the link to our full tool guide above.
The Best Places To Find Petrified Wood In California
If you've checked out the best rockhounding spots in California, it's time to zero in on the best places for petrified wood. Below are spots that are proven to have some pretty amazing petrified wood specimens.
Always Confirm Access and Collection Rules!
Before heading out to any of the locations on our list you need to confirm access requirements and collection rules for both public and private locations.
These requirements are subject to change without notice and may differ from what we state below.
Always get updated information directly from the source ahead of time to ensure responsible rockhounding.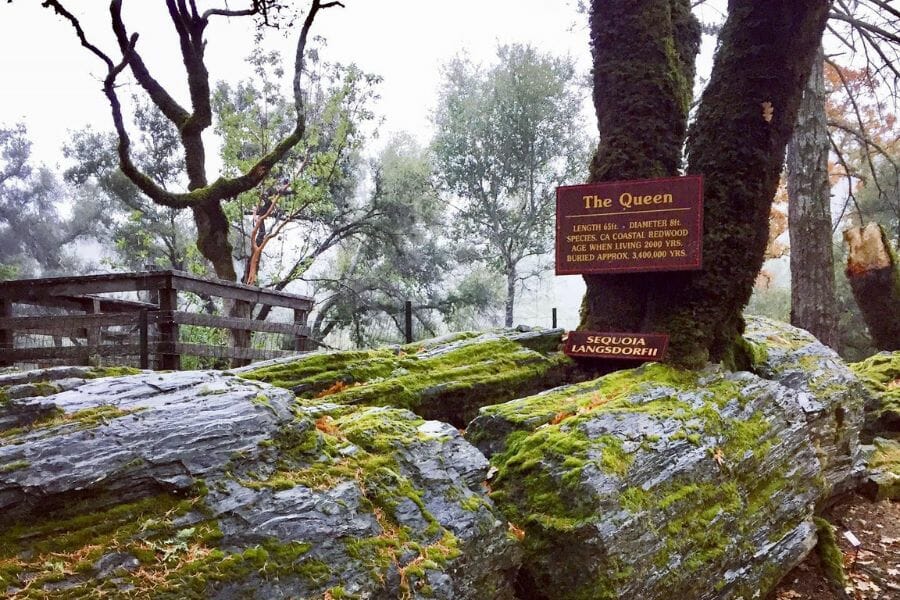 Nestled in the heart of wine country, near Calistoga, the Petrified Forest is a window into ancient times. Picture this: a lush forest from millions of years ago, now turned into beautiful stone.
The terrain is a mix of rolling hills and pathways, perfect for a leisurely stroll. As you walk, you'll spot massive logs, now stone-solid, scattered about.
They're remnants of an ancient volcanic eruption that buried the forest, kick-starting the petrification process.
Geologically speaking, it's a rockhound's dream. The minerals that seeped into the wood over ages have painted a vivid palette of reds, blues, and yellows onto these ancient logs.
Getting there is a breeze. It's just a short drive from the town of Calistoga, with clear signs pointing the way. So, if you're in the mood for an adventure that mixes geology with a bit of ancient history, the Petrified Forest is the spot to be.
Before you go, make sure that you're familiar with California's rockhounding guidelines.
Where we found petrified wood in the Petrified Forest
There's California petrified wood all around in this area, many of which were once redwoods. You'll see them pretty easily as you explore the forest.
However, make sure that you don't take any pieces of petrified wood or other rocks with you. If you want a piece of petrified wood from the forest, the best thing to do would be to buy one from the park's gift shop.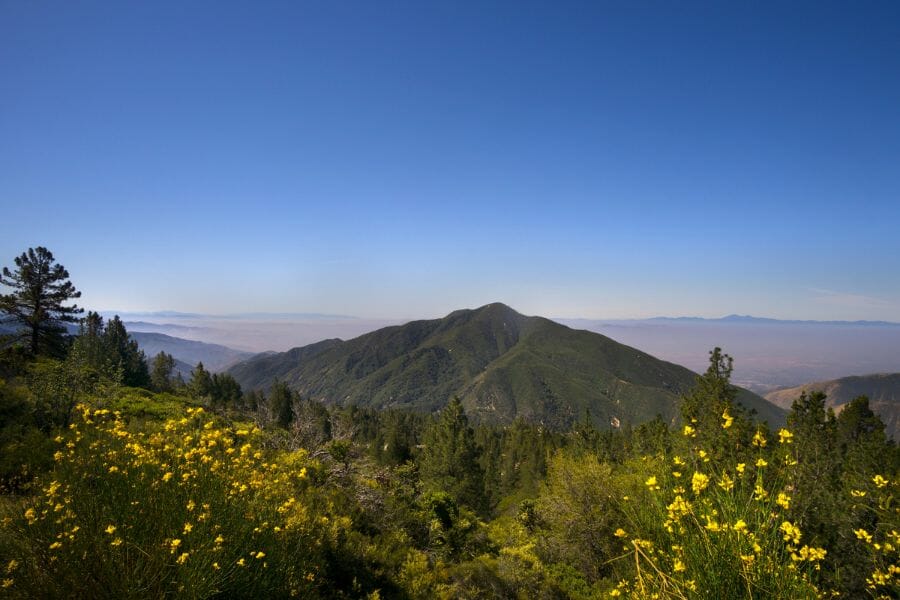 San Bernardino County in California is like a treasure chest for rock enthusiasts like us! Covering a vast expanse, it's the largest county in the U.S.
Geographically, it boasts a mix of rugged mountain ridges, sweeping desert sands, and hidden canyons.
Geologically, San Bernardino is a goldmine. From ancient marine fossils to sparkling minerals and, yes, even petrified wood, there's a little something for every rockhound.
Specifically, for petrified wood, places like the Mojave National Preserve are a must-visit.
The preserve holds secrets from eons ago, and with a keen eye, you might just stumble upon some ancient wood turned to stone.
Getting to San Bernardino County is easy peasy. Major highways crisscross the region, and it's just a drive away from major cities like Los Angeles.
Where we found petrified wood in San Bernardino County
You can find petrified wood in and around the Mojave National Preserve, such as Kessler Peak and the Goffs and Nipton areas. If you're in the Afton area, you'll probably be able to find pieces along the Mojave River.
Follow the Mojave Freeway and go further west, and you'll also probably have some success in Manix, Mule Canyon, and Kramer.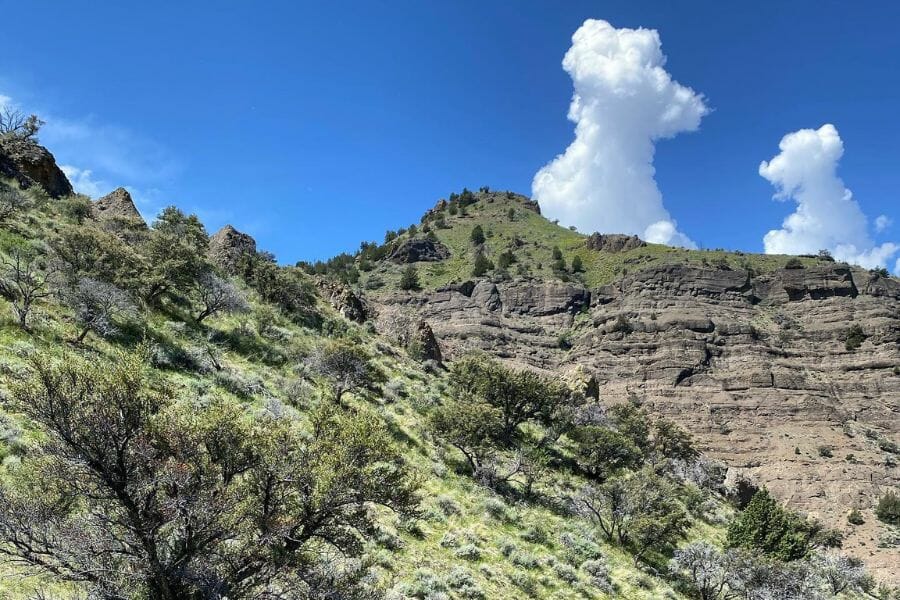 The Warner Mountains are located in the northeastern part of the state, these mountains rise majestically, like nature's skyscrapers. They stretch out, forming a rugged backbone against the skyline.
Terrain-wise, it's a hiker's paradise. Trails weave through dense forests, past shimmering lakes, and up to vistas that'll take your breath away. Every twist and turn feels like stepping into a new world.
From a geology standpoint, the Warners are fascinating. They've got a rich volcanic history, which means tons of interesting rocks and formations.
For collectors, there's a rainbow of minerals to discover. Plus, the erosion has revealed layers of Earth's history, just waiting to be explored.
For those itching to visit, heading to the Warner Mountains is a cinch. Though they're tucked away, the main roads leading there are well-marked.
Whether you're coming from the coast or the city, just set your GPS, pack some snacks, and enjoy the scenic drive.
Where we found petrified wood at the Warner Mountains
If you search on the east side of the Warner Mountains, there's a good chance that you'll come across some petrified wood and even other gemstones. Look in the canyons, among the exposed rock.
Before you go, however, make sure that you check if there are any rockhounding guidelines that you'll have to follow.
Tucked in the southernmost tip of the Sierra Nevada range, the Red Rock Canyon State Park is a splash of vibrant colors on Earth's canvas.
Imagine cliffs and buttes painted in shades of red, orange, and pink – it's like Mother Nature went wild with her paintbrush here!
The terrain is a rock lover's playground. You've got dramatic rock formations, deep valleys, and even those iconic eroded bluffs that look like they're straight out of a wild west movie. Every nook and cranny tells a story.
Speaking of stories, the geology of Red Rock Canyon is a tale of ancient lakes, winds, and time. These rocks have seen it all, from prehistoric creatures to shifting landscapes. There are layers upon layers of history here, just waiting to be read.
Getting to the park is a piece of cake! It's off Highway 14, a hop and a skip from Los Angeles. The drive itself offers some stunning vistas. So, if you've got a heart for adventure and eyes for beauty, Red Rock Canyon State Park is the place to be.
Where we found petrified wood at the Red Rock Canyon State Park
The Red Rock Canyon State Park is a pretty great place to explore. People have been successful in finding California petrified wood in Last Chance Canyon, which is right at the boundary of the park, along Last Chance Canyon Road.
You might also find more petrified wood, as well as other rocks and minerals, further up Last Chace Canyon Road and around the defunct Cudahy Camp.
However, it's important to note that taking rocks and other objects from the park is prohibited.
Kern County is filled with natural wonders and fascinating geology. Located in the southern part of the Central Valley, it's known for its vast desert landscapes and beautiful mountains.
You'll find the Sierra Nevada to the east and the Tehachapi Mountains to the south.
The geography in Kern County is a mix of valleys, mountains, and plateaus. There are wide-open spaces that contrast with the towering peaks.
The terrain varies, from flat farmland to rugged mountain trails, so there's something for every adventurer.
Geologically, it's a goldmine of mineral deposits like gold, tungsten, and oil. The area is rich with fossils, and if you're lucky, you might even stumble upon some petrified wood!
Major highways crisscross the area, making Kern County easily accessible by car. If you're flying, Meadows Field Airport in Bakersfield is right there, and once you land, the county's many natural wonders are just a short drive away.
Where we found petrified wood in Kern County
There are plenty of areas in Kern County that you can explore to find petrified wood. You can check out the Cantil area just south of the Red Rock Canyon State Park, as well as the area around the McKittrick Brea Pit.
Other spots known for petrified wood in the county include Gem Hill in Rosamond, Boron, and Willow Springs. The town of Mojave is also worth exploring.
Other Great Places To Find California Petrified Wood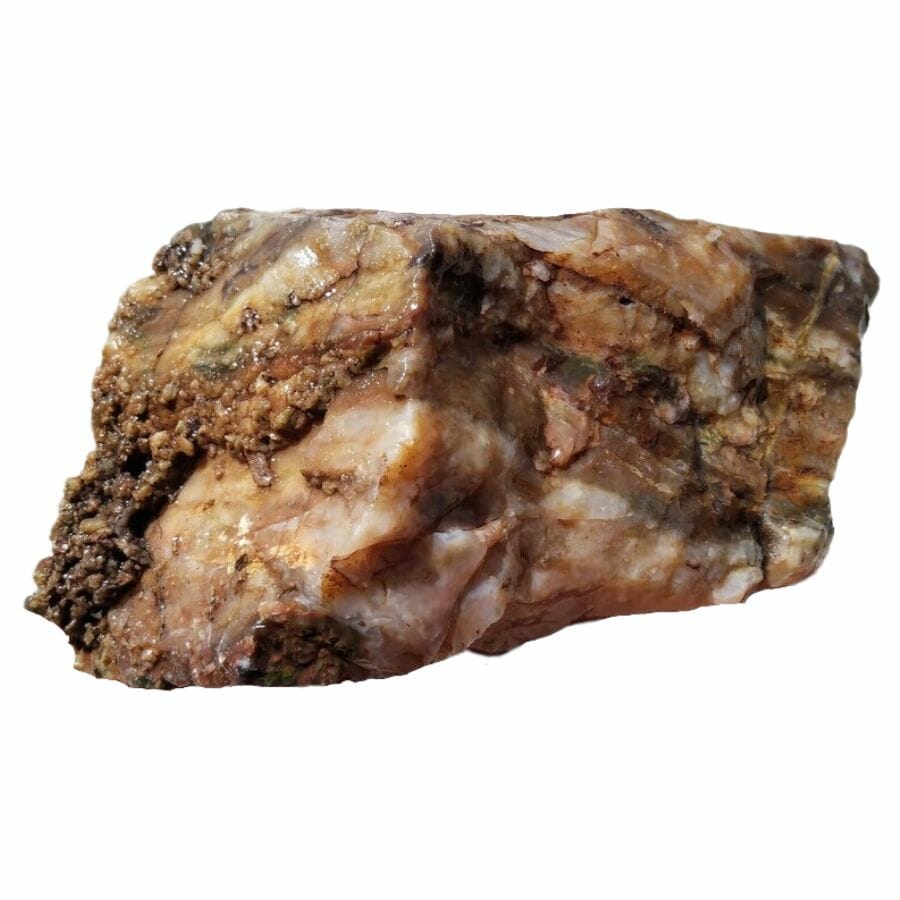 If you've ever wondered how to find petrified wood, it's all about knowing where to look and what to look for.
Whether you're an experienced collector or just beginning your rockhounding journey, the Golden State's landscape is ready to reveal its secrets. Below is a list of different spots, arranged by county to make them easier to navigate.
| | |
| --- | --- |
| County | Location |
| Amador County | Volcano Mining District |
| Calaveras County | Campo Seco area |
| Calaveras County | Valley Springs area |
| Del Norte County | Crescent City area beaches |
| Fresno County | Coalinga creek bed |
| Glenn County | Black Butte Lake (Black Butte Reservoir) |
| Imperial County | Midway Well, Paymaster Mining District, Chocolate Mountains |
| Imperial County | Andrade area |
| Imperial County | Glamis area |
| Imperial County | Ocotillo area |
| Imperial County | Ogilby area |
| Imperial County | Palo Verde area |
| Imperial County | Winterhaven area |
| Imperial County | Kane Springs clay hills |
| Kings County | Avenal area |
| Lassen County | Susanville area |
| Lassen County | Westwood area |
| Lassen County | Whitinger Mountain area |
| Lassen County | Willard Creek, Little Fredonyer |
| Lassen County | Susanville |
| Madera County | Panoche Hills |
| Modoc County | Eagleville area |
| Modoc County | Fort Bidwell area |
| Modoc County | Jacks Butte area |
| Modoc County | Janes Reservoir area |
| Modoc County | Lake City area |
| Nevada County | Grass Valley area |
| Nevada County | Newport Beach area |
| Nevada County | Brady Ranch, Red Dog, You Bet Mining District |
| Nevada County | Blue Tent mining camp |
| Orange County | Newport Beach beaches |
| Riverside County | Mojave River Road, Afton Canyon, Afton, Cady Mountains |
| Riverside County | Goffs |
| Riverside County | Petrified Wood Outcrop Mine, Woods Mountains |
| San Luis Obispo | Nipono area |
| Santa Barbara County | Goleta |
| Santa Barbara County | Santa Maria |
| Shasta County | Bella Vista area |
| Shasta County | Round Mountain area |
| Sisikyou County | Hornbrooke, along Jenny Creek |
| Siskiyou County | Cinnabar Camp, Klamath Mountains |
| Sonoma County | Petaluma, along Adobe Creek |
| Trinity County | Ruth area |
| Trinity County | Trinity River |
General Areas You Should Try
If you're curious about where to find petrified wood in California, you're in for a treat! Petrified wood isn't just a thing of museums; it's out there waiting for us to discover it.
Petrified forests
Hey rock lovers, let's chat about petrified forests and why they're like treasure islands for collectors like us! So, when trees get buried by stuff like ash or mud, minerals in the water start a cool swap-out.
They take the place of the tree's organic material and over time, you've got yourself a tree-turned-stone.
Petrified forests are full of these stone trees. Imagine walking through a forest where the logs and stumps aren't just old, they're ancient and solid as a rock! That's what makes these places a goldmine (well, a woodmine) for collectors.
You can find chunks of petrified wood in all shapes, sizes, and colors. And here's a bonus: each piece tells a story of a time long, long ago, making them not just pretty, but packed with history.
Now, if you're thinking of pocketing a ton, hold your horses! While these parks are awesome to explore, taking wood from them is a no-no. But don't sweat it. There are spots nearby (like local shops) where you can snag a piece to call your own.
Rivers, streams, and creeks
These flowing waters are like nature's movers and shakers. When they flow, they pick up bits of everything, including petrified wood that's been hidden away in the earth.
As water moves, it erodes the soil and can uncover buried treasures. That's why, along riverbeds and stream banks, there's a good chance of stumbling upon these ancient wooden gems.
But there's a little trick to it: slow and shallow areas, like the sides of creeks or bends in rivers, are prime spots. That's where the water takes a breather, dropping off its heavy load.
So, lace up those shoes and head to the nearest waterway. With a keen eye and a bit of patience, you might just snag a piece of history, turned to stone and waiting just for you. Happy rockhounding by the water's edge!
Volcanic deposits
Volcanoes don't just produce lava and eruptions; they also play a neat trick in preserving ancient trees.
Here's the scoop: when a volcano goes kaboom, it releases ash and other materials. These can quickly bury everything in their path, including forests. Trees get covered in a flash (literally), cutting them off from oxygen.
That's step one in the petrification process.
As time rolls on, the buried logs soak up minerals from groundwater. Slowly but surely, these minerals replace the wood's organic bits, turning the logs into stone. And, thanks to that volcanic blanket, the petrified wood is super well-preserved!
So, for collectors, volcanic areas are like time capsules. You're not just finding any petrified wood; you're finding pieces with stellar details and vibrant colors. It's nature's art at its finest.
In a nutshell, if you're dreaming of scoring some top-notch petrified pieces, head to where the volcanoes once rumbled. You're bound to unearth some fiery finds!
Desert regions
Deserts have super low moisture, which means less vegetation to cover the ground. This bareness lets petrified wood stand out, almost like they're waving hello.
Back in the day, many of these arid places were once lush and full of life. But as time rolled on, trees fell and got buried by sediment. Without moisture to speed up decay, these trees took their sweet time turning to stone.
The desert's dry climate helped slow down the rotting process, making it easier for the trees to become fossilized (that's a fancy way of saying "turned to stone").
Now, when erosion kicks in, the ground slowly wears away, revealing these ancient stone logs. So, every time you're wandering a desert and stumble upon a piece of petrified wood, you're basically getting a glimpse of nature's time capsule.
Common Questions About Finding Petrified Wood In California
Here are the answers to some of the usual questions about petrified wood in California.
How old is petrified wood in California?
Petrified wood in California, especially in the Petrified Forest located in Calistoga, has an impressive age. This preserved ancient forest is a result of a volcanic explosion at Mount St. Helena that occurred around 3.4 million years ago.
The eruption blanketed the area in volcanic ash and material, which started a slow process of turning the trees into stone.
The process of petrification didn't happen overnight. It took thousands of years for the wood to become petrified. Minerals slowly replaced the organic materials in the wood, preserving the original structure and appearance.
Over time, this created the beautiful and intricate petrified logs we see today.
Can you find petrified palm wood in California?
California's not just home to the usual suspects of petrified wood, but it's has its share of petrified palm wood too. Way back in the day, parts of California were tropical havens, perfect for palms.
Petrified palm wood is a real treat for collectors. Unlike regular petrified wood, this stuff has cool patterns that kinda look like little dots or stars. That's because of the way palm trees grow with bundled fibers, making a unique pattern when petrified.
Now, while it's not as common as other types of petrified wood, with a keen eye and a bit of luck, you can stumble upon these ancient palm treasures in certain spots around the state.
The Best Places To Buy Petrified Wood In California
There's an easier way to get your hands on a nice piece of petrified wood. Visit local California shops that sell great selections of petrified wood and other rocks and minerals. You can check out the best ones below: