Known for its beautiful purple hue and unique crystalline structure, Amethyst has been highly valued throughout history. But just as with any other treasure, finding it on your own can be a challenging and time-consuming task if you don't have the right guide.
If you're planning to try your luck finding Amethyst in South Carolina, we've put together this helpful guide that will point you to the top places for your journey. With our guidance, you can discover the joy of finding your own gem and experience the thrill of unearthing one of nature's most beautiful treasures.
What is South Carolina Amethyst?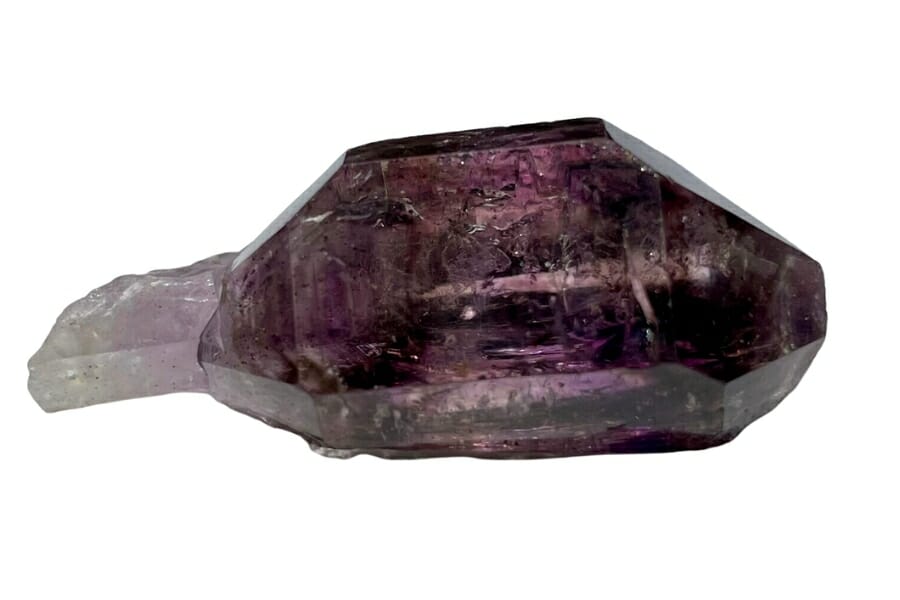 Belonging to the quartz family, Amethyst is a crystalline mineral that's highly valued for its beauty and unique physical properties. Its purple color is caused by the presence of iron and other trace elements in its crystal structure. The shade of purple can vary from light lilac to deep violet, depending on the location and conditions of formation.
Amethyst is typically found in geodes or vugs, which are cavities or pockets inside rocks. These formations can be found in a variety of locations, including volcanic rocks, limestone, and granite.
Because of its allure and stunning looks, it is commonly used in jewelry, and is also popular among those who practice meditation and other spiritual practices due to its believed healing properties.
While Amethyst can be found in many locations around the world, finding high-quality specimens can be particularly difficult. Luckily, South Carolina is home to a number of spots where these natural wonders can be found.
How We Know About Great Locations For Amethyst in South Carolina
The best locations to find amethyst in South Carolina can be closely guarded secrets. Fortunately, we've been around long enough to know where many of the best spots are to find it. We might not know every one out there but we know some pretty good ones. The key factors in our recommendations are:
The deep experience and understanding of our team about the area
Recommendations from local groups and clubs
How easy it is to get the a particular location
Safety and potential hazards when collecting
Weighing private and public locations
The ability for both experienced and novice amethyst enthusiasts to find great samples
With these factors in mind we've been able to put together a fantastic list that just about anyone can use!

The Best Spots To Find Amethyst in South Carolina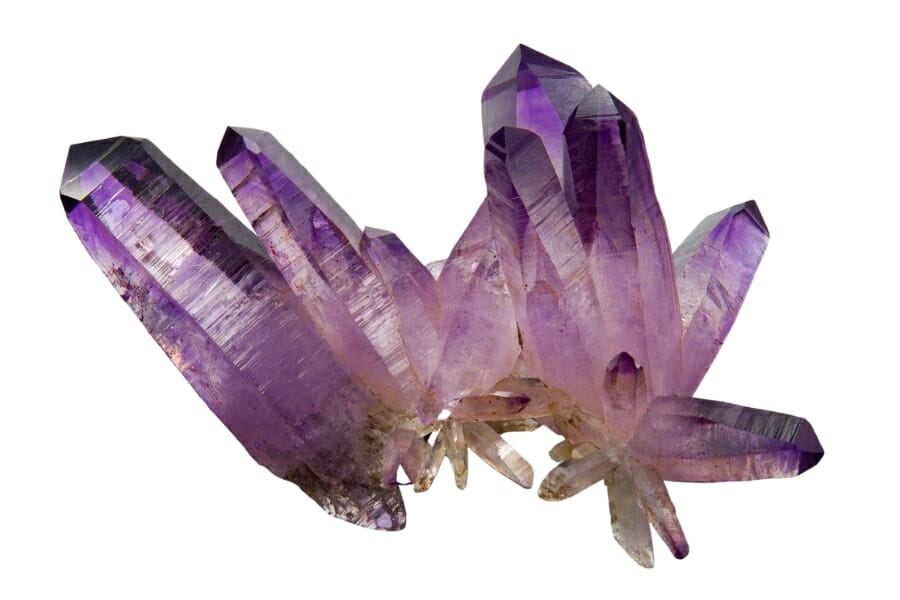 We've scoured our state to find the top places for Amethyst mining here. And while there's an abundance of great places to mine gems in South Carolina, not all of them have Amethysts, so make to checkout the spots we will share with you below.
Always Confirm Access and Collection Rules!
Before heading out to any of the locations on our list you need to confirm access requirements and collection rules for both public and private locations.
These requirements are subject to change without notice and may differ from what we state below.
Always get updated information directly from the source ahead of time to ensure responsible rockhounding.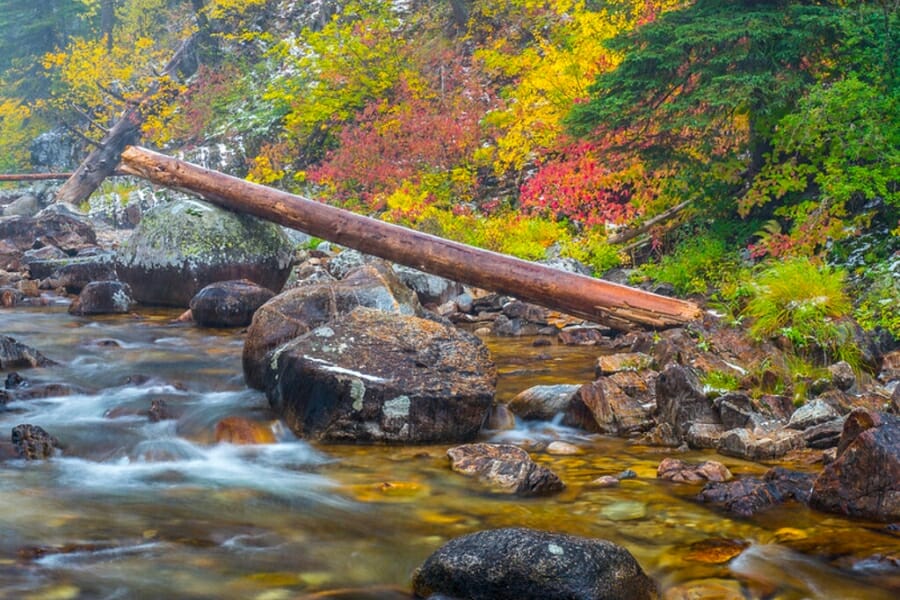 Located in the northwestern part of South Carolina, Abbeville County is a beautiful place to visit, with a mix of stunning geography and diverse terrain. It's characterized by rolling hills and lush forests, and is also home to a number of lakes and rivers, making it a great place for outdoor activities like fishing and kayaking.
As far as geology goes, this county has a lot to offer. Its area is rich in minerals, and one of the most sought-after specimens here is amethyst. You can also find a variety of other gemstones and fossils scattered throughout the region, which you can take home with you as long as you comply with our state's collecting guidelines.
Where we found amethyst in Abbeville County
This county is truly blessed to have plenty of Amethyst mining spots that you are welcome to visit and explore, such as the following:
Antreville area
Ellis-Jones Amethyst Mine in Due West
Barnes property in Lowndesville
McCalla farm in Lowndesville
J.T. Algary Farm in Donalds
Diamond Hill Quartz Mine
Rocky River Mine
There are several solid locations here making it one of our top amethyst mining locations.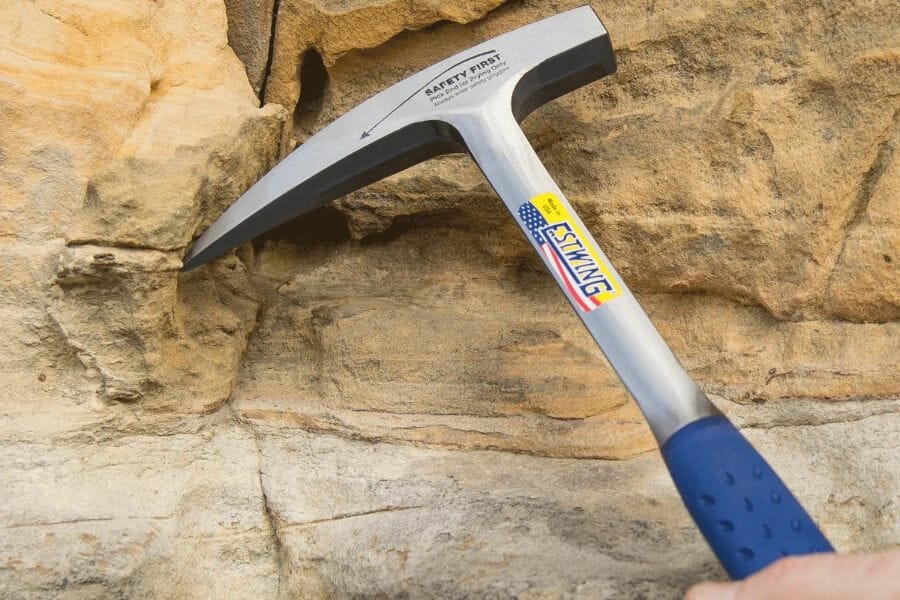 The tools every amethyst hunter will need
When you're out looking for amethyst having the right tools for the job is really going to make or break your success. You don't need a lot for most trips but there are a handful that are critical and will make your life a lot easier.
We get asked a lot about the equipment we use. Over the years we've found a handful of tools that we recommend to both new and experienced amethyst hunters which we outline in great detail in our complete rockhounding tools and kit guide. These are quality options that also happen to be relatively inexpensive.
Below are the basic tools that make your life so much easier and save you a ton of time. Check out the full guide to see everything we recommend bringing. One quick note, as an Amazon Associate I earn from qualifying purchases but we try very hard to only recommend gear we would use ourselves and often recommend brands you can't find on Amazon.
At a minimum you should have:
1 - Sturdy rock hammer: The Estwing Rock Pick is our standard
2 - Rugged chisels: Try Kendo' 3-piece Chisel Set
3 - Compact shovel: The Koleiya 28-inch shovel works well
4 - Rock screen pan: The Wazakura Soil Sieve Set fits the bill
5 - Eye protection: DeWalt Safety Glasses are cheap and comfortable
6 - Head protection: Malta's Safety Helmet has been our go-to
7 - Jewelers lens with at least 20x magnification: Jarlink's Jewelers Loop is perfect
The amethyst-finding books that we use most
There are also a few books that have been extremely helpful in the search for gems. These books have great recommendations and tips:
National Audubon Society Field Guide to Rocks and Minerals: North America 
Southeast Treasure Hunter's Gem & Mineral Guide 
Earth Treasures: The Southeastern Quadrant 
We provide links to find these tools on Amazon but some can also be found at your local hardware stores. For more recommendations check out the link to our full tool guide above.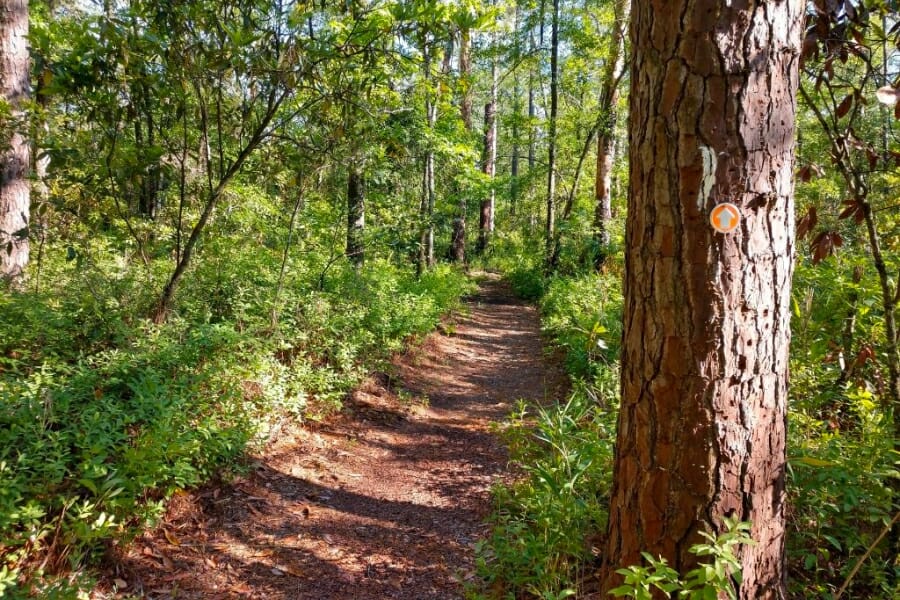 Horse Creek valley is located in the northwest part of our state, and it's known for its rugged terrain and stunning natural beauty. The area has rolling hills, dense forests, and rocky outcroppings that make it a great destination for outdoor enthusiasts.
But that's not all— Horse Creek Valley is also home to some fantastic geological features, including a variety of minerals and gemstones, including amethyst, which can be found in various locations throughout the valley.
Getting to Horse Creek Valley is relatively easy, as it's located just a short drive from major cities like Greenville and Columbia.
Where we found amethyst in Horse Creek Valey
When you visit Horse Creek Valley, you can find amethysts in area float and gravel pits of the area. You can also visit Perry Gravel Company for more specimens.
If you're wondering how much is Amethyst worth, visit our full pricing guide.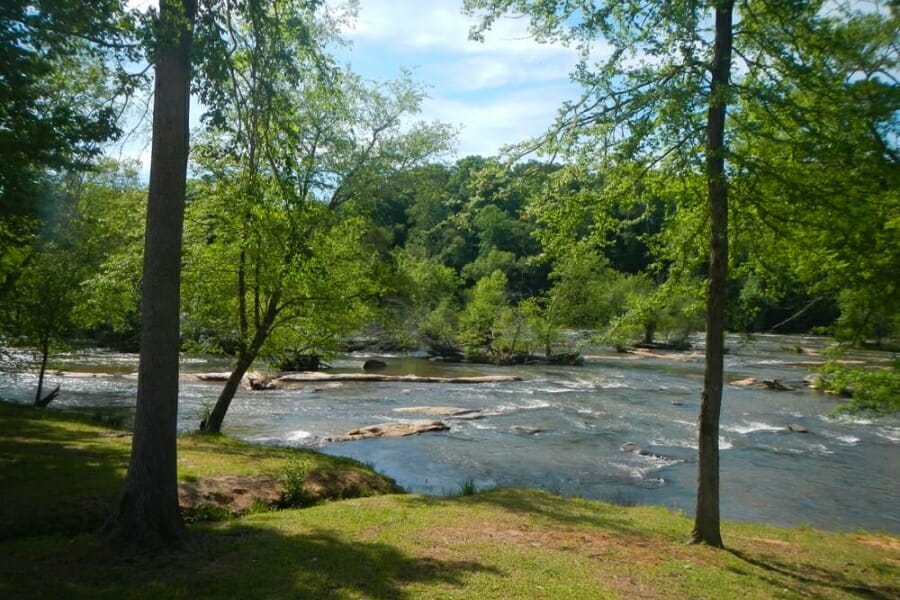 Known for its rolling hills, dense forests, and winding rivers, Anderson County is the perfect place to escape from the hustle and bustle of city life and enjoy some time in nature. From rolling hills to dense forests to sparkling lakes and rivers, there's something for everyone here.
But what will really catch your attention is the area's geology. This county is home to a wide variety of minerals and gemstones, including amethyst. When you visit here, you'll definitely want to explore the area's many creeks and streams to try your luck at finding some of these beautiful purple crystals.
Where we found amethyst in Anderson County
We highly recommend visiting and exploring the following specific spots in Anderson County to get your hands on some Amethyst specimens:
SR-28 almost to border of Abbeville County
Highway 28 where road cuts dike near lake
Sherard Property in Iva
Moffetsville area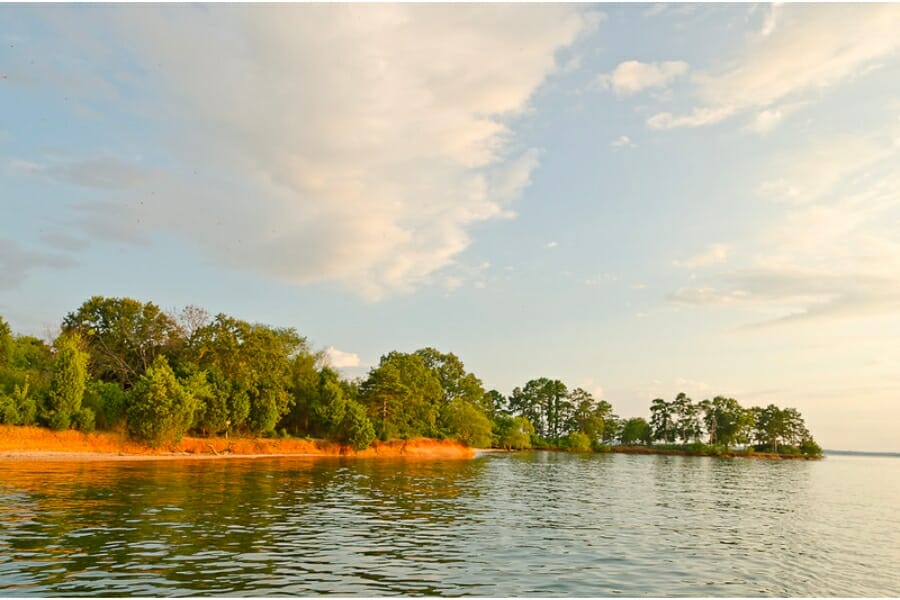 Located in the central part of our state, Lake Murray is a sprawling body of water that's surrounded by some of the most beautiful natural scenery you'll find anywhere. Characterized by rolling hills, dense forests, and rocky outcroppings, this area is definitely a great destination for outdoor enthusiasts.
Aside from its stunning views, Lake Murray is also home to a variety of interesting geological features, including a number of minerals and gemstones such as amethyst. What's best of all is that you can easily reach this place through a short drive from major cities like Columbia and Lexington.
Where we found amethyst at Lake Murray
Explore along the east shore of Lake Murray in Ballentine where you can find abundant specimens of amethyst.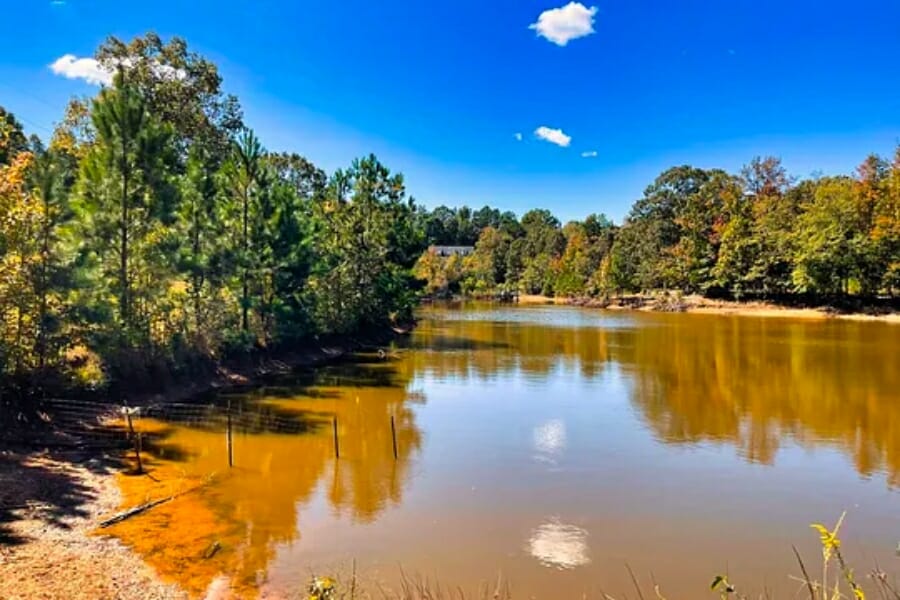 Greenwood County is a hidden gem that's waiting to be explored! Located in the western part of our state, this county is characterized by its rolling hills, lush forests, and sparkling waterways. It's a beautiful destination that's perfect for anyone who loves the outdoors.
Greenwood County is home to a variety of minerals and gemstones, including amethyst. If you're interested to go here to find South Carolina amethysts, you can drive from major cities like Greenville and Columbia to reach this place.
Where we found amethyst in Greenwood County
To find amethyst in Greenwood County, explore the following spots:
Wrenn property
Numerous exposures, outcrops, fields on the northeast part of the county
Area fields and cut banks of Shoals Juction
R.M. Haddon property
R.W. Dunn property
Float near Lake Greenwood
Other Great Places To Mine For Amethyst in South Carolina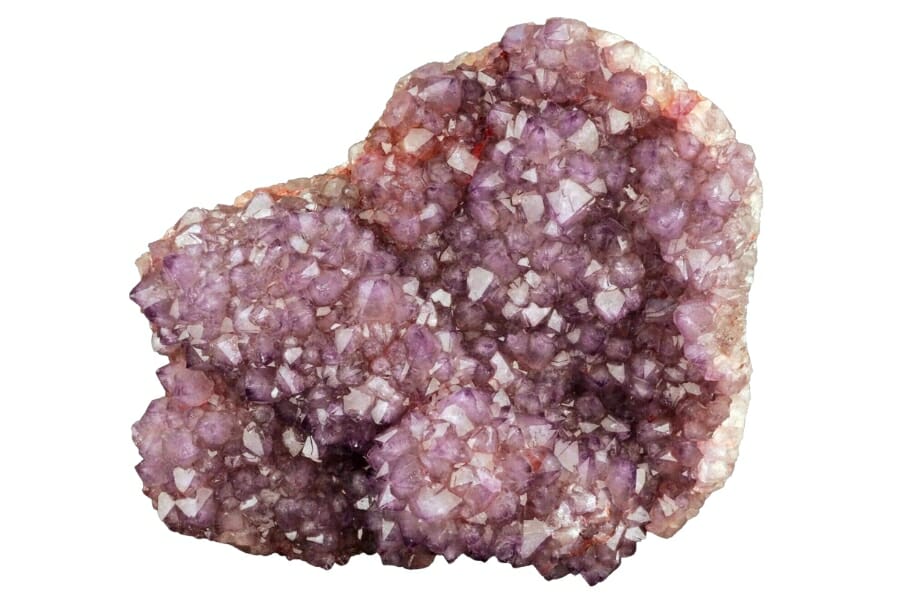 Our top suggested places for where you can find amethyst in South Carolina are not the only ones you can explore. In fact, there are a few other great spots where you can mine amethyst here. And we've listed them down by county to make it easier for you.
Our recommendations by county
| | |
| --- | --- |
| County | Location |
| Aiken | Clearwater area gravel pits |
| Cherokee | Near the Buffalo Church on the W.T. Gibbons property and adjacent streams |
| Cherokee | At the Barkat Mine in Kings Creek |
| Laurens | In the fields to the right of the road in Cross Hill |
| Laurens | At the Princeton spring |
| Union | In Jonesville area |
Additional areas you can find amethyst
You may find that some of our recommendations cover areas that may be too wide to explore, so to help you narrow down your search, here are some of the most common areas where amethyst abounds. We suggest visiting these places when you get here.
Lake Shores
Lake shores are particularly great spots to find amethyst because the constant motion of its water can wash up all sorts of interesting stones and minerals. The geology of lake shores can also be varied, which means that there's a higher likelihood of finding a variety of other gemstones.
One of the great things about searching for amethyst on lake shores is that it's a fun and relaxing activity. There's nothing quite like wading through the water and feeling the coolness of the lake on your feet while you search for gems. Plus, you never know what you might find— it could be a small amethyst crystal or a larger, more intricate piece.
Road Cuts
Road cuts are areas where rock and soil have been removed to create a roadway, and they can be great places to find gemstones. These areas often expose geological formations that might otherwise be hidden underground. These formations can contain a variety of minerals and crystals, including amethyst.
Another reason why road cuts are a great place to search for amethyst is that they are accessible. Unlike some other locations, which might require hiking or specialized equipment, road cuts can often be accessed from the side of a road.
This means that you can explore these areas without too much difficulty, and you might even be able to make a quick stop on a road trip to do some collecting.
Streams and Creeks
Stream and creek hunting for amethyst can be a lot of fun— and success— for collectors. These bodies of water have the potential to carry loose amethyst specimens downstream, especially after a heavy rainfall.
Additionally, streams and creeks are typically found in areas with favorable geological conditions for amethyst formation, such as near mountains or other areas with ancient volcanic activity.
Many public lands have streams or creeks that are open for recreational use, so you can often find a spot to search without too much trouble. And, on a side note, searching for amethyst in the water can be a refreshing change of pace from more traditional land-based collecting methods.
Lake Beds
Lake beds can be a surprisingly fruitful spots for amethyst hunting. A lot of people may not realize that lakes are often formed by geological activity, such as ancient volcanic activity, which creates the right conditions for amethyst formation.
Over time, erosion can expose these amethyst deposits and carry them into the lake, where they can settle on the lake bed.
While searching for amethyst in lake beds may require a bit more effort than some other methods, it can be a great way to find some truly unique specimens. You'll need to get creative with your tools, as traditional rock hammers and chisels won't be of much use in the soft sediment of the lake bed.
But with some patience and determination, you may be able to uncover some beautiful amethyst crystals that have been hidden away for years.
Common Amethyst-Hunting Questions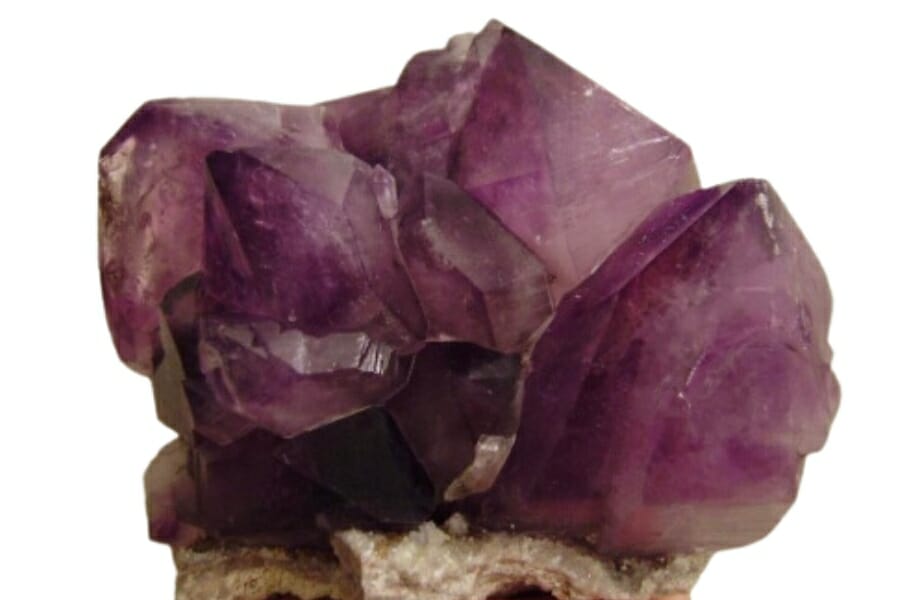 We'll answer some of the most common questions when it comes to South Carolina amethyst mining:
Where can you find Amethyst Geodes in South Carolina?
Despite having plenty of spots to find amethyst gems, unfortunately, amethyst geodes do not naturally occur in South Carolina. However, if you're keen on really taking home one, you can visit the rock and gem shops here. We've listed some of the best ones below.
Is it illegal to collect amethyst in South Carolina?
Collecting amethyst in South Carolina is legal for as long as you are obeying our state's local collecting guidelines. Also, make sure you are familiar and compliant with any rules and regulations in place to protect our environment and biodiversity.
The Best Places To Buy Amethyst In South Carolina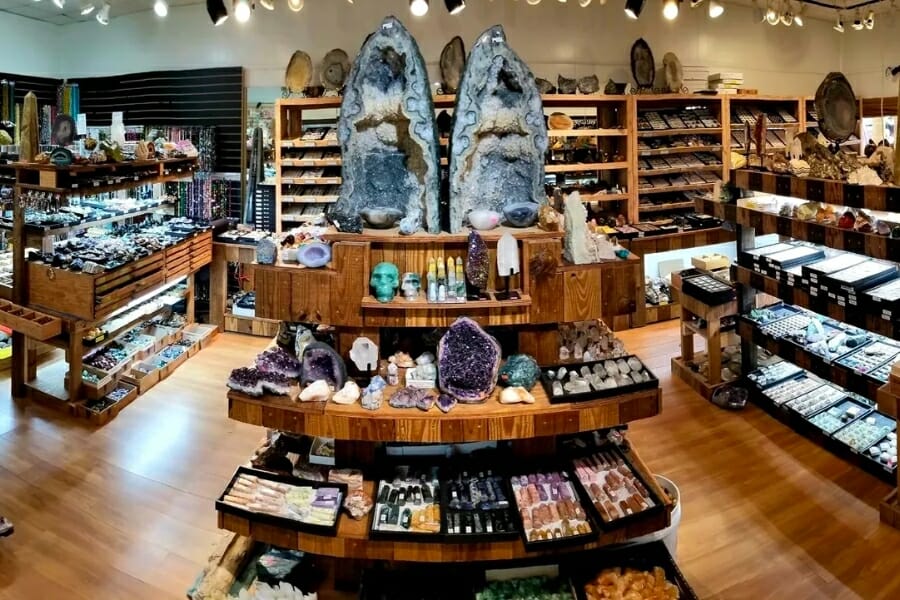 Nothing beats the thrill and excitement of finding amethyst in its natural environment, but this level of exploration is simply not for everyone. So if you prefer to take home a specimen without breaking a sweat, we recommend paying a visit to our local rock and gem shops here. Some of the best ones are as follows:
Pennies & Feathers Gemstones – 566 N Anderson Rd, Rock Hill, SC 29730
Gifu Crystal & Art Xchange, LLC – 510 U.S. 17 Business South Frontage Rd, Surfside Beach, SC 29575
Moonstone Crystal Shop – 165 Market Rd, Ladson, SC 29456
A&A Rockshop – 1614, 1624 W Main St, Lexington, SC 29072
Dixie Gem – 2517 Poinsett Hwy, Greenville, SC 29609
Peachy Keen Creations – 1108 King St, Charleston, SC 29401
Additional Places To Find Amethyst In Nearby States
Check out the guides we made for the nearby states where you can find amethysts as well:
If you have any recommendations for our list please leave a comment below!