With their mesmerizing patterns and vibrant colors, Agates are truly incredible gemstones that captivate the eye. Each specimen of this gem is a unique work of art, formed over millions of years. They're often polished to reveal their full glory, transforming them into exquisite jewelry pieces, decorative objects, or collectible specimens.
Because of its admirable beauty, Agates are usually highly-coveted. But finding one can be quite challenging without the right guidance, especially in a state like Wisconsin. Our vast wilderness and numerous rock formations make it easy to get overwhelmed and discouraged.
In this article, we'll guide you in your journey to find Agate in Wisconsin to ensure your successful hunting. Let's begin!
What is Wisconsin Agate?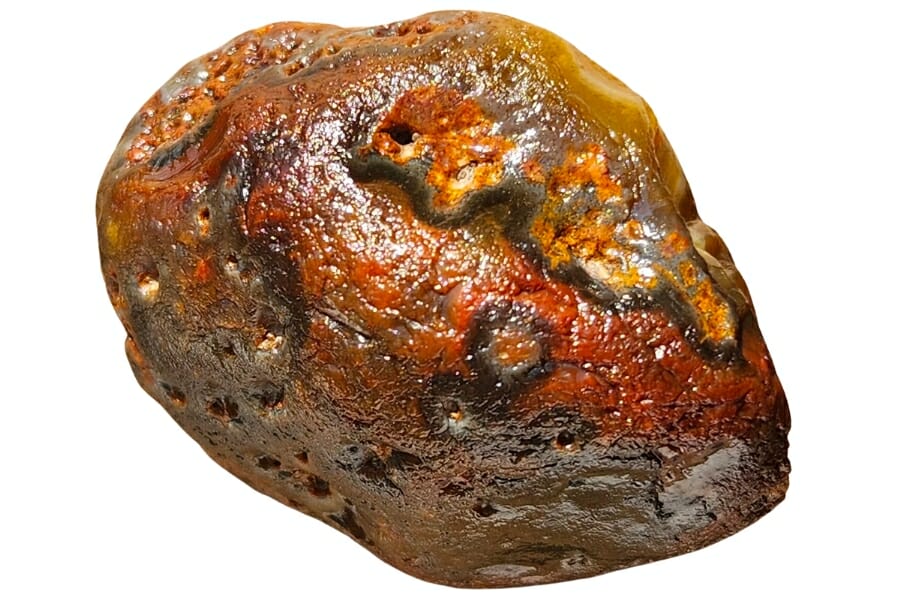 Agate is a type of chalcedony that's characterized by its banded appearance, with irregular patterns of different colors and opacity. It can display a wide range of hues, including earthy tones, vibrant reds, oranges, yellows, blues, and greens.
Deposits of this gemstone can be found in many countries, including Brazil, Uruguay, Mexico, India, Australia, and the United States. Within our country, among the notable agate-producing regions include Wisconsin. In fact, it's our state's unofficial State Gemstone.
Agate's timeless allure and natural elegance make them highly sought after by gem enthusiasts and collectors worldwide. In fact, Agate's price in the current market is a testament to its value.
Moss Agates
Moss Agate features unique, moss-like inclusions that give it a distinctive and organic appearance. Typically green, brown, or black, these inclusions resemble the patterns found in moss, hence the name. This variety is highly valued for its natural and earthy beauty, often used in jewelry and ornamental objects.
While it's possible to find Moss Agate in Wisconsin, they're fairly limited in number here compared to other kinds of this gemstone.
Fire Agates
Fire Agate is known for its play of colors that resemble the flickering flames of a fire. It's characterized by its iridescent and vibrant hues that range from rich oranges, reds, and yellows to deep blues and greens. It's treasured for its fiery and dynamic appearance, making it a popular choice for jewelry and lapidary work.
Unfortunately, Fire Agate is not commonly found in Wisconsin as it's associated more with regions in southwestern United States that have had volcanic activities.
Blue Lace Agates
Known for its delicate and intricate blue and white lace-like patterns, Blue Lace Agate is prized for its soothing and calming energy, as well as its gentle and ethereal appearance. It's often cut and polished to highlight its intricate patterns, making it a popular choice for jewelry and decorative pieces.
Like Moss and Fire Agate, Blue Lace Agate is not typically found in Wisconsin as our state's geology does not have the specific conditions necessary for its formation.
Lake Superior Agates
Lake Superior Agate is known for its distinct red, orange, and yellow bands, often set against a background of translucent Quartz. Luckily, you can find this variety in Wisconsin specifically in our northern coastline. You can search for them on beaches, riverbeds, and gravel pits in our region.
It's important to get familiar with the different spots where you can find Agate in our state before you head out here. While there are many crystal-mining sites in Wisconsin, not all of them also have naturally-occurring Agates.
How We Know About Great Locations For Agate in Wisconsin
With agates being so beautiful you can image that the best spots are not always advertised widely. In fact, it isn't unusual for good places to find agates to be secrets known by just a few locals. Fortunately, you do know someone who has been around the block!
The key factors in our recommendations are:
The deep experience and understanding of our team about the area
Recommendations from local groups and clubs
How easy it is to get the a particular location
Safety and potential hazards when collecting
Weighing private and public locations
The ability for both experienced and novice agate enthusiasts to find great samples
With these factors in mind we've been able to put together a fantastic list that just about anyone can use!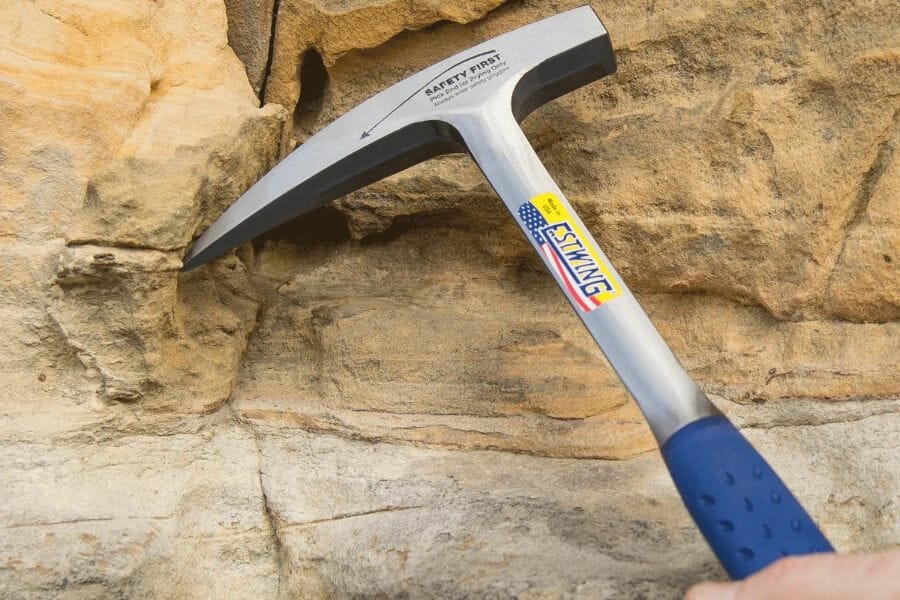 The tools every agate hunter will need
When you're out looking for agates having the right tools for the job is really going to make or break your success. You don't need a lot for most trips but there are a handful that are critical and will make your life a lot easier.
We get asked a lot about the equipment we use. Over the years we've found a handful of tools that we recommend to both new and experienced agate hunters which we outline in great detail in our complete rockhounding tools and kit guide. These are quality options that also happen to be relatively inexpensive.
Below are the basic tools that make your life so much easier and save you a ton of time. Check out the full guide to see everything we recommend bringing. One quick note, as an Amazon Associate I earn from qualifying purchases but we try very hard to only recommend gear we would use ourselves and often recommend brands you can't find on Amazon.
At a minimum you should have:
1 - Sturdy rock hammer: The Estwing Rock Pick is our standard
2 - Rugged chisels: Try Kendo' 3-piece Chisel Set
3 - Compact shovel: The Koleiya 28-inch shovel works well
4 - Rock screen pan: The Wazakura Soil Sieve Set fits the bill
5 - Eye protection: DeWalt Safety Glasses are cheap and comfortable
6 - Head protection: Malta's Safety Helmet has been our go-to
7 - Jewelers lens with at least 20x magnification: Jarlink's Jewelers Loop is perfect
The agate-finding books that we use most
There are also a few books that have been extremely helpful in the search for gems. These books have great recommendations and tips:
National Audubon Society Field Guide to Rocks and Minerals: North America 
Northeast Treasure Hunter's Gem & Mineral Guide 
Earth Treasures: The Northeastern Quadrant 
We provide links to find these tools on Amazon but some can also be found at your local hardware stores. For more recommendations check out the link to our full tool guide above.
The Best Spots To Find Agates in Wisconsin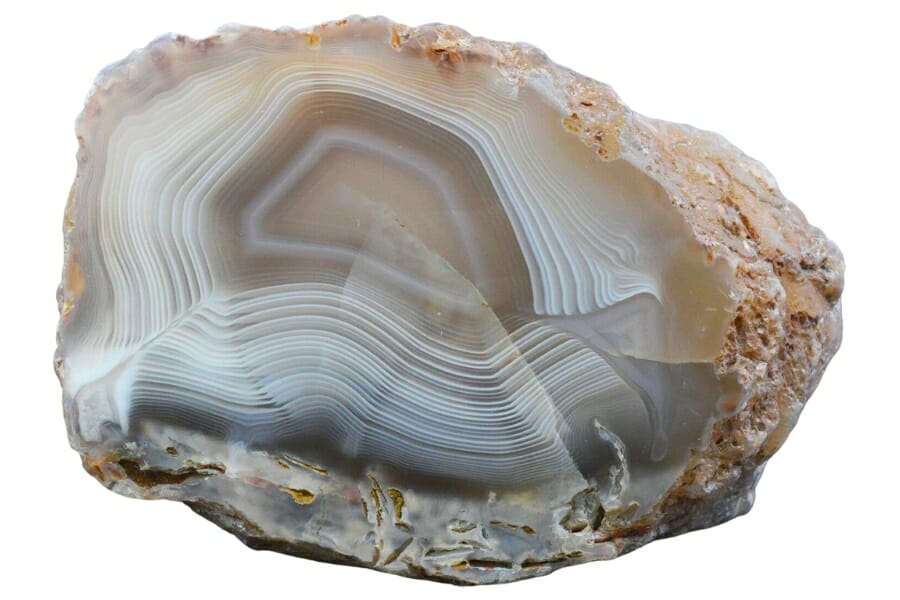 Our state is incredibly blessed with natural wonders, so much so that we have plenty of gem mine sites in Wisconsin. However, if you want to narrow down your search to only Agates, below are our most highly-recommended spots:
Always Confirm Access and Collection Rules!
Before heading out to any of the locations on our list you need to confirm access requirements and collection rules for both public and private locations.
These requirements are subject to change without notice and may differ from what we state below.
Always get updated information directly from the source ahead of time to ensure responsible rockhounding.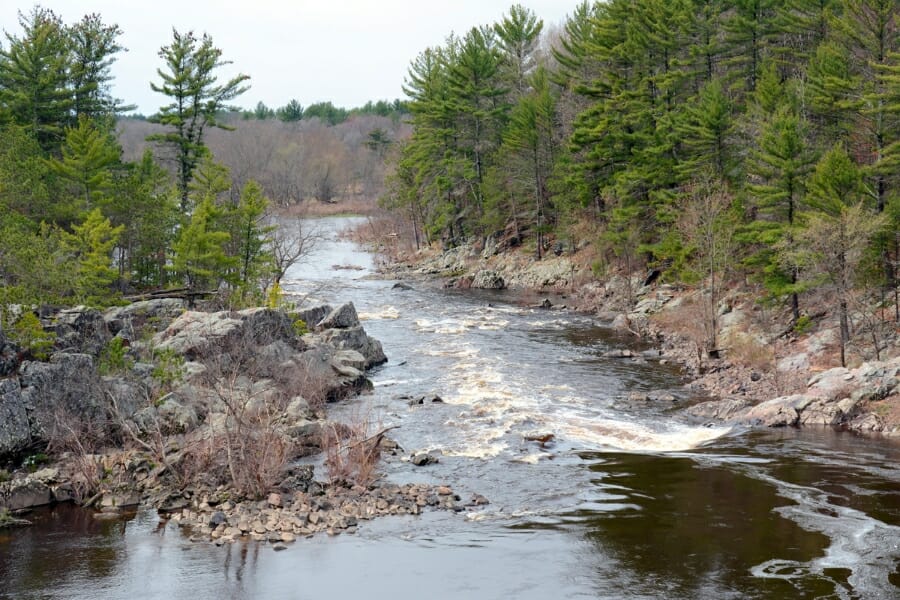 Black River holds both adventure and treasure for those willing to explore its waters. The river winds its way through the western part of our state, meandering through forests, valleys, and picturesque landscapes.
As you venture along this river's course, you'll encounter stretches of calm waters as well as exciting rapids. Lush forests, rocky outcrops, and sandy shores surround the river, offering a variety of landscapes to explore.
Black River cuts through layers of sedimentary rock, exposing ancient formations and revealing hidden treasures. You can find stunning samples of Agate here and in its tributaries.
Getting here is relatively easy, too, as it's accessible by road with various entry points along its course. Just make sure you familiarize yourself with Wisconsin's latest collecting guidelines before beginning your expedition here.
Where we found agates in the Black River
You can comb and sift through the gravels of Black River and its tributaries to uncover stunning Agates with their intricate patterns and vibrant colors.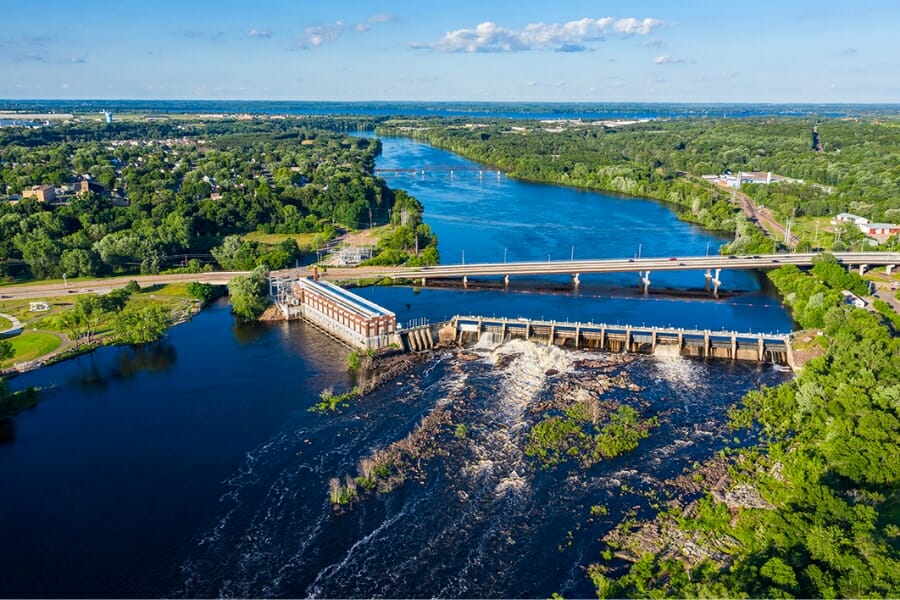 Chippewa Falls is a vibrant and charming city situated along the banks of the Chippewa River. The river meanders through the city, offering breathtaking views and abundant recreational opportunities. Rolling hills, lush forests, and the river's gentle flow make this city as picturesque as can be.
Whether it's hiking along scenic trails, biking through the countryside, or kayaking on the river, there's something for everyone at Chippewa Falls. The city has been known to yield beautiful Lake Superior Agates.
Reaching Chippewa Falls is a breeze, as it's conveniently located near major highways.
Where we found agates in the Chippewa Falls
We recommend exploring the area gravel pits of Chippewa Falls to find stunning samples of Lake Superior Agates.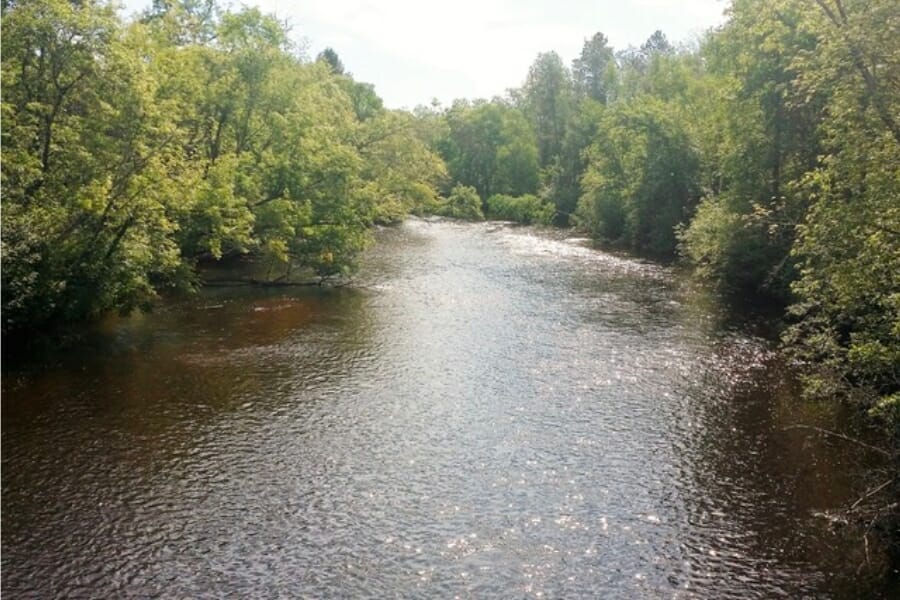 The picturesque Ounce River winds its way through a scenic landscape. Its rolling hills, dense forests, and rocky outcrops create a breathtaking backdrop as the river gracefully meanders through the terrain.
Along the Ounce River, you can find a mix of tranquil stretches and exciting rapids. It's a playground for outdoor enthusiasts, with hiking trails that allow you to immerse yourself in the beauty of the surrounding nature.
The river flows through areas rich in sedimentary rock, creating ideal conditions for Agate formation, so this is a great place to find these gemstones. What's more is that there are well-maintained roads that provide access to this area, so getting to Ounce River is pretty easy.
Where we found agates in the Ounce River
Scour through the banks of Ounce River to find samples of Agates, especially brown-colored ones.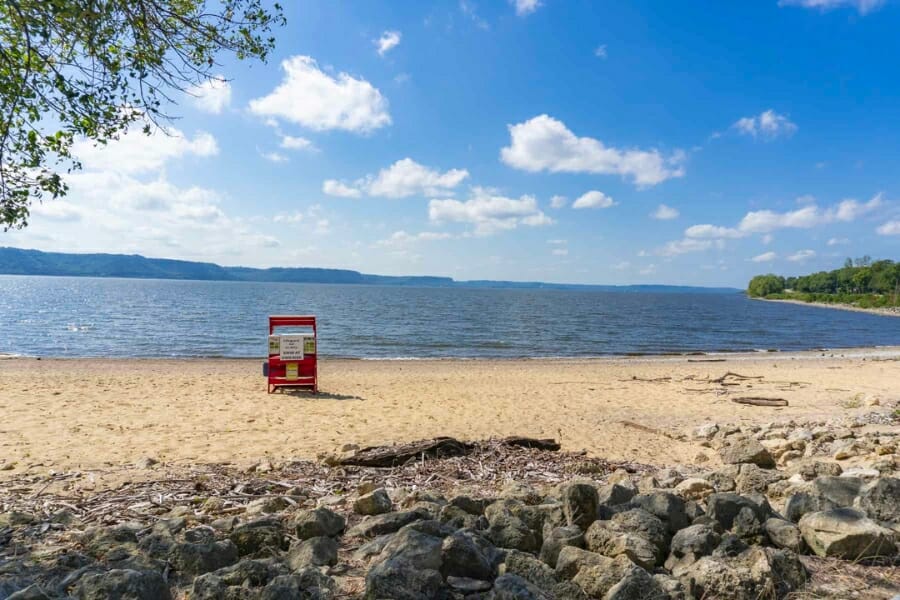 The stunning beaches of Lake Pepin are more than just a sight to behold— they're also great places to find Agates. Lake Pepin itself, a picturesque widening of the Mississippi River, boasts of pristine sandy shores, crystal-clear waters, and breathtaking views.
When you go here, you'll see rolling hills, lush forests, and the expansive lake that stretches as far as the eye can see. The area also has a mix of sandy stretches, rocky outcrops, and peaceful coves.
Lake Pepin's geological history has also contributed to the formation of Agates along its shores. If you want to go here to find them, you can easily do so since this area has several access points and parking areas.
Where we found agates in the Lake Pepin Beaches
You can spend some time beachcombing through Lake Pepin's beaches to find amazing specimens of Agate.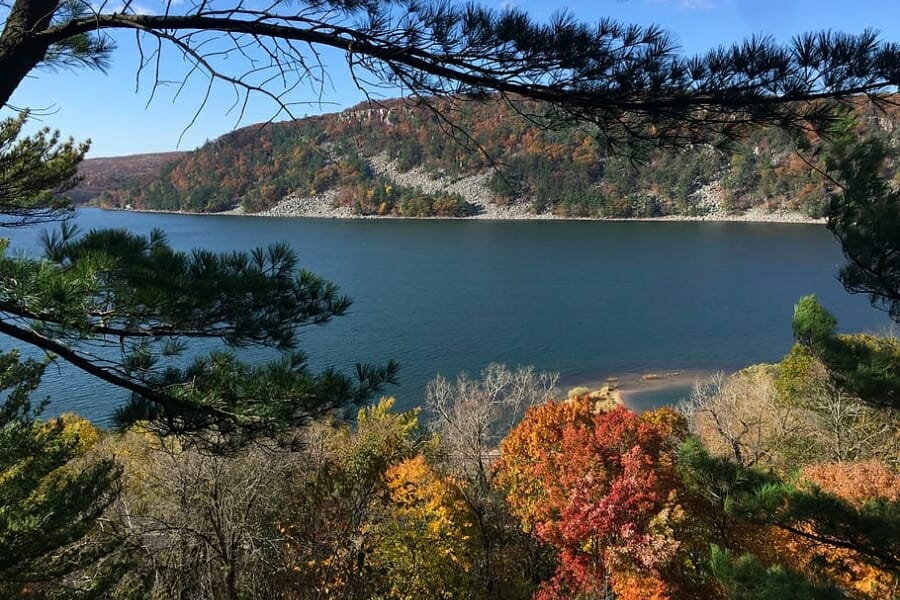 Nestled amidst picturesque landscapes, the Devil's Lake State Park is surrounded with stunning bluffs and cliffs, creating a breathtaking backdrop. The park has a diverse terrain, with rocky outcrops, lush forests, and serene meadows.
Hiking trails wind their way through the park, leading to magnificent viewpoints. Rock climbing enthusiasts are also drawn to its impressive bluffs, which provide challenging routes and exhilarating climbs. The park is also popular for water activities in the clear waters of Devil's Lake.
But a fascinating aspect of Devil's Lake State Park is its naturally-occurring Agates. These natural treasures add an element of excitement and wonder to the experience of exploring here. The park also offers well-maintained roads, ample parking areas, and clear signage, making it easily accessible for visitors.
Where we found agates in the Devil's Lake State Park
You can explore the expansive Quartz deposit in Devil's Lake State Park to find Lake Superior Agates.
Other Great Places To Find Agates in Wisconsin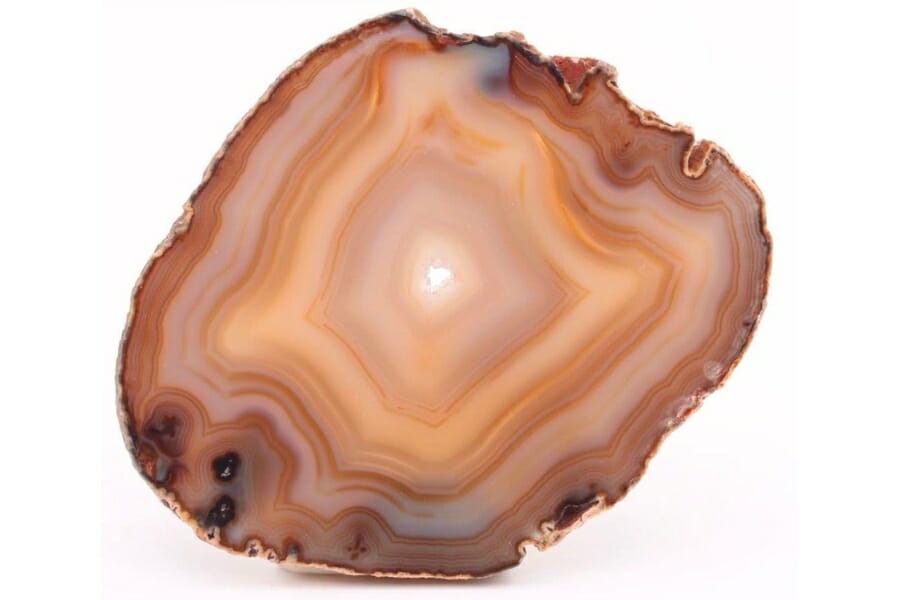 If you've already exhausted our initial recommended sites, fret not, because there are plenty other Agate-bearing spots in Wisconsin that you can visit. We've listed them by county below to make it easier for you to use this guide.
Our recommendations by county
| | |
| --- | --- |
| County | Location |
| Ashland | Regional streams and gravels |
| Bayfield | Stream gravels, pits, and excavations |
| Clark | Neillsville regional stream gravels |
| Crawford | Prairie Du Chien area quarries, stream gravels, excavations |
| Crawford | Prairie City Gravel Company |
| Crawford | Dillman Gravel Company |
| Douglas | Abandoned Weyerhauser Copper mines and dumps |
| Dunn | Menomonie area gravel pits and quarries |
| Grant | Cassville regional gravel deposits, quarries, stream beds |
| Grant | H. Turner & Son Gravel Company |
| Grant | Muscoda area quarries, stream gravels, pits |
| Iron | Regional stream gravels, gravel pits, excavations |
| La Crosse | Area quarries, gravel pits, stream gravels |
| La Crosse | Bluffs of the Mississippi River along entire west boundary of the state |
| Pepin | Durand area quarries and gravel pits |
| Pepin | Deer Island |
| Pierce | Rush River Gravel Company |
| Pierce | Weiser Sand and Gravel Company |
| Pierce | River Falls Sand & Gravel Company |
| Sauk | Baraboo area quarries and gravel pits, especially in the Baraboo Range |
| Sawyer | Ojibwa regional stream gravels |
| Sheboygan | Bluhm Gravel Pit |
| St. Croix | Broad area of Hudson to northeast to New Richmond |
| Washburn | Roadside fill gravels, road cuts, and area gravel pits of Spooner |
| Wood | Central part in stream gravels |
| Wood | Regional mine dumps |
Additional areas you can find agates
Pay extra attention to the following areas where Agate can usually be found. This is especially helpful is you're exploring places that cover wide perimeters.
Streams and Creeks
Streams and creeks offer a great opportunity to uncover Agates that have been polished by the water's movement over time. The water acts as a natural sorter, allowing Agates to settle in specific areas, such as gravel bars or along the riverbed. With a keen eye, you can spot them gleaming amidst the rocks and pebbles.
Lake Shores
Wisconsin's lake shores, particularly those along Lake Superior and Lake Michigan, are renowned for their abundance of Agates. These vast bodies of water have played a crucial role in shaping and depositing these gems along their shores over countless years.
Quarries
Quarries in Wisconsin are also some of the best spots to find Agates that have been preserved in their natural state, often untouched by the forces of erosion. The mining activities that take place in these quarries expose layers of sedimentary rock, where Agates are commonly found.
Common Agate-Hunting Questions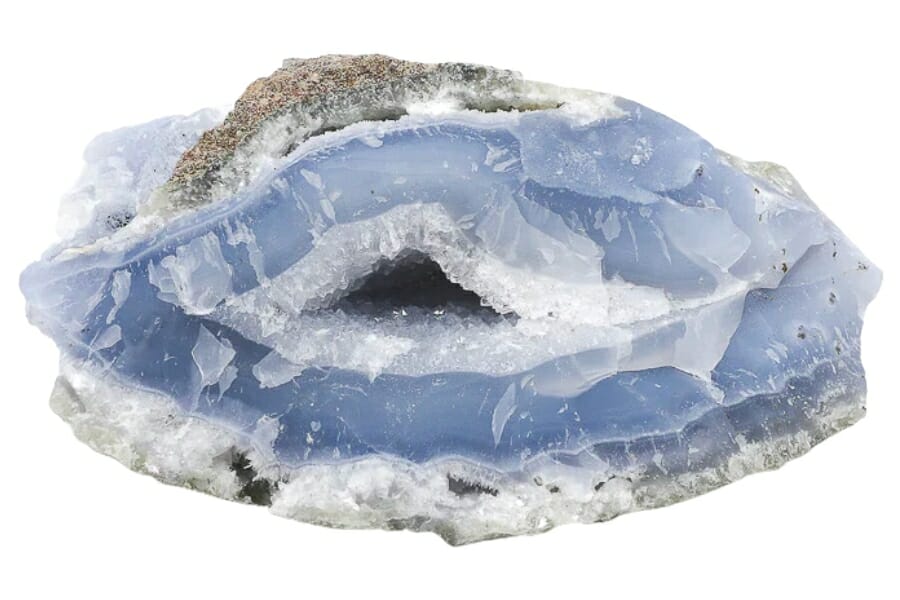 We'll answer some of the most common questions when it comes to Agate hunting in case you have the same queries in mind.
Is it illegal to collect agate in Wisconsin?
You may collect Agate in Wisconsin for as long as you ensure that you are following our state's local collecting guidelines. For example, collecting in state parks is strictly forbidden. You should also secure necessary permit or permission before starting any form of exploration.
The Best Places To Buy Agates In Wisconsin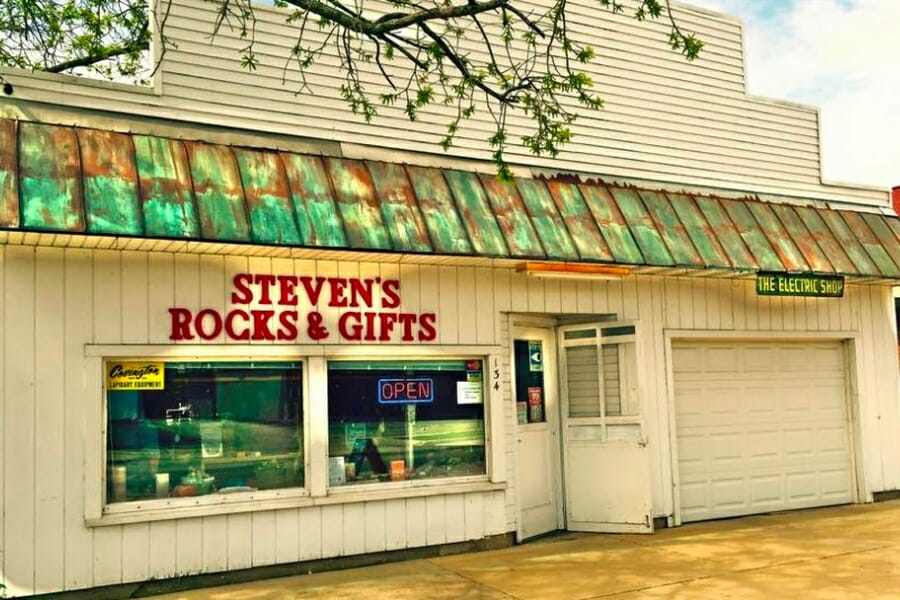 If you prefer a more relaxed way to marvel at Agates, with the potential of purchasing them, you're welcome to visit our local gem shops that offer great selections. Below are some of the best ones that we have:
If you have any recommendations for our list please leave a comment below!