Michigan is known for having a lot of agate deposits, even though they are often scattered and hard to find for inexperienced hunters. Most of the time, you can find agates in gravel pits, beaches, and riverbeds.
However, they are small and look like other rocks, so they can be challenging to spot. If you don't know enough about geology, the places where agates are most likely to be found, and how to identify them around the state, you could spend hours looking for them and not find any.
Lucky for aspiring agate hunters in Michigan, there are a lot of resources that could help you! Anyone with the right guidance and patience can have a fun adventure and find some of the state's hidden beauty.
What is Michigan Agate?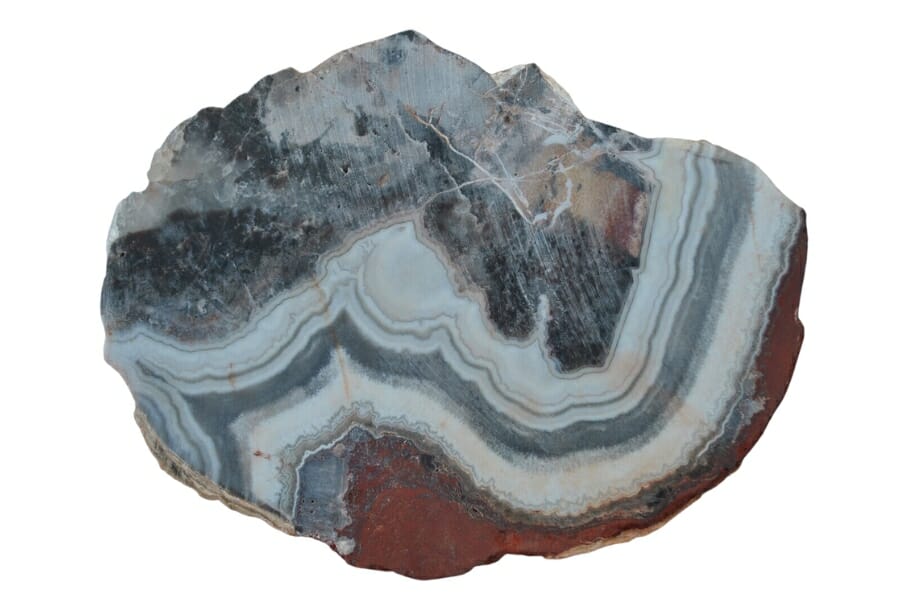 There are a lot of different and valuable Michigan rocks but agates are among the most beautiful and they come in many different colors and patterns. Because of how they are banded and transparent, collectors and enthusiasts love to find them.
Agates get their patterns from how minerals settle into holes in volcanic rock or other host rocks. This happens over a long time, sometimes millions of years, as water with dissolved minerals seep into the cavities and slowly crystallizes, layer by layer.
If you want to know how much agates are worth, use our article as a guide.
Moss agates
Moss agate is a unique variety of agate that showcases intriguing inclusions resembling moss or fern-like patterns. Mineral impurities, such as iron or manganese, that form dendritic structures within the agate create these inclusions.
These types of agates can be found in Michigan. The state is known for having many different agate deposits, and moss agates are one of them.
Fire agates
Fire agate is a beautiful and highly valued agate that looks like flames and sparkles. It has a unique mix of colors, like bright reds, oranges, yellows, and sometimes even blues and greens.
The mesmerizing iridescence comes from thin layers of limonite or goethite that bend and scatter light, making it look like flames flickering.
Fire agates aren't usually found in Michigan. Instead, they're most often found in certain parts of the southwestern United States.
Blue lace agates
Blue lace agate is a beautiful type known for its thin bands of blue and white. It's well known for how relaxing it looks. Tiny pieces of blue minerals, like chalcedony, quartz, or blue-copper minerals, give the stone its blue color.
While Michigan is known for its agate deposits, blue lace agate is uncommon in the state. Blue lace agate is more commonly associated with regions such as Namibia, South Africa, and Brazil.
Fire agates are beautiful agate with colors that shimmer like fire or opal. They're known for playing with light and bright colors to make a beautiful effect.
How We Know About Great Locations For Agate in Michigan
With agates being so beautiful you can image that the best spots are not always advertised widely. In fact, it isn't unusual for good places to find agates to be secrets known by just a few locals. Fortunately, you do know someone who has been around the block!
The key factors in our recommendations are:
The deep experience and understanding of our team about the area
Recommendations from local groups and clubs
How easy it is to get the a particular location
Safety and potential hazards when collecting
Weighing private and public locations
The ability for both experienced and novice agate enthusiasts to find great samples
With these factors in mind we've been able to put together a fantastic list that just about anyone can use!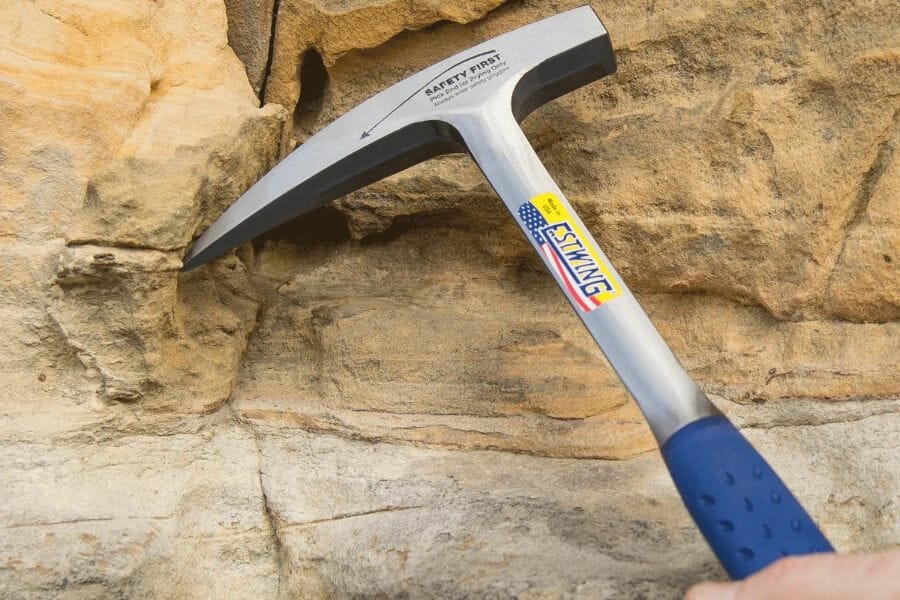 The tools every agate hunter will need
When you're out looking for agates having the right tools for the job is really going to make or break your success. You don't need a lot for most trips but there are a handful that are critical and will make your life a lot easier.
We get asked a lot about the equipment we use. Over the years we've found a handful of tools that we recommend to both new and experienced agate hunters which we outline in great detail in our complete rockhounding tools and kit guide. These are quality options that also happen to be relatively inexpensive.
Below are the basic tools that make your life so much easier and save you a ton of time. Check out the full guide to see everything we recommend bringing. One quick note, as an Amazon Associate I earn from qualifying purchases but we try very hard to only recommend gear we would use ourselves and often recommend brands you can't find on Amazon.
At a minimum you should have:
1 - Sturdy rock hammer: The Estwing Rock Pick is our standard
2 - Rugged chisels: Try Kendo' 3-piece Chisel Set
3 - Compact shovel: The Koleiya 28-inch shovel works well
4 - Rock screen pan: The Wazakura Soil Sieve Set fits the bill
5 - Eye protection: DeWalt Safety Glasses are cheap and comfortable
6 - Head protection: Malta's Safety Helmet has been our go-to
7 - Jewelers lens with at least 20x magnification: Jarlink's Jewelers Loop is perfect
The agate-finding books that we use most
There are also a few books that have been extremely helpful in the search for gems. These books have great recommendations and tips:
National Audubon Society Field Guide to Rocks and Minerals: North America 
Northeast Treasure Hunter's Gem & Mineral Guide 
Earth Treasures: The Northeastern Quadrant 
We provide links to find these tools on Amazon but some can also be found at your local hardware stores. For more recommendations check out the link to our full tool guide above.
The Best Spots To Find Agates in Michigan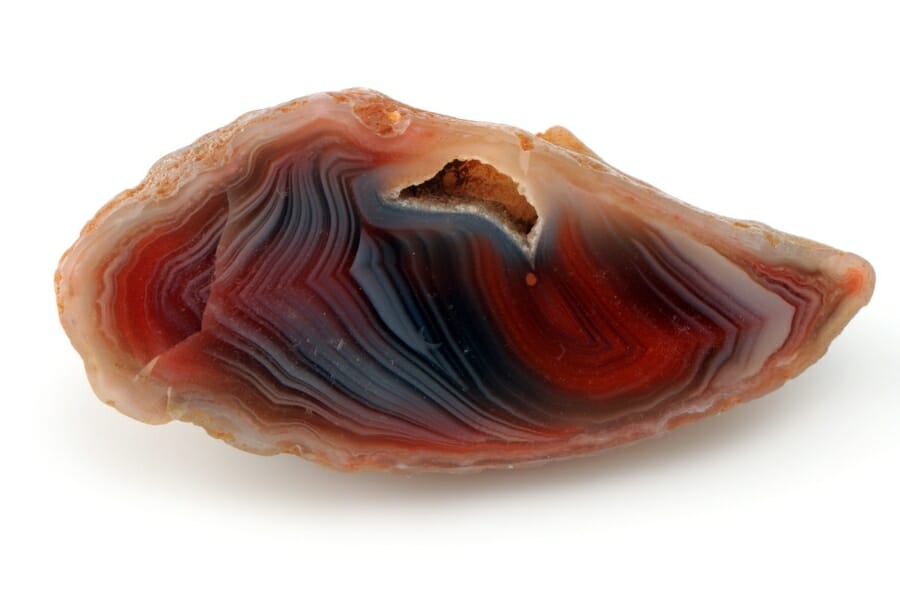 Here are our suggestions for where to look for agates in the state. Even though there are many great places to look for gems in Michigan, not all can contain agates.
Always Confirm Access and Collection Rules!
Before heading out to any of the locations on our list you need to confirm access requirements and collection rules for both public and private locations.
These requirements are subject to change without notice and may differ from what we state below.
Always get updated information directly from the source ahead of time to ensure responsible rockhounding.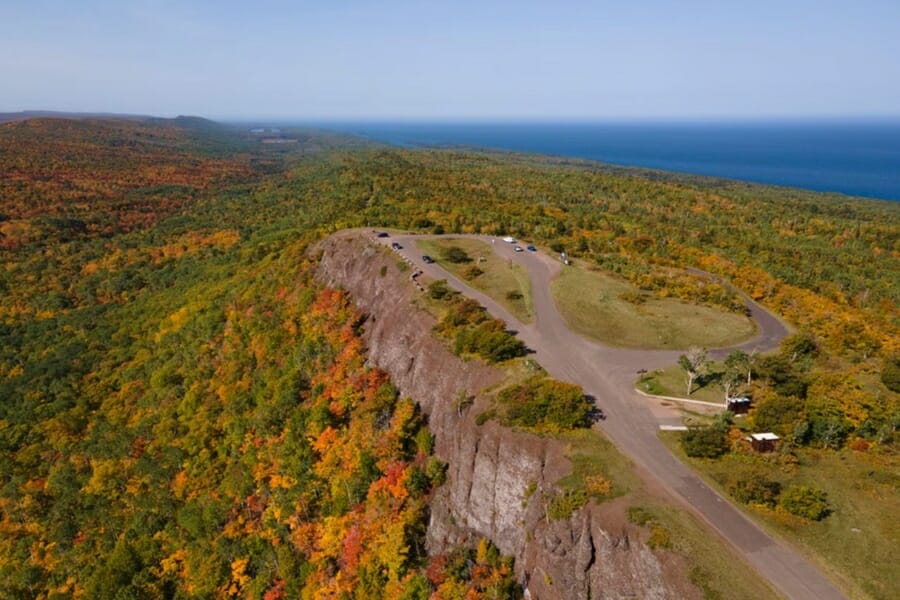 As it rises 735 feet above Lake Superior, Brockway Mountain gives you a breathtaking view of the area, including the vast lake and the dense forests that go all the way to the horizon. The geological features of the mountain have made it a popular place for people who like to look for agates.
The unique geology of the mountain makes it an excellent place for agates to be produced. It's made up of Keweenaw basalt, an old volcanic rock. The activity of volcanoes and the cooling and hardening of lava flows in this area made holes and cracks where agates could grow.
Know the most up-to-date rules about collecting in Michigan before you bring your agate crystals home.
Where we found agates in Brockway Mountain
Most agates are found in the gravel pits spread throughout the area. The mining operations that made these gravel pits also exposed basalt layers, making them great places to look for agates.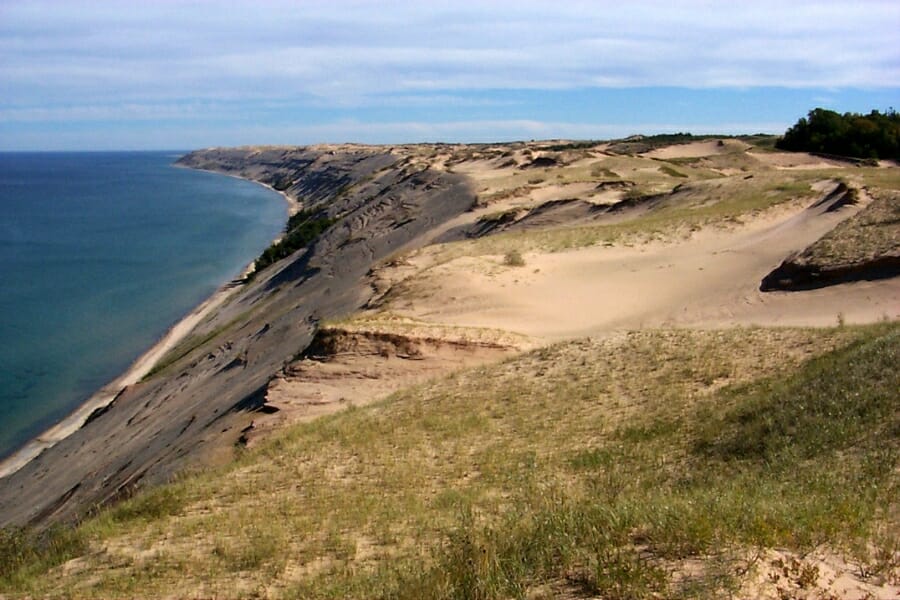 Grand Sable Dunes is a remarkable natural wonder renowned for its towering dunes and pristine shoreline. The dunes in Grand Sable are primarily composed of sandstone and limestone, with glacial deposits mixed in.
This majestic landscape also offers a good location for agate hunting. The unique combination of geological features and the erosive forces of wind and water make it an excellent spot to search for agates.
Where we found agates in the Grand Sable Dunes
Agate hunters visiting Grand Sable Dunes are encouraged to explore the sandy beach areas, particularly after storms or high wave activity, as these conditions can uncover fresh agate deposits.
Walking along the shore and scanning the sand for agates, which are often smooth and polished by the action of water, can yield exciting discoveries.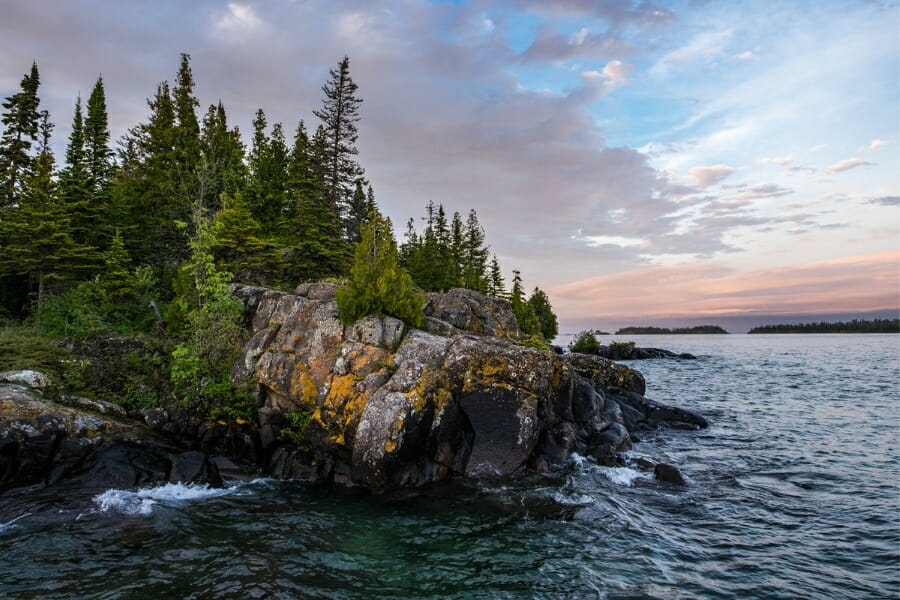 Isle Royale National Park is a wild area in the northwest corner of Lake Superior. It's known for its rough terrain, dense forests, and many animals. This remote island paradise is a haven for people who love nature, and it's also an exciting place to go agate hunting.
The island's geology comprises old volcanic rocks like basalt and rhyolite that have been through critical geological changes for millions of years. Agates were able to form because of the way these volcanic rocks were made.
Where we found agates in the Isle Royale National Park
You can explore the rocky beaches of the park, especially those with abundant pebbles and gravel. Agates can be discovered among the stones with their characteristic patterns and colors.
The pounding waves and natural forces continually expose new agate deposits, making each visit to the island a unique opportunity for discovery.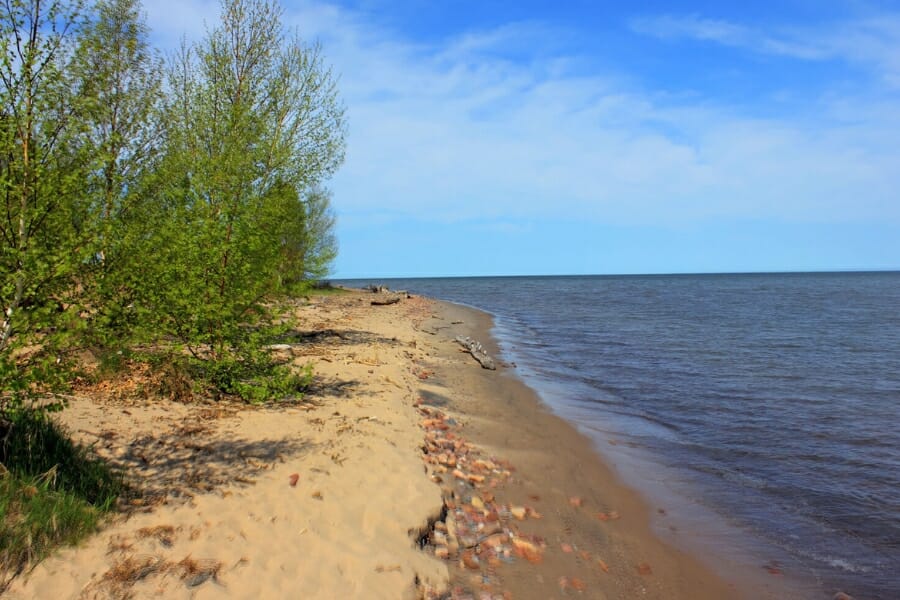 McLain State Park is a popular place to visit in Michigan's Upper Peninsula. It's on the shores of Lake Superior and is known for its sandy beaches, peaceful atmosphere, and beautiful views. In addition to being a beautiful place, the park is an excellent place to look for agates.
It's a great place to look for agates because it has a unique mix of rock formations, wave action, and rock deposits. The park's shoreline is a mix of sand, gravel, and pebbles, making it easy to find agates.
Where we found agates in McLain State Park
Exploring the park's shoreline, especially areas with a higher concentration of rocks and pebbles is recommended to maximize your chances of finding agates in McLain State Park.
Pictured Rocks National Lakeshore is a breathtaking natural wonder known for its towering cliffs, colorful sandstone formations, and pristine beaches. This majestic shoreline not only offers stunning scenery but also provides an excellent location for agate hunting.
It's important to note that while agates can be found in Pictured Rocks National Lakeshore, collecting is subject to park regulations. It would be best to familiarize yourself with guidelines or restrictions to preserve the park's natural beauty and resources.
Where we found agates in Pictured Rocks National Lakeshore
You can explore the numerous sandy beaches and rocky shorelines, watching for agates. Walking along the coast and looking in the sand and gravel for agates, which often have bands and colors that are easy to spot, can lead to exciting finds.
Other Great Places To Find Agates in Michigan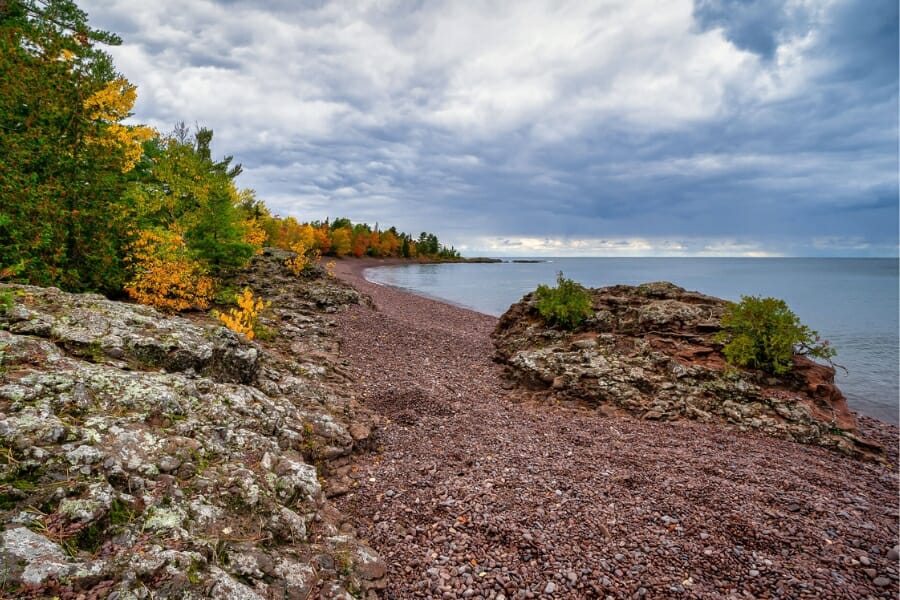 We'll give you more ideas after we've mentioned the best places to look for agates in Michigan. To make things easier, we put them in order by county.
Our recommendations by county
| | |
| --- | --- |
| County | Location |
| Alexander | Area stream gravels |
| Alexander | Mississippi River |
| Gogebic | Black River Harbor Beach |
| Henry | Bishop Hill |
| Houghton | Tamarack Waterworks Beach |
| Houghton | Big Traverse Beach |
| Keweenaw | Agate Harbor |
| Keweenaw | Copper Harbor |
| Keweenaw | Five Mile Point |
| Keweenaw | Bete Gries Bay |
| Keweenaw | Black Creek |
| Keweenaw | Porter's Island |
| Keweenaw | Carnelian Beach |
| Keweenaw | Siskiwit Bay |
| Keweenaw | High Rock Bay |
Additional areas you can find agates
Because Michigan is so vast, we want to ensure your search works. You have to look in these places where agates are often found.
Rivers and riverbanks
Rivers and riverbanks are highly sought-after locations for agate collectors due to the unique geological processes and natural forces at play. Agates are often found in these environments because rivers are natural channels for transporting rocks and minerals downstream.
As water erodes the surrounding land, it dislodges and carries rocks, including agates, downstream, where they eventually come to rest along the riverbanks. The constant movement and abrasion caused by the flowing water also expose fresh agates that were once buried or hidden within the riverbed.
Streams and creeks
Agate collectors highly favor streams and creeks as excellent locations to discover these captivating gemstones. These watercourses offer a range of advantageous factors for the presence and abundance of agates.
The flowing water in streams and creeks is a natural mechanism for transporting rocks and minerals, including agates, downstream. As the water erodes the surrounding land, it dislodges rocks and carries them along the stream.
Washes and ravines
Washes and ravines are favorable locations for agate collectors to uncover these alluring gemstones. These natural features offer a unique geological setting that contributes to the presence and abundance of agates.
Washes, also known as arroyos or dry riverbeds, and ravines, are characterized by their steep sides and the channels formed by the occasional water flow during rain events. When rainwater rushes through these channels, it dislodges and transports rocks and minerals, including agates, along its path.
Common Agate-Hunting Questions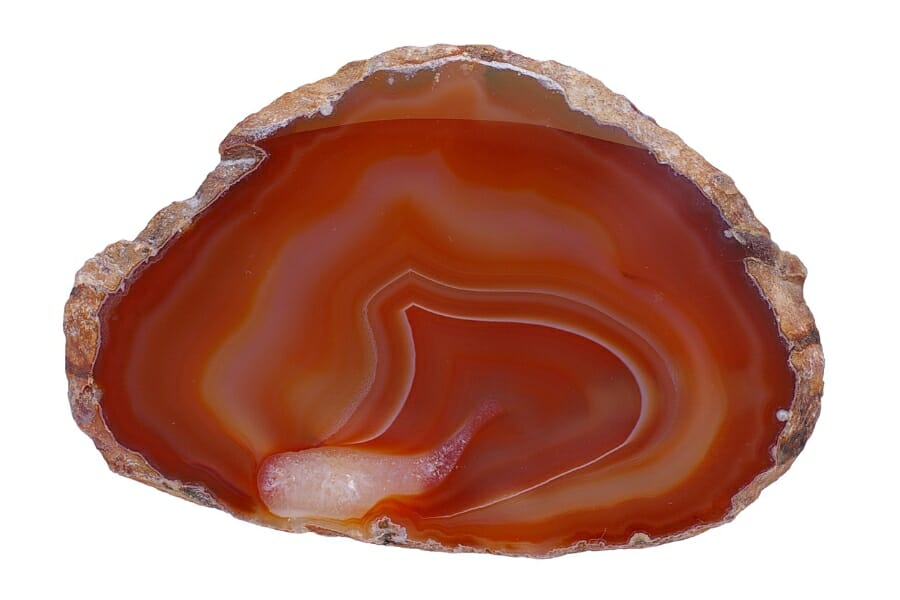 It's important to know the answers to the following questions that people often ask about agates in Michigan
Is it illegal to collect agate in Michigan?
You can collect agates in Michigan as long as you follow the rules. It would be best if you abide by the regulations when you are in a public place. Make sure you have permission to go on private land before you do.
The Best Places To Buy Agates In Michigan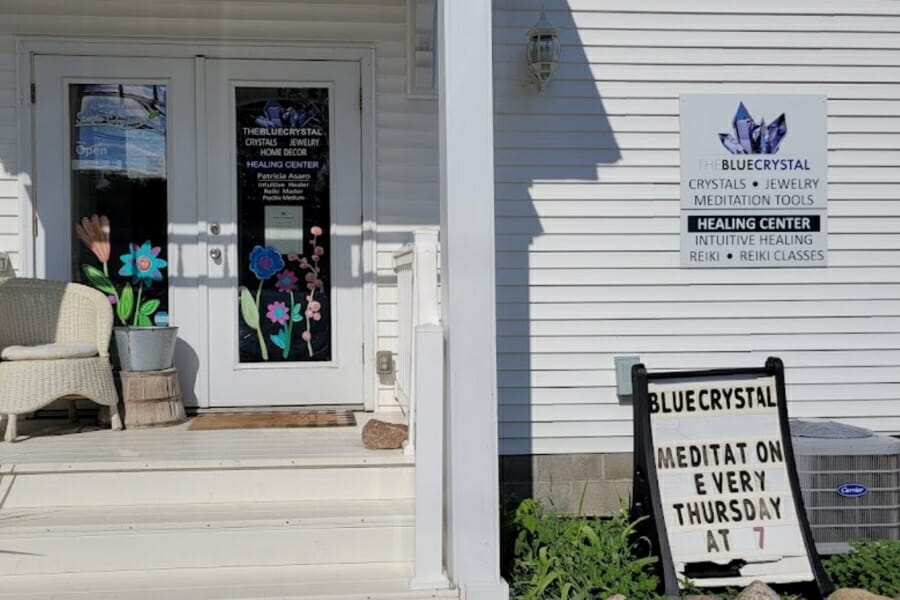 Not everyone enjoys spending all day outside looking for agates. Sometimes, all you need to complete your collection is a display or another beautiful agate specimen. Here's where you can buy agate crystals in Michigan.
If you have any recommendations for our list please leave a comment below!