Petrified wood is one of the most incredible treasures of the earth, and it's just like magic! Imagine a tree that lived millions of years ago, and now it's turned into a beautiful stone.
Its colors and textures can be breathtaking, showing the rings of the tree and sometimes even the bark. It's like holding a piece of history right in your hand.
Finding petrified wood in Wyoming may be a tricky adventure, but it's an exciting one. The wide-open spaces and rocky terrain hide these ancient pieces, and without the right guidance, you might find yourself searching without much luck.
It's like a treasure hunt where you need a map, patience, and a keen eye. But don't worry, because, with our guidance and help, you can uncover these hidden gems. We explored our state and found fantastic spots to find Wyoming petrified wood.
What Is Wyoming Petrified Wood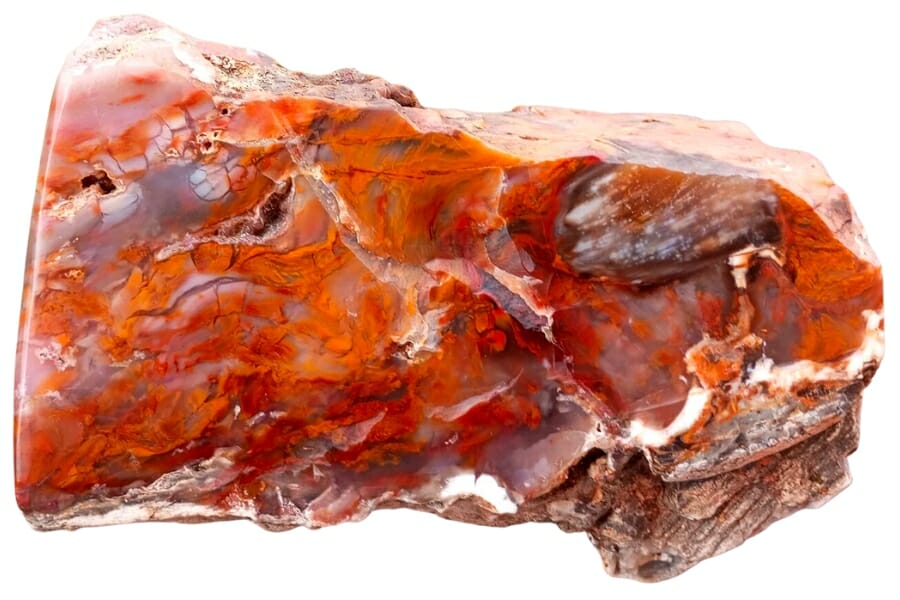 Petrified wood is wood that's turned into rock over a long time, sometimes millions of years. This happens when a tree dies and gets buried under sediment.
Groundwater, rich in minerals, flows around the wood, and those minerals start to replace the wood's organic material. Little by little, its cells get replaced. The result is a rock that looks like the original wood, with its rings, bark, and other textures.
This fossil can be found in many parts of the world, often in deserts, volcanic areas, or places where there's been a lot of geological activity.
In the United States, you can find petrified wood in Wyoming, among other states. Our unique geological history makes it a great place to uncover these treasures.
The Types of Petrified Wood Found in Wyoming
Finding petrified wood in Wyoming is like nature's scavenger hunt. Uncovering a piece of this natural wonder is a thrilling discovery that connects us with the ancient world.
But before embarking on this journey, make sure you're fully knowledgeable about what petrified wood is and how you can identify it. Also, before we discuss how to find petrified wood in Wyoming, let's go through the different types of it that you might encounter here:
Opalized Wood
Opalized wood is regular petrified wood, but with bright, shiny colors and a gem-like appearance It's formed in a way similar to regular petrified wood, but with a special twist.
When a tree gets buried and starts to petrify, opal begins to replace the wood. When it takes the place of the wood's cells, it forms opalized wood.
This kind of is a rare and wonderful find. What sets it apart is the shimmering, sparkling colors that dance across its surface. It can look like a piece of wood, but with bright flashes of green, blue, red, and other colors.
Silicified Wood
Silicified wood is an extraordinary type of petrified wood where the wood's original organic material has been replaced by the mineral silica. This replacement process creates a fossil that preserves the original appearance of the wood, even down to its bark and grain structure!
Silicified wood is often harder and more durable than other types of petrified wood. The silica gives it a strong, glass-like quality.
Depending on the other minerals present, the color of the silicified wood can vary. It can be clear, milky white, or have tints of red, yellow, or brown.
Agatized Wood
When wood becomes agatized, it means that agate has replaced the organic material of the wood. This creates a beautiful and colorful fossil that can be full of surprises.
Agate often forms in bands or layers. So, when you look at agatized wood, you might see rings, stripes, or bands of different colors. These colors can include whites, blues, reds, greens, and more.
What distinguishes agatized wood is its fine detail and vibrant colors. The agate adds a glassy shine and often makes the petrified wood more translucent.
Petrified Bamboo
Like other petrified wood, petrified bamboo has been replaced by minerals, but it keeps the shape and structure of the original bamboo. What's unique about it is that you can often see the bamboo's distinctive features.
Bamboo is known for its hollow, jointed stems, and these features are often preserved in petrified bamboo. If you look at a piece, you might see the segments of the bamboo stalk, just like in a living plant.
Its colors can be different, depending on the minerals that replaced its organic material. It might be brown, tan, or even have hints of other colors.
Some petrified bamboo might look very close to what living bamboo looks like, while others might take on new and unexpected hues.
Petrified Palm
Petrified palm is made from ancient palm trees, and when you look at it, you can often see features that make palms so special.
Unlike regular trees, palm trees have a "stem" made of stringy fibers. When they get petrified, their fibers can create a unique pattern that looks like a bunch of little dots or rods packed together. This is something that you won't see in other petrified woods, and it's a clue that you're looking at a petrified palm!
Depending on the minerals that have taken the place of the original plant material, you might see shades of brown, yellow, or even some reds and blues in a petrified palm. Its colors can create swirls and patterns that add to its charm.
Petrified Log
A petrified log is not just a small piece of wood that's turned to stone; it's often a whole tree trunk or large branch.
When you look at a petrified log, you can often see the details of the original wood. The tree rings are sometimes visible, and they can tell you how old the tree was. You might even see the bark's texture, which can help you figure out what kind of tree it was.
Minerals like quartz, agate, or opal might replace the wood, and they can create a rainbow of colors. You might see reds, yellows, blues, or greens all swirled together, and these colors can make the log look like a piece of art.
Petrified logs can be found in various sizes, from small pieces that you can hold in your hand to massive trunks that weigh tons.
How We Found Petrified Wood in Wyoming
Petrified wood can be pretty tough to find in our state if you aren't strategic about your search. We've compiled a list of great locations where you can find it from a number of proven sources. These are the main inputs we used when determining the recommendations we set out :
The extensive local experience of our team
Input from a variety of local rockhounds and rockhound groups
The difficulty in accessing a location
Safety and potential hazards when collecting
Private and public locations
A desire to include locations for both the experienced and newbie hunters who are just starting out
Using these inputs we think we've put together the best list out there for those who love finding petrified wood for our collections!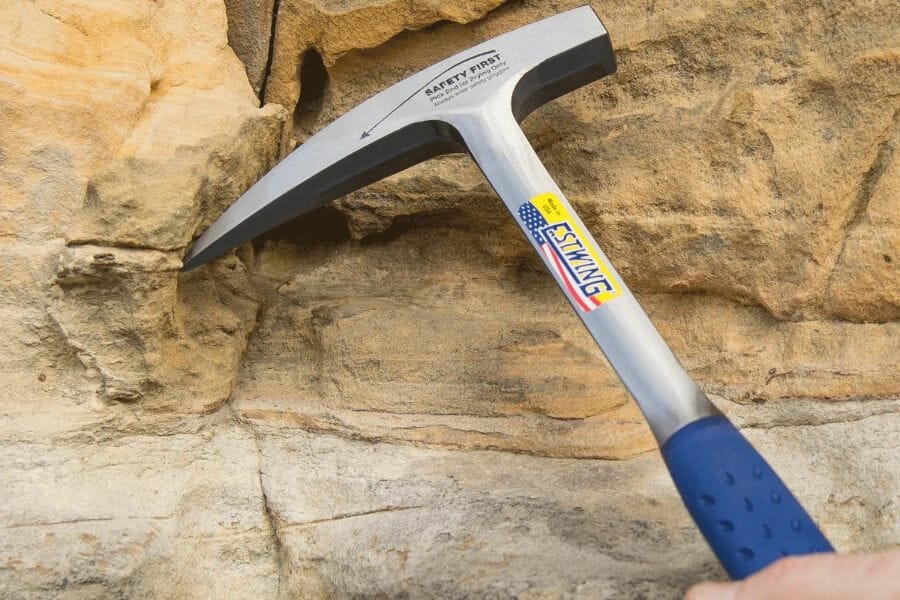 The tools every petrified wood hunter will need
When you're out looking for petrified wood having the right tools for the job is really going to make or break your success. You don't need a lot for most trips but there are a handful that are critical and will make your life a lot easier.
We get asked a lot about the equipment we use. Over the years we've found a handful of tools that we recommend to both new and experienced petrified wood hunters which we outline in great detail in our complete rockhounding tools and kit guide. These are quality options that also happen to be relatively inexpensive.
Below are the basic tools that make your life so much easier and save you a ton of time. Check out the full guide to see everything we recommend bringing. One quick note, as an Amazon Associate I earn from qualifying purchases but we try very hard to only recommend gear we would use ourselves and often recommend brands you can't find on Amazon.
At a minimum you should have:
1 - Sturdy rock hammer: The Estwing Rock Pick is our standard
2 - Rugged chisels: Try Kendo' 3-piece Chisel Set
3 - Compact shovel: The Koleiya 28-inch shovel works well
4 - Rock screen pan: The Wazakura Soil Sieve Set fits the bill
5 - Eye protection: DeWalt Safety Glasses are cheap and comfortable
6 - Head protection: Malta's Safety Helmet has been our go-to
7 - Jewelers lens with at least 20x magnification: Jarlink's Jewelers Loop is perfect
The petrified wood-finding books that we use most
There are also a few books that have been extremely helpful in the search for gems. These books have great recommendations and tips:
National Audubon Society Field Guide to Rocks and Minerals: North America 
Northwest Treasure Hunter's Gem & Mineral Guide 
Earth Treasures: The Northwestern Quadrant 
We provide links to find these tools on Amazon but some can also be found at your local hardware stores. For more recommendations check out the link to our full tool guide above.
The Best Places To Find Petrified Wood In Wyoming
It's not easy to run short of great rockhounding sites in Wyoming, but if you want to know where to find petrified wood specifically, below are some of the best proven spots that we've identified:
Always Confirm Access and Collection Rules!
Before heading out to any of the locations on our list you need to confirm access requirements and collection rules for both public and private locations.
These requirements are subject to change without notice and may differ from what we state below.
Always get updated information directly from the source ahead of time to ensure responsible rockhounding.
Sweetwater County is filled with wonder and excitement, especially for petrified wood aficionados! Covering a vast area, it's the largest county in our state.
Its landscape is diverse and includes everything from towering mountain ranges to wide-open plains. You'll find the majestic Rocky Mountains to the north and the beautiful high desert landscapes all around. This mixture of terrains means there's always something new and interesting to explore.
Sweetwater's geology is equally fascinating. It's rich with various types of minerals and rocks, including some of the types of petrified wood we've talked about!
Getting here is fairly easy. Major highways like I-80 run through the county, making it accessible by car. There's also the Southwest Wyoming Regional Airport if you're traveling from farther away.
Before heading out, make sure you're aware of the area-specific rules and regulations here. You can check Wyoming's updated collecting guidelines for more information.
Where we found petrified wood in the Sweetwater County
Petrified wood is pretty much abundant and widespread in this county, and you can find samples in the following areas:
Regional exposures of the Green River formation
Eden Valley petrified forest area
Gravels of the Big Sand River and its tributaries
Foothills, canyons, draws, and flats of the distant Wind River Range
Both sides of US 30 as far as Fort Bridger in Uinta County
Rock Springs
Vast expanses of the Great Divide Basin
Slopes and draws of Steamboat Mountain in the Leucite Hills
Eastward in the desert country of Eden area to Red Desert
Big Sand Reservoir Dam in the Farson area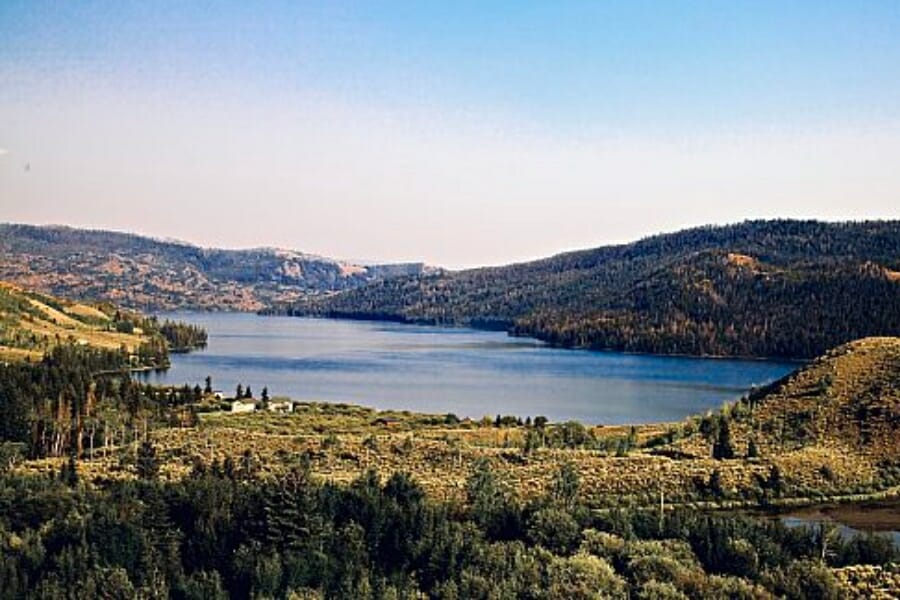 Nestled in the Wind River Mountain Range, Half Moon Lake is part of the Bridger-Teton National Forest, giving it a picture-perfect backdrop that draws visitors from all over.
It's characterized by clear, sparkling waters surrounded by dense forests and rugged mountain terrain. It's located at a high elevation, adding to its serene and almost otherworldly beauty.
From a geological standpoint, Half Moon Lake is part of a region with diverse rock formations. The Wind River Range itself is a geological wonder, with granite peaks formed millions of years ago. The area is also home to fascinating glacial features, and you can find plenty of intriguing specimens to study, including petrified wood.
Getting here is a scenic adventure in itself. It's located near the town of Pinedale, which is accessible via Highway 191. From Pinedale, a well-maintained road leads to the lake.
Where we found petrified wood in Half Moon Lake
You can find fine specimens of petrified wood if you keep your eyes peeled along the shoreline of Half Moon Lake.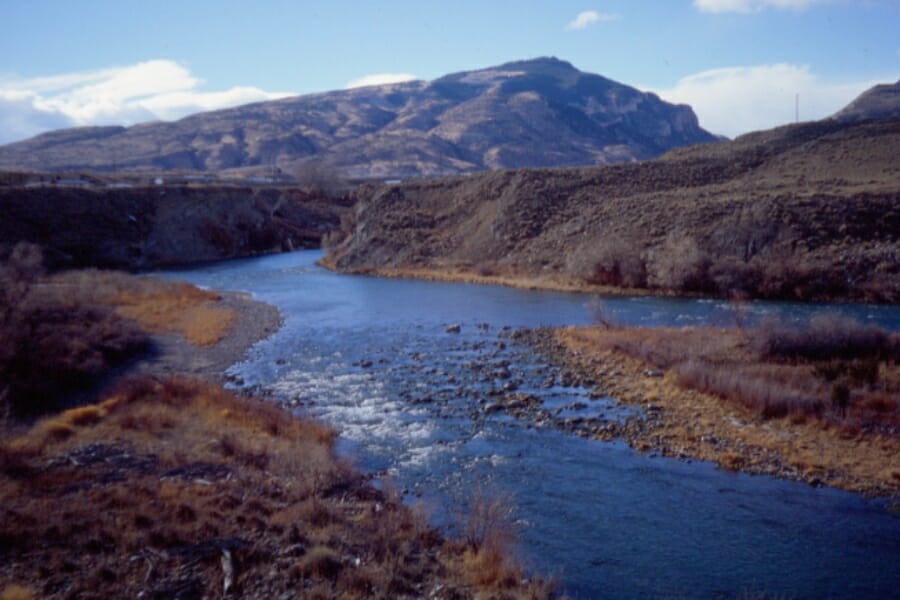 Shoshone River is a winding waterway filled with natural beauty and geological wonders. Flowing through the northwestern part of our state, it's is a must-see for anyone.
This river starts in the Absaroka Range and travels through Cody before joining the Big Horn River. Along its path, it carves through a variety of landscapes, from majestic mountains to broad valleys, offering breathtaking views at every turn.
The terrain around the Shoshone River is as diverse as it is stunning. You'll find everything from rugged cliffs to gentle meadows.
From ancient volcanic rocks to more recent sedimentary layers, this river and its surroundings are like an open book for those curious about geological processes.
Where we found petrified wood in the Shoshone River
You can collect petrified wood downstream along the south shore of Shoshone River.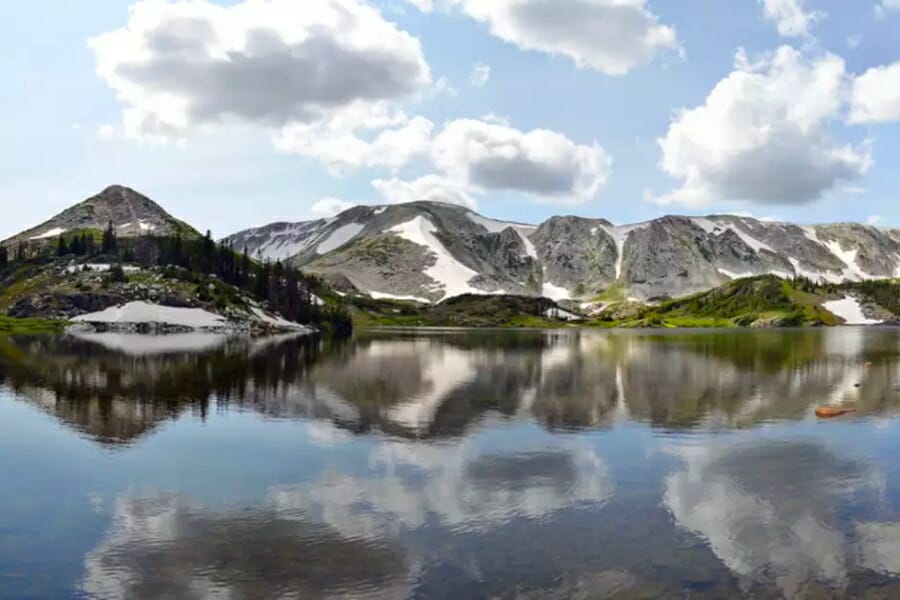 Located in the south-central part of our state, Carbon County is brimming with natural wonders and geological gems. It has a diverse geography, ranging from mountainous regions in the north to high desert landscapes in the south.
The North Platte River winds its way through this county, adding to the scenic beauty. The mixture of mountains, plateaus, rivers, and valleys creates a captivating terrain that invites exploration.
The geology of Carbon County is what makes it stand out. Rich in coal and other minerals, the area is aptly named "Carbon." Fossil hunters can find traces of the distant past, and rockhounds will be thrilled with the variety of rocks and formations.
Luckily, major highways like I-80 run through the area, and there are several towns, like Rawlins and Saratoga, that are easily accessible. These towns serve as gateways to the natural and geological wonders of the county.
Where we found petrified wood in the Carbon County
There's quite a handful of areas here that contain petrified wood, including:
Petrified forest area in Shirley Basin
Area draws, washes, and surfaces in Saratoga
Cow Creek to the mouth of Calf Creek
Medicine Bow River and its tributaries
Petrified forest west of the road in Medicine Bow area
Winding its way through Wyoming, Snake River is a marvel of nature that's full of adventure and discovery. It's one of the largest rivers in the Northwestern U.S. and it's known for its stunning landscapes and diverse geological features.
While it flows through several states, its headwaters begin in the majestic Yellowstone National Park. From there, it meanders through Grand Teton National Park, Jackson Hole, and continues on, carving a path that showcases some of the most breathtaking parts of the region.
The terrain along this river is incredibly varied. There are towering mountain ranges, deep canyons, lush forests, and wide valleys. From a geological perspective, Snake River Canyon showcases a variety of rock types and formations.
Fortunately, this area is accessible through well-maintained roads leading to popular spots like Jackson Hole and Grand Teton National Park. Nearby airports and regular bus services also connect it to other parts of the country.
Where we found petrified wood in Snake River
To find petrified wood, we recommend exploring upstream on both sides of the Snake River and on the adjacent north slopes of Bradley Mountain.
Other Great Places To Find Wyoming Petrified Wood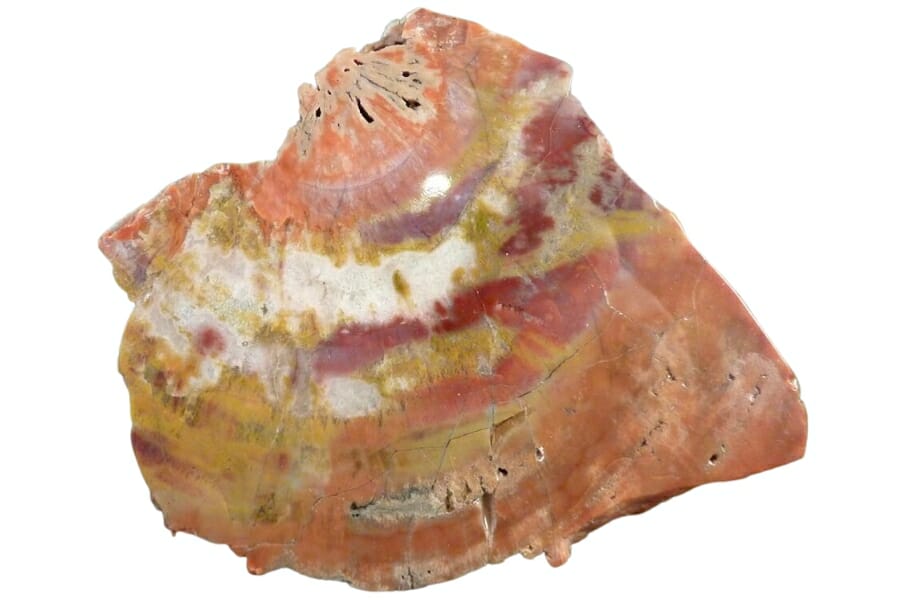 Aside from our top-recommended places to find Wyoming petrified wood, here are some more proven spots that you can include in your exploration itinerary here:
| | |
| --- | --- |
| County | Location |
| Albany | Area draws, washes, and surfaces of Marshall |
| Big Horn | Elkhorn Ranch |
| Fremont | Stream gravels, draws, washes, gullies, hillsides in Atlantic City-South Pass City |
| Fremont | Foothills and draws of the Wind River Range |
| Fremont | Wiggins Creek (aka Wiggins Fork) |
| Fremont | Between Hall Creek and Twin Creek |
| Hot Springs | Grass Creek |
| Johnson | Crazy Woman Creek and the Crazy Woman Petrified Forest |
| Johnson | Buffalo area |
| Johnson | Middle Fork of the Powder River |
| Lincoln | Green River |
| Lincoln | Hams Fork |
| Natrona | North Platte River to Glenrock |
| Park | Area draws, canyons, soils of Sunlight Basin District |
| Park | Windy Mountain |
| Platte | Hills alongside North Platte River |
| Sheridan | Lone Tree Creek to Pinhead Creek |
| Sublette | Big Sand River to the Big Sandy Reservoir and west side of Wind River Range |
| Teton | Draws, flats, canyon gravels of Absaroka Range |
| Teton | Thorofare Wilderness area stream gravels |
| Uinta | Blacks Fork Creek |
General Areas You Should Try
Petrified wood often hides in specific areas, so if you want to find them, we recommend focusing on the following sites:
Petrified Forests
Petrified forests are fantastic places to find petrified wood because of their unique geological history. These areas were once lush forests where the formation process of petrified wood has most probably occurred.
When you explore a petrified forest in Wyoming, you can find pieces of petrified wood in all shapes and sizes, with colors ranging from rich browns to fiery reds.
Streams and Creeks
Streams and creeks are remarkable spots to find petrified wood. Over time, water flowing down these waterways can wash away softer soil, uncovering hidden treasures like petrified wood beneath. The action of the water can also smooth and polish the pieces, making them beautiful to look at.
Since Wyoming has a rich geological history that includes ancient forests, petrified wood can often be found in areas where water has eroded the earth. Searching along streams and creeks is like a delightful adventure, for sure!
Rivers and River Banks
You can also spot beautiful pieces of petrified wood along Wyoming's rivers.
The powerful flow of water in rivers can erode the land, exposing rocks and ancient wood that have been petrified over millions of years. As water travels, it might uncover and carry these amazing pieces from their original locations, depositing them along the banks where they can be found.
Common Questions About Finding Petrified Wood In Wyoming
Below are some of the most common questions when it comes to finding petrified wood in Wyoming. We'll answer them in case you share the same inquiries:
How old is Petrified Wood in Wyoming
Petrified wood in Wyoming is incredibly ancient, often dating back to the Late Cretaceous and Early Eocene periods, around 34 to 66 million years ago.
During this time, our state was covered in lush forests and experienced significant volcanic activity. Trees that fell or were knocked down by volcanic eruptions were quickly covered with ash, soil, and other sediments.
Over millions of years, the organic matter was replaced with minerals, and the wood became petrified.
Can you find Petrified Palm Wood in Wyoming?
Lucky for you, you can find petrified palm wood in Wyoming. One of the specific spots where you can find it here is in the gravels of the Big Sand River and its tributaries in Sweetwater County.
The Best Places To Buy Petrified Wood In Wyoming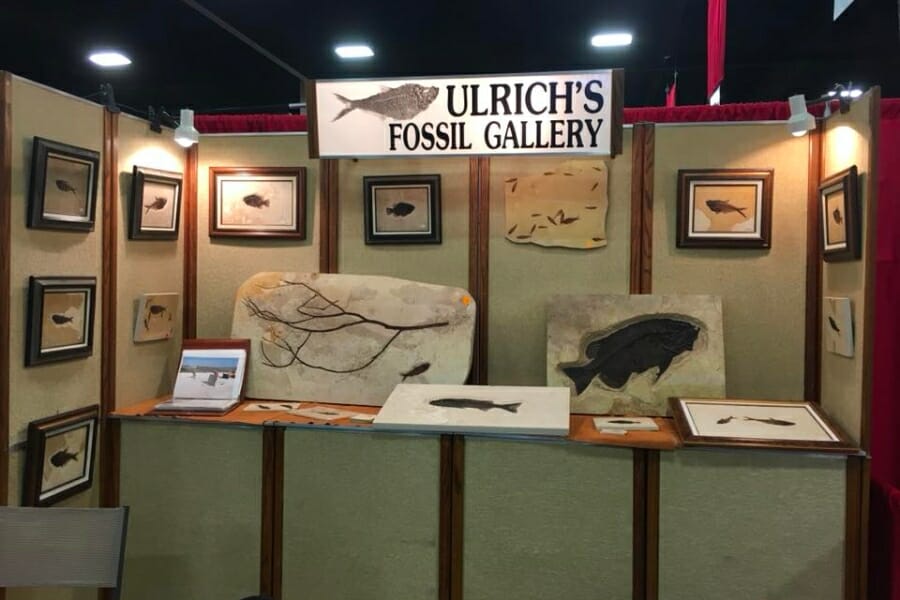 While finding petrified wood is really rewarding, there are other more relaxing ways you can observe or even take home this natural wonder— and that is by visiting our local shops here. Below are some of our recommended stores: