Petrified wood is truly an astonishing sight to behold. Imagine a tree that has been transformed into stone over millions of years, with every detail preserved in a mix of sparkling, beautiful, and colorful minerals. Simply put, it's a stunning relic of the past— each petrified tree an ancient story locked in stone.
However, finding petrified wood in Oregon can be challenging if you're not familiar with the terrain and don't know where to look. Our lush Pacific Northwest state is home to a variety of landscapes, from coastal regions to vast forests and high deserts, making it quite an adventure to find these hidden geological treasures.
But don't worry! We've done some thorough exploring and found several great places to find Oregon petrified wood. Whether you're an experienced fossil hunter or just getting started, you'll have a chance to uncover these incredible remnants with our help through this complete guide.
What Is Oregon Petrified Wood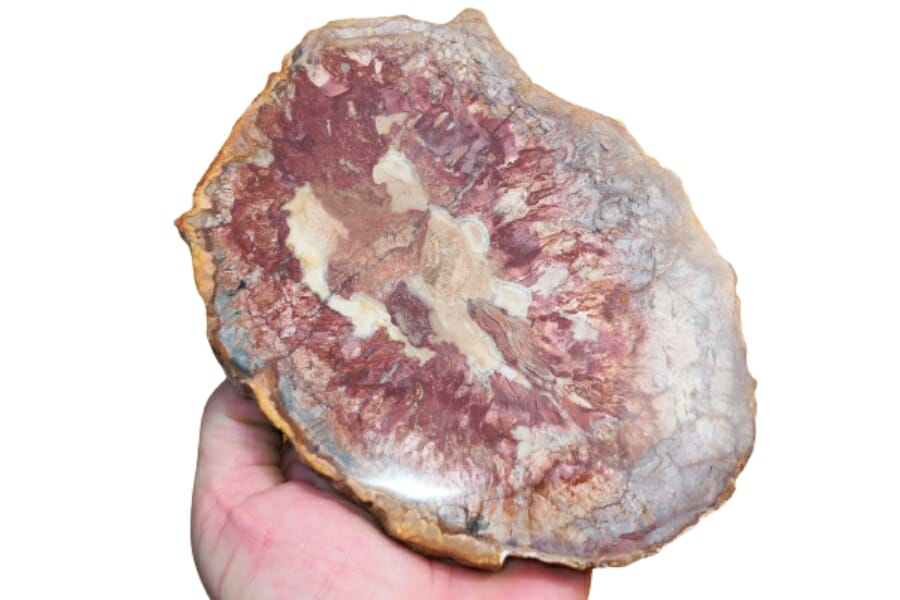 Petrified wood is a special kind of fossil, a wonderful surprise from nature that takes millions of years to create. It all starts when a tree gets buried by mud, ash, or other materials. This protects the tree from decay, setting the stage for a process known as permineralization.
In this process, groundwater rich in dissolved minerals seeps into the buried tree. Over time, these minerals replace the buried tree's organic materials, turning it slowly into stone, with the original tree structure perfectly preserved in a rocky form.
But this amazing transformation doesn't happen just anywhere. Petrified wood is often found in places that were once rich with trees and had conditions that could quickly bury them, like volcanic regions and river floodplains. In the United States, one such location is Oregon.
The Types of Petrified Wood Found in Oregon
Understanding what petrified wood is and how you can identify it deserves a discussion of its own, so we created an article on it that you can check out. And before you head out to find Oregon petrified wood, it would help a lot to know what types of this natural wonder you can come across here.
Petrified Fern
Petrified fern is a fascinating type of fossil that tells us about ancient, lush environments. It often shows the fern's original leafy structure, veins, and even sporangia, the tiny structures where it makes its spores. Minerals have also replaced the plant's tissues, and sometimes, they add vibrant colors to the petrified fern.
But how can you tell if you've found a petrified fern? Look for the distinct leaf patterns! Ferns have a unique, feathery look to their leaves, which often remain visible in the fossil.
Bogwood Agate
Bogwood agate, sometimes known as petrified bogwood, is another spectacular creation from nature. It forms when trees or woody plants fall into an ancient bog or swamp, get buried in the muck, and start to turn into stone. In this special setting, the wood can become "agatized" or replaced by agate.
This type is a wonderful combination of the natural beauty of wood and the sparkling allure of agate. But how can you tell it's bogwood agate? The key is the mix of wood features and agate. You might see tree rings surrounded by bands of agate, a hint of the tree's bark, or a quartz-filled knot where a branch once grew.
Opalized Petrified Wood
Opalized petrified wood is a captivating example of nature's artistry, where the organic material of a tree has been replaced by opal. This gemstone often displays a dazzling array of colors when viewed from different angles. Imagine the texture of ancient wood combined with the shimmering beauty of opal— it's breathtaking!
To tell if you've found opalized petrified wood, look for the structure of the original wood, like tree rings or bark texture, combined with the distinctive, often iridescent, shine of opal.
Silicified Wood
Silicified wood is another form of petrified wood that's truly amazing. A piece of this can look a lot like the original wood, but it's actually stone! The details of the tree, like the bark and tree rings, can be preserved in remarkable detail.
But instead of being made of wood, it's made of silica, often in the form of quartz. It can have a sparkly, crystalline texture and may even show different colors depending on what other minerals were in the groundwater.
Chalcedony-lined Petrified Wood
Chalcedony-lined petrified wood is a striking type where the natural cavities and cracks within the wood have been filled with chalcedony. Its exterior can retain the texture and features of the original wood, such as the bark and tree rings. But if it's broken open or cut and polished, you'll see the stunning chalcedony inside.
To recognize a chalcedony-lined petrified wood, simply be attentive to the combination of wood-like features with the unique appearance of chalcedony, especially in the cavities or fractures of the piece.
How We Found Petrified Wood in Oregon
Petrified wood can be pretty tough to find in our state if you aren't strategic about your search. We've compiled a list of great locations where you can find it from a number of proven sources. These are the main inputs we used when determining the recommendations we set out :
The extensive local experience of our team
Input from a variety of local rockhounds and rockhound groups
The difficulty in accessing a location
Safety and potential hazards when collecting
Private and public locations
A desire to include locations for both the experienced and newbie hunters who are just starting out
Using these inputs we think we've put together the best list out there for those who love finding petrified wood for our collections!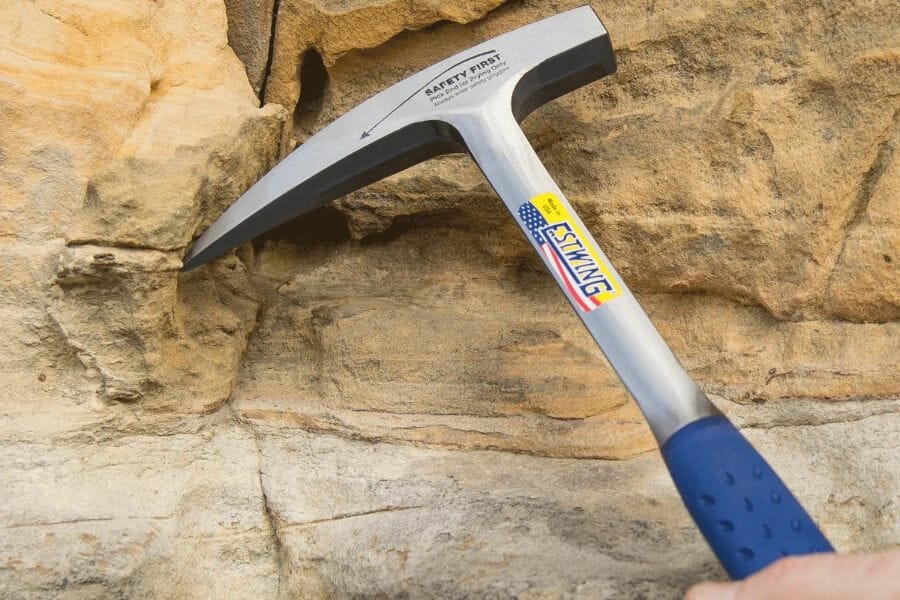 The tools every petrified wood hunter will need
When you're out looking for petrified wood having the right tools for the job is really going to make or break your success. You don't need a lot for most trips but there are a handful that are critical and will make your life a lot easier.
We get asked a lot about the equipment we use. Over the years we've found a handful of tools that we recommend to both new and experienced petrified wood hunters which we outline in great detail in our complete rockhounding tools and kit guide. These are quality options that also happen to be relatively inexpensive.
Below are the basic tools that make your life so much easier and save you a ton of time. Check out the full guide to see everything we recommend bringing. One quick note, as an Amazon Associate I earn from qualifying purchases but we try very hard to only recommend gear we would use ourselves and often recommend brands you can't find on Amazon.
At a minimum you should have:
1 - Sturdy rock hammer: The Estwing Rock Pick is our standard
2 - Rugged chisels: Try Kendo' 3-piece Chisel Set
3 - Compact shovel: The Koleiya 28-inch shovel works well
4 - Rock screen pan: The Wazakura Soil Sieve Set fits the bill
5 - Eye protection: DeWalt Safety Glasses are cheap and comfortable
6 - Head protection: Malta's Safety Helmet has been our go-to
7 - Jewelers lens with at least 20x magnification: Jarlink's Jewelers Loop is perfect
The petrified wood-finding books that we use most
There are also a few books that have been extremely helpful in the search for gems. These books have great recommendations and tips:
National Audubon Society Field Guide to Rocks and Minerals: North America 
Northwest Treasure Hunter's Gem & Mineral Guide 
Earth Treasures: The Northwestern Quadrant 
We provide links to find these tools on Amazon but some can also be found at your local hardware stores. For more recommendations check out the link to our full tool guide above.
The Best Places To Find Petrified Wood In Oregon
When it comes to natural resources, our state can boast of having a wide variety of them. In fact, there are plenty of great rockhounding sites in Oregon. So if you're looking specifically for petrified wood, you might have a hard time sorting through all of these sites.
So we did the hard work for you and discussed here our most recommended sites to find Oregon petrified wood.
Always Confirm Access and Collection Rules!
Before heading out to any of the locations on our list you need to confirm access requirements and collection rules for both public and private locations.
These requirements are subject to change without notice and may differ from what we state below.
Always get updated information directly from the source ahead of time to ensure responsible rockhounding.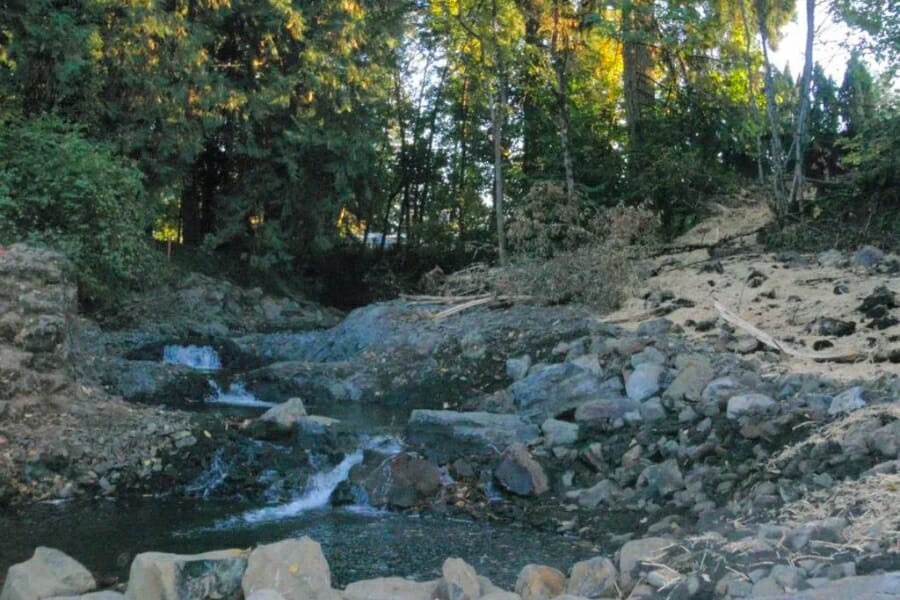 The Sweet Home Petrified Forest is an incredible place for rockhounds and nature lovers. It's located in the Willamette Valley, nestled between the Cascade Mountains and the Coastal Range. Its terrain varies from rolling hills covered with lush vegetation to areas of rocky outcrop.
In terms of geology, this area is a goldmine! The petrified forest itself is the result of ancient trees that were rapidly covered by volcanic ash and transformed into stone over millions of years. The geological forces that shaped it have left a rich variety of rocks and minerals, making it an exciting place to explore for petrified wood.
Getting to the Sweet Home Petrified Forest is quite straightforward. It's conveniently located near the town of Sweet Home, which is about a 90-minute drive from Eugene or a two-hour drive from Portland. From Sweet Home, it's a short trip east on Highway 20 to the forest.
But be reminded that there are strict rules about where you can collect in our state. Sweet Home Petrified Forest is a protected area where collecting is not allowed, but you can definitely indulge in exploring, uncovering, and observing natural wonders here. For more information, check out Oregon's collecting guidelines.
Where we found petrified wood in Sweet Home Petrified Forest
You can find silicified woods if you explore the petrified forest, especially along Ames Creek and the shores of the Calapooia River.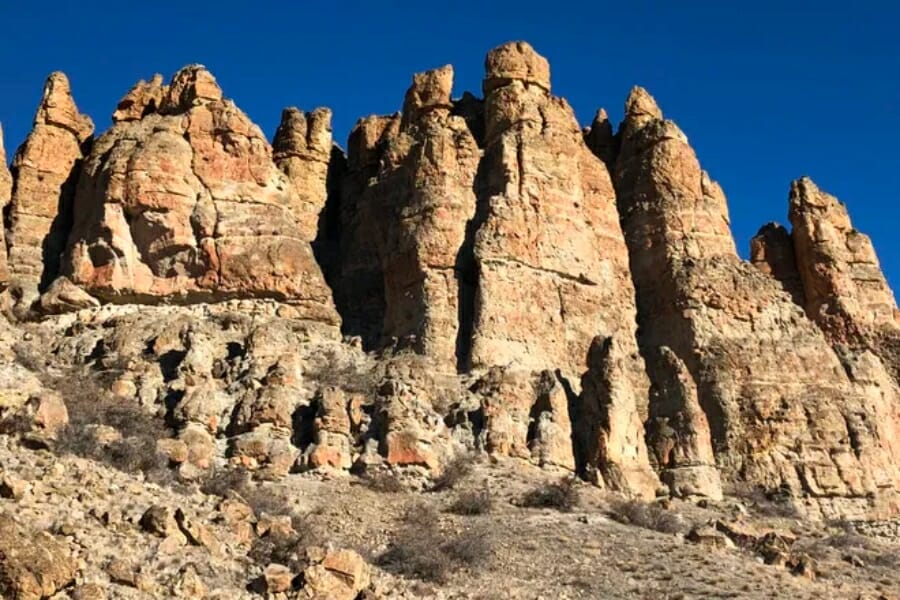 The Clarno Fossil Beds are an absolute treasure trove! It's part of the John Day Fossil Beds National Monument, which is situated in the eastern part of our state. It's blessed with a striking landscape of rugged cliffs, fascinating rock formations, and semi-arid shrublands that make for a dramatic backdrop.
These fossil beds are home to an array of plant and animal fossils that are millions of years old. From ancient leaves, nuts, and seeds to the remnants of early horses and elephants, the variety is astounding. These are embedded in a series of ancient volcanic mudflows known as lahars, creating a natural time capsule.
The trip to Clarno Fossil Beds is part of the entire petrified wood-hunting adventure. It's located about a three-hour drive east of Bend. From the town of Fossil, you'll head south on Route 218. This journey offers a scenic drive through our state's stunning high desert landscape.
Where we found petrified wood in Clarno Fossil Beds
Explore the different nooks and crannies of the Clarno Fossil Beds to find stunning samples of petrified wood.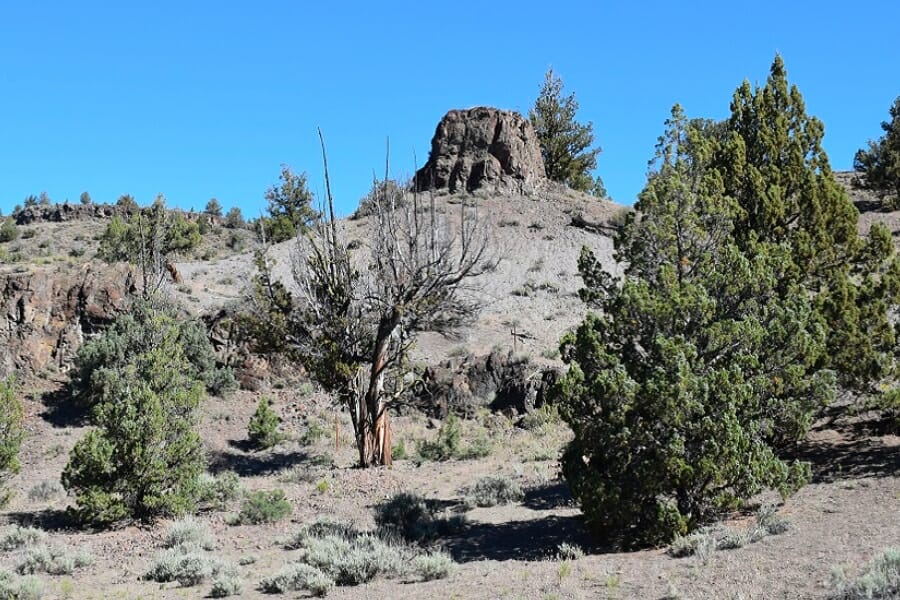 Crook County is nestled in the high desert region, surrounded by the majestic Cascade Range to the west and the Ochoco Mountains to the east. The terrain here is a vibrant mix of desert plains, rolling hills, and forested mountains, providing a beautiful setting for exploration.
Geologically, this county is a rockhound's paradise! Its history is etched in the landscape, from ancient lava flows to layers of sedimentary rock loaded with marine fossils.
The journey to reach Crook County is a pretty straightforward one. It's about a three-hour drive from Portland, or two hours from Eugene. Most people head for the city of Prineville, which is right in the heart of the county. From there, it's easy to explore its geological wonders.
Where we found petrified wood in Crook County
There are plenty of areas where you can find petrified wood in Crook County, including the following specific spots:
Land surfaces, draws washes on the west side of the county
Fisher Canyon
Logan Butte at Owens Water-South Pole Creek
Shotgun Road to Booton Ranch
Bonnieview Ranch
Dick Ranch
South Fork of the Crooked River
Southwest to the Deschutes County border
Table Rock, nestled in the Rogue River Valley, is an impressive sight that appeals to both outdoor enthusiasts and rockhounds. This geological gem, actually composed of two mesas: Upper and Lower Table Rock.
This was formed by lava flows over seven million years ago. These flat-topped buttes rise high above the surrounding landscape, offering a striking contrast to the rolling hills and fertile farmlands below.
Table Rock is characterized by its high cliffs, vast plateau, and unique vernal pools, home to a variety of unique plant species. Geologically, it showcases a striking layer of hard andesite lava atop softer layers of tuff and conglomerate. This combination leads to the flat-top appearance that gives Table Rock its name.
This amazing wonder is located just north of Medford, which is accessible via Interstate 5. Once you reach Medford, you follow Table Rock Road towards the Upper or Lower trailhead. Both hiking trails are well-marked and offer breathtaking views of the Rogue Valley and surrounding mountains.
Where we found petrified wood on Table Rock
You can find fascinating specimens of petrified wood if you explore Table Rock, especially in all streams and run-off areas on its north slope.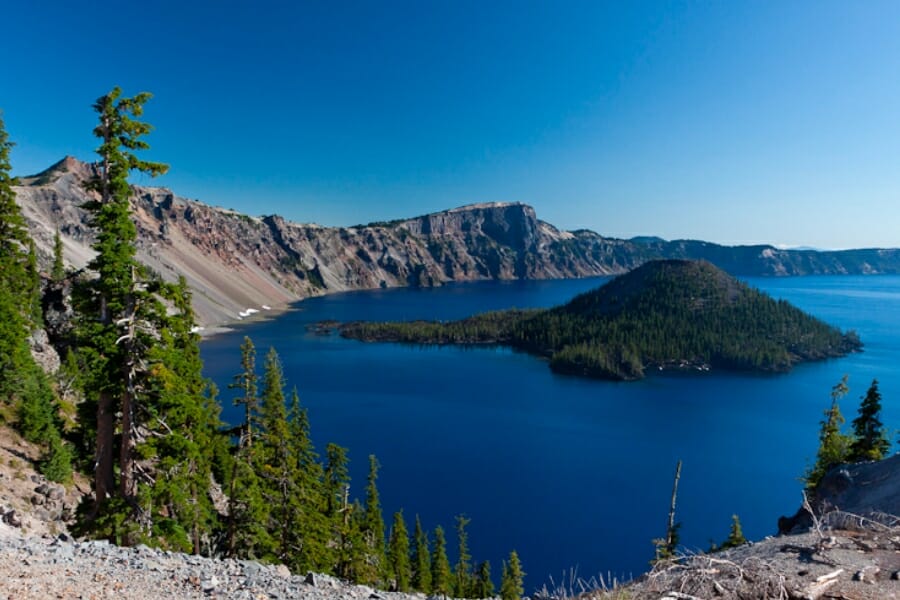 Crater Lake National Park is an extraordinary destination that captures the imagination of geology buffs and nature lovers. It houses Crater Lake, the deepest lake in the U.S., which fills the caldera of Mount Mazama, a collapsed volcano.
The region is defined by the lake's vibrant blue waters, surrounding cliffs, and two picturesque islands that were formed by subsequent volcanic activity. Its terrain is a diverse mix of rugged cliffs, dense forests, and open meadows. Geologically, it's a wonderland, showcasing the incredible power of volcanic activity.
Crater Lake National Park is quite accessible if you want to go here. It's about a two-hour drive from Bend via Route 97 and Route 138. Once you're in the park, you can follow the 33-mile Rim Drive that encircles the lake, offering multiple viewpoints and trailheads.
Where we found petrified wood in Crater Lake National Park
Explore all the areas surrounding the Crater Lake National Park if you want to find petrified wood.
Other Great Places To Find Oregon Petrified Wood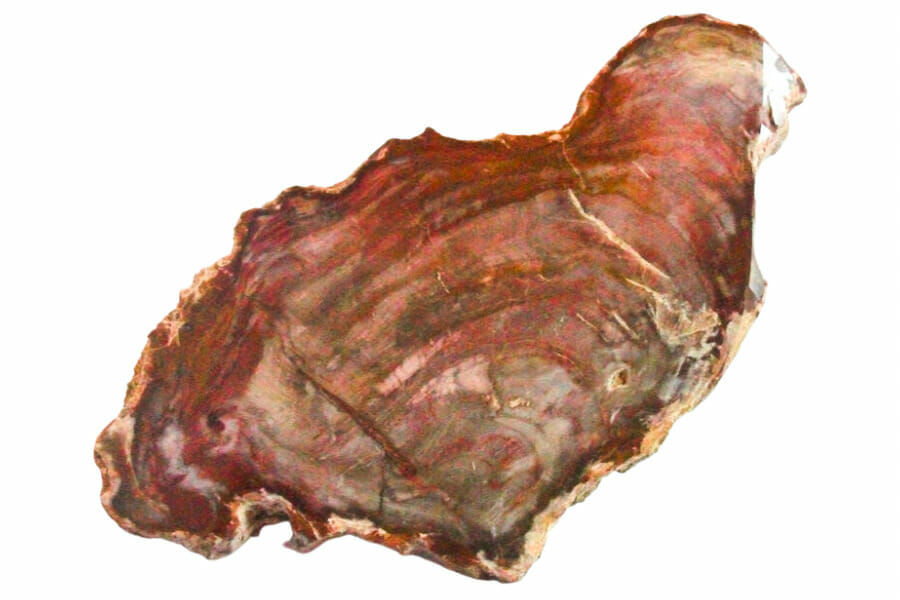 If you've been to our top recommended sites and want to explore other petrified wood-bearing spots here, we've got you covered! Below are more proven places where you can find Oregon petrified wood, listed down by county for your easier reference.
| | |
| --- | --- |
| County | Location |
| Baker | Shirttail Creek |
| Baker | Area draws, washes, hillsides of Pleasant Valley |
| Baker | Greenhorn District area gravel surfaces |
| Baker | Triangular area from Baker to Richland to Durkee back to Baker |
| Baker | Unity area |
| Benton | Low-water gravel bars of Willamette River and tributaries |
| Coos | Ocean beaches of Coos Bay |
| Coos | Bullards Beach State Beach |
| Coos | Fossil Point and area beaches of Charleston |
| Coos | Whiskey Run Beach |
| Curry | Rogue River |
| Deschutes | Unnamed butte directly west of Hampton Butte |
| Douglas | Countywide along ocean beaches |
| Douglas | North Umpqua River |
| Douglas | Gravel bars of South Umpqua River |
| Grant | Middle Fork of the John Day River |
| Harney | Area surfaces of Warm Springs Reservoir |
| Harney | Saddle Butte |
| Jackson | Both sides of the road in Brownboro area |
| Jefferson | Norton Ranch |
| Jefferson | Cherry Creek and John Day River |
| Jefferson | Kennedy Ranch |
| Jefferson | Richardson Ranch |
| Jefferson | Folmsbee Ranch |
| Josephine | Oregon Caves |
| Lake | Warner Canyon |
| Lake | Quartz Pass area |
| Lake | Sycan Butte area |
| Lane | Beach gravels between Yachats and Florence |
| Lincoln | Area beaches of Newport especially Agate Beach |
| Lincoln | Beach gravels of China Creek to Commings Creek |
| Malheur | Jamieson area |
| Malheur | Surrounding area of Willow Creek Reservoir |
| Malheur | Gravels of Jordan Creek |
| Malheur | Immeadia area surrounding Nyssa |
| Malheur | Alkalin Lake |
| Malheur | Sucker Creek |
| Wasco | Area stream gravels of Mosier |
| Wasco | Chenoweth Creek gravels |
| Wheeler | John Day River |
General Areas You Should Try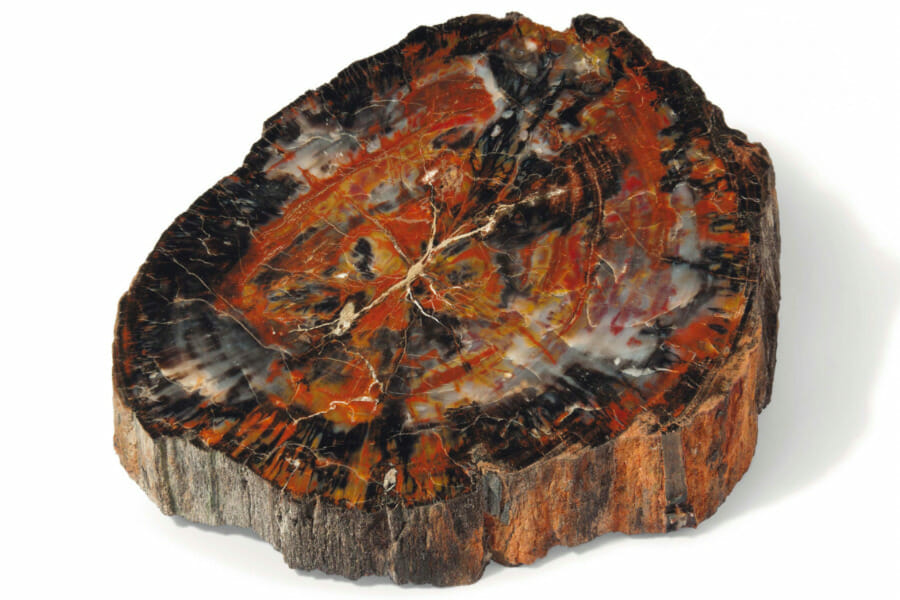 If you're planning to explore sites that cover wide bases, make sure you check out the following areas where petrified wood is usually found:
Streams and Creeks
Streams and creeks are prime spots for finding Oregon petrified wood. These waterways are natural transporters of rock and sediment. When rain falls on hills and mountains, it washes loose rocks and soil down into the streams. Among these rocks, you can often find pieces of petrified wood that have been eroded.
Petrified wood can be quite heavy, so it tends to get deposited in certain areas of a stream. Look for places where the water slows down, like the inside bend of a stream, or where larger rocks have piled up.
Rivers and River Banks
Rivers and river banks in Oregon can be gold mines when it comes to finding petrified wood. These places are like nature's conveyor belts, carrying rocks, sediments, and petrified wood from upstream locations down to new areas.
As a keen-eyed rockhound, you can check areas where the river slows down, like sandbars, or where larger rocks collect. These are spots where heavier items, like petrified wood, are likely to settle. River banks can also be great hunting grounds, especially after a flood or high water event, when new material has been deposited.
Petrified Forests
Petrified forests are fantastic spots to seek out petrified wood. These unique areas represent ancient landscapes where trees were quickly buried by sediment or volcanic ash, then slowly turned to stone over millions of years.
In these preserved forests, petrified wood is formed. Each piece tells a story about the plants that lived in that ancient forest and the conditions they experienced.
Common Questions About Finding Petrified Wood In Oregon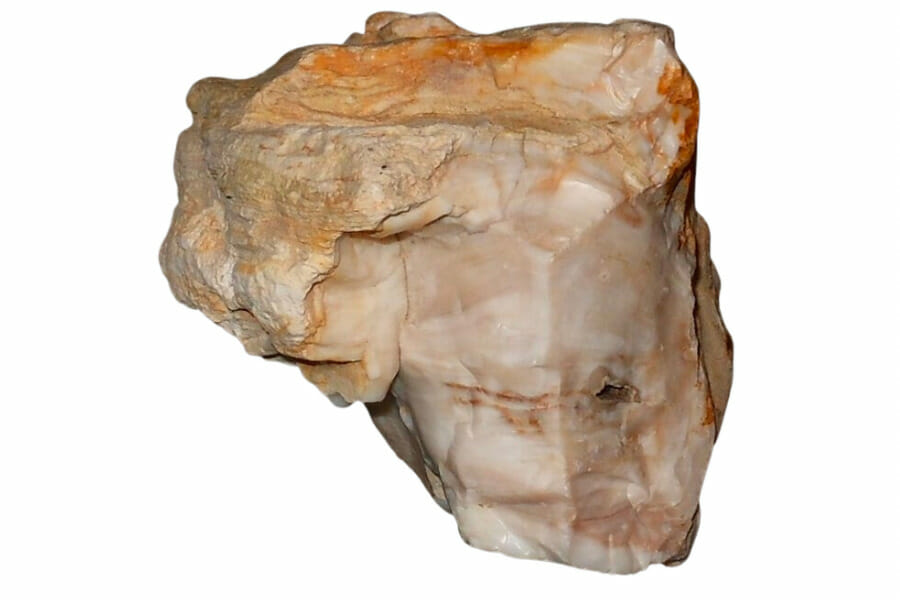 Here are some of the most commonly-asked questions about finding petrified wood in Oregon that you might have in mind, too:
How old is Petrified Wood in Oregon
Oregon petrified wood provides a fascinating window into our ancient history, with many pieces dating back tens of millions of years.
Much of these come from the Miocene epoch, which lasted from about 23 to 5 million years ago. This was a time of significant geological activity in our region, with frequent volcanic eruptions that quickly buried local forests under layers of ash and sediment. Over long periods of time, this organic material was replaced by silica and other minerals, ultimately forming the beautiful petrified wood we find today.
So, when you're holding a piece of Oregon petrified wood, you're touching a relic from an incredibly distant past, a testament to the power and beauty of nature's transformations.
Can you find Petrified Palm Wood in Oregon
Unfortunately, Oregon is not known for having petrified palm wood, as this type is generally associated with regions where palm trees naturally grew in the past. The petrified woods you'll find here are mostly from coniferous trees due to our climate and environment when the petrification process occurred.
The Best Places To Buy Petrified Wood In Oregon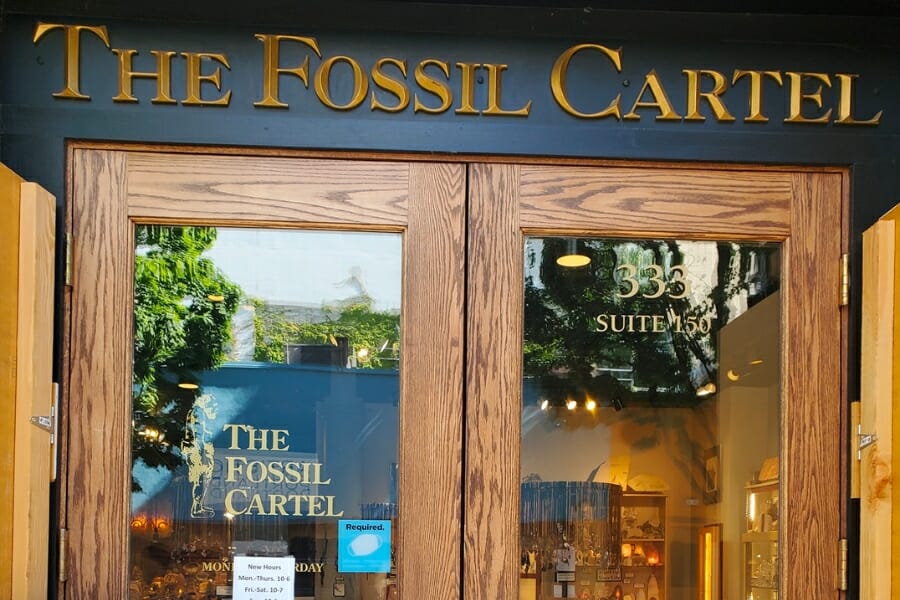 While nothing beats the thrill and excitement of searching for petrified wood in the diverse and interesting landscapes and waterscapes of Oregon, there are those who'd rather do it the easy way— like visiting the local shops here.
If you're one of them, check out these stores: