Opals are like the brightest gems in the world, and you can find them in many places in Oregon. These stones are unique because when light moves across them, it makes them sparkle with all the rainbow colors.
Many people in Oregon know about the "Oregon Sunstone," but there's another prize there, too: the Oregon opal. Each opal is beautiful, with a play of colors that can run from bright reds to deep blues.
We will show you around Oregon so that you can find these lovely stones. In your hands, you could hold a piece of the rainbow!
The article will tell you where to look for opals, when to hunt, and how to dig for them. Learn how we can help you find a secret rainbow in the state by reading through!
What Is Oregon Opal Anyway?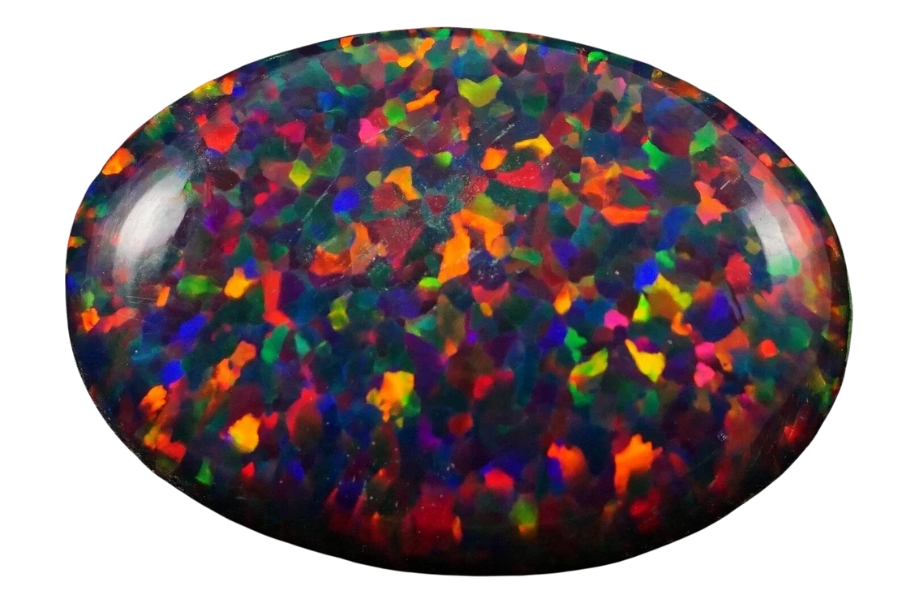 Opals are very different from diamonds and rubies because they don't just have one color. Opals are like little rainbows stuck inside rocks. If you move them around in light, you'll see flashes and sparkles of many colors inside them.
Small bits of water and silica (which is found in sand) get stuck inside the opal and bend the light in this cool way. It's called "play-of-color," and some opals show many colors simultaneously. This makes them very famous and pretty to look at.
Opals can be found in places where geothermal hot springs have been. This is because those are the best settings for making them. The price of opal differs depending on where they have been found.
We've made an article to help you identify opals easier during your search.
How We Found The Best Opal Locations in Oregon
When it comes to choosing the best options for finding Oregon opal there are plenty of things we consider. Many of the best locations are closely guarded secrets which can make it really difficult for more casual geode hunters to find success. The key factors in our recommendations are:
The deep experience and understanding of our team about the area
Recommendations from local groups and clubs
How easy it is to get the a particular location
Safety and potential hazards when collecting
Weighing private and public locations
The ability for both experienced and novice geode enthusiasts to find great samples
With these factors in mind we've been able to put together a fantastic list that just about anyone can use!

The Best Places To Find Opal in Oregon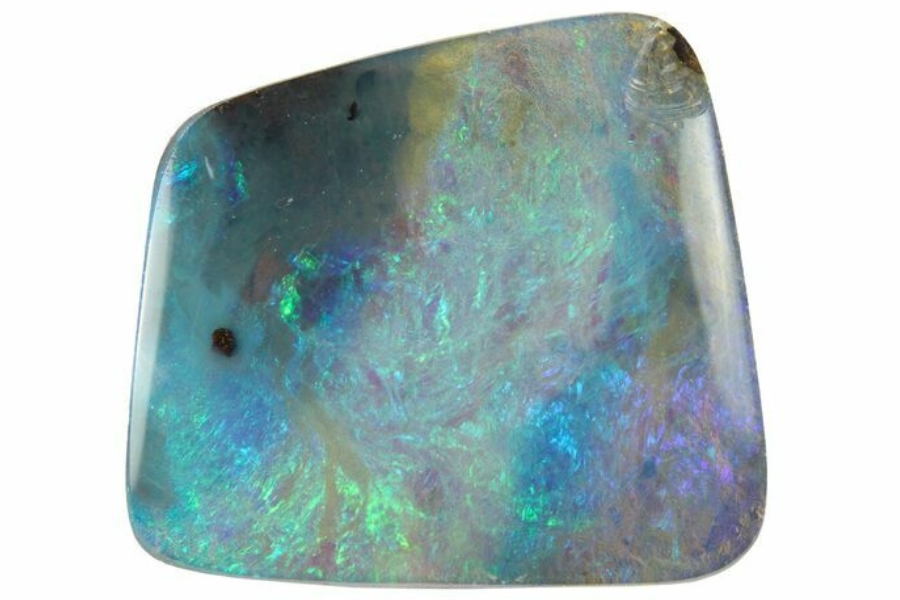 Let's talk about where in the state you can find the best opal. It's possible to find gems in Oregon in many places, but only a few are good for opal. Many people don't know about some of these spots, but they're great places to search.
Always Confirm Access and Collection Rules!
Before heading out to any of the locations on our list you need to confirm access requirements and collection rules for both public and private locations.
These requirements are subject to change without notice and may differ from what we state below.
Always get updated information directly from the source ahead of time to ensure responsible rockhounding.
Barnes Butte is a secret gem in Oregon. It's not only beautiful, but it's also a fun place to look for opals. It looks like a big hill sticking out of the ground. This butte is part of the scenery near the Central Oregon town of Prineville.
A very long time ago, old rivers ran through this area. For millions of years, they helped make the conditions ideal for opals to form. Layers of volcanic ash and other things have changed over time into the right rock to hold these bright riches.
It's fantastic that Barnes Butte isn't as famous as other opal spots. That means it's not crowded, which makes it an excellent spot for a treasure find. You can look around and enjoy the view. If you're patient and have a good eye, you might discover opals in the rough.
Make sure you know the most recent rules for collecting before you bring anything back from Oregon.
Where we found opal at Barnes Butte
The opals in this area are often found in cavities within the rhyolite. These opals can be transparent or contain various colors, sometimes with the coveted play of color.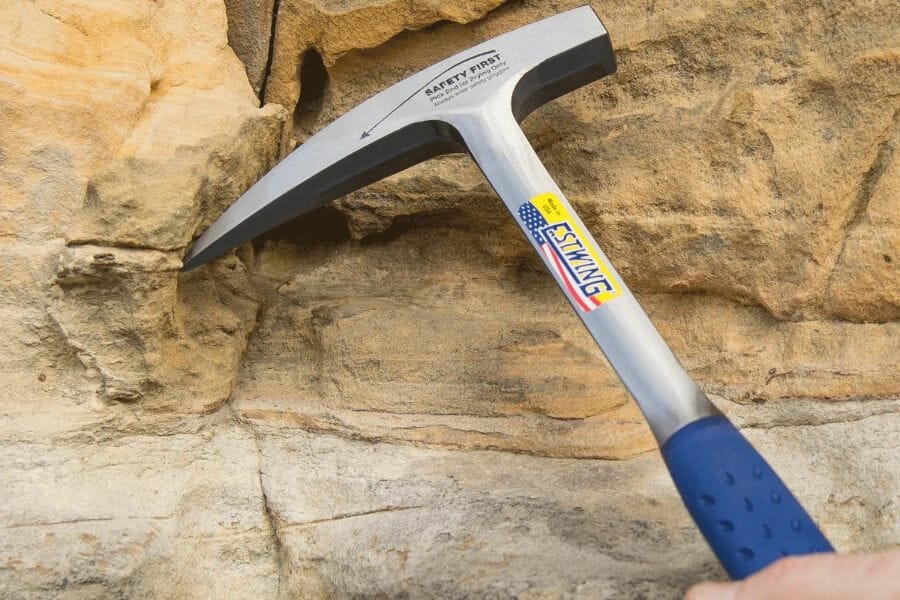 The tools every geode hunter will need
When you're out looking for geodes having the right tools for the job is very important. You don't need a lot for most trips but there are a handful that are critical and will make your life a lot easier.
We get asked a lot about the equipment we use. Over the years we've found a handful of tools that we recommend to both new and experienced geode hunters which we outline in great detail in our complete rockhounding tools and kit guide. These are quality options that also happen to be relatively inexpensive.
Below are the basic tools that make your life so much easier and save you a ton of time. Check out the full guide to see everything we recommend bringing. One quick note, as an Amazon Associate I earn from qualifying purchases but we try very hard to only recommend gear we would use ourselves and often recommend brands you can't find on Amazon.
At a minimum you should have:
1 - Sturdy rock hammer: The Estwing Rock Pick is our standard
2 - Rugged chisels: Try Kendo' 3-piece Chisel Set
3 - Compact shovel: The Koleiya 28-inch shovel works well
4 - Rock screen pan: The Wazakura Soil Sieve Set fits the bill
5 - Eye protection: DeWalt Safety Glasses are cheap and comfortable
6 - Head protection: Malta's Safety Helmet has been our go-to
7 - Jewelers lens with at least 20x magnification: Jarlink's Jewelers Loop is perfect
The geode-finding books that we use most
There are also a few books that have been extremely helpful in the search for gems. These books have great recommendations and tips:
National Audubon Society Field Guide to Rocks and Minerals: North America 
Northwest Treasure Hunter's Gem & Mineral Guide 
Earth Treasures: The Northwestern Quadrant 
We provide links to find these tools on Amazon but some can also be found at your local hardware stores. For more recommendations check out the link to our full tool guide above.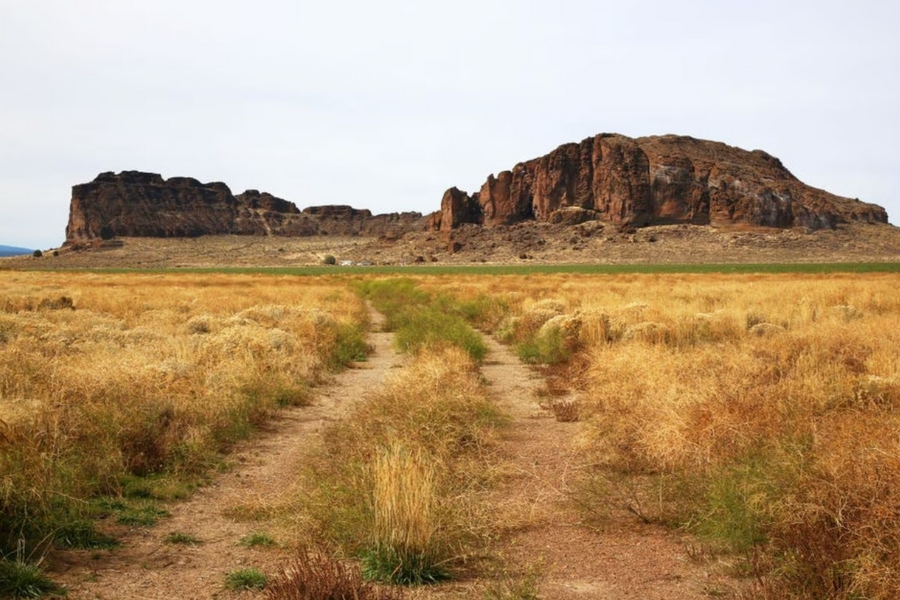 In Central Oregon's Christmas Valley Pit, hidden in the high desert, looking for opal can be just as exciting as opening Christmas presents. This place is known for its rough terrain and wide open spaces.
It also has a type of opal called "lemon opal" because it's bright yellow. Fans of rocks love these opals because of their warm glow. They're not the kind that sparkle with every color.
Millions of years ago, volcanic action helped make the right conditions for opals to form. The heat and pressure over time changed the silica into these shiny stones. They are hidden in pieces of rock or the sand in Christmas Valley.
Where we found opal in Christmas Valley Pit
In Oregon's Christmas Valley Pit, opals are scattered around in the area's unique rock forms. In this area, opals are usually found in rhyolite and basalt, which are both types of volcanic rock.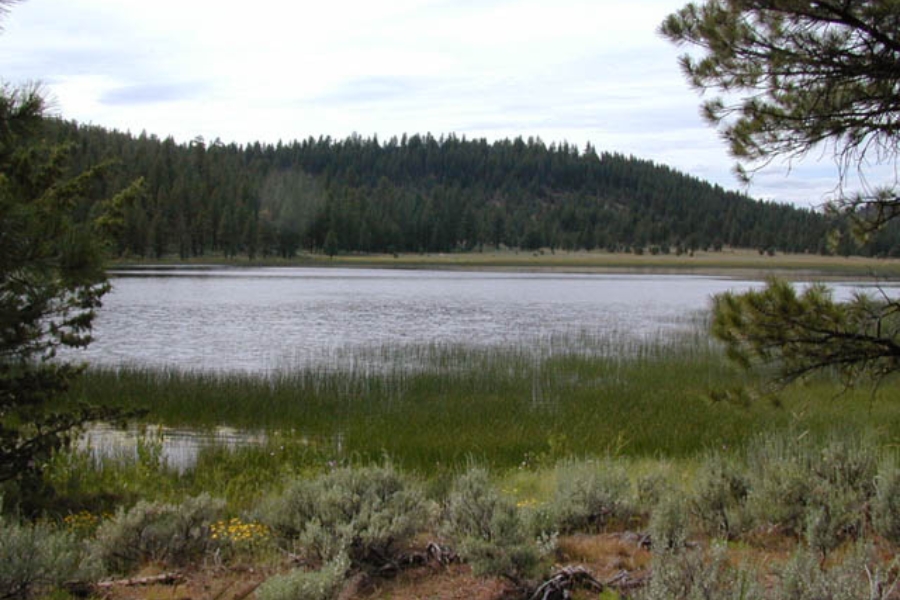 People seeking opals often visit the Juniper Ridge Opal Mine in Oregon. This mine isn't like the dark tunnels you might be picturing. Instead, it's a hole where you can see the sky and feel the sun.
It's in the middle of Lake County's high desert, which might look empty but hides a sparkling secret below the ground.
The rich vein of volcanic ash that Juniper Ridge is built on has turned into rare opals over millions of years, making it a great place to find them. The red fire opal is one type of opal that you might find here. It's very rare and lights up with fiery colors when you shine light on it.
The mine is a safe and well-kept area where families and treasure hunters can look for their piece of Oregon's natural art. There is a good chance they will find something special to take home.
Where we found opal at Juniper Ridge Opal Mine
In Oregon's Juniper Ridge Opal Mine, you can find opals in the different layers of the mine's unique rock. People dig through the broken-down rhyolite and clay, which is soft, changed volcano ash, to find these gems.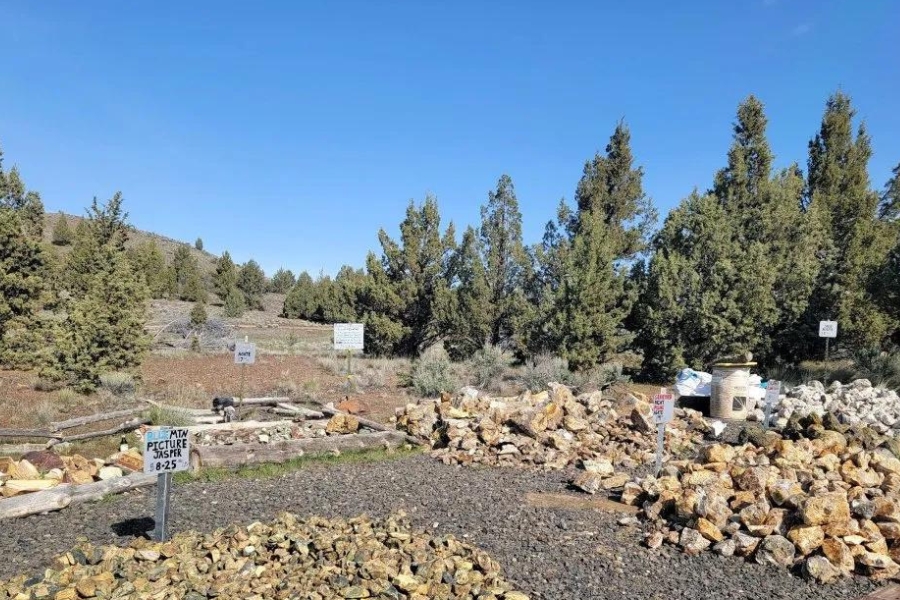 The Polka Dot Beds in Priday are a unique and lively part of Oregon's geological history. The beds are in Central Oregon, close to Madras. They are known for their polka dot agates, but you can also find other rocks here.
Amid the polka dots, you can find opal specimens that are hidden. These opals aren't the flashy ones you usually see; they're more of the normal kind. But their milky colors and smooth surfaces make them pretty.
The cool thing about the Priday Polka Dot Beds is that they are in the bed of an old lake. Over time, the lake dried up. Then, volcanoes and other natural processes released rich minerals into the air. The right conditions were present to make the opals and agates now ready for rock hunters to find.
Where we found opal at Priday Polka Dot Beds
You can find opals buried in layers of ash and soil that make up the area's geology. These beds are on the Richardson's Rock Ranch, and they are full of thundereggs, agates, and sometimes opals as well.
Summit Rock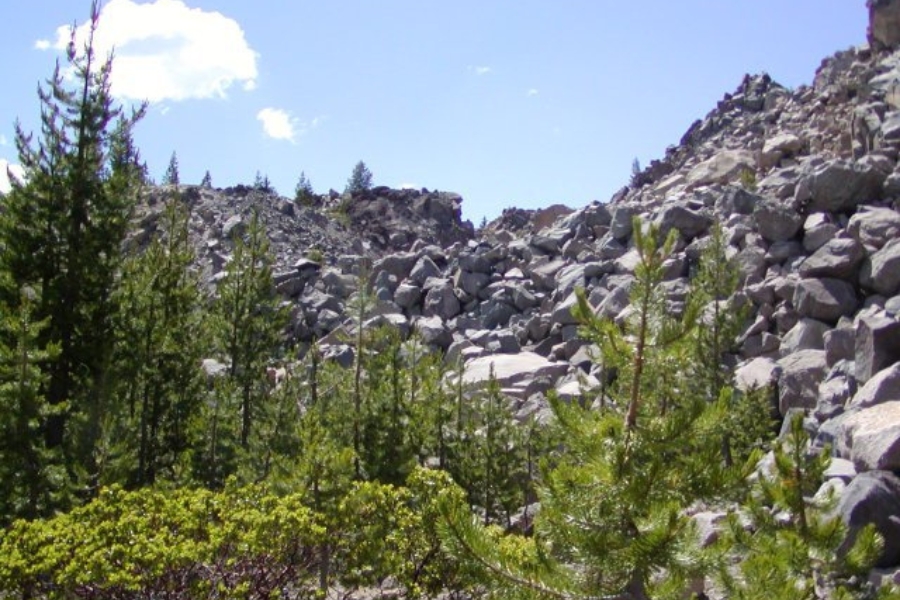 If you want to find your piece of natural beauty, Summit Rock in Oregon is another great place. Rock hunters keep this area hidden in the vast Ochoco National Forest.
It's an old, worn-down flow of volcanic ash. This spot has been perfect for making opals for millions of years. Summit Rock is a popular place for opal hunters to dig because it's not as well known as other places. This means that you might have a better chance of getting lucky.
Because it's on public land, you can look around and dig for free. But remember to follow the National Forest's rules to protect the environment. Also, always fill any holes you make and leave the area the way you found it so that someone else can enjoy the hunt, too.
Where we found opal at Summit Rock
You can find opals in all the cracks and crevices of the volcanic dirt at Summit Rock, which is pretty cool. The opals in this picture are usually the common type, but they still look fantastic because they are smooth and polished.
Other Great Places To Find Oregon Opal
We planned to talk about the other places on our list after talking about our favorites. We've sorted each idea by county and added a few more places where it worked for us.
Our recommendations by county
| | |
| --- | --- |
| County | Location |
| Baker | Swayze Creek |
| Harney | Burns area, Silvies Canyon in Myrtle Park |
| Jefferson/td> | Madras area, Fulton Agate Beds |
| Jefferson | Round Butte Cinder Pit |
| Lake | Glass Buttes |
| Lake | Plush area, Hart Mountain |
| Lane | Hobart Butte |
| Malheur | Lake Owyhee State Park |
| Malheur | Succor Creek |
| Morrow | Opal Butte |
| Wasco | The Dalles, Chenowith Creek |
Common Opal-Hunting Questions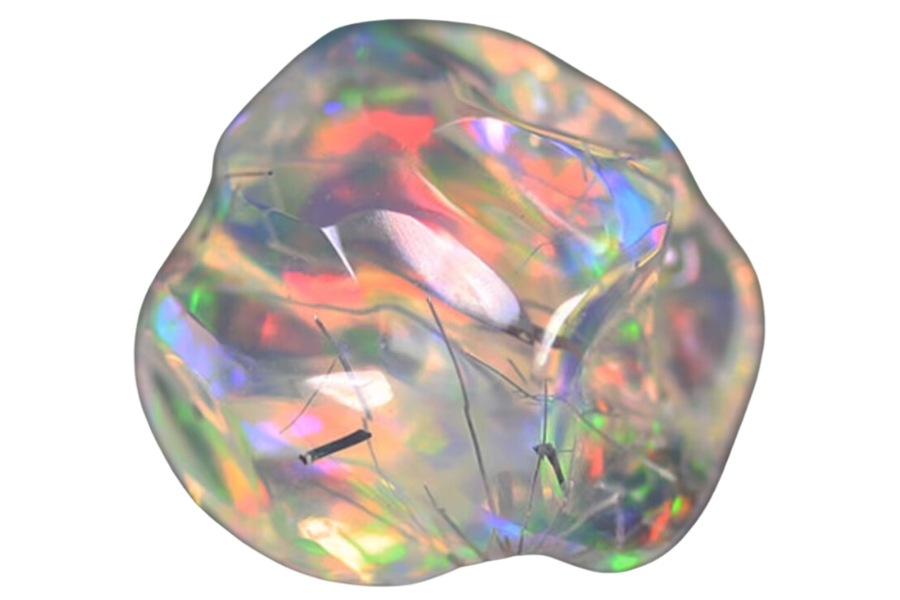 People often ask the following questions to find out where to find opal in Oregon:
Is it illegal to collect opal in Oregon?
Along with other rocks and minerals, Oregon lets people gather opal on public lands, but some rules and laws must be followed.
Before you go opal hunting, you should make sure you know what the rules are for the place you want to visit. For the most up-to-date information, you can usually do this by calling the local BLM or National Forest office or going to their websites.
It's always best to research before gathering because rules can change, and places that were once open to collecting may no longer be.
The Best Places To Buy Opal In Oregon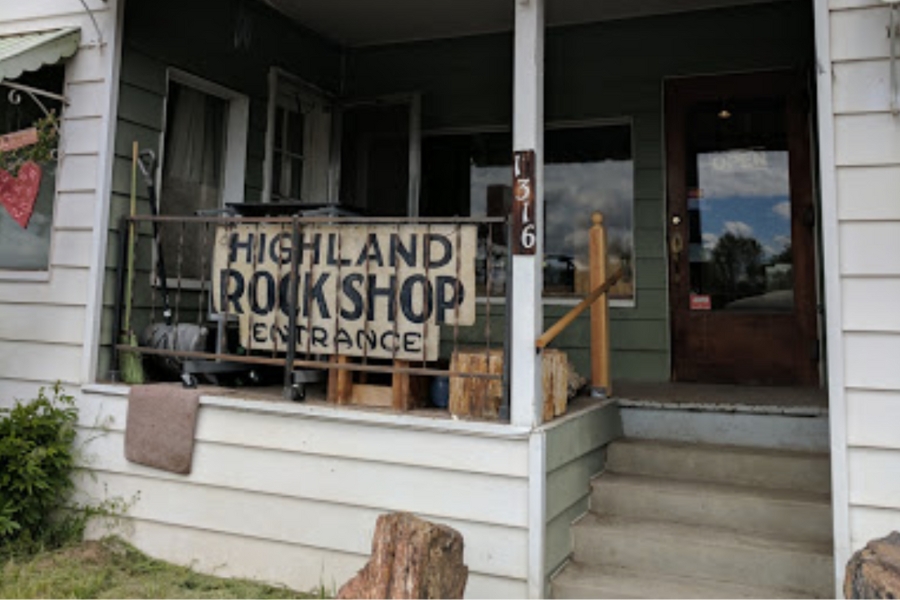 Not everyone likes to work hard and get dirty when finding opal outdoors. If you don't want to do that, this list is for you.
Here are some of our favorite places in the area to find and buy opal:
Ed's House of Gems – 7712 NE Sandy Blvd, Portland, OR 97213, United States
Highland Rock – 1316 Hines Blvd, Burns, OR 97720, United States
Livingstone Rocks – 1220 SE Grand Ave, Portland, OR 97214, United States
Portland Rocks – 6658 SE Milwaukie Ave, Portland, OR 97202, United States
Rock Castle & Cota's Lapidary – 39100 River Dr, Lebanon, OR 97355, United States