Louisiana is a place brimming with natural marvels, from its sprawling wetlands to the winding Mississippi River. But what really gets a rockhound's heart racing is the treasure trove of rocks and minerals nestled in our vibrant state.
Finding opals here isn't a walk in the park. It's a quest that requires persistence, a keen eye, and a bit of local knowledge. Without knowing the right places to look, you could walk right over a hidden opal treasure.
We're here to guide you to the excellent areas to find opals in Louisiana. This includes Leesville, Ouachita River, Hidden Fire Opal Mine, Harrisonburg, and Carnahan Bayou.
Gear up and let's get moving!
Understanding the opal you can find here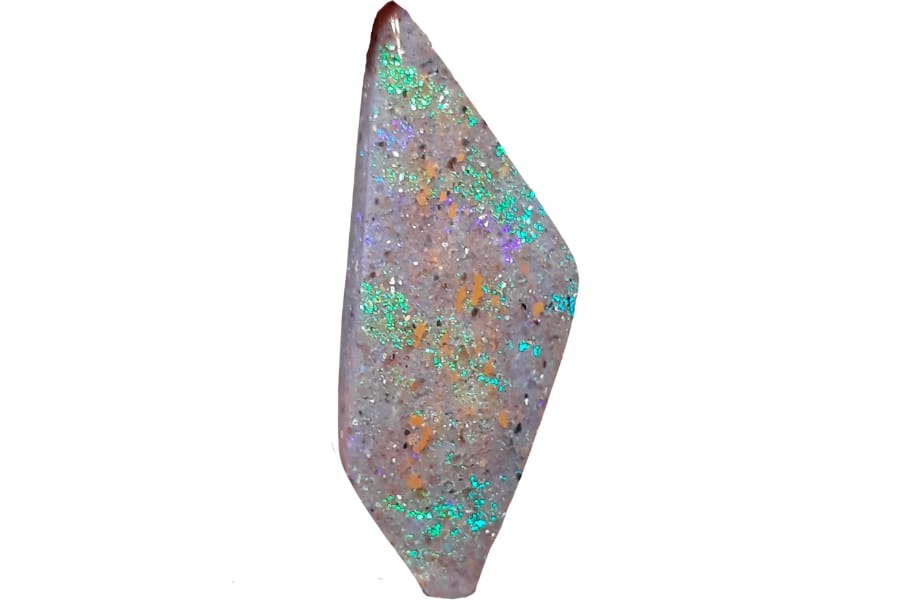 Opal is a fascinating gemstone that's not like other rocks. When you look at it, it sparkles with many colors, like a rainbow got trapped inside. That's called 'play-of-color,' and it's what makes identifying opals in a sea of different gems possible.
They can have lots of colors, like red, green, blue, and orange, all swirling together. Sometimes, it looks like they're glowing from the inside!
People love opals for this beautiful color show, and that's why they're often used in jewelry like necklaces, rings, and earrings. But opals aren't just pretty to look at; they're also used in industry. They can be found in parts of electronics and even as a decoration on fancy dishes and house items.
The value of opal is because of different reasons. First, because they're rare. You can't just find them anywhere. And second, because each one is unique. No two opals have the exact same pattern of colors, so when you have this gem, you have something that's one-of-a-kind.
Most opals are found underground in places where ancient geothermal hot springs were active. Countries like Australia, Mexico, and Ethiopia are famous for their opal mines. In the U.S., places like Nevada and our very own Louisiana have opals too.
How We Found The Best Opal Locations in Louisiana
When it comes to choosing the best options for finding Louisiana opal there are plenty of things we consider. Many of the best locations are closely guarded secrets which can make it really difficult for more casual rock hunters to find success. The key factors in our recommendations are:
The deep experience and understanding of our team about the area
Recommendations from local groups and clubs
How easy it is to get the a particular location
Safety and potential hazards when collecting
Weighing private and public locations
The ability for both experienced and novice rock enthusiasts to find great samples
With these factors in mind we've been able to put together a fantastic list that just about anyone can use!

The Best Places To Find Opal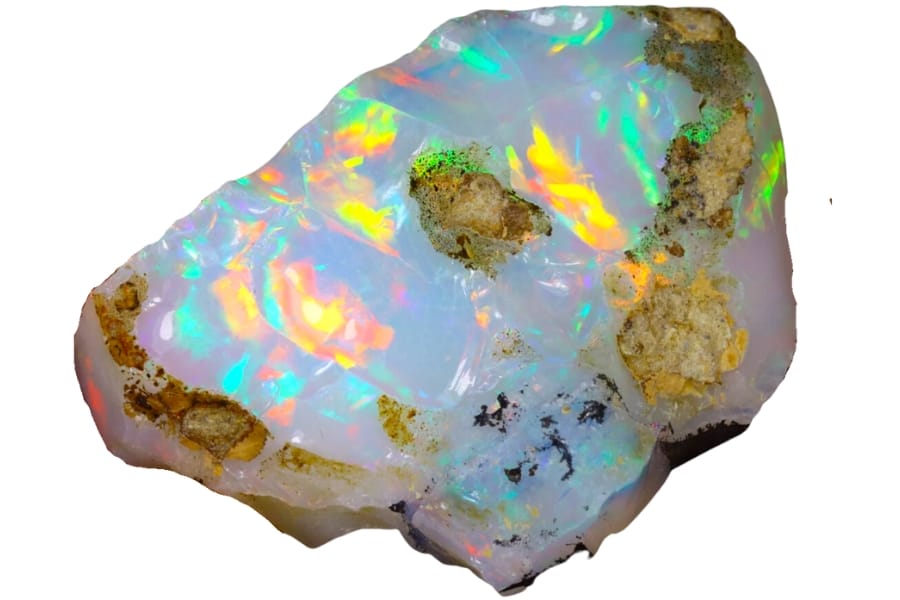 Louisiana may be considerably small compared to most states, but it's jam-packed with great gem mine sites that you can explore. If you want to focus your search on opals, though, there are only certain excellent areas that you should visit, such as:
Always Confirm Access and Collection Rules!
Before heading out to any of the locations on our list you need to confirm access requirements and collection rules for both public and private locations.
These requirements are subject to change without notice and may differ from what we state below.
Always get updated information directly from the source ahead of time to ensure responsible rockhounding.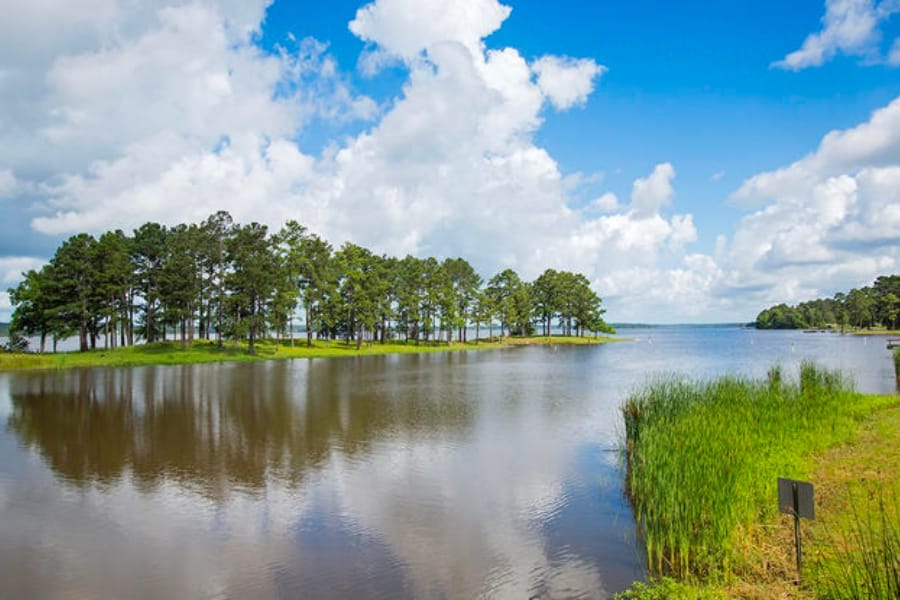 Leesville is located in the heart of our state and is part of Vernon Parish. It's surrounded by beautiful forests and the land is a mix of rolling hills and flat plains, with the stunning Kisatchie National Forest nearby. This area is a patchwork of pine trees and winding trails.
Geologically speaking, Leesville sits on top of what we call the Gulf Coastal Plain. This means that the area used to be under the sea! Over millions of years, the water went away, and it left behind layers of sediment that hold hidden treasures like the Louisiana opal which has a kaleidoscope of colors.
Luckily, Leesville is just a drive away from major cities like Baton Rouge and Shreveport. You can take the I-49 highway and connect through state roads, like Highway 28 or 117, to reach the heart of the area.
But before you grab your gear and head out here, make sure to review and revisit Louisiana's latest collecting guidelines first.
Where we found opal in Leesville
If you want to find rare Louisiana opals in Leesville, we highly recommend searching through the outcrops of the Catahoula Sandstone.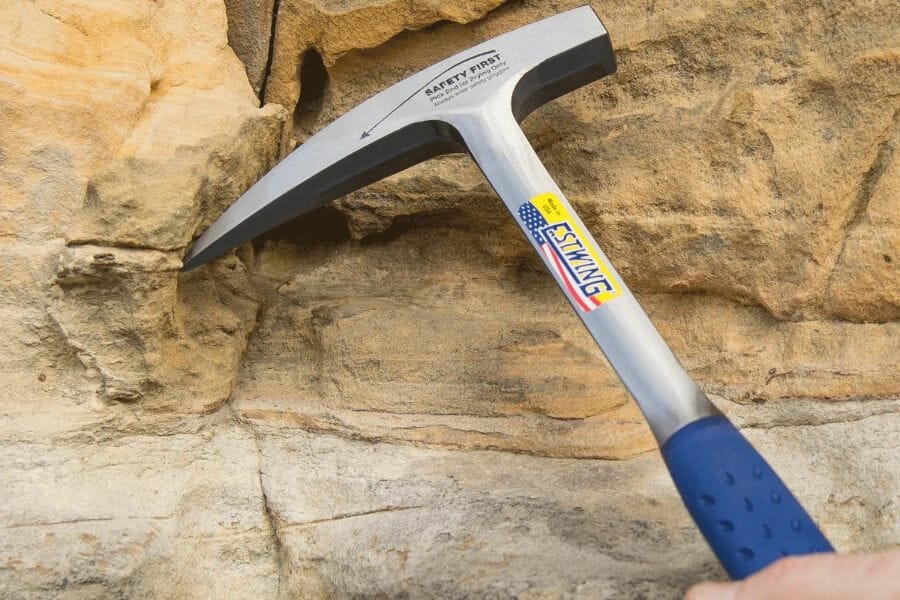 The tools every geode hunter will need
When you're out looking for geodes having the right tools for the job is very important. You don't need a lot for most trips but there are a handful that are critical and will make your life a lot easier.
We get asked a lot about the equipment we use. Over the years we've found a handful of tools that we recommend to both new and experienced geode hunters which we outline in great detail in our complete rockhounding tools and kit guide. These are quality options that also happen to be relatively inexpensive.
Below are the basic tools that make your life so much easier and save you a ton of time. Check out the full guide to see everything we recommend bringing. One quick note, as an Amazon Associate I earn from qualifying purchases but we try very hard to only recommend gear we would use ourselves and often recommend brands you can't find on Amazon.
At a minimum you should have:
1 - Sturdy rock hammer: The Estwing Rock Pick is our standard
2 - Rugged chisels: Try Kendo' 3-piece Chisel Set
3 - Compact shovel: The Koleiya 28-inch shovel works well
4 - Rock screen pan: The Wazakura Soil Sieve Set fits the bill
5 - Eye protection: DeWalt Safety Glasses are cheap and comfortable
6 - Head protection: Malta's Safety Helmet has been our go-to
7 - Jewelers lens with at least 20x magnification: Jarlink's Jewelers Loop is perfect
The geode-finding books that we use most
There are also a few books that have been extremely helpful in the search for gems. These books have great recommendations and tips:
National Audubon Society Field Guide to Rocks and Minerals: North America 
Southeast Treasure Hunter's Gem & Mineral Guide 
Earth Treasures: The Southeastern Quadrant 
We provide links to find these tools on Amazon but some can also be found at your local hardware stores. For more recommendations check out the link to our full tool guide above.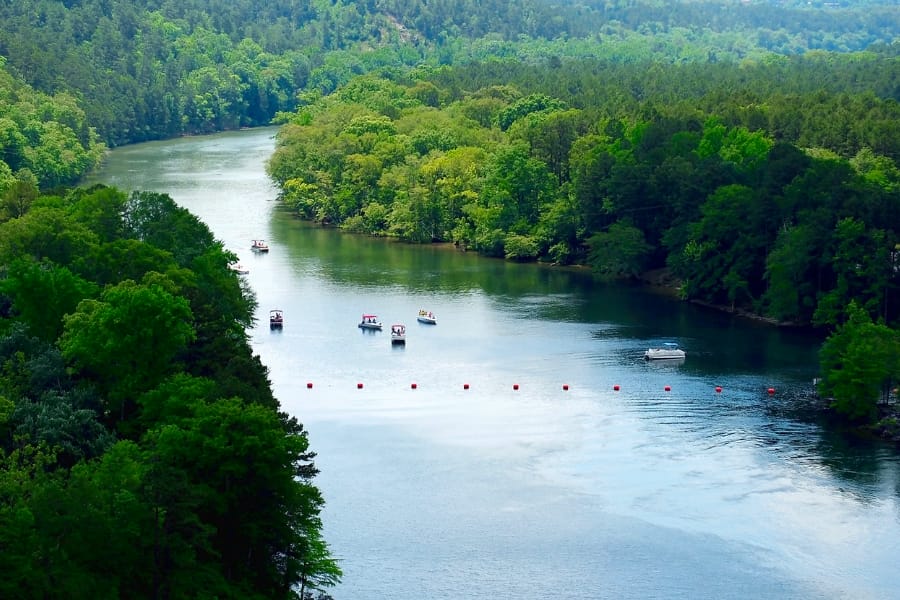 The Ouachita River is a true slice of nature's beauty as it winds its way through our state. It starts small in the Ouachita Mountains of Arkansas and flows into Louisiana, growing wider and more majestic. Along its journey, it carves through rich forests, past bluffs, and through fertile farmlands before merging with the Black River.
The area around the Ouachita River is diverse, with sandy shores and spots where ancient, water-worn rocks peek out. These rocks are part of the Ouachita Geological Province and can be very old, some dating back hundreds of millions of years.
Getting to this river is easy. It runs close to towns like Monroe and West Monroe, which are accessible by highways and well-marked roads. You can reach the river via U.S. Highway 165 or Interstate 20.
Where we found opal in the Ouachita River
To find opals in the Ouachita River, the key is to look around the riverbanks or gravel bars where water has moved and deposited different materials over time.
Hidden Fire Opal Mine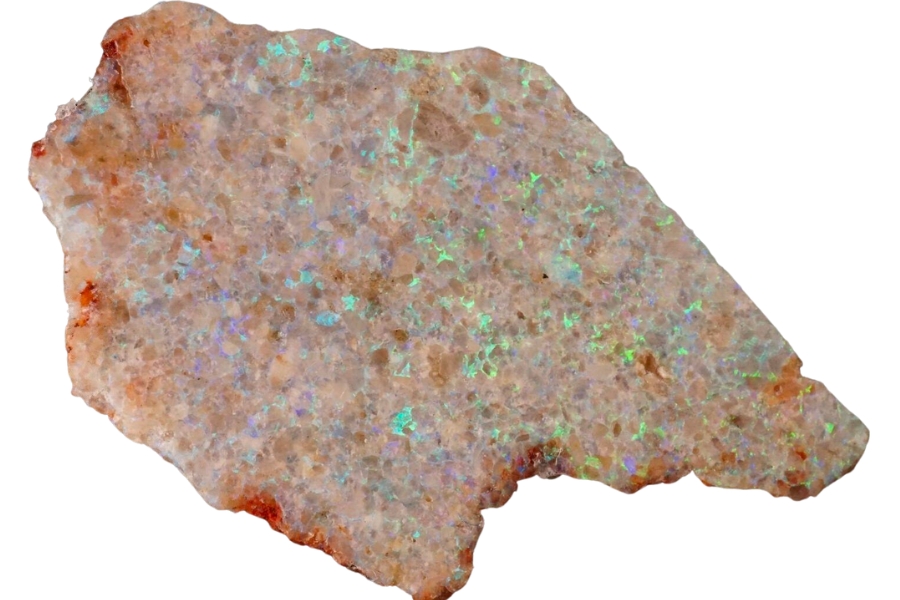 The Hidden Fire Opal Mine, also known as the Louisiana Opal Exchange Mine, is a real gem located in Vernon Parish. It's nestled about 15 miles east of the Toledo Bend dam, not far from a place called Monks Hammock. This mine was the sole commercial producer of Louisiana Opal, which is very special.
The opal found here is part of the Catahoula Formation and is known for its iridescent sparkle, showing off colors like blue, purple, teal, gold, and aqua, much like the festive spirit of Mardi Gras.
The terrain here is quite fascinating. Imagine being surrounded by lush vegetation, with pine-scented air, as you search for these hidden treasures. The geography here is part of what makes these opals unique— their formation means that Louisiana Opals are embedded in sandstone, giving them a distinct appearance.
If you're looking to make the journey here, start by heading toward Vernon Parish and then make your way towards Toledo Bend dam, keeping an eye out for Monks Hammock as a nearby landmark.
Where we found opal in the Hidden Fire Opal Mine
Sadly, the Hidden Fire Opal Mine operated for a very short period, from 1989 to 1993, and has since been closed. However, the allure of finding Louisiana Opal still draws rockhounds to the region, hoping to discover smaller deposits in the vicinity of the old mine.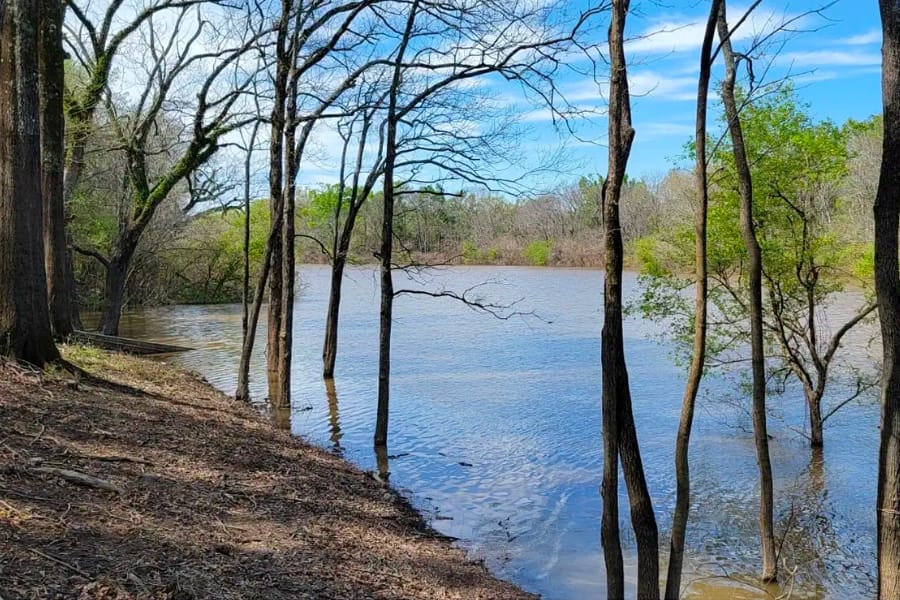 Harrisonburg sits like a gem along the banks of the Ouachita River. It's the seat of Catahoula Parish and is a small town with a big heart for nature lovers and rock hunters alike. The geography here is a delightful mix, with the river's edge creating lush, green landscapes and the rolling hills offering panoramic views of the sky.
The area around Harrisonburg is known for its sedimentary rock layers. It's these layers that could hold the key to finding opals, as they often house the right conditions for such gems to form.
Harrisonburg is located northeast of Alexandria and can be reached by following Highway 84 or Highway 425. These roads cut through our state's picturesque countryside, making your journey a beautiful ride.
Where we found opal in Harrisonburg
You can find both opal and opalized wood if you explore 2 miles northwest of Harrisonburg at the gravel hills in the area. Its sandy loams and clay could also be hiding these natural treasures.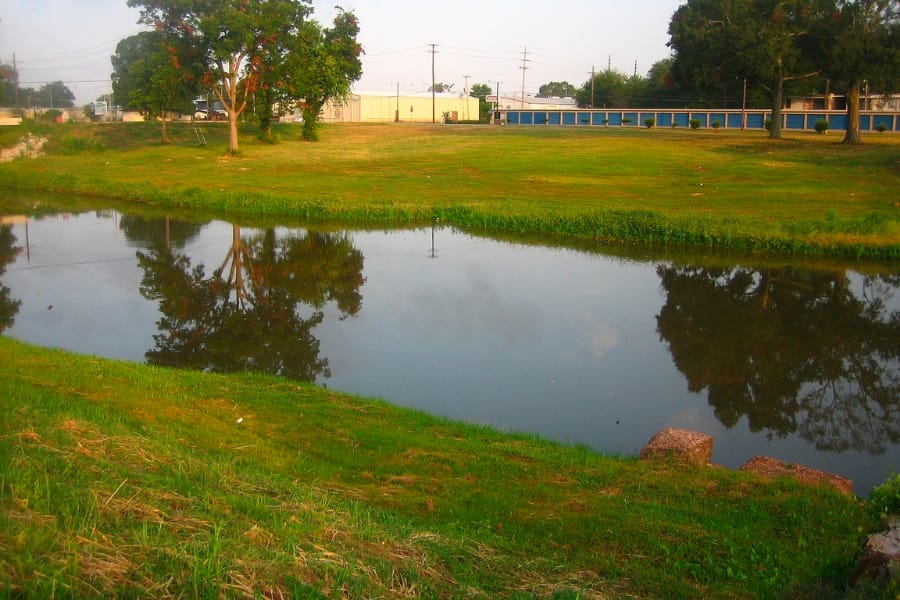 Carnahan Bayou is part of our state's wetlands, which means it's a mix of water and land all woven together. It winds its way through the landscape, with tall grasses on the banks and trees that reach up to the sky.
The ground is soft and often muddy, and there are lots of places where water has left layers of silt and sand over time. This area is full of sedimentary rocks. Sometimes, if the conditions are just right, these layers can form opals.
To get to Carnahan Bayou, start by heading toward the town of Leesville. From there, you can take smaller roads that snake their way through the countryside. The journey is almost as fun as the destination, with lots of beautiful scenery to see along the way.
Where we found opal in the Carnahan Bayou
Explore just west in the rocky quarry of the Carnahan Bayou if you want to find opals in the area.
The Best Places To Buy Opal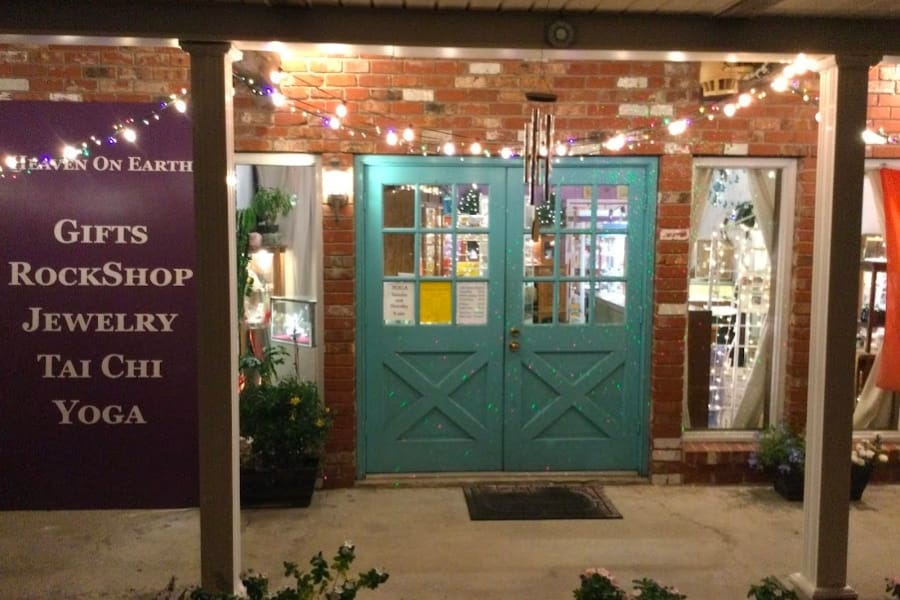 Opals are not your everyday find, so going out in the field to uncover them poses the risk of coming home empty-handed. If you want sure opal finds, you can pay a visit to our trusted local rock and mineral shops here.
Below are our best bets:
Cajun Classic Rocks & Minerals LLC – 142 Laura Dr suite f, Thibodaux, LA 70301
Coyote Moon Crystals & Gifts – 257 Lee Dr Suite S, Baton Rouge, LA 70808
French Quarter Gem and Lapidary – 527 St Philip St, New Orleans, LA 70116
Heaven On Earth Rockshop – 108 Rena Dr, Lafayette, LA 70503
Nola Rock Co. – 1214 Decatur St, New Orleans, LA 70116
Peace Unearthed LLC – 209 Bayou Gardens Blvd Suite Q, Houma, LA 70364