Massachusetts, with its rich geology, offers a unique window into Earth's past. The land tells stories that date back millions of years, just waiting for us to uncover them.
You can find Massachusetts fossils in many exciting locations where you can see evidence of life from long ago. Each site has its own story, carved into stone, reminding us of the dynamic world we live in.
From riverbanks to cliffs, the geography of Massachusetts serves as a canvas showcasing the beauty of our planet's history.
As you journey through various parts of the state, you'll come across spots that have become famous geologists.
The Fossils Of Massachusetts You Can Find
Over the years, people have found various types of fossils in Massachusetts. As you walk around various areas in the state, you might be stepping over places where fossils are hidden deep below.
Dinosaur tracks are a common find, especially in the Connecticut River Valley. Besides footprints, plant fossils have also been uncovered, giving us a peek into the state's past landscapes.
While actual dinosaur bones in Massachusetts are rarer, discoveries like the Anchisaurus in Springfield show that they too once roamed this land.
If you're interested in more of the state's geology, you can use our rockhounding guide to help you find rocks and minerals in Massachusetts. You'll learn about places teeming with other intriguing rocks, minerals, and gems.
How We Found The Best Places For Fossils in Massachusetts
Our team is constantly on the lookout for new fossil sites and are very plugged into the fossil hunting community. There are new locations that are constantly being found and we love to help more hunters find success. Here are the main factors we used when determining the recommendations we set out :
The extensive local experience and understanding of our team
Input from multiple local fossil hunters and fossil groups
The accessibility of the various locations
Safety and potential hazards when collecting
Private and public locations
A desire to include locations for both experienced fossil lovers and those who are just starting out
Using these weights we think we've put together the best list out there for those who love finding great new fossils for our collections!

Common Massachusetts Fossils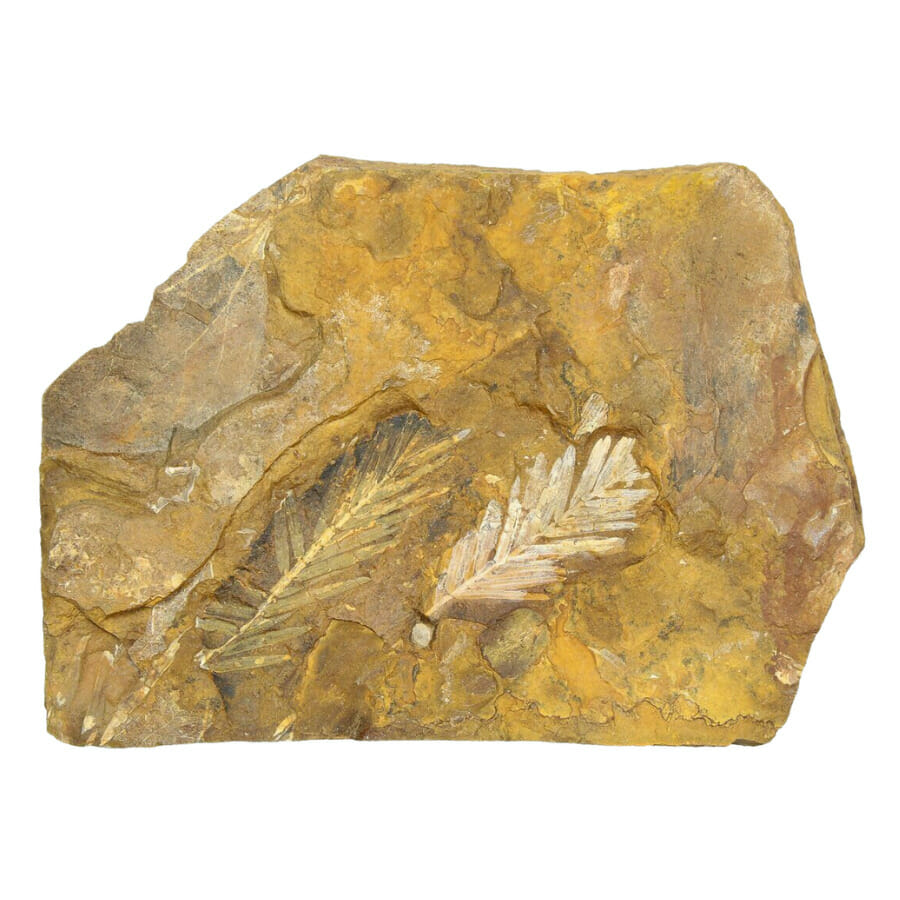 Let's dive into some of the common fossils in Massachusetts that you can discover.
Dinosaur tracks
Trilobites
Gastropods
Plant fossils
Brachiopods
Massachusetts State Fossil – Dinosaur Tracks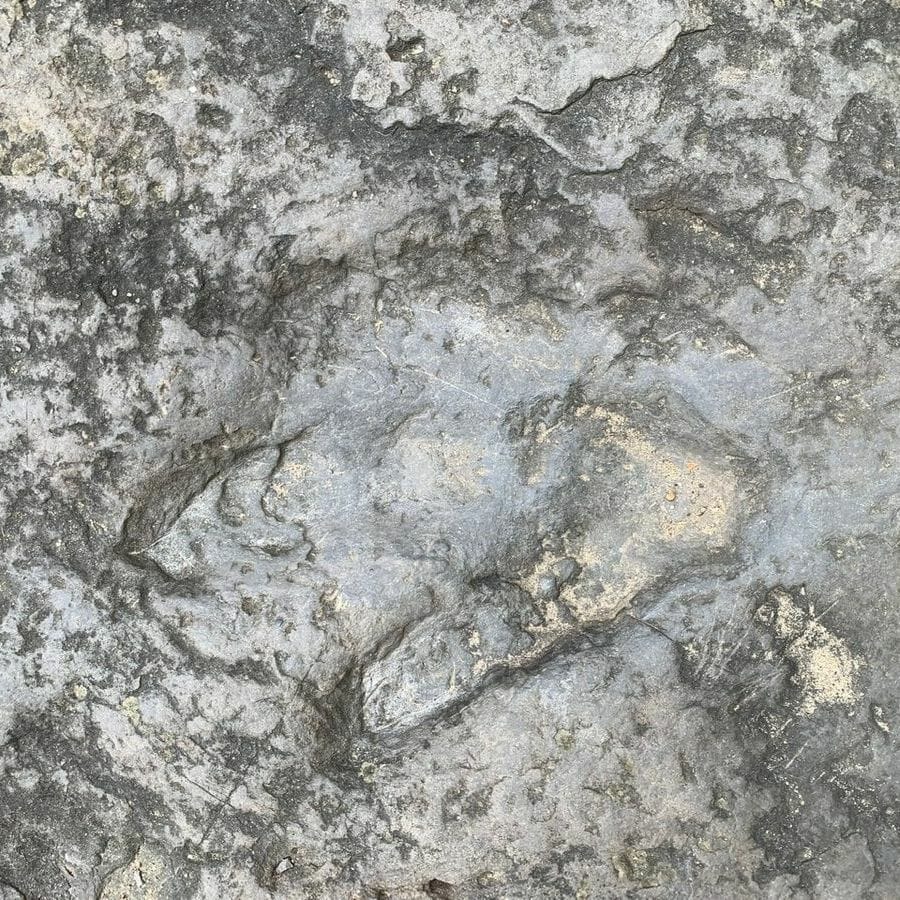 Dinosaur tracks are cool imprints left behind by dinosaurs as they walked on soft ground. Think of them like footprints in wet sand. Over time, these prints were covered with layers of dirt and rock.
As the layers built up and solidified, they preserved the tracks. These fossilized footprints give us clues about how dinosaurs moved, how big they were, and sometimes, what they might have been doing!
Rare State Fossils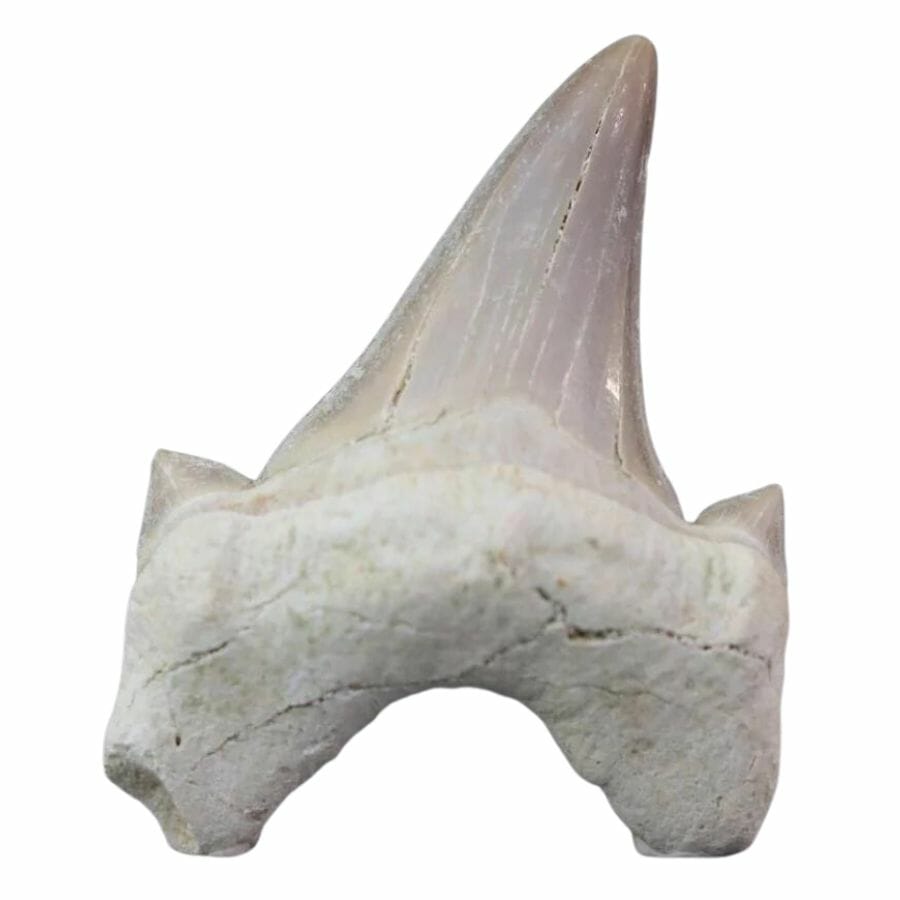 With luck, you'll also find some valuable rare Massachusetts fossils! Let's explore some of these unique treasures waiting to be discovered.
Dinosaur bones
Shark teeth
The Best Places To Find Fossils In Massachusetts
If you're eager to uncover the hidden stories of the past, Massachusetts has some prime spots for fossil hunting. These are the top locations where these treasures are waiting to be discovered!
Always Confirm Access and Collection Rules!
Before heading out to any of the locations on our list you need to confirm access requirements and collection rules for both public and private locations.
These requirements are subject to change without notice and may differ from what we state below.
Always get updated information directly from the source ahead of time to ensure responsible rockhounding.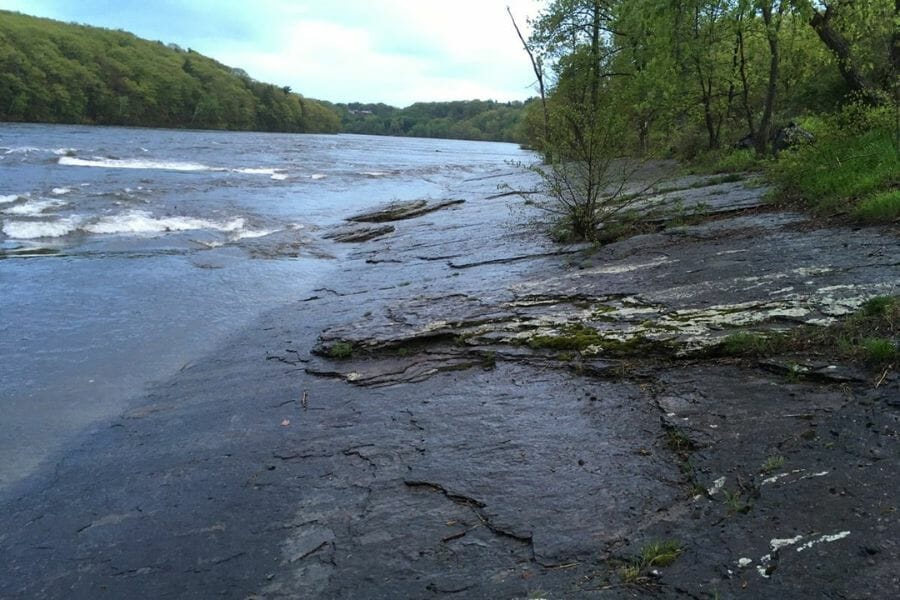 Holyoke is a gem for fossil hunters and nature lovers alike. Nestled beside the Connecticut River, this city has a lot going on beneath the surface.
Geographically, Holyoke boasts a mix of rolling hills and flat areas, making it a diverse spot to explore. The terrain can be a mix, with some areas lush and green, while others showcase the raw beauty of exposed rock and soil.
The geology of Holyoke is a treat. It's part of the Connecticut River Valley, an area known for its rich geological history.
Layers upon layers of rock tell tales of times gone by, making it a popular spot for those keen on discovering common Massachusetts fossils.
Major roads and highways lead straight to this city, making it easily accessible whether you're driving or using public transport. Plus, with its proximity to other towns and cities, it's a convenient destination for day trips or longer stays.
Where to find fossils in Holyoke
Fossil hunting in Massachusetts can lead to some amazing discoveries! In the quarries, shales, and sandstones in Holyoke, you might stumble upon tracks left behind by dinosaurs such as Anchisauripus, Grallator, and Eubrontes!
Alongside these dinosaur tracks, you can also spot plant fossils, giving a fuller picture of the environment and landscape of the time.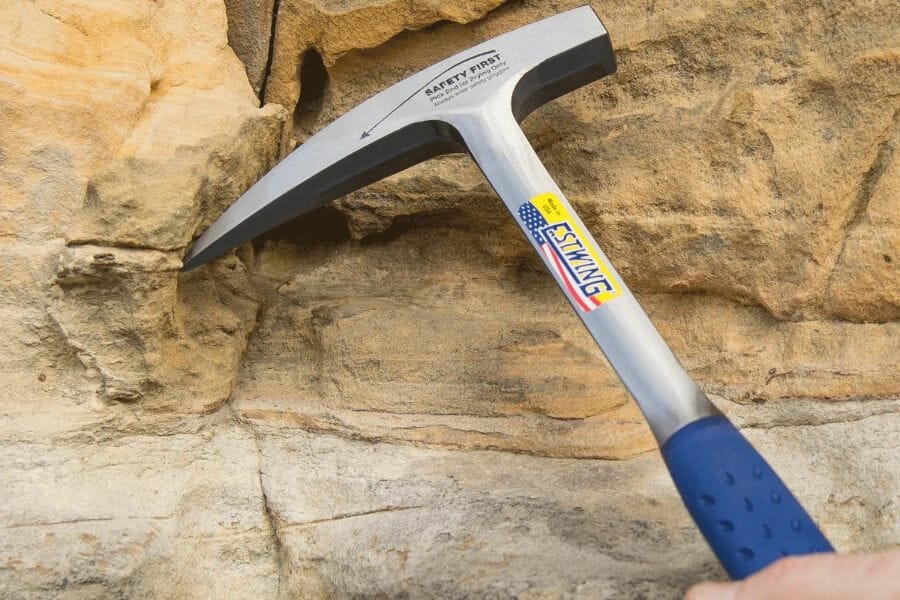 The tools every fossil hunter will need
When you're out looking for fossils having the right tools for the job is really going to make or break your success. You don't need a lot for most trips but there are a handful that are critical and will make your life a lot easier.
We get asked a lot about the equipment we use. Over the years we've found a handful of tools that we recommend to both new and experienced fossil hunters which we outline in great detail in our complete rockhounding tools and kit guide. These are quality options that also happen to be relatively inexpensive.
Below are the basic tools that make your life so much easier and save you a ton of time. Check out the full guide to see everything we recommend bringing. One quick note, as an Amazon Associate I earn from qualifying purchases but we try very hard to only recommend gear we would use ourselves and often recommend brands you can't find on Amazon.
At a minimum you should have:
1 - Sturdy rock hammer: The Estwing Rock Pick is our standard
2 - Rugged chisels: Try Kendo' 3-piece Chisel Set
3 - Compact shovel: The Koleiya 28-inch shovel works well
4 - Rock screen pan: The Wazakura Soil Sieve Set fits the bill
5 - Eye protection: DeWalt Safety Glasses are cheap and comfortable
6 - Head protection: Malta's Safety Helmet has been our go-to
7 - Jewelers lens with at least 20x magnification: Jarlink's Jewelers Loop is perfect
The fossil-finding books that we use most
There are also a few books that have been extremely helpful in the search for gems. These books have great recommendations and tips:
National Audubon Society Field Guide to Rocks and Minerals: North America 
Northeast Treasure Hunter's Gem & Mineral Guide 
Earth Treasures: The Northeastern Quadrant 
We provide links to find these tools on Amazon but some can also be found at your local hardware stores. For more recommendations check out the link to our full tool guide above.
Connecticut River Valley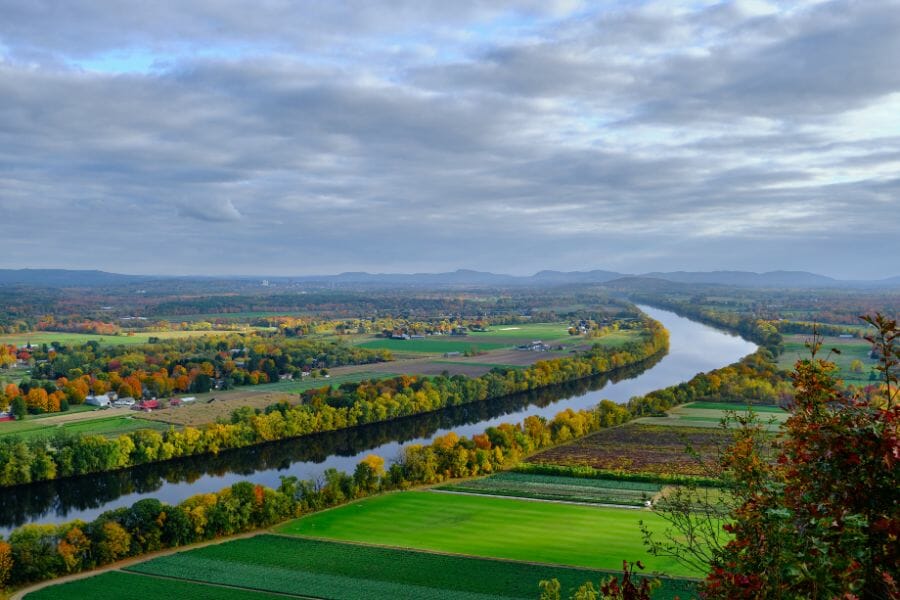 The Connecticut River Valley is a geologist's dream spot. Stretching through the state, this valley has a rich blend of hills, plains, and of course, the winding Connecticut River itself.
The terrain varies with forests, meadows, and exposed rock formations offering a diverse landscape for explorers.
Geologically, the valley is a treasure trove. The layers of rock and sediment tell stories of many years past. These layers have preserved fascinating fossils of Massachusetts, including dinosaur footprints and various plant imprints.
Traveling to the Connecticut River Valley is quite simple. It's well connected by roads and highways, which means whether you're on a bike, in a car, or even on a bus, reaching this area is hassle-free.
Its central location in Massachusetts also makes it a good point to start or include in any geological journey.
Where to find fossils in the Connecticut River Valley
Dinosaur footprints on the banks of the Connecticut River are among the most thrilling finds, with traces of creatures like Eubrontes and Grallator spotted in the rocks.
Plant fossils are also common, showing leaves and ferns that once flourished in the area.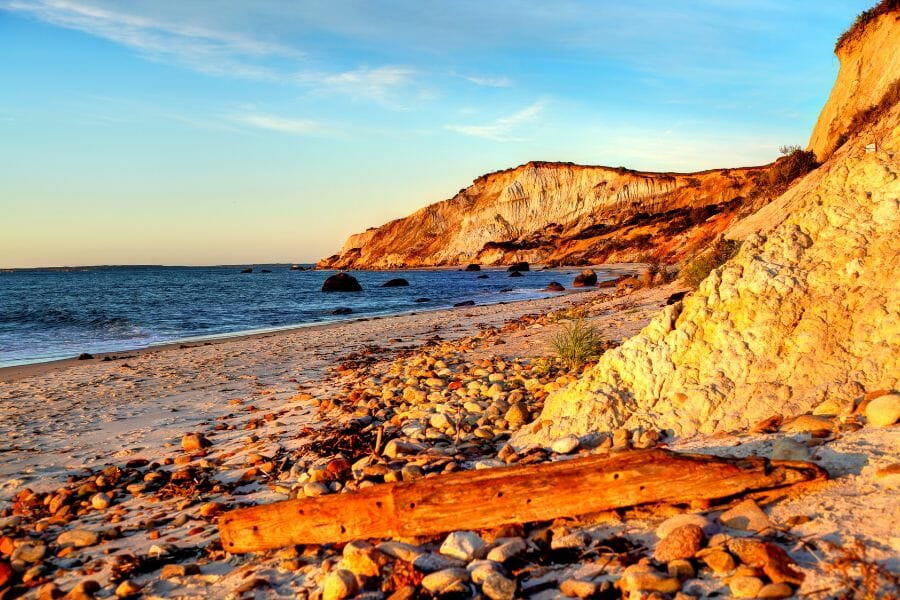 When you think of Martha's Vineyard you probably aren't thinking about fossils. Surrounded by the sparkling waters of the Atlantic Ocean, this island is both scenic and geologically fascinating.
The terrain of Martha's Vineyard is diverse, from its sandy beaches to its lush forests and rolling hills.
Geologically, the island showcases a mix of sedimentary, metamorphic, and igneous rocks. The cliffs, especially, are a window into the layers of earth and the stories they hold.
These formations can give enthusiasts a peek into the shifts and changes the island has undergone over time.
Getting to Martha's Vineyard is a fun adventure in itself! The most common way is by ferry, which offers beautiful ocean views on your journey. There are also smaller airports on the island for those who prefer a quicker route.
Where to find fossils in Martha's Vineyard
In some parts of the island, especially near the cliffs, you can find marine fossils, evidence of a time when the area was under the sea. Shark teeth and shells are among the treasures that have been spotted here.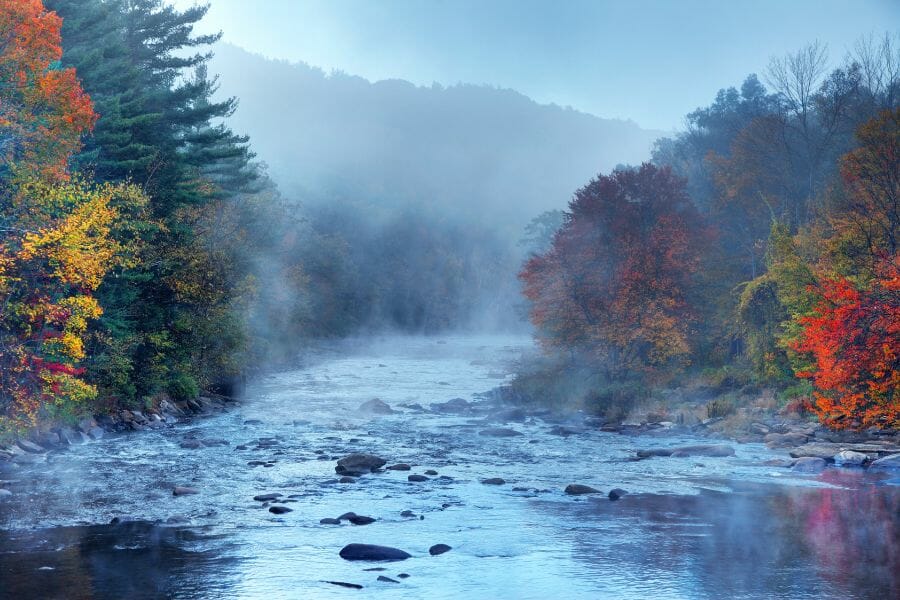 Franklin County is another great place to explore. This area is surrounded by a rich tapestry of hills, valleys, and rivers, making the terrain diverse and inviting for explorers.
From the rolling Green Mountains to the calm Deerfield River, there's a bit of everything for nature lovers.
Geologically, Franklin County is exciting. It's part of the Connecticut River Valley, which is known for its mix of sedimentary, igneous, and metamorphic rocks.
As you wander, you can see evidence of the forces that shaped our earth, with layers of rocks telling countless stories of the past.
The county is well-connected by major roads and highways, ensuring that whether you're coming from near or far, your journey will be hassle-free.
Where to find fossils in Franklin County
As you explore, especially near the riverbeds and sedimentary rock formations, you might come across fossilized plant impressions and even some dinosaur footprints.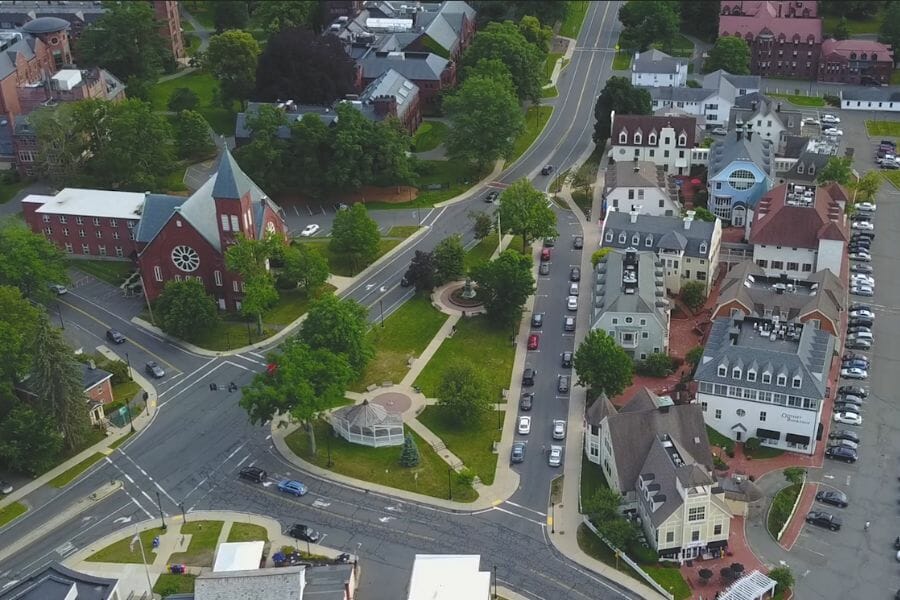 South Hadley is a charming town nestled by the Connecticut River. Its geography is a mix of flowing waterways and sturdy land.
The terrain here rolls gently, dotted with forests, meadows, and small hills, making it a delightful place for those who love the outdoors.
From a geologist's viewpoint, South Hadley offers a variety of rock formations that tell tales of the land's history. Sedimentary rocks, especially, dominate the scene, revealing layers upon layers of the earth's memories.
These layers offer hints about the environment and conditions from past eras.
The town is easily accessible. Whether you're driving or using public transportation, reaching South Hadley is straightforward and hassle-free.
Where to find fossils in South Hadley
Along the riverbanks, you can find exciting rare fossils. They're evidence of the dinosaurs that once roamed here.
One of the standout discoveries in this area includes the tracks of Eubrontes giganteus, a giant that left its mark for us to find.
Beyond that, the layers of sedimentary rocks also hold fossilized plants, showcasing the greenery that thrived during that time.
Other Top Places To Find Massachusetts Fossils By Region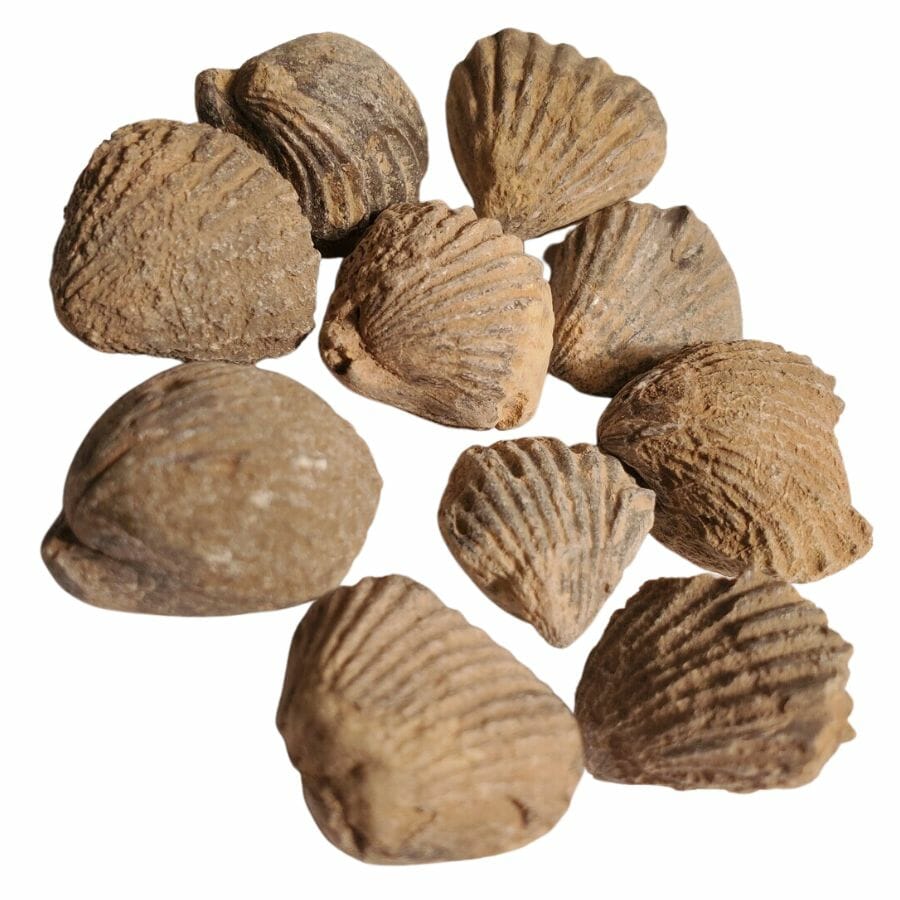 Here are the other fantastic fossil-finding areas in Massachusetts:
| | |
| --- | --- |
| Location | Fossils |
| Cheshire, Berkshire County | Olenellus |
| North Adams, Berkshire County | Olenellid trilobite fragments |
| Williamstown, Berkshire County | Olenellid trilobite |
| Attleboro, Bristol County | Eccentrotheca, Sunnaginia, Rhombocorniculum, Linguella, Torellella, Pelagiella, Gracilitheca, Obolella, Dipharus, Serrodiscus, Calodiscus, Strenuella, Helcionella, Scenella, Hyolithids, a few trilobites, Dromopus tracks, invertebrate tracks |
| North Attleboro, Bristol County | Trilobites, Calamites, Annularia, ferns, Eccentrotheca, Plinthokonion, Watsonella, Bemella, Aldanella, Lapworthella, Sunnaginia, Torellella, Tiksitheca, Conotheca, Ladatheca, Gracilitheca, Allatheca, Halkieria, Fomitchella, Chancelloria, Rhombocorniculum, Linguella, Coleoloides, Strenuella |
| Plainview, Bristol County | Small vertebrate tracks |
| Somerset, Bristol County | Plant fossils |
| Nonamesset Island, Dukes County | Henrisporites and Paxillitriletes spores |
| Boxford, Essex County | Brachiopods, mollusks, and trilobites |
| Danvers, Essex County | Portlandia, Pandora, Modiolaria, Saxicava, Lyonsia, Mactra, Cylichna, Haminea, Schizoporella |
| Georgetown, Essex County | Ostracods, brachiopods, pelecypods, gastropods, trilobites |
| Lynnfield, Essex County | Annelids and fucoids |
| Nahant, Essex County | Eccentrotheca, Ladatheca, Allatheca, Pelagiella, Aldanella, Hyolithes, Ginella |
| Nahant, Essex County | Hyolithes, Stenotheca, Scenella, Orthotheca |
| Rowley, Essex County | Ostracods Hermania |
| Topsfield, Essex County | Microscopic mollusks, Ethmophyllum |
| Chicopee Falls, Hampden County | Anchisauripus, Grallator, Anomoepus, Ornithoidichnites, Argoides, Plectropterna, Sauroidichnites, Polemarchus tracks |
| Mount Tom, Hampden County | Plant fossils, Triassic arthropods, Eubrontes tracks |
| Smiths Ferry, Hampden County | Anchisauripus, Grallator, Eubrontes tracks |
| Smiths Ferry East, Hampden County | Anchisauripus tracks |
| Springfield, Hampden County | Megadactylus |
| Westfield, Hampden County | Plant fossils |
| Hadley, Hampshire County | Anchisauripus tracks |
| Mount Holyoke, Hampshire County | Podokesaurus |
| Northampton, Hampshire County | Steropoides, Anchisauripus, Eubrontes |
| Sankaty Head, Nantucket County | Balanus barnacles; gastropods; bivalves |
| Braintree, Norfolk County | Avalonian trilobites, Paradoxides |
| Hingham, Norfolk County | Ediacaran fossils, small shelly fossils |
| Plainville, Norfolk County | Several dozen plant taxa, amphibian tracks, invertebrate tracks |
| Sheldonville, Norfolk County | Chancelloria, Sunnaginia, Torellella, Plinthokonion, Bemella, Aldanella, Eccentrotheca, Halkieria |
| South Attleboro, Norfolk County | Chancelloria, Eccentrotheca, Sunnaginia, Torellella, Rhombocorniculum, Linguella, Coleoloides, Pelagiella, Halkieria, Microdictyon, Linguella |
| Weymouth, Norfolk County | Nearly 40 taxa of Lower Cambrian fossils including the trilobites Callavia and Strenuella; Obolella, Holmia, Weymouthia, hyolithids; Chancelloria, Eccentrotheca, Sunnaginia, Torellella, Plinthokonion, Hyolithellus, Conotheca, Ladatheca, Aldanella, Pelagiella |
| Plainville, Norfolk County | Wingless insect trackways |
| Quincy, Norfolk County | Trilobites |
| Point Shirley, Suffolk County | Gastropods, bivalves |
| Petersham, Worcester County | Plant fossils |
| Worcester, Worcester County | Plant fossils |
Common Questions About Fossil Hunting In Massachusetts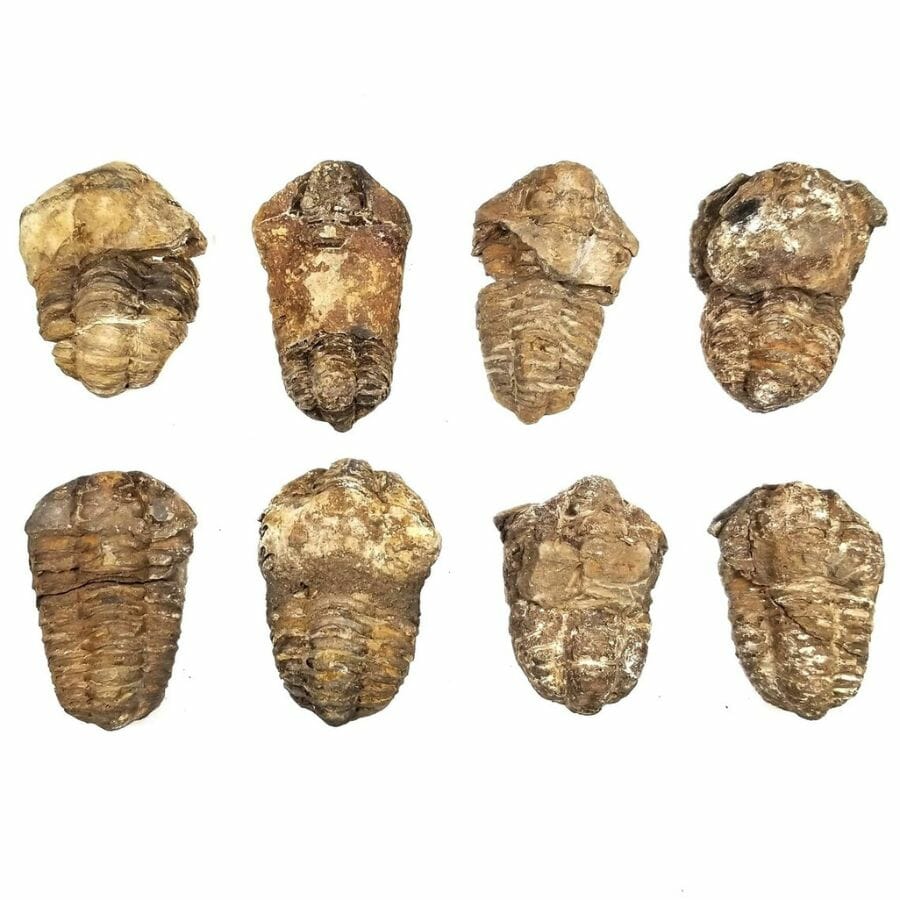 We'll address the most common questions that people have about the fossils of Massachusetts.
Can you find megalodon teeth or shark teeth in Massachusetts?
Megalodon teeth are among the rarest fossils you will find here. It's unlikely but not impossible to stumble upon a Megalodon tooth. However, it's more likely for someone to find teeth from smaller, more local sharks.
Shark teeth are often found in areas that were once underwater. As rivers, lakes, and oceans recede or shift over millions of years, they leave behind sediment. This sediment can trap and preserve shark teeth.
So, while you might have to look hard and be a bit lucky, Massachusetts can indeed be a place where you discover a token from these impressive sea creatures of the past.
Remember, when hunting for fossils, always respect local laws and private properties.
Is it illegal to collect fossils in Massachusetts?
On state-owned land, you need permission to take or disturb any natural resources, and this includes fossils. So, if you're in a state park or forest, it's best to leave everything as you find it.
You can contact the Bureau of Land Management Northeastern States District Office for more information on collecting fossils on public land.
On private land, you'd need the landowner's consent to collect rare or common Massachusetts fossils. Always get this permission in writing to be on the safe side.
There are some places, especially certain parks or scientific areas, where fossil collecting might be strictly forbidden to protect valuable resources.
So, before you head out with your rock hammer and collection bag, do a bit of research. Check the rules of the specific area you plan to visit.
By following the rules, you can enjoy the thrill of discovery without harming the environment or breaking the law.
And remember, even if you can't take a fossil home, seeing and learning about it in its natural setting is a fantastic experience!
Can you find dinosaur bones in Massachusetts?
Yes, valuable rare fossils like dinosaur bones have been found in the state!
One notable discovery was the remains of Anchisaurus in Springfield back in 1855. It's a bit of a bittersweet story though. These fossils were found during a construction project, and many of them got damaged before they were saved.
But here's a fun fact: While it's cool to think about finding dinosaur bones, Massachusetts is actually more famous for its dinosaur tracks.
As you explore, you might not stumble upon a big dinosaur bone, but you have a good chance of spotting the footprints these amazing creatures left behind.
So, while bones might be rare, there's still plenty of dinosaur history to discover in Massachusetts!
How do you identify the fossils that you find?
Identifying fossils can be like solving a fun mystery! First, take a close look at the shape and details. Does it have lines, bumps, or patterns? Those clues can help figure out what it once was.
Fossils can be parts of plants or animals, so think about where they might fit.
Next, consider where you found it. Some places are known for certain types of fossils. If you're by an old lake or river, you might find fish or plant fossils. Mountains or dry places might have different kinds.
Use a guidebook or app made for identifying fossils. They often have pictures and descriptions. Match up your fossil with the images. Remember, it might not look exactly like the photo, but it should be close.
Lastly, sharing your finds with others can be super helpful. Many rock and fossil clubs have members who've been collecting for years and know a lot. Show them your fossil, and they might be able to tell you more about it.
Our Favorite Places To Buy Fossils In Massachusetts
There are several local shops in Massachusetts where you can easily buy a fossil. Check out the best ones: