Oregon, a state of natural splendor, is a treasure trove for crystal enthusiasts seeking an unparalleled experience of exploration and discovery. With its diverse landscape, this Pacific Northwest gem is home to a wealth of incredible and beautiful crystals, each holding a unique allure that captivates seasoned collectors and budding enthusiasts. Oregon's crystal bounty offers various options for any crystal hunter, ensuring a successful and satisfying adventure!
Oregon's geology provides an ideal environment for forming these mesmerizing crystalline wonders, from the majestic Cascade Mountains to the high desert plains. These minerals' vibrant hues, intricate shapes, and enchanting patterns are breathtaking. Each crystal, a natural work of art, embodies the essence of the Earth's creative force, inspiring awe and admiration among those fortunate enough to encounter them.
With patience, persistence, and guidance, anyone can embark on a thrilling quest to discover these radiant crystals, proving Oregon's reputation as a haven for crystal hunters of all skill levels!
How We Picked The Best Places To Find Crystals in Oregon
We spent a lot of time determining which of the many options for digging and mining for crystals that we have available would be recommended. We wanted to have a good mix of locations for experienced and novice crystals hunters in a variety of settings. Here are the main factors we used when determining the recommendations we set out :
The extensive local experience and understanding of our team
Input from multiple local crystal hunters and crystal collecting groups
The accessibility of the crystal mining locations
Safety and potential hazards when collecting
Private and public locations
A desire to include locations for both experienced crystal hunters and those who are just starting out
Using these weights we think we've put together the best list out there for those who love finding new crystals for our collections!

The Types of Oregon Crystals You Can Find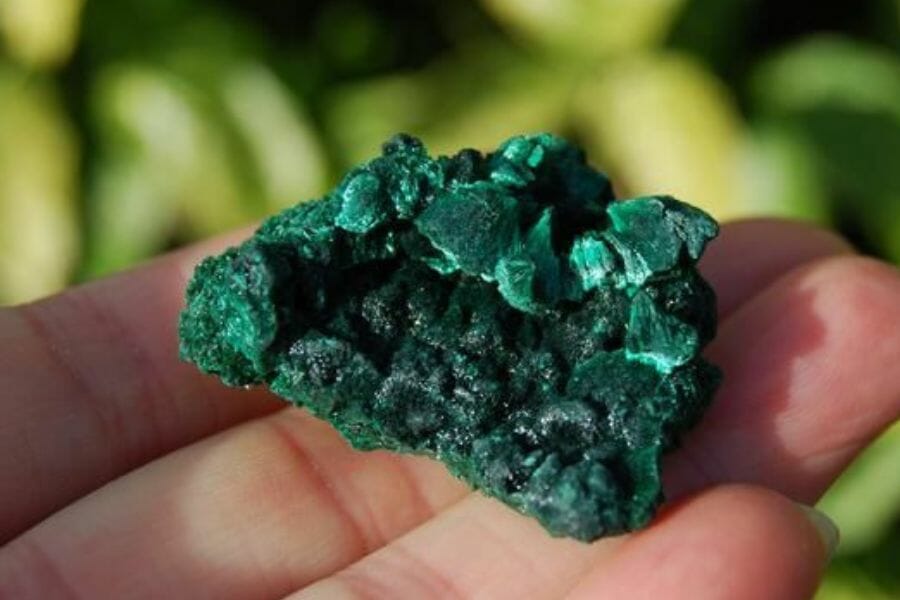 Although having fewer crystal resources than other states, Oregon is home to several stunning crystal formations. If you want to look around, there are a ton of crystals available in different locations, and here are some of them:
Rare crystals found in Oregon
Azurite
Chalcopyrite
Chrysocolla
Chrysoprase
Galena
Jade
Opal
Rhodonite
Serpentine
Sunstone
More common crystals found here
Agate
Bloodstone
Carnelian
Calcite
Chalcedony
Garnet
Jasper
Malachite
Moonstone
Pyrite
Quartz
The Best Locations For Crystal Mining in Oregon
Here are some of the greatest places to look for crystals in Oregon. We've had the best success exploring them and finding rare crystals, and we have little doubt you will, either!
Always Confirm Access and Collection Rules!
Before heading out to any of the locations on our list you need to confirm access requirements and collection rules for both public and private locations.
These requirements are subject to change without notice and may differ from what we state below.
Always get updated information directly from the source ahead of time to ensure responsible rockhounding.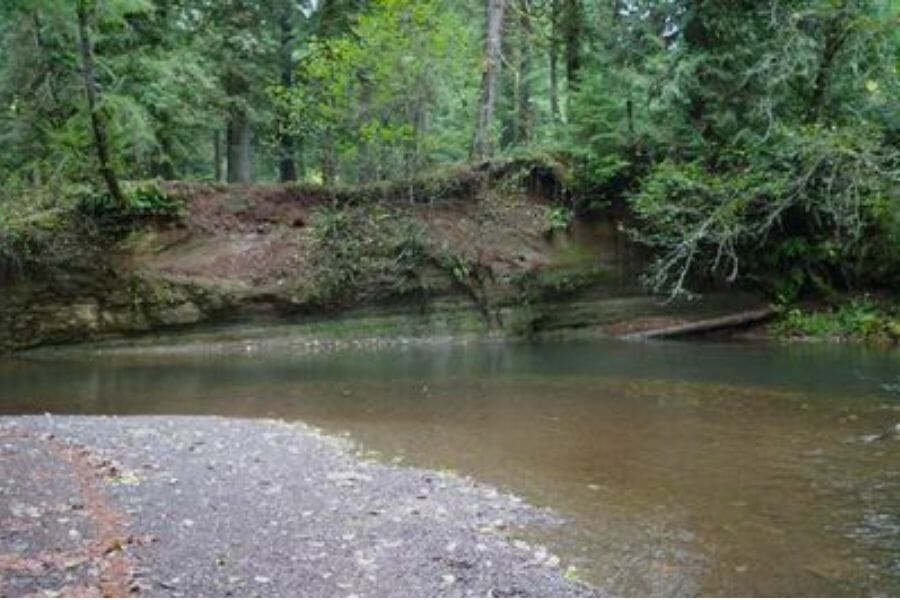 Nestled in the heart of Oregon's picturesque wilderness lies Clear Creek, an idyllic location renowned for its rich mineral deposits and crystal hunting opportunities. This beautiful creek, which meanders through the lush landscape, offers an abundance of geological marvels waiting to be discovered by those who venture off the beaten path. You can also add this area to your list of places to find gems in Oregon.
The history of Clear Creek dates back to the early days of the Oregon Territory when gold prospectors flocked to the region in search of their fortune. Over time, however, the gold rush dwindled, and the focus shifted to the extraordinary variety of minerals and crystals that adorned the creek's surroundings. Geologists and crystal enthusiasts have since been drawn to the area, uncovering many striking specimens, including quartz, jasper, and agate.
Clear Creek's diverse geological formations provide a fertile ground for crystals to develop, making it an ideal destination for those seeking to unearth these magnificent treasures. The area boasts several well-known collecting sites, such as the Whistler Springs and the Clear Creek Mining District, where visitors can find their own crystalline gems.
Where we found crystals at Clear Creek
We have collected various crystals, including agate, carnelian, chalcedony, and jasper, in the gravels and gravel bars of Clear Creek.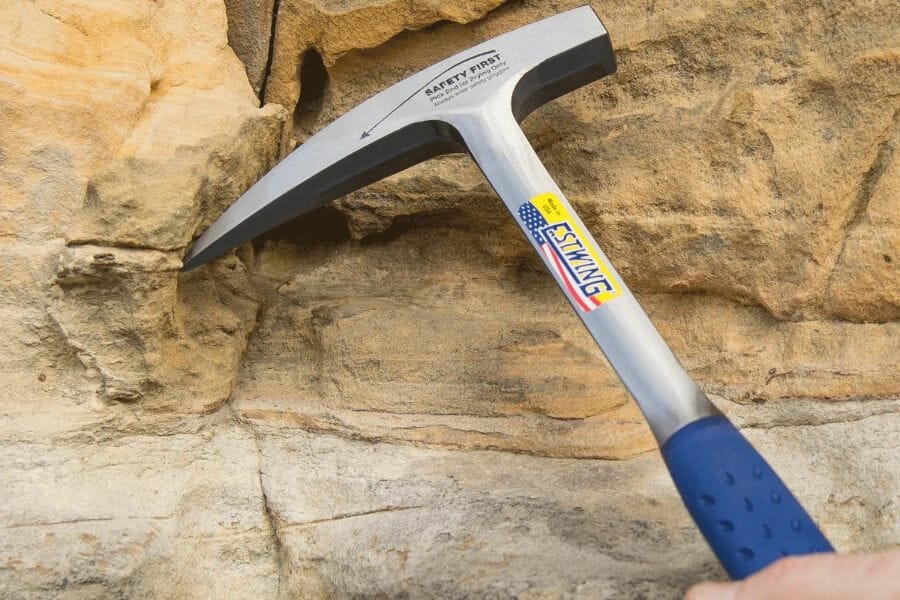 The tools every crystal hunter will need
When you're out looking for crystals having the right tools for the job is very important. You don't need a lot for most trips but there are a handful that are critical and will make your life a lot easier.
We get asked a lot about the equipment we use. Over the years we've found a handful of tools that we recommend to both new and experienced crystal miners which we outline in great detail in our complete rockhounding supplies guide. These are quality options that also happen to be relatively inexpensive.
Below are the basic tools that make your life so much easier and save you a ton of time. Check out the full guide to see everything we recommend bringing. One quick note, as an Amazon Associate I earn from qualifying purchases but we try very hard to only recommend gear we would use ourselves and often recommend brands you can't find on Amazon.
At a minimum you should have:
1 - Sturdy rock hammer: The Estwing Rock Pick is our standard
2 - Rugged chisels: Try Kendo' 3-piece Chisel Set
3 - Compact shovel: The Koleiya 28-inch shovel works well
4 - Rock screen pan: The Wazakura Soil Sieve Set fits the bill
5 - Eye protection: DeWalt Safety Glasses are cheap and comfortable
6 - Head protection: Malta's Safety Helmet has been our go-to
7 - Jewelers lens with at least 20x magnification: Jarlink's Jewelers Loop is perfect
The crystal-finding books that we use most
There are also a few books that have been extremely helpful in the search for gems. These books have great recommendations and tips:
National Audubon Society Field Guide to Rocks and Minerals: North America 
Northwest Treasure Hunter's Gem & Mineral Guide 
Earth Treasures: The Northwestern Quadrant 
We provide links to find these tools on Amazon but some can also be found at your local hardware stores. For more recommendations check out the link to our full tool guide above.
The Illinois River, a captivating waterway that winds through the lush forests of southwestern Oregon, is a haven for crystal enthusiasts and nature lovers alike. Originating in the Klamath Mountains, the river flows through the Rogue River-Siskiyou National Forest, creating a verdant corridor rich in geological wonders and crystalline formations.
The Illinois River is a treasure trove for crystal hunters, thanks to its diverse geology that supports an array of unique minerals and formations. The river's banks and surrounding areas are known to yield a variety of exquisite crystals, including agates, jaspers, and petrified wood. The river's tributaries and gravel bars offer prime locations for crystal seekers to sift through deposits in search of these natural masterpieces.
Where we found crystals at the Illinois River
Crystals of azurite, chrysocolla, galena, malachite, and quartz can be discovered at the creeks and east fork of the Illinois River. If you're wondering how much is crystal worth, we've made this guide to help you determine every crystal's value.
Situated in the picturesque Rogue Valley of southern Oregon, Jackson County is a region steeped in history and abundant in natural wonders. Established in 1852, the county played a crucial role in the development of the Oregon Territory, with gold prospecting, agriculture, and timber production shaping its economic and cultural landscape.
Jackson County's diverse geology and mineral-rich terrain make it an enticing destination for crystal hunters and collectors. With the Siskiyou and Cascade mountain ranges converging in the region, the county is home to many geological formations that foster the growth of various crystals and gemstones. From opals and agates to jaspers, Jackson County offers enthusiasts an impressive assortment of crystals to uncover.
Where we found crystals at Jackson County
The following are areas where you can discover crystals:
The Applegate River for jade.
The Greensprings Mountain is abundant in agate, carnelian, chalcedony, and jasper.
Ashland's Columbine and Crackerjack mines contain calcite, chalcopyrite, and pyrite crystals.
You can find bloodstone crystals in the area stream gravels of Butte Falls.
There are agate, bloodstone, and quartz crystals in the draws, washes, and slopes of the Big Falls area and Table Rock.
Jump-Off Joe Creek
Jump-off Joe Creek, a charming tributary of the Rogue River in southern Oregon, is a hidden gem for those seeking a serene and picturesque setting to hunt for crystals. Originating in the Siskiyou Mountains and meandering through the lush, verdant landscape, this enchanting creek has long captivated explorers and nature enthusiasts alike.
Jump-off Joe Creek is recognized as a prime location for discovering a diverse array of crystals and minerals, thanks to its unique geology and mineral-rich surroundings. The creek's gravel bars and surrounding areas are known to yield stunning specimens. The gentle flow of the creek continuously uncovers new treasures, making it an ideal spot for both experienced collectors and budding enthusiasts.
Where we found crystals at the Jump-Off Joe Creek
The Jump-Off Joe Creek has various crystals you can find, like azurite, calcite, chalcopyrite, chrysocolla, galena, malachite, and pyrite.
Mount Pisgah Arboretum is a 209-acre living tree museum that showcases the region's diverse flora and natural beauty. Established in 1973, this tranquil sanctuary aims to inspire appreciation for the botanical richness of the Willamette Valley while promoting environmental conservation and stewardship.
Although Mount Pisgah Arboretum is primarily known for its impressive collection of native plants, its unique geological setting also makes it an intriguing destination for crystal hunters. The area's volcanic history and rich soils have contributed to forming various minerals and crystalline structures throughout the park.
The arboretum's network of trails allows visitors to explore the picturesque landscape while seeking hidden geological treasures. The rocky outcrops and riverbanks within the park may reveal beautiful crystals, providing a rewarding experience for those with a keen eye and adventurous spirit!
Where we found crystals at Mount Pisgah Arboretum
At Mount Pisgah Arboretum, we had the most success finding several crystal types, including agate, calcite, jasper, malachite, and quartz crystals.
Our Other Favorite Places For Crystal Hunting
Naturally, the state has many amazing places where you may search for crystals and geodes in Oregon. Below is a list of more possibilities worth considering:
Where you can find crystals for free in Oregon
We'll discuss a few locations to look for crystals without spending money. Although there are entrance fees for many fantastic sights, other places are still free to visit.
| | |
| --- | --- |
| County | Location |
| Baker | Shirttail Creek area for agate, chalcedony, and jasper |
| Clatsop | Pacific Ocean beaches in gravels as waterworn pebbles for agate, bloodstone, and jasper |
| Clatsop | In low- water stream gravels all the way to the ocean at Pittsburg for agate, carnelian, and jasper |
| Curry | Ocean beaches along entire county for agates and jaspers |
| Curry | At the gravel bars of Rogue River for agate, carnelian, chalcedony, carnelian, and jasper |
| Douglas | In the gravel bars of the SOuth Umpqua River for agate, chalcedony, carnelian, and jasper |
| Harney | Harney Valley for agate, jasper, and quartz |
| Jefferson | Fulton Agate Beds for agate, chalcedony, and opal |
| Jefferson | General area surfaces, draws, and washes of Willowdale for agate, chalcedony, and jasper |
| Josephine | Area gravels and placer mines along Cave Creek, Oregon Creek, and all area surrounding the cavern for agate, chalcedony, jasper, and rhodonite |
| Josephine | Althouse Creek for agate, garnet, jasper, quartz, and serpentine |
| Klamath | Crater Lake National Park and Klamath River gravels for agate, chalcedony, and jasper |
| Lake | All surrounding desert area at Lakeview for agate, jasper, and sunstone |
| Lincoln | Agate beach for agate, chalcedony, jasper, and moonstone |
| Malheur | Willow Creek Reservoir for agate, chalcedony, jasper |
| Malheur | Jorden Creek for agate and jasper |
| Tillamook | Ocean beach gravels fo entire county south of Ocean Lake and Lincoln County for agate, bloodstone, jasper, and moonstone |
Other great places to dig for crystals
If you don't mind spending money, there are other places to look for crystals. Seasons change the cost of these places, and rare free offerings are possible. Before visiting these places, you must contact them to check.
| | |
| --- | --- |
| County | Location |
| Baker | Regional mines at Copperfield for malachite and pyrite |
| Douglas | The Ball Mine at Cedar Springs Mountain for azurite |
| Douglas | Nickel Mountain area mines at chrysoprase |
| Union | The Orofino Mine for agates and jaspers |
How to find crystals in Oregon
Here are a few more suggestions on maximizing your time in a specific location to advance your search. Some of the best places to search for crystals are highlighted in the list below:
Lake shores
Lake shores offer a unique and rewarding experience for collectors and nature enthusiasts. The serene beauty of the lakeside setting, combined with the thrill of discovery, makes this activity an ideal pastime for individuals of all ages and skill levels.
One of the reasons lake shores are a prime location for crystal hunting is the natural erosion process. As water currents and wave action gradually wear away the surrounding rocks and soil, hidden minerals and crystals are exposed and deposited along the shorelines. Over time, these geological treasures accumulate in the sands and gravel, awaiting discovery by keen-eyed collectors.
Mines and mine dumps
Mines and mine dumps are particularly rewarding for crystal hunters due to the concentrated presence of minerals extracted during mining. In active mines, crystals may be discovered in veins or pockets within the rock, while abandoned mines or mine dumps often hold overlooked specimens and broken pieces of larger crystals.
Several important considerations must be remembered when searching for crystals in mines and mine dumps. First and foremost, ensure that you have permission to access the site and are aware of any safety regulations or guidelines. Mines can be hazardous environments, so wearing appropriate safety gear, including helmets, gloves, and sturdy footwear, is essential. Additionally, be cautious of unstable surfaces, sharp edges, or other potential hazards that may be present.
Streams and creeks
Exploring the banks of streams and creeks is a delightful and promising way to search for crystals, as these waterways often serve as natural conduits for geological treasures. The dynamic forces of water and erosion combine to reveal a wealth of hidden minerals and crystals, making these settings an ideal destination for collectors and enthusiasts.
Crystals can often be found along the banks, gravel bars, or submerged in the shallow areas of streams and creeks. The flowing water continuously shifts the sediment, uncovering new specimens and depositing them in accessible locations. Practice responsible collecting by not disturbing delicate ecosystems or overharvesting from a single site. It is also crucial to wear appropriate gear, such as waterproof boots or waders, to stay comfortable and safe while navigating the water.
Oregon Crystal Mining Laws And Regulations
While Oregon offers a wealth of crystal hunting opportunities for enthusiasts, it is crucial to be aware of and adhere to the state's recreational crystal hunting regulations to ensure a responsible and enjoyable experience.
Many public lands in Oregon, such as the Oregon Bureau of Land Management (BLM), allow recreational crystal hunting. However, you must familiarize yourself with each area's specific rules before collecting. Some locations may have restrictions or permit requirements, so always verify with the managing agency. Always obtain permission from the landowner before entering private property to search for crystals. Trespassing without consent is illegal and can result in severe consequences.
Collecting rocks, minerals, or other geological specimens is generally prohibited within National Parks and Monuments. Always consult with park authorities to learn about any specific rules and restrictions. Practice responsible rockhounding by not disturbing delicate ecosystems, overharvesting from a single location, or leaving noticeable damage to the area.
The Best Crystal Shops In Oregon
As a result of the state's wide array of crystals, many of us love making small purchases to round out our collections. These are the best crystal stores we could find if you're looking for unique and stunning specimens.
Additional places to find crystals in nearby states
If you've already tried all of our recommendations above or are planning a trip out of the state, you should check out our guides for neighboring states:
If you have any recommendations we haven't covered please leave them in the comments below!