Amethyst is a breathtaking gemstone that has captivated people's hearts for centuries. Known for its stunning purple hue, it has been coveted throughout history by royalty, clergy, and even ordinary people.
Its rich and regal color has been associated with calmness, spirituality, and royalty, making it an attractive option for a wide range of jewelry designs.
However, finding Amethyst can be challenging without the right guidance. This is because it's relatively rare and is typically found in limited quantities in specific regions of the world.
But fret not, because there are many incredible spots if you're trying to find Amethyst in Pennsylvania. With this guide, it's possible to find stunning specimens of this gorgeous gemstone that will surely dazzle and impress anyone for many years.
What is Pennsylvania Amethyst?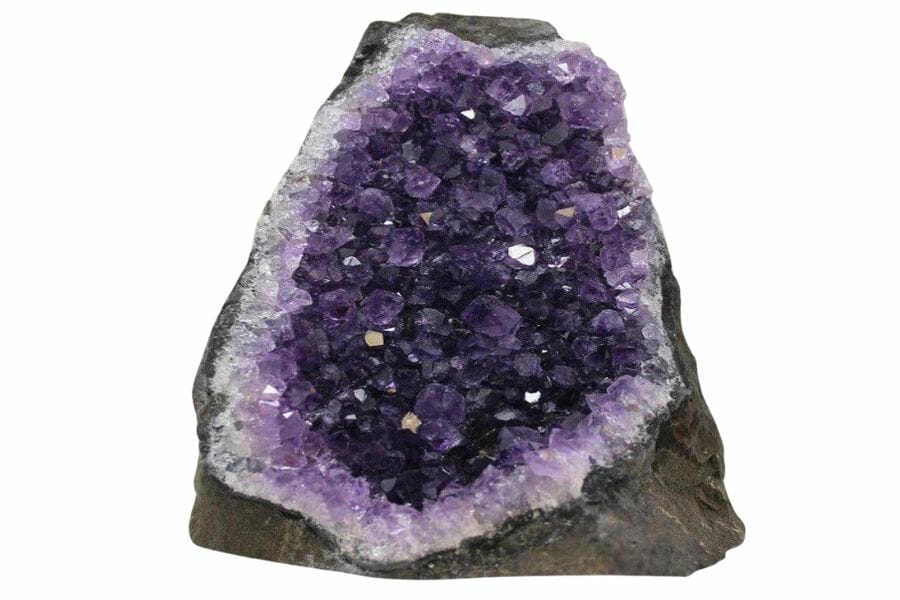 Photo provided by and available for sale at World Incense Store
The purple variety of quartz, Amethyst, gets its distinctive hue from the presence of iron and other trace elements within its crystal lattice. Its color can vary from pale lilac to deep violet, with the most prized specimens being a rich, royal purple.
Aside from its stunning looks, Amethyst also has a rich history and cultural significance. In ancient Greece, it was believed to protect against drunkenness and was often used to make drinking vessels. It was also believed to have healing powers and was used to treat a wide range of ailments, from headaches to insomnia.
Amethyst can be found in many locations around the world, but in the United States, some of the most significant deposits of this gemstone are found in Pennsylvania.
How We Know About Great Locations For Amethyst in Pennsylvania
The best locations to find amethyst in Pennsylvania can be closely guarded secrets. Fortunately, we've been around long enough to know where many of the best spots are to find it. We might not know every one out there but we know some pretty good ones. The key factors in our recommendations are:
The deep experience and understanding of our team about the area
Recommendations from local groups and clubs
How easy it is to get the a particular location
Safety and potential hazards when collecting
Weighing private and public locations
The ability for both experienced and novice amethyst enthusiasts to find great samples
With these factors in mind we've been able to put together a fantastic list that just about anyone can use!

The Best Spots To Find Amethyst in Pennsylvania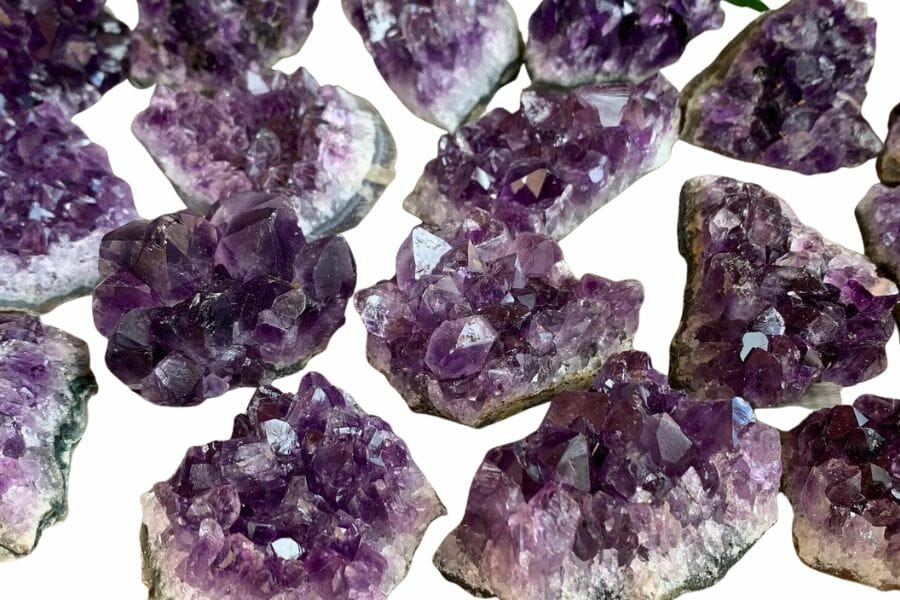 Photo provided by and available for sale at GAF Treasures
In this section, we will dive deep into our favorite places to find Amethyst in our state. You may be familiar with the many great sites to mine gems in Pennsylvania, but take note that not all of them have Amethysts, too. If you're after this purple beauty, we highly recommend visiting the following spots:
Always Confirm Access and Collection Rules!
Before heading out to any of the locations on our list you need to confirm access requirements and collection rules for both public and private locations.
These requirements are subject to change without notice and may differ from what we state below.
Always get updated information directly from the source ahead of time to ensure responsible rockhounding.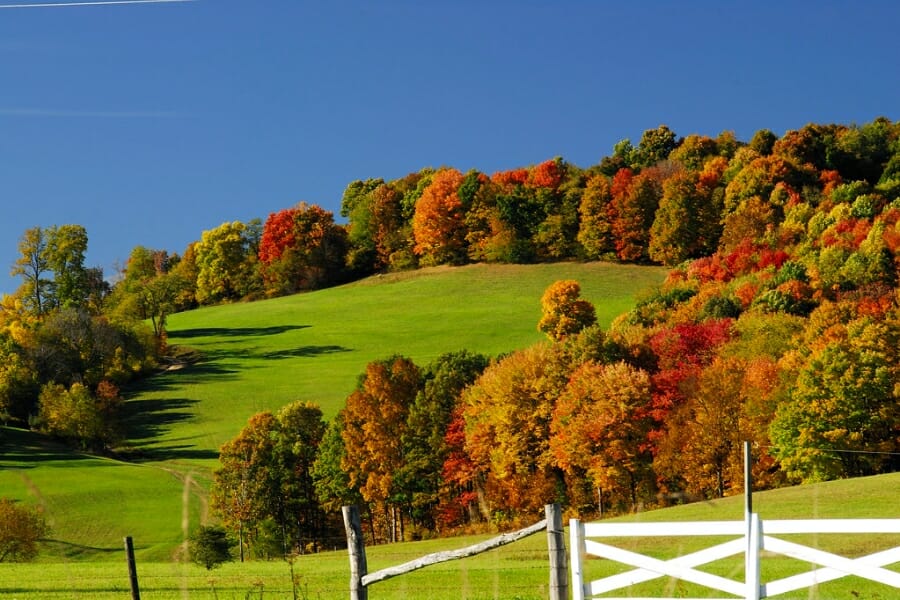 Mount Pleasant is a small town that's situated in the foothills of the Appalachian Mountains. It's known for its scenic beauty and outdoor recreation opportunities, as it's surrounded by rolling hills, dense forests, and winding rivers.
This region is home to a variety of mineral deposits, including Amethyst, which can be found in several locations throughout the area. The specimens found here have deep purple color and can range from small, thumbnail-sized pieces to large, multi-pound samples.
Reaching this place is easy, as it's located just off the Pennsylvania Turnpike. It's within driving distance of several major cities, including Pittsburgh and Philadelphia. Once you arrive, you can start your search in several spots. Just don't forget to familiarize yourself with our local collecting guidelines before anything else!
Where we found amethyst in Mount Pleasant
While there are plenty of spots in Mount Pleasant that you can explore for Amethyst, we recommend exploring 1 mile northwest of the field area.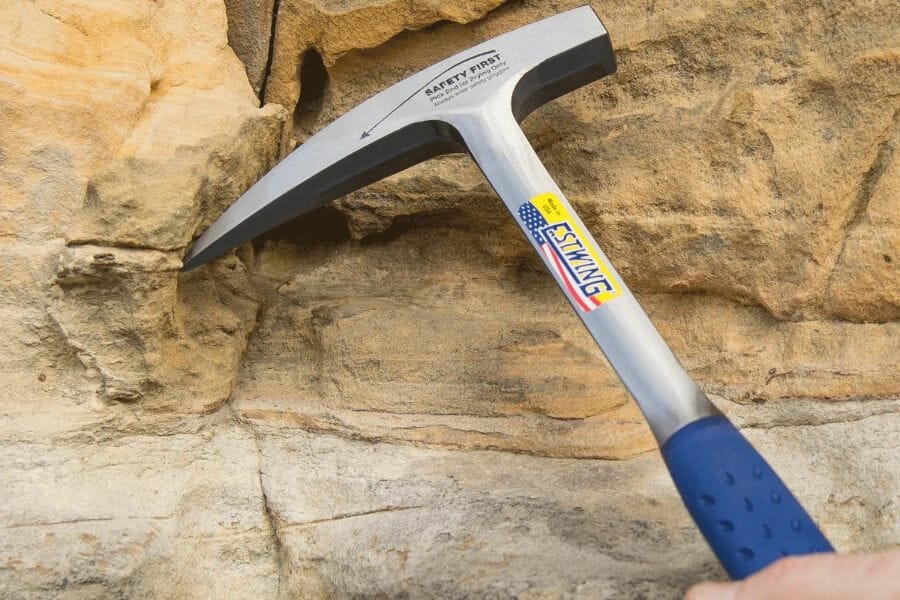 The tools every amethyst hunter will need
When you're out looking for amethyst having the right tools for the job is really going to make or break your success. You don't need a lot for most trips but there are a handful that are critical and will make your life a lot easier.
We get asked a lot about the equipment we use. Over the years we've found a handful of tools that we recommend to both new and experienced amethyst hunters which we outline in great detail in our complete rockhounding tools and kit guide. These are quality options that also happen to be relatively inexpensive.
Below are the basic tools that make your life so much easier and save you a ton of time. Check out the full guide to see everything we recommend bringing. One quick note, as an Amazon Associate I earn from qualifying purchases but we try very hard to only recommend gear we would use ourselves and often recommend brands you can't find on Amazon.
At a minimum you should have:
1 - Sturdy rock hammer: The Estwing Rock Pick is our standard
2 - Rugged chisels: Try Kendo' 3-piece Chisel Set
3 - Compact shovel: The Koleiya 28-inch shovel works well
4 - Rock screen pan: The Wazakura Soil Sieve Set fits the bill
5 - Eye protection: DeWalt Safety Glasses are cheap and comfortable
6 - Head protection: Malta's Safety Helmet has been our go-to
7 - Jewelers lens with at least 20x magnification: Jarlink's Jewelers Loop is perfect
The amethyst-finding books that we use most
There are also a few books that have been extremely helpful in the search for gems. These books have great recommendations and tips:
National Audubon Society Field Guide to Rocks and Minerals: North America 
Northeast Treasure Hunter's Gem & Mineral Guide 
Earth Treasures: The Northeastern Quadrant 
We provide links to find these tools on Amazon but some can also be found at your local hardware stores. For more recommendations check out the link to our full tool guide above.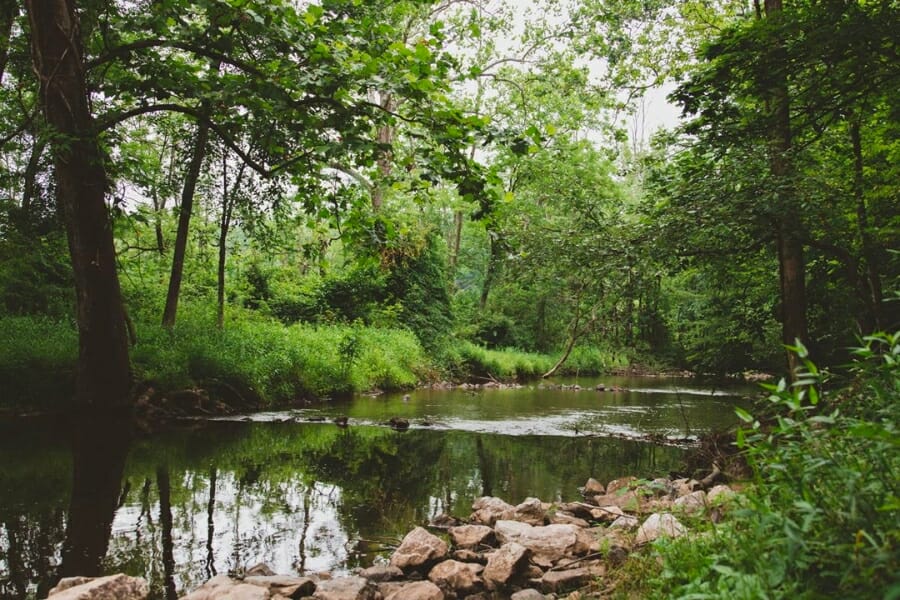 A picturesque region in southeastern Pennsylvania, Chester County is just a short drive from Philadelphia. It's known for its rolling hills, lush forests, and winding streams, which make it an ideal destination for outdoor enthusiasts and nature lovers.
This county is blessed with many different types of rock formations and mineral deposits. And Amethyst is among them. The samples found here are typically smaller than those found in other parts of our state, but they're still highly prized by collectors for their beauty and rarity.
Since it's located just off several major highways, you can get here fairly easily. In fact, it's within short driving distance from several major cities, such as Philadelphia, Wilmington, and Baltimore.
Where we found amethyst in Chester County
Lucky for you, Chester County is RICH with Amethysts! To find one, you can visit and explore the following specific spots here:
South of US-30 Bypass in Coatesville
Along the Lancaster Turnpike in Coatesville
In fields of Glenhall
Field on northwest of Minshall Painter farm
At the Darlington Farm in Pocopson Station
In the fields of Pocopson Station
In road cuts all the way to Parkesburg in Sadsburyville
Between Plum Run and Brandywine Creek
At the abandoned Jug Hollow Mine in Valley Forge
In road cuts of West Chester area
In Brinton's Quarry
With so many options, it's easily one of the best places to find this gem. If you're also curious to know all about Amethyst crystal price, checkout our pricing guide, too.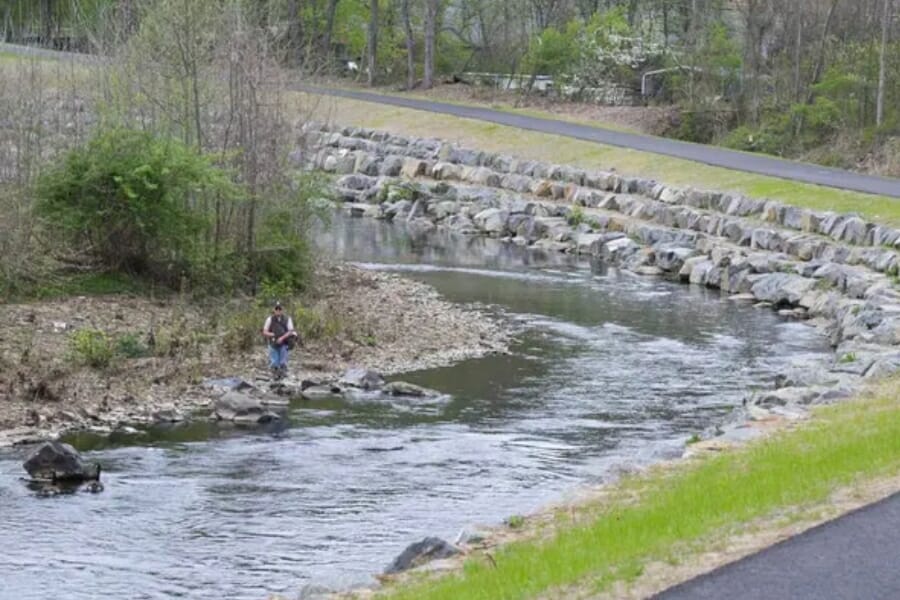 Chester Creek is a scenic waterway that's known for its picturesque beauty and recreational opportunities. Winding through several towns and communities, the creek is surrounded by lush forests, rolling hills, and rocky outcroppings.
With many different types of rock formations and mineral deposits, Chester Creek has a varied and fascinating geology. As with the specimens in Chester County, the Amethyst crystals here are also typically small and scattered, but they're still highly sought after.
To get here, just drive through a major highway from any of the following cities: Baltimore, Philadelphia, and Wilmington.
Where we found amethyst at Chester Creek
Explore the following specific areas when you go to Chester Creek for a higher chance of finding Amethyst:
East side of Chester Creek
Opposite the railroad station and in road cuts in Bridgewater
South side of Chester Creek
Well-known as a beautiful waterway, Crum Creek is frequented by visitors for its scenic beauty and recreational opportunities. Surrounded by lush forests, rolling hills, and rocky outcroppings, your eyes will have a feast watching the waters of the creek wind through several towns and communities.
With many different rock formations and mineral deposits, Crum Creek is truly a must-visit! Especially if you're looking for Amethyst, which can be found in several locations along the creek.
Where we found amethyst in Crum Creek
To find Amethyst in Crum Creek, you can scour the following areas:
At the Randolph farm along Crum Creek Road
On the Morgan Hunter farm
Along Worrell side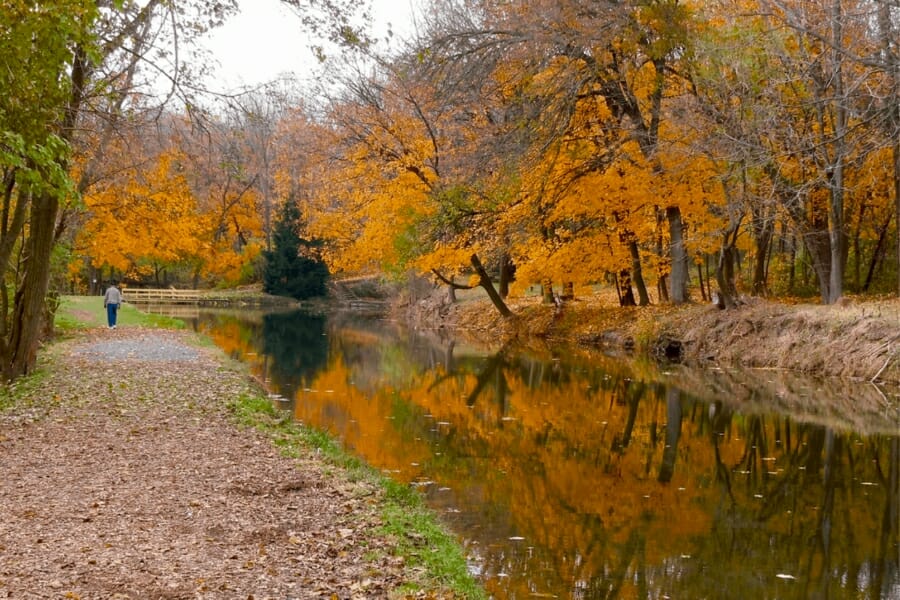 Delaware County is a diverse and vibrant region that's known for its varied geography, which includes rolling hills, scenic valleys, and winding waterways. It's also a great location that has a diverse mix of urban and suburban communities in our state.
Like our previous recommendations, Delaware's geology is fascinating, with many different types of rock formations and mineral deposits, including the elusive but ever sought-after Amethyst.
Where we found amethyst in Delaware County
When you go here, you'll find that the county is really abundant with amazing spots that you can visit and explore for Amethysts, such as the following:
George Sharpless farm in Avondale
Armstrong farm in Boothwyn
J.B. Okie farm in Boothwyn,
Chealse-Boothwyn Road
Bergdoll Farm in Boothwyn
In and along the Brandywine River in Chadds Ford
Shaw & Esrey Quarry in Chester
Copple farm in Media area
In vein cutting along Duttons Mill Road
West of Morgan area
Marshall farm in Sycamore Mills
In vicinity of Blue Hills Crossroads
Aston Township
Shaw and Esrey's Quarry
Other Great Places To Mine For Amethyst in Pennsylvania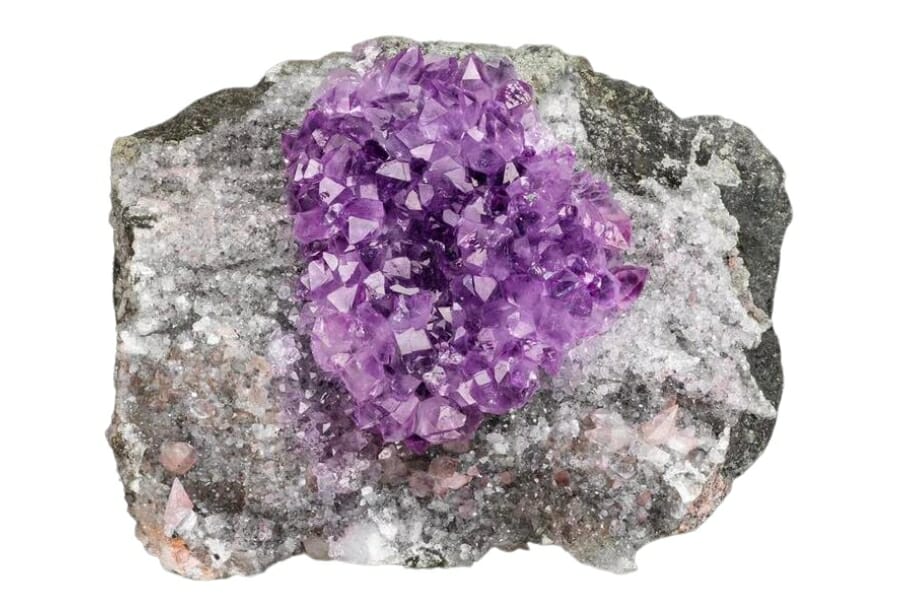 Aside from our favorite places where you can mine Pennsylvania Amethyst, there are other spots that you can visit and explore for this stunning natural wonder. We've organized them below by county, so you can easily refer to it when you need it.
Our recommendations by county
| | |
| --- | --- |
| County | Location |
| Bedford | East over Brumbaugh Mountain To Morrison Cove Valley |
| Bedford | Area fields all way to New Enterprise |
| Bucks | On Green Hill in Oley Furnace |
| Cumberland | Carlisle Interchange on the Pennsylvania Turnpike |
| Montgomery | In surrounding fields of Fritztown |
| Montgomery | Green Hill area in Olney Furnace |
| Montgomery | Collegeville Amethyst Locality in Upper Providence Township |
| Philadelphia | Fairmount Park |
| Philadelphia | Ridge Avenue and School Lane Quarries in East Falls |
| Philadelphia | Falls of Schuylkill |
| Philadelphia | Tacony Creek Valley |
| Somerset | In surrounding fields, but especially east, of Friedens area |
| York | Reesers Haven via Lemoyne and new Cumberland interchanges |
Additional areas you can find amethyst
Some of our recommendations above cover wide areas, which might take too much time and effort to explore. If you find yourself wondering where specifically you should be looking into when you get here, try out these areas where Amethysts are usually found:
Streams and Creeks
Streams and creeks are often great places to find Amethyst due to the natural processes that occur in these waterways.
Over time, flowing water can erode and break apart rock formations, causing minerals like this gem to become dislodged and washed downstream. As a result, minerals can become concentrated in certain areas along the streambed, making them easier to find.
Road Cuts
Road cuts are excellent places to find Amethyst and other minerals due to the unique geological processes that occur during the construction of highways and roads. When roads are built, large sections of rock are cut away to create a level surface for travel. This process exposes previously buried rock formations, providing a unique opportunity for collectors to search for minerals that may have been hidden deep underground.
Railroad Cuts
Railroad cuts are created when railroads are built through hills and mountains, exposing previously hidden layers of rock and mineral deposits. The resulting cross-section view of the underlying geology can make it easier for collectors to identify potential locations for finding Amethyst.
Make sure, though, that you exercise caution when searching for Amethyst here, as it can be dangerous due to the presence of trains and heavy machinery, as well as unstable or loose rock formations.
Quarries
Quarries are created when large sections of rock are excavated for commercial purposes, such as building materials or industrial minerals. This excavation can expose previously hidden layers of rock and mineral deposits, making it easier to identify and find Amethysts.
In addition, quarries can provide access to large sections of rock, allowing you to search for Amethyst in a concentrated area. This can increase the likelihood of finding high-quality specimens, particularly if the quarry has a history of producing them.
Common Amethyst-Hunting Questions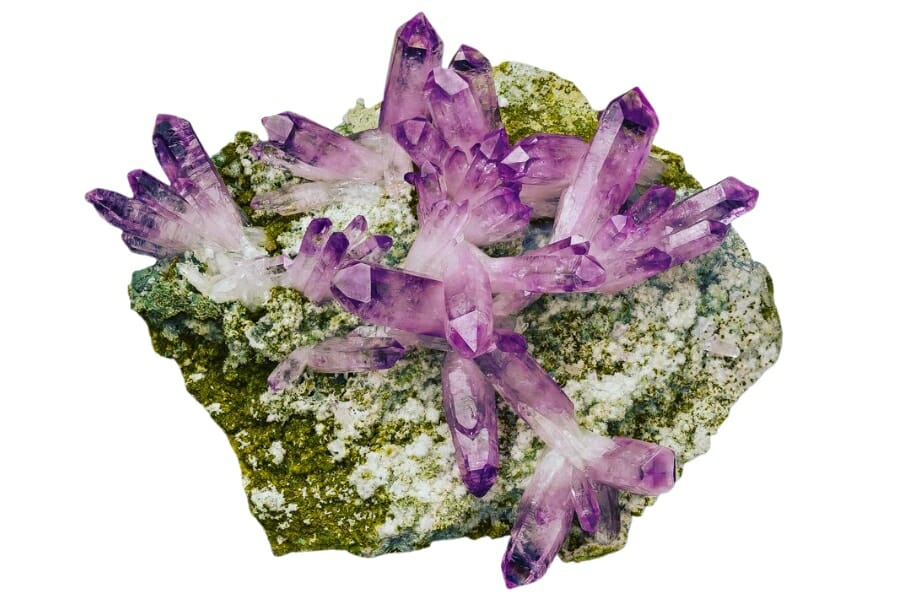 When it comes to Amethyst mining in Pennsylvania, the following are the most common questions being asked by collectors and enthusiasts:
Where can you find Amethyst Geodes in Pennsylvania?
Fortunately, Amethyst Goedes naturally occur in Pennsylvania! You can find them in the following specific spots:
Upland area of Peter Green Farm on the south of Chester Creek
Upland neighborhood near Waterville Road
Is it illegal to collect amethyst in Pennsylvania?
Collecting Amethyst is perfectly legal in Pennsylvania, if you'll ensure that you'll abide by our state's collecting guidelines. Additionally, depending on the area you will explore, there may be rules and regulations to protect the environment and overall biodiversity of the area.
The Best Places To Buy Amethyst In Pennsylvania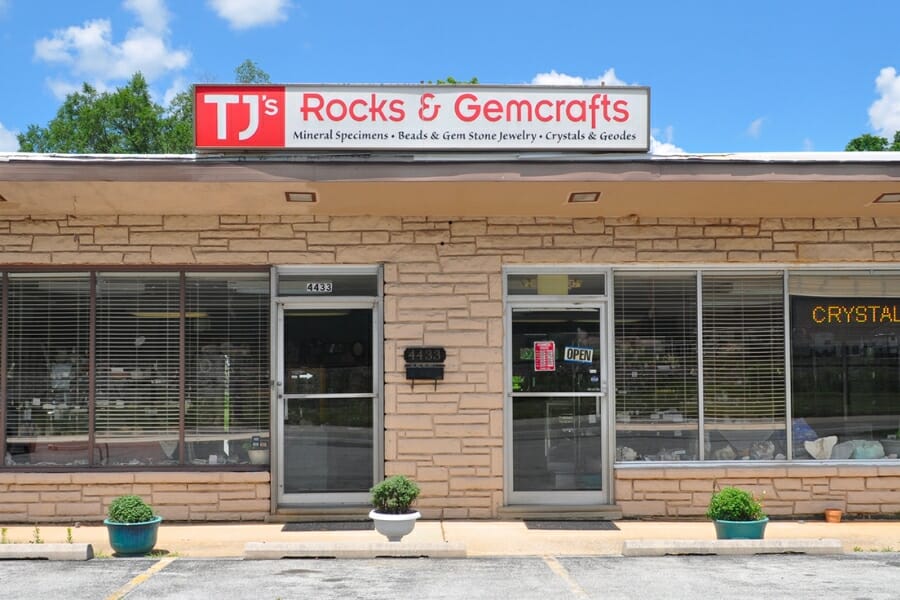 If you're looking for Amethyst specimens with specific characteristics, your best chance of finding and taking them home is visiting our local rock and gem shops. Some of the best ones with great selections are listed down below:
The Gem Den – 50 N Queen St, Lancaster, PA 17603
TJ's Rocks & Gemcrafts – 4433 Lincoln Hwy, Downingtown, PA 19335
Bey's Rock Shop – 615 PA-100, Bechtelsville, PA 19505
Lodin's Gems & Minerals – 8884 US-219, Brockway, PA 15824
Gem Zone – 127 S Main St C, New Hope, PA 18938
Geology Rocks! and Minerals – 5124 Butler St, Pittsburgh, PA 15201
Additional Places To Find Amethyst In Nearby States
Check out the guides we made for the nearby states where you can find amethysts as well:
If you have any recommendations for our list please leave a comment below!