With its stunning spectrum of colors and intricate patterns, Agates are true natural wonders. Each specimen of this gem is like a miniature artwork. Whether it gleams with blues and greens, is streaked with fiery oranges and reds, or radiates soft pastel hues, agate holds an unexplainable charm.
When you first find an agate, it might look pretty ordinary on the outside. But when you cut it open or polish it up, you can see how truly stunning it is. This is part of what makes hunting for it so exciting: you never know when a regular-looking rock might be a hidden treasure.
Finding agates in Washington can be a bit tricky if you don't know where to look, though. Our state has lots of different landscapes, from mountains and forests to rivers and beaches. This makes it a great place to find agates, but it can also be a little overwhelming if you're new to rock hunting.
But don't worry! In this article, we'll guide you and help you get to know the prime spots to find Washington agates. With this knowledge, you have better chances of being a successful agate hunter here. Let's begin!
What is Washington Agate?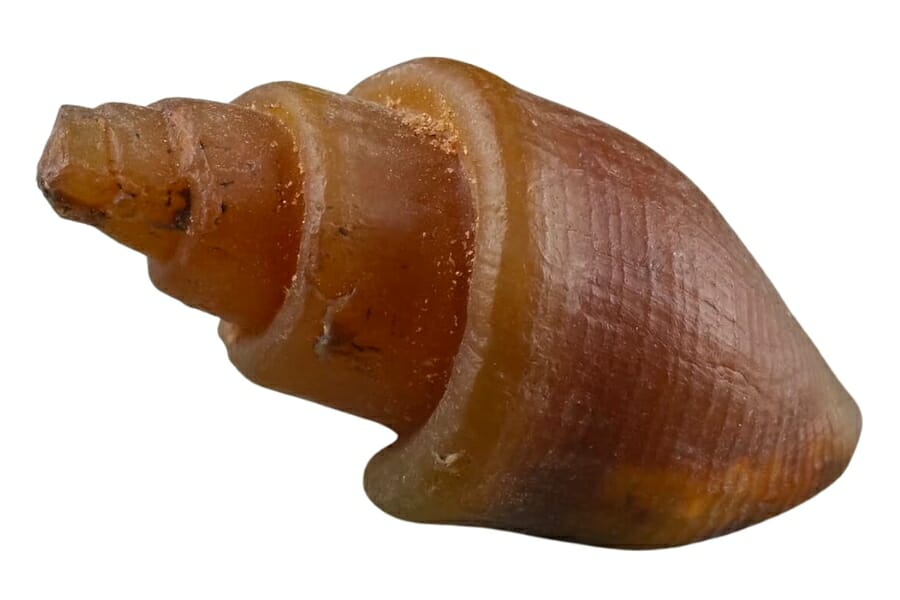 Agate is classified as a semi-precious gemstone. It's known for its vibrant colors and the stunning, unique patterns that decorate its surface. These patterns, which look like bands or rings (sort of like the inside of a tree trunk), were formed by natural processes deep within the earth over thousands, even millions of years.
Agate is formed when microscopic mineral particles get trapped in pockets of rock, often from lava from volcanoes or in areas with lots of water like rivers or beaches. Over time, layer after layer of these minerals build up, creating the signature bands that this gem is known for.
You can find agate in many parts of the world, but some of the most notable locations include Brazil, Mexico, and certain parts of the United States, like Washington. So, whether you're trekking by a riverside, strolling along a beach, or hiking near a dormant volcano, you might just stumble upon a piece of this beautiful gemstone. Agate hunting is an adventure in itself, so happy hunting!
If you're curious to know all about how valuable agate is considering its gorgeous looks and its many uses, you can check out our article on that.
Moss Agates
Moss agate stands out because of its distinct, moss-like inclusions, which are typically formed from iron or manganese oxide. These inclusions weave through the stone in unique, intricate patterns that can resemble landscapes, plants, or clusters of moss.
Lucky for you, moss agate can be found in Washington. With careful hunting and a bit of luck, you can indeed come across this beautiful variety here.
Fire Agates
What makes fire agate truly extraordinary is its iridescence, a fiery play of colors that can include reds, oranges, and greens, somewhat similar to opal. As light hits these thin layers of iron oxides in the gem, it's diffracted back, resulting in a mesmerizing, shifting play of luminous colors that give the stone its name.
While Washington is renowned for its diverse geological gifts, fire agate is not commonly found here. Instead, it's more typically associated with locations in the southwestern United States.
Blue Lace Agates
Blue lace agate is known for its soft, soothing patterns that resemble delicate lacework. Its characteristic soft blue and white color bands create an elegant but tranquil aesthetic that has made it popular for use in jewelry and decorative items.
Unfortunately, Blue Lace Agate is not commonly found in our state. This specific type is predominantly sourced from Namibia, Africa, which has the precise conditions necessary for its formation.
Fortification Agates
Named for its resemblance to the aerial view of a fortress, fortification agate has unique patterns marked by rounded lines. Each slight change in chemistry within this gem results in different colors and layers. Like other agates, its hidden beauty is revealed once it's cut or polished.
The great thing is that you can definitely find fortification agate in Washington. When you go on your agate-hunting journey here, keep your eyes peeled for this natural wonder.
Agatized Shells, Clams, and Oysters
Agatized shells, clams, and oysters are fascinating pieces of natural history, where the original material has been replaced by agate over millions of years. This process, known as agatization, results in a specimen that retains the shape and often intricate details of the original shell, clam, or oyster.
This amazing variety exists in Washington, although they're not very abundant. In fact, you can only find them in Willapa Hills and River and in the road cuts and stream banks in Oakville.
If you're open to hunting other equally stunning crystals in our state, Washington has plenty of crystal mining sites you can read more about in this article.
How We Know About Great Locations For Agate in Washington
With agates being so beautiful you can image that the best spots are not always advertised widely. In fact, it isn't unusual for good places to find agates to be secrets known by just a few locals. Fortunately, you do know someone who has been around the block!
The key factors in our recommendations are:
The deep experience and understanding of our team about the area
Recommendations from local groups and clubs
How easy it is to get the a particular location
Safety and potential hazards when collecting
Weighing private and public locations
The ability for both experienced and novice agate enthusiasts to find great samples
With these factors in mind we've been able to put together a fantastic list that just about anyone can use!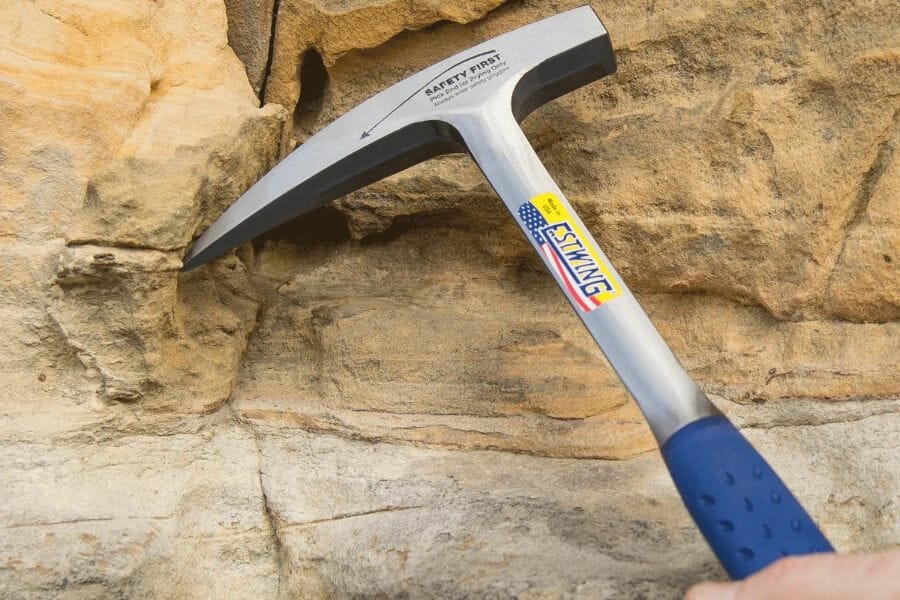 The tools every agate hunter will need
When you're out looking for agates having the right tools for the job is really going to make or break your success. You don't need a lot for most trips but there are a handful that are critical and will make your life a lot easier.
We get asked a lot about the equipment we use. Over the years we've found a handful of tools that we recommend to both new and experienced agate hunters which we outline in great detail in our complete rockhounding tools and kit guide. These are quality options that also happen to be relatively inexpensive.
Below are the basic tools that make your life so much easier and save you a ton of time. Check out the full guide to see everything we recommend bringing. One quick note, as an Amazon Associate I earn from qualifying purchases but we try very hard to only recommend gear we would use ourselves and often recommend brands you can't find on Amazon.
At a minimum you should have:
1 - Sturdy rock hammer: The Estwing Rock Pick is our standard
2 - Rugged chisels: Try Kendo' 3-piece Chisel Set
3 - Compact shovel: The Koleiya 28-inch shovel works well
4 - Rock screen pan: The Wazakura Soil Sieve Set fits the bill
5 - Eye protection: DeWalt Safety Glasses are cheap and comfortable
6 - Head protection: Malta's Safety Helmet has been our go-to
7 - Jewelers lens with at least 20x magnification: Jarlink's Jewelers Loop is perfect
The agate-finding books that we use most
There are also a few books that have been extremely helpful in the search for gems. These books have great recommendations and tips:
National Audubon Society Field Guide to Rocks and Minerals: North America 
Northwest Treasure Hunter's Gem & Mineral Guide 
Earth Treasures: The Northwestern Quadrant 
We provide links to find these tools on Amazon but some can also be found at your local hardware stores. For more recommendations check out the link to our full tool guide above.
The Best Spots To Find Agates in Washington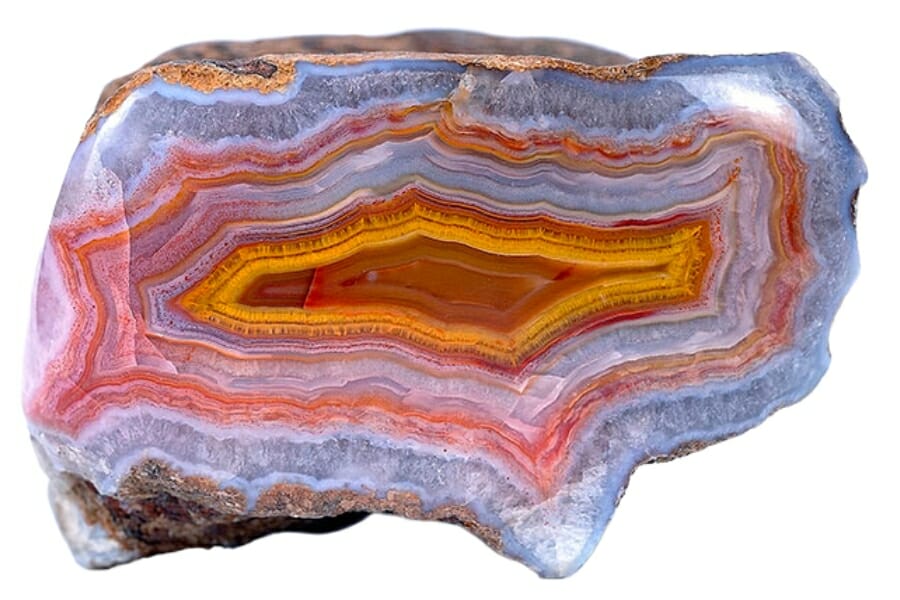 You can also read about the different gem mining sites in Washington in case you're planning on finding other gemstones during your visit here. But if you want recommendations focused on agate hunting alone, here are our top suggestions:
Always Confirm Access and Collection Rules!
Before heading out to any of the locations on our list you need to confirm access requirements and collection rules for both public and private locations.
These requirements are subject to change without notice and may differ from what we state below.
Always get updated information directly from the source ahead of time to ensure responsible rockhounding.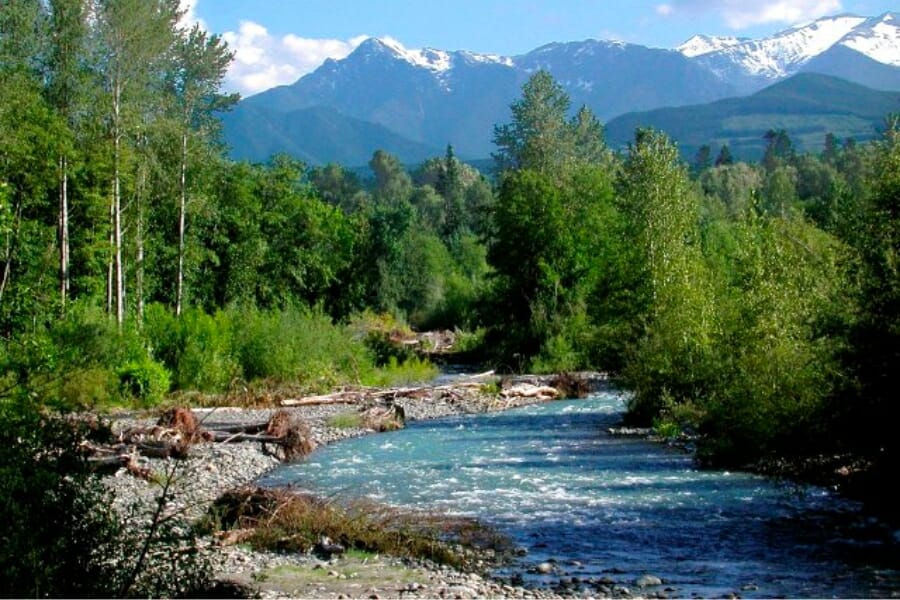 Dungeness River flows through the north part of the Olympic Peninsula, and its source is high up in the Olympic Mountains. It travels about 32 miles before it empties into the Strait of Juan de Fuca. The terrain around it varies a lot, with mountain landscapes, lush forests, and even some farmland.
Geologically, the area around the Dungeness River is super interesting. It's got a mix of sedimentary, metamorphic, and igneous rocks. There's been a lot of glacial activity in the past, which has shaped the land and the river in cool ways. Of course, this river is a great spot to find agates.
The good news is that getting here is pretty easy. There are lots of trails and parks along the river that you can visit. But before starting your journey, make sure to check first Washington's updated collecting guidelines to ensure your compliance with it from the get-go.
Where we found agates in Dungeness River
You can find agate in the gravels of the Dungeness River, so make sure you have the proper gear and equipment to make your search easier.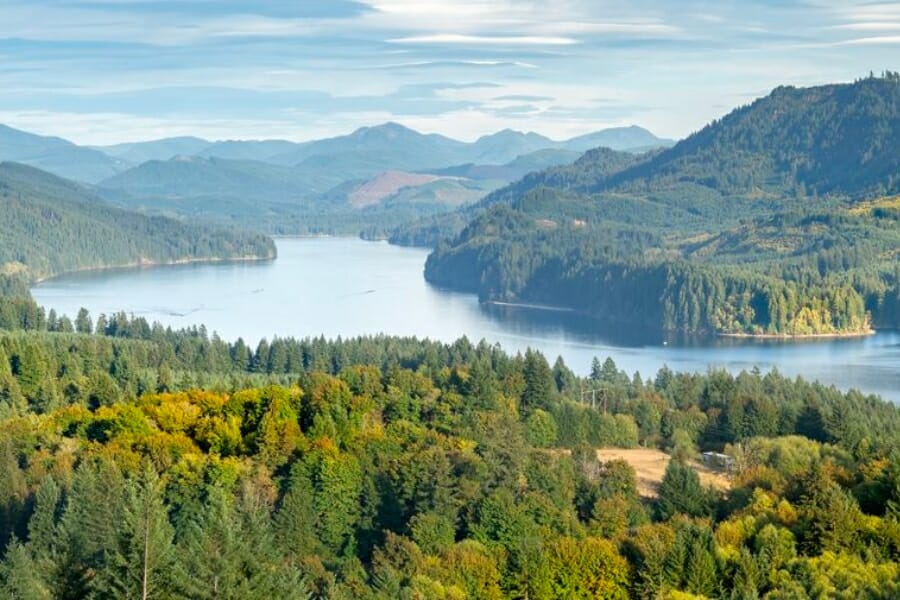 Cowlitz County is a fun place to visit for any kind of explorer. It's kind of in between two big cities, Portland and Seattle, so it's pretty easy to get to. This county is home to a bunch of different landscapes, from lowland valleys and rivers to forests and mountains. Its highest point is at the top of Mount St. Helens.
When it comes to rocks and geology, Cowlitz County has a lot to offer. You can find evidence of volcanic activity and lots of cool rock formations here. Over time, rivers in the area have carved through the land, creating a mix of terrain that's pretty awesome to explore.
And here's the exciting part: Cowlitz County is a great place to find agate! So much so that it has lots of prime areas you can visit and explore to find these gemstones.
Where we found agates in Cowlitz County
Cowlitz County is pretty endowed with different spots known for bearing agates, such as:
Cloverdale area
Hills to the east of the Kalama area
The base of cliffs in Kelso
Northeast on Cemetery Road on the cliff
Green Mountain Road to Johnson Road
Silverlake area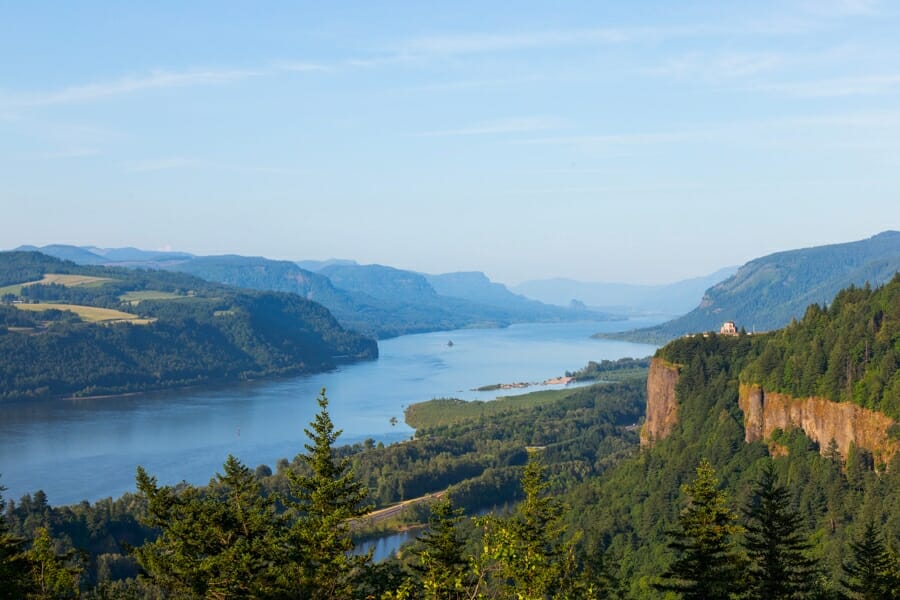 Columbia River is an important body of water, not just in Washington, but in the whole United States. As the largest river in the Pacific Northwest, it starts in Canada before it flows all the way down and forms much of the border between Washington and Oregon. It eventually finds its way to the Pacific Ocean.
Overall, its waters' journey covers over 1,200 miles, passing through all kinds of different landscapes, like steep gorges, mountains, and plateaus. The area around the river has experienced a lot of volcanic activity in the past. Over millions of years, it has carved through layers of lava rock, creating the Columbia River Gorge.
Getting here is pretty easy since it's so big and passes through several cities and towns. Simply put, it would nearly be impossible to miss it!
Where we found agates in the Columbia River
Explore the east side of the Columbia River as well as its area gravels to find stunning specimens of agate.
Kittitas County stretches all the way from the Cascade Mountains in the west to the Columbia River Basin in the east. So when you go here, you can expect to see everything— from mountain peaks and lush forests to wide, open plains.
When it comes to geology, Kittitas County has a rich history. Its western part is known for its igneous and metamorphic rocks, which formed from volcanic activity and high heat and pressure over millions of years. In contrast, ita eastern part has sedimentary rocks, which were laid down over time in layers.
Of course, Kittitas County is a great spot for finding agate! With its diverse geological history, conditions have been just right for these colorful, banded rocks to form. What's more is that, since it's smack in the middle of our state, it's easy to get to from anywhere.
Where we found agates in Kittitas County
We recommend exploring the following areas of Kittitas County to find Washington agates:
Cle Elum area
Middle Fork of the Teanaway River
Surrounding area of Ryepatch
Stream beds, washes, and talus slopes of Liberty
Hills in the Ellensburg area
Williams Creek
Crystal Mountain
Table Mountain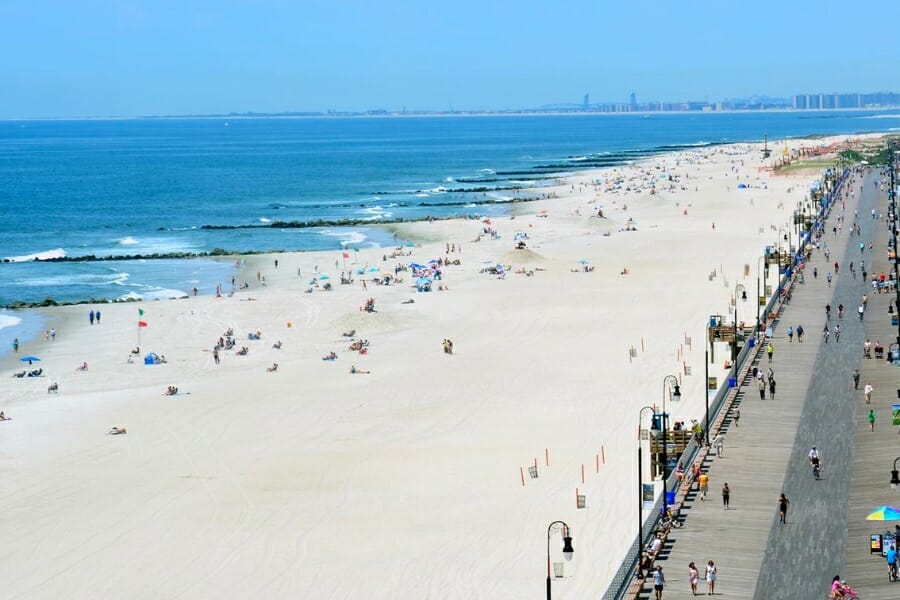 Ocean Park is located on the Long Beach Peninsula, so it's right by the Pacific Ocean. That means you can expect to see long stretches of sandy beaches, which are perfect for relaxing walks or even horseback riding!
The terrain around Ocean Park is pretty flat since it's on the coast. But don't let that fool you— its geology is still super interesting! Over thousands of years, ocean waves and wind have shifted and shaped the land, creating dunes and other unique features. You'll find a mix of sandy soil and rocky areas.
Despite its fascinating landscapes, getting here is a breeze. It's about a 3-hour drive from Seattle, and there's plenty of signage along the way. Once you're here, you'll find lots of parking and easy access to the beach.
Where we found agates in Ocean Park
You can find agate in the beach gravels of Ocean Park and Long Beach in general. These beautiful, colorful gems are often washed up by the ocean, especially after a storm.
Other Great Places To Find Agates in Washington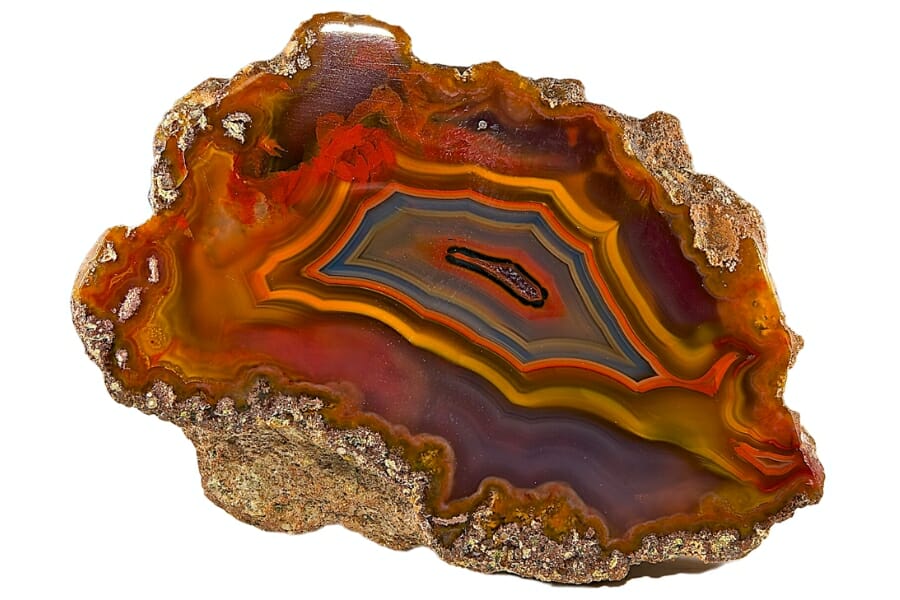 Aside from our top recommendations, Washington abounds in other agate-bearing prime areas that you can explore. They're listed by county below so you can easily use this guide for you itinerary planning.
Our recommendations by county
| | |
| --- | --- |
| County | Location |
| Chelan | Railroad Creek to Holden |
| Clallam | Agate Beach |
| Clallam | Crescent Beach |
| Clallam | La Push beach gravels |
| Clallam | Soleduck River gravels |
| Clallam | Upper Soleduck River in Sappho |
| Clark | Bell Mountain Mine |
| Clark | Washougal area |
| Grays Harbor | Beaches and regional stream gravels in Moclips |
| Grays Harbor | Grayland area beaches |
| Grays Harbor | Westport area ocean beaches |
| Grays Harbor | Regional road cuts and stream banks in Oakville |
| Island | Whidbey Island beaches |
| Jefferson | Countywide along Pacific Coast beaches |
| Jefferson | Beach gravels of Kalaloch |
| Jefferson | Beach gravels of Queets |
| Jefferson | Shoreline of Quimper Peninsula to Fort Worden State Park |
| Klickitat | Warwich area |
| Klickitat | Rattlesnake Creek |
| Klickitat | Area adjacent to border of Yakima County |
| Klickitat | Swale Creek |
| Lewis | Lucas Creek |
| Lewis | Regional stream gravels and cut banks in Centralia |
| Lewis | North Fork of Chehalis |
| Lewis | Stream gravels in Mary's Corner |
| Lewis | Farm fields in the drainage region of Mary's Corner |
| Lewis | Regional stream banks and gravels of Pe Ell |
| Pacific | Stream bed and bank along highway in Raymond |
| Pacific | Stream bed and banks in Greens Creek |
| Pacific | Creek banks, gravels, and road cuts of the Willapa Hills |
| Pacific | Gravels of the Willapa River |
| Skamania | Gifford Pinchot National Forest at Table Mountain |
| Thurston | Coal mine spoil piles in Bucoda |
Additional areas you can find agates
In case you're exploring a generally wide or broad location, you should pay close attention to the following areas where agates are usually found:
Beaches
Beaches, especially the ones in our state, are awesome places for finding agates, and it's all about the power of water! When rivers flow down from the mountains, they carry with them all sorts of rocks and minerals, including agates. As these rivers meet the ocean, they drop these treasures onto the beach.
The waves also play a part as they're really good at sorting rocks. The steady rolling of the waves washes away the lighter sand and leaves the heavier stones, like agates, behind.
Streams and Creeks
Streams and creeks are also fantastic places to find agates, and it's all because of how these rocks are formed and moved. These gemstones are formed in volcanic rocks, and guess what? Washington has a lot of volcanic history.
These waterways act like natural conveyor belts, moving rocks from higher places to lower ones. As the water flows, it washes away smaller, lighter materials, leaving behind heavier stuff, including agates. That's why you'll often find them in gravel bars in streams and creeks.
Rivers and River Banks
Over time, rain, wind, and natural processes break down volcanic rocks, where agates are formed. Then, rivers pick up the pieces, including agates, and move them downstream.
The moving water of rivers sorts the rocks it carries. Lighter materials get washed away, but heavier ones, like agates, get left behind. Rivers in Washington, like the Dungeness and Columbia Rivers that we've discussed above, are famous for their agates.
Common Agate-Hunting Questions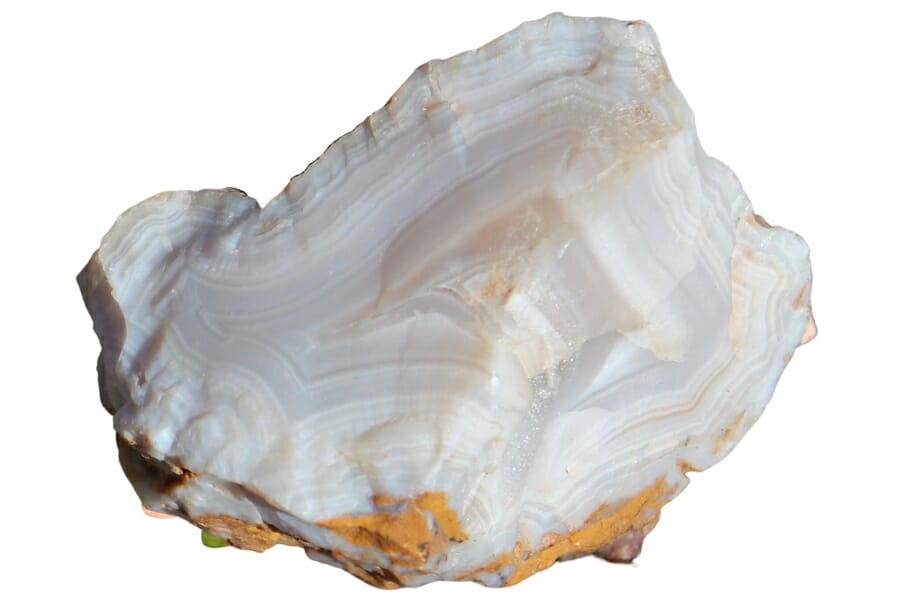 Before you head out here, we'll answer the most common question when it comes to agate hunting:
Is it illegal to collect agate in Washington?
Collecting agate in Washington is legal as long as you don't cause any injury or damage, based on our state's local collecting guidelines. Also, familiarize yourself with any rules and regulations in place in the specific areas you will visit. Lastly, secure any necessary documentation, like permits, before starting your exploration.
The Best Places To Buy Agates In Washington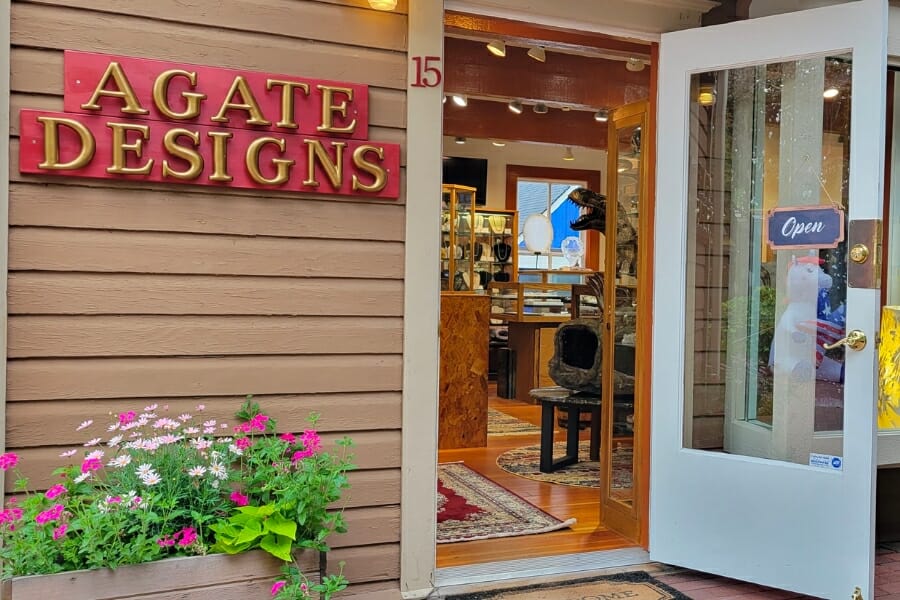 Some collectors prefer paying a visit to trusted local stores in different states to find unique specimens with specific qualities that they are looking for. If you're one of them, here are some of our recommended agate shops in our state:
If you have any recommendations for our list please leave a comment below!