Agates are some of the most amazing rocks you'll ever find! Think of a sunset with all its vibrant colors, or a rainbow after a light rain— that's what an agate can look like! Every agate is unique, which makes them so special and fun to hunt for.
But if you're thinking of finding agates in Utah, it's not always easy-peasy. Our state has a vast landscape with mountains, deserts, and valleys. So, you might be wondering, "Where do I even start?" Without some good tips or someone showing you the ropes, it can be a very challenging journey ahead.
Don't get discouraged, though! Remember, the thrill of the hunt is part of the adventure. On top of that, we'll share with you the different excellent sites to find Utah agates. Are you ready for some agate-huntin'? Let's start!
What is Utah Agate?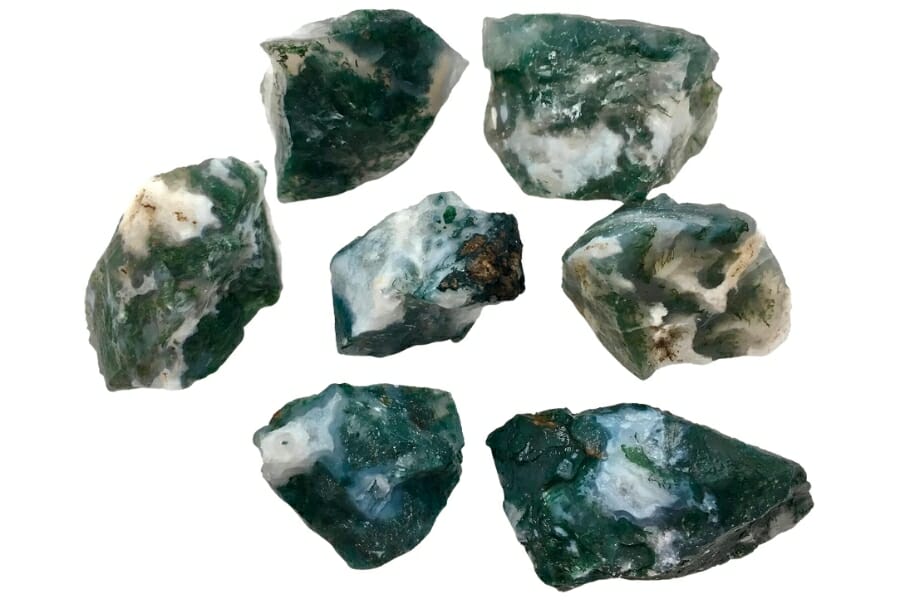 Agates are known for their beautiful, wavy patterns and bright colors. They're a kind of quartz, and inside them, you can find a mix of colors. Some say they look like layers of a yummy cake!
These wonders form in a hollow space in a rock. Over time, tiny minerals seep into this space and slowly layer up, one by one. These layers harden and, voila, you get an agate! Its captivating beauty and versatility raise agate's value and worth in the market.
These gems love to hide in volcanic rocks and areas where there have been lots of geological changes. They can be found in many places around the world: from beaches to deserts to mountains. The best part? You can find them right here in the USA, including in Utah!
Now, before we answer your question on where to mine for agate in Utah, let's first go through its different kinds:
Moss Agates
Moss agate looks like it's got tiny plants or moss inside. Even though it's called "moss," there aren't any actual plants inside. Instead, these patterns come from minerals like manganese or iron.
When you look at one of these stones, it's like peering into a secret, miniature forest. Each piece is like a tiny world all its own, with swirls of green, red, or even blue that resemble moss, trees, or ferns. It's truly a piece of art created by nature!
Lucky for us, moss agates can be found in Utah, although it isn't the most common agate here.
Fire Agates
Fire agate is one of the coolest stones you can find! When you look at it, it's like holding a piece of burning fire or sunset right in your hand. What makes it so special is the way it sparkles with iridescent colors, kind of like how oil on water shimmers.
These colors come from the thin layers of iron oxide that reflect light in bright and fiery patterns. Every time you move a fire agate, its colors can shift, showing off reds, oranges, golds, and even greens.
While Utah is home to many stunning gemstones and minerals, fire agate is more commonly found in the southwestern United States, especially in areas like Arizona, California, and New Mexico.
Blue Lace Agates
Blue lace agate is a sight to behold! Imagine a clear blue sky with delicate wisps of white clouds, and you've got a good idea of what this stone looks like. Its layers are soft and wavy, looking a lot like lace.
Its looks make it a favorite for many jewelry makers and rock enthusiasts. The calming blue and white patterns remind many people of peaceful skies or gentle waves on a beach.
Unfortunately, blue lace agate doesn't naturally occur in Utah. This beautiful stone is primarily found in Namibia, which is in Africa. There are also some sources in Brazil and China.
Plume Agate
Plume agate is one of those rocks that'll make you stop and stare! Inside the stone, there are patterns that look like feathery plumes or delicate ferns.
These plumes are actually made of minerals that have grown inside the agate, creating beautiful and intricate designs. It's like each stone is holding a small, secret garden from long ago.
Utah is known for many different types of minerals and gemstones, and plume agates are among the treasures you might come across here.
Banded Agate
When you look at a banded agate, you'll see layers upon layers of beautiful colors stacked together. These bands can be wide, narrow, straight, or wavy. It's these bands that give banded agate its name.
These layers form over time when liquid minerals slowly fill up spaces in rocks. As the minerals harden, they create the colorful bands we see. Just imagine, each layer could represent thousands of years!
If you're ever in Utah or thinking of visiting, you can find banded agate during your exploration here.
Dendritic Agate
Dendritic agate is like a canvas painted by nature! It's clear or milky white, but the real showstopper is the tree or fern-like patterns inside it that are called "dendrites." They aren't plants, even though they look like them.
If you're wondering if you can find dendritic agate in Utah, the answer is yes! If you decide to venture out and search for it here, always remember that the journey is as exciting as the find.
Speaking of finding agates in Utah, for more information on where to look for them as well as for other equally-stunning crystals, check out our article on the great crystal mine sites in Utah.
How We Know About Great Locations For Agate in Utah
With agates being so beautiful you can image that the best spots are not always advertised widely. In fact, it isn't unusual for good places to find agates to be secrets known by just a few locals. Fortunately, you do know someone who has been around the block!
The key factors in our recommendations are:
The deep experience and understanding of our team about the area
Recommendations from local groups and clubs
How easy it is to get the a particular location
Safety and potential hazards when collecting
Weighing private and public locations
The ability for both experienced and novice agate enthusiasts to find great samples
With these factors in mind we've been able to put together a fantastic list that just about anyone can use!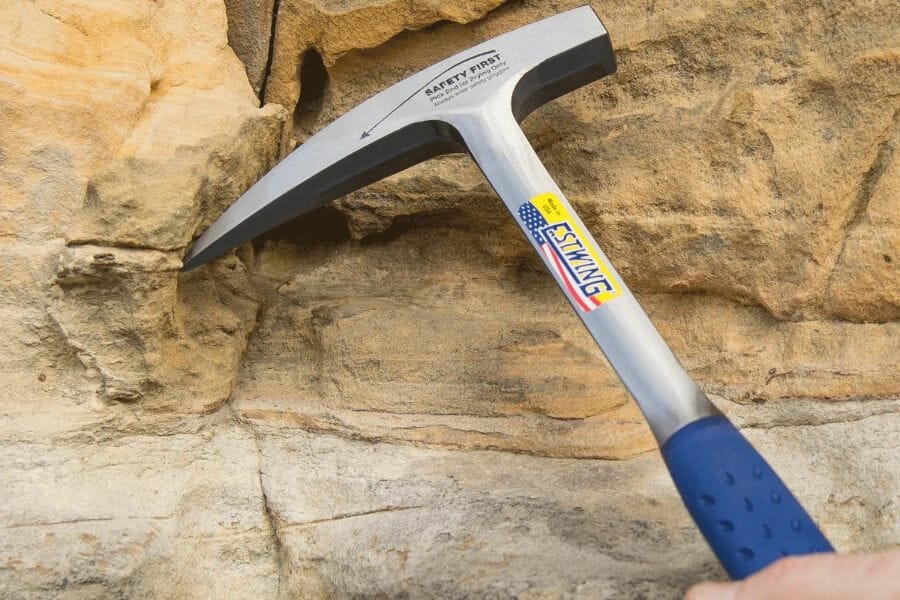 The tools every agate hunter will need
When you're out looking for agates having the right tools for the job is really going to make or break your success. You don't need a lot for most trips but there are a handful that are critical and will make your life a lot easier.
We get asked a lot about the equipment we use. Over the years we've found a handful of tools that we recommend to both new and experienced agate hunters which we outline in great detail in our complete rockhounding tools and kit guide. These are quality options that also happen to be relatively inexpensive.
Below are the basic tools that make your life so much easier and save you a ton of time. Check out the full guide to see everything we recommend bringing. One quick note, as an Amazon Associate I earn from qualifying purchases but we try very hard to only recommend gear we would use ourselves and often recommend brands you can't find on Amazon.
At a minimum you should have:
1 - Sturdy rock hammer: The Estwing Rock Pick is our standard
2 - Rugged chisels: Try Kendo' 3-piece Chisel Set
3 - Compact shovel: The Koleiya 28-inch shovel works well
4 - Rock screen pan: The Wazakura Soil Sieve Set fits the bill
5 - Eye protection: DeWalt Safety Glasses are cheap and comfortable
6 - Head protection: Malta's Safety Helmet has been our go-to
7 - Jewelers lens with at least 20x magnification: Jarlink's Jewelers Loop is perfect
The agate-finding books that we use most
There are also a few books that have been extremely helpful in the search for gems. These books have great recommendations and tips:
National Audubon Society Field Guide to Rocks and Minerals: North America 
Southwest Treasure Hunter's Gem & Mineral Guide 
Earth Treasures: The Southwestern Quadrant 
We provide links to find these tools on Amazon but some can also be found at your local hardware stores. For more recommendations check out the link to our full tool guide above.
The Best Spots To Find Agates in Utah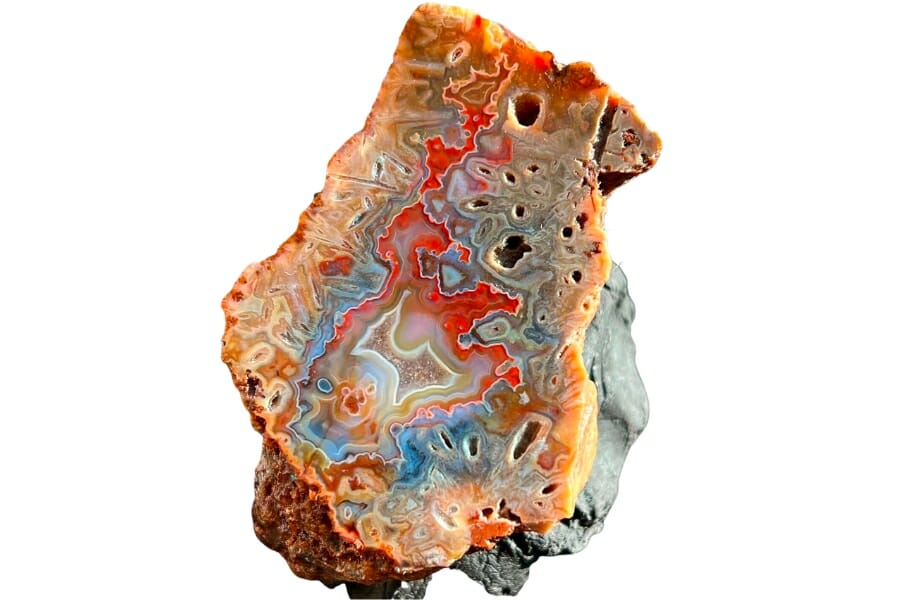 While there are many great gem mine sites in Utah, not all of them have agates. So if you really want to find them here, below are our most recommended excellent agate-bearing sites:
Always Confirm Access and Collection Rules!
Before heading out to any of the locations on our list you need to confirm access requirements and collection rules for both public and private locations.
These requirements are subject to change without notice and may differ from what we state below.
Always get updated information directly from the source ahead of time to ensure responsible rockhounding.
Emery County is a dream come true for nature lovers and rockhounds! Covering a vast area, it showcases a mix of deserts, plateaus, and canyons.
The San Rafael Swell, a huge dome-shaped anticline, is one of the county's most famous geological features. With its deep canyons and unique rock formations, it's a sight that draws many to the area.
The geology of this county is as interesting as its looks. Layers upon layers of sedimentary rock, from sandstone to shale, tell stories of ancient seas, river deltas, and vast deserts that once existed here. These layers have been sculpted over millions of years by wind and water, resulting in its stunning landscapes today.
If you're eager to visit Emery County, you'll be glad to know it's quite accessible. Interstate 70 runs right through it, making it easy to reach. But before you start your trip going here, make sure to review Utah's latest collecting guidelines.
Where we found agates in Emery County
Agates are pretty abundant in Emery County and you can find them specifically in these spots:
Green River
Huge fossil reef along the north side of the highway in Emery
Morrison formation exposures
San Rafael Swell
Shores of the Buckhorn Reservoir
Moore Area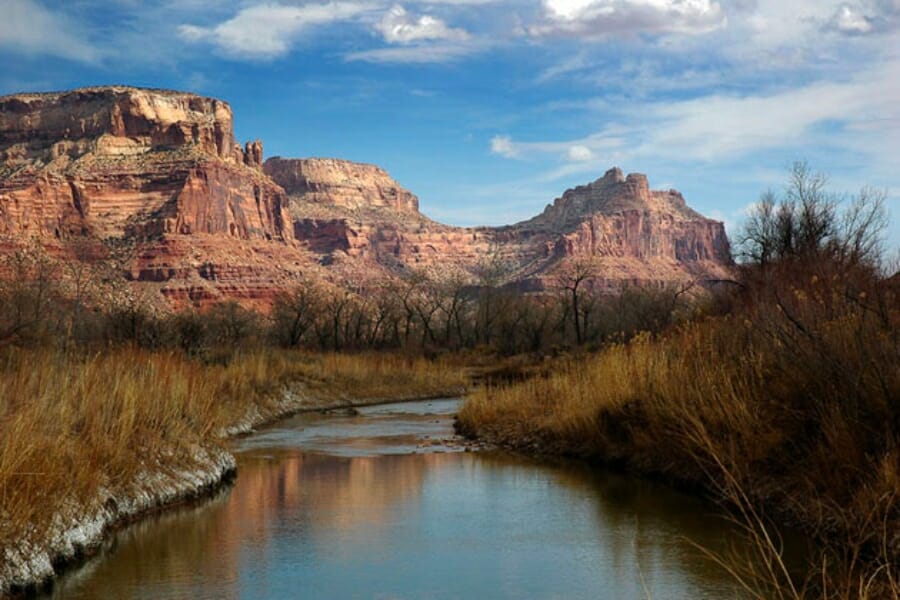 The San Rafael River is an adventurer's paradise! Flowing through the southeastern part of our state, it carves its way through the breathtaking landscape of the San Rafael Swell.
The rock layers around the river are evidence of old oceans, deserts, and even ancient mountain ranges. Sandstone, shale, and limestone are just a few of the types of rock you'll find here. Among them, especially near the riverbeds, you can discover beautiful agates!
Getting to the San Rafael River is part of the fun. While some areas around it can be remote, several main roads, like Interstate 70, make parts of it quite accessible.
However, if you're planning to explore deeper or visit specific agate-hunting spots, it might require some off-road driving or hiking.
Where we found agates in the San Rafael River
You can find agates south of the highway from the San Rafael River.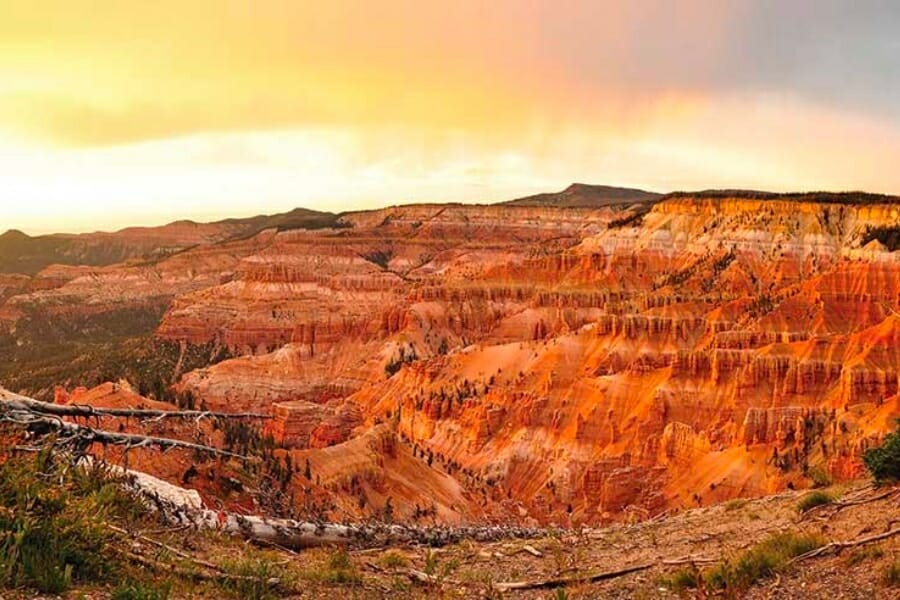 Cedar Breaks National Monument is like a natural amphitheater of colors and rock formations. Situated in the southwest, this incredible place is perched high on the Colorado Plateau, over 10,000 feet above sea level.
As you approach this excellent site to find agates in Utah, you'll be greeted by a vast bowl-shaped depression filled with a maze of vibrant red, orange, and white stone spires, columns, and arches.
For most, getting to Cedar Breaks National Monument is a smooth journey. It's located near the famous Highway 14, which offers a scenic drive to its main viewpoints and facilities.
However, due to its high elevation, some parts of Cedar Breaks can be covered in snow even in late spring or early fall. So, it's always a good idea to check the weather and road conditions before heading out.
Where we found agates in Cedar Breaks National Monument
If you want to find agates, particularly banded and moss agates, you can search through all regional draws, washes, and breaks, outside the Cedar Breaks National Monument's boundary.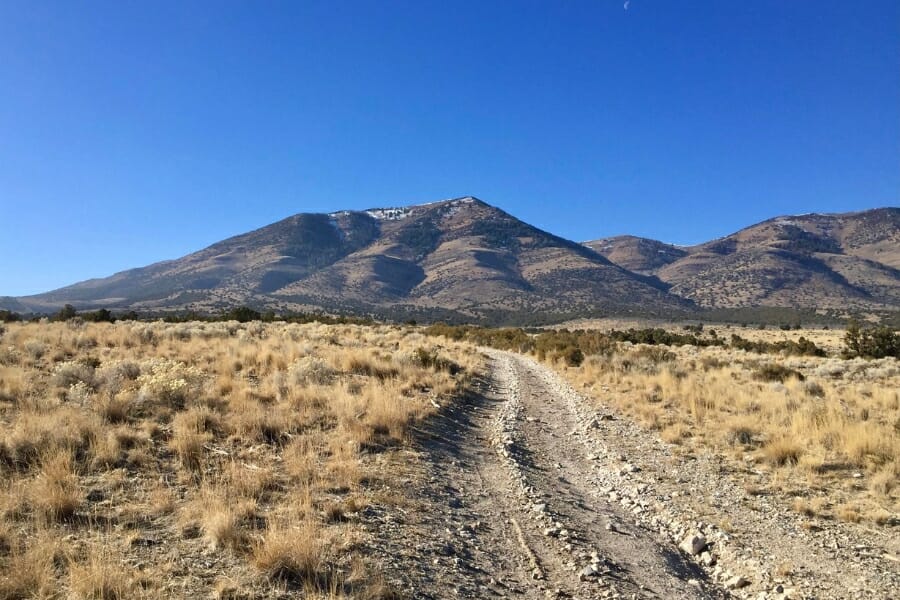 Located on the western side of our state, Tooele County is a place where mountains meet the desert, creating a mix of terrains that can make any adventurer's heart race.
The Oquirrh Mountains stand tall on the eastern edge, while the Great Salt Lake Desert stretches out to the west. The county itself is one of Utah's largest, so there's plenty of ground to cover.
When we talk about the geology of Tooele County, it's like peeking into a time machine. There are layers of rock that go way back to the time of ancient lakes, shifting sand dunes, and even volcanic eruptions.
The great thing is that going here is a breeze. Major highways, like Interstate 80, run straight through it, making the journey straightforward for most travelers.
Where we found agates in Tooele County
There are a handful of specific sites where you can find agates in Tooele County, including:
Drum Mountains
Clifton Mining District
Dugway Mining District
Cedar Mountain
Onaqui Mountains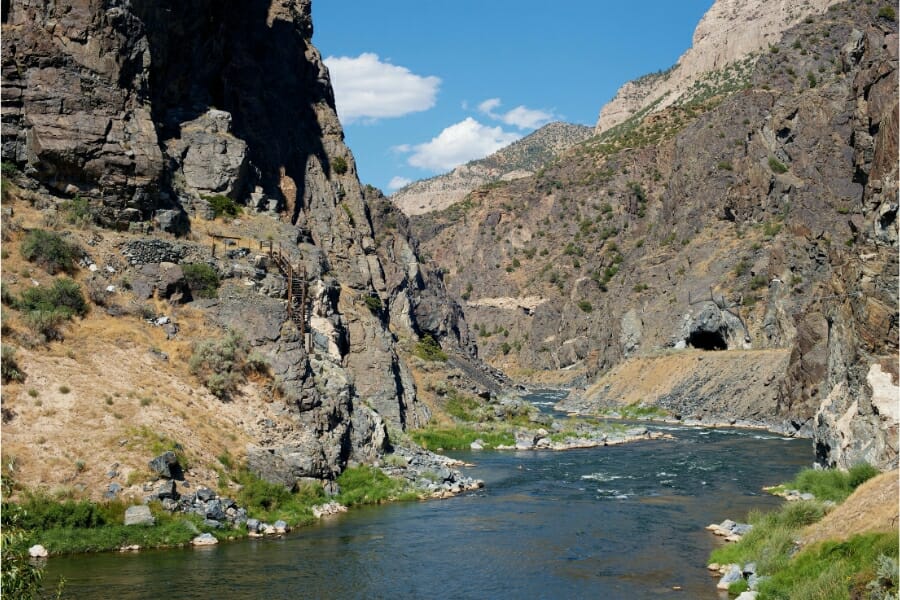 Nestled in central Utah, Sweetwater Canyon is surrounded by picturesque landscapes that paint a vivid picture of nature's beauty. The canyon itself winds and meanders, creating pockets of green areas, rocky outcrops, and serene spots.
Geologically, Sweetwater Canyon is a treat! From ancient seas to shifting deserts, its rock layers have seen it all. Among the diverse rocks and minerals, you can find agates here.
If you're thinking of visiting this sweet place (pun intended!), it's relatively easy to get to. Some parts of the journey might take you on dirt roads, so it's always good to be prepared with sturdy vehicles, especially if you're heading off the main paths.
Where we found agates in the Sweetwater Canyon
Uncover agates in the Sweetwater Canyon by exploring its regional flats, draws, and washes.
Other Great Places To Find Agates in Utah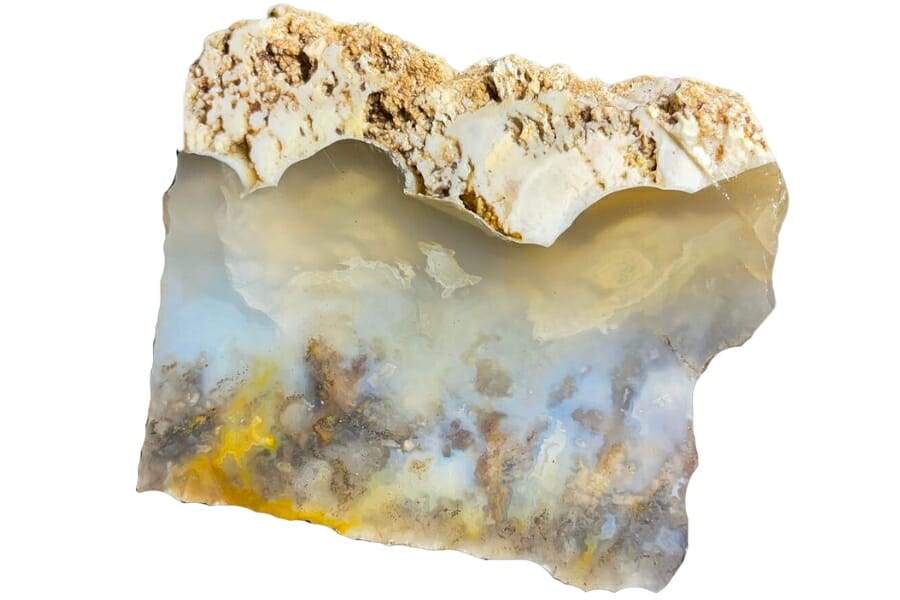 If you want to visit more excellent sites where you can find agates in Utah, we've listed down the other agate-bearing places here. We've arranged them by county for your easier reference.
Our recommendations by county
| | |
| --- | --- |
| County | Location |
| Beaver | Frisco Peak |
| Garfield | Circle Cliffs |
| Garfield | Escalante area washes, draws, and outcrops |
| Garfield | Canyons south and east in Boulder area |
| Garfield | Muley Creek and Bullfrog Creek |
| Grand | Agate Switch area surfaces |
| Grand | Colorado River |
| Grand | Cutler formation |
| Grand | Arches National Monument |
| Grand | Cactus Rat and Yellow Cat mines |
| Grand | Thompson Springs |
| Juab | Area draws, washes, surfaces of Jericho |
| Juab | Drum Mountains |
| Juab | Thomas Range |
| Kane | Wahweap Creek |
| Kane | Vermillion Cliffs |
| Kane | East Fork Virgin Creek to Alton Road |
| Millard | Salt Marsh Lake |
| San Juan | Hatch Point Road |
| San Juan | Oljeto Wash all the way to the San Juan River |
| Utah | Pinto Canyon |
| Washington | Beaver Dam Wash |
| Wayne | Hanksville |
| Wayne | Regional draws, washes, breaks, surfaces of Torrey |
| Wayne | Blue Valley |
| Wayne | Fremont River |
Additional areas you can find agates
If you're exploring a wide area, chances are, you don't know where exactly to start. Below are some of the usual spots where agates hide, so we highly recommend searching through them first:
Rivers and River Banks
Rivers and river banks are like nature's conveyor belts for gemstones, including agates!
When rain falls on mountains and highlands, it washes down minerals and rocks, taking them on a journey downstream. As these rocks tumble and roll in the river, the softer parts wear away, and the tougher stones like agates get rounded and polished.
Rivers in our state are especially great for finding agates. When these stones are washed out from their original spots, rivers carry them along. Over time, they get deposited on river banks, especially in bends or areas where the water slows down.
Streams and Creeks
Streams and creeks are like little pathways, always on the move. As water flows from higher places to lower grounds, it picks up various rocks and minerals. Among these are agates, which are tougher than many other stones.
Our state has a rich geological history, packed with volcanic action and old water bodies. This means Utah has many places where agates formed over time.
When rainwater or melting snow flows down from these areas, it can bring agates into streams and creeks. And because the flow in these smaller waterways can be gentler than big rivers, agates often settle in the nooks and crannies of creeks or get caught between pebbles in streambeds.
Sediment Deposits
Sediment deposits are like natural storage units, holding onto a mix of materials that have been transported and then dropped off over time. These deposits can be made up of sand, silt, clay, and often, treasures like agates.
As waters moved through areas where agates are formed in Utah, they picked up and carried agates, later dropping them in sediment deposits, like in the basin of an old lake or at the foot of a mountain.
Common Agate-Hunting Questions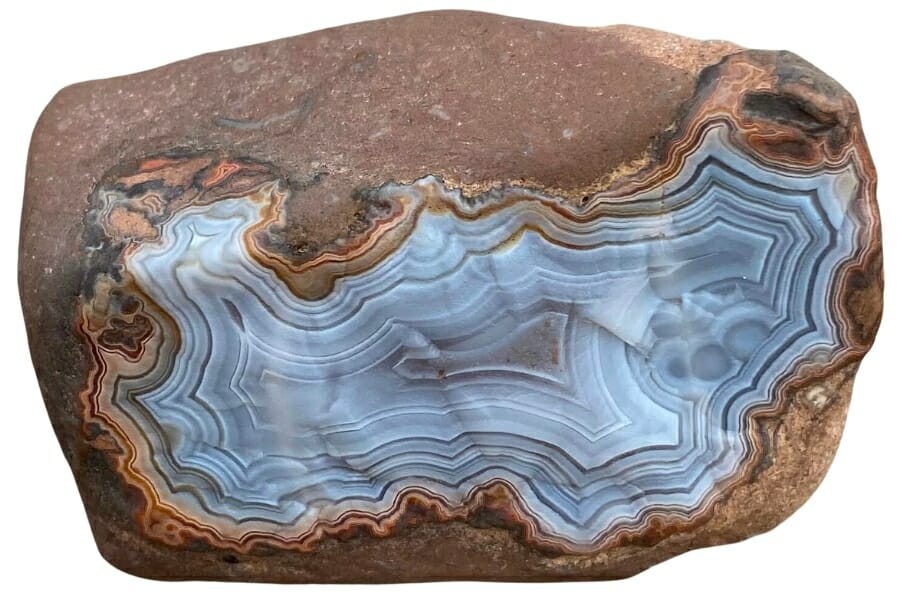 In this section, we'll answer the most commonly-asked question when it comes to finding Utah agates.
Is it illegal to collect agate in Utah?
The good news is that collecting agates in Utah is legal, for as long as you do so in the designated collecting areas here, in compliance with our local collecting guidelines.
Be mindful and compliant also of any area-specific rules and regulations, as well as environment and safety protocols. As rockhounds, it's our responsibility to make sure that rockhounding here remains sustainable for future generations, as well.
The Best Places To Buy Agates In Utah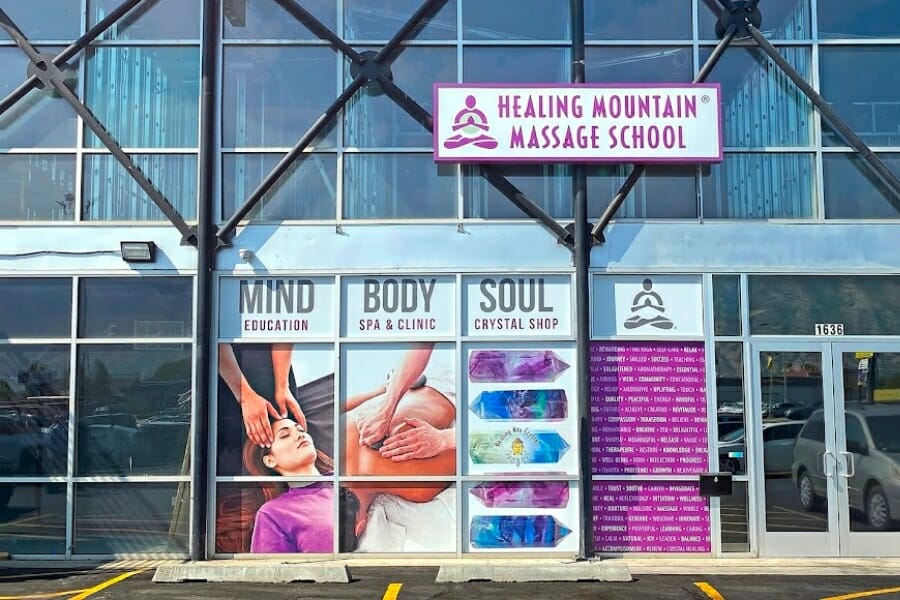 While nothing beats the thrill and excitement of agate hunting, it takes time and energy before you find a specimen in its natural environment. If you don't have much of these, you can opt to visit our local rock and mineral shops that have agates, such as:
If you have any recommendations for our list please leave a comment below!