Agates are like pieces of ancient art that you can hold in the palm of your hand! It's been around for millions of years, and when you slice it open, you discover a stunning pattern of colors and bands inside.
Despite its beauty, finding agates in North Dakota can be a bit of a challenge if you don't know where to look. The vast plains and hidden corners of our state can make it feel like you're searching for a needle in a haystack!
But here's the good news: we have blazed a trail to find North Dakota agates, so we've got a bunch of prime places where you can hunt for these hidden gems here. With this complete guide, your chances to discover the magical world of agates in our state just got a whole lot better!
What is North Dakota Agate?
Agates are one of nature's most dazzling wonders. They're colorful, banded rocks formed mostly of chalcedony. Imagine a rainbow trapped inside a rock– that's what some agates look like!
The beautiful bands and patterns you see inside this gem are made over millions of years. When hot volcanic lava cools and hardens, it leaves behind tiny spaces. Over time, water filled with minerals drips into these spaces and slowly builds up in layers.
With its beauty, it's not surprising that agate's value can go through the roof in some cases. More so, this gem is found all over the world! They often show up in volcanic areas and riverbeds, where the magic of their creation took place.
If you're in North Dakota, you're in luck because agates are abundant here. While our state might be better known for its plains, it's a hidden gem (pun intended!) for agate hunters.
But before we guide you on how to find agate in North Dakota, let's first go through the different types of agates and if you can find them here:
Moss Agates
Moss agates are clear or milky-white rock, but inside, it looks like there are delicate, mossy plants frozen in time. These aren't actual plants, but they sure do look like them. It's like having a tiny forest captured inside a stone!
Luckily, North Dakota is a special spot for these treasures. You can find the famous Montana moss agate here. The Yellowstone River, which flows through both Montana and our state, has been a fantastic source of these agates for years.
Fire Agates
At first glance, fire agates might look like any other rock, but hold them up to the light, and bam! You're treated to a light show of shimmering colors. Fire agates have this incredible play-of-color, showing off vibrant hues of red, gold, green, and sometimes even blue.
Now, you might be itching to know, can we find these fiery gems in North Dakota? Well, the answer is no. Fire agates are mostly found in the southwestern parts of the United States, like Arizona, California, and New Mexico.
Blue Lace Agates
Picture a soft, sky-blue stone streaked with delicate white or light blue bands, almost like delicate lace. That's blue lace agate for you! It's formed from slow-forming quartz, and its dreamy patterns come from the flow of water and minerals.
Blue lace agate is primarily found in Southern Africa, especially in Namibia, so you won't find it naturally occurring in North Dakota. However, thanks to its popularity, you can find it in rock shops and gem fairs here.
Fortification Agate
Fortification agates are like little fortresses trapped inside a rock. When you slice one open, you'll find patterns that look like the walls of a castle or the lines of a fortress, hence the name. These bands curve and wind in such a way that they form intricate patterns, almost like a maze.
If you're planning on agate hunting in North Dakota, you're lucky because fortification agate can be found here! Just keep your eyes peeled and your other senses alert so you can spot these wonders.
And if you need more guidance on where to find agates and other equally-beautiful crystals, visit our article on the crystal mine sites in North Dakota.
How We Know About Great Locations For Agate in North Dakota
With agates being so beautiful you can image that the best spots are not always advertised widely. In fact, it isn't unusual for good places to find agates to be secrets known by just a few locals. Fortunately, you do know someone who has been around the block!
The key factors in our recommendations are:
The deep experience and understanding of our team about the area
Recommendations from local groups and clubs
How easy it is to get the a particular location
Safety and potential hazards when collecting
Weighing private and public locations
The ability for both experienced and novice agate enthusiasts to find great samples
With these factors in mind we've been able to put together a fantastic list that just about anyone can use!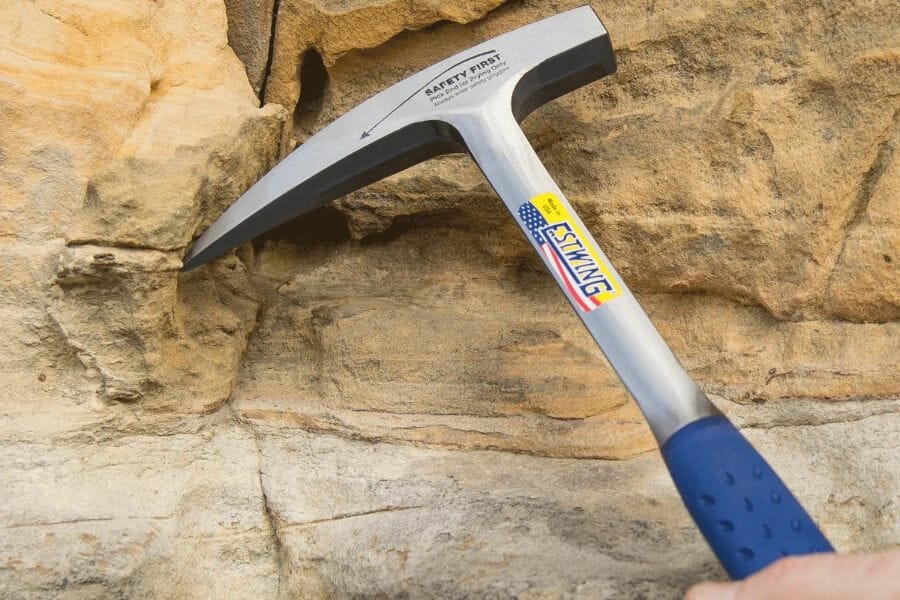 The tools every agate hunter will need
When you're out looking for agates having the right tools for the job is really going to make or break your success. You don't need a lot for most trips but there are a handful that are critical and will make your life a lot easier.
We get asked a lot about the equipment we use. Over the years we've found a handful of tools that we recommend to both new and experienced agate hunters which we outline in great detail in our complete rockhounding tools and kit guide. These are quality options that also happen to be relatively inexpensive.
Below are the basic tools that make your life so much easier and save you a ton of time. Check out the full guide to see everything we recommend bringing. One quick note, as an Amazon Associate I earn from qualifying purchases but we try very hard to only recommend gear we would use ourselves and often recommend brands you can't find on Amazon.
At a minimum you should have:
1 - Sturdy rock hammer: The Estwing Rock Pick is our standard
2 - Rugged chisels: Try Kendo' 3-piece Chisel Set
3 - Compact shovel: The Koleiya 28-inch shovel works well
4 - Rock screen pan: The Wazakura Soil Sieve Set fits the bill
5 - Eye protection: DeWalt Safety Glasses are cheap and comfortable
6 - Head protection: Malta's Safety Helmet has been our go-to
7 - Jewelers lens with at least 20x magnification: Jarlink's Jewelers Loop is perfect
The agate-finding books that we use most
There are also a few books that have been extremely helpful in the search for gems. These books have great recommendations and tips:
National Audubon Society Field Guide to Rocks and Minerals: North America 
Northwest Treasure Hunter's Gem & Mineral Guide 
Earth Treasures: The Northwestern Quadrant 
We provide links to find these tools on Amazon but some can also be found at your local hardware stores. For more recommendations check out the link to our full tool guide above.
The Best Spots To Find Agates in North Dakota
North Dakota is endowed with many great gem mine sites, but not all of them have agates. If you want to focus on finding these gems here, we highly recommend visiting and exploring the following prime spots:
Always Confirm Access and Collection Rules!
Before heading out to any of the locations on our list you need to confirm access requirements and collection rules for both public and private locations.
These requirements are subject to change without notice and may differ from what we state below.
Always get updated information directly from the source ahead of time to ensure responsible rockhounding.
Turtle Mountain is a true gem for both nature and rock lovers. Located near the Canadian border, this area stands out with its gentle hills, lush forests, and beautiful lakes, making it distinct from the flatter terrains of the surrounding plains.
The mountains of this prime place aren't towering peaks but are rather a series of rolling hills that rise unexpectedly from the landscape.
Geologically speaking, Turtle Mountain boasts a rich tapestry. It's a result of glacial activity from thousands of years ago. As glaciers moved and receded, they deposited a variety of rocks and minerals in their wake, including agates.
This spot is well-connected by roads, and the nearby town of Bottineau serves as a convenient gateway for visitors. Just make sure that, before you head out here, you're already familiar with North Dakota's collecting guidelines.
What's even better is that the region is well connected with roads, and it's not too far from major cities like Louisville, so getting here is pretty easy. But before you head out, make sure to get familiar with the local collecting guidelines of Kentucky.
Where we found agates on Turtle Mountain
Explore the area gravels and pits of Turtle Mountain to find stunning samples of agates.
In Hettinger County, the beauty of the plains meets the thrill of geological exploration. With its sprawling grasslands that seem to stretch endlessly, it truly showcases the vastness of the North Dakota landscape.
From a geology perspective, this county has a lot to offer. Among the treasures here are agates, and Hettinger County provides ample opportunities for you to find them here. The conditions created by past glacial movements and the subsequent erosion processes have brought these gems closer to the surface.
Fortunately, reaching this prime place to find North Dakota agates is a breeze. Well-maintained roads crisscross the county. The town of Hettinger, which is the county seat, serves as a great starting point for any adventure here.
Where we found agates in Hettinger County
Among the many great sites where you can find agates in Hettinger County are the following:
Cannonball River
Both sides of Route 8 from Mott to Richardton
Thirty Mile Creek
Camel Buttes
The Little Missouri River is a winding waterway that offers both scenic beauty and a playground for rock enthusiasts. Originating in the northeastern part of Wyoming, it flows northward through Montana and into North Dakota, eventually joining the Missouri River.
As the river snakes its way through our state, it carves out deep valleys and rugged badlands. These formations, with their layered rock faces and unique structures, give us a peek into the different natural wonders here.
The erosive action of the river has resulted in a plethora of rocks and minerals being accessible. Among these treasures is the much-sought-after agate.
If you want to go here, be assured that the Little Missouri River is accessible. There are several points, especially within the Theodore Roosevelt National Park, where you can easily access it.
Where we found agates in the Little Missouri River
You can find amazing Montana moss agate if you search through the gravels of the Little Missouri River in Grassy Butte.
Pembina County, located in the northeastern corner of our state, touches the Canadian border and boasts of a landscape filled with flat plains and occasional gentle rolling hills. It's an astounding agricultural heartland today.
But it's not just crops that you can find here. The geology of this county is as rich as its soil. For the keen-eyed rockhound, its gravel pits and riverbanks might just reveal a beautiful treasure: North Dakota agates.
Going to Pembina County is a smooth ride. It's well connected by roads, with Highway 29 running right through.
Where we found agates in Pembina County
Agate is quite abundant and widespread in Pembina County, and the following are some of the great places here where you can search for them:
Concrete area of the abandoned limestone quarry
Upstream along the west bank of the Red River to the mouth of the Pembina River
Dry Lake in Webster area
Sweetwater Lake
The Heart River is more than just a flow of water; it's a journey through time and geology. Starting in the western part of our state, Heart River winds its way eastward until it meets the mighty Missouri River.
The terrain around the Heart River is quite a spectacle. It has steep valleys with layered rock formations, interrupted by open grasslands that sway with the wind.
If you want to visit, the river is accessible at several points, especially near towns like Dickinson and Mandan. Roads lead close to some of its most scenic spots, and there are places to pause, explore, or even have a picnic.
Where we found agates in the Heart River
You can find agates if you explore upstream and down along both sides of the Heart River.
Other Great Places To Find Agates in North Dakota
Aside from our top recommendations, there are plenty other prime places to find agates in North Dakota. We've listed them down by county below for your convenient reference.
Our recommendations by county
| | |
| --- | --- |
| County | Location |
| Billings | Area buttes and badlands formations in Medora |
| Burleigh | Missouri River |
| Grant | Cannonball River |
| Kidder | Regional gravel pits of Tappen |
| McKenzie | Yellowstone River |
| McKenzie | Confluence of the Missouri and Yellowstone rivers in East Fairview |
| McKenzie | Watford City area |
| Morton | Area hills, draws, and washes of Mandan |
| Ramsey | Devils Lake |
| Rolette | Dunseith area gravel pits |
| Stark | Area land surfaces of Dickinson |
| Stark | Large gravel pit in Route 22 |
| Ward | Souris River between Denbigh and Velva |
| Williams | Regional stream gravels |
Additional areas you can find agates
If you'll be exploring a broad area, it can be hard to pinpoint where exactly to start your search. We recommend paying extra attention to the following spots where agates usually hide:
Rivers and River Banks
Rivers and their banks are nature's conveyor belts for rocks and minerals. As water flows over time, it erodes the land and carries away smaller rocks and sediments.
The tougher rocks, like agates, often get trapped in gravel beds and along river banks. The water naturally polishes agates, making it even more noticeable.
The rivers in our state, like the Heart River and the Little Missouri River, have exposed many agates, revealing them for you to discover. So, when you're near a river here, keep your eyes peeled!
Streams and Creeks
Streams and creeks are waterways that move and shape the land, often unearthing hidden gems along the way.
As water flows, it breaks down larger rocks, and the smaller, harder rocks, such as agates, end up getting caught in the streambeds and along the edges of creeks.
So, if you're exploring a creek or a stream our state, be alert for these beautifully-banded stones. Beneath the water or resting on the banks, there might be a beautiful agate.
Sediment Deposits
Sediment deposits are like big, natural treasure chests for rock enthusiasts! Imagine all the tiny bits of rock, sand, and minerals that gather in one spot over time.
Agates are super strong, so while other rocks might break down, agates stay in one piece. Their colorful, wavy bands make them easy to spot in a mix of other sediments.
And guess what? North Dakota is a top spot for finding them in sediment deposits! Long ago, giant glaciers covered parts of our state. When they melted, they left behind a huge mix of materials, including agates. As wind and water moved these materials around, they settled in layers called sediments.
Common Agate-Hunting Questions
It might help to know the answers to the commonly-asked questions when it comes to agate hunting in North Dakota, so in this section, we'll indulge you on that:
Is it illegal to collect agate in North Dakota?
In general, it's legal to collect agates in areas of North Dakota that are considered designated collecting sites based on our state's collecting guidelines.
As an additional rule, familiarize yourself with any area-specific environment and safety protocols to ensure your strict compliance with them.
The Best Places To Buy Agates In North Dakota
Not all agate lovers are adventure lovers, too, so if you prefer a more laid-back way of finding, observing, and taking home this gem, you can visit our local crystal shops here.
Below are some of the best ones that we have:
If you have any recommendations for our list please leave a comment below!